Residents who live near the Fenway Golf Course are finding that they have more to contend with than coyotes. On the night of October 2nd a home on Cayuga Road was burglarized, sometime between 8 and 10 pm. Vandals broke a window in the living room to gain entry and tossed the bedrooms, apparently in search of jewelry. Though the homeowners have not supplied a complete list of what was taken it appears that the thieves made off with jewelry.
Accident
: A 20 year-old girl, driving her friend's 2010 Toyota at 11:40 pm on October 3rd lost control of the car on Morris Lane due to wet roads. The car skidded, hit a village-owned tree, a fire hydrant and a utility pole and came to a stop on the front lawn of 100 Morris Lane, damaging the grass. The police, Con Edison, the water department and SVAC were all called to help. Neither the girl nor her passenger requested medical attention.
Knife: Police confiscated a folding knife from Olatunde Oladipo of White Plains on September 29, when he attempted to enter Scarsdale Village Court with the knife in his pocket. Police were tipped off by the metal detector.
Guns: A Springdale Road man who was moving out of town called police to turn in a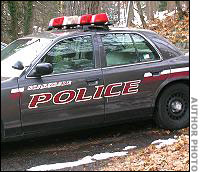 rifle and a shotgun to be destroyed on the afternoon of 9/28. However, later that same day, he had a change of heart and decided to give the guns away rather than turn them into the police.
Disobedience: On 9/29 a traffic officer on Depot Place tried to stop and Edgemont man as his inspection sticker had expired. The officer approached the man in the car who drove away. As the car swung past him again, the officer tried to stop it, but the driver proceeded, narrowly missing the officer. Police went to the man's Henry Street home and the man claimed that his parking meter was just about up, and that he had avoided the officer in order to get back to his car before the meter expired. However, the patrolman said that the meter was not expired.
Mischief: On the night of 9/27 the doorbell rang at a Donellan Road home. When the homeowner opened the door he found an orange traffic cone. He believes some kids left it there. Police returned the cone to the Fox Meadow School.
Disputes: On 9/28 Alan Zaitz of Popham Road got into an argument with a driver when Zaitz crossed Popham Road against the light and was almost hit by a car driven by a Taunton Road man. The doorman at 45 Popham called the police to break up the heated verbal altercation.
On 9/30 A Fox Meadow Road man got into a dispute with his neighbor's landscaper who was throwing debris on the Fox Meadow man's property. The landscaper agreed not to do it again.
On 10/1, Lebanon Road residents reported that the caretakers of the residence next door were leaving garbage at the curb too far in advance of pick-up.
An employee at Bodyfit on Scarsdale Avenue called police for assistance when a former member refused to leave the premises. The owner of Bodyfit explained that the woman's membership had been terminated and her refund had been sent out via Fedex. She left the premises willingly.

Arrests: At midnight on 10/2 Michael Arciuolo of White Plains was stopped by White Plains and turned over to Scarsdale Police where there was an outstanding warrant for his arrest for a traffic violation. A check of his license revealed that he was also wanted in Beacon, New York for driving while intoxicated. At 2:50 am on 10/3 Arciuolo was transported to Beacon for booking as well.
Hassan Samid, age 20 was turned over to Scarsdale Police by Tarrytown Police at 1:30 am on 9/28 due to an outstanding bench warrant. Samid was processed and released on $50 cash bail.
Trees: A large tree branch fell across Mamaroneck Road near Griffen Road at 11:50 am on 9/30 and blocked the roadway. The highway department removed the branch. More tree branches fell and blocked the intersection of Ramsey and Secor Road at 5:55 am on 10/1 and the intersection of Edgewood and Nelson Roads at 7:52 am on 10/1.
Coyotes continued to roam the streets and yards of Scarsdale. Here's this week's coyote watch:
2:28 pm on 9/27 Coyote 18 Aspen Road
7:41 pm on 9/27 at 58 Palmer Road
8:28 am on 9/28 at Cushman and Mamaroneck Roads where the callers husband and child were waiting for a bus.
9:56 am on 9/28 on Hillview Drive
On 9/29 at 7:36 am on Eton Road
On 9/29 at 8:44 am on Fox Meadow Road at the entrance to Butler Woods
On 9/29 at 2:30 pm on Garden Road
On 9/30 at 8:30 am on Ridgecrest East
On 9/30 at 2:00 pm on Greendale Road
On 9/30 at 5:06 pm at Palmer Avenue and Ramsey Road
On 9/30 at 5:55 pm on Graham Road
On 9/30 at 7:10 pm on Brookby Road
On 10/2 at 7:25 pm at Davis Park
On 10/2 at 9 pm a woman reported that there were two coyotes on her lawn on Madison Road
On 10/2 at 10 pm on Dolma and Murray Hill Road
On 10/2 at 10:30 pm on Montrose Road
On 10/3 at 11:18 am on Brewster Road near Gorham Court
On 10/3 at 1:49 pm on Gorham and Post Roads
On 10/3 at 3:45 pm on Palmer Avenue
On 10/3 at 4:46 pm on Palmer Avenue
On 10/3 at 8:05 pm on Valley Road
Comments
(2)
Subscribe to this comment's feed
Write comment