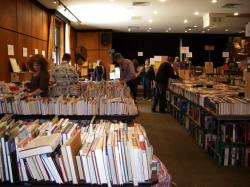 For most Scarsdalians summer represents a time to relax and enjoy a more leisurely pace to life. For the Friends of the Scarsdale Library and their dedicated volunteers it means preparing for the annual library book fair.
Donations of gently used salable books are now in progress. Donations will be accepted until August 27th. For space reasons no books will be accepted after that date. Books may be left during library hours inside the gray service door to the right of the main entrance. Text books, out of date business and travel books and books that are badly damaged or high lighted are not considered saleable and should not be left.
The library book fair has grown in size each year and the job of sorting donations has grown accordingly. Interested volunteers should contact Kathy Steves at This e-mail address is being protected from spambots. You need JavaScript enabled to view it or stop by the library's main desk and they will direct you to the sorting area. The job requires only a brief training to get you started.
All funds raised by the book fair are returned to the library in the form of program support and the purchase of new items requested by the library staff.
Comments
(0)
Subscribe to this comment's feed
Write comment