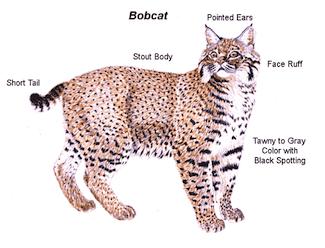 First it was coyotes, then burglars … now Scarsdale residents have another intruder in the area: A Greenacres mom who lives on the border of Scarsdale and White Plains reported two sightings of a bobcat in her yard this week. Here is a first-hand account of the incidents:
"The bobcat was spotted by two separate caregivers on Monday and Tuesday, (4/9 and 4/10) who both gave exact descriptions - small head with cat face and large body with long striped tail closer to the size of a dog and much, much larger than a house cat. It was first spotted on Monday at 2pm in my backyard, which is on the Scarsdale/ White Plains border in Greenacres. My 2 young kids were on the swing set and the cat was 15-20 feet away walking slowly then continued walking away towards Scarsdale. On Tuesday the cat was sighted at 3:30pm while the kids were again in the yard. My 2 year old kept yelling "cat, cat" until my mom realized she was pointing to the bobcat on my lawn, again only about 15 feet away and creeping slowly. I called the White Plains police first (border house) and they denied any similar reports and seemed completely uninterested in taking a report so I didn't pursue it with Scarsdale."
The resident did not get a photo, but here is one picked up from the web:
The Westmoreland Sanctuary in Bedford has been tracking bobcats in Westchester for six years and has reported over 50 sightings. Nearly half were recorded in 2011 and they believe that the population is growing.
According to their site, "The average size of a bobcat is generally described to be twice that of a normal house cat. Average weight of individuals is 20 and 26 pounds for females and males, respectively. The fur is dense, short, and spotted, generally appearing reddish in the summer and grayish in the winter. They are usually solitary with exceptions during the breeding season and when females are rearing young."
Are they dangerous? Bobcats are also discussed in local blog All About Armonk , where Adam Zorn of the Westmoreland Sanctuary, says,"Should the public know that there are bobcats in the area? Yes. Should the public be concerned about the well-being of pets and children? Not really. Their secretive and shy nature creates a highly improbable scenario in which anyone may come into direct contact with one of these animals. In very rare instances, wildlife (bobcats included) may pose a threat to humans when cornered, injured, or ill. These anomalies shouldn't be dismissed but also should not be cause for an unnecessary level of concern."
Comments
(8)
Subscribe to this comment's feed
Write comment