Maroon and White Celebrates Fall Athletes at Mulinos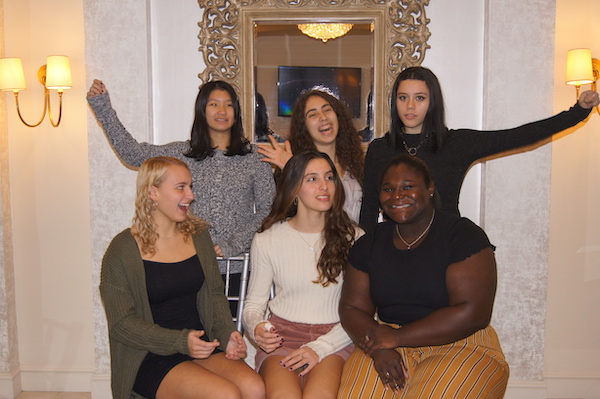 (Bottom row) Kayla Hunt, Michaela Lenskis, Aiyana Lebron (Top row) Sara Vatanapradit, Gillian Zitrin, Isabella deCastroMaroon and White hosted a spirited fall sports dinner on Wednesday November 6 at Lake Isle at Mulino's. Parents and student athletes were greeted at the door with an upbeat soundtrack and invited to participate in a 50-50 raffle to raise funds for the installation of permanent lights at Butler Field and to purchase Maroon and White gear including a large comfy fleece and the ultimate sports wrap. All the rooms of Lake Isle were filled with excited students, parents and coaches for a celebration of the successful fall program and the senior athletes.
Rose Mastracchio who chaired the dinner said, "We had approximately 715 athletes, coaches, and families attend this year which was similar to last year (approximately 700 guests). It is a wonderful night to celebrate the accomplishments and comradely of our athletes."
Here are pictures of the senior athletes from each team and a bit about their seasons:
Cheerleading – Coach Stacy Monteiro
The team was very active this fall – and was quite visible during the football season. The season has just begun and the Raiders won their first competition at Yorktown last week. The regional competition takes place in two weeks. Scarsdale hopes to return to the UCA Nationals – which takes place in February.
Cross Country – Coach Rich Clark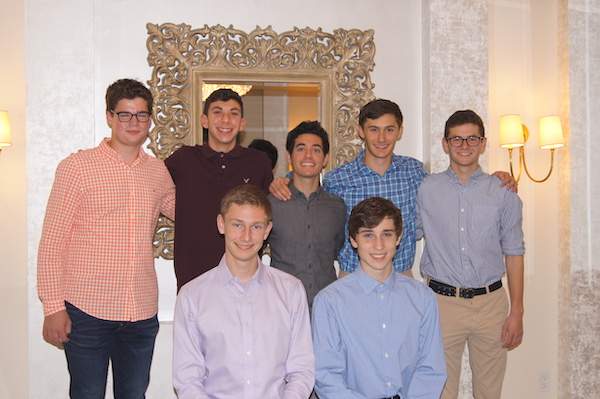 Sam Denison, Matthew Shepitan, Ford Lechner, DJ Matusz, Daniel Asner, Ward Bandsma and Joseph SamuelsScarsdale performed very well at the League 1B championships. The all league boy's team came in first place for the 6th consecutive year– and out of 29 runners placed 4 in the top 8. Daniel Asher took 3rd and Jake Coleman, DJ Matusz and Alex Friedman took 6th through 8th place, respectively. Their female counterparts also put in a solid performance placing second – and out of 24 runners the Raiders placed 6-9 – with Alexandra Simon, Victoria Capobianco, Alexa Doyle, and Natalyn Kapner taking those spots.
The boys team won the county championship and are competing for the right to go to the state championships in sectionals.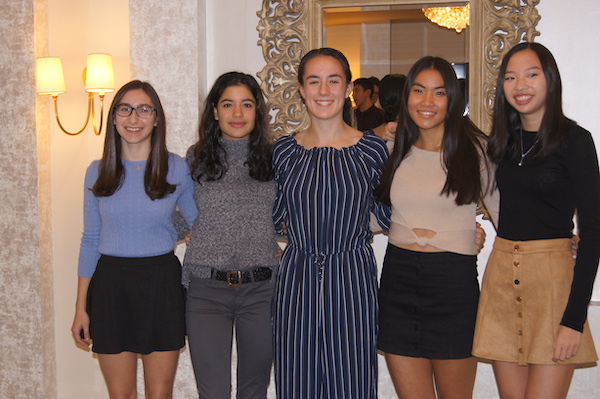 Emma Feldman, Isabel Lago, Annabelle Jacobs, Michelle Pang, Victoria Capobianco




Field Hockey – Coach Lauren Barton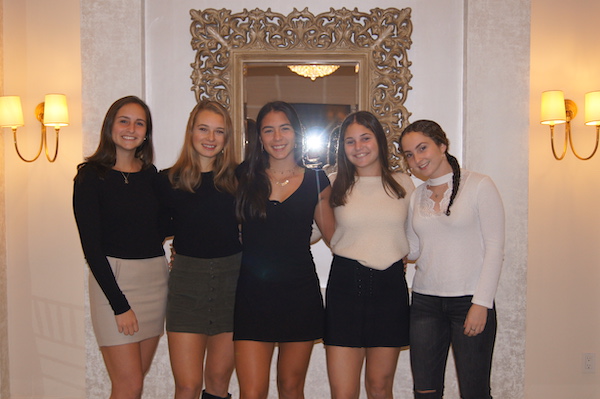 (From left to right) Elizabeth Scarcella, Sophia Franco, Sophie Carroll, Andie Novenstein, and Jordan Titone. The Raiders had a strong 2019 season – finishing the regular season with a 13-4-2 record. Scarsdale had a great playoff run – advancing to the semifinals where it fell to Mamaroneck.
The team was led by senior co-captains Sophie Franco, Sophia Carroll and Liz Scarcella as well as fellow senior Andie Novenstein. Junior Emily Felder, sophomore defensemen Olivia Franco and Maeve Jacobson, and goalie Angela Hoey developed nicely during the season and made major contributions
Football – Coach Andy Verboys
Scarsdale had a strong bounce-back season in 2019 – and ended the regular season with a 5-2 record. The playoffs yielded two tough competitors for the Raiders and they fell to Spring Valley and Arlington in those contests.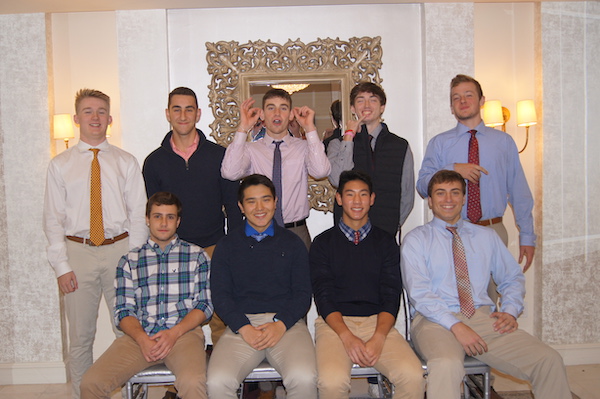 (Bottom row) Tyler Miller, Richard Gao, Harry Song, Dean Mancini, (Upper Row) Adam Freihofner, Sam Feldman, Ian Roghtenberg and Mike Callaghan, Chris SaengerScarsdale was led by junior Ben Miller, senior co-captains Harry Song, Sam Feldman, Chris Saenger, and Dean Mancini who played actively on both sides of the ball, and a strong backfield consisting of Julian Glantz, Jake Potters, and Adam Freihofner.
Boys Soccer- Coach Marcos Monteagudo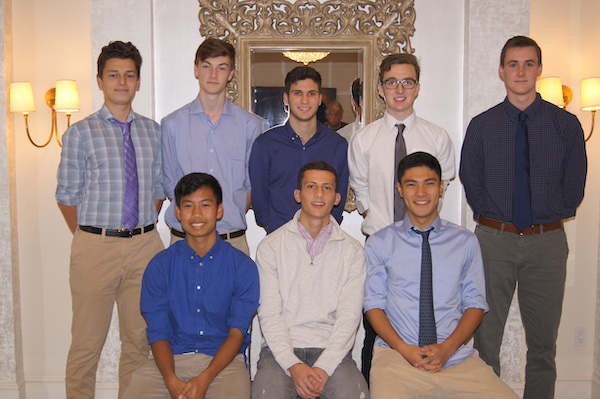 Patrick Artes, Ben Rubin, Calvin Lee, John Dowd, Josh Strassberg, Zach MedvinskyUnder first year coach Monteagudo Scarsdale finished 8-6-2 overall and 3-2-1 in the conference this year. The team lost in penalty kicks in the first round of the playoffs to White Plains.
The team was led by senior co-captains Calvin Lee, Zach Medvinsky, and Ben Rublin. Luca Schettino had a strong campaign as the teams starting goalie – he, along with fellow junior Cooper Cohen, and Sophomore Luke Peltz look to lead the team in the 2020 season.
Girls Soccer – Coach Mindy Genovese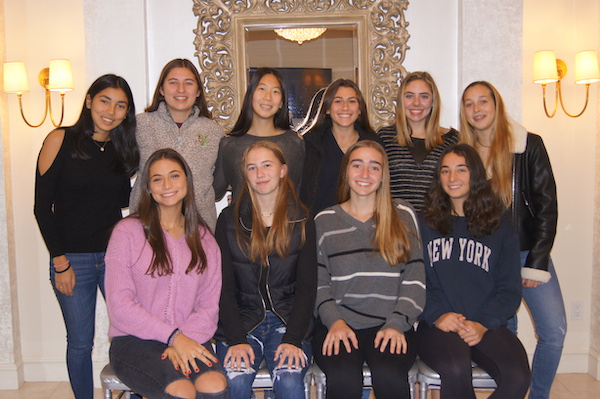 (Bottom Left to Right) Bella George, Olivia Bryant, Megan Quirke, Elizabeth Shawn, (Top Right to Left) Sophia Caione, Sophia Trujillo, Olivia Silberstein, Sophia Hu, Ines Hull, Sophia VercelliThe Raiders had 6 victories and 11 defeats during its 2019 season. Scarsdale went through a rebuilding season after last year's league champions saw 11 players graduate. The team lost in the first round of the playoffs to a highly ranked Suffern team. The team is positioned to rebound in 2020.
Girls Swim and Dive – Coach Barney Foltman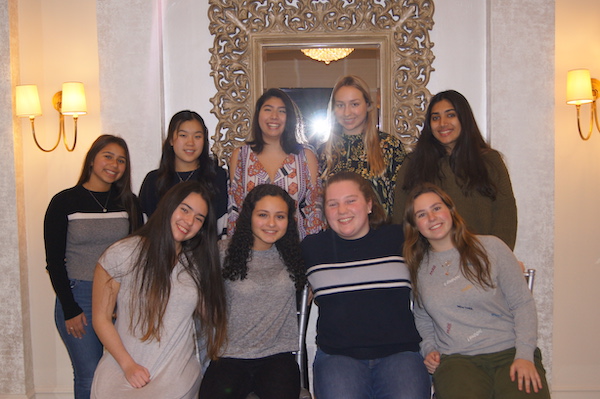 (Back left to right) Elena Oregno, Felicity Huang, Julia Kawai, Rebecca Maude, and Isha Bedi (Front left to right) Julia Campbell, Angela Ferigno, Megan Katchis and Emma GlaserThe Raiders Swim and Dive team put up a 4-5 record after moving up to a higher division this season. Junior Maddie Seltzer continued her high school streak of qualifying for the state championship with another standout performance at the Section 1 championships. Her second place finish at the tournament will see her compete at States on November 15th. Two Scarsdale relay teams qualified for the state championship tournament.
Girls Varsity A Tennis – Coach Jennifer Roane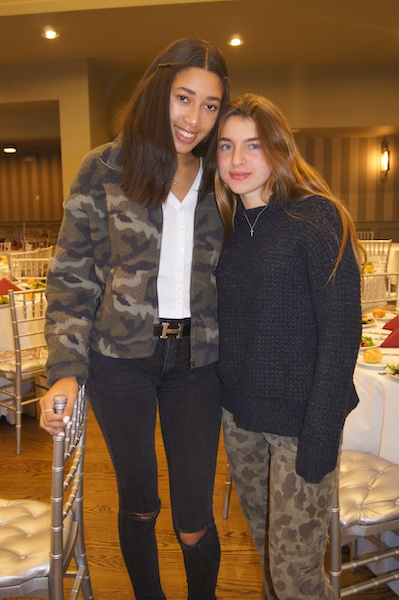 Luisa Mendes and Maggie Akutey from the Varsity A Girls Tennis Team.The Girls tennis team produced a strong 2019 campaign. The team plowed through the regular season and achieved an undefeated season. Further, the Raiders won every match but one during the 11-game season! The squad continued its success during the Section 1 team tournament – again not suffering a single defeat during any of the rounds. The Section champs advanced a singles player and all four doubles players to the outrounds.
The duo of Freshmen Natalie Hu and Junior Zoe Tucker shined during the season: finishing 8th in the state, 3rd in Section 1, winning conferences and named All-Section. They each had fantastic regular seasons as singles as well - Hu was 11-0 and Tucker 9-1.

Girls Varsity B Tennis Coach Feld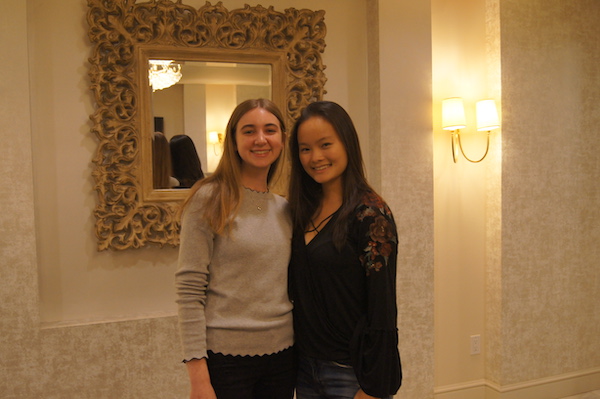 Maya Shaked and Sarah Epstein from the Variety B Girls Tennis Team
Boys Volleyball – Coach Jim Williams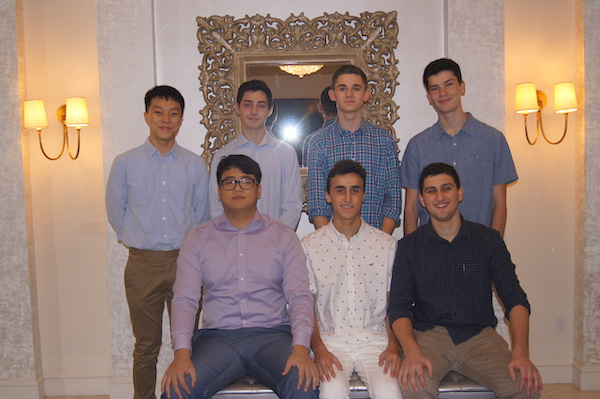 (Bottom Left to Right) Dorji Phuntso, Jack Mintzer, Ari Sontag (Top Left to Right) David Peng, Ethan Gates, Dylan Wasserberger, Schoen AmidorThe boys volleyball team had its best season by far in its four year history – sported an 8-6 record. The teams 8 wins were twice the amount it had achieved during its first 3 years. The teams first playoff appearance was a great success – with a win against Clarkstown North – avenging 2 regular season losses - in its first ever playoff match. The team made it to the Section finals – where it lost a close match to Suffern.
The team was led by sophomore Santiago Gomez – who banged home 177 kills during the season and seniors Justin Mandel and Dorji Phuntso who had 21 and 18 aces, respectively. Gomez and senior David Peng led the team in digs – as each recorded almost 200 for the season – while junior Gustavo Quaresma de Moura had over 30 blocks and 300 assists for the season.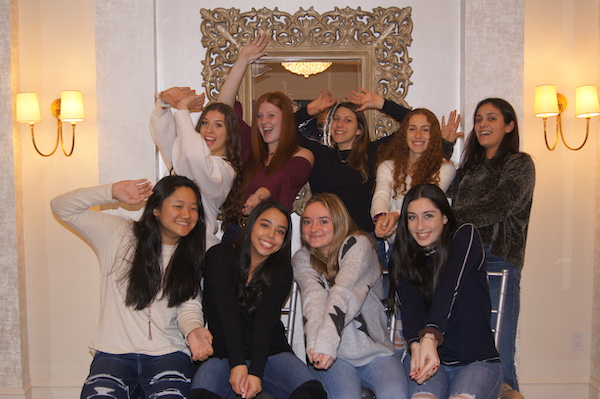 (Btoom Left to Right) Megan Chin, Jordy Love, Julia Strangulations, Coco Dweck (Top Left to Right) Ruby Foligno, Alexa Rupe, Sara Shepetin, Rachel Schwartz, Sophia LaarajGirls Volleyball – Coach Ann Marie Nee
The Raiders had a successful regular season – with a 22-11-4 and 6-2 conference record. Unfortunately, they suffered an upset defeat vs. Mahopac in the first round of the playoffs.
Senior Magan Chin nailed 478 kills to lead the team, while fellow senior Sara Shepetin contributed 180. Shepetin also had 57 aces while seniors Julia Strong and Jordy Love had 42 each. Jacqueline Joyce was the team's leading blocker with 41. Strong and Chin added over 300 digs each for the season.
(Corrections or misspellings? Please email us at scarsdalecomments@gmail.com)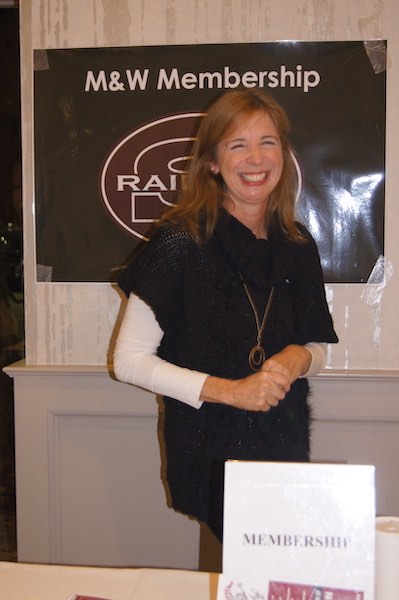 Deb Franco greeted everyone at the door.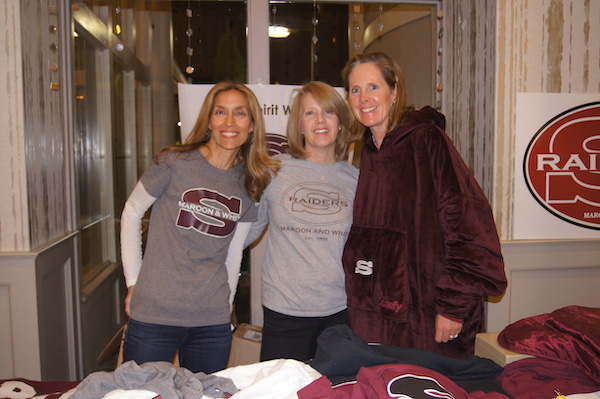 Don't forget the moms -- or the great Maroon and White merchandise.
Volunteer Profile: Tim Foley, "Ut Prosim --That I May Serve"
Details

Category: Shout it Out
Published:

14 November 2019

Written by

Joanne Wallenstein
Continuing our series of interviews with volunteers who give so much of themselves to Scarsdale, this week we profile Tim Foley, the current President of the Scarsdale Forum, along with many other roles. He only moved to town six years ago -- and has developed a remarkable volunteer resume in a very short time. Here is his story:

How did you first become interested in civic engagement? What in your background and experience led you on this path?
The notion that being part of a community meant investing your time, your energy, and your talents into it to help it grow, make it better for your neighbors and for future generations influenced my outlook and my sense of self from my earliest days. Community engagement and public service are my family's motto – quite literally! The Foley coat of arms has the inscription, "Ut Prosim," meaning "That I May Serve." I was fortunate enough to attend a Catholic high school in Massachusetts that also drilled into us that we were charged not just to excel in faith and reason, but to "Give what you've been given." My parents reflected that in their career paths: my dad is a retired Boston Police Office and my stepmom recently retired as a public school teacher in Boston.
Living on the Upper West Side of Manhattan, I was constantly finding new ways to be of service, from a few years as an Auxiliary Police Officer in the 24 Precinct to serving on the Parish Council for my neighborhood Catholic Church. Since 2005, my career focused more and more – and ultimately exclusively – on politics and government, so I've been fortunate enough to dovetail the mission of my work and the motivation of my volunteer activities around a common theme of making progress on behalf of my neighbors and our community.

How long have you lived in Scarsdale? Why did you decide to move here and what are some of the reasons you like to live in town?

My family moved to Scarsdale 6 and a half years ago. I had never lived outside of a city, but my wife had grown up in Hartsdale and was far more familiar with the area than I was. I had spent a lot of time over a number of years presenting at educational forums and living room gatherings throughout Westchester County as a subject matter expert on the issue of health care reform. Ironically, Scarsdale was one of the locations I'd never come to, but I knew great volunteers and activists here, like Myra Saul and Jeff Levin, and that gave me some hope that I'd fall in with a good crowd.
Like most families that continue to move to Scarsdale year after year, we came for the schools. The quality of education certainly has not disappointed. I have thrilled to see my son's academic progress under superb teachers each and every year. With multiple teachers in my family, and with some personal experience dealing with the complex policy issues of struggling financially struggling municipal governments and school districts, I have even more appreciation for the wealth of resources and the incredible inspiration, creativity, and love of learning the teachers and the school district work so hard to impart.
Scarsdale's nickname of "A Village in a Park" is also very well deserved. On a crisp autumn afternoon, driving around town continues to be a breathtaking experience, and there's nothing my daughter loves more than to spend some free time at the playground at Hyatt Field.
But by far my favorite part of living here are the people I've met. Scarsdalians are likely to be highly educated with very high standards for themselves and their community. But I've also found that most are very warm, people who put their families first, and have a real sense of pride in how our community continues to grow and change. I have friends whose families go back multiple generations in Scarsdale, friends who made their own journey here from New York City or elsewhere less than a year ago, and neighbors who have only been in the United States for a few months, but the common sense of purpose among all of them is palpable.
What were some of your initial volunteer activities here? Did anyone you met encourage you to get involved?

I knew I wanted to join the Scarsdale Democratic Town Committee (which I did and was ultimately voted in as Third Vice Chair) but was unsure how else to navigate Scarsdale's very busy volunteer scene. At the time I moved here from the Upper West Side, I had been elected twice as President of the local Democratic Club which counted Assemblymember Linda Rosenthal among its members. When she found out I was moving here, she was only too happy to connect me to her good friend and colleague, Scarsdale's own Assemblymember Amy Paulin. Amy, in turn, was very generous in meeting me for coffee. She recommended either joining the League of Women Voters of Scarsdale, which is how she got started in her own community service here, or the Scarsdale Forum. It was difficult for me to make the League's scheduled meetings, so I walked into the very next Forum meeting. This wound up being superb advice, as years later, I'm now serving as the President of the Scarsdale Forum!
(And in a similar vein, listening to Amy continues to be among the smartest things I do nearly every day, as she ultimately hired me as the Communications Director in her office.)
What have been some of your biggest volunteer commitments?
I've been extremely fortunate to be part of several successful group efforts with other engaged volunteers that have not only were fun and intellectually rewarding, but beneficial to Scarsdale and its traditions. Lena Crandall nudged me toward chairing the Scarsdale Electoral Policy Committee of the Scarsdale Forum when she was President, and the experience of working with that committee gave me an excuse for an intensive deep dive on the traditions and intentions of Scarsdale's somewhat unique non-partisan system for selecting candidates for village office. The thoughtful discussions we had about ways to improve the system to make it more democratic, more self-governing, and remove some old and questionable reliance on support from outside organizations like the Town and Village Civic Club that might seem odd to newcomers helped pave the way for me to serve under Chair Madelaine Eppenstein of the Procedure Committee in an effort to amend the Non-Partisan Resolution to put those reforms into action.
For the past 18 months I've served on the Planning Board, which has been a huge educational experience for me, as my knowledge of land use issues had been somewhat perfunctory before. Inspired by the "no stone unturned" approach of fellow Planning Board members like Linda Doucette-Ashman, I've rolled up my sleeves to truly understand the village's comprehensive plan, the need to give both homeowners and potentially impacted neighbors an honest hearing, the responsibility of civic oversight by volunteer boards, and the need to constantly be questioning whether the Village Code and regulations are continuing to yield the kind of community we want to live in.
But of course, the Scarsdale Forum has been the bedrock of my volunteer commitment, with its well-balanced mix of committees that overflow with reasoned research and debate around the public policy questions that most directly affect life in the village, well organized programs with interesting speakers designed to better inform and engage the community on all aspects of civic life, and a surprisingly fun and social environment. I've learned so much from my fellow Forum members throughout the years that it's been hard – indeed impossible – when asked to take on more responsibility as a Board of Directors member, committee chair, last year's Vice President and this year's President. I've found that the Forum is perhaps the best group of volunteers in town at shining a spotlight on an issue that's of growing importance to our community and its way of life, from the discussions and frustrations that gave rise to the Downtown Revitalization Committee, to the ongoing work of the Municipal Services Committee around traffic safety, to the many successful village initiates that took a number of insistent reports, advocacy and elbow grease from the Sustainabilty Committee to get off the ground. I'm hopeful that this year's Special Committee on Climate Resilience will be similarly successful and help focus the minds of decision makers and residents on what we practical steps we can take to reduce our own greenhouse gas emissions and prepare our community for the increased number of extreme weather events, neighborhood disruption, and public health concerns that we can anticipate over the next few decades.
Did you ever bite off more than you could chew - or meet unexpected obstacles in your volunteer assignments?
Oh, you better believe it! My family motto is much closer to "How else can I help" than it is to "Know your limits."
It had been recommended to me that I ought to find a way to be more involved in my neighborhood association. Unfortunately, the Bramlee Heights Neighborhood Association had more or less been in neutral for a few years. I soon realized this wouldn't just be a "turnkey" move into a new community role; it would be a true fixer-upper to rebuild the organization. Honestly, recruiting some neighbors to help rebuild the association has languished on my to-do list. (If anyone's reading this on Brown Rd, Brambach Rd, Lee Rd, or Potter Place – email me! Let's talk!)
I've also been a volunteer basketball coach for Fox Meadow through the Rec Department, to the endless shock, surprise, and bemusement of anyone who saw me play sports in middle school or high school. To say that's been a stretch for me personally – sometimes physically so! – would be an understatement! Thankfully I've had a secret weapon. My sister is an elementary school physical education teacher in Massachusetts, and she's been sending sage advice, helpful tips, and do's and don't from across the miles.
What do you say to newcomers you meet about getting acclimated and volunterring?

First and foremost, do what you love and you're interested in. We all lead such busy lives these days that your ability to give back consistently will have some natural limits – particularly when it comes to time and energy. Whether you care about the PTA and the school system, or the parks and conservation, local questions of politics and policy, or national questions like gun violence prevention or social justice, guaranteed there's an organization in Scarsdale itself or Westchester County working on it, and they'd all benefit from another pair of hands! Find the thing that you're most passionate about, or that will connect you to the kinds of people you find most interesting or easy which which to work, since that will help keep you motivated to find that extra time to make a connection or make a difference.
And always feel like you can ask questions about how else you can get involved!
What do you think are some of the biggest challenges Scarsdale faces today?
So much of our civic infrastructure comes from volunteerism and an expectation of community engagement, but volunteerism across the board has been on a downward slope for decades in many communities, not just Scarsdale. Some of this is driven by demographics, the changing demands of the workforce, the increasingly challenging environment for raising children in the modern world, and how incredibly busy we've all become. That's not even mentioning that most of us carry a perpetual distraction machine in our pockets at all hours of the day. Luckily, many of the opportunities for community engagement and service in the village recognize that volunteers have become harder and harder to come by and are experimenting with new ways to make their organizations relevant and mission-driven.
The good news is that, no matter whether we're facing economic headwinds or real estate uncertainty, year after year, families are always trying to find a way to make their home here in Scarsdale. That means our community is always renewing itself with new faces, new talent, new ideas, new enthusiasm, and new opportunity. In my short time here, I've found so many fiercely intelligent and kind-hearted people who have been willing to roll up their sleeves and be as willing to do what it takes to improve the community's values as much as they would their own property values. As long as we rise to the challenge of giving these talented volunteers a reason to invest their time and energy in Scarsdale, our future will always be bright.
Eleven Elected to Serve on the Citizens Nominating Committee
Details

Category: Village Voices
Published:

13 November 2019

Written by

Joanne Wallenstein

The results of the Citizens Nominating Committee election held on Tuesday, November 12 are below. Scarsdale voters elected their neighbors to serve on the nonpartisan Citizens Nominating Committee (CNC). These newly elected members will join current CNC members to meet and evaluate non-partisan candidates for the village offices of three Trustees and Village Justice. The 30 elected members of the CNC will then nominate candidates to represent the Non-Partisan party's slate in the village election, which takes place on Tuesday, March 17, 2020.
A total of 368 votes were cast, included in person voting and mail in ballots. Here are the names of those who were selected:
Elected CNC Members, 3-year terms unless otherwise noted: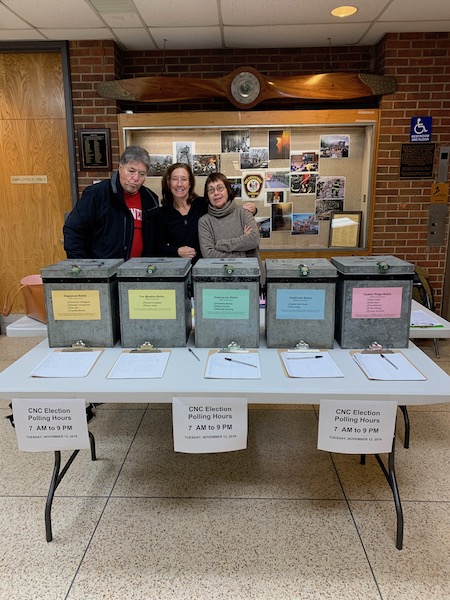 Eric Jaffe, Anne Lyon and BK Munguia at the poll.

Edgewood: Christian Callaghan; Camille Roche

Fox Meadow: Susan Douglass; Amy Laartz

Greenacres: Elena Kanner; Michelle Sterling

Heathcote: Janet Han-Youm; Peri Zelig

Quaker Ridge: Neal Soss, 1-year term; Jay Wechsler; Omer Wiczyk
Here are the number of ballots cast by District Unit: in person (mail-in ballots)
Edgewood 96 88(8)
Fox Meadow 46 41(5)
Greenacres 82 79(3)
Heathcote 57 53(4)
Quaker Ridge 87 75(12)

The election was administered by the Citizens Nominating Committee Procedure Committee which is chaired by Eric Cheng and Sarit Kessel Fuchs and includes Stephen Baer, Daniel Brown, Eric Cheng, Chair, Marie DiPalma, Madelaine Eppenstein, Sarit Kessel Fuchs, Vice Chair, Dan Gerardi, Judy Wenjing Kerr, Jon Leslie, Matt Martin, Barry Meiselman, BK Munguia, ML Perlman, Andrew Sereysky, Gregory Soldatenko, Peter Tesler, Amber Yusef, and Anne Zink.
Professor Ryan Goodman Outlines the Road to Impeachment
Details

Category: Around Town
Published:

10 November 2019

Written by

Joanne Wallenstein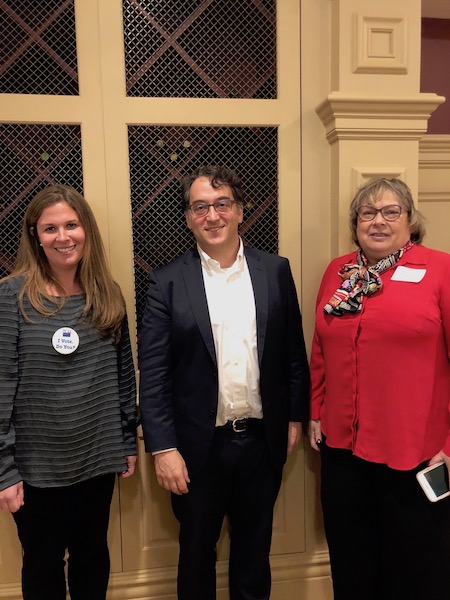 League President Leah Dembitzer, Professor Ryan Goodman and Cindy DunneThe luncheon topic could not have been more timely. During the same week that House Democrats announced they would hold public hearings on the impeachment of President Donald J. Trump, the League of Women Voters of Scarsdale hosted a luncheon with an expert on the impeachment process. They invited Ryan Goodman, Professor of Law at New York University and a co-editor in chief of the website Just Security.org to discuss, "Ukraine and The Impeachment Process: What are the Strongest Arguments on Either Side? What's Next?"
Perhaps that's the reason the event was sold out.
Introducing Goodman, League President Leah Dembitzer read the following statement from the national League of Women Voters:
The League of Women Voters of the United States believes that presidential power should be exercised within the constitutional framework of a dynamic balance between the executive and legislative branches. Accountability and responsibility to the people require that unnecessary secrecy between the President and Congress be eliminated."
"The League of Women Voters of the United States believes that structures and practices of the U.S. Congress must be characterized by openness, accountability, representativeness, decision-making capability, and effective performance."
Goodman's talk highlighted what happens when the balance between the legislative and executive branch is off kilter and there is loss of accountability. He provided a timeline and an analysis of what he expects to happen in the coming weeks.
He said, "We're going to have an impeachment vote in the House by the end of the calendar year and it will be a yea vote. It will be on a single charge – about allegations about Ukraine."
Why limit the articles to the Ukraine issue? Goodman said, "Congressman who come from purple districts said they would vote yes on impeachment on this issue. This is an issue that the public can easily understand."
He went on to say, "The President pressured a foreign government to intervene in our elections. The articles of impeachment will be specific to Trumps dealings with Ukraine and will include a number of options. Representatives can decide which ones to vote for.
Goodman believes the articles of impeachment will be drafted based on those brought against Richard Nixon.
The first will be abuse of power. He said, even without a quid pro quo, the mere solicitation to a foreign government to interfere in our elections, constitutes an abuse of power. Add to that the quid pro quo, which was economic aid in exchange for an investigation of Hunter Biden, constitutes a second abuse of power. In other words, Trump used the power of the office, in violation of his oath, and solicited a foreign government to act for his personal gain.
The second article of impeachment will be for contempt of Congress. These charges results from the administration's interference with Congressional committees and the White House's refusal to produce witnesses or documents. In fact, the White House Counsel sent a letter to Congress saying they would not engage in any form of accommodation.
The third article will be for obstruction in that the White House engaged in a plan to cover-up and conceal the evidence and to intimidate the witnesses. About the whistle blower who initially made the report about the President's conduct, Trump said, "I want to know who's the person who gave the whistle-blower the information because that's close to a spy," Mr. Trump said. "You know what we used to do in the old days when we were smart with spies and treason, right? We used to handle it a little differently than we do now."
According to Goodman, "that's intimidating witnesses."
Though a vote to impeach needs only a majority vote to pass in the House, in the Senate, a 2/3 majority is required. That means that 20 Republican senators would need to vote in favor of impeachment.
Though it's unlikely that so many will cross party lines, Goodman predicted that if public opinion continues to move against Trump, there is a "non-trivial" chance that the Senate could also vote to impeach.
Goodman outlined three possible outcomes of the vote in the Senate:
-Conviction
-Acquittal
-A near miss – which could make it nearly impossible for Trump to be re-elected and continue in office. Goodman said, "That's what happened to Andrew Johnson."
What factors might determine these outcomes?
The strength of the indictment
Goodman believes the evidence to impeach is "damning" and "has been proven to a great certainty." He called the transcript of Trump's phone call to the Ukrainian president, "the smoking gun." He continued, "The text messages between the ambassadors includes the quid pro quo itself. We are holding military aid." Furthermore, he said, "90% of the whistle blower complaint has been corroborated."
The bi-partisan vote
The composition of the vote will also be a factor. How will the house vote? How do people who are up for re-election vote? Do Republican representatives break with their party?
The procedural fairness and irregularities of the proceedings
Goodman explained, "The White House has raised legitimate concerns. The President's lawyers cannot call or question witnesses. The perception of the fairness is important as well. What is the public's perception of the fairness of the proceedings?
Goodman explained that in his view, even if Trump is not convicted in the Senate, the nature and perception of the proceedings and the make-up of the vote, could leave Trump unable to govern or get re-nominated by the Republicans to run for a second term.
According to Goodman, there is a "non-trivial" chance that President Trump will be convicted in the Senate. He says, "Public opinion is important. The most recent Fox poll showed that 51% of the public favor impeachment and removal from office. This might climb – to 60% or even higher. If so, the Republicans will have a problem on their hands when they look at the electorate.
Goodman also predicted that Trump's lawyer, Rudy Giuliani, could affect the outcome of an impeachment trial. Goodman said, "many think Giuliani has great criminal exposure and is already under criminal investigation. Lev Parnas and Igor Fruman have already been indicted, and presumably the FBI has their phones and transcripts of their communications with Giuliani. Will Giuliani flip in order to arrange a plea deal?
If so, his evidence could be even more damning to his boss.
Goodman gave a concise and insightful analysis of the situation to date. With new developments every day, the only certainty is that the impeachment inquiry will continue to dominate headlines, at least through the end of the year.
Kudos to the League for bringing a scholar and an expert to town. To dig deeper on this issue, visit Goodman's website at justsecurity.org.
When Scarsdale Became a Cold War Dateline
Details

Category: On Our Radar
Published:

12 November 2019

Written by

Brian T. Brown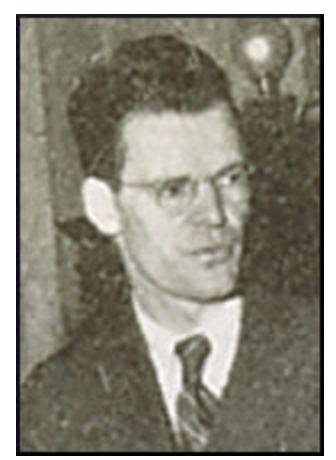 Larry DugganSome fifty years ago, just a few days before Christmas, Westchester newspapers supplied a jarring and darker contrast to the holiday spirit. Readers were being informed that the Cold War had arrived on their doorsteps.
On December 20, 1948, Scarsdale resident and ex-State Department aide Larry Duggan had died shockingly and mysteriously in New York City. Police on the scene were uncertain if Duggan had either accidentally fallen or jumped from the sixteenth floor of his office, at Fifth Avenue and Forty-fifth Street. He was just 43 years old and had left behind a wife and four children.
Responding to reports that Duggan was an outed Soviet spy who had chosen suicide, former Under Secretary of State Sumner Welles was quoted describing his former close colleague as "a brilliant, devoted, and patriotic public servant" and, citing a recent personal letter from the deceased, said there was no indication of "dejection" or "anticipation of change in affairs."

After the conclusion of the Cold War, and the steady release of formerly classified information, we would learn that people such as Sumner Welles had badly misjudged Larry Duggan. The Scarsdale resident was not exactly a patriot and, in the days leading up to his death, this often fraught husband and father of four was under an immense amount of stress. Larry Duggan was, in fact, a longtime Soviet asset who, for several reasons, may indeed have reached a point of despair.
In late 2016, while working from an address just a few blocks from Duggan's Scarsdale home (46 Walworth Avenue), I began research on a book about Cold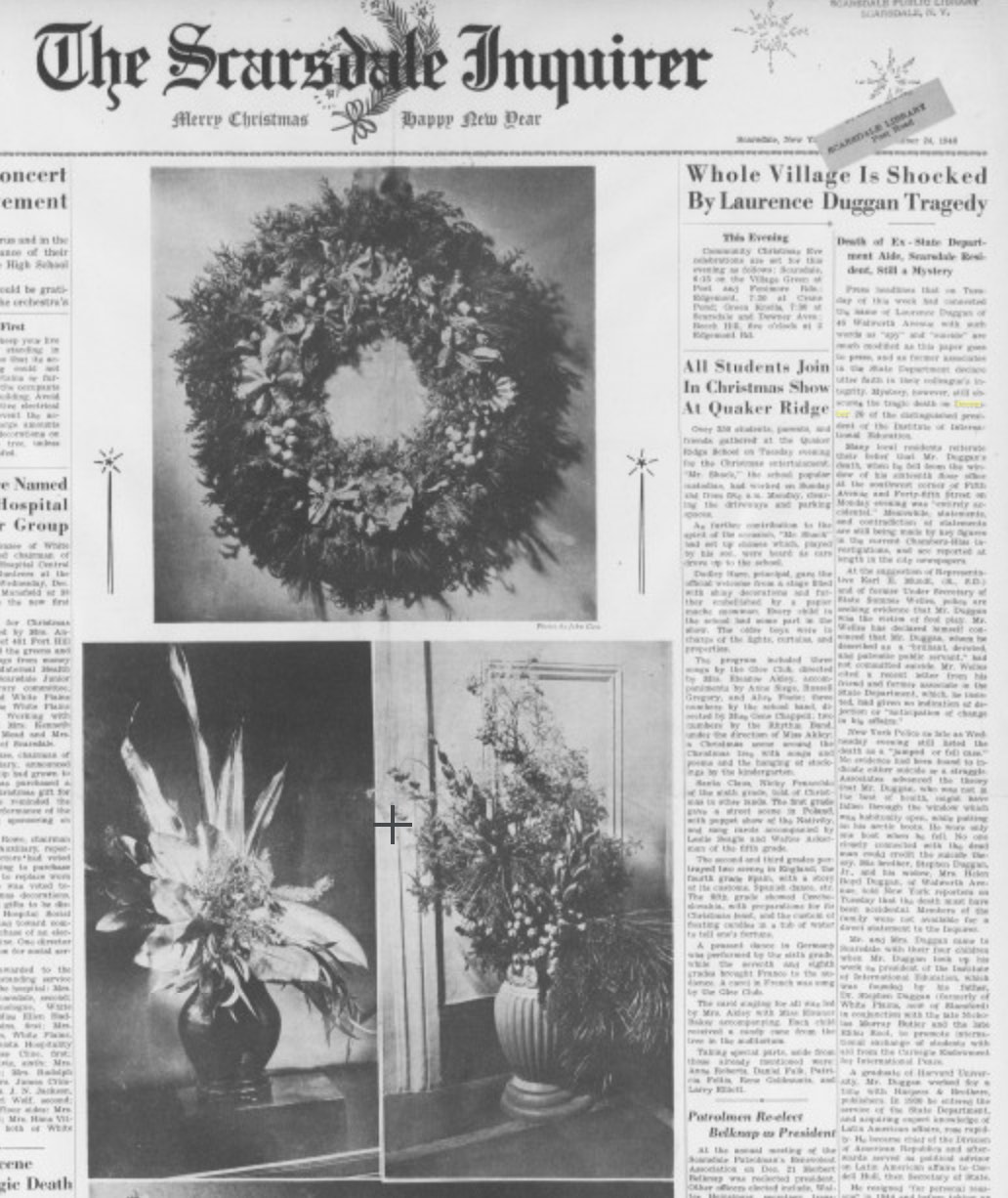 Duggan's death made headlines on December 24, 1948War paranoia. It was published November 5 by Twelve, with the title: Someone Is Out to Get Us. In the course of inhaling background on the period, I would learn to be suspicious about information published during the Cold War. Like many other authors who've attempted a second draft of the period's history, I'd learn there's a seemingly bottomless pit of buried truths.
As I was reading about the death of purported spy Larry Duggan, for example, I also had to keep in mind the residue of disinformation created by manipulative masters of propaganda, such as J. Edgar Hoover and Joe McCarthy, who were both hyping a Red Scare into hysteria, and then exploiting it, for their own fame and power. In the late Forties and throughout much of the Fifties, thousands of Americans were falsely accused of being communists and, as a result, had had their lives destroyed.
But, in finding unearthed intelligence files, I also learned that Duggan was one of a group of young intellectuals who had fallen in love with an idealized version of the Soviet Union and, when he realized his folly, discovered that there was no such thing as an exit clause from the Kremlin's spy shop.

Duggan was recruited by the NKVD – the forerunner of the KGB. His establishment credentials were one of his chief virtues. His resume seemed to make him an unlikely Stalin acolyte. His father, Stephen, was a Columbia-educated scholar who, along with Nobel laureate and Columbia President Nicholas Murray Butler, had founded the International Institute of International Education, a global student exchange program sponsored by the Carnegie Endowment for International Peace. Larry had received his early education in Hartsdale and White Plains, then went on to graduate with honors from two of the educational pillars of the WASP elite: Phillips Exeter Academy and Harvard.
But, as Larry Duggan joined the U.S. State Department in 1930, capitalism seemed on the verge of collapse after a wave of bank failures and sudden mass unemployment. Socialism, if not communism, seemed like the increasingly sensible alternative. As Arthur Miller wrote: "The story went around that Wall Street stockbrokers were calling Earl Browder, head of the Communist Party, for his analysis of the economy … It was capitalism that was irrational, religious, obscure in the head, and Hitler was its screaming archangel."
Duggan would be enticed into espionage by a Viennese actress turned Soviet agent named Hede Massing. "Every decent liberal," she told the young American, "has a duty to participate in the fight against Adolf Hitler." Eventually, Duggan began regularly passing State Department documents to Soviet agents.
As Kati Marton wrote in True Believer, Duggan was part of a "startling tale … of the faith highly intelligent, superbly educated young Americans placed in a country they had never even visited and on whose behalf they willingly betrayed their own."
But Duggan was soon having second thoughts. He couldn't ignore Stalin's ongoing show trials, which the dictator was using to purge virtually all of his potential political and military rivals.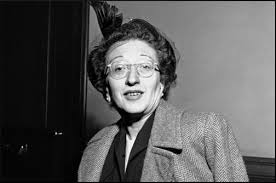 Duggan was enticed into espionage by Viennese actress turned Soviet agent named Hede Massing.The scale and speed of the killing in Russia had been horrific. For example, the officer corps of the Red Army all but disappeared in the fall of 1938, as 13 out of the 15 top commanders and 154 out of 195 division commanders were shot on the basis of false accusations. In total, approximately 800,000 would be executed. Another 1.7 million would die in labor camps.

After Duggan expressed doubts that there couldn't possibly be that many traitors inside the USSR and, moreover, that he wanted to cease contact with the NKVD, he was summoned by his Soviet handler for what became a six-hour sit down. The ambivalent American was told that the "extermination of these traitors only strengthens the nation and its army immeasurably." As for his wish to bolt, it was made clear to him that the Kremlin wasn't ready to release him from his duties.
In 1944, Secretary of State Cordell Hull reportedly insisted Duggan resign because of suspicions about his disloyalty. Once out of government, Duggan assumed he'd finally be of no use to Moscow. But, after succeeding his father as director of the International Institute of Education and settling in Scarsdale, he inadvertently found a way to remind the Kremlin about his existence.
In a 1947 issue of America magazine, Duggan supported funding for Soviet exchange students. Seeing the possibility of using such a program as a cover for intelligence operatives, a Soviet official codenamed "Shaushkin" – real name Sergei Romanovich Striganov – visited Duggan at the IIE's Fifth Avenue office on July 1, 1948.
"He received me kindly," Striganov reported back to Moscow, "was attentive, told [me] in detail about the work of the Institute, showed its premises," and then "gave me to understand that it was time to leave, and took me to the elevator … He had no wish to talk about anything other than the Institute and tried the whole time to keep an official tone. I got the impression he was constantly on his guard."
By 1948, the Cold War was in high gear. Behind an Iron Curtain, Soviet communism had been brutally imposed on the entirety of Eastern Europe – not one country had freely elected a communist regime. Moreover, the Czech foreign minister had recently been thrown out of the window of his apartment in Prague.

At the same time, millions in Europe were starving. Secretary of State George Marshall had beseeched Stalin to participate in an American plan to send billions of dollars of food and supplies to the continent. Stalin shrugged and, further, refused to allow Czechoslovakia, Poland and Romania to join what became the Marshall Plan.
On June 24, 1948, Harry Truman answered Stalin's blockade of West Berlin with a blazingly audacious airlift. Thousands of military supply flights began keeping the city's two-million imprisoned citizens fueled and fed.
Two months later, Whittaker Chambers told a New York grand jury that Alger Hiss was a Soviet spy, although this was hardly the first time that Chambers had made the charge. In 1939, also horrified by Stalin's homicidal purges, Chambers had visited a contact in the State Department, Adolf Berle, and confessed that he had been a member of a secret Soviet cell in Washington that included Hiss, who, like Duggan, was a Harvard-educated, high-level State Department official with access to very sensitive communications. In 1940, Berle informed the FBI of the Chambers allegations and ⎼ after no response ⎼ did so again in 1941. The FBI interviewed Chambers in 1942 and 1945. He wasn't taken seriously.
While the FBI failed to act on the Chambers information, Soviet espionage agents continued to conspire with British and American operatives to infiltrate the U.S. government and, before the end World War II, had pretty much stolen the plans for making an atomic bomb. The FBI's pathetic counterintelligence capability was among the reasons the Cold War got so hot so fast. In the back half of the 1940s, as news of Soviet spying successes flooded into the headlines almost all at once, it came to seem like Stalin's spies could be anyone, show up anywhere, ready to strike anytime.
For Duggan, bad news began to arrive with a blazing fury. On December 8, 1948, in secret testimony before the House Un-American Activities Committee, anti-communist journalist Isaac Don Levine said Chambers had told him that Duggan had passed documents to the Soviets. At the same time, NKVD recruiter Hede Massing identified Duggan as a Soviet asset.

Later, Massing wrote, "Of the conquests I made while a Soviet agent, the one I regret most is Larry Duggan ... Larry impressed me as being an extremely tense, high-strung, intellectual young man ... His wife, Helen, beautiful, well balanced, capable and sure of herself, seemed the perfect counterpart to him. An excellent housekeeper and busy woman, she was an attentive and loving companion to Larry."
On December 11, 1948, FBI agents interviewed Duggan in his Scarsdale home. On December 15, the Soviets were trying to reach him again. His most recent Kremlin visitor, Sergei Romanovich Striganov, had called the IIE office and left a message with the secretary. Five days later, at around 7 p.m., Duggan would be discovered barely alive, on top of a pile of snow near the entrance of his office building, on the southwest corner of Fifth Avenue and Forty-Fifth Street. Taken to Roosevelt Hospital with fractures and internal injuries, he was pronounced dead on arrival.
Time reported: "In the raw, early darkness of a Christmas-week evening, Manhattan's slushy 45th Street rustled with the shuffling sound and movement of people. Fifth Avenue's traffic brayed and rumbled close by … No one saw him start his long, tumbling drop to the street. He fell on a heap of dirty snow. Passersby stopped, turned, and saw him then; a thin, black-haired man lying broken and dying."
Another news report revealed that associates of Mr. Duggan's were speculating that he "might have fallen through the window, which was habitually open, while putting on his arctic boots. He wore only one boot when he fell." The article also indicated that Duggan's brother and wife had told New York reporters that the death "must have been accidental." Helen Duggan had added angrily, "I deny that my husband had anything to do with Whittaker Chambers or... with spying. It's the biggest lot of hooey I ever heard. It just isn't so – any part of it."
Around the same time as her husband's death, Westchester residents were being given another reminder of the immediate consequences of the Cold War. The Psychological Barometer, a nationwide coast-to-coast poll, was reporting that 67 percent of those questioned said Communism was dangerous, while only 26 percent feared Socialism.
The pollsters added this overview: "The arbitrary tactics of Russia in countries like Czechoslovakia, Poland, and elsewhere have undoubtedly produced among the American people a strong revulsion against Communism. This revulsion has not as yet taken place toward Socialism which, as the people themselves said, is a more gradual substitution of state control for personal freedom."
Brian Brown is the author of "Someone Is Out To Get Us: A Not So Brief History of Cold Paranoia and Madness" For more, go to: somoeneisouttogetus.com.
What to Watch: The Best of Fall TV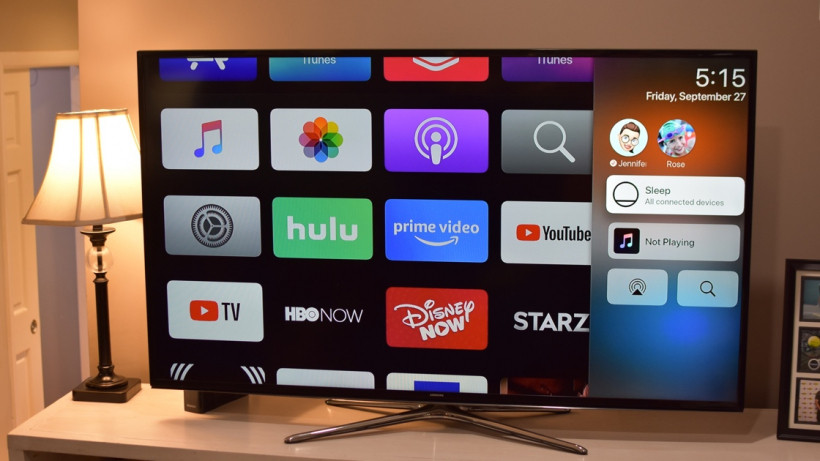 With the proliferation of television channels, the advent of Apple TV and so much streaming content, there seems to be no end of all the good shows and series to watch. If you're a bit overwhelmed, here is our list of some great shows to watch this fall that will make it worth it to stay up late. We also had the chance to chat with a couple of stars in the shows, so we will let them convince you to watch in their own words.
PRODIGAL SON: FOX Mondays @ 9:00 PM
This show is a psychological thriller that will keep you on your toes. Malcolm Bright (Tom Payne) is a criminal psychologist who uses his gift of solving crimes to help the NYPD while dealing with his own extremely interesting life, like his serial killer dad. Is Bright a psychopath himself? Does it take a criminal to solve a crime? The twists and turns will keep you watching.
UNBELIEVABLE: Netflix (Streaming)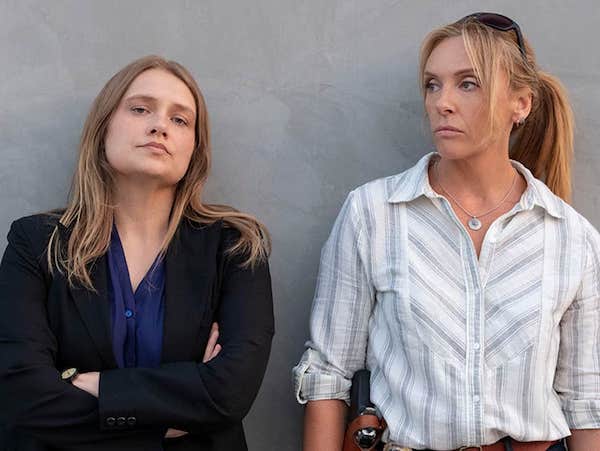 Based on a true story, this Netflix hit is about a teenager, Marie Adler (Kaitlyn Dever), who reports being raped and then has to deal with the consequences of not being believed by those close to her or the law. The acting is real and believable and the story is truly unbelievable. The female investigators played by Toni Collette and Merritt Wever are phenomenal. I binge watched this one. There's nothing else like it on TV.
EVIL: CBS Thursdays @ 10:00 PM
This creepy drama-with-some-comedy is already picked up for season 2 and follows female forensic psychologist Kristen Bouchard (Katja Herbers), priest-in-training David Acosta (Mike Colter) and contractor Ben Shakir (Aasif Mandvi) as they work to examine the origins of evil as it relates to science and religion; or science versus religion? Kristen Bouchard's four daughters also star in the show and I had the chance to speak to Dalya Knapp, age 8, who plays Laura Bouchard.
What's her favorite scene: "Definitely it's in episode 4 when I fall down the stairs. Want to hear a secret? They removed part of the floor and put a little foam mattress on it, and they put knee pads under my tights so I wouldn't get hurt. When you see the scary virtual reality creature trying to get me, it's actually my photo double! I loved rehearsing it."
Interesting things about being an actor on EVIL: "Well, in real life our mom is Dutch and our dad is Australian and off set he'd teach us to speak in his Australian accent! Also, we have different directors for each episode and in episode 5, the director was British and she called the elevator 'the lift' (giggles)."
Why should people watch EVIL? "Well it's not really for kids but it's funny at some moments and I think everyone can enjoy it. People can connect to it because of religion and the writers are so good."
THE GOOD PLACE: NBC Thursdays @ 9:00 PM (and streaming on Netflix)
Kristen Bell is a master of comedy and nails it again, this time with her character Eleanor Shellstrop as she realizes that she died a rather embarrassing death and is now in the afterlife. Eleanor made it to "the good place" (versus the bad place) but quickly realizes her good luck was a complete mistake. Ted Danson is back on primetime as Michael, the Godly creator of The Good Place, and the role is written perfectly for him. It's witty and creative with poignant moments to boot.
SINGLE PARENTS: ABC Wednesdays @ 9:30 PM
Hilarious and fun to watch, this current comedy follows a bunch of single parents as they work to raise their kids and maintain their personal lives. Angie (Leighton Meester) is single mom to Graham (Tyler Wladis) and they are a great comedic pair. We spoke toTyler about his time on the show.
What's your favorite episode so far? "Definitely the time I got to roller skate in an episode…it was super fun! It will air in early December"
What has been your favorite scene? "Really any scene when all of the kids in the show are there because then we get to hang out off camera."
This is comedy. Have you ever had the urge to laugh while on camera? "Yes, sometimes during the end of a scene if I try to hold it in, I just can't. I try to bite my tongue as hard as I can so I don't laugh!"
MODERN LOVE: Amazon Prime mini-series (on demand)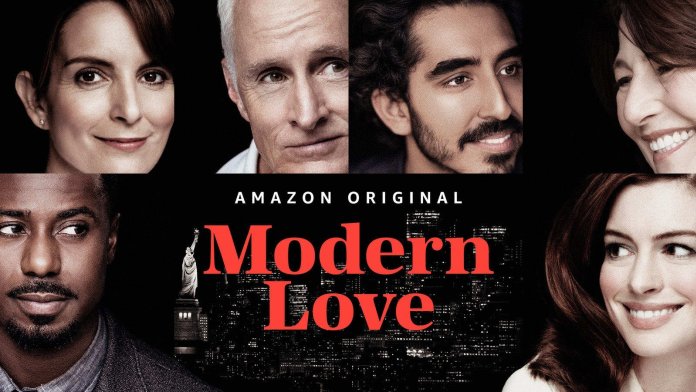 This show brings the New York Times column of the same name to life in a series of stories about relationships. With a stellar cast including Tina Fey, Dev Patel, Anne Hathaway and more, each story feels like a movie in itself. The episodes are 30 minutes, but the characters are so well developed in that short period of time that I never want the credits to roll. Some are likeable while others are not. And sometimes this changes half-way through. In the episode with Anne Hathaway (episode 3), I felt sorry for the nice guy she met because she kept spoiling the dates. It turns out that her character is bipolar and her life is uncontrollable in many ways. As a viewer, when she's "up" I felt happy and optimistic for her;" but when she can't get out of bed, her apartment is a mess and her date is left standing by himself on the street, I truly felt "down." The ending made me tear up.
CHERNOBYL: HBO mini-series (on-demand)
Based on the nuclear power plant disaster of April 1986 in a Ukrainian section of the Soviet Union, this mini-series follows those who risked their lives to save lives during the event and it follows the tragic stories of some of the victims of the catastrophe. The gripping series includes the stories of the firefighters and volunteers who were the first on-scene as well as the story of the miners who had to dig a critical tunnel under one of the reactors.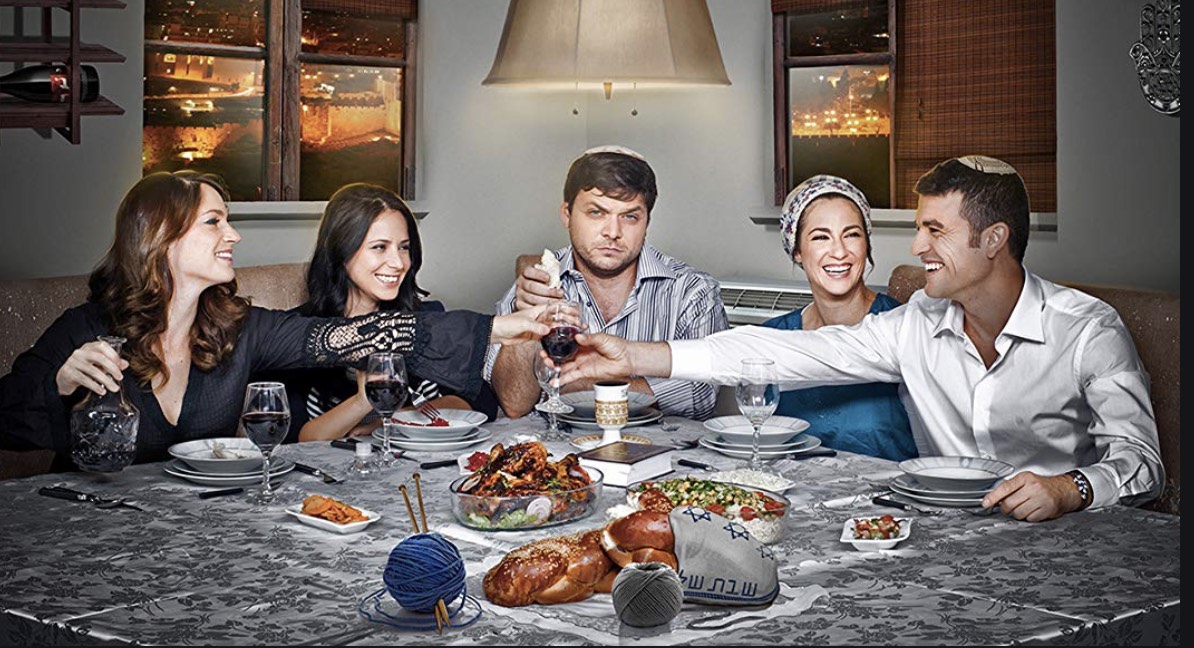 SRUGIM: Amazon Prime (on demand)
Srugim is an Israeli drama that follows the lives of a bunch of religious single modern orthodox Jews from Jerusalem. The show deals with the struggles of these highly educated, religious Jews as they struggle to find their place in a society that tends to value family and religion over everything else. It was not without criticism for the portrayal of the Orthodox community both in Israel and America, but it has mostly lauded by Israelis and Americans alike.
THE AFFAIR: Showtime (on demand)
This isn't a new show, but Season 5 is the final season and the last episode has been called "the best season finale of all time" by many entertainment news outlets. The season finale wraps everything up, answering all the unanswered questions which feels satisfying for fans who have watched the show since Season 1. Personally, I felt like some episodes moved slowly and some seasons were better than others, but this is a solid choice for a drama that you can watch at your convenience.
WATCHMEN: HBO Sundays (premiered Oct. 20th)
This show is getting a lot of attention. Based on the popular graphic novel, it's set in an alternate history where superheroes are treated as outlaw criminals. The show deals with racism in the past and racism today, and if you're a fan of anything superhero, this is the one show to put on your list.
THE POLITICIAN: Netflix (streaming)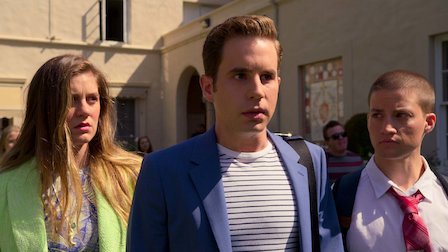 Ben Platt plays rich kid Payton who wants to be president of the United States, but first he has to win the election for President of his Santa Barbara high school. This is TV-14 and would be a fun show to watch with your tween or teen who swear there's nothing you can agree to watch together. Gwyneth Paltrow and Jessica Lange round out the fabulous cast.
THE UNICORN: CBS Thursdays @ 8:30 PM
Walton Goggins plays Wade, a newly widowed dad of two teenage girls who is ready to start dating again. Wade's friends convince him that he's the ultimate single guy to be back on the market because he has a job, is good looking, and has the sad story of the loss of his wife. His daughters cheer him on even as he fumbles through being a single dad. The show is funny and entertaining and tells a slightly new story.
What are your top picks for the tube? Please share in the comments below!
Broadway Actress Weds Naval Officer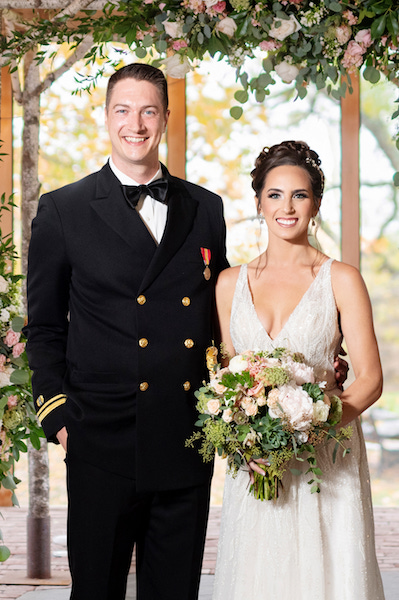 Dani Spieler, the daughter of Jill and Gary Spieler of Scarsdale, and Cory Pihl, son of Marilee Fraizer Pihl and Gary Pihl of Acton, MA, were officially married at the New York City Clerk's Office on July 23rd, 2019 in front of their parents. Recently, the couple celebrated with family and friends on October 20th, at Red Maple Vineyard in West Park, NY with a ceremony led by Curtis Holbrook, a friend of the couple.
The bride, Scarsdale High School Class of 2003, and groom met through the online dating app, OKCupid. Since graduating with honors from The University of Michigan with a BFA in Musical Theatre in 2007, Dani has been living in New York City and performing on Broadway in such shows as CATS, CHICAGO, A BRONX TALE and LEGALLY BLONDE. The groom graduated from Acton-Boxborough Regional High School in 2003, and then from Penn State University with a BS in Criminal Justice in 2008. After college, he worked as a Special Investigator at the New York City Department of Investigation for 8 years. He recently was admitted to the New York State Bar, after getting his JD from New York Law School in 2018. Cory began work as an attorney as a Lieutenant Junior Grade in the US Navy Judge Advocate General Corps immediately following the wedding, and is stationed at Joint Base Pearl Harbor-Hickam.
The bride's parents, who have lived in Scarsdale for 43 years, are both retired. The bride's mother, the 2019 recipient of the Scarsdale Bowl, is a former president of the Scarsdale School Board, and had a career in graphic design for many years. Her father spent 45 years working in mainframe computer software technology and sales. The father of the groom has been the guitarist for the band Boston since 1985. His mother worked as a teacher in the Community Education Extended Day Program before retiring in 2015.
The couple plans to honeymoon in Australia and New Zealand. They will reside in both Honolulu, HI and New York, NY.
Lots of Laughs and Paddle Tennis Too at Fox Meadow Tennis Club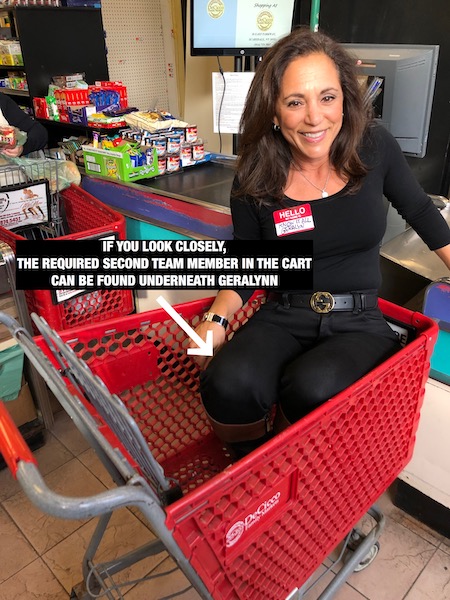 If you saw giggling adults climbing into a shopping cart or proposing marriage to a waiter at Moscato or dancing around a light post on Saturday October 26, you may have been wondering what was going on. Was it the Junior Class Road Rally? Or Scarsdalians gone berserk? No, it was Fox Meadow Tennis Club's first Scavenger Hunt that sent teams of four spirited players on a two-hour search of the Village to accumulate a long list of items and to make many embarrassing videos
The brainchild of Nanette Koryn, Debbie Graham and Ricky Sobel, the event proved to be a laugh a minute for almost 50 participants. Teams, with clever names like Bossy Pants and Know it Alls were given three lengthy sheets of instructions of items to be collected and tasks to be accomplished. Can four people sit on a swing at the same time? Could you walk up to a table of strangers eating dinner at restaurant and steal a French fry off their plate? Does anyone have the guts to ring a doorbell and run before the resident opens the door? You bet. The competitors reverted to teen behavior instantaneously and had a wonderful time completing their missions.
The team of winners received gift certificates for dinner at Colony Grill – and lots of kudos for their hilarious performances, captured on video.
And there's more than hijinks at the club. Founded in 1883, Fox Meadow Tennis Club (FMTC) has long been a distinguished part of the Scarsdale landscape. Besides its reputation of being a racquet club that prides itself on its warm social atmosphere and sense of fair play, the club enjoys a preeminent position in the world of platform tennis.


Platform tennis or 'paddle,' as it is affectionately known today, was invented in Scarsdale in 1928. In 1931, Fox Meadow built the first club court in the country. Today, it's estimated that there are more than 55,000 active players in the United States. We're proud that more national championships have been held on our courts than at any other location and Fox Meadow members have won more national titles than any other club.

Speaking of national championships – Assistant Paddle Pro, Ana Zubori and her partner Martina Ondrejkova won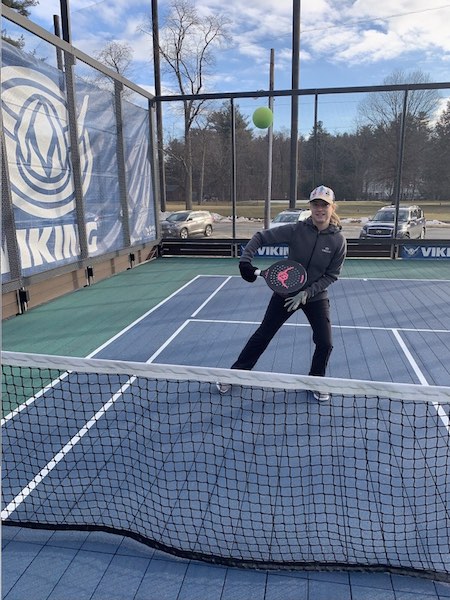 Assistant Paddle Pro Anna Zubori the Chicago Charities Grand Prix, one of the biggest events in the sport. Many of the best players across the country participated in this huge tournament on Saturday, November 9th. They won in the finals with a score of 6-4, 2-5 and a 3rd set nail bitter, winning 6-4. If you're new to the game or a seasoned player, outside players can take private or group lessons with our teaching staff.
Fox Meadow prides itself on their six Har-Tru tennis courts and nine heated paddle tennis courts, including six that are lit for night play. The clubhouse offers members a comfortable place to relax before and after matches, and a terrific place to view the tennis and paddle activities. As well, there are shower and kitchen facilities and our clubhouse can be rented to both members and non-members for private parties. Socially, there's never a dull moment.