Westchester Leaders Ask Governor Cuomo to Find Solutions in Light of Gas Moratorium
Details

Category: Shout it Out
Published:

12 February 2019

Written by

Joanne Wallenstein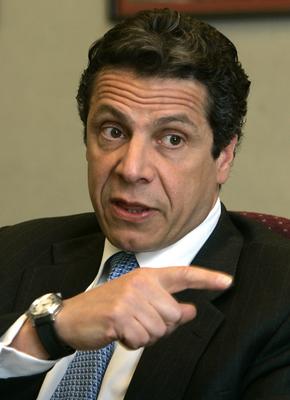 Westchester leaders have asked the Governor to intervene in the energy crisis.Westchester government leaders and school superintendents are making a plea to Governor Cuomo to help find solutions to the moratorium on new gas service that Con Edison suddenly imposed on Westchester to go into affect on March 15. The moratorium affects both residential and commercial properties and would prevent developers of new construction and expansion of existing properties from access to gas service.
The letter says, "We do not need to tell you that the news has sent a chill throughout the development community. Given the number of projects already advancing in our cities, towns, and villages, from major redevelopment in cities like New Rochelle, Rye, White Plains, and Yonkers, to the smaller residential, commercial, mixed-use, and school construction projects taking place throughout the county, we are deeply concerned about the potential economic headwinds coming from such a resource crunch."
The leaders ask the Governor to expedite Public Service Commission approval of a proposal from Con Edison called "Smart Solutions for Natural Gas" and to create incentives for the use of clean energy sources. They also ask for the Governor to intervene in clearing the way for a new gas pipeline to bring more natural gas to Westchester. The complete letter is shown below.
We spoke to Assemblywoman Amy Paulin about the moratorium and here are her comments:
"Con Edison surprised all of us with a very short window – two months – before they expect to impose the moratorium. They say that even a year ago they did not anticipate this moratorium. The reason they are imposing this moratorium is to ensure that you, their customer, has heat on the coldest day of the year. They have created this moratorium to preserve your supply."
She explained that the pipelines that convey the gas are privately built and those companies have the right to sell the gas to whatever utility companies they choose.
When we asked why more pipelines had not been built, Paulin said, "Con Ed says they were encouraged to create a smart solution for use of geothermal, heat pumps and other renewables rather than build a pipeline … and the Public Service Commission says Con Edison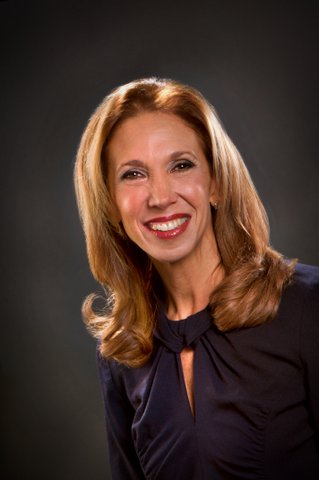 Assemblywoman Amy Paulinnever came to them with a pipeline solution."
She continued, "There is no need to assess blame now. This is going to be our situation and we are going to have to make the best of it." However if people decide to return to the use of oil and propane because there are not enough incentives for green solutions, they we have a problem."
Here is a copy of the letter:
The Honorable Andrew M. Cuomo
Governor of New York State
NYS State Capitol Building
Albany, NY 12224
Dear Governor Cuomo,
As representatives of the New Yorkers who live and work in Westchester County, we are writing to ask for your assistance, your leadership, and your outside-the-box creative thinking in dealing with the newly-announced temporary moratorium for new natural gas services in our area.
As you know, on January 17, Con Edison formally announced to the Public Service Commission and to the general public that it would be instituting a temporary moratorium in most of its Westchester County service area for new natural gas services, including residential, commercial, or mixed-use buildings currently in development that will increase peak winter demand. The moratorium is scheduled to begin on March 15 – less than two months after it was announced – and would last for an indeterminate period of time. The only stated exceptions to the moratorium would be for new customers applying for interruptible service, gas service for emergency generators that only activate in the case of an electric outage, or other service patterns that would not be likely to impact gas delivery during peak winter usage.
We do not need to tell you that the news has sent a chill throughout the development community. Given the number of projects already advancing in our cities, towns, and villages, from major redevelopment in cities like New Rochelle, Rye, White Plains, and Yonkers, to the smaller residential, commercial, mixed-use, and school construction projects taking place throughout the county, we are deeply concerned about the potential economic headwinds coming from such a resource crunch. Those headwinds, on top of several other factors, could prove painful for our constituents and for the local economy. That could in turn have a ripple effect in terms of home prices and property values that further depress local economic development.
We were gratified to see the Public Service Commission take this issue so seriously and schedule public hearings in our region during the week of February 11. However, we believe that more creative and pro- active management is required to provide assurance that our region can effectively weather the major impact that this may have on our overall economy.
Specifically, we would appreciate the executive agencies of the state engaging in the following areas:
1.) Expedited Approval of "Smart Solutions" proposed by Con Edison
All of us support the state's transition to sustainable, renewable, and green energy sources as critical to reducing our reliance on fossil fuels, bending the dangerous trend lines of increased carbon emissions, and racing against the clock to fight the threats posed by climate change. Part of that effort has to include the successful promotion of clean energy alternatives that will have the added benefit of avoiding the negative impact natural gas moratorium on specific projects. We understand that Con Edison has submitted a number of proposals under the name "Smart Solutions for Natural Gas Customers." These proposals for increasing the use of geothermal heating and air source heating pump solutions are pending review by the Public Service Commission. We urge that those proposals be placed on an expedited schedule so that they may be available to both new development and existing oil customers who are looking to convert to natural gas or some other method as soon as is practical.
2.) Additional Incentives to Make Green Energy Solutions More Attractive
Both the "Smart Solutions" proposals submitted by Con Edison and the programs of the New York State Energy Research and Development Authority create incentives to increase usage of clean energy sources. However, we understand that the cost differential between traditional natural gas and these new cleaner sources of energy is still too steep in many cases. We would urge the executive agencies to proactively and creatively establish new incentive programs to decrease this gap and make it more economically viable for new development and those converting from oil heat to choose smarter, cleaner, and greener options, and that Westchester County be given first priority for any pilot projects stemming from these efforts.
3.) Spearhead new, creative solutions to the question of natural gas transmission
Clearly the underlying conditions involve an increased demand for natural gas, and the constraints of the current infrastructure are insufficient to supply that demand. The main conveyance for natural gas is through interstate or intrastate pipelines, but we live in a challenging regulatory and political environment for the construction of new pipelines for fossil fuels. There are often many legitimate objections raised by local communities and environmental advocates. Although a traditional response to the basic economics of supply and demand would focus on the quick approval of a new pipeline, new construction can take four or five years from the beginning of the approval process by the Federal Energy Regulatory Commission and state agencies to the time when gas flows to the region, even when these objections from local communities and environmentalists can be accommodated. This raises the specter that the proposed moratorium could last for years before the underlying conditions improve.
Over the years of your service as Governor, you have time and again shown a unique ability to overcome obstacles to the major, critical infrastructure projects that New York relies upon for its economic wellbeing. Your leadership has helped surmount obstacles including outdated regulatory requirements, a lack of creativity in the engineering of a project, or an overreliance on conventional thinking when it comes to risk and financing.
For the sake of our county's economic well-being and the residents and communities that rely upon ongoing development projects put at risk by this sudden and potentially long-lasting natural gas moratorium, we ask you to provide that same leadership, ingenuity, and outside-the-box thinking to our current problem. We are prepared to do what we can to work with you in this effort.
Sincerely,

Sandra R. Galef Member of the Assembly
Amy R. Paulin, Member of the Assembly
Steve Otis
 Member of the Assembly
Terry Clements
 Westchester County Legislator
Damon R. Maher
Westchester County Legislator
Josh Cohn
 Mayor, City of Rye
Thomas Roach
 Mayor, City of White Plains
Warren Lucas
 Supervisor, Town of North Salem
Michael Volpe
 Mayor, Village of Pelham
Dan Hochvert
 Mayor, Village of Scarsdale
Roy R. Montesano Ed.D., Superintendent Bronxville Union Free School District
Dr. Cheryl Champ, Superintendent Pelham Union Free School District
Eric Byrne, Ed.D, Superintendent of Schools Rye City School District
Pietro Fasolino, Board of Education President Rye Neck School District
Benjamin Boykin II
 Chairman, Westchester County Board of Legislators
Margaret Cunzio
 Westchester County Legislator
Noam Bramson
 Mayor, City of New Rochelle
Michael Spano
 Mayor, City of Yonkers
Nancy Seligson
 Supervisor, Town of Mamaroneck
Victoria Gearity
 Mayor, Village of Ossining
Gary Zuckerman Supervisor, Town of Rye
Jennifer Rosen, Board President Briarcliff Manor Board of Education
Dr. Walter Moran, Superintendent of Schools Eastchester Union Free School District
Carol Conklin-Spillane, Superintendent Pocantico Hills School District
Dr. Barbara Ferraro, Superintendent of Schools Rye Neck School District
cc: John B. Rhodes, Chair of the Public Service Commission and Chief Executive Officer, Department of Public Service
Alicia Barton, President and Chief Executive Officer, New York State Energy Research and Development Authority
OpaOpa Fresh Greek Arrives in Bronxville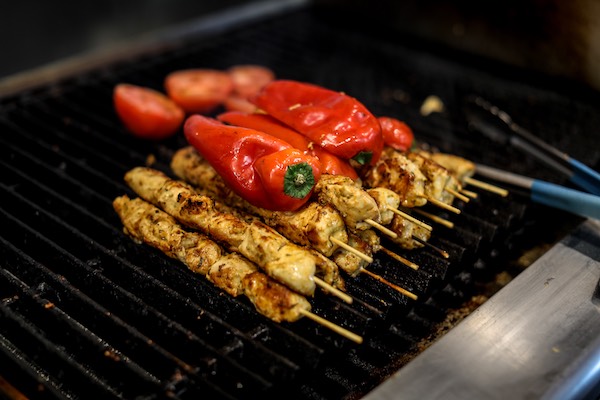 OpaOpa is a Greek emotional expression of enthusiasm that one hears at celebrations. A short time ago, OpaOpa took on another definition- the new restaurant on Bronxville's Pondfield Road, OpaOpa Fresh Greek. Bright white paint and a royal blue awning announce its opening. The airy corner space is bright white with the logo of the restaurant and many fish artistically rendered in blue. Seating about 40 guests at the pedestal tables, the white tile walls make the space sparkle. The counter in the back displays the menu on the wall. They do a large take out business and often there is a long line waiting to pick up orders. The space is architecturally lovely with many angles. The dark wood floors compliment the light wood tables and chairs and lively Greek music plays in the background.

Frank Berisha and his partner Tony were my hosts. According to Frank, " Our dream is to make great food and serve it as if our guests were visiting our home. We treat everyone equally. We wish to make our guests happy and we are happy when they leave with a smile. We expect to sponser charitable events at our restaurant. Our goal is to become better and better and become an important part of this great community."

Greek meals often begin with a selection of mezedes or small plates of hot and cold dishes. Our tasting at OpaOpa started in that traditional fashion. Some warm thin pita arrived with a plate of assorted dips. This colorful plate was decorated with tomato and cucumber slices and olives. There was an eggplant salad dip. The coarsely chopped eggplant had a fine smoky flavor. The familiar hummus was flavored with jalapenos for a wake me up taste. A spicy feta cheese dip was rich and robust. My favorite was the tzatziki, a combination of Greek yogurt, cucumbers, garlic and mint. They were all excellent with our warm pita wedges.

Several homemade soups are offered and we chose the traditional argolemono soup, that lemon flavored chicken potage, a Greek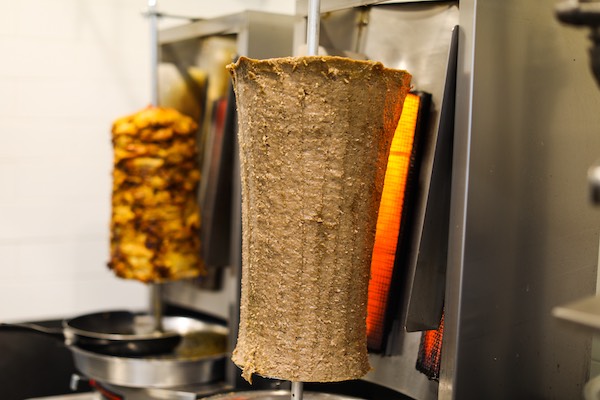 classic. Here, a hearty bowl of chicken broth combined with whisked egg, fresh lemon juice and chunks of chicken was the perfect way to cure a cold. Orzo was added, and the result was a great meal in a bowl.

Among the hot appetizers there was fried zucchini, zucchini croquettes, fried meatballs, and saganaki. We sampled a large square of spinach pie filled with chopped spinach and feta cheese, layered with crisp baked phyllo pastry, a great combination of tastes and textures. A large Greek salad arrived next. Exploding with color it was a garden on our plate, with lettuce, tomato, olives, red onion slivers, peppers and feta cheese topped with a delicious stuffed grape vine leaf. A light Greek olive oil dressing completed this generous salad. Other salad options included Caesar, and a roasted beet salad with arugula, chick peas and Kalamata olives among its ingredients. You can make these salads into a meal by adding gyro meat, grilled chicken breast, salmon or avocado. We proceeded to sample the " on the stick selections." The grilled pork was tender and lean. The chicken was a bit on the dry side, but I am sure that served in one of the sandwiches with pita and lettuce and tomato and tzatziki it would be much improved. Other Greek sandwiches include veggie souvlaki wraps, falafel, souvlaki and gyro. The chicken gyro is prepared in house and the beef and lamb gyro is of the finest quality. If a burger is your wish, try the Santorini salmon burger with feta cheese, lettuce, jalapeno and avocado or Greek style burger with cheese on pita.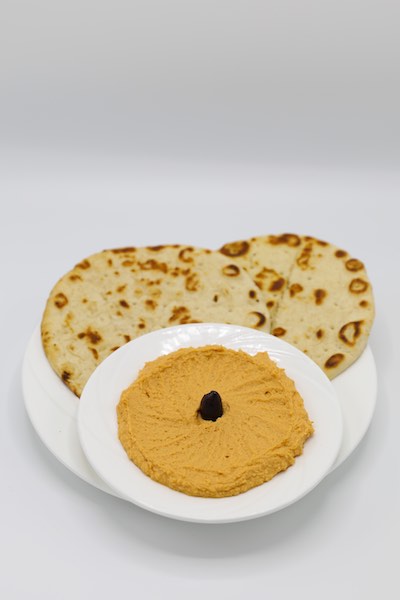 It was time to sample some of the homemade Greek specials. There is shrimp with orzo, roasted lamb and stuffed peppers and tomatoes. We chose pastitsio, a casserole of macaroni and ground beef flavored with nutmeg and topped with a thick layer of béchamel. It was rich and warming. Very delicious was their rendition of moussaka, with layered of eggplant, potatoes and ground beef with a crown of golden-crusted béchamel.

From the land there are lamb chops, rib eye steak, grilled quail, and pork chops grilled and served with salad, pita and a side dish. Since this is a Greek dining spot you can choose an entrée from the treasures of the sea. Porgy, red snapper, flounder, swordfish, calamari, octopus and cod are some of the offerings. We were presented with a regal whole branzino baked and grilled to perfection. To accompany your meal, a must have are their lemon potatoes. The large segments of Idaho potatoes are infused with fresh lemon juice and sprinkled with oregano and herbs. They were among the best I have tasted.

Complete your meal with homemade baklava, kataifi, or galaktoboureko and perhaps a cup of Greek coffee.

It certainly would be enchanting to eat a meal such as those I described, on a Greek island surrounded by the shimmering blue sea, watching the boats unload the day's catch, but if that experience is not on your agenda, enjoy the traditional foods of Greece at OpaOpa Fresh Greek in Bronxville.

OpaOpa Fresh Greek
116 Pondfield Road
Bronxville, New York
914 6008129 or 914 6008193

Recipe: Hummus – about 3 cups

1 pound chick peas
1 tsp. minced garlic
3 Tbsps. Tahini
¼ cup fresh lemon or lime juice
¼ cup Greek olive oil
Salt and white pepper, to taste

Place chick peas, garlic and tahini in a food processor and process until smooth. Slowly drizzle in the oil and citrus juice and season to taste. Refrigerate in a non reactive container and serve with pita bread.
Scarsdale Library Campaign Meets $7.5 Million Commitment
Details

Category: Neighborhood News
Published:

12 February 2019

Written by

Joanne Wallenstein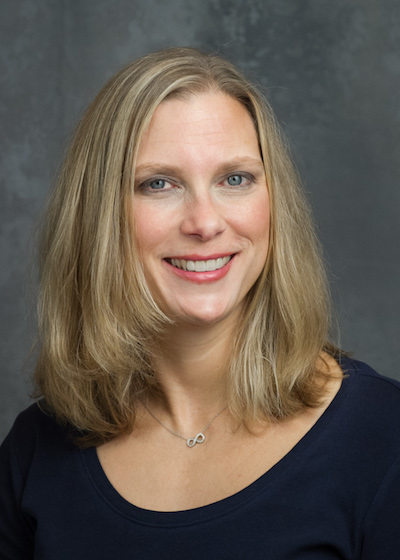 Scarsdale Library Director Elizabeth BermelThis letter was sent to Scarsdale10583 by Scarsdale Library Director Elizabeth Bermel: It is with pleasure and gratitude that I announce that the Scarsdale Public Library's Capital Campaign has met its cash obligation to the Village. With the most recent gift received by the Scarsdale Village Board of Trustees from the Friends of the Scarsdale Library (at the February 12th Village business meeting,) over $7.5 million dollars has been given to the Village. The Campaign has exceeded its fundraising goal by an additional $500,000 in written pledges, bringing the total raised to $8 million, a truly humbling expression of community commitment to our institution. A special thank you to the Campaign for Excellence for the remarkable fundraising efforts.

When I became the Scarsdale Library Director over 9 years ago, I had no idea I would be on such a journey. I am overwhelmed by the generosity of the donors, the dedication of the volunteers, the expertise of the professional staff and consultants, and the support of our patrons. Every one of them has been an integral part of my sometimes exhausting, but always exhilarating, experience transforming your library into the community resource that reflects the unique needs and expectations of this special community. I am also amazed by the patience and support of our patrons during our transition. The work at the Library's 54 Olmsted Road building is going very well. We are pleased with the progress, and though we have a way to go, I am hopeful to return home by the summer of 2020. Meanwhile, please come by our temporary location, the Library Loft at Supply Field at 244 Heathcote Road.

Over these years, I have worked with over 70 volunteers on Library boards and committees. I offer my sincere thanks to past and present members of the Scarsdale Public Library Board, the Friends of the Scarsdale Library Board of Directors, the Building Committee, the Village Board of Trustees, and of course, all the donors, patrons and the full community for their tireless commitment to the Library's mission supporting lifelong learning in Scarsdale.
Hope to see you soon, perhaps at the Friends-sponsored 'Casino Night' Gala on March 8th!
Warm regards,
Elizabeth Bermel, Director
Scarsdale Public Library
Valentines Day Musings at Scarsdale10583
Bouquet from Rosehip and Linnea on Garth RoadIt was one of the busiest weeks on record here. Even though snow and sleet closed schools and caused town to virtually shut down on Tuesday, a frenzy of activity this week kept our inbox in high gear.
On Monday night the Board of Education held a budget study session and board meeting where the estimated tax levy increase was decreased to 2.27% and facilities plans were discussed. Stuart Mattey reported that plans for the Greenacres School were reviewed by a third party architectural firm and have now been returned to the state education department. District architects BBS are ready to answer any questions on the plans.
What was not discussed is the potential impact of the Con Edison gas moratorium on the project. School officials say they filed early and will not be affected. However, gas prices are sure to go up and Con Edison is poised to introduce incentives to use alternative energy sources. Would it be beneficial for the district to consider using geothermal or another system to heat and cool the school?
At the same meeting, it was decided that the district would not include $600,000 to repair the high school auditorium. New seats and flooring are needed, along with new rigging for the stage. These items have been proposed and cut from the budget since 2013 – and who knows when this will be addressed.
However the Board did pass on $125,000 for new furniture and improvements in the Board of Education room and considered a privately funded $800,000 project to add lights to Butler Field.
In other news, the deadline to file petitions to run for Village Mayor and Trustees was Wednesday February 13. Last week we reported that Citizen's Nominating Committee Party candidates had filed --- with Marc Samwick for Mayor and Jonathan Lewis, Seth Ross and Rochelle Waldman running for Village Trustee. Speculation was rife about whether or not they would have any challengers on the ballot. But when the 5 pm deadline passed, it appeared that only the names of the CNC's candidates will appear on the ballot.
At the Village Board meeting on Wednesday night we learned that Village Assessor Nanette Albanese would retire in just a few weeks, on March 1, 2019. This date corresponded with her retirement benefits from New York State. Albanese had a tough few years in Scarsdale when she came under attack after two controversial tax revaluations. First she was criticized by those at the top end of the scale, and later by those with more modest homes. Either way, she couldn't win. Since she is set to retire before the tax role is filed in June, she may stay on as a freelance employee until the Village can fill the vacancy.
Also at the Village Board meeting, trustees made news by voting to sign onto a lawsuit to fight the new SALT tax laws that are hurting our real estate and local economy. See details about this test case here.
And after years of discussion, Scarsdale has new laws to protect our tree canopy. Find out what changed here.
Last, we stopped by a new elegant design store and florist shop called Rosehip and Linnea on Garth Road where the Sweedish owner Krister Alte Sahlen shared this beautiful Valentines bouquet. Check them out for unusual gifts and flowers.
Happy happy Valentines Day to all.
This is the opinion of site founder Joanne Wallenstein.
School Board Reviews Pros and Cons of Lighting Butler Field
Details

Category: School News
Published:

13 February 2019

Written by

Joanne Wallenstein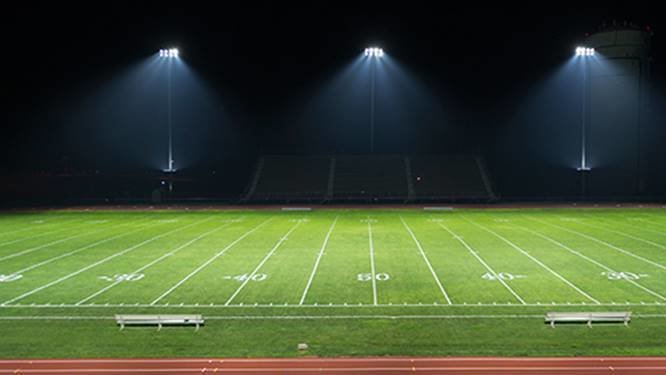 Scarsdale Athletic Director Ray Pappalardi continued to seek approval for a proposal to install lights at Butler Field at Scarsdale High School at the Board of Education meeting on February 11, 2019. The state of the art LED lights are estimated to cost $800,000, $250,000 of which would be contributed by Maroon and White with the balance to be raised from the community. See the presentation here:
He provided a rationale for the installation of the lights, reported on community meetings, sought to dispel concerns expressed by neighbors and provided data on the number of games that are expected to be played under the lights at night.
Arguing for the lights, Pappalardi said that games under the lights enhance student athlete's experience and provide "safe, community-building events" for the entire community."
He said that the temporary diesel lights used at night games create "light, noise and air pollution" and are not sustainable.
Furthermore, comparable districts have state of the art LED lights.
Framing the conversation as a need, rather than a want, he said, "we cannot continue with the environmentally unsound diesel-powered lights," and that" our athletes and community deserve lights."
Pappalardi relayed the concerns he heard at two community meetings on January 22 and January 29, 2019 and explained how these concerns could be addressed. He said that the first meeting was with Neighborhood Association Presidents and the second was for residents, and both were well attended.
He said all were supportive of enhancing athletic experiences but had "strong concerns about change in quality of life."
The neighbors raised issues about light pollution, the increase in the frequency of events, the scheduling of events, noise from the field, traffic around the school, parking on neighborhood streets and trash.
To mitigate these effects, neighbors had suggested the following:
-Adding trees and shrubs around the school to buffer light and noise.
-Installing a targeted PA or sound system that keeps the sounds within the field.
-Assigning staff to manage traffic and parking during night events.
-Making a sample of scheduled events to be reviewed by the community.
-Creating a community group to review the plans.
-Developing and enforce rules regarding the use of the lights.
In response, Pappalardi explained that the new LED lights feature "targeted illumination" and only light the field – not the surrounding areas.
He presented a sample schedule of the use of the lights that showed that the lights would only be used for 19 night games a year by Scarsdale High School teams.
About noise, Pappalardi said, "Music and announcements will be better monitored and directed toward the school," and experts would be engaged to figure out how to "focus" sound within the stadium area."
He suggested that traffic could be addressed by sending opponents directions on parking before games and by assigning staff to direct traffic and parking during events.
He said that his next step would be to convene a committee of residents, leaders of independent sports organization, Maroon and White, high school administrators and coaches to continue to refine the proposal.
He also said there was a need for the Board to define guidelines for recognizing donors to the project and decide how and where their names would appear.
Last he suggested that rules would need to be written to dictate the number of lighted events, determine a curfew, set the months of operation and decode how rules will be enforced.
In the discussion that followed, Lee Maude asked about the usage for teams from the independent sports organization and asked if they would be permitted to use the field. Ray said he had not spoken to the ISO's about usage as yet but surmised they would use the field for practice, not games.
Pam Fuehrer asked, "Is there better temporary lighting available?"
Board President Scott Silberfein inquired about the timeline and asked how it would work with the development of a new donor recognition policy.
Chris Morin said, "The more usage it gets, the more successful the project is." He also asked if the new lighting would be a "comprehensive" lighting plan for the areas around the field and includes the paths and parking lots around the field so that people could find their way to their cars and home after games.
Stuart Mattey said that the $800,000 estimate does not include lighting around the rest of the school campus.
Ray said, "My greatest concern is that this becomes divisive in the community. I think this should be a process where people are all heard and can get excited about it." He also said that he thought the SEQRA process would give residents "peace of mind" about the environmental impact.
In public comments at the meeting, two residents spoke about the proposal.
Mark Michael said he has lived on Carstensen Road for 20 years and that he deals with the noise issue throughout the year. He said, when you add in the PA system, "it's another level of noise." He said they have to "keep going over to the school" to talk to people. He said though he favors enhancing athletics he wanted to enhance students "first and foremost." He said he was worried about "creep" in the use of the field, and wanted to know "how much of a say we will have in setting up these rules." He also said, "the objective is not to mitigate noise and environmental pollution. The purpose is to increase use and accessibility of the field. The full utilization is going to change the quality of life for my family and the neighborhood." He ended by saying "I am not in favor of this ….Where we start now is not where we are going to be in ten years."
The President of the Heathcote Association spoke on behalf of seven homeowners who live near the school. He said, "We would love to support the lights at Butler but only with the understanding that there will be policy to mitigate the effects of the lights…. Stop times of 9:30 at week, 10:30 on weekends is too late."
About landscaping he said, "There needs to be screening around the entire school. Tree coverage has diminished. There needs to be a substantial investment in funds in trees and irrigation to mitigate lights and noise. This needs to be part of the budget and your policy before this gets done."
He continued, "Noise is already serious. The use of PA systems is intrusive. We need a modern PA system."
Discussing usage, he said, "Scheduling is clearly going to go up. Show an accurate schedule that includes the use of ISO's. A realistic schedule needs to be developed and presented. The schedules are very speculative Full time lights year round are a different set of circumstances."
He continued, "I heard we don't expect to rent out the field – I would like to hear what that means. We would be very concerned about that. It needs to be understood that there will be severe impacts for those of us who live around the field.
In response to a question from Lee Maude about the lighting's potential impact on the 2019-20 budget, Dr. Hagerman said, "I don't think this is a rush. Butler lights is not a school district proposed project. For me it was interesting to hear the community's concerns about using trees, and (the need for) additional lighting in the parking lot. We have to know the full scope of the problem. If we need to think about trees and other mitigation we have to find out if Maroon and White and donors if they are willing to fund that. In reality, there is no urgency."
Scarsdale Agrees to Be Plaintiffs in Legal Challenge to IRS Rules Regarding Deductibility of Charitable Gift Reserves
Details

Category: Village Voices
Published:

14 February 2019

Written by

Joanne Wallenstein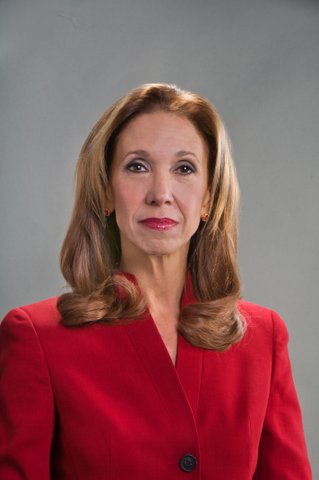 State Assmeblywoman and Scarsdale resident Amy PaulinScarsdale made history on Tuesday night February 13, 2019 when the Village signed on as a plaintiff in a lawsuit to challenge IRS rules regarding the deductibility of state and local taxes in charitable gift reserves.Trustees voted yes to join a lawsuit that, if successful, could help states beleaguered by the new SALT provisions to recoup most of their lost tax revenues.

State Assemblywoman Amy Paulin is leading the charge to contest these rules which deny residents the right to pay into a charitable gift reserve and deduct local taxes from their federal tax returns. As Paulin explained at the meeting, "The US Congress decided to limit SALT deduction last December. At the time group of tax professors from around the country wrote a white paper about what they believed could be done if SALT was adopted. One of the options was establishing a charitable fund and we folded that proposal into the state budget, along with New Jersey and Connecticut. Dan Hemel, an SHS grad now at the University of Chicago was one of the authors of that white paper."
She continued, "Scarsdale established a charitable fund along with Rye and Rye Brook. However the IRS came out with rules that created a chilling effect. Assemblyman David Buchwald and I brought a group of local leaders together and wrote comments on these IRS rules and regulations. We are still awaiting the final regulations. When they come out, we want to be in a position to challenge them. The best plaintiffs are towns that have already formed charitable trusts like Scarsdale and Rye. The state stands to lose $2.3 billion in local taxes. The potential harm to our communities is great."
Why Scarsdale? The resolution says, "The implementation of these regulations as drafted would harm Scarsdale residents who have already made donations or who might seek to make donations in the future to the charitable gift reserve fund, and would directly harm the ability of the charitable gift reserve fund in its capital raising efforts as envisioned under New York State law."
Paulin said, "Scarsdale will be taking an action to protect our residents. The liability to the village is nothing. We have formed a 501C4 to assume the liability." She explained that tax attorneys from Baker and McKenzie of Chicago, Illinois would draft the papers pro bono and no work by the Village would be required.
The resolution before the board was to execute an engagement letter to provide no cost legal services in connection with participation as a plaintiff in challenging internal revenue service charitable gift reserve fund regulations.
Not everyone agreed that this was a good move for Scarsdale. During public comments Bob Berg discussed his concerns that the Village would be open to liability and ridicule and that meetings about the suit were held behind closed doors. He said, "Amy has convinced the BOT that joining this lawsuit is wise. … The discussions were not held publicly…. This puts the good name of Scarsdale in jeopardy. Can you imagine the scorn we will face? The pundits will drag our good name through the mud. She says the 501c4 will pay the legal fees of this litigation. Baker and McKenzie is one of the world's largest law firms in the country. This will cost more than $1,000,000… The 501 c4 is headed in Scarsdale in Amy's house. It's a dark money political action committee. The odor of rotting fish is getting stronger. The red flags are wild – they mean danger."
Anne Hintermeister of Chase Road agreed. She said, "What happens if we can't cover the law firms fees? We need more information on this. Who is going to direct the litigation? Does the village have standing to challenge tax regulations?"
Bob Selvaggio of Rochambeau Road argued for a legislative solution and questioned the logic of deductible charitable funds. He said, "The only way to restore SALT deduction is to convince our legislators. The government that touches us most is our municipal government. Scarsdale should have first dibs on our taxes, followed by the state, and then the country. Few of us ask much of the federal government. President Trump should tighten his own belt so we can pursue our own happiness….Few of our state dollars are returned to our schools. Our tax payments are not charitable contributions. This only subjects us to ridicule. They are other avenues to pursue. Empty nesters could argue that there is no quid pro quo – and they should be able to deduct school taxes as charitable deductions. We need to convince senate house and legislators that we need our local deductions."
Paulin responded to these objections. To Selvaggio's call to overturn SALT, she said, "Good luck convincing the federal government. Though I hope one day it will get overturned I am not holding my breath. Once you give the money away its hard to get it back. It is going to be hard to reverse SALT. The President rejected Governor Cuomo's effort to reverse SALT. The Republican Party is not in favor of reversing SALT. I believe the charitable deductions are the best way to mitigate the effects."
She also explained that there was precedent, saying "There are already active programs across states for parochial schools that allow tax deductions. This is historical – and these arguments will be made. The IRS ruled that all of the tax programs – including all of the existing ones in many states -- are not valid either! It affected so many people – thousands of children. They pleaded with the IRS to reverse their position. If we're not in the lawsuit, there could be a carve out that doesn't affect us."
"So I applaud the Village for being involved – I think this is the right thing to do – we are going to work together to make this the best effort we can going forward."
Before the voting, Trustees shared their thoughts:
Trustee Justin Arest said, "This is an extension of acts already taken by this government …We can and should do this – we created a charitable fund. This is not a scheme that we are creating on our own. …This is not our only option – but this is our best option now. These tax changes were having a negative effect on our homeowners. It is not about partisan politics – it is what I can do as a trustee to fight for Scarsdale residents." He voted Aye.
Trustee Matt Callaghan was the sole objector, saying "This represents an unacceptable risk. What happens if the funding stops? Who is going to monitor the activity of this fund and set timelines and milestones? Not many people in Westchester are involved in this. Consider the current political atmosphere in the nation. I vote No – "
Trustee Lena Crandall thanked Palin for the "great effort to protect local residents." She voted yes.
Trustee Carl Finger said, "The agreement is clear – we have nothing to do with the funding. We will receive appropriate reports. I vote Aye."
Trustee Seth Ross also thanked Paulin for her leadership and said, "We have an opportunity and responsibility to vindicate those rights. No funds are to be committed. I vote Aye."
Trustee Jane Veron assured the public that there would be no liability to the village. She said, "We had the opportunity to speak with counsel. And we have no financial risk. We didn't take decision lightly. We believe it is our duty to protect our residents and I vote Aye."
Casting the last vote in favor of the resolution, Mayor Dan Hochvert said, "It is okay to take risk when we have so much to gain. Most will not see anything but an effort. I vote aye."
The resolution passed by a vote of 6-1.