Superintendent Hagerman Outlines Internal and External Challenges For Scarsdale Schools
Details

Category: Schools
Published on

27 April 2015

Written by

Joanne Wallenstein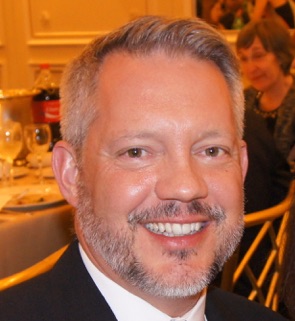 Before Scarsdale Schools Superintendent Thomas Hagerman could give his take on his first ten months on the job at an April 23rd PTA meeting, the leadership of the SHS PTA offered a humorous look at the challenges Hagerman has already faced as leader of the Scarsdale Schools.
Channeling David Letterman, they showed a list of "The Tope 10 Ways You Have Been Initiated," highlighting some of the hurdles Hagerman has faced since last July when he took the helm. Though intended to be funny, many hit home. In December he was faced with a vote on an $18 million bond referendum, two of the three Assistant Superintendents and a principal announced plans to retire, a bomb scare forced the evacuation of the school and he got much flack for substituting electronic agendas rather than paper versions for board meetings.
Here were the Top 10 Initiation rites:
Spelling "Colloquy" at the Friends of the Library Spelling Bee

Hiring an entirely new staff

Realizing that electronic agendas are a big deal

Being tossed into a bond vote and getting it passed

Participating in the ice bucket challenge

Memorizing the athletic code of conduct quickly

Interrupting carpools at dinner hour for a 6:30 start to Board of Education work sessions

Handling an emergency during the coldest day of the year during lunch

Central office open floor plan

Surviving Superintendent hazing: to snow day or not to snow day!
Hagerman opened his talk to the sound of Taylor Swift singing "Welcome to New York" and discussed the differences between life in Chicago and New York where he "Rarely sees the four walls of (his) rental." He added, "Everything here takes a little more time, effort and work – everything is multi faceted." He continued, saying "While in Chicago a sandwich is just a sandwich, in New York "we don't just have sandwiches – we have wedges, heroes, wraps and hoagies. There are 25 questions about the ingredients with group consensus about whether it was done the right way. There's an obsession with detail." Speaking about the depth of conversation on all issues, he joked, "I supervised another meeting that should have been an email."
His agenda for year one on the job was to meet with students, staff, parents and community members and use this feedback to identify goals.
He broke these priorities down into three lists and identified Board priorities as:
Appropriate data needed to make decisions

Time to process and ask questions

Building trust with the Superintendent and other staff

Board development and succession planning,

Short and long budget issues

Striking the right balance between operations and instruction

Facility concerns and district wide master plan
From the staff, he learned that the following were their top concerns:
Communication

Distric culture, values and beliefs

Staff Children

Active involvement in ongoing decision making.
Parents concerns included:
Communication issues

Construction and deferred maintenance: Greenacres School and the district master plan

BOE policy development and more active engagement in the budget process.

Curriculum consistency across schools and the quality and quantity of feedback on student progress

Sustainability issues

Wellness and food service
Hagerman will consider all these concerns in forming a strategic vision for the future that he plans to role that out in the next few months. The vision will layer concerns of the board with those of parents, students and staff.
In the meantime he announced some shifts in responsibilities in the central office:
Assistant Superintendent Lynne Shain will also take on arts and aesthetic education and global initiatives.

There will be an interim Human Resources Director for next year as the district was not able to find a person to replace Joan Weber.

Jerry Crisci will oversee instructional technology and focus on innovation and emerging instructional models.

Rachel Mosley will be the Director of Information Services, overseeing district data, operations and technical services which is an expansion of what she is already doing.

Director of Special Education Eric Raushenbach will now be Director of Pupil Services and expand his role to include medical and mental health services.

Registration for school will be handled at the district office rather than at the individual schools.
Hagerman then turned to a discussion of the new state regulations for teacher evaluations and testing, saying, "I did not anticipate that I would be playing David to Governor Cuomo's Goliath. The Governor is actively seeking out ways to discredit educators and undo the last vestiges of local control."
Cuomo's 2015 agenda requires that district teacher evaluations systems include both student test scores and evaluations, one from an independent evaluator Hagerman explained that in order to comply with this mandate, the district will need to renegotiate the teacher's contracts and have a new evaluation system in place by September 1. Furthermore, when contracts are reopened, all items can be renegotiated including salary and benefits. This, he explained, is causing us great consternation.
Tenure will now only be granted after 4 probationary years and to those who received a rating of favorable or higher.
Districts may now begin dismissal proceedings for teachers who have received two years of unfavorable ratings. But he said, "We don't have the data to do this correctly. False scores can misrepresent the professionalism of the staff." For example, students who took the first day of state tests and opted out of the second day will now receive a score of "1" for the second day, and this could affect their teacher's evaluations.
School turnaround and local assistant plans are in force and ineffective schools can be put into receivership. Normally Scarsdale would not worry about this; but schools that don't have a 95% participation rate on tests for three years could be sanctioned and go into local assistance plans.
Hagerman said that he is involved in advocacy to address these issues and credited State Assemblywoman Amy Paulin with being a champion on these issues and getting the district access to the Governors staff. Hagerman called on parents to recognize their role in this work and urged them to stay abreast of what the policy committees are doing here in Scarsdale.
Moving forward, the district will need to consider how to keep teaching and learning at the forefront for the BOE and the community while confronting operational issues, such as construction, facilities, negotiations and political reforms. The question is, "How do we prepare for future changes while preserving Scarsdale?"
He concluded by saying, "We have a future full of promise and many unknowns, but it is not going to business as usual. It will take thoughtful deliberation and planning and creative problem solving. Each one of us bears responsibility for managing change. I ask each of you to think about how individually and collectively we can manage.
Watch the entire presentation here:
Annual Carnival is a Hit in Scarsdale
Details

Category: Around Town
Published on

21 April 2015

Written by

Justin Doyno
The annual carnival took place on Friday and Saturday April 17th and 18th at Scarsdale High School. The weather was beautiful and brought out many families. There were fabulous rides and colorful booths and everyone seemed happy and excited to be there. Popcorn, hot dogs, funnel cakes and cotton candy were also part of the mix. Once again the carnival was a major success.Proceeds from the day will be donated to Afya International, Heifer International and the Peter C. Alderman Foundation.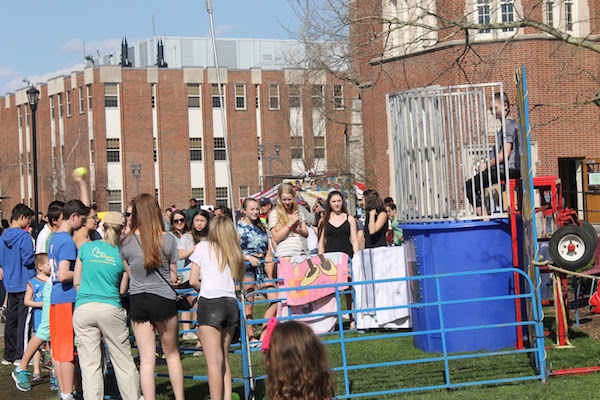 Leading Ladies Opt Out
Details

Category: People
Published on

28 April 2015

Written by

Joanne Wallenstein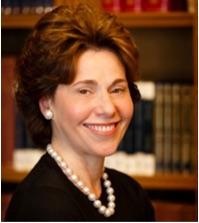 Two celebrity speakers, scheduled to appear in Scarsdale have both opted out. Chancellor Merryl Tisch of the NYS Regents was scheduled to appear on a panel about the Common Core with Scarsdale Schools Superintendent Thomas Hagerman and State Assemblywoman Amy Paulin on Thursday April 30th at Scarsdale Library. After the furor about the recent state tests, Governor Cuomo's mandate to evaluate teachers based on student test results and calls for Tisch to step down, she has decided not to appear in Scarsdale this week. Instead, she will send newly appointed Regent Judith Johnson.
Johnson is a former superintendent of the Peekskill and Mt. Vernon schools and also worked in the federal department of elementary and secondary education as acting assistant secretary. In 2008 she was named Superintendent of the Year by the State Council of School Superintendents. She has a reputation for being outspoken and asking tough questions.
When the Scarsdale Forum, who organized the panel, learned that representatives from other districts planned to attend – and perhaps protest - the panel discussion was moved to a larger venue with a bigger parking lot. The discussion will now take place in the Scarsdale High School auditorium at 7:30 pm and the community is invited to attend.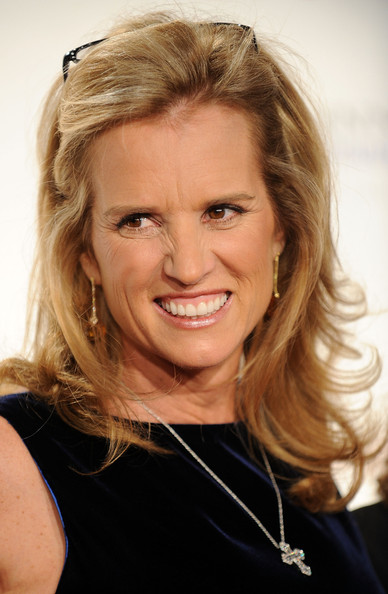 Kerry Kennedy, who was billed as the speaker for the annual luncheon for the League of Women Voters of Scarsdale has also changed her plans. Siting a family commitment, she cancelled her appearance on Friday May 8th. Instead, the League has invited Elisabeth Bumiller, the Washington Editor of The New York Times. A leading journalist and author and frequent commentator on politics and government policy, Ms. Bumiller will speak about Women in Politics.
Previously, Ms. Bumiller was the deputy Washington Bureau Chief for the Times, where she oversaw White House and domestic policy reporting. She was a Pentagon correspondent from 2008 to early 2013, a position through which she traveled frequently with the Secretary of Defense and embedded with the American military in Afghanistan. In 2008, she covered the presidential campaign of Senator John McCain. She was a White House correspondent from September 2001 to 2006 and also wrote a weekly column, White House Letter, about the people and behind-the-scenes events of the presidency.
Ms. Bumiller has also served as the Times City Hall Bureau chief responsible for covering Mayor Rudolph W. Giuliani and his Senate race against Hillary Rodham Clinton, and was a general assignment reporter on the Times' Metropolitan staff.
Ms. Bumiller is the author of three books: Condoleezza Rice: An American Life; May You Be the Mother of a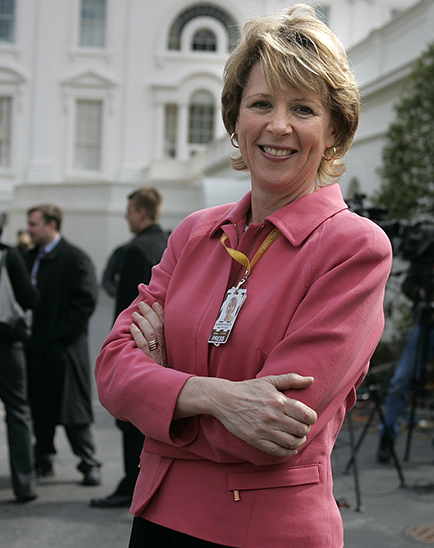 Hundred Sons: A Journey Among the Women of India; and The Secrets of Mariko: A Year in the Life of a Japanese Woman and Her Family.
Ms. Bumiller graduated from the Medill School of Journalism at Northwestern University and the Graduate School of Journalism at Columbia University. She was a Public Policy Scholar at the Woodrow Wilson International Center and a Transatlantic Fellow at the German Marshall Fund of the United States.
The public is invited to the Scarsdale League's annual spring luncheon at the Scarsdale Golf Club on May 8, 2015, at 11:45AM. Admission is $40 ($45 at the door), High School and college students discounted to $20. Please RSVP by May 5 to: Anne Lyons, 82 Greenacres Avenue, Scarsdale, NY 10583 or online here. Questions: please contact Anne Lyons, aulyons@gmail.com.
Serve for Scholarships and Youth Tennis League
Details

Category: Local Finds
Published on

27 April 2015

Written by

Joanne Wallenstein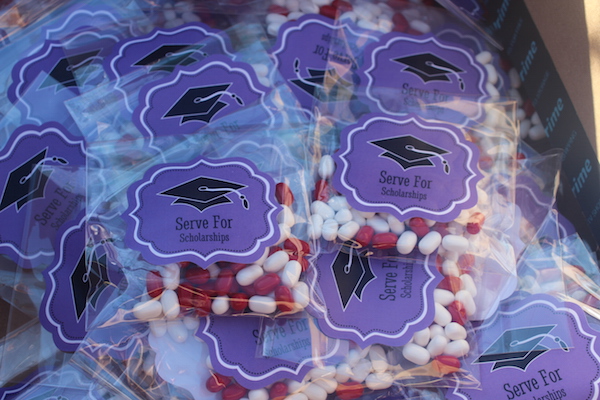 The first-ever "Serve for Scholarships" Tennis Tournament brought out 42 players on a cold and windy Saturday morning to hit some balls and raise money for the Scarsdale PTA Scholarship Fund. The event was the brainchild of SHS PTA President Amy Cooper, who partnered with Tammy Fine, to combine their two passions – helping the community and a love of tennis.
The Scarsdale Village Recreation Department helped to get the event off the ground by giving Cooper and Fine a permit for use of the Scarsdale Middle School courts. Community businesses were also generous: Sportime donated the tennis balls, ProFrom offered a free 60-minute tennis lesson, Lifetime gave guest passes and Fleetwood Lock and Karen Kohn Jewelry were sponsors. Every participant walked away with Sugarpova candy, donated by the company.
There were 15 raffle prizes, or tennis survival kits that included balls, grips, water bottles, chocolates, tiger balm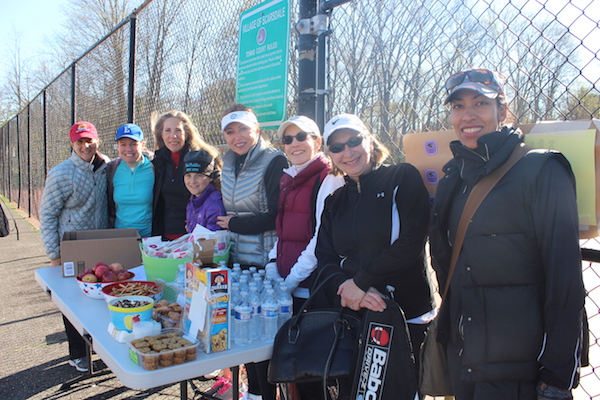 and K-Tape.
Teams were organized by elementary school and many of the women wore their kids school shirts underneath their down jackets. Fox Meadow was the winner followed by Quaker Ridge, Heathcote and Greenacres.
Pamela Feuhrer said the following: "As the Fundraising Vice Chair for the Scholarship Fund, I want to pass on my deepest thanks to Tammy and Amy. Has any other fundraising chair had such an amazing event be created and implemented without having to lift a finger? I think not. Tremendous effort and much appreciated!!! Thanks to each participant and to those who donated but didn't play (not sure they're in this email group). Your involvement raised an additional $1,375 (and counting?) that our committee can grant to graduating seniors in need. Visit our webpage for more info! Racquets up and hats off to Amy and Tammy!"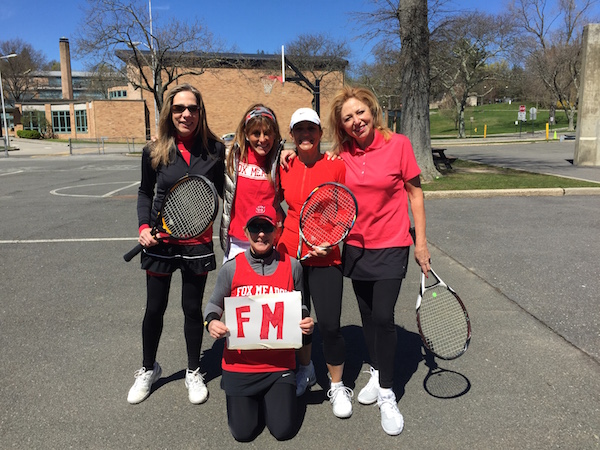 Cooper said she would like to make this an annual event and encouraged residents to visit the scholarship fund website to make donations to the scholarship fund or to find information about applying for a scholarship. Scholarships are awarded to graduating Scarsdale high school seniors, on a need-based review, to help defray the cost of the first year of college.
Youth Tennis League Begins This Week:
The Scarsdale Spring Youth Tennis League for Grades 3 through 8 for boys and girls starts on Monday, April 27 at 4:45 PM at the Scarsdale Middle School Tennis Courts . Register at www.scarsdale.com/recreation under Youth Tennis League or come to the Scarsdale Middle School Tennis Courts on Monday and Thursday from 4:45 PM to 6:45 PM and Friday from 6 PM to 7 PM to register and play.
The Youth League needs volunteer tennis coaches- Moms and Dads from the five elementary schools. Women who play for the Women's County Leagues are encouraged to help organize the Youth Tennis Teams.
The Spring Youth Tennis League was started in 1984 by Bob Harrison and five elementary school area tennis chairs with 39 teams and 240 youth players. The League grew to 85 teams and 650 players in the 1990's with 100+ volunteer organizers. Sadly the League fell apart in the early 2000's with the lack of leadership from the Rec Department. Now there is great leadership from Anthony Di Domenico and Jason Marra from the Rec Department and the program is on the upswing.
For more information or to register, contact Anthony DiDomenico at adidomenico@scarsdale.com or 722-1160 or Bob Harrison at proscars@aol.com or 914 646-4054 (cell)
Bob Harrison, Director
New York Junior Tennis League, Scarsdale Chapter
Scarsdale Summer Youth Tennis League , Founder 1984 to 2014
Former STEP Student Keith Martinez honored with Truman Scholarship
Details

Category: People
Published on

20 April 2015

Written by

Lori Gertzog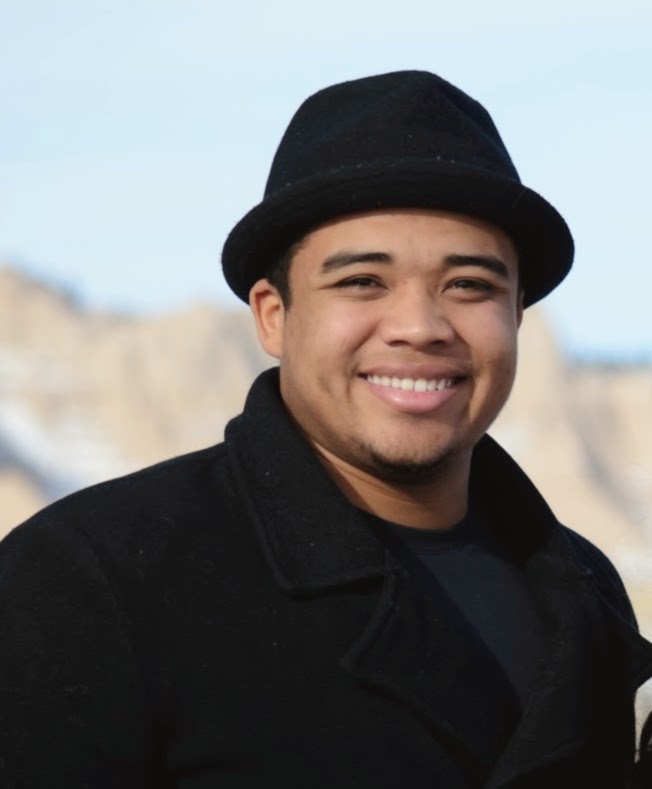 Villanova University Junior Keith Martinez, a Gates Millennium and Presidential Scholar from the Oglala Lakota Pine Ridge Reservation in South Dakota, was one of 58 students from across the nation named as a recipient of the Harry S. Truman Scholarship. Former Secretary of State Madeleine K. Albright, President of the Harry S. Truman Scholarship Foundation, announced the names of the 2015 Scholars – from 50 U.S. colleges and universities. The Truman Scholarship Foundation recognizes college juniors with exceptional leadership potential who are committed to making a difference through public service.
About Keith
Keith grew up on and off the Pine Ridge Reservation in South Dakota and is an enrolled member of the Oglala Lakota Sioux tribe. Keith is a graduate of Scarsdale High School in NY, where he spent his last two years in the STEP program, an intensive college preparatory program for talented youth. Keith spent his first two years of High School at the Little Wound School in Kyle, SD. Keith is a junior at Villanova University.
Keith is Chair of the Youth Advisory Board for Lakota Children's Enrichment, a nonprofit that empowers youth in his home community on the Pine Ridge Reservation. Keith has received numerous awards for his service with LCE: he was named South Dakota's National Child Awareness Month Service Ambassador by Youth Service of America (2013-14); a Champion for Change by the Center for Native American Youth at the Aspen Institute (2014-15); and he is the recipient of a scholarship to the PPIA Summer Institute at Princeton University (2015). Keith frequently speaks about the power of education, seeking help and perseverance, and made his international speaking debut in the summer of 2014 at the Nexus Global Youth Summit at the United Nations.
Keith said of the appointment: "I am officially a 2015 Truman Scholar representing Villanova, my family, and the Native American youth out there who have a dream. Everyday I remind myself why I do what I do. That is, to make the future brighter for the youth that I know can reach their potential. I want to take this time to say that I am extremely grateful for this opportunity, it has been quite the journey to get to where I am today -- but my journey is not over, I look forward to the next chapter. I am glad to be in such amazing company at the Truman Foundation. I also want to take this time to say how extremely thankful I am for all those who support me and stand by my side everyday through the good times and the bad times. I want you all to know that this wouldn't be possible without you and that words alone can not describe how truly grateful I am."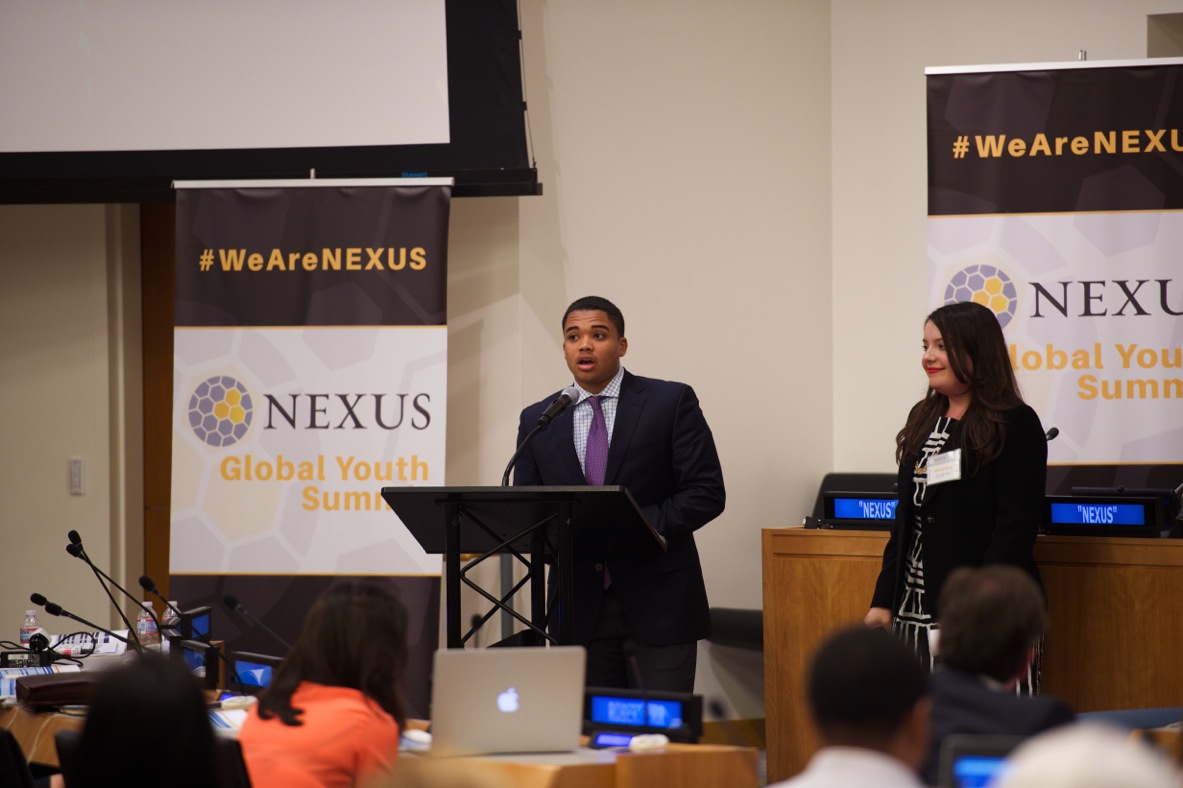 LCE President Maggie Dunne, 24, who founded LCE when she was a student at Scarsdale High School said: "We are so proud of Keith for continuing to support his community, while also pursuing higher education at Villanova University. I founded Lakota Children's Enrichment to elevate the voices of Native Youth, to encourage talented future leaders like Keith Martinez to set big goals, and to help open doors to make those dreams come true. Keith was LCE's first youth advisor, and went on to Co-Found and Chair LCE's Youth Advisory Board, a group that helps LCE shape its programs on the Reservation. The growing successes of the Youth Board members rising behind Keith are a testimony to the success of LCE's collaborative approach working with the community to help youth reach their goals, and to the critical role that Keith serves by demonstrating by example that with hard work and focus, dreams can come true."
About Lakota Children's Enrichment
Lakota Children's Enrichment is a for-purpose nonprofit that provides leadership and mentorship opportunities to youth from the Pine Ridge Reservation in SD. LCE works collaboratively with community groups and a Youth Board to create and produce opportunities for community service, arts, literacy, leadership and mentorship. LCE's premiere programs include: an annual Writing and Art Challenge, which has the support of renowned panel of judges; Youth Summits that provide opportunities for expression in the arts, education, mentorship, leadership and always incorporate community service; and a Youth Advisory Board from across the Reservation, who help create new programs. LCE further provides essential support and services to help community members implement programs benefitting Native Youth, and educates people about the obstacles facing America's first peoples today.

About the Scarsdale STEP Program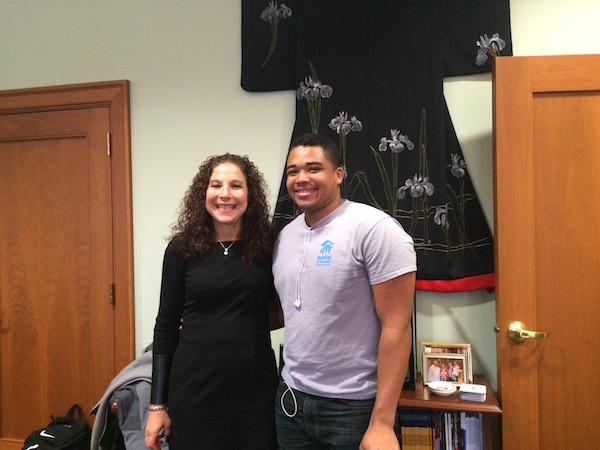 The Scarsdale Transfer Education Program ("STEP") is a two year college preparatory program for promising students of color (including those of Native American heritage) who may benefit from Scarsdale's challenging academic environment. STEP prepares these students for positions of leadership and responsibility in their college years and beyond. Keith Martinez was the first representative from the Oglala Lakota on Pine Ridge Reservation to participate in the program. In the Fall of 2015, STEP will welcome LCE Youth Board Vice Chair Summer Montileaux to the program!
About the Truman Scholarship
The Truman Scholars were chosen by 17 independent selection panels on the basis of their academic and leadership accomplishments and their likelihood of becoming public service leaders. Selection panels met across the U.S. and included distinguished leaders, university presidents, elected officials, federal judges, prominent public servants, and past Truman Scholarship winners. The 2015 Truman Scholars will assemble in May for a leadership development program at William Jewell College in Liberty, Missouri, and receive their awards in a special ceremony at the Truman Library in Independence, Missouri.
Each new Truman Scholar receives up to $30,000 for graduate study. Scholars also receive priority admission and supplemental financial aid at some premier graduate institutions, leadership training, career and graduate school counseling, and special internship opportunities within the federal government. Recipients must be U.S. citizens, have outstanding leadership potential and communication skills, be in the top quarter of their class, and be committed to careers in government or the non-profit sector.
The Truman Scholarship Foundation was established by Congress in 1975 as the federal memorial to the thirty-third President, Harry S. Truman. The Foundation awards scholarships for college students to attend graduate school in preparation for careers in government or elsewhere in public service. The activities of the Foundation are supported by a special trust fund in the US Treasury.
Peter Strauss Honored at 2015 Scarsdale Bowl Dinner
Details

Category: Events
Published on

23 April 2015

Written by

Joanne Wallenstein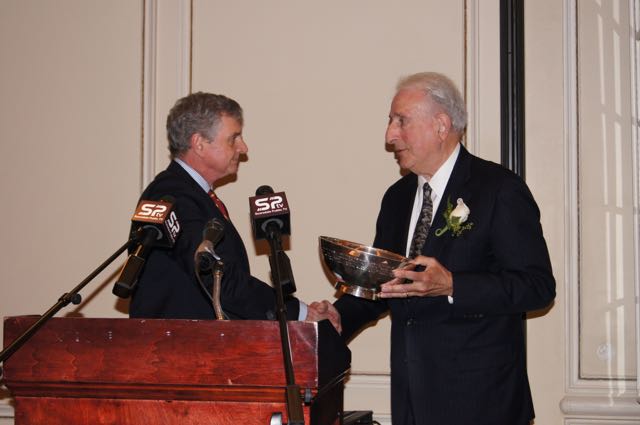 You could not total the number of volunteer years of service of the 275 attendees at the 2015 Scarsdale Bowl dinner, a celebration of community volunteerism and the 2015 Bowl Winner, Peter Strauss. Strauss alone has put in 48 years volunteering for 25 different civic organizations and committees, his wife Laura has more than done her part since moving to town in 1966, and all the committee members and friends who offered tributes and attended have impressive records themselves.
Strauss served as Mayor of Scarsdale from 2005-7 and Village Trustee from 2001-5. He is proud of his role in developing downtown Scarsdale, installing more legible street signs and working on the new headquarters for the Scarsdale Volunteer Ambulance Corps. He served on the Zoning Board of Appeals, chaired the Village Advisory Council on Human Relations, on the Procedure Committee and is a firm believer in the non-partisan system.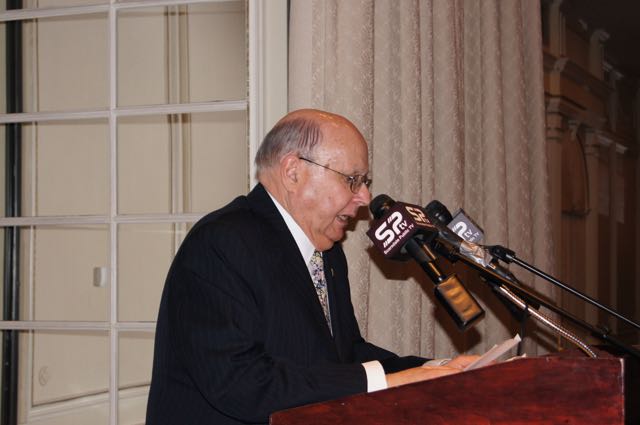 Held on April 22 at the Fountainhead in New Rochelle, the event was led by Scarsdale Bowl Committee Chair, and now newly-elected Scarsdale Mayor Jon Mark. He greeted guests by recognizing Strauss's extraordinary service and acknowledging all the attendees who "make Scarsdale the exceptional community that it is." He thanked the Bowl Committee for their work and named the recipients of the former Bowl winners who were in attendance at the event. He singled out Jane Veron who served on the Bowl Committee and also as the liaison to the Scarsdale Foundation for going "above and beyond." He also noted the contributions of Bowl Treasurer Robert Jeremiah, Foundation President Evelyn Stock and last year's Bowl Chair David Brodsky.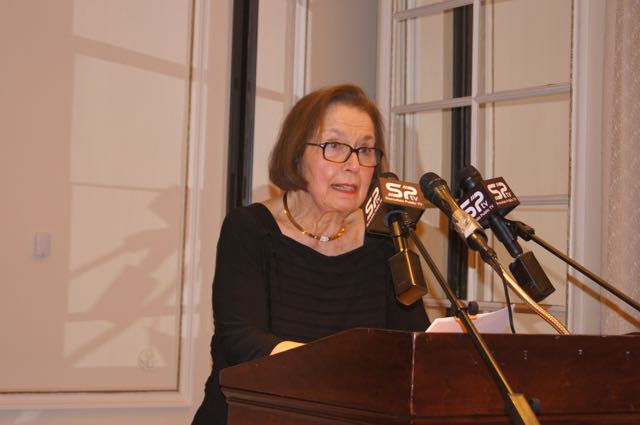 Scarsdale Foundation President Evelyn Stock thanked Peter Strauss for "giving unselfishly of time, energy and effort to the community." Speaking about the work of the Scarsdale Foundation she discussed need-based scholarship for college students, support for SVAC and Scarsdale and Edgemont Family Counseling. She quoted Richard Toder who said, "When some of our neighbors are hurting and in need of our help, we try to be there. This help is what makes our community so special. We care."
She noted that Strauss' many volunteer commitments extend beyond on Scarsdale. On a recent visit to the White Plains Hospital emergency room she spotted Strauss, who volunteers there, and brought her lunch.
Stock then extolled the benefits of volunteering telling the room, "You know it is now okay to have chocolate,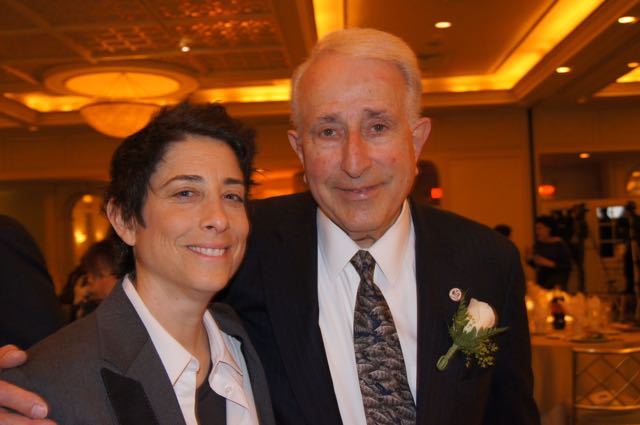 eggs—the whole egg, red meat, and wine. And we learned long ago the benefits of volunteering include new friends and contacts, and improved social, relationship and job skills. But now new studies have demonstrated that volunteering benefits your mental, physical and emotional well-being. Volunteers experience a euphoric rush that releases endorphins, the body's natural painkillers. The health benefits include a reduced risk of cardiovascular disease and diabetes as well as lower cholesterol levels... Harvard Medical School reports adults over age 50 who volunteer regularly are less likely to develop high blood pressure. A Carnegie Mellon study put a number to it--200 hours of volunteering per year correlated to lower blood pressure. Volunteering may reduce stress. ... Now we must admit that eggs, red meat, wine and chocolate (even dark chocolate) must be eaten or drunk in moderation. But... moderation is not needed for volunteering. Think-- you could live forever."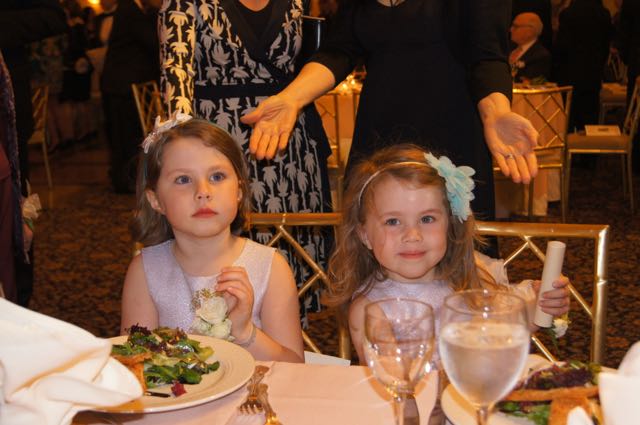 Former Bowl recipient Carl Pforzheimer III discussed the long hours Strauss put in when he was Mayor, and said that Strauss served with "elegance, discretion and dignity, working devoutly for the public." He quoted a trustee who worked with Strauss who said, "when Peter became mayor, he literally moved into Village Hall. The mayor's office was resurrected and Peter put in standard 8 hour days doing the people's work. His daily, on-site management style has never been duplicated before or since." Another said that Peter did a shift on the snowplows on a snowy winter night. Pforzheimer said "Peter did his homework every time. He didn't just read, he studied, he consulted with others, he came to a reasoned opinion. You could agree or disagree with that opinion, but you didn't need to question its authenticity of design."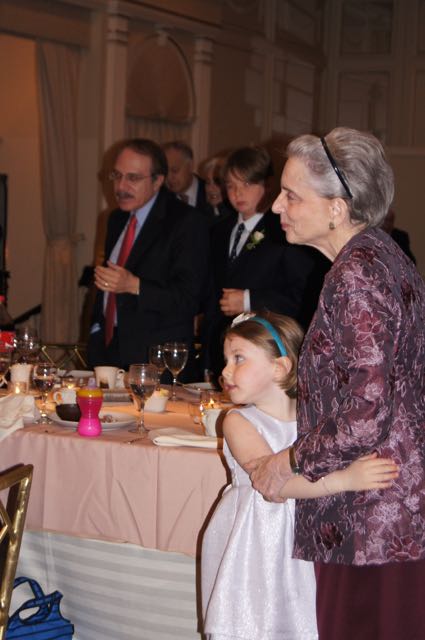 Laura Strauss has been married to Peter for 52 years and described him as "20% small town American" with the balance distinctly German. Struass immigrated to the United States from Germany when he was 7 years old. She noted his work ethic, persistence and optimism and said he was devoted to family, even keeping a photo of his "mother-in-law on his desk." He was an involved dad and coach to their two daughters who attended the dinner with their children. Carolyn Strauss travelled from California where she is the Executive Producer of the hit television series Game of Thrones, and many fans stopped by her table to meet and greet her and her son Owen. Younger daughter Diana drove down from Brunswick Maine with her husband Kevin and two adorable daughters, Ruby Rose, 6 and Gemma Grace 4. Laura noted that Owen, now 12, was given an assignment to write a paper about his hero. He chose his Grandapa a Peter, and said that he was "kind and generous" and added that she agrees.
Lifelong friend and Scarsdale resident Victor Goldberg remembered delicious dinners at the Strauss home with a "seemingly limitless bar." He laughed about driving home after an evening of Peter's mixology and marveled that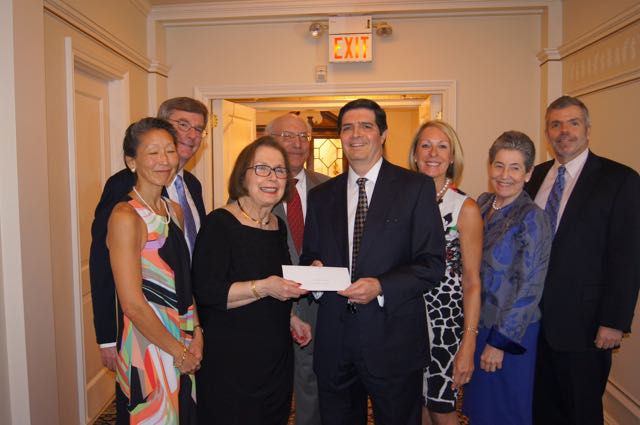 they survived. He thought of those nights often, especially when Strauss become Police Commissioner. He said that his wife was a great admirer of Peter's – calling him "elegant, well-groomed" and even "nice." He said that as Mayor, Peter knew everyone's name from the staff, to the firefighters and the water department personnel. He noted his drive for more readable street signs, saying they were Peter's way of "planning for the old age of his friends." Goldberg credited Strauss's sense of fairness, empathy, dedication, pride in his family and loyalty to friends old and new.
After a slow to emerge dinner and a long night of tributes Strauss took the stage to receive the bowl from Jon Mark and make his remarks. He told the group that his family came to America 79 years ago from Germany when his parents, ages 37 and 31 sought a better life for their family. A Scarsdale resident for 49 years, he said that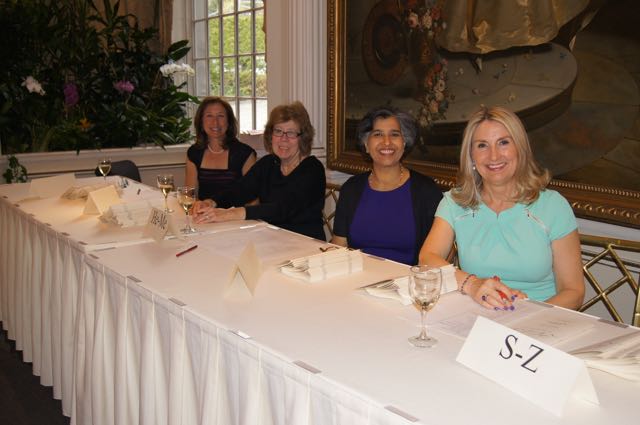 Scarsdale has "been the source of a wonderful group of friends and multiple opportunities to participate in community activities." He remembered conducting difficult and contentious meetings to clear the way for a group home of mentally disabled residents, working on recommendations to improve and develop the downtown area and serving as trustee and mayor when he came to appreciate the contributions of village staff and realize that we live in a "special community."
He said that we must work hard to generate quality volunteerism to preserve the "positive aspects of our special community." He thanked everyone for honoring him with the Scarsdale Bowl and for coming out to recognize him.