Assault at Fenway and Arrest of Drunk Driver
Details

Category: Today's News
Published on

29 July 2014

Written by

Joanne Wallenstein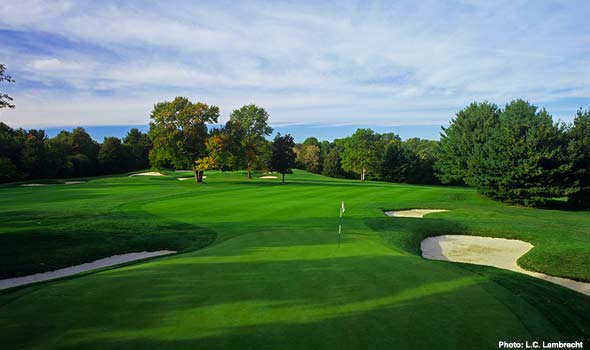 Assault at Fenway: Darryl Benton, a 55 year-old Elmsford man who worked as a caddy at Fenway Golf Club was arrested for assault in the 3rd degree and criminal possession of a weapon after he punched the caddy master in the mouth on the morning of July 24th. Benton was angry about losing money in the soda machine in the club employee locker room. The caddy master gave Benton another soda and Benton threw the can onto the golf course. At that point, the caddy master told Benton to go home. Shortly afterwards Benton returned, punched the caddy master in the mouth and said "I am not scared of you." The caddy master had a cut and swollen lip and was taken to White Plains Hospital for treatment. Police spoke to two other men who observed the incident.
Drunk Driver: Matthew DeFruscio, age 22 of Greenwich CT was arrested for DWI and refusing to take a breath test at 1 am on July 24 after he struck a guardrail at the intersection of Greenacres Avenue and Fountain Terrace and then left his car running in the middle of Fountain Terrace. Police found De Fruscio parked in the car with the motor running. They made several attempts to wake him up and when he did wake up he said that he had been at a bar in Stamford, CT and driven a friend home to Scarsdale. At that point police noticed that the right front tire of the car was damaged and the car was smoking. Though De Fruscio did not remember what had happened, police noticed the damaged guardrail and found a piece of the car bumper near the rail. The Ford Focus he was driving was impounded and towed. His father posted $250 in bail and he was released to his parents at 5:35 am.
Cyclists Hit: A cyclist from Carthage Road, who was riding down Heathcote Road toward Scarsdale Village called police on 5:35 pm on 7/22 after his bike was hit by a woman from Yonkers who was driving at the intersection of Carthage and Heathcote Roads. The impact caused the man to fall off his bike. Another cyclist was hit on Secor Road on the morning of July 26th by White Plains man driving a 2004 Buick. The car hit the back tire of the bike which caused the rider to flip off his bike. The rider was taken to White Plains Hospital.
Identity Theft: An Ogden Road man reported that someone with his personal information attempted to open an account at Jennifer Convertibles and order merchandise to be shipped to an address in Brooklyn on July 21. The imposter had a driver's license with the Scarsdale man's name and address. Police told the man to contact the credit agencies.
Arrest: Anela Djukic, age 29 of Yonkers, surrendered to Scarsdale police on the strength of a bench warrant on the night of July 22. She was released on $100 cash bail posted by her brother-in-law and given a court date of July 23.
Violation: Marc F. Quintilani. age 31 of Garth Road was stopped by police for driving a car with a suspended registration due to a lapse in insurance at 11 am on July 25. The plates were removed from the car, it was towed and Quintalani was given a traffic summons for driving an unregistered vehicle.
Signs: Police found an unauthorized sign for GYMGUYZ posted on Heathcote Road on 7/24. The sign was removed and a summons was issued to the company that is located in Irvington. AT 10:30 am on July 26 police found signs for a garage sale posted on Fenimore Road in violation of village code. Police took down the signs and returned them to the homeowner.
Manhole: A White Plains man complained that he drove over a raised manhole cover on Saxon Woods Road at 9 am on July 25 and damaged the front wheel and the axle of his car, causing the airbags to deploy. The car was towed. The manhole was on a section of Saxon Woods Road that was beginning to be repaired.
Scrap Metal Thieves: The owner of a home on Walworth Avenue that is under construction called on 7/21 and 7/22 when she saw men drive up in a red pick up truck and remove scrap metal from her property. She described the three men. Police offered to do extra ride-bys.
Repossession: Jorge Teixra of Surety Towing and Recovery advised police that he was repossessing a 2009 Mercedes Benz 350 from the Scarsdale Sanitation Yard on July 24th.
Damage: The owner of Scarsdale Hardware Store on Scarsdale Avenue reported that the front window of the store was shattered on July 25. He believed a weed whacker caused the damage.
Abusive Customer: Police received a call at 1 pm on July 25th concerning a customer at Balducci's who was being verbally abusive to a cashier. He used foul language and made inappropriate comments. When police arrived, the man had left the store.
Lost and Found:
Missing Person: A Greenacres dad reported that his son was missing at 10:45 pm on July 26th. The son was located later on. Details were not provided.
Jewelery: On July 26 a 73 year-old woman from Corell Road said that several items, including a pearl ring were stolen from her home over the past few weeks. She reported that she had several people doing work in the house over the past few weeks.
Cell Phone: An Oak Lane woman reported that she lost her cell phone while walking on Fox Meadow Road at 3 pm on July 22. Using the find my phone app she located it near the Kensico Dam in Valhalla. Police advised her to contact Verizon.
License: A Herkimer Road man reported that he lost his driver's license at 5 pm on 7/22 somewhere near the Heathcote School.
Wallet: A young lady from Yonkers reported that she lost her Marc Jacobs wallet containing $12, a drivers license, a medical card and an Edggemont School ID on East Parkway on July 26th. She checked with the store Pookie and Sebastian and someone at the store said that a woman had found the wallet and would drop it off at the Police Station.
Dogs:
A woman called police at 8:40 pm on July 23 when she was trying to catch a dog that was running on Post Road. The dog belonged to a Huntington Avenue woman and the dog had gotten through the invisible fence. Someone caught the dog and returned it home.
A man found a golden retriever in the parking lot of IHM on the evening of July 26. He was not able to locate the dog's owners. Police called the New Rochelle Humane Society, but before they arrived the owner came to police headquarters to pick up the dog.

This police report is sponsored by Scarsdale Security who does more than just security. Contact them about remote video for your home or business. Call 914-722-2200 or visit their website.
SHS Chessmen Compete in National Tournament in San Diego
Details

Category: Parenting
Published on

30 July 2014

Written by

Katharina Horn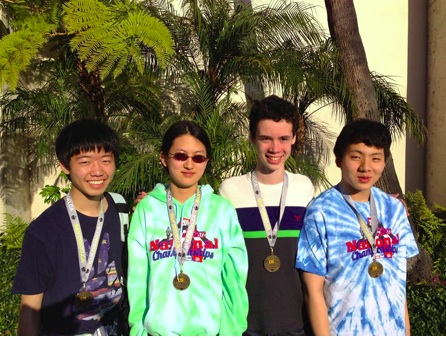 Most are not aware that the game of chess is as competitively demanding and time consuming as any mainstream sport. The reality is that chess is more than a classic board game; in fact, those who play chess competitively and therefore have an ELO rating know that the game of chess entails practice and determination in addition to weekend-long tournaments and six-hour-long games. Junior Mahiro Abe, sophomore Eric Zhang, sophomore Dexin Li, and senior Morgan Lawless are the four players from Scarsdale High School's chess club who attended the 2014 National High School Championship in San Diego held in April. Although Scarsdale High School does not have a developed chess program with a dedicated chess coach like some High Schools do, these four players led the Scarsdale team to tie for 10th place out of 51 High Schools.

These young players are all highly ranked on the ELO rating system, which accounts for all chess players, from Grandmasters, who have ELO ratings of 2600 and above, to beginners, who have ELO ratings closer to zero. ELO ratings are not rankings in which players are competing for specific place; there is no limit to how high a player's rating can go, though no grandmaster has yet achieved a rating of 3000. A player simply gains or loses points based on performance. Mahiro Abe has a rating of 2203 (Master level), Eric Zhang has a rating of 2084 (Expert level), Dexin Li has a rating of 1785, and Morgan Lawless has a rating of 1521. To give perspective, they all fall above the 96th percentile for chess players grades K-12 in the nation. Mahiro holds 21st place for all players age 16 in the nation, and Eric Zhang holds 30th place for all players age 15 in the nation. Needless to say, Scarsdale has talent as far as chess is concerned.
MAHIRO ABE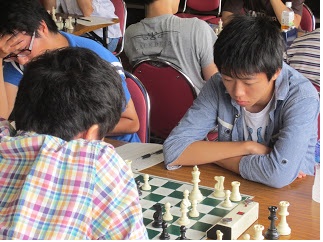 Regular rating: 2203
Junior ranking: 156 out of 39688
Age 16 ranking: 21 (only top 100 shown)
Mahiro started playing chess by chance, when he was taken in by the friendly environment of an after-school chess club he attended in second grade. Since then, he has filled his room with twenty to thirty chess books, and has recently become a Master, or a chess player with a rating above 2200.

He has also won first place in Japan's Chess Junior Championship, a tournament he is not likely to forget although he admits chess is not as competitive in Japan as it is in the United States. "I was traveling behind one person going into the fourth or fifth round. When I was paired with this person, I was in a bad position and down on time, but managed to turn the tables and win with a few really good moves that my opponent missed," explained Mahiro.

His prominence in Japan led him to represent Japan five times in the World Youth Chess Championships, an experience he says shaped the way he played chess and continues to play chess. "It's really cool that I got to meet a lot of people from different countries who have the same passion of playing chess," he said.

Mahiro's strengths are his impressive concentration and his strong base of fundamentals that stem from his extensive daily practice. "Even when it seems like the game is going to go on for another forty moves or something, I don't lose concentration," said Mahiro. He also has a bounty of diverse chess books. He tries to read a chapter a day; if he reads a chapter from one book on one day, he reads a chapter from another book the next day in order to vary the topic. He also has online lessons once a week, plays chess games on the internet, and watches top players' games. Once or twice a month, he attends an old and famous chess club in NYC called the Marshall Chess Club for a two-day tournament over the weekend. He plays four games, each around three to five hours long. Once or twice in a span of two to three months, he travels to Washington D.C., Philadelphia, and Massachusetts for larger tournaments.

Hard losses as well as gratifying wins and hard practice have shaped Mahiro's chess career. Around two years ago, when his rating was already over 2000, he was in a winning position and up a Knight against a kid who was only eleven years old. "I don't know how to explain it, it was like I just made him win," said Mahiro. "I couldn't get out of my seat for a few minutes after that loss. It was such a shock, it was so vivid. I remember it before every tournament. I'm confident I'll never make that kind of mistake again." After the tough loss, Mahiro became more cautious as a player in a good way.

One of the top points Mahiro has focused on this year is his determination to win the game and not settle for a draw. "Some players play for the draw if they are playing against a stronger opponent," admitted Mahiro. "Although that isn't necessarily bad, to keep playing chess you need that determination to win every game." Sometimes giving up is subtle - choosing a safe, inconsequential move over a more complicated one - so Mahiro has to work hard to avoid giving in to a tie. Perhaps his drive will lead him to surpass his title of Master, which he regards as a benchmark instead of an ultimate goal, and to achieve the title of Senior master, which is the title just before Grandmaster.

Mahiro guesses that he has spent more time on chess than any other extracurricular activity in his life ... and he hopes to keep it that way. Although he humbly expresses doubt that he can play for a college that is a "chess stronghouse," he hopes to play at least a few tournaments every few months as he gets older regardless. "I'm really determined to win, but even if I don't win, playing good chess makes me really happy," explained Mahiro, "I see no reason at all to quit."
ERIC ZHANG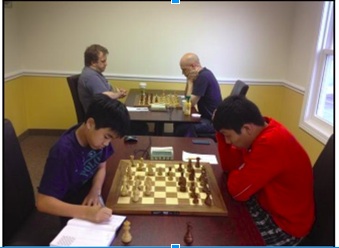 Regular rating: 2084
Junior ranking: 357 out of 39688
Age 15 ranking: 30 (only top 100 shown)

Eric Zhang is not the typical chess player. Although he describes his practice as minimal, he has an undeniable love for the game and "plays with his heart." And while his coach used to tell him to sit upright and focused when playing tournaments, he is a fan of Grandmaster Magnus Carlsen, who sits in awkward and nonchalant positions. Perhaps the most unique aspect of Zhang is his almost superstitious belief in chess destiny. "Most players study a lot, but I rely on my passion and my destiny," noted Zhang. "When I start out with a win, I know I'm going to have a good tournament, and I believe that nothing is going to stop me. When I have a bad start, I know I'm going to have a bad tournament, so I let it happen and look forward to the next one."

From the time he started learning the basics of chess at five years old and playing competitively two years later, Zhang's unique approach has certainly worked for him. He has achieved the Expert level and is 100 points shy of Master, his next goal. His most memorable tournament was the time he placed 9th out of 200 kids age 14 in the 2013 Junior National Championship held in Florida. He has traveled as far as Florida, Virginia, and Philadelphia to attend tournaments.

Although he identifies his weakness as his game openings, which need to be studied, he has a useful ability to function under pressure. In tournaments where there is an unbearable silence except for the touch of clocks, which serve to keep the time for players who lose the game if they run out of time, functioning under pressure, especially time pressure, is essential. "For me, that kind of pressure is really fun," said Zhang.
Zhang's love of the game is almost palpable. "Chess has helped me in countless ways. It makes me feel special, it gives me confidence. I relate chess to everything I do in life - I know that I may lose a few games or have a bad day, but it's important to focus on the next game or to have a better day the next day," he said. Clearly, he plans to play for the rest of his life.
DEXIN LI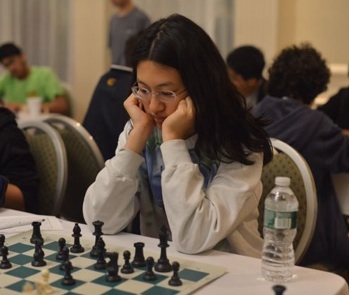 Regular rating: 1785
Junior ranking: 1444 out of 39,688
Dexin Li is a girl in a predominantly male sport that is not split by gender. Thus it is fitting that her mentor and idol has been her coach Rusa, who was the US Women's Champion in 2005. Rusa has pushed Li, who struggles with confidence problems, to not only better her strategies, but also believe in herself.

One of Li's most memorable tournaments was the New York State Scholastic Championships, where she broke 1400. "I remember in the last game I played really hard, and my face was all red," Li recalls. Like many serious players, Li gets emotionally invested in her tournaments, which makes her wins even more gratifying.
She is planning to increase the number of tournaments she plays in order to break 2000 and earn the Expert title. She will do so using her ability to concentrate for long periods of time as well her strategy of waiting until the middle of the game to start attacking her opponent to gain an advantage. If she keeps up her practice, which includes weekly meetings with Rusa, reading tactic books, and going over her games on a computer program called Test Base, Li will certainly reach her goal.
MORGAN LAWLESS
Regular ranking: 1521
Junior ranking: 2971 out of 39,688
Morgan Lawless was introduced to chess in first grade. Since then, his parents have been the perfect kind of parents: supportive, but not pushy. "My dad always tells me the second you stop having fun is the second we're going to stop going to these tournaments," said Morgan. Lawless has developed into a player who genuinely has fun playing.

Schoolwork often gets in the way of Lawless's practice. However, he manages to attend group chess lessons on a weekly basis and study tactic books when he has the chance. He also uses the ICC (Internet Chess Club) and chess.com to play against different people online. He attends local tournaments at the National Scholastic Chess Foundation in Westchester.

Lawless's chess strategy is marked by his desire to try unconventional, fun moves. "I like to do risky, stupid things that other people would say, 'You shouldn't be doing that,'" said Lawless. "But I like to use them because those moves are really fun." Perhaps that is why his favorite Grandmaster is Nakamura, whose aggressive play is entertaining to watch.
As Lawless's coach used to say, "The hardest thing to do in chess is win a won chess game." In other words, converting one's advantage into a win is more difficult than it seems for Lawless and other competitive chess players. Lawless is also hoping to work on studying more tactics, so that he can calculate possibilities with a clearer and quicker mind.

He plans to play chess for the rest of his life, whether it is in tournaments or just for fun. "Chess is an extracurricular that I've always done and I absolutely love it. Winning a chess game is the best thing ever because you feel like you've earned it; after sitting there for hours and hours, finally winning feels really good."
Scarsdale Swimmers Raise Over $55,000 for Cancer Research and Prevention
Details

Category: Good Work
Published on

31 July 2014

Written by

Joanne Wallenstein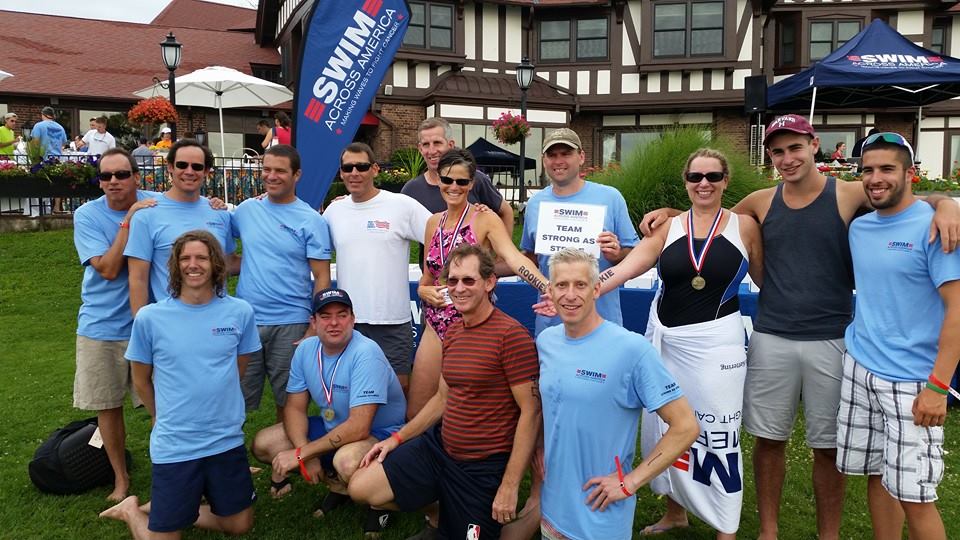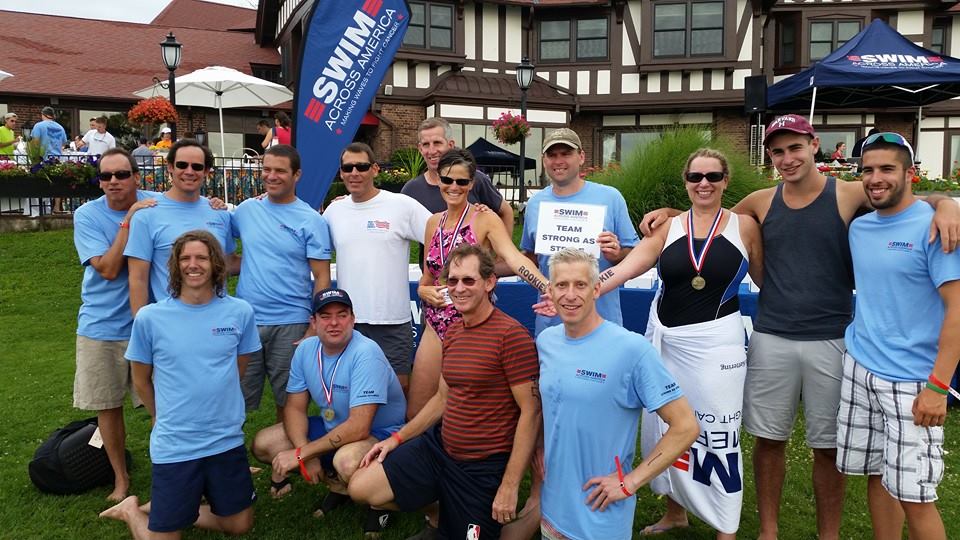 Team Strong As Steele swam in Swim Across America 2014 on Saturday, July 26 and raised over $55,000 to raise awareness for cancer research, prevention and treatment through swimming-related events.
The team, composed principally of Scarsdale residents, swam in Long Island Sound in Larchmot in memory of Will Steele, a marathon runner in his mid-30's who died of a rare form of cancer, leaving behind his wife and three young children. Overall, more than 500 swimmers participated in the event, swimming distances of 2K, 5K and 10K, and raising more than $1.1 million on behalf of Swim Across America.
Scarsdale participants on Team Strong As Steele included: Eldad Blaustein (5K), Peter Doyle (2K), Josh Glantz (10K), Razy Hirschberg (2K), Debra Hyman (2K), Joe Kaufman (10K), Blaine Marder (5K), John Needham (10K), Doug Rachlin (2K), Chip Rich (5K), Miles Rubin (2K), Joel Talish (2K) and Carol Wolfe (2K). Chris Shannon also participated with the team as a volunteer kayaker.
You Know You're a ScarsdALIEN If ....
Details

Category: The Goods
Published on

30 July 2014

Written by

Joanne Wallenstein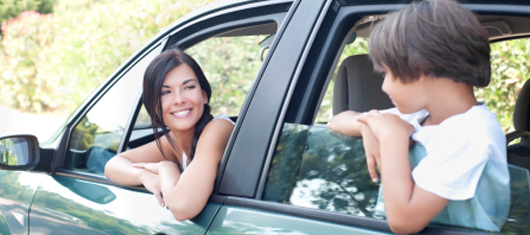 Here's a post from a Scarsdale mom who is leaving our fair village now that her kids have all left home. As she looks forward to the next chapter of her life beyond Raider territory, she's spared a last few brain cells for Scarsdale. Here are her parting words on what defines the Scarsdale experience:

You know you are a ScarsdALIEN if ...
You hit the gym religiously...almost as religiously as you hit happy hour.

You type WRT in a text to explain where your Scarsdale Adult School class meets, and it autocorrects to "WTF" on your too smart phone because it knows you use that acronym way more often.

You know your "million dollar home" wouldn't be just a "million dollar home" if you just had another million to spend on it.

You traded in your parenting helicopter for an SUV when you moved out of the city so you could ferry around your kids and their chatty friends to find out what they are REALLY thinking about.

You realize that the real political power in this town lies with its nominating committees. So remind me again how many people actually vote in THOSE elections?

You are a little mystified by the fact that a community of bona fide "one-percenters" seems completely preoccupied with whether or not their neighbors are paying "their fair share."

You have a hot landscaper. He is also your plumber and your car mechanic. And your tennis pro. And you didn't know he even had some of these skills when you married him all those years ago.

You think you are on the right track, but it would be easier to tell if Fox Meadow would just let us put lights on it.

You go to Metro Deli and when you don't specify how you crispy you like your bacon, the waitress comments, "you are not from here, are you?"
The author cops to all of the stuff listed here.
Estate Sale on Kensington Road Friday and Saturday
Details

Category: Tag Sales
Published on

28 July 2014

Written by

Joanne Wallenstein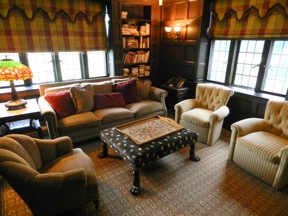 EstatesNY is thrilled to offer the sale of the contents of this wonderful home on Kensington Road in Fox Meadow on Friday August 1 and Saturday August 2 from 10 am to 4:30 pm. The sale will include fine antiques, extraordinary decorator quality furnishings, Oriental carpeting, antique and other lighting, beautifully designed custom window treatments throughout, exceptional Victorian carved and mirrored cabinets, a charming antique ladies writing desk, Ornate 19th Century Console or library table with detailed lions paw feet, antique Murano chandelier, French antique silk bench ...new sofas custom made with Pierre Fret upholstery and tassel trim ....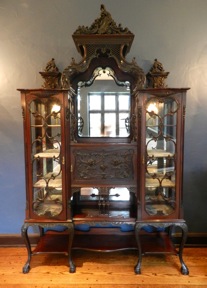 FANTASTIC!, Donghia transitional parlor chairs, French glass coffee table, baby grand piano in walnut case by Knabe; Antique game table with carved upholstered side chairs, exceptional Victorian burlwood front curio cabinet, pair of floral roll arm and back skirted sofas, carved kitchen table ensemble with decorator upholstered seats, practically new!, fine crystal and early chandeliers, all unusual. Also offered: a very special partner's desk, multiple bedroom suites featuring a high quality bedroom suite -- white painted ensemble with four poster bed, dressers, etc; other bedrooms, foosball and ping pong! a great upholstered "paw-print" paw footed ottoman! Everything in this home is in pristine condition and will be priced to sell.

Don't miss this opportunity! 6 Kensington Road, Scarsdale, NY; Friday August 1st and Saturday August 2nd from 10am-4:30pm both days. The sale is presented by EstatesNY Estate Sales and Services, handling exclusive properties. Be sure to visit estatesny.com for more pictures of this wonderful sale and sign up for our mailing list.