Burglars Strike Franklin Road House; Police Recommend Lights and Alarms
Details

Category: Today's News
Published on

17 December 2014

Written by

Traci Dutton Ludwig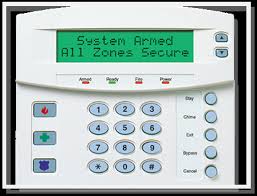 A Franklin Road house was burglarized sometime while the homeowner was away from Dec. 3 to Dec. 8. According to the homeowner, jewelry worth $1,000 was stolen. The homeowner realized something was wrong when she observed the rear sliding glass door, which leads to the bar room, smashed. According to police, after the suspects broke through the rear sliding glass door, they left a trail of broken glass leading from the bar room, into the dining room, into the master bedroom, then upstairs Bedroom closets and dressers were open and tossed. Linens were thrown onto the floor from a hall linen closet. The house had an alarm, but it was not armed because it was broken. The house did not have automatic, motion-sensor lights.

In response to the recent rash of local burglaries, Sergeant James Newman advised the following: "If you have an alarm, you should arm it when you leave the house. If you don't have automatic lights, leaving one or two lights on might have the effect of deterring a would-be burglar. If residents are going to be away for an extended period of time, the police department offers a "dark house" program whereby police will check the exterior of the house during the daytime, if and when time permits. Being a vigilant neighbor is just as important as any alarm system. If you see someone or something that doesn't seem right, do not hesitate to call the police."
Package theft
On Dec. 13, a Madison Road woman reported two packages from Creative Irish Gifts were stolen from her front porch. The woman said she last saw the packages while leaving her house at 6:15 p.m., Dec. 3. When she returned at 8:30 p.m., the packages were gone. The packages contained gifts worth approximately $225. The store needed a police report to refund the merchandise.
Identity theft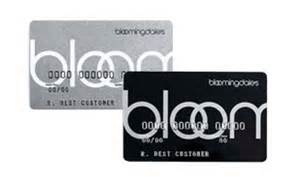 Bloomingdale's fraud department notified a Brookby Road resident about fraudulent activity on her account Dec. 8. According to the resident, personal information was used to increase the resident's credit line, and an undetermined amount of fraudulent purchases were made. Police advised the resident to inform the credit reporting agencies.
Criminal mischief
On Dec. 14, a Nelson Road homeowner reported someone threw eggs at her house overnight. Later, the homeowner realized someone unplugged the electrical cord powering outdoor Christmas decorations.
A driver reported the hood and front bumper of her 2014 Hyundai Santa Fe were "keyed" while parked at the Scarsdale post office, on Chase Road, at approximately 2:25 p.m.
Suspicious
A caller was concerned about a man standing on Crane Road for an extended period of time Monday morning, Dec. 8. He was described as a white man with a goatee, wearing a gray sweatshirt. He left before police arrived.
On Dec. 9, a driver reported a person, dressed in black, was "walking and darting out in front of cars" on Post Road. The person was gone when police arrived.
The owner of a jewelry store in village center called police when a gray Acura backed into two parking spaces outside his store, when other spaces were also available, around 4 p.m., Dec. 13. When the store owner approached the driver of the car, the driver sped away. A license plate check revealed the car was registered to a Mt. Vernon address.
Welfare checks
At the request of Adult Protective Services, police attempted to check the welfare of a village resident Dec. 8. The resident was not home when police checked the house.
Police checked the welfare of a Popham Road resident who did not answer her RUOK call Dec. 9. The resident was fine and told police she had overslept and had not heard the phone.
On Dec. 10, police tried to check the welfare of a resident affected by a gas turn-off due to utility work in the area. The resident was not home, and a Con Edison supervisor confirmed the gas work was almost finished.
Doorbells, knocks
At 11 p.m., Dec. 11, a Madison Road resident reported someone knocked on her front door, but no one was there when she answered it. Police checked the house and found no signs of criminality.
A Nelson Road woman reported someone rang her doorbell and ran away when she answered the door shortly before 5 p.m., Dec. 12. The person was described as "short and wearing a light blue jacket." The person ran south on Nelson Road toward Barry Road. Police canvassed the area but did not find the person.
At 9 p.m., Dec. 13, an Asian man, approximately 50 years old, 5'7'' tall and wearing dark clothes, knocked on a Post Road door. He told the homeowner he knew her neighbors. After that, he immediately left the property. Police spoke with the neighbors, whom the man claimed to know. The neighbors were unsure about the man but thought his presence might have something to do with a possible real estate deal.
Open doors
After a front door was accidentally left open to a Springdale Road house, police closed and secured the house Dec. 9. Police checked a car in the driveway and determined its engine was cold. There was no evidence of criminal activity.
Police checked a Taunton Road house after the homeowner returned to find an open door Dec. 9. Police checked the house and found no signs of criminal activity.
Locked in
A one-year-old child was accidentally locked in a running car parked on Brewster Road Dec. 12. While police and firefighters were attempting to unlock the car, the child pressed the unlock button, and the door was able to be opened. The child was unharmed.
Naked man
Police assisted White Plains police in their search for a naked man on Old Mamaroneck Road at 2:30 p.m., Dec. 13. White Plains police successfully took the man into custody.
Cars and roadways
Police found a locked car running inside Christie Place garage Dec. 8. Patrol stayed with the car until dispatch informed the registered owner.
One car stalled in flooding water behind Scarsdale High School on Brewster Road Dec. 9. The principal said the administration was arranging for a towing company to assist the driver.
A tree fell on Saxon Woods Road Dec. 9. The highway department removed it.
A car became disabled near the intersection of Post and Drake roads Dec. 10. Patrol waited with the driver until a towing service arrived.
Police issued a summons to the driver of a car parked in violation of overnight restrictions on Bradley Road Dec. 11.
After a resident complained that a construction worker passed a school bus on Bradley Road, Dec. 11, police advised the construction worker to be cautious while driving through the area. The construction worker claimed the bus was stopped without showing any stop signs or flashing lights.
To alert motorists, police placed a traffic cone in a pothole on Brewster Road Dec. 12.
Fifteen car accidents were reported in the village this week.
Leaves
A Richbell Road resident said leaves from a neighbor's tree were falling into her yard and causing a flooding condition in her yard Dec. 9. The resident asked police to inform the building department.
On Dec. 13, an Olmsted Road man reported a neighbor's landscapers blew leaves onto his property. Patrol advised the landscapers to clean up the leaves and be more careful in the future.
Animals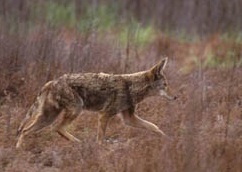 A coyote was seen in a Meadow Road yard Dec. 9. It wandered away before police arrived.
Village code
Police removed an advertising sign, for a car driving service, posted at Weaver Street and Hutchinson Avenue Dec. 10. Police issued a summons to the business that posted the sign, in violation of village code.
On Dec. 13, a resident complained of noise coming from a Lebanon Road party. Police went to the house and noted the volume of music seemed to be at an acceptable level. A special duty officer who was working at the party said he would monitor the volume of music to make sure it did not violate village code. Two additional complaints were received about noise from the party. The special duty officer asked the party host to lower the volume of the music around 7:30 p.m. At 11 p.m., police spoke with the party host and advised her of the noise complaints. She apologized and turned off the music.
Lost and found
A passerby found a driver's license in the village and brought it to headquarters for safekeeping Dec. 13. According to information listed on the license, it belonged to a woman from Astoria, Queens. Police attempted to contact her but were unsuccessful.
Fire
Water in a Mamaroneck Road parking lot was caused by a problem in an underground drain line Dec. 9. A plumber was en route.
Firefighters helped mitigate a water entry problem at a Broadmoor Rd. house Dec. 9.
A Quaker Circle basement was flooding, and firefighters helped the homeowner remove items from the basement to prevent damage Dec. 9.
While checking a false alarm on Wayside Lane, firefighters discovered the building's sprinkler system was turned off Dec. 9. They reported this condition to the fire inspector.
Firefighters used a water vacuum to remove water from a window well at a Cayuga Road house Dec. 9.
Firefighters pumped approximately one inch of water from a White Birch Lane basement Dec. 9. They shut the natural gas supply to the furnace and hot water heater.
Firefighters notified the water department about water leaking in a pit on Catherine Road Dec. 10.
Firefighters helped Con Edison get inside a Windmill Lane house to address a problem with water in the gas main Dec. 11.
A Lawrence Road cat was stuck in a tree Dec. 12. Firefighters advised the homeowner on the appropriate course of action.
Due to elevated levels of carbon monoxide in the Christie Place garage, police instructed workers to refrain from using gas-powered pressure washers inside the garage Dec. 13. Firefighters used exhaust fans to ventilate the space and monitored air quality in the garage until it returned to safe levels.
A White Road resident lit a fire in the fireplace without opening the flue Dec. 13. The resident extinguished the fire before firefighters arrived. Firefighters ventilated the residence of smoke and verified there was no damage to the house.
This week firefighters assisted at six car accidents in the village and on parkways. They responded to 11 false fire alarms caused by device malfunction, cooking smoke, an overheated drill, dust, chimney cleaning and construction dust.

Scarsdale Village Justice Court from Wednesday, Dec. 10, 2014
Kristy Amoresano was arraigned on charges of driving while intoxicated (first offense), DWI with a blood alcohol level of at least .08 of one percent and reckless driving. Her license was suspended in New York State, pending prosecution. She was assigned, for evaluation, to Treatment Alternatives for Safer Communities. The case was adjourned to Jan. 28, 2015.
Lucas F. Calderon pleaded guilty to the reduced charge of DWI (first offense). His license was suspended for one year, and he was fined $900. He was ordered to attend a MADD Victim Impact Panel and a drinking and driving program organized by the NYS Department of Motor Vehicles. He was ordered to install an ignition interlock device in his car for one year.
Walter Collins pleaded guilty to the reduced charges of fifth-degree possession of stolen property. He was sentenced to six months incarceration. He was fined $224, plus a $50 DNA fee.
Jason Dent pleaded guilty to the reduced charge of driving while ability impaired. He was fined $560. He was ordered to attend a MADD Victim Impact Panel and a drinking and driving program organized by the NYS Department of Motor Vehicles. He was ordered to complete a program with Treatment Alternatives for Safer Communities and to install an ignition interlock device in his car for one year.
Saul Hernandez pleaded guilty to driving without a license and was fined $168.
John Peto pleaded guilty to the reduced charge of second-degree harassment. He was granted a one-year conditional discharge and fined $225. The court issued a two-year order of protection.
Barbara E. Picket pleaded guilty to the reduced charges of driving without a license and speeding. She was fined $386.
Vitaly A. Polikoff pleaded guilty to the reduced charge of driving while ability impaired and driving without a license. His license was suspended for 90 days, and he was fined $805. He was ordered to attend a MADD Victim Impact Panel and a drinking and driving program organized by the NYS Department of Motor Vehicles.
The court issued one bench warrant, three warrant letters and two appearance letters to defendants who did not appear in court as directed.
Adjournments included cases with the following charges: operation of a motor vehicle under the influence of drugs, possession of marijuana, fourth-degree grand larceny, third-degree possession of a forged instrument, third-degree assault, third- and fourth-degree grand larceny, third- and fourth-degree criminal possession of stolen property, second-degree criminal contempt, DWI (first offense), aggravated DWI, possession of marijuana, second-degree use of drug paraphernalia, seventh-degree criminal possession of a controlled substance, second-degree identity theft and various vehicle and traffic violations.
This report covering police and fire department activity from Dec. 8-14 and the Scarsdale Village Justice Court calendar from Dec. 10 was compiled from official information.

This police report is sponsored by Scarsdale Security who does more than just security. Contact them about remote video for your home or business. Call 914-722-2200 or visit their website.
Scarsdale Schools Bond Referendum Approved by 82% of Voters
Details

Category: Schools
Published on

12 December 2014

Written by

Joanne Wallenstein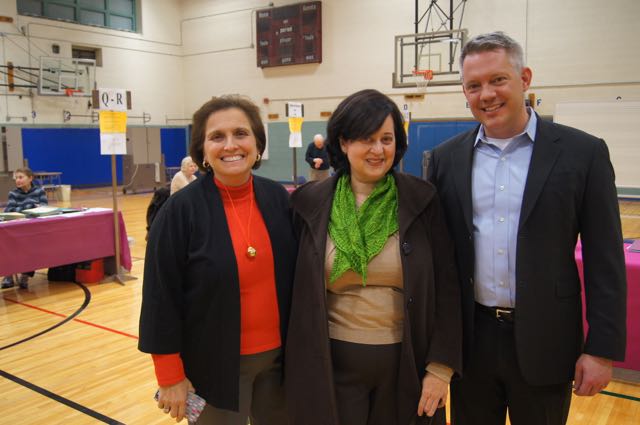 The mood was optimistic at the Scarsdale Middle School gym at 8:55 pm on Thursday December 11 – just five minutes before the polls officially closed. School administrators, members of the board of education and leaders of the PTA's and PT Council gathered to hear the vote count on the $18.12mm bond referendum for the Scarsdale Schools. Some were so upbeat that they made bets on the percentage of YES votes that would be cast.
Minutes later optimism turned to jubilation when election inspector and former school board member Terry Simon announced that a total of 981 votes had been cast, with 805 yes votes and 176 opposed. When it was revealed that 82% had voted in favor of funding district-wide capital projects, there were cheers, embraces and sighs of relief. Many in the room still had fresh memories of the defeat of the school budget in 2013-14 and were delighted that just a year and a half later voters had again demonstrated confidence in the administration, the board and the Scarsdale Schools.
The vote count was comparable to the vote for the 2014-15 school budget in May, 2014 when a total of 997 votes were cast, with 777 in favor and 220 opposed. In contrast, when the budget was rejected in May 2013, a total of 3,222 voters came out and only 46.6% voted yes.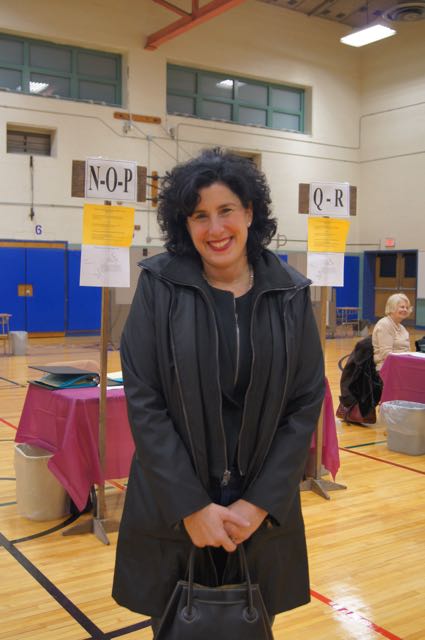 For Superintendent Thomas Hagerman, this was his first community-wide vote in Scarsdale and a very positive sign. For Assistant Superintendent Linda Purvis, the referendum marked one of her last elections at the Scarsdale Schools as she announced that she will be retiring in June. Board President Mary Beth Gose, now in her sixth year of service on the Board of Education looked thrilled that years of collaboration between the board, the administration and the community had resulted in funding for extensive renovations at the high school, middle school, Edgewood and Heathcote elementary schools along with upgrades in the technology infrastructure for the district.
The capital projects funded by the bond will be a tangible legacy of the board's work.
Commenting on the vote, Mary Beth Gose said, "The Board is really happy with the outcome and thanks the voters for their strong support of the educational needs for the students of the district." Superintendent Thomas Hagerman said, "Thanks for your support. We look forward to moving ahead in partnership with the community."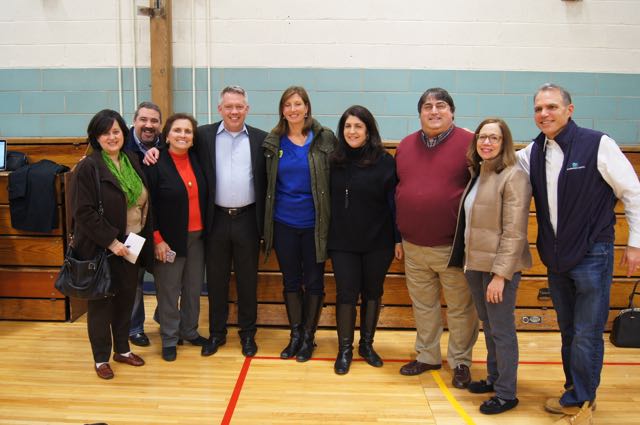 The Bond Has Passed! Now What?
Details

Category: Around Town
Published on

17 December 2014

Written by

Joanne Wallenstein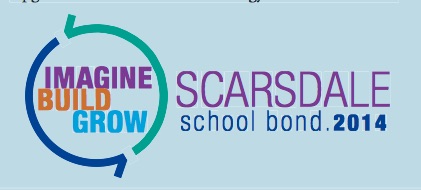 Now that the $18.12 mm bond has passed, how will the Scarsdale School District begin the construction process? As usual, Assistant Superintendent Linda Purvis was one step ahead of the game at the December 8 Board of Education meeting where she outlined the district's next steps assuming the passage of the bond on December 11.
Here is the plan that she outlined:
-The district will formally appoint architects KG&D as the architects of record for the school construction projects.
-They will convene building level committees to make recommendations on the details of the design work. Principals will be asked to identify faculty members and parents to serve on these committees who will look at specific design problems and refine schematics.
The district will do a request for a proposal for construction management services. Once retained this company will act as the district's representatives and serve as a liaison between the administration and the construction vendors. They will provide independent cost estimates to be compared with those provided by the architects. They will develop construction timelines and benchmarks for the work which is expected to take from 15 to 20 months, will figure out how students will be managed during the construction process and when construction will need to be halted to accommodate testing. Last they will provide onsite construction supervision and problem-solving for issues that arise. Their fee will be a percentage of the total budget and has been figured into the projections.
The Board of Education will appoint a District Construction Committee comprised of the architects, construction managers, Superintendent, Assistant Superintendent, Director of Facilities, 2 or 3 members of the Board of Education, three community members with expertise in construction and possibly a parent representative. This committee will do technical work and will meet every 2-3 weeks, usually at 8 am, for 2 years.
To finance the initial stages of the project, Purvis and her team will investigate one-year financing needs and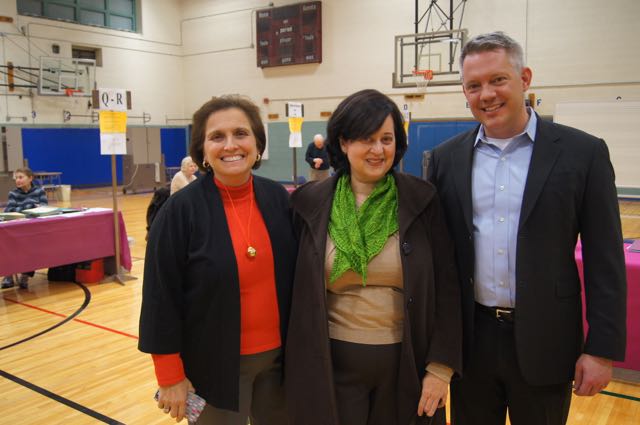 make a recommendation on raising the funds for the architects fees, construction management fees, pre-construction testing, bond issuance fees and to pay for any work that can begin in the summer of 2015. The administration will ask the board to do a bond anticipation note for up to 10% of the authorized bond amount which will eventually rolled into a long term financing plan.
Two projects will be funded through outside sources:
The Madoff family will donate $300,000 in memory of their son Tyler to purchase the equipment for the new fitness center.
The Scarsdale Schools foundation will donate $2,600,000 for the creation of the Design Lab in the space now occupied by the Auto Shop at the high school.
To learn more, watch Purvis on video on demand on the Scarsdale School website here:
Tense Times at Scarsdale High
Details

Category: Parenting
Published on

18 December 2014

Written by

Joanne Wallenstein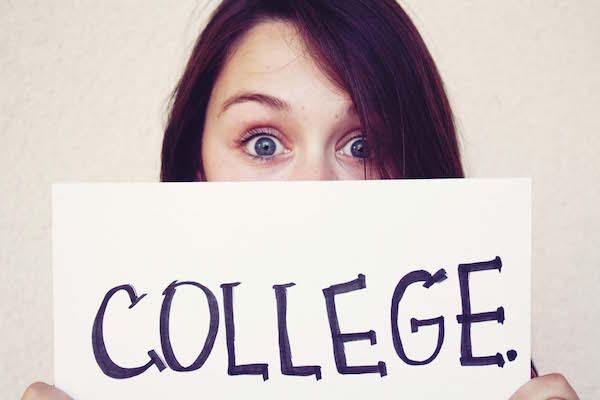 Scarsdale High Shool seniors who thought that the stress level during junior year was bad were surprised to find that the first semester of their senior years could be a time of even higher anxiety. Many seniors are now hearing back from colleges where they applied either Early Action or Early Decision. While in the old days students had to hunt down the mailman to find out if they had gotten in, today, rather than receiving a thick or a thin envelope in the mail, most students are finding out their fates via email or through colleges' online application portal while a very small number of schools are still relying on "snail mail."
From my observations, students who receive good news are updating their social media pages to reflect their new status. Some tweet their acceptances, but the majority of students, if they are going to post their acceptance at all, make a change to the Facebook page. Most who find that they have been deferred, or worse, rejected, are keeping that news private.
It seems to me, that at the beginning of the college process, many students were either dishonest about their "first choice school" or just refused to tell other students where they were applying. However, now that decisions have been sent out, some bold students are publicizing their rejections. The other night, as I was scrolling through my Facebook newsfeed, I saw that someone had posted a picture of his rejection letter. As I scanned through the comments underneath the post, I saw other students make sympathetic comments like this one: "Dude I feel for you, but everything always turns out great" and, my personal favorite, "Their loss man ... but when you get in somewhere you should feel free to send that school a rejection letter". Walking around school, I constantly hear students vocalizing their condolences to others who have been rejected or deferred.
By now, I know people who have gotten accepted to their first choice school, people who have been rejected from their first choice school, people who don't yet know where they want to go, and some who have not even applied to any school yet.
Why are students and parents on edge? For Scarsdale High School students, and seniors all over the country, the term "safety school" has begun to lose its meaning. Schools that used to be seen as safe acceptances are becoming target and even reach schools for even the most qualified applicants. No surprise then that there has been a large spike in the number of schools that the average student applies to over the past 20 years.
Much of the reason for this increase is related to the creation of the CommonApp. Applying to schools through this website makes the process as easy as clicking a button; literally. The ironic part of this is that as the schools become easier to apply to, they get harder to get into. "There has been an increase in the selectivity from the top on down, so kids are trying to cover all their bases," explained Dean Oren Iosepovici of Scarsdale High School. While one might assume that this fear is handled by applying to three "definites" for every "maybe", this doesn't seem to be the case in for everyone in Scarsdale. Some kids apply to large numbers of schools just to ensure acceptances. Others are applying to as many reaches as possible to see where they will get in. Iosepovici, along with the other well-trained Scarsdale deans, make sure that each student has an even spread of safety, target and reach schools. Still, it can be hard to bring kids down to earth when fear is the root of the problem."
This week many college freshmen have been visiting SHS after having completed their first semesters away at school. They have helped to put this process into perspective for their younger peers. Justine Souchak, a returning freshman from Hampshire College said, "I think the first semester of senior year is very stressful.... it's like a curveball, you never know what's coming at you. I only applied Early Decision to one school and got in, so after that, I was done. Just know that there are so many colleges and you're going to end up where you need to be."
This article was written by SHS Seniors Megan Shelton with input from Hannah Wolloch
SHS Teacher Rashid Silvera Live on TV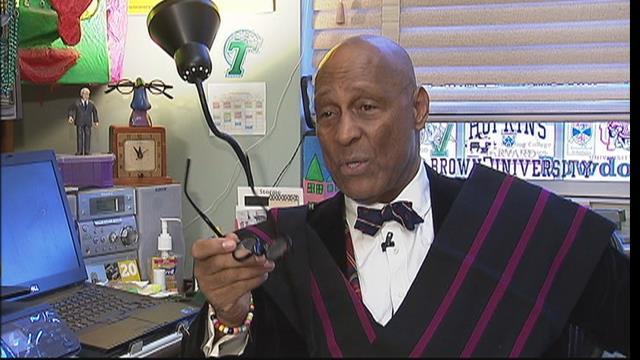 Legendary Scarsdale High School teacher Rashid Silvera got some airtime earlier this month when a television crew came to his class to film him in action. Rashid, as he is known around the school, has been a favorite among students for years. His classes on Psychology and Race and Ethnicity are popular with students both for the subject matter and the charismatic man who brings the material to life.
In his early days at SHS, Rashid, who is a dapper dresser, was noticed by a Scarsdale parent who introduced him to Ralph Lauren He launched into a second career as a model and eventually made history by being the first Afro-American man to appear on the cover of GQ.
Rashid may have ended up on the news courtesy of Scarsdale Board of Education School Board member Lew Leone who is the vice president and general manager of WNYW-FOX5. His son is in Rashid's class and appears on the spot as well as SHS Principal Ken Bonamo.
Watch him here - live from Scarsdale High School, it's Rashid!