School Board Hears Comments, Pro and Con, On Proposed 2018 School Bond
Details

Category: Schools
Published on

05 December 2017

Written by

Joanne Wallenstein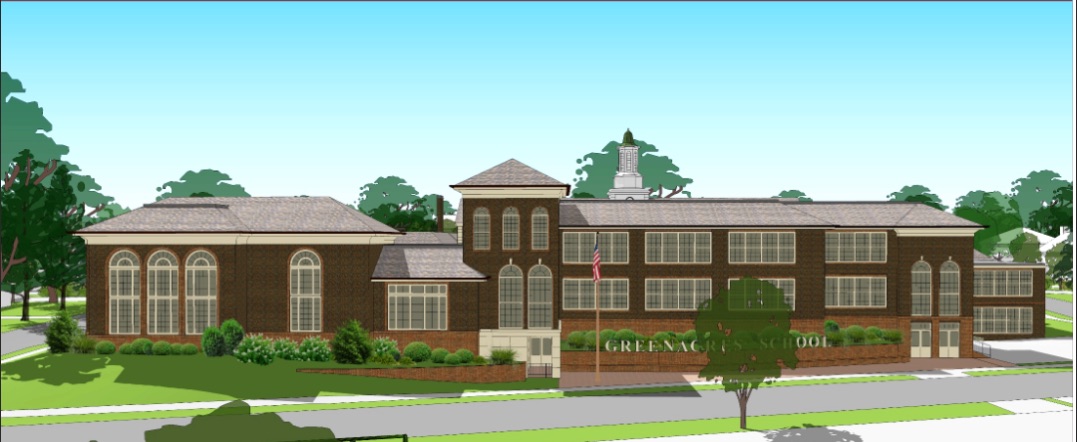 The Scarsdale Board of Education is speeding toward the adoption of a $64,867,577 million bond resolution, with a vote on the project's SEQRA determination and the adoption of the bond resolution scheduled for their December 11 meeting. The district wide vote is planned for February 8, 2018.
On Monday evening December 4 a public forum was held to get community feedback on the largest school bond in Scarsdale's history. The proposal calls for a $34mm renovation and expansion of Greenacres Elementary School as well as facilities and infrastructure repairs at the district's six other schools.
The scope of the bond has undergone many revisions, with projects and estimates changing almost weekly since the introduction of the plan in June 2017 after a six month pause in discussions about Greenacres School and the bond. At one point the proposal included new learning commons/cafeterias in three additional elementary schools and the construction of a large cafeteria at the middle school. Those plans, in addition to a proposed $10.8 million Energy Performance Contract are no longer in the proposal, which does include $11.9 million for ventilation, $9.6mm for roofs and $4.8 million for boilers.
The dizzying pace of the planning confused many people and advocacy groups that attempted to follow the process. However, the executive committees of two community organizations, the Scarsdale PT Council and the Greenacres PTA came out in support of the bond referendum at the forum on December 4. Others were concerned about the construction, the condition of the original building, recent reports of mold and the buildings sustainability.

Diane Baylor, President of the PT Council thanked the district for including them in the process and for being responsive to their questions. She said they appreciated the delay in the schedule for the bond vote to allow for candid and "messy" deliberations and said they appreciated the civil discourse.
She said that the members of the PT Council have differing opinions and due to the shifts in the proposal they had difficulty coalescing, but said they support the proposal for a tax neutral bond. They recommended that the district do a study of all playing fields to determine needs and said they support the Greenacres renovation and expansion, recognizing that the school has not received funding and needs significant work. She said the plan addresses the school's key spatial needs. The PT Council requested a master facilities plan in an easily digestible format with an itemization of long term needs vs. wants to help the community analyze upcoming work. Baylor said they look forward to the deliberations about air conditioning. Read the full statement here.

Megan Simon, spoke on behalf of the Greenacres PTA Executive Committee in support of the bond proposal including the health and safety recommendations. She said the construction will "enrich the lives of students through a much-needed addition of space." She stressed the school's present scheduling difficulties as one multi-purpose room is used for lunch and the other for music. She said the addition would give the school back their multi-purpose spaces and also said the additional bathrooms were much in need.
Simon did ask that the Board include air conditioning for the gym which will be adjacent to the construction and will no longer have windows. She asked the administration to come with a feasible plan for additional parking as the streets around the school are constantly congested.
Speaking for the League of Women Voters of Scarsdale, Linda Doucette Ashman said that the League had closely followed the discussion but was not able to schedule a consensus meeting about the bond without the entire proposal. She said there have been "constant amendments since this process began, and that the timeline has shifted forward twice." Therefore, though a consensus statement has always been presented in the past, they were not able to provide one.
Addressing the safety of the children during the construction process, David Cooper, an attorney from Zarin and Steinmetz who was hired by the Greenacres Task Force, gave the board feedback about the SEQRA filing and expressed concerns about asbestos, lead and mold.
He said, "SEQRA is not box checking exercise. The "hard look" standard requires that the Board demonstrate it has considered all of the concerns raised by the community, and articulate how it will address them. The Task Force was troubled after the Board's 11/27 meeting, because JC Broderick recommended that the Board need not commit to addressing the community's concerns relating to Human Health risks (Box 16 on the EAF Part II). JC Broderick advised that Box 16 of the EAF Part II only addresses sites near brownfields, and therefore, did not apply to this project. This advice was incorrect. The DEC publishes a "Workbook" for lead agencies, indicating how best to answer every question on the EAF Part II form (for your information, it is available on the DEC's website). The DEC expressly provides in the Workbook that the Human Health section covers "potential impacts from exposure to any solid or hazardous substances and contaminants." DEC Regulations include asbestos and lead in the definition of "hazardous substances." Should the Board simply check the "no impact" box on question 16 it would be doing the community a disservice, and more importantly, violating the procedural mandates of SEQRA to identify the precise methodology it will use for addressing asbestos, lead and other potential contaminants found in the building such as mold."
Cooper commented, "We would recommend that the Board prepare a separate document for the community to review outlining the measures it will incorporate into the bond project to address all of the concerns about human health raised throughout the review process, and committing the District to implementing them. This document can support any final SEQRA determination the Board makes, and more importantly, would go a long way to putting the community at ease that the Board has heard their concerns, and will ensure that the contractor addresses them."
Ernie Wechsler of 5 Putnam Road said, "I have great concerns about health and safety. According to the plan, any of the work regarding lead and asbestos will be done in the summer. Not anyone believes this can be done in a summer. There will be a lot of pressure to get the kids back in school on time. Injecting a degree of human error into safety and our children are at risk. You took out the use of the modular. Never had a project of this size been done on such a small building."

He continued, "Did you consider a full modular school on the field? It would take only 2 out of 6 acres. Kids would be away from the construction and would be safer completely outside the classroom.... I applaud that you are spending the money wisely but my child's safety is more important than tax neutrality. (If you used modulars you) could scale down the size of the extension and scale back overtime if kids were out of the building. This is a self-imposed deadline. It deserves more exploration."
Mona Longman of Varian Lane questioned the value of the investment in the school. She said, "As a Scarsdale taxpayer, in order to vote in favor of this proposal, I want to see that the board has done a thorough analysis of this project. Newton MA spent $37 million for a brand new elementary school. Why are we putting in $40 million into this 100-year plus building that has known mold issues? The mold test results from testing done right after remediation are worthless. Teachers and children, as young as 5 years old spend 6 hours a day in this building. Put their safety above all else. We should be doing better for our residents."
Diane Greenwald reviewed the original project drivers for Greenacres, discussing the high water table, mold, the size of the school, site location, instructional spaces and the deferred maintenance that will be required on the old building. She questioned whether the plan addresses those needs and said, "Whether addressed now, or later, whether a bond package passes now or not, all these issues – and likely more -- will remain a part of future capital investment conversations. They are not going away."
She asked why decisions about food service and air conditioning were postponed and if facilities needs like roofs and boilers could be tucked into operating budgets. She said there were too many remaining questions to move forward with a referendum vote now and asked the board to allow time for "holistic review, reflection and reconsideration." She questioned whether Scarsdale taxpayers would step up if needs were greater than what could be funded in a tax neutral bond. Read her full statement here:

Greenacres resident Michael Levine said, "Today, I am talking about mold. Basically, and I am just speaking for myself, I do not have confidence that this whole Greenacres moisture and mold situation is under control.
At last week's meeting, Mr. Ed Maguire of J.C. Broderick said a few things about mold at Greenacres. He said, "I do not know all of the specifics of where mold may have been found." [To solve the problem], "remove the mold and then correct the moisture problem." "What you want to avoid is when it becomes a chronic mold problem ("laugh"), a building-wide systemic mold problem .... Buildings that are not maintained, not checked and where you have moisture issues over vast areas of your building.... It's at those levels, over chronic conditions, that you're going to have a, you know, widespread condition known as Sick Building Syndrome...."
Also, in these past few weeks, Joanne Wallenstein published school district documents that certainly suggest to me that Greenacres does have or could have a chronic and pervasive moisture and mold problem.
With moisture penetration likely coming from under slabs and through walls that are significantly below grade it is difficult to imagine a cost‐effective method of repair."
"For comprehensive remediation, it would be necessary to drill monitor wells in order to pinpoint excavation. The moisture problem is greater at Greenacres than in any other District building."
There were multiple teacher complaints about health problems and there has been ongoing mold remediation activities back to 2001.
And I trust Anne Moretti, who said this. "Mold can usually be effectively remediated; however, if there's an entrenched issue -decades ongoing-caused by old construction techniques, a high water table, and active mold creeping up through porous drywalls and unchecked for decades, that could be a much larger problem to fix. No one will know the extent of this until the walls are opened and construction begins. That's not how to begin a community project of this importance. We need to know all the facts, and it seems to me that the District must revise its cost analysis in light of these findings. Then our community can decide, once all the facts are known."
Now, I feel a little bad about coming up here and pointing this out without being able to recommend a solution, but I have to say that the path you are on is not a solution. Don't try to convince yourselves – and don't let anyone convince you – that this moisture and mold situation is not a problem or that it can just be buried in the basement for the next 20 or 50 or whatever years. In retrospect, this probably should have been identified as a Category 1.
Don't put $35 million of new improvements on top of a Sick Building, or even if there is a risk that it is a Sick Building.
As Mr. Maguire said, you have to eliminate the moisture. There is no other way to make this building healthy again.
Now, I know there are constraints – financial, not putting a new building on the field, time, etc. But it is pretty apparent to me that the work that is necessary to make the existing parts of Greenacres healthy again will take more than a summer. Which means it is probably necessary to go back to some sort of plan that relocates the students and faculty for a year.
And then you can consider what else to do for the existing parts of Greenacres, such as moving walls and making classrooms bigger, and so forth. I think everyone would understand cutting back on the scale of the current new expansion. Put the same amount or even less into a project that assures the health of the existing parts of Greenacres and improves it, make air conditioning a part of this, and do it in 15 months with the students and faculty relocated.
Maybe the bond will pass as is. Maybe it won't. Maybe it is too late to reconsider anything as broad as what I am suggesting. But certainly if the bond does not pass, I really urge you to consider an alternative along these lines."
Tony Corrigio was also concerned about construction with kids inside the school. He said, "Since the decision not to pursue a new school we turned our attention to safety of the renovation process. Did you consider busing the kids to other schools? Why not? How many classes are available? The mitigation plan is to get the work done over the summer. BBS urged the board for their own version of modulars and the board deleted those. All the bathrooms will be renovated. What is the feasibility of completing all this work in the summers?"
He asked for third party testing of the building after the summer to be sure the building is safe. He questioned whether all interior work would be done without the kids in the school. Not during the school year? Nights and weekends – lead and asbestos done on the weekend – how do you get clearance? An environmental testing firm needs to be hired – a third party to test – after the work has been done."
About the mold, he said there are "Chronic moisture and mold problems. No levels are deemed to be safe. How is the board comfortable without knowing if we have an irreparable problem? How have you gotten comfortable with adding $30 million to that building?"
Rona Muttner said, "My silence is due to frustration. The new mold report adds to that. I worry about adding on this gigantic addition that misses the teaching part of the school. It's putting something big on something that is crumbling. I worry we are missing a part of making the current building sound. There has been rumblings about mold for years and years. Perhaps we should pay attention to this. It's a rotten investment. Let's look at this foundation. How is that going to be sustainable?"
David Schwartz said, "We are spending a lot of money on the project. Are we doing enough on the old building? There will not be an appetite to go back to Greenacres for years to come so put more money into the existing part of the building. We certainly want to know that this building will be healthy, strong and suitable to last for 50 years. After this plan is done will these smaller classrooms be able to house the configurations that we want for the next 30, 40 years? Look at the smallest classrooms ...look to see if these spaces are suitable."
He urged the board to look at the rear playground of the school which has a large slope where there have been many injuries. He said, "It's not a great space for young kids." He also asked the board to consider beginning the project in June, 2020 and having it span that summer, the school year and a second summer."
He said, "Why are people in Greenacres concerned about health and safety?" He then read a comments from a former Greenacres teacher who had worked in the basement of the school for 27 years. It said, "It upsets me to write this response. But, it is something I need to do for myself and my colleagues. I am a retired teacher from Greenacres school that spent 27 years in the basement teaching. I spent most of those years expressing my concerns to school administration about the smell, mold, dampness and humidity in my room. Water would come in from the outside door and floor. Custodians would kindly mop it up but I knew the water was still under the linoleum. Bathrooms would leak into the hallway. Sometimes clean ups were done as a band aid to the problem. Years ago I remember an Asbestos cleanup that took place in my room. Most windows in my room were inoperable. Need I say more! Three years ago, I was diagnosed with cancer. And it started in my lungs. Do I need to say more!"

Lesley Shearer followed Schwartz and thanked the Board for their time. She said, "People get sick, sorry to hear about that. Now is the time to update the school. The irony is that many people who are advocating for a new school live in old houses that they renovate."
It was not clear if the administration and board would have time to adjust the proposal in response to the community forum. They appeared to be amenable to changes to the SEQRA submission, but questions about the timing of the vote, safety during construction and the condition of the existing building seemed to be too far reaching to address at this late date.
You can watch the entire meeting on Scarsdale Cable television here. The Board will meet again on Monday night December 11 to make a SEQRA determination and vote on the adoption of the bond resolution.
A Joyful Tree Lighting in Scarsdale Village
Details

Category: Parenting
Published on

03 December 2017

Written by

Samantha Blieden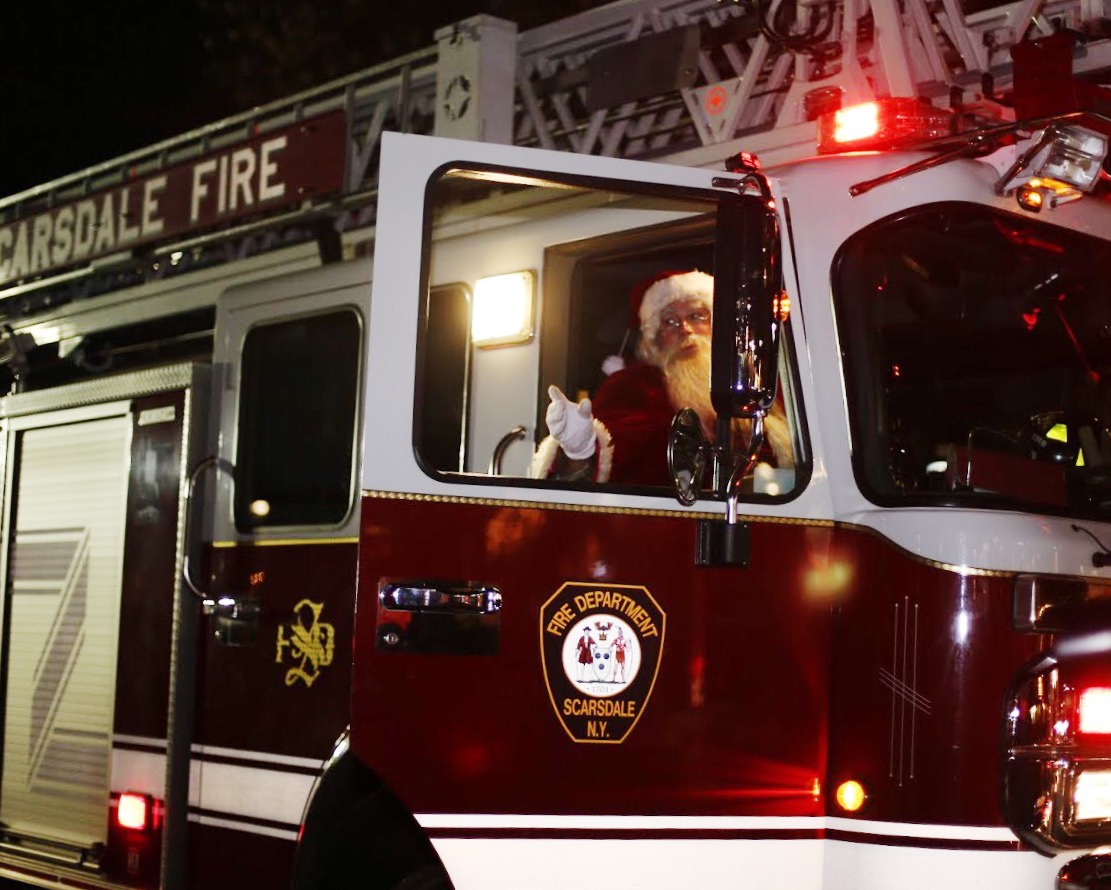 As the skies darkened on Friday evening December first, Scarsdalians gathered in the village center to ring in the holiday season at the Light the Dale celebration. People of all ages had the opportunity to grab a hot dog from Walter's truck, sip hot chocolate courtesy of Lange's, browse the local stores that extended their hours, and listen to Christmas carols beautifully sung by some talented Hoff Barthelson students. Children even had the opportunity to make some festive crafts.
Excitement filled the air when Santa, himself, arrived in on a fire truck. Children quickly crowded around Santa to have the chance to meet him and take a photo.
Around 5:30, there was a drawing to select the name of a lucky kid to help Mayor Dan Hochvert turn on the Christmas tree lights. After a name was picked, the lights were turned on and the holiday season officially began.
Overall, Light the Dale was a huge success and set the tone for a joyful and celebratory holiday season in town.
Photos and text by Samantha Blieden.
Response to FOIL Request Reveals Years of Water Woes at Greenacres
Details

Category: The Goods
Published on

02 December 2017

Written by

Joanne Wallenstein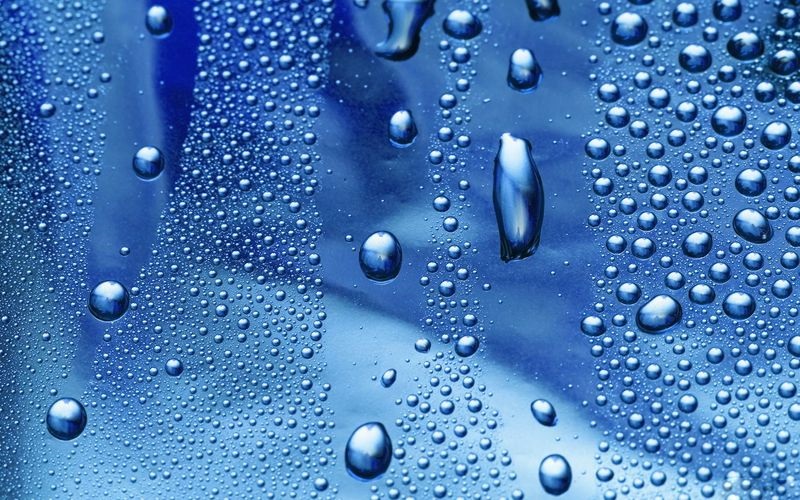 Though we were not able to get much of what we asked for in our July 2017 FOIL request to the Scarsdale School District, we did receive a 100-page PDF documenting repairs to Greenacres Elementary School going back to 2001. However 46 of the 100 pages were an air quality report from 2015 and a lead report from 2016 that are already posted on the district website.
The records we did receive show that the school was damp and often had water seepage and damage. There are work orders for waterproofing and mold remediation as well as incidents of water infiltration, leaks, foundation water and roof problems throughout the years. It appears that leaks come from the buildings' interior courtyard, from groundwater and from the roof.
The response includes several complaints from teachers who state that they have symptoms from working in the building including scratchy throats, runny eyes, fluid in their ears and more. You can see their statements below but it's evident that a number of the teachers have concerns about the building environment and the health of the faculty.
Interestingly though the district said there was no mold in the school this year (2017), in May 2017 a teacher reported visible mold in "dark spots" in a classroom, growing on a wall next to the sink. The report says, "Most likely this area got wet and was never dried behind the supplies and was a perfect habitat for mold growth, moist, dark and warm." The report claims that "this condition in no way was caused by the room or condition of the facility. It was strictly caused by the way the materials were stored and the manner in which people use the water in this area."
Air quality reports done subsequently in October 2017 did reveal mold and high humidity in the building, so it's plausible that the mold in May 2017 may also have been caused by the dampness inside the building.
Few details are provided about the repair history, but here is what we can see:
In August 2001 $24,390 was spent on waterproofing, excavation and repairs to a foundation wall of the interior courtyard and another $3,000 was spent to waterproof the basement a few months later in December 2001.
In November 2004 $5,000 was spent on mold remediation and then in January 2005, $50,173 was spent on mold remediation. No more details on the mold problem were provided but we do now know that the problems with water infiltration from the courtyard and in the basement, as well as mold, date back 16 years. The work orders show that the district attempted to stem the moisture problems using waterproofing and dehumidifiers, which were only partially effective.
The balance of the documents are primarily work orders outlining repairs to the building. They indicate damage from water coming into the basement, gutters and drains that don't work properly, damp walls, stained ceiling tiles, odors and even leaking sewage. These report start with a rotten floor in the teachers lounge and bubbling paint in 2006 and extend through the years to leaks and seepage in 2017.
Here are just a few examples of the issues:
"Teacher complaints about bad odor from board behind sink area. Appears to have old linoleum carpet on wall. Need to replace with cork."
"Damage from water coming in through the window flooding basement. Wall and wood cubbies damaged by lost and found."
"Wall leaking through crack when heavy rain falls on inner courtyard."
"Old drain pipe that was recently capped off is leaking, overspilling sewage down into boiler room."
"The pit near the boiler room has been holding some water which is seeping
through the foundation into the boiler room."
The FOIL request for "complaints from parents, students and teachers about excess moisture or mold in the school or regarding respiratory ailments was only partially granted as the district says, "the disclosure would constitute an unwarranted invasion of personal privacy insofar as such records reference the personal medical history/information of an individual or individuals."
However a few pages of complaints from teachers were offered, without their names. From what we can see, many of the teachers in the building were concerned about mold.
An email dated October 7 2015 from Greenacres Principal Sharon Hill to the district's Director of Facilities John Trenholm says:
Dear John:
Hoping you are well!
I am providing you with the list of rooms/areas that the staff would like tested for mold. I am sure you will let me know next steps.
Thank you!
Basement area including Art, OT and Music Rooms
Kindergarten cubby room
Kindergarten – Guardino Room 5
Kindergarten Quirk – Room 8
Speech Room
Spanish Room – Room 10
Elrich –Room 25
Leitner – Room 13
Sharon de Lorenzo's office and adjacent office
Rosenthal – Room 11
Library
O'Rourke – Room 18
Manin-Room 7
Mazza – Room 9
A few weeks later, on October 30, 2015 Hill asked teachers to document any complaints. She wrote, "John Trenholm recently conducted testing in classrooms and has prepared a report which Karen and Christina will be sharing with you. In connection with that report, please let me know if you have experienced an symptoms that are attributable to being in your classroom or the building environment"
Here are their responses:
"Allergies, stuffy nose, fluid in ears, post nasal drip, especially when handling materials that are musty and moldy-smelling from being inside cabinets."
"Since moving into room XX in XX I have needed to take allergy medicine not only during spring and fall, but also during winter – for scratchy throat, nose and ear congestion. More recently, the past 2 years my eyes have begun to react when at school. During the week I use allergy/steroid drops to help with those symptoms."
"Coughing, headaches, sneezing at times.
Mostly damp and dusty. In winter the heat is non-stop, which makes our room 85 degrees daily.
Last, the district included the following email: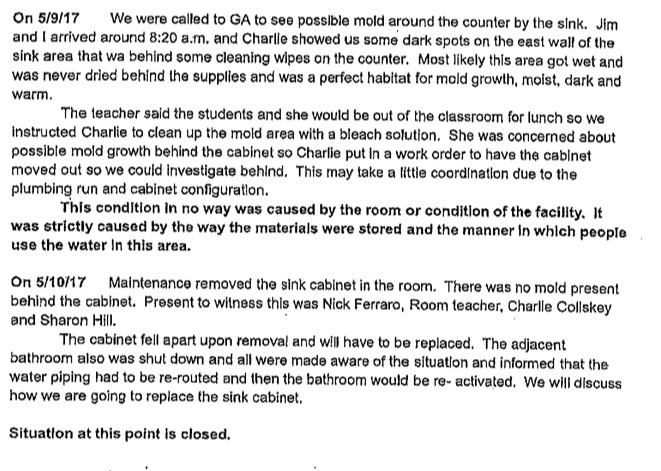 You can view the full response to the FOIL request here. Note that the newly released information begins on page 45.
The administration is currently proposing to renovate Greenacres and add 8 classrooms and a large cafeteria/learning commons to the building. They have said they will remediate the moisture issues by installing commercial dehumidifiers and moving all children and staff out of the basement. Some pipes may be replaced, but the scope does not include a total replacement of the building's plumbing or the inclusion of air conditioning.
It is not known whether the dampness and mold can be totally eradicated. The record here shows that moisture comes in from the foundation, the walls and the roof and that many attempts to waterproof the building and prevent infiltration have been made over the last 16 years.
Although we received limited materials in response to our FOIL request, it's clear from these records that environmental problems have affected Greenacres for at least 16 years, that teachers have complained about potential effects on their health and that remediation has been unsuccessful.
It will be up to the voters to decide whether or not it makes sense to spend $30 million to extend the life of this building.
Commenting on the information, local realtor Anne Dowd Moretti said, "Absolutely true, and homeowners in Greenacres deserve better than to have the cloud of children studying inside a school which may have environmental issues such as lead paint dust infiltration, airborne mold/mildew spores and anything else that might permeate the classroom environment. Mold can usually be effectively remediated; however, if there's an entrenched issue -decades ongoing-caused by old construction techniques, a high water table, and active mold creeping up through porous drywalls and unchecked for decades, that could be a much larger problem to fix. No one will know the extent of this until the walls are opened and construction begins. That's not how to begin a community project of this importance. We need to know all the facts, and it seems to me that the District must revise its cost analysis in light of these findings. Then our community can decide, once all the facts are known. Thank you, Joanne, for your efforts in making sure Scarsdale is fully informed."
If anyone wants to share any knowledge they have about this issue, email us at scarsdalecomments@gmail.com.
New Tax Code Could Hit Scarsdale Hard
Details

Category: Shout it Out
Published on

06 December 2017

Written by

Joanne Wallenstein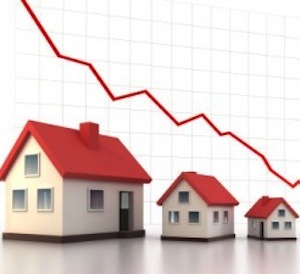 Scarsdale residents and Scarsdale home values could both take a big hit when the new tax bill is enacted. At present the differences between the House and Senate versions of the tax bill will be reconciled by a conference committee and then enacted into law, but both versions include provisions that will be costly to many Scarsdale residents.
Both versions would hurt New York residents and especially residents in areas with high property taxes like Scarsdale as they limit the property tax deduction to $10,000 per year and completely eliminate deductions for state and local income taxes (SALT). According to the New York Times, Westchester County taxpayers are among 12 national counties that take the highest SALT deductions, with 47% of residents taking an average deduction of $34,300. However in Scarsdale, where the homeowner of an average house pays about $35,000 in real estate taxes alone, the impact of the loss of this deduction would be far greater.
The two bills differ on the deduction for mortgage interest. The limit for mortgage interest deductions are $500K for the House bill and $1mm for the Senate bill.
Moody's Analytics predicts that the elimination of the SALT deduction will cause housing prices to fall about 10%, as homes will have greater carrying costs per month and be less affordable to prospective buyers. If the House version of the bill is passed and mortgage interest deductions are capped at $500,000 in debt, this could further impact homebuyers and the Scarsdale real estate market.
David Gussman a Scarsdale resident and mortgage professional provided this back-of-the-envelope example of how a typical Scarsdale home buyer stands to fair under the new code:
Assuming a $10K property tax deduction is passed and the mortgage limit is reduced to a maximum size of $500K for deductibility of interest, Gussman determined that a new home buyer making about $500K per year buying a $1.7mm home in Scarsdale and taking a $1mm dollar mortgage could see the after-tax cost of the mortgage payment and property taxes increase by about 20% in comparison to the payment under the current tax code. The after tax cost of the 30-year fixed rate mortgage and property tax payments under the current law is $5,140 per month and after the changes it would be $6,140 per month, for a difference of $1,000 a month.
The impact will be different for different homebuyers depending upon their level of income, particular tax situation and which elements are included in the final version of the tax bill.
David Gussman is a mortgage professional who has managed ~$80B of non-agency mortgage bonds at Fannie Mae and ran product and technology for a company that collected information on every mortgage in America and provided data and analytics to holders of mortgage risk. He currently makes investments in start-up specialty finance companies and advises companies in the real estate/mortgage space. He lives in Scarsdale with his family.
The Elephant in the Basement
Details

Category: On Our Radar
Published on

10 December 2017

Written by

Joanne Wallenstein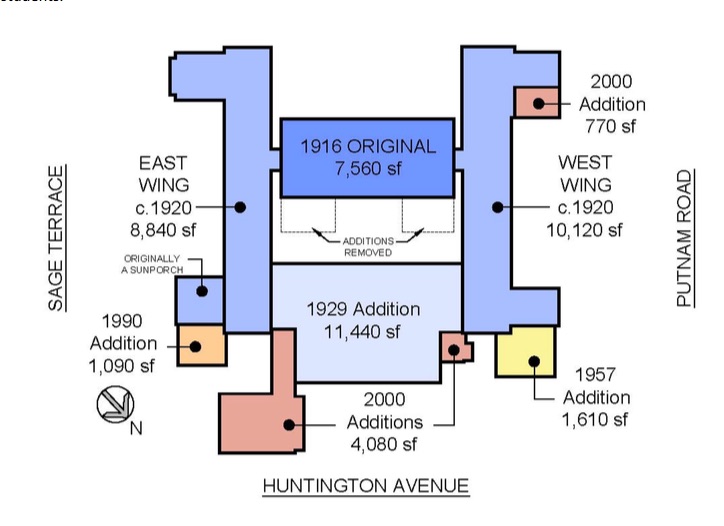 (This is the opinion of Scarsdale10583 site founder Joanne Wallenstein.) As we prepare to scrape off decades of paint from the walls of Greenacres Elementary School, lift up cracked linoleum flooring and remove asbestos ceiling tiles, no one knows what will be unearthed underneath. And then what? On Monday December 11 the Board of Education is poised to approve a community-wide bond referendum for an expansive addition to the Greenacres Elementary School, though many questions remain about the viability of the existing building, constructed on a high water table in 1916, 1920 and 1929.
We've tried to get answers to these questions...
Parents have asked the faculty for their thoughts about the school:
• What are the working conditions in the school?
• Have they had health issues due to air quality?
• Can the current structure facilitate 21st Century learning?
The teachers meet our questions with averted eyes and it's evident they are not permitted to speak candidly about their experiences inside the building. What are they hiding and why?
Then there's the environmental testing. After we smelled the mildew in the basement and heard rumors about mold in the building, we asked repeatedly for air quality testing. With the decision for a bond referendum just weeks away and the building committee disbanded, the district finally went ahead with the tests. Lo and behold, at the eleventh hour, they did find mold. In fact after months of delay, the response to Scarsdale10583's FOIL request revealed a long history of moisture and mold in the building. Certainly the district is now doing everything possible to clean it up, but as Assistant Superintendent Stuart Mattey admitted, "We are installing dehumidifiers in the basement to keep it as dry as possible."
Discussing the results of the environmental testing, Superintendent Hagerman said the district had tested 400 sites in the "occupied portions" of the building. What about the unoccupied portions? Has anyone tested those to see if mold is growing there? Don't we need to find the source of the mold? Is it in the dirt crawlspaces underneath the building and behind the classroom walls? How can we otherwise know what the real cost of a building renovation will be? And how can we know whether or not the infrastructure problems can truly be remediated?
The air quality tests also measured the humidity level in the building. The report on the district website says, "The chief problem with high indoor humidity from a health standpoint is the potential for mold growth. Humidity levels greater than 30% increase the potential for mold growth and high humidity, 60% or greater can cause biological contamination." The humidity levels in on the lower level of the school ranged from 63% to 71% and the humidity in the gym was measured at 65%. What are they proposing to do about it?
Another unresolved health concern is the lead pipes. We've been told that for the most part these pipes will remain within the walls and that the district will continue to do periodic testing and use lead filters to make the water safe to drink. Are lead filters a permanent solution? As the pipes age, do they leach more lead into the water? What if the thresholds for safe drinking water are changed in the future? What is the useful life of these lead pipes? What is the cost to do this testing and purchase filters for the next 50 years?
Without this vital information, we can't assess whether it makes sense to add onto the building. If we give the plan the go ahead and the construction crews open the walls and find mold, what will we do?
We need to slow down and get answers. Give the faculty the permission to speak frankly about their views on the building and any health and safety issues they may have. Permit a thorough and independent environmental assessment of the building, and appoint a committee of parents to oversee the work. Lift the veil of fear about open discussion and let's find the right solution together. All of this secrecy makes us skeptical.
The district is rushing to put the referendum to a vote without providing the community with the facts. Stop hiding what you do know and stop preventing the investigation of what we need to know. Let's confront the elephant in the room, or should I say the elephant in the basement. Find out what's down there and then we can discuss what to do next.
Scarsdale Gift Guide for 2017: What's in Store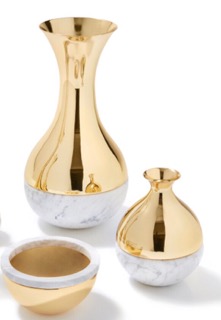 No need to leave Scarsdale to find great gifts for family, friends, colleagues, neighbors and everyone you wish to thank at the end of the year. The Scarsdale retail scene is experiencing a resurgence and you can find nice merchandise and support Village businesses by shopping local.
Here are just a few places to shop for the holidays:
Current Home is the place to find the perfect gift for everyone on your list. Looking for something unique and special? Feast your eyes on these gorge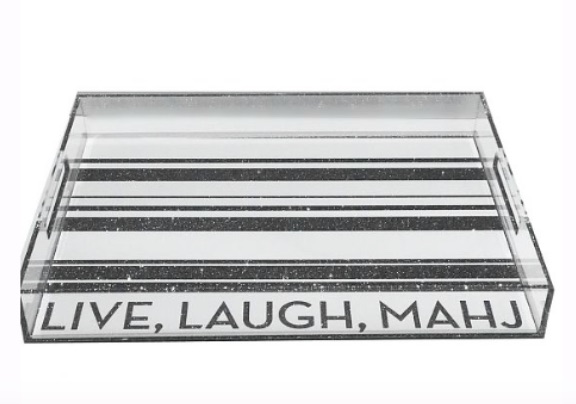 ous vases, bowls and candlesticks. The contrast of the Italian marble against the polished metal exudes a bold and modern vibe. All pieces available in gold and silver. If you're looking for a gift that is more personal, they offer customized throw blankets and trays that everybody loves. Stop by the store to see their many other options for holiday gifts.
Current Home
Golden Horseshoe Shopping Center
(914) 723-2462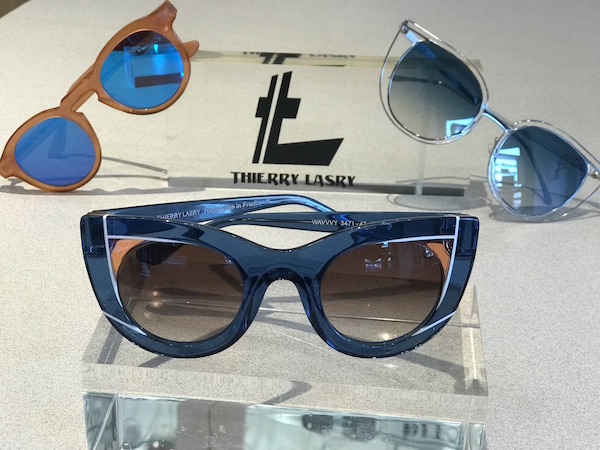 Eye Gallery of Scarsdale invites you to see the newest styles from Thierry Lasry, dazzling eyewear showing rich colors and mirrors. The newest Cutler and Gross sunglasses with round colors and mirrors are one of the many new styles they have for winter! See these as well as styles from Barton Perreira, Salt, Dior, Chanel, Dita, Matsuda, and countless others!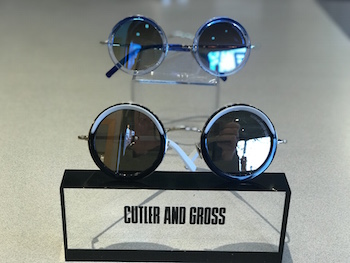 Eye Gallery of Scarsdale
Drs. Michael and Jay Rosen
8 Spencer Place
914-472-2020
I Am More Scarsdale is the newest addition to the Village. They are a unique women's boutique, featuring the hottest new trends in fashion, accessories,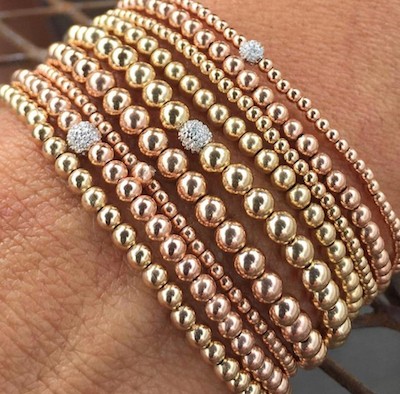 athleisure and jewelry. Their mission is to empower women to make them feel confident. They carry the work of up and coming established women-owned businesses and designers. For the holidays, check out these gold beaded bracelets from Karen Lazar. A gorgeous addition to your jewelry collection, these bracelets can be stacked with other bracelets or worn by themselves as a minimalist statement.
I Am More Scarsdale
6 Spencer Place
Scarsdale, NY


Lulu Cake Boutique has a special holiday menu with signature sweets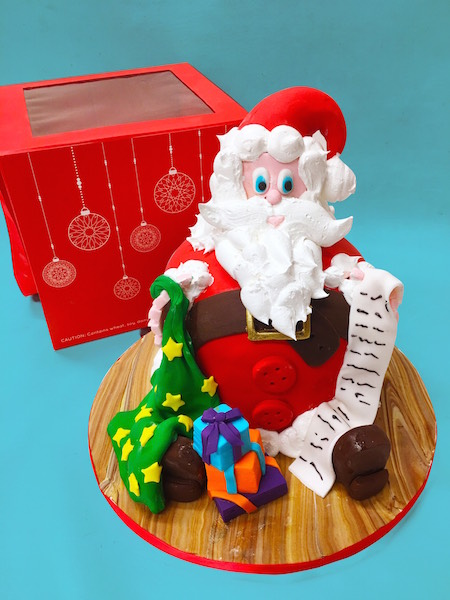 from Hanukkah, Christmas and New Years. They have created a 3D Santa cake, in three sizes, serving 15, 25 or 35 people. Dazzle your guests with this creative confection featuring Santa, a gift list and wrapped presents in red, green, purple and blue. Also on the menu are three variations on "Buche de Noel" in Valrhona chocolate, nutella with candied hazelnuts or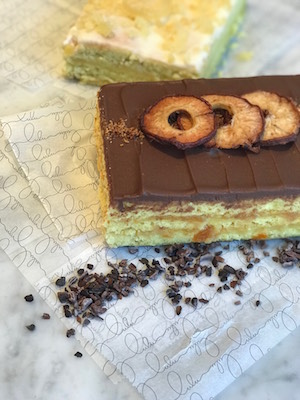 pistachio salty caramel with dark chocolate. Also special for the holidays are artisan rainbow cookies in apricot pear and almond, lemon and candied ginger and chocolate framboise raspberry. Sounds delectable! Don't forget their yodels, assorted retro twinkies and rugelach as well as the original Sarah Bernhardts from Jesperson's recipe.
Order today. Lulus will be open on Christmas Eve, December 24 and New Year's Eve, December 31 for pick-ups from 9 am to 1 pm.
Lulu Cake Boutique
40 Garth Road
Scarsdale NY 10583
(914) 722-8300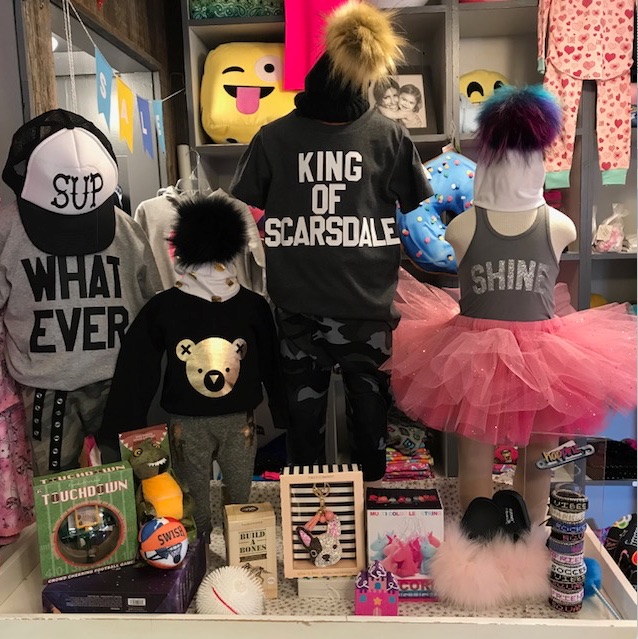 Wyatt Lily specializes in putting together gifts for babies, for birthdays and for no reason at all. They mix statement pieces of clothing with a cute accessory, book or game to make the package feel complete. Unique gifts you won't find anywhere else sized for boys and girls, newborns through size 16. For the holidays, try Wyatt Lily's custom glitter bar with custom made onesies to T-shirts from newborn to adult adorned with any saying that you want. Makes a great gift. Normally $38-$46. Mention the Scarsdale10583 gift guide and the price is $30 now through December 20. Shop Wyatt Lily on Instagram at @wyattlilyboutique.

Wyatt Lily
1 Chase Road
Scarsdale, NY 10583
(914) 472-1930

Zachys Wine and Liquor: Let's face it, finding the perfect gift for everyone on your holiday list can be difficult (and time consuming)! At Zachys, they believe you can't go wrong with the gift of wine. No need to worry about getting the right size or color; wine delivers a sense of luxury and pleasure.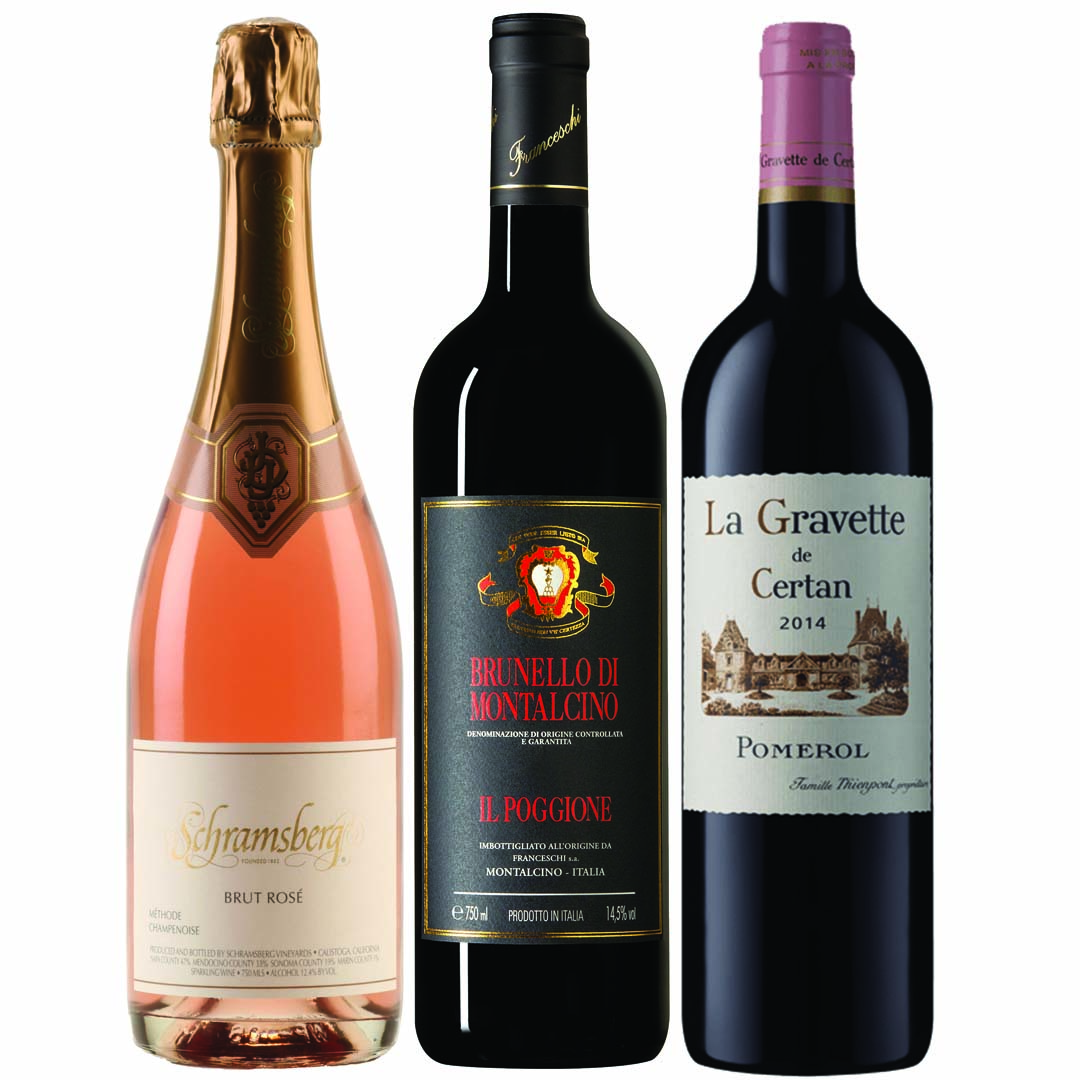 Their knowledgeable staff has done the work for you, curating a selection of premium gift packages guaranteed to "wow" any wine enthusiast, from novice to collector. Ranging from Italian to French, Californian to "World Traveler" (assorted region pack), each gift includes three 750ml selections accompanied by wine information and tasting notes, starting at only $75. Make Zachys your go-to wine gifting destination this holiday season!
Featured Selection:
Premium World Traveler Package (#406752): An assortment for the wine lover who enjoys French; Italian and California wines. The Premium World Traveler Package features a brut rosé from America's House of Sparking Wine; a difficult-to-obtain Bordeaux from Pomerol; and "one of the Year's Best Brunellos" from the 2012 vintage.
Brunello di Montalcino Il Poggione 2012 (93JS/93+VM)
Schramsberg Brut Rose 2013
La Gravette de Certan 2014
Zachys Wine & Liquor
16 E. Parkway, Scarsdale
(914) 874-8000
Order here!