From Auschwitz Survivor to Presidents' Tailor: The Story of Martin Greenfield
Details

Category: The Goods
Published on

28 February 2015

Written by

Stacie M. Waldman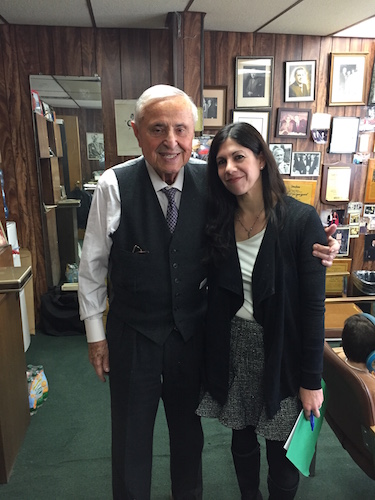 If you think you've heard enough stories of people who survived the Holocaust, you have not heard Martin Greenfield's story. If you think you've heard enough stories of people who dress celebrities and presidents, you have not heard Martin Greenfield's story. His is a unique and powerful one: one of family, survival, sheer luck, and the belief in the greatness of America. On March 26th, Mr. Greenfield will be speaking at the JCC of mid-Westchester and you won't want to miss the opportunity to hear this man's unforgettable journey from concentration camp victim to master custom men's tailor to Hollywood A-listers and U.S. Presidents.

I was given the honor of being invited to sit for an hour with Mr. Greenfield and hear more about his life story. I arrived at his factory in Brooklyn and was greeted by his son, Jay. Within moments, a stunningly dressed, elegant man with a big smile approached me for a firm handshake and led me to his office. There was not a computer in sight, just stacks and stacks of folders and framed pictures on every inch of wall space. I learned very quickly that the folders contained not only letters from ambassadors and university professors, but also letters from Jews and non-Jews around the world that had been affected by his story.

Although the questions I came prepared to ask reflected the style of his book, (half about his time in concentration camps during the Holocaust and half about his success as a master tailor to celebrities,) I quite quickly put down my notes and just listened. All Mr. Greenfield wanted to talk about was his childhood, his perfect childhood, and his family, and the day his life went from perfect to a series of horrors when the Nazis came and took him and his family away. "Growing up was a lot of fun for the first ten years," Mr. Greenfield told me, "until I had to start wearing the Jewish star on my arm. At age 10, the Russians sent my Czech teacher away and closed my Czech school- they put me in a Russian school. They wanted to send me to a work camp, so my father sent me to Budapest to work to avoid the Russian work camp. I became a different person when we became occupied and I had to wear the star. Before that, in Czechoslovakia, it didn't matter if you were Jewish or gentile, it must mattered that you were a person. I had such a happy childhood. There was always principle in my life- I was taught to bet on myself." He continued to talk about his family, namely his baby brother. "He was only a year old, my baby brother, when I left for Budapest. When I came home three years later he was 4 and all he wanted to do was hold my hand. We slept together in the same bed. He followed me everywhere and never let go. Until we got to Auschwitz. And that was the end of it. The end of him. That's what I couldn't conceive. The Nazi people destroyed my family; my two sisters, my mother, my grandparents, and my baby brother were all sent immediately to the gas chamber to die. My mother was originally sent to go with us but she wouldn't let go of my baby brother, so they were both sent to what was to be their deaths. Mengele made that decision. You know that name? The 'Angel of Death.' The doctor known for his unspeakable medical experiments on the innocents. My father and I were sent to work." Mr. Greenfield wanted to stay with his father but his father insisted that each of them had a chance of survival only if they parted. '"On your own, you will survive,' my father said. If you survive...you must honor us by living, by not feeling sorry for us."

In 1944, at the age of 15, Hitler's army rounded up the Jews of Pavlovo, Czechoslovakia where Mr. Greenfield lived with his family. They had an hour to pack up their belongings (which were handed over as soon as they entered the concentration camp) and were loaded onto a train that took them to a temporary ghetto and then to Auschwitz, the camp known for horrid medical experiments, the gassing then cremation of over a million Jews, and hard labor for the 10% of prisoners (mostly men) that were allowed to survive. "They gave us an hour to pack our things then they rounded us up and put us on a train. My dad was always an important guy- he was bright, he was an engineer, he helped build Czechoslovakia, he even built a synagogue- so we were on the last transport. Maybe my family got to live for two, three, five more days since we were the last transport," he remembered.

I asked Mr. Greenfield if he ever resisted the Nazis. "You could not resist anything," he responded. "If you resisted, you got shot. The one time I resisted they sent a dog after me. It bit my foot and it was bleeding in front of my father. They dragged me back. I still have a scar. They put me in the tailor shop to punish me and that is how I learned the trade. I also learned the power of clothes. I stole the shirt of the Nazi who had beaten me for accidentally ripping his shirt and I wore it in the camp (after I repaired it- my first tailoring lesson) underneath my prisoner's uniform. Wearing it made me realize that clothes possess power. Wearing the shirt helped me survive the camp. And now I am one of the most successful and famous custom men's tailors in America!"

Mr. Greenfield continued to reflect on his family, mostly the male figures in his life. "My grandfather, he was my Hebrew teacher. Part of my religious teaching was to treat all people with respect no matter what. That's why I did not shoot the woman who reported me for taking rotten lettuce out of her injured rabbit's cage." In his book, Mr. Greenfield describes a time when he was at Buchenwald when he was permitted off the grounds for work purposes. He was charged with helping to clean up the local mayor's house that had been bombed. When he got there, he found some pet rabbits, barely alive. As he was literally starving, he saw some brown, slimy lettuce in the rabbits' cage and a half eaten carrot and began to eat it out of desperation. The mayor's wife, carrying a baby on her hip, caught him and shouted at him that she was reporting him immediately. It struck him as particularly cruel given the circumstances, and also because he knew he looked like a skeleton and she had her child there as witness. Mr. Greenfield was severely beaten by an SS soldier immediately, and swore that if he survived Buchenwald, he would come back and seek vengeance on this woman- he would kill her. When he was liberated, on April 11, 1945, he began to formulate his revenge. He secured a machine gun and some friends, found the woman at her house, and with his hand quivering above the trigger, he, in his own words, became human again. "If I had shot her, the wound would have been in my own heart. That's how I was taught- it's written in the Gomorrah. I talked to the woman. I took her outside. I said, 'I am not Mengele. I am angry, but I cannot kill you.' I followed what was taught to me by my family. I have gotten many letters asking why I did not shoot her. I was raised to believe that I would have been as evil as a Nazi had I shot her. I was also taught to always share. There wasn't a Friday night that there wasn't a stranger at our table. One day, I asked my grandma, 'can't we ever eat alone?' She told me that we have enough, so therefore we share. We grew everything we ate and we had animals that sustained us as well. The greatest pleasure I have even today is when I have other people at my table or helping someone else I know needs help."

I asked Mr. Greenfield to tell me about his days after liberation. "My Czech teacher, a gentile, was one of the first people I found when I ventured back to Prague. He said, 'Your father wanted you to be a doctor. I will make you a doctor.' But I was determined to first find my father. It took me two years to find out about my father. He was shot at Buchenwald, where I was also a prisoner along with 89,000 others at the time. My father- he was executed one week before liberation. Only one week. When I was liberated by the Americans, before I knew what happened to my father, I vividly remember feeling such sorrow for those who suffered yet lived only to die right before liberation, during liberation, or shortly after. The Russian communists began to take over and they were almost as bad as the Nazis. They took everything from my family. My father's big, beautiful farm- they took it. Years later I went back to Pavlovo with my son and there were still Russians living there. It was no longer my family's house and farm.

After the war, Mr. Greenfield was sent for in Europe by relatives in America. An arduous boat ride left him on the shores of America in the hands of relatives he had never met. "I moved in with relatives in Baltimore," he said. "My cousins, three little girls, cried when I told them my story. Overnight, I thought, 'If I lived in this country, I wouldn't believe my story, so I'm not gonna talk about it.' I thought about what my dad had taught me and I wanted to honor my dad. 'Don't cry for us, just go on living. Honor us by living. Create our family in whatever you do if I don't survive.' For years I didn't talk bout what I had been through. Many of my big customers didn't know I was a Holocaust survivor- I always had a big smile and having an accent was commonplace. I didn't talk about it until a gathering in Washington, D.C. The Holocaust Museum was created and people started telling their stories. I did the Shoah [an audiovisual testimony] so my son's could have my story on tape. It took me until I was 86 years old to write a book."

"My relatives in Baltimore bought me my first GGG suit," he recalled. Shortly thereafter, Mr. Greenfield moved to New York and began working at GGG as a floor boy, eventually moving up the management chain. Thirty years later, he owned the company and changed the name to Martin Greenfield Clothiers. A very short list of the people he has dressed includes Presidents Eisenhower, Ford, Clinton, and Obama; Frank Sinatra and Sammy Davis Jr.; Martin Scorsese, Jimmy Fallon, Leonardo DiCaprio, Johnny Depp, Ben Affleck, Michael Strahan, Kobe Bryant, Patrick Ewing, Conan O'Brien, Eddie Cantor, Sir Ben Kingsley, Al Pacino, Paul Newman, and the list goes on and on and on.

Asked about the response to his book, Mr. Greenfield became reflective and teary-eyed. "The book has been such a big hit. I can't believe it. Ambassadors invite me to lunch at their embassies. People want to talk to me. I get invited all over. In Texas, they have the book in one of the high schools and kids from the school have been writing me letters. They're not Jews. It's just incredible. You've got to read these letters. From China, from Buffalo, from all over, I don't know where to keep the letters any more. I can't answer every one. But I keep them all. Here, read this letter from a painter down south." I paused and read the letter. "Look what my book did for him. His letter made me cry. Look what he says. For this alone, if the book helped one person, isn't that something?" he asked. Mr. Greenfield proceeded to take the letter from me when I was done and reread it. A tear dripped down his cheek even though this was his second, third, or fourth time reading the same letter. It's impossible to get through his book without crying, yet here was Mr. Greenfield, Holocaust survivor and tailor to presidents, crying while rereading a letter from a stranger. "I got a letter from an 11 year-old that wants to become me. You wouldn't believe how an 11 year-old could write a letter like this. A 13 year-old relative wants me to be on the pulpit with him for his Bar Mitzvah." For several more minutes, Mr. Greenfield had me read letters from strangers who had been moved by his book. Many were hand written, some were emails that had been printed. They are all kept by Mr. Greenfield in manila folders piled on his desk surrounded by signed boxing gloves, basketballs, and pictures.

I couldn't leave without asking Mr. Greenfield about dressing so many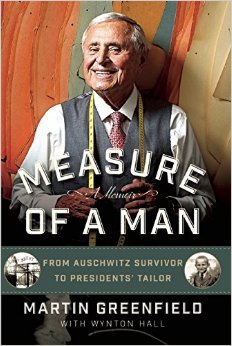 famous people for so many years. He had even recently provided over 600 suits for "Boardwalk Empire." But he didn't have much interest in talking about that. "Being in the shop is my greatest pleasure. I know I won't be around forever so I'm teaching the younger people. I still do as much myself as I can." Although proud of his work, he seems to want his story to be his legacy more than his famous line of suits with his name on them. I had a quick tour of the factory and gave this miracle of a man a hug before he sat down on a century-old stool to eat Chinese food with his factory workers.

You can purchase Martin Greenfield's book on Amazon and you can come here him talk at a special event at the JCC of Mid-Westchester on March 26th from 7:30-9:00 PM.
SHS Chorus Performs and Tours in England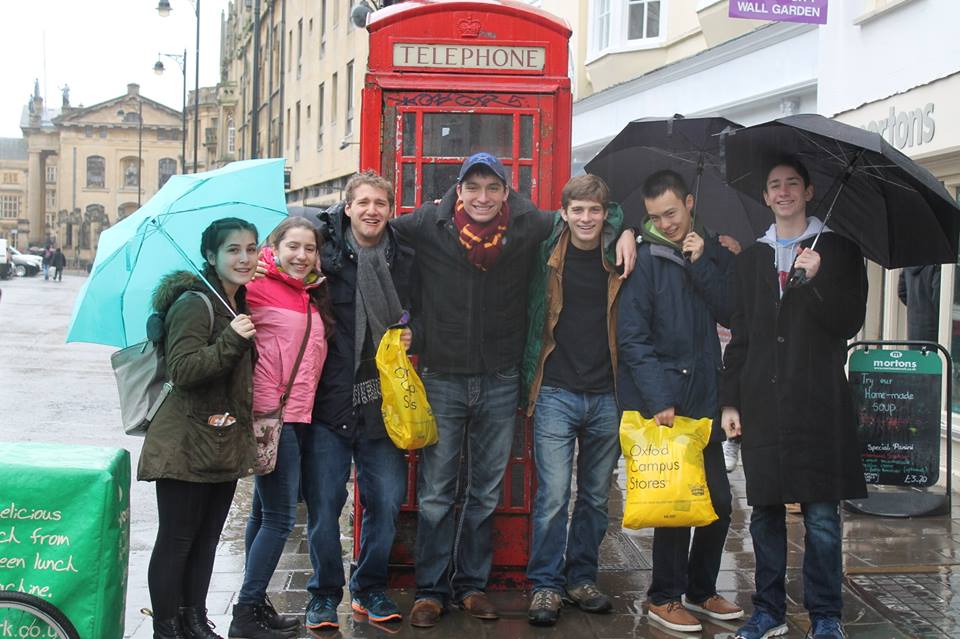 While most people go on vacation to get away from school, this February, a group of 60 students from the Scarsdale High School Choir took a trip to England with their classmates and teachers. For six days and five nights, the chorus travelled, performed, saw the sights and made memories.
Choral Director and teacher John Cuk organized every moment of what proved to be an excellent trip. He arranged the hotels, the performances, sightseeing and transportation, packing loads of fun into just six days.
We were busy from the moment we landed in London. After an overnight flight, the choir met our tour guides at the airport and started sightseeing right away. We stayed in Oxford for two nights and in Cambridge for three nights and saw a remarkable number of England's most famed sites including:
Windsor Castle: also known as the world's largest occupied castle, we walked through the beautifully detailed and spacious fortress.

Christ Church College: This college at Oxford was the location of several famous scenes from the Harry Potter movies.

The Bodleian Library: while perusing on the courtyards of Oxford colleges, we stopped into England's biggest library, containing a copy of every sing book that has ever been published in England.

Cambridge: A whole day was spent at the university, but we did not out of things to do ... we toured, had lunch and performed with a masterclass of Cambridge students.

Covent Garden: We all enjoyed our visit to Covent Garden where we visited boutiques, souvenir shops, and stores.

Tower of London: highlighted by the famous exhibit of the royal crown jewels, we toured the beautiful tower inside and out and marveled at the view of the Tower and London Bridges.

Victoria and Albert Museum: tour guides shepherded us through the world's largest museum of decorative arts and design, currently showcasing their current exhibition of wedding dresses from 1775-modern day.

Visit to Chinatown: for dinner one night, we took a trip to London's Chinatown- just in time for Chinese New Year- and celebrated by having dinner at a traditional Chinese restaurant.

Les Miserables: You can't visit London without going to the theatre – and everyone loved the musical performance of Les Miz at Queens Theatre in London's West End.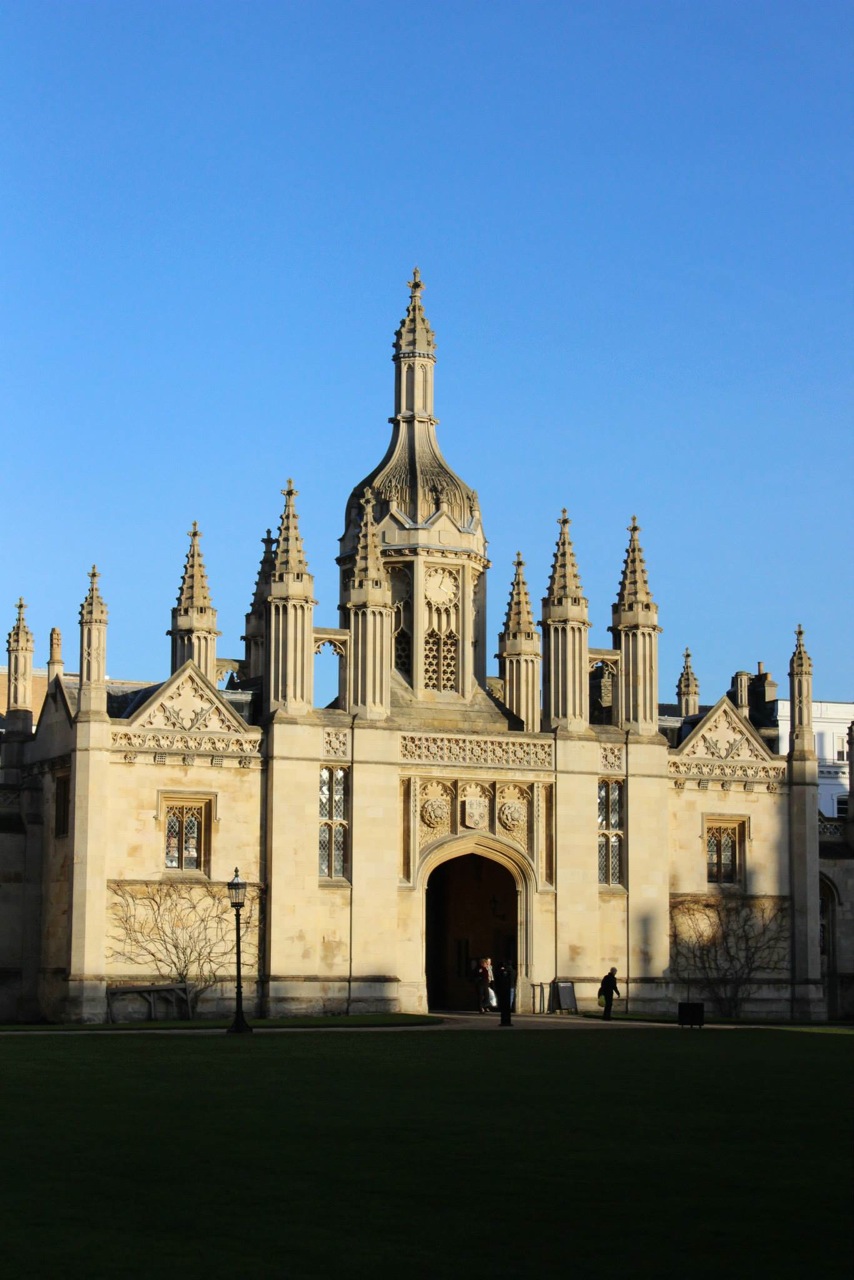 St. Paul's Cathedral: On a guided tour, we admired the high, detailed ceilings, and were taken downstairs to the whispering room.

St. Giles' Cripplegate Church of London: We performed with the New London Children's Choir and the Oxford Concerto Orchestra after a warm up-rehearsal in this beautiful spacious Church.
When I asked some fellow friend and performers what they liked most about the trip, it was very hard for them to decide. Sam Rosner, a tenor and also one of the soloists said, "I loved everything... singing in the chapel, and just the city of Oxford in general, and having the free time to explore such an old space with a modern subculture was really amazing. I also really loved meeting the English people, it was nice to get to meet the orchestra we were performing with, as most of them were our age! " Soprano Elizabeth Hansen said, "As cheesy as it is, the last concert really stuck with me. I really think it brought us all together, and we sang beautifully."
Choral Director John Cuk said, "This was one of the nicest group of students I've ever taken on a trip. They represented their school, town and country admirably. The concerts at Oxford and London were performed with distinction. A high point was their master class with world renown choral conductor, Steven Cleobury. After his work with the Scarsdale students, he allowed us to perform a short program at King's College Chapel in Cambridge. It was truly an experience that I will never forget."
For me, I enjoyed making new friends and rehearsing the performing with the chorus. It was also nice to have a break from on phones and computers and to focus on the trip and each other.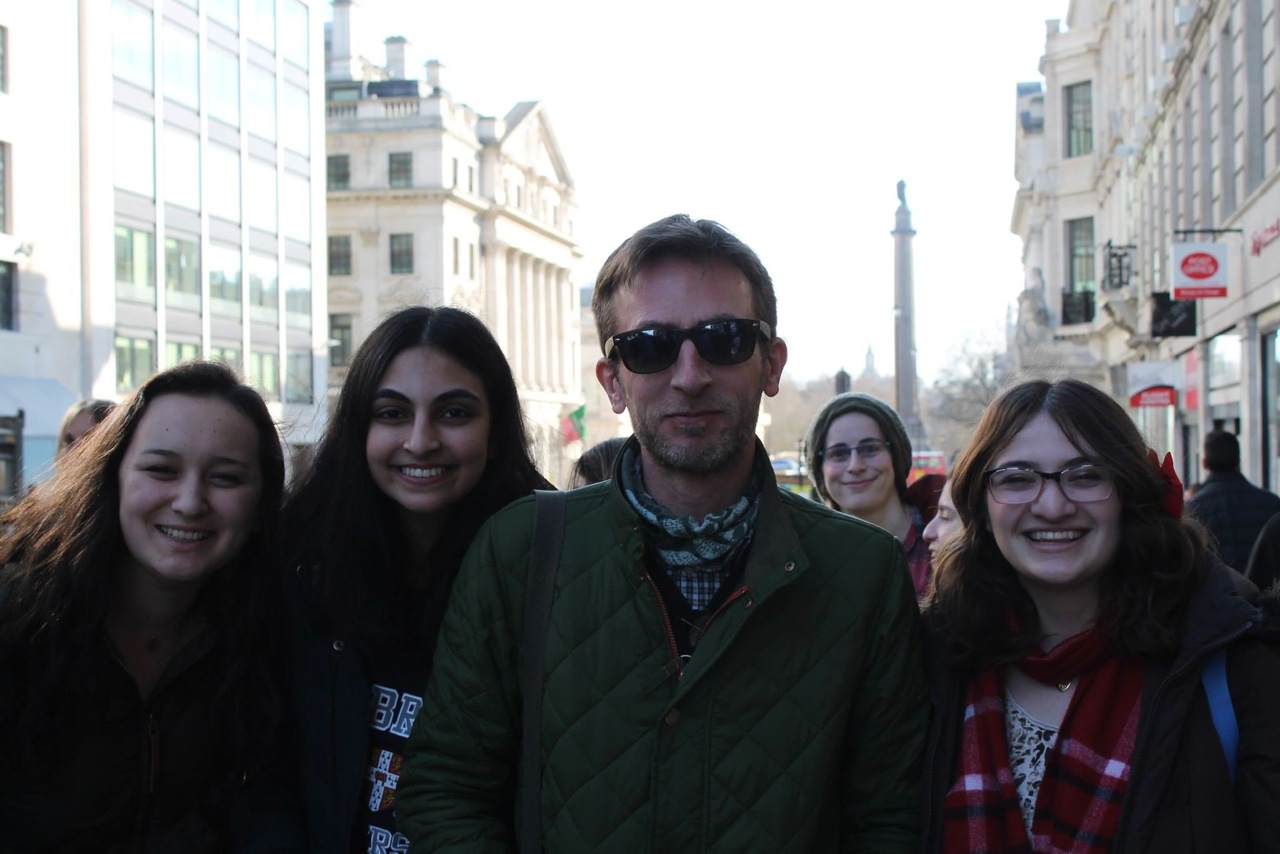 On the last day of the trip at our last performance, a wave of sentimentality hit the group. After an amazing week, we all realized that the sound we created over the course of the trip will never be recreated again. The combination of all 60 of our voices created a unique and beautiful sound that each one of us will remember for a lifetime.
Photo Credit: Bella Vierra
Scarsdale Snow Poem and Snow Photos
Details

Category: Bulletin Board
Published on

05 March 2015

Written by

Joanne Wallenstein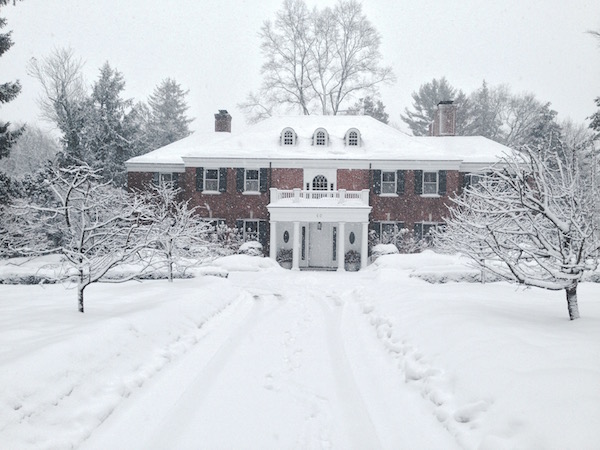 More snow in Scarsdale and school is closed again! How deep is the snow and how many school days have been missed? We have lost count but will find out and let you know.

Spring is just a few weeks away but there's no sign of daffodils or crocuses buried deep beneath the ice. Mounds of packed snow may take weeks to melt.
Here's a poem from Scarsdale's own Deborah Skolnik from her Facebook Page, Gentle Scarsdale Satire - (search for it on Facebook, request to be added and you'll be promptly approved.) In less than 2 weeks the page has grown to more than 300 local residents, amused by its slyly humorous daily verses.

Darn You,Snow!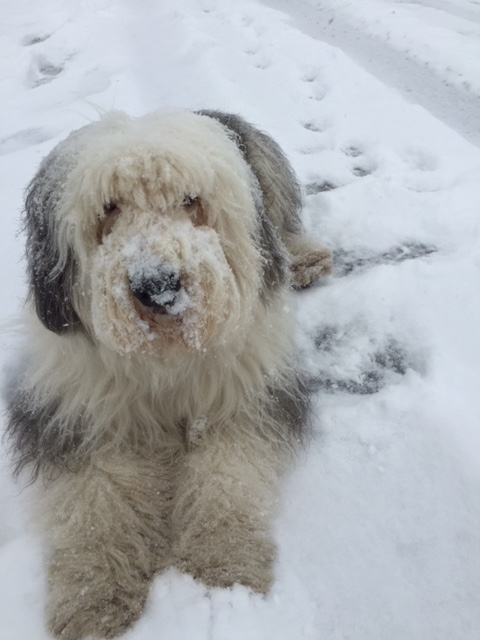 Snow, you're like
a bad boyfriend.
This abusive relationship
has to end!
At first you were charming
and I was excited.
But now you're a stalker,
showing up uninvited.
Whenever you come here,
you just bring me down.
I fell on my tushie
in front of C-Town!
You're a bad influence
on the whole neighborhood.
The Abominable Snowman
bought a ranch in Edgewood.
And Quaker Ridge Quakers
have become Eskimos.
Fox Meadow foxes
are stuck on ice floes.
At Heathcote's five corners,
that car-clogged disgrace,
the slow traffic light
is MORE glacial in pace!
And here in Greenacres
there's been nothing green
since about two weeks
after last Halloween.
You need therapy, snow.
There's no give and take.
You always act cold
and you're always a flake!
And you're turning grey, too
you sad, aging fellow.
(Even worse, in some places,
I fear you've turned yellow.)
I'm dumping you for Spring, snow.
You've got awesome powers,
but Spring knows what I want--
Spring brings me flowers.

Due to the bad weather, here are a few closings and re-schedulings:
The Maroon and White celebration, originally scheduled for Tuesday March 3rd has been rescheduled for Thursday March 12 at the high school cafeteria at 7:30 pm. Seniors should arrive by 6:30 for photos.
At Hitchcock Church, the school and office are closed, Living in America Classes are cancelled and the Lenten Organ Recital and luncheon are postponed.
All classes and program at the JCC of Mid-Westchester are cancelled for today.
The screening of the film "Garwin" scheduled at the Scarsdale Library tonight has been cancelled.
Here are some snow photos from around town. Send your snow day photos to scarsdalecomments@gmail.com and we'll post them on the site.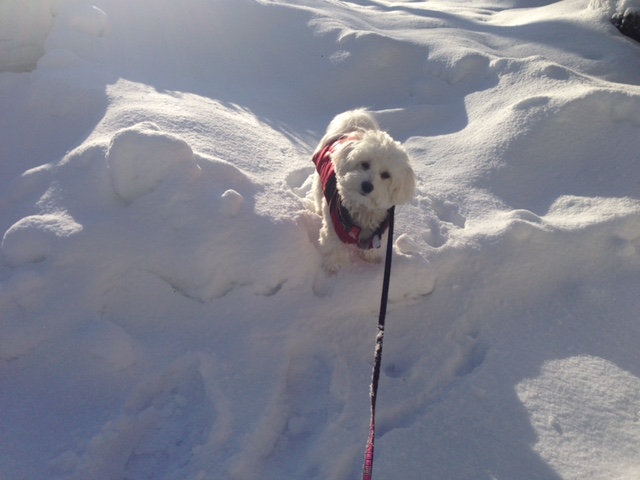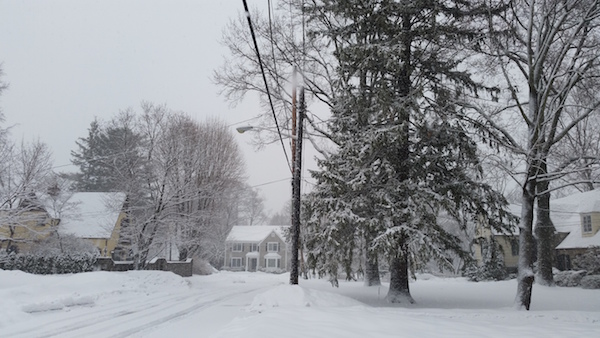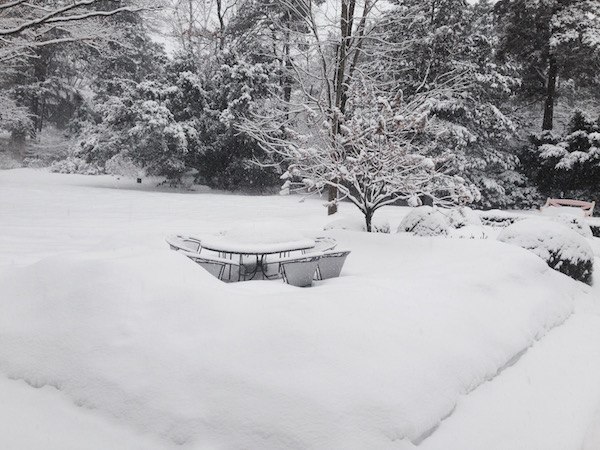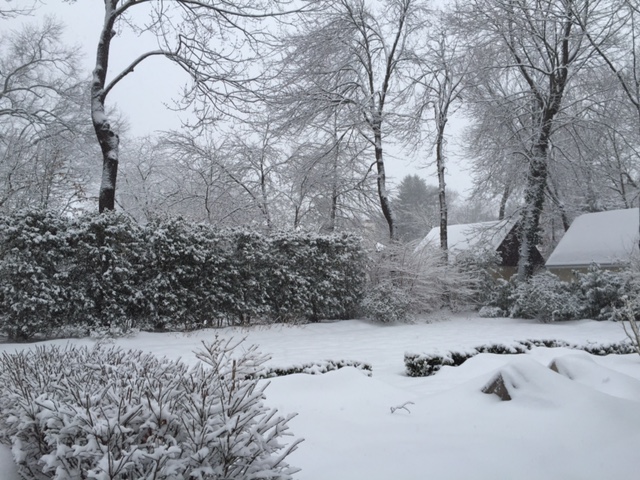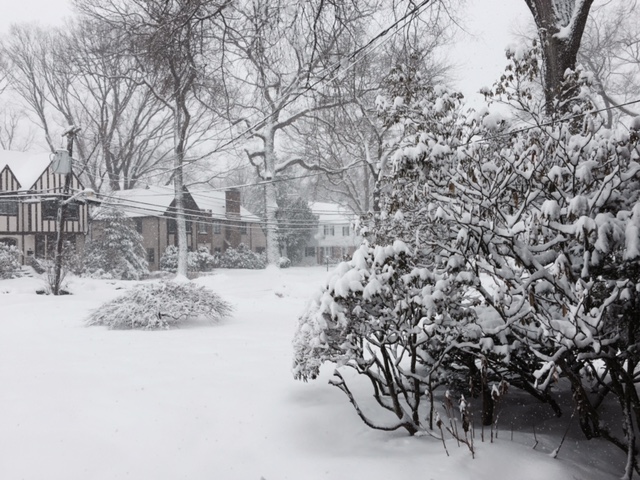 A Stellar Season for the Raiders Boys Swim Team
Details

Category: Good Work
Published on

03 March 2015

Written by

Joanne Wallenstein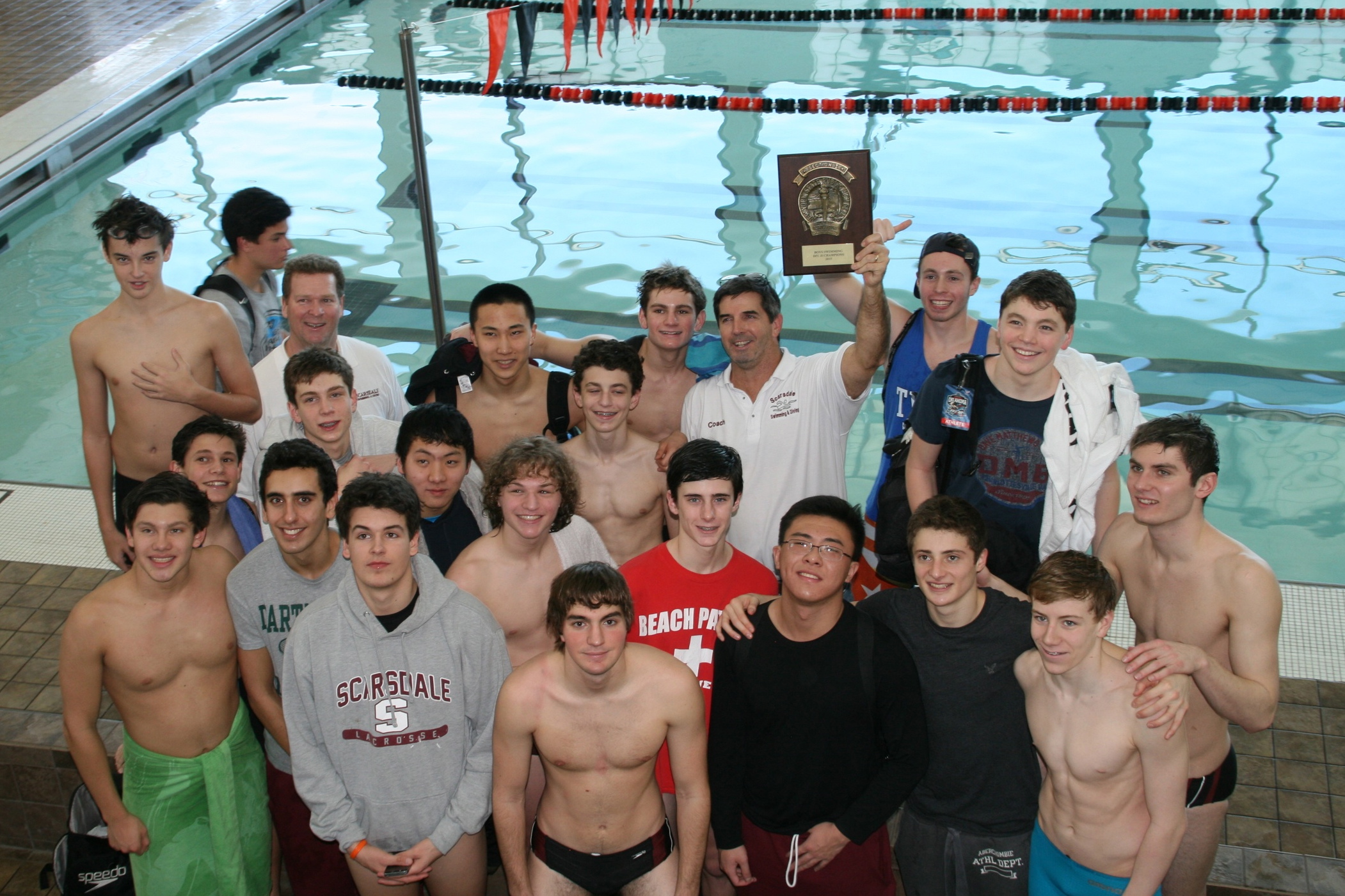 The fact that Scarsdale High School has no pool has not hampered the success of the school's stellar boys swimming team. This year they won the conference, the section and placed second at the state meet in Ithaca on February 28-29.
It doesn't get much better than this. Coach Tim Callahan, who has been coaching the team for more than 20 years explained that it "all has to do with the kids." Callahan said that 15 of the swimmers and divers on the team train year-round and said, "the kids are getting faster."
The team trains at the pool at Westchester Community College five days per week during the season and they got off to a winning start at the annual Relay Carnival which was held at White Plains in December. Ten teams participated and Scarsdale broke some records and excelled.
For their dual meets, the team's record was an impressive 8-0 and they have been undefeated in dual meets for five years in a row.
At the Conference meet in December, Scarsdale won for the fifth year in a row.
The medley relay team of Ryan Lee, Charlie McFarland, his brother Tanner Mcfarland, and Thomas Cook took first place. Senior Josh Hendell came in second in the 200 freestyle, and David Bravo won the individual medley where one swimmer swims all four strokes. Evan Moretti won the conference diving championship for the second year in a row.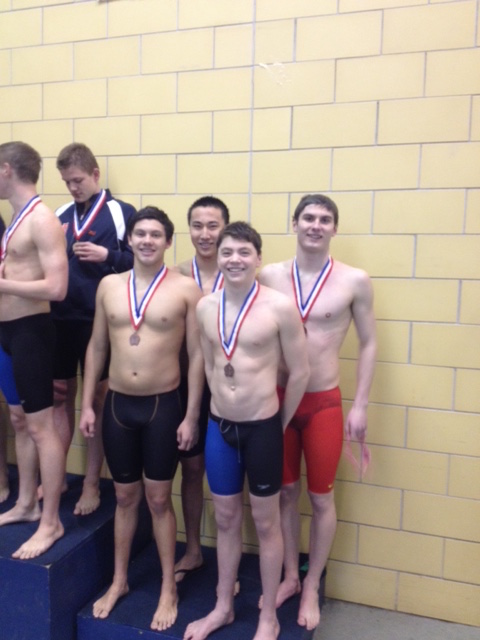 Until this year, Scarsdale has never won the Section 1 swimming and diving tournament, placing third last year and second two years ago. So Callahan was especially proud to share the results from this year's tournament where Scarsdale placed first for the first time. The meet was exciting as Scarsdale and rival Horace Greeley were vying for the top spot, and the pendulum swung with each race. Graham Novich helped clinch the title when he competed in the consolation finals in the 100 yard butterfly against three Horace Greely students who were all seeded ahead of him. He won the race bringing six points to Scarsdale.
Also at the sections, the 400 yard freestyle relay team of Josh Hendell, David Bravo, Haofeng Liu and Charlie McFarland broke a school record, placed third and helped to win the title.
Diver Evan Moretti took home first place in the diving championship for the second year in a row.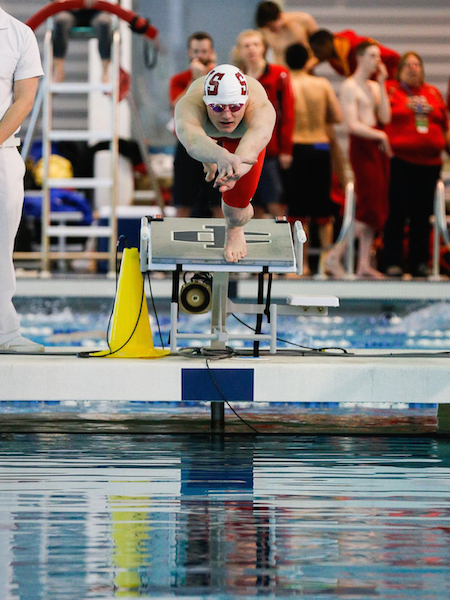 The team was then onto the states at Ithaca College on February 28 and 29, where they brought nine teammates, the most that Scarsdale has ever sent to the state championship.
The boys excelled:
Diver Evan Moretti took the silver medal in the NYS diving championship

Josh Hendell came in fourth in the 500 yard freestyle,

Charle McFarland broke a school record in the 50 yard freestyle and placed 7th overall in the state and also came in 3rd in the 100 yard breast stroke, breaking his own school record.
Commenting on the season, brothers Charlie and Tanner McFarland said, "The season could not have been any better. The team accomplished all the goals we set at the beginning of the season. We were undefeated for the 5th year in a row, won our 5th consecutive divisional title, and capped off the season with Scarsdale's first Section 1 Swimming title. Evan Moretti set a new Section 1 record with his victory in diving and Charlie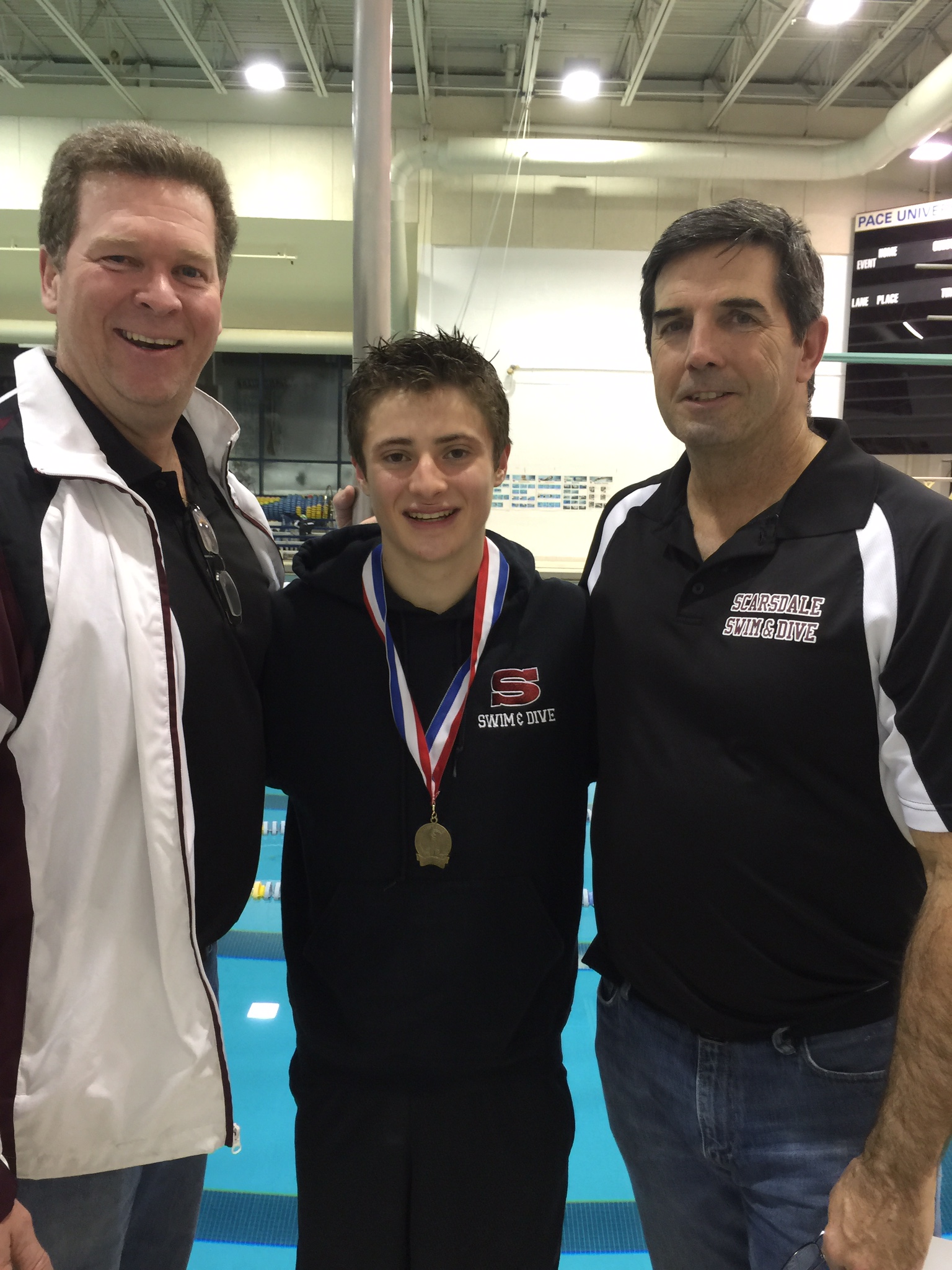 set a new Section 1 record when he won the 100 breast. Everyone contributed and swam personal bests. We sent a record number of swimmers to the state championships in Ithaca (9). It was an exciting and fast meet, and we were very competitive. We finished 6th overall. Some team highlights - Evan Moretti took 2nd in the diving, Charlie was 3rd in the 100 breast, setting a new school record. His time puts him up for All American consideration. He was 7th in the 50 freestyle, Josh Hendell was 4th in 500 free and 13th in the 200 free and the medley relay team of Ryan Lee, Charlie and Tanner McFarland and Tom Cooke placed 13th, setting a new school record and the 400 free relay team of Josh Hendell, David Bravo, Haofeng Liu and Charlie McFarland placed 12th.