Fox Meadow Tennis Club Welcomes New Pro
Published: Monday, 17 April 2017 08:15
Joanne Wallenstein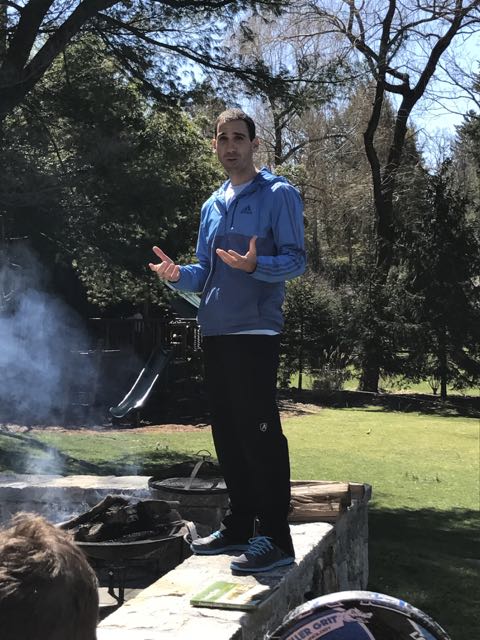 Fox Meadow Tennis Club on Wayside Lane recently announced that Pavle Jefferson, a 1998 graduate of Scarsdale High School has joined the club as the new Director of Racquet Sports. Jefferson replaced Gary Squires who recently resigned after 15 years at Fox Meadow. We interviewd Pavle to learn more about his background and plans for the club, and here is what he shared:
We hear you are a Scarsdale native. How many years did you live here, and where did you go to school? Who was your high school coach and what do you remember about playing on the team?
I moved to Scarsdale as a sophomore in high school. After graduation, I attended Columbia University and my parents stayed in Scarsdale for another two years, which effectively made Scarsdale "home" for five years. I had two excellent coaches at Scarsdale High School: Joel Katz, may he rest in peace, and Jack Kaminer. They were fantastic to work with and taught me a great deal about teamwork in a sport that is predominantly individual at the junior competitive level. Playing on the SHS tennis team was a great overall experience for me; as a newcomer to Scarsdale, it immediately offered a social circle and a way for me to integrate into the school system in a rewarding manner.
Which teachers, if any had an influence on you?
I can't think of any teacher that didn't have a positive influence on my experience at SHS. However, two teachers that stand out in my memory are David Greene and Rashid Silvera. I took public policy with David Greene and was impacted by his real-life case study assignments. For example, in order to understand the effects of public policy on diverse populations, he would ask his students to assume the role of a particular individual, whether that individual was the CEO of a Fortune 500 company, or a single parent working two jobs with three children in college. His assignments challenged me and my classmates to think beyond ourselves to grasp the significance of public policy initiatives. I never had a class with Rashid, but I will never forget his exuberance and kindness each time I passed him in the hallways. For a young, impressionable kid, a smile and a helping hand can go a long way, and Rashid was never short on extending those courtesies. For me, it highlighted the importance of taking the extra effort to relate to people.
Where did you go to college and did you play there as well?
I played singles and doubles for the Columbia University varsity tennis team for all four years. During my sophomore and junior years, we won the Ivy League Conference, which qualified us for the NCAA nationals and enabled us to travel the country and compete against the top teams in the nation. It was an exhilarating experience. During my senior year, I was elected team captain by my teammates, an honor that I cherish to this day.
What have you done in the intervening years?
My path to coaching was a circuitous one. I started playing tennis competitively at the age of 8, and trained rigorously all the way through my college years. After college, I wanted to pursue other interests and dabbled in finance, music, and international relations. However, somehow I kept getting drawn back to the tennis courts. After a few key events, including helping Shahar Peer (world ranked no.15 at the time) at the 2006 US Open and being a part of the coaching staff for Duke's Women's Tennis 2009 NCAA Championship team, I decided that I wanted to pursue tennis coaching as a career. After working with Duke, I coached at University of Pennsylvania and Harvard. I then took the Head Tennis and Paddle Pro position at Bronxville Field Club. Finally, before coming to Fox Meadow Tennis Club, I worked as Director of Tennis at Edgewood Country Club.
What is your role and what are your responsibilities at Fox Meadow Tennis Club?
I am the Director of Racquets at FMTC and will be managing the daily activities of the tennis and platform tennis programs at the club, as well as promoting both sports through events, tournaments and other social activities for members and their guests.
What are your plans for the club – what would you like to do?
My plan is to create an exciting environment for members and their guests to enjoy tennis and platform tennis by offering dynamic programming for players of all ages and levels of skill. Entering the tennis season, I am excited to bring energy to the courts with a stellar teaching staff and with an ambitious curriculum of instruction. One of my priorities will be to expand the junior tennis program and bring new faces to the sport. I have a strong passion for player development, and it is particularly rewarding to work with players at the beginning stages of the game and see them grow into lifelong tennis fans. Looking ahead to the paddle season, FMTC has a best in class facility for the sport, and I am eager to implement programming to utilize the club in a way that enhances the member experience and reflects the rich history of paddle at FMTC.
In your eyes, what is unique about the club and what does it have to offer its members?
FMTC feels like a family; there is a true sense of community at the club, and every member pitches in to make it feel like home. The physical space itself is in harmony with the intimate culture that exists at the club; the facility can be taken in at one glance and encourages social interaction by virtue of its layout. Members take ownership of the space and go above and beyond to ensure the club is well kept. That hands-on approach separates FMTC from a lot of other clubs, and helps maintain its close-knit environment. From a historical perspective, FMTC is special because it was the first club to build a platform tennis court and offer it as a sport to members. That historical context inspires members to this day and is reflected by enthusiastic and robust participation in the paddle months. Ultimately, FMTC offers members a warm, social atmosphere where they can come together with friends and family to share their passion for two awesome racquet sports.
About Fox Meadow Tennis Club
Founded in 1883, Fox Meadow Tennis Club (FMTC) has long been a distinguished part of the Scarsdale landscape. Platform tennis or 'paddle,' as it is affectionately known today, was invented in Scarsdale in 1928. In 1931, Fox Meadow built the first club court in the country. Today, it's estimated that there are more than 55,000 active players in the United States. More national championships have been held on their courts than at any other location and Fox Meadow members have won more national titles than any other club.

Fox Meadow has six Har- Tru tennis courts and nine heated paddle tennis courts, including four that are lit for night play. The clubhouse offers members a comfortable place to relax before and after matches, and a terrific place to view the tennis and paddle activities. As well, there are shower and kitchen facilities and the clubhouse can be rented to both members and non-members for private parties.
BLOG COMMENTS POWERED BY DISQUS