Maroon and White Celebrates SHS Seniors
Published: Monday, 12 June 2017 14:24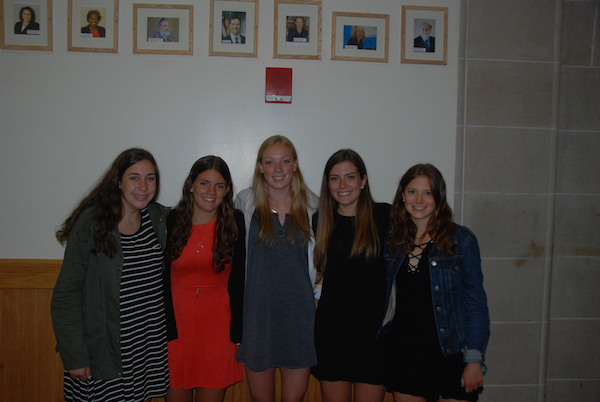 At the close of every season, Scarsdale's parent run sports organization, Maroon and White, celebrates the accomplishments of Raider teams through their sports awards dinner. While the dinners in the fall and winter exclusively highlight the achievements of the teams of each respective season, the end of the year dinner includes awards for both the spring teams and athletes of all seasons. As this is the last sports event to honor the graduating seniors, a large awards ceremony is held to recognize their accomplishments. All awards are given to Senior athletes that display admirable qualities on and off the field.

Girl's Lacrosse (Photo Above)
They started the season 2-6, yet the Girl's Varsity Lacrosse team made it to the Section Semifinals, falling to the eventual Section 1 Champion North Rockland. It is easy to see that the team experienced an eventful season. Captain and All Section defender Emma Coleman noted that beating both Somers and Yorktown, two powerhouse lacrosse programs, for the first time in her career were the highlights of her season. Captain Attacker Jilly Mehlman echoed this highlight, adding that the win over Yorktown was her favorite moment of the season because of the team's "energy" and because "no one expected [Scarsdale] to win the game". The Girl's Lacrosse Seniors received numerous awards during the Maroon and White Ceremony. Emma Coleman, Erin Nicholas, and Jilly Mehlman received the Iron Man Award for competing in 12 full varsity seasons at the High School. Erin Nicholas received the Peppers Award for her outstanding academic and athletic achievements, Emma Coleman received the Raider Award, given by Athletic director Ray Pappalardi, for her exquisite attitude and the example she sets for the younger players. Jilly Mehlman received the Scholar Athlete award for her academic and athletic accolades, and Angie Burns received the Mooney Award for her dedication and positive contributions to the team. Emily Brew will head to Colgate in the fall, Erin Nicholas will play field hockey at Middlebury, Emma Coleman will play lacrosse at St. Michaels, Angie Burns will enroll in Franklin and Marshall, and Jilly Mehlman will run track at Yale.

Boy's Lacrosse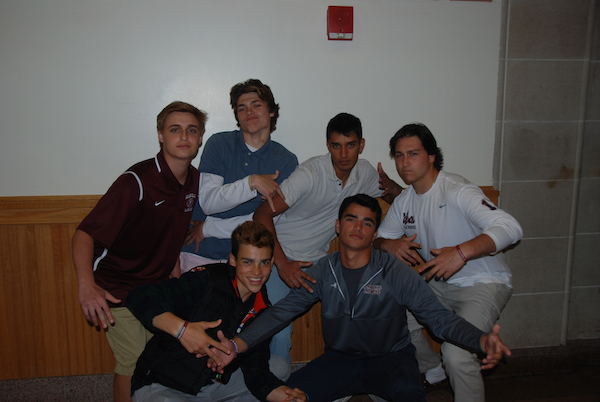 Under the new leadership of Coach James Synowiez, the Boy's Lacrosse team made an impressive run this season. The team made it to the Section Semifinals, losing by one goal scored 15 seconds before regulation play ended. This year's squad included several college commits, including Senior Alex Miller, who will play for Skidmore next year, and Sophomore Andrew Bernstein, who will play for Yale in 2020. Captain Dan Patrizio noted that his favorite moment was beating both Mamaroneck and Harrison in overtime during the regular season, mentioning that they were both "crazy games". Alex Miller was descriptive when remembering his highlight for the season, saying that his favorite memory was "standing on the back right of the field watching Andrew Bernstein put in a behind the back lefty '2 pipe' goal off of Cooper Schneider's assist to win in overtime against Mamaroneck. It's burned in my memory forever". Adam Schwall won the Raider Award for his extreme dedication to his teammates during his high school career.

Boy's Varsity Tennis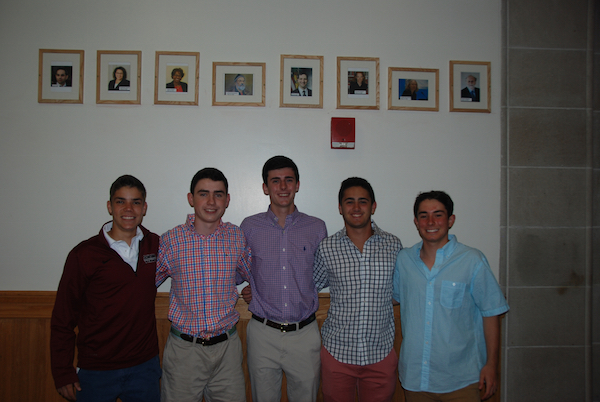 The Boy's Varsity A Tennis team experienced setbacks in the beginning of the season, largely as a result of the harsh weather conditions in March. However, the team came back and won many of their matches. Liam McPhillips said that his highlight of the season came when the team played Horace Greeley for the second time this season. "My partner Andy and I lost the first time we played them, but we got revenge and played our best match of the season and won". Rafael Schott will enroll in Colgate in the fall, Jack Brady will go to Middlebury, Liam McPhillips will go to Notre Dame, Alex Lane will go to Duke, and Andy Kaspers will attend MIT.

Boy's Varsity Baseball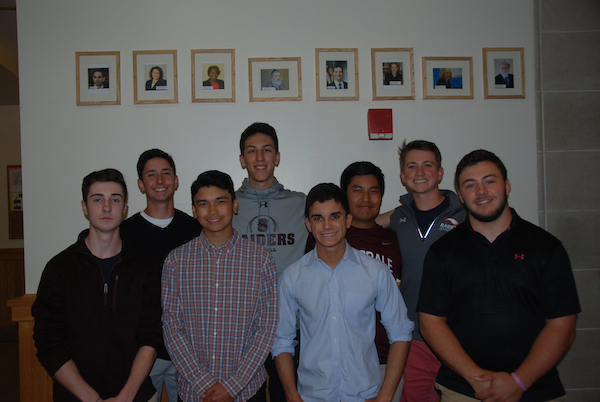 Baseball got off to a rocky start, partly due to the unfavorable weather conditions in March, which forced the team to postpone many of their games. However, the team ended up making it to the Section Semi Finals after an 0-5 start. Christian Waterhouse said that his highlight of the season was the team's first round playoff win against New Rochelle. Andrew Halperin secured the win for the Raiders with a stellar outfield catch. Halperin won an award at the Maroon and White ceremony for his academic and athletic achievements on the baseball field. Halperin will attend Harvard in the fall. Standout Senior Tyler Mandel will play baseball at the University of Buffalo in the fall.
Girl's and Boy's Track and Field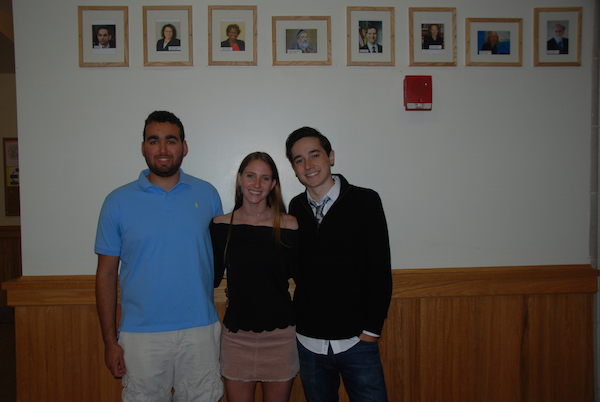 Scarsdale Track and Field is losing 2 powerhouse contributors in Kendall Bensche and Greg Crowley. Bensche will head to Harvard and continue her jumping career, while Crowley will run at Dartmouth. Kendall's highlight for the spring track season was when she left the prom halfway through, drove to Arlington an hour away, changed in the car, threw on my jersey to compete in the State qualifiers, won that, and then changed back in the car to go back to prom. Kendall noted that this was "one of the craziest and best memories. My sister was there cheering me on. Greg came in his tux and was cheering me on. My coach was going crazy, and it was something no one in Scarsdale has ever tried before". Bensche went on to win the State Championship for high jump at an impressive 5 feet 6 inches. Crowley also competed in the state meet. Bensche won an award at the Maroon and White ceremony for her excellence in academics and athletics.

Girl's Golf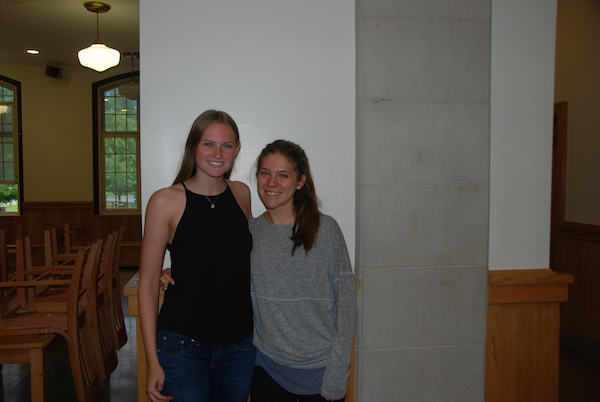 The Girl's golf team had a historic season, winning their first ever league title and sending a record number of golfers to compete in the sectional competition. Sophomore Kaitlyn Lee placed 6th in the State and. Senior Lauren Young said simply that her highlight was "winning the league championship for the first time in history". Senior Caitlin D'ambrosio had the same favorite memory.
Girl's Crew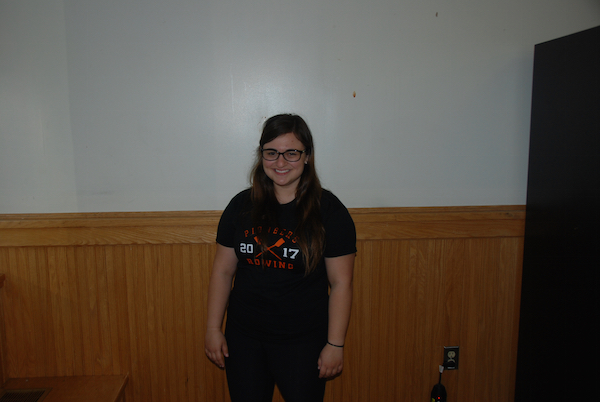 Zoe Millman, Crew's lone senior, mentioned that her highlight was "the long island championships, which was a water launch. You have go go in through the water and it was absolutely freezing. We were drenched and the boat was filled with water. It was hilarious". Millman will attend Lewis and Clark College in the fall.

Article by Emmeline Berridge, Photos by Lena Glickman
BLOG COMMENTS POWERED BY DISQUS