Tennis News
Published: Wednesday, 28 June 2017 14:25
Joanne Wallenstein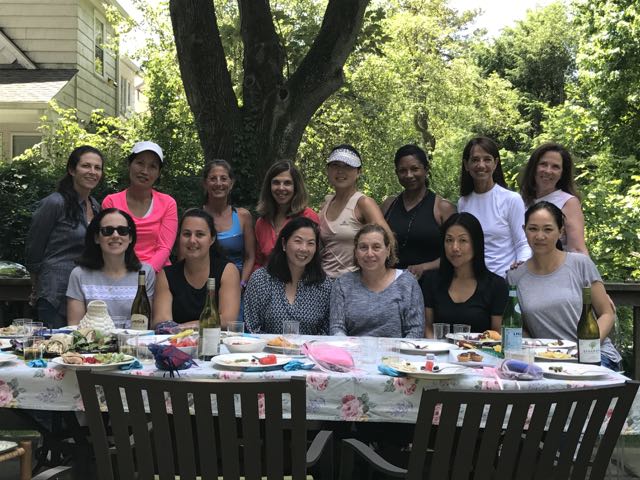 The Scarsdale Women's Tennis A(2) team celebrated the end of a successful season with an outdoor lunch on Tuesday June 27. Captained by Susan Groner and Yuko Kuriyama-Hu, the team played highly competitive matches against some of the toughest teams in the county, include Scarsdale's A(1) team.
Pictured above are:
Top row, left to right: Lori Abrams, Hyun Heffner, Pam Rubin, Joanne Wallenstein, Jiyon Lee, Charlotte Carr, Mary Bracken and Anne Moretti
Bottom row, left to right: Lisa Nelson, Paulina Schwartz, Yuko Kuriyama-Hu, Susan Groner, Megumi Shuler and Naomi Proctor
Also on the team, Marlene Buchwald, Helen Kyriak, Cynthia Roberts, Debbie, Singer, Pat Simmermacher and Simone Wiener.
Scarsdale Summer Youth Tennis League:
Sign ups are now being accepted for the Scarsdale Summer Youth Tennis League 33rd season organized by New York Junior Tennis and Learning - Scarsdale Chapter and the Scarsdale Recreation Department for boys and girls between the ages of 6 and 18.
The program begins Monday, July 10 at the Middle School Tennis Courts with round robin matches on weekday evenings between 6 and 8 PM and will continue for 4 weeks into early August. Players can chose to play one or two hours per night.
Youth players can get 32 hours of tennis over four weeks for the registration sum of $50. Every player receives a participation trophy and a Scarsdale NYJTL T-shirt. The program concludes with a tennis tournament and a pizza and ice cream party.
Tennis matches will be held for all skill levels using ping pong scoring, including beginner, novice, intermediate and advanced. The Summer Youth Tennis League will build on the successful Recreation Department Spring Short Court Tennis Program.
Youth and parents interested in the Summer Youth Tennis League should contact Bob Harrison, volunteer Director of the League at 914 646-4054 or by email at proscars@aol.com. Applications can be picked up at the recreation Department at Village Hall or printed at the village web site at scarsdale.com/recreation.
BLOG COMMENTS POWERED BY DISQUS