Get Ready for College This August at the JCC Academic Center
Published: Monday, 07 August 2017 13:28
Lisa Itzkowitz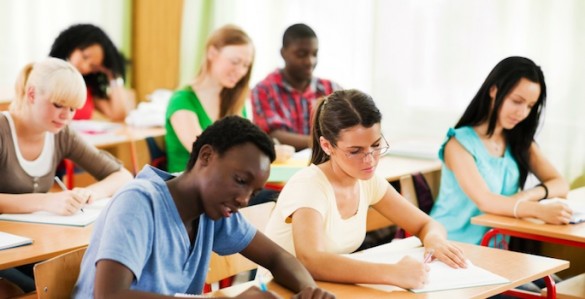 This August, the JCC Academic Center is offering an array of classes to help rising high school seniors complete their college applications. Three targeted workshops - Common App/Activities Resume Workshop, College Essay Writing Workshop, and the New College Starter Admissions and Application Academy, are designed to get college applications "fit to submit." "We are offering a full menu of classes in August to enable students to work on college applications and prepare for college admissions tests before the stress of the school year kicks in," said Lisa Itzkowitz​, Director, JCC Academic Center.
The new College Starter Admissions Application Academy is a one week, hands-on workshop, Monday, August 14 - Friday, August 18, 9:00am -3:00pm where students will:
• Understand what admissions officers seek in an applicant and a college application
• Create college lists which include safety, target and reach schools
• Brainstorm, write and refine their core college essay
• Explore interests, talents and activities to complete a detailed extracurricular profile
• Learn and complete information that will strengthen a college recommendation letter
• Start and finish the Common Applications
The class will be led by Jeff Hirsch, a New York State certified school counselor and former teacher, who has worked in New York City and Westchester for the past fifteen years. As a school counselor, Jeff regularly speaks with college representatives and understands first-hand what colleges seek in applicants.
Students in the Common App/Activities Resume Workshop on Thursday, August 3, 7:00-9:00pm, will be guided through the Common App by Certified Educational Planner and college admissions expert, Betsy F. Woolf. Through this step-by-step interactive workshop, students will learn how to best present themselves to colleges in their application and its supplements, including brainstorming ideas for supplemental essays and understanding how to turn those ideas into powerful statements.
In the College Essay Writing Workshop on Monday and Wednesday, August 14 and 16, 2:00-5:00pm, students will explore what makes them unique and work to craft that into a narrative that they can use to display themselves to potential colleges. This workshop will be led by Freddi Greenberg, Founder, Purple Pen Essay Advisory, former editor-in-chief of Child, American Health for Women and Nick Jr. Family and essay advisor, East Side Community High School, NYC.
The JCC will once again offer an ACT Boot Camp, August 14 -18, 10:00am-1:00pm led by dynamic instructor Alex Weiner, Principal and Lead Tutor, Breakaway Prep, and new this year, an SAT Boot Camp will be offered in partnership with Applerouth Tutoring, Monday, August 14 - Tuesday, August 22, 5:00-8:00pm. Both Boot Camps include mock tests as part of the class. Students may also take a free* mock ACT and/or SAT this summer (and throughout the year). Mock tests are an excellent way for students to practice their skills in a proctored, classroom environment. Students who are just beginning the college admissions process can use the mock tests to determine which test is best for them. All students will receive a detailed score report after each test. Pre-registration required.
Click here for details and online registration. Advance registration is required for all programs. For more information, please contact Lisa Itzkowitz, itzkowitzl@jccmw.org, 472-7176.
*First of each test (ACT or SAT) is free. Fees apply for subsequent tests. **Extended-time tests also available.
BLOG COMMENTS POWERED BY DISQUS