Freightway Steering Committee Hosts Public Workshops on Potential Development
Published: Monday, 02 October 2017 19:44
Jon Mark
The Village of Scarsdale is conducting a visioning study to guide potential redevelopment of the Freightway site. Last night, the Freightway Steering Committee (FSC) a committee of residents appointed by the Village Board hosted its second public workshop designed at getting community input on what potential redevelopment of the Freightway site might be considered. More than 40 residents and others interested in the discussion attended the two and a half hour event which was held at the meeting room of the Scarsdale Congregational Church. The participants listened to an overview presentation by Jonathan Martin and Noah Levine of BFJ Planning, consultants to the FSC. After the presentation, participants divided into several roundtable groups tasked with discussing a variety of options for the site that might be considered in the future. Each discussion group then appointed one of their members to present a summary of their conversation to all participants. The meeting was recorded and a video of the event will posted on line on Scarsdale Public TV's web site and on the Village's web site.
The next working session of he FSC is scheduled for October 12, 2017 at 7:00 pm in the 3rd floor meeting room in Village Hall. The working session will be open to the public. In addition, another public workshop is scheduled for November 13, 2017, time and place to be announced.
The FSC is working to produce a report on its findings to be issued during the first quarter of 2018. Information about the FSC and its work is available on the Village web site link.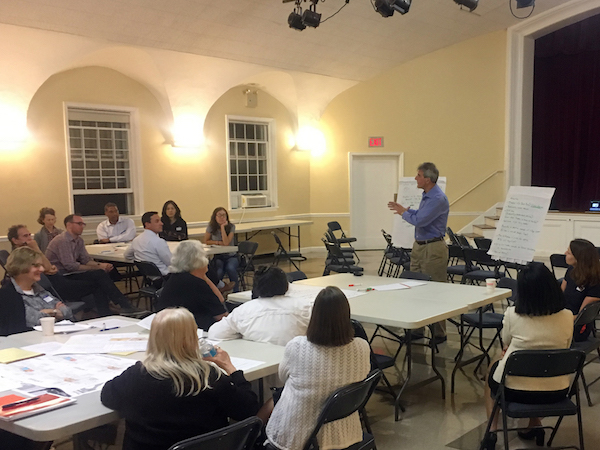 Photos by Jon Mark, Ingrid Richards, Noah Levine
BLOG COMMENTS POWERED BY DISQUS