Breaking News: Camper Goes Number Two In Scarsdale Pool
Details

Category: On Our Radar
Published on

26 July 2017

Written by

Jane Glaser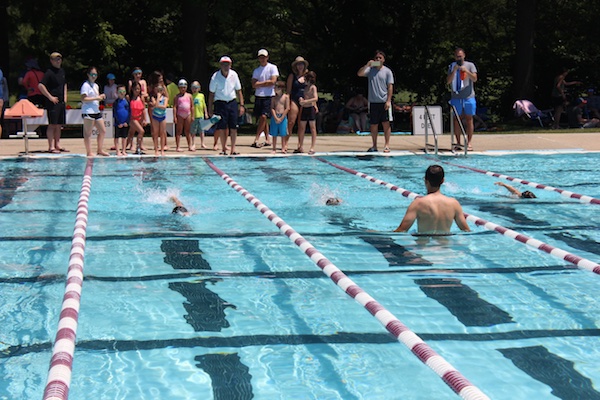 Journalists for Scarsdale10583 got word on July 26th of an accident at the Scarsdale Municipal Pool – that is, an accident in a 4-year-old's swim trunks. The camper was reportedly swimming in the main pool when he just could not hold it in any longer. The main pool was closed upon discovery of the contaminant, but was opened a few hours later once the pool was cleaned. When asked about the incident, one witness provided crucial insight: "The main pool is closed. Some kid pooped in it."
Westchester Becomes Popular with the Film Set
Details

Category: On Our Radar
Published on

17 July 2017

Written by

Joanne Wallenstein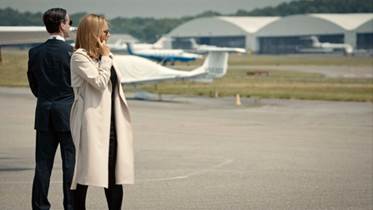 Look closely and you'll notice familiar scenery when you are watching your favorite television shows. Westchester County announced that revenue from the television and film industry almost doubled in 2016 after local towns became popular destinations for cinematographers.
Just last week, the Amazon Series "Sneaky Pete" was filming in the garage at the Hartsdale Train Station, and the county office of tourism and film reported that last year many popular productions used scenes from Westchester in their movies and shows. Among them were:
The Girl On The Train"(DreamWorks Pictures/Universal)
The Affair (Showtime)
Divorce" (HBO)
Homeland (Showtime)
Elementary" (CBS)
The Americans (FX)
Mr. Robot" (USA Network)
Madam Secretary (CBS)
Blind Spot (NBC)
The Blacklist (NBC)
According to Westchester County Executive Robert P. Astorino the county received more than $30 million in revenue from the film and TV industry in 2016 from 532 on-location production days in Westchester this past year. "Westchester's film and TV industry is booming," said Astorino. "These numbers show the popularity of Westchester as a backdrop for movies, television shows and commercials, as well as the importance of the film and TV industry to our local economy."
Natasha Caputo, director of Westchester County Office of Tourism and Film, pointed out that Westchester's appeal lies not only in its world-class locations, but also in its accessibility, affordability, and the hands-on support offered by the county's Tourism & Film office. "Our office has a deep knowledge of production needs and how to help location managers navigate the process of filming in Westchester," said Caputo. "Westchester offers unique settings all within a short distance of New York City and is accessible for productions of all sizes through our airport, major highways, and a reliable rail and bus system. The county also offers a large talent pool of location scouts, production managers, crew, and postproduction specialists."
A survey revealed a 130% increase, from $526,454 in 2014 to $1,209,804 in 2016, in permit revenues collected by the county and local municipalities. The county received $500,000 in permit fee revenue in 2016 for productions held on county-owned property, while municipalities collected over $700,000 in 2016, showing the positive impact film activity has on Westchester's local towns and cities. "There are real economic benefits from working with the film industry," said Jill Iannetta, director of special projects for the City of White Plains. "Location fees help when budgets are tight for local businesses, schools, and residents. What's more, local residents seem to enjoy seeing productions. Filming in White Plains has been overwhelmingly positive for us."
For more information about filming in Westchester, click here.
Scarsdale Forum Releases Results of Survey on Education Topics to be Studied
Details

Category: On Our Radar
Published on

05 July 2017

Written by

Joanne Wallenstein

The Scarsdale Forum has released the results from a village wide survey conducted by the Forum's Education Committee. The purpose of the survey was to solicit Scarsdale residents' opinions on what topics the Education Committee should research and report upon during 2017-2018. According to Education Committee Co-Chair Mayra Kirkendall-Rodríguez, "The members of the Education Committee really wanted to reach out to as many residents throughout Scarsdale to engage them in determining what our community's education priorities are and to guide our committee in writing research reports relevant to the whole Scarsdale community."
126 respondents from all five neighborhoods ranked 12 topics in order of their priority. The Need for a Long-Term Financial Plan and Program Evaluation Process and Metrics ranked 1 and 2, respectively. Over 30% of all respondents ranked the previously mentioned topics as their first choice, and 20% of the respondents had those two topics as their second choice. Financial Literacy and Community Design Initiative: Involving All Stakeholder in Designing Education Goals tied for third place. Less than 15% of the respondents chose any other topic as their top choice.
Respondents ranked how additional minutes added to the curriculum should be utilized as their fourth priority. That topic scored just a few points below the third choice topics. Market trends in teacher recruitment ranked fifth. The topic of least interest to respondents answering the survey were the new rules on residency requirements.
Here are the results:
The Need for a Long-Term Financial Plan (10.80)

Program Evaluation Process and Metrics (10.64)

Financial Literacy (8.39)

Community Design Initiative: How can all stakeholders in Scarsdale participate jointly in designing important education goals and objectives (8.39)

How should additional minutes added to the curriculum be utilized? (8.09)

Teacher recruitment market trends and strategies (7.90)

Indirect (not in the classroom) vs. Direct(classroom) staff evolution and trends (7.88)

Ties between the Village and School. (7.60)

Facilities usage for non-education community initiatives (6.76)

Pushing the junior and senior year curriculum to begin with equal rigor earlier in high school (6.34)

Should the school consider developing how to create effective online and blended courses? (5.85)

New rules on residency requirements (2.0)
According to Education Committee Co-Chair Carlos Ramírez, "The Committee distributed the survey widely to Scarsdale Forum members and the broader Scarsdale community several times through Scarsdale based Facebook sites, neighborhood associations, local Scarsdale media, and personal email distribution lists." According to Kirkendall-Rodríguez, "we focused on distributing the survey through multiple means precisely to achieve random sampling."
126 individuals from all five neighborhoods filled out the survey. 64% of the respondents were female and 36% were male. 80% of the respondents were not members of the Education Committee. 56% of respondents have children in Scarsdale schools, and 44% do not have children enrolled in Scarsdale. Of the respondents who stated that they did not have children in the school districts, the majority had children who graduated from Scarsdale schools, and a smaller group had children either in pre-school or in private school. Of the respondents who have children in schools, 72% had at least one child in an elementary school, 32% had at least one child in the middle school, and 31% had at least one child in the high school.
Question #8 asked respondents an open ended question, 'Do you have any other topic suggestions that were not included in Question 7?' 46% of the respondents answered question 8 with additional comments or recommendations about numerous topics that they are interested in including communication with the school district, needing a framework to compare Scarsdale schools with other schools, facilities renovation, improving math and science offerings before high school, and teacher tenure.
The Education Committee will be exploring the Scarsdale community's educational values and priorities in more depth via focus groups on September 13, 2017 at a public Scarsdale Forum event. Ramírez "encourages all residents of Scarsdale and the Mamaroneck Strip to attend the event and have their voices heard."
The full report can be found by clicking on this link.
Questions about the survey and the analysis may be directed to Mayra Kirkendall-Rodríguez at ScarsdaleMayra@Yahoo.com.
Board Takes Another Look at Residency Requirements
Details

Category: On Our Radar
Published on

11 July 2017

Written by

Jane Glaser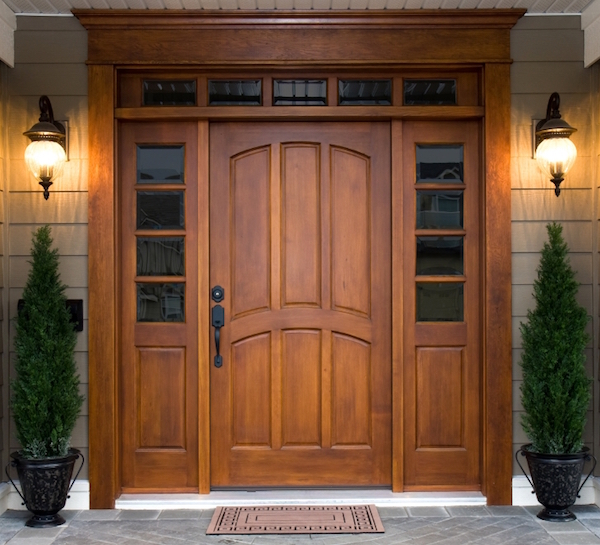 Revisions to policy # 5152, which pertains to the admission of nonresident students to Scarsdale schools, was reviewed and debated at the July 6th Board of Education meeting. The proposed changes to the policy, as Superintendent Dr. Hagerman outlined at the meeting, are as follows:
The policy originally said that the District would admit tuition-paying students upon consent of the Superintendent and the Board of Education. In the revised version of the policy, "and the Board of Education" is eliminated and "subject to the provisions of this policy" is added in its place. This leaves the decision making power in the hands of the Superintendent.
The prior policy required tuition payment up front for nonresident students, whereas the new policy allows for payment on a quarterly basis: (September-December) (January-March) (April-June). The Superintendent described how this alteration to the policy could make paying for school easier for some families.
Students participating in an exchange program in the District can attend Scarsdale schools without paying tuition according to the new revisions. The old policy required students an on exchange program to pay full tuition.
In the prior policy, a student whose parents owned an unoccupied house in the District was able to attend school without paying tuition as long as: the student had lived in the house for the three years before the house's vacancy, the home was unoccupied due to a renovation, the parents continued to own the home, and the parents did not purchase another home. This section of the old policy was replaced in the new version by the sentence: "If a student whose parents are temporarily moving out of their primary residence for a period of less than a year, the parents must contract the District Registrar for appropriate procedures and protocols."
In the new policy, the clause that permitted children who lived with relatives, another Scarsdale family or foster parents to attend the schools if the Scarsdale caregivers were given full custody has been deleted. However, Regulation #5152-R, which details verification and investigation of pupil addresses, seems to address some of the issues in the deleted section, as there is a provision in the Regulation for guardians to provide documentation of custody.
Lee Maude, a member of the Board of Education, asked Attorney Stephanie M. Roebuck of Keane and Beane to define residency in the context of the policy. Ms. Roebuck explained that residency is established when a student is living in a house in the district with a parent or guardian. She also clarified that if a student temporarily moves out of the district with an intent to return, that student is still considered a resident. However, a student is not a resident if his/her parents own a house in Scarsdale but have yet to move in to the house. Legally, she told the Board, there is no obligation to admit a student until they and their parents are living in a home in the District. Students in this situation can attend school only by paying tuition; this idea is outlined in the policy.
The question of residency of children of divorced parents was also raised. Ms. Roebuck told the Board that students whose parents are divorced are only considered residents if they spend the majority of their time -- more than 50% -- in a house in Scarsdale.
Board member Scott Silberfein questioned the placement of the second subsection, which deals with families who temporarily move out of their homes. He reasoned that placing this section under the theme of "Nonresidents" is confusing, as people who temporarily move out of their homes are still residents. Instead, he argued, it should be at the bottom of the policy or in a separate paragraph.
The board did not discuss #5152-R, which outlines the implementation of the new policy, and did not vote to accept this policy. Presumably it will be modified and considered at a later meeting.
Tennis News
Details

Category: On Our Radar
Published on

28 June 2017

Written by

Joanne Wallenstein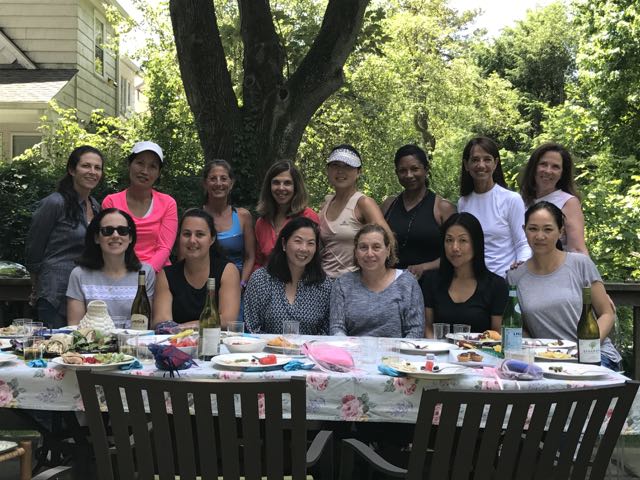 The Scarsdale Women's Tennis A(2) team celebrated the end of a successful season with an outdoor lunch on Tuesday June 27. Captained by Susan Groner and Yuko Kuriyama-Hu, the team played highly competitive matches against some of the toughest teams in the county, include Scarsdale's A(1) team.
Pictured above are:
Top row, left to right: Lori Abrams, Hyun Heffner, Pam Rubin, Joanne Wallenstein, Jiyon Lee, Charlotte Carr, Mary Bracken and Anne Moretti
Bottom row, left to right: Lisa Nelson, Paulina Schwartz, Yuko Kuriyama-Hu, Susan Groner, Megumi Shuler and Naomi Proctor
Also on the team, Marlene Buchwald, Helen Kyriak, Cynthia Roberts, Debbie, Singer, Pat Simmermacher and Simone Wiener.
Scarsdale Summer Youth Tennis League:
Sign ups are now being accepted for the Scarsdale Summer Youth Tennis League 33rd season organized by New York Junior Tennis and Learning - Scarsdale Chapter and the Scarsdale Recreation Department for boys and girls between the ages of 6 and 18.
The program begins Monday, July 10 at the Middle School Tennis Courts with round robin matches on weekday evenings between 6 and 8 PM and will continue for 4 weeks into early August. Players can chose to play one or two hours per night.
Youth players can get 32 hours of tennis over four weeks for the registration sum of $50. Every player receives a participation trophy and a Scarsdale NYJTL T-shirt. The program concludes with a tennis tournament and a pizza and ice cream party.
Tennis matches will be held for all skill levels using ping pong scoring, including beginner, novice, intermediate and advanced. The Summer Youth Tennis League will build on the successful Recreation Department Spring Short Court Tennis Program.
Youth and parents interested in the Summer Youth Tennis League should contact Bob Harrison, volunteer Director of the League at 914 646-4054 or by email at proscars@aol.com. Applications can be picked up at the recreation Department at Village Hall or printed at the village web site at scarsdale.com/recreation.