Get Ready for College This August at the JCC Academic Center
Details

Category: On Our Radar
Published on

07 August 2017

Written by

Lisa Itzkowitz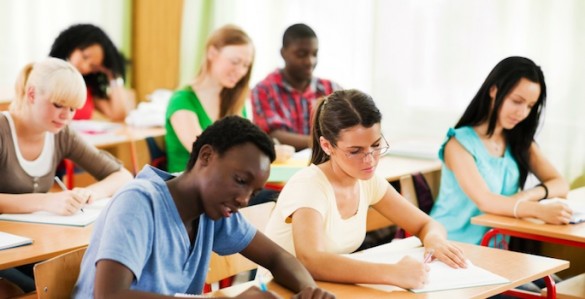 This August, the JCC Academic Center is offering an array of classes to help rising high school seniors complete their college applications. Three targeted workshops - Common App/Activities Resume Workshop, College Essay Writing Workshop, and the New College Starter Admissions and Application Academy, are designed to get college applications "fit to submit." "We are offering a full menu of classes in August to enable students to work on college applications and prepare for college admissions tests before the stress of the school year kicks in," said Lisa Itzkowitz​, Director, JCC Academic Center.
The new College Starter Admissions Application Academy is a one week, hands-on workshop, Monday, August 14 - Friday, August 18, 9:00am -3:00pm where students will:
• Understand what admissions officers seek in an applicant and a college application
• Create college lists which include safety, target and reach schools
• Brainstorm, write and refine their core college essay
• Explore interests, talents and activities to complete a detailed extracurricular profile
• Learn and complete information that will strengthen a college recommendation letter
• Start and finish the Common Applications
The class will be led by Jeff Hirsch, a New York State certified school counselor and former teacher, who has worked in New York City and Westchester for the past fifteen years. As a school counselor, Jeff regularly speaks with college representatives and understands first-hand what colleges seek in applicants.
Students in the Common App/Activities Resume Workshop on Thursday, August 3, 7:00-9:00pm, will be guided through the Common App by Certified Educational Planner and college admissions expert, Betsy F. Woolf. Through this step-by-step interactive workshop, students will learn how to best present themselves to colleges in their application and its supplements, including brainstorming ideas for supplemental essays and understanding how to turn those ideas into powerful statements.
In the College Essay Writing Workshop on Monday and Wednesday, August 14 and 16, 2:00-5:00pm, students will explore what makes them unique and work to craft that into a narrative that they can use to display themselves to potential colleges. This workshop will be led by Freddi Greenberg, Founder, Purple Pen Essay Advisory, former editor-in-chief of Child, American Health for Women and Nick Jr. Family and essay advisor, East Side Community High School, NYC.
The JCC will once again offer an ACT Boot Camp, August 14 -18, 10:00am-1:00pm led by dynamic instructor Alex Weiner, Principal and Lead Tutor, Breakaway Prep, and new this year, an SAT Boot Camp will be offered in partnership with Applerouth Tutoring, Monday, August 14 - Tuesday, August 22, 5:00-8:00pm. Both Boot Camps include mock tests as part of the class. Students may also take a free* mock ACT and/or SAT this summer (and throughout the year). Mock tests are an excellent way for students to practice their skills in a proctored, classroom environment. Students who are just beginning the college admissions process can use the mock tests to determine which test is best for them. All students will receive a detailed score report after each test. Pre-registration required.
Click here for details and online registration. Advance registration is required for all programs. For more information, please contact Lisa Itzkowitz, itzkowitzl@jccmw.org, 472-7176.
*First of each test (ACT or SAT) is free. Fees apply for subsequent tests. **Extended-time tests also available.
Duckweed Covers Pond on Brewster Road
Details

Category: On Our Radar
Published on

03 August 2017

Written by

Joanne Wallenstein
Audrey Hochberg Pond on Brewster Road seems to have a case of duckweed, a phosphorescent green film that is cover the surface of the pond.
This morning, August 3, we found a team from the Scarsdale Department of Public Works using pulleys and boards to sweep the weed off of the surface of the pond. It was being collected on the side of the pond for pick-up and disposal.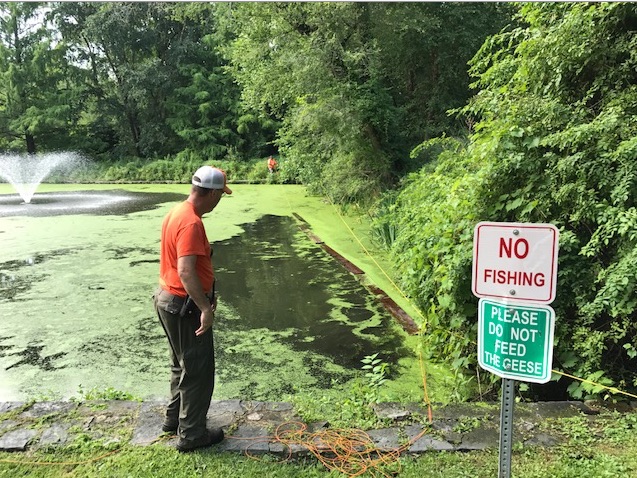 According to Benny Salanitro who heads the Department of Public Works, the duckweed is not harmful. It is easier to skim it off the top than to use a chemical solution --and the department is removing it just to improve the appearance. He also noted that the department had installed a larger aerator making the pond a lovely spot to relax and meditate.

What exactly is duckweed and is it bad or good?
Here is an explanation from the Edgemont Association newsletter, explaining the presence of the weed on Crane Pond several years ago:
What is duckweed?
Duckweed belongs to the family Lemnaceae and is small, free floating green plants that form large blankets on the surface of sheltered water. The body of duckweed is composed of a simple floating disc of photosynthetic tissue often with roots attached. It is not differentiated into stem and leaf tissue. All species of duckweed supposedly produce minute flowers, but these flowers are seldom observed. Reproduction is generally vegetative and its growth rate is tremendous. A thumb-sized planting will cover 1.2 acres in 55 days if uninhibited.
Duckweed has some desirable properties for water purification:
Duckweed treats waste by breaking it down and converting it into two components: biomass (duckweed leaves and roots) and treated water. Using duckweed for water purification is definitely low tech and needs a lot of space to be effective. Also, duckweed cannot process heavy metals, pesticides, or toxic substances.
Duckweed blooms typically occur in shallow waters rich in nutrients, especially phosphorus and/or nitrogen. Many studies have indicated that duckweed growth is a function of nutrient levels and not pH and/or temperature. If duckweed becomes an operational problem (i.e. clogging outlets), destroying the duckweed layer with herbicides does not solve the problem of excessive nutrients in the water. In addition, the chemical herbicides may be toxic to animal life, either directly or through biological magnification.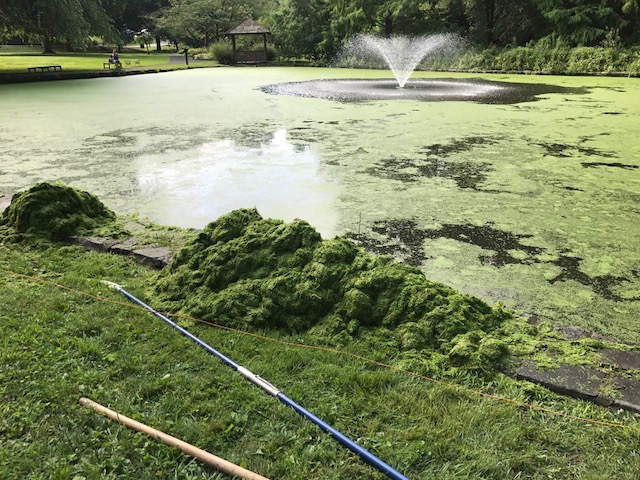 Because of the exponential growth rate Lemnaceae, herbicides must be used repeatedly (perhaps several times a year). Herbicides should be used with extreme caution and under careful supervision. Biological controls using ducks, fish, turtles, and crustaceans may also help control duckweed populations; however, this type of control is generally not suitable for wastewater systems. The mechanical removal of the duckweed cover can also remove some the nutrients. Stopping the inflow of excessive nutrients and the repetitive removal of the duckweed will greatly reduce the growth of duckweeds. Ideally, the best control is to eliminate the influx of excessive nutrients in the system.
In a nut shell, duckweed is present in water that has high levels of phosphorus and/or ammonia and unless it poses an operational problem it does not need to be removed.
Another way to eliminate the growth of duckweed or algae in a pond is to add supplemental biological products to help degrade any organics in the system. These bacteria will grow and create a stronger biomass and thereby reduce the amount of food or nutrients available for the duckweed or algae and out compete them.
Westchester Becomes Popular with the Film Set
Details

Category: On Our Radar
Published on

17 July 2017

Written by

Joanne Wallenstein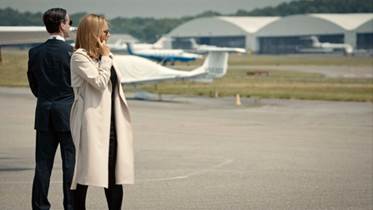 Look closely and you'll notice familiar scenery when you are watching your favorite television shows. Westchester County announced that revenue from the television and film industry almost doubled in 2016 after local towns became popular destinations for cinematographers.
Just last week, the Amazon Series "Sneaky Pete" was filming in the garage at the Hartsdale Train Station, and the county office of tourism and film reported that last year many popular productions used scenes from Westchester in their movies and shows. Among them were:
The Girl On The Train"(DreamWorks Pictures/Universal)
The Affair (Showtime)
Divorce" (HBO)
Homeland (Showtime)
Elementary" (CBS)
The Americans (FX)
Mr. Robot" (USA Network)
Madam Secretary (CBS)
Blind Spot (NBC)
The Blacklist (NBC)
According to Westchester County Executive Robert P. Astorino the county received more than $30 million in revenue from the film and TV industry in 2016 from 532 on-location production days in Westchester this past year. "Westchester's film and TV industry is booming," said Astorino. "These numbers show the popularity of Westchester as a backdrop for movies, television shows and commercials, as well as the importance of the film and TV industry to our local economy."
Natasha Caputo, director of Westchester County Office of Tourism and Film, pointed out that Westchester's appeal lies not only in its world-class locations, but also in its accessibility, affordability, and the hands-on support offered by the county's Tourism & Film office. "Our office has a deep knowledge of production needs and how to help location managers navigate the process of filming in Westchester," said Caputo. "Westchester offers unique settings all within a short distance of New York City and is accessible for productions of all sizes through our airport, major highways, and a reliable rail and bus system. The county also offers a large talent pool of location scouts, production managers, crew, and postproduction specialists."
A survey revealed a 130% increase, from $526,454 in 2014 to $1,209,804 in 2016, in permit revenues collected by the county and local municipalities. The county received $500,000 in permit fee revenue in 2016 for productions held on county-owned property, while municipalities collected over $700,000 in 2016, showing the positive impact film activity has on Westchester's local towns and cities. "There are real economic benefits from working with the film industry," said Jill Iannetta, director of special projects for the City of White Plains. "Location fees help when budgets are tight for local businesses, schools, and residents. What's more, local residents seem to enjoy seeing productions. Filming in White Plains has been overwhelmingly positive for us."
For more information about filming in Westchester, click here.
Breaking News: Camper Goes Number Two In Scarsdale Pool
Details

Category: On Our Radar
Published on

26 July 2017

Written by

Jane Glaser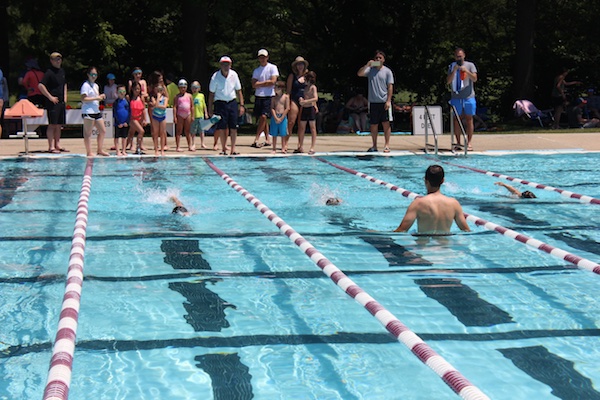 Journalists for Scarsdale10583 got word on July 26th of an accident at the Scarsdale Municipal Pool – that is, an accident in a 4-year-old's swim trunks. The camper was reportedly swimming in the main pool when he just could not hold it in any longer. The main pool was closed upon discovery of the contaminant, but was opened a few hours later once the pool was cleaned. When asked about the incident, one witness provided crucial insight: "The main pool is closed. Some kid pooped in it."
Board Takes Another Look at Residency Requirements
Details

Category: On Our Radar
Published on

11 July 2017

Written by

Jane Glaser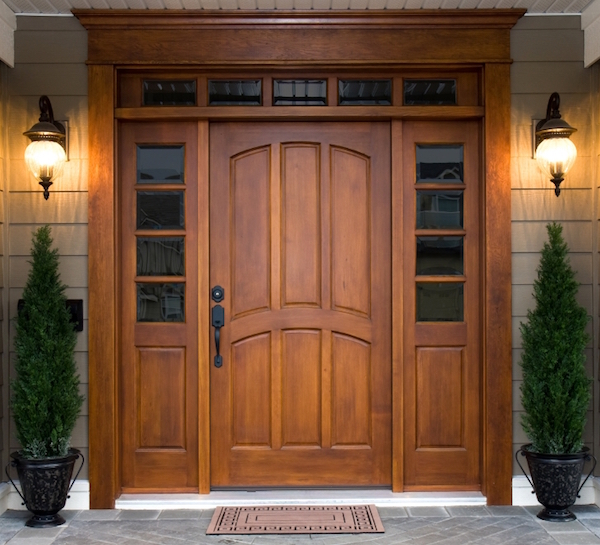 Revisions to policy # 5152, which pertains to the admission of nonresident students to Scarsdale schools, was reviewed and debated at the July 6th Board of Education meeting. The proposed changes to the policy, as Superintendent Dr. Hagerman outlined at the meeting, are as follows:
The policy originally said that the District would admit tuition-paying students upon consent of the Superintendent and the Board of Education. In the revised version of the policy, "and the Board of Education" is eliminated and "subject to the provisions of this policy" is added in its place. This leaves the decision making power in the hands of the Superintendent.
The prior policy required tuition payment up front for nonresident students, whereas the new policy allows for payment on a quarterly basis: (September-December) (January-March) (April-June). The Superintendent described how this alteration to the policy could make paying for school easier for some families.
Students participating in an exchange program in the District can attend Scarsdale schools without paying tuition according to the new revisions. The old policy required students an on exchange program to pay full tuition.
In the prior policy, a student whose parents owned an unoccupied house in the District was able to attend school without paying tuition as long as: the student had lived in the house for the three years before the house's vacancy, the home was unoccupied due to a renovation, the parents continued to own the home, and the parents did not purchase another home. This section of the old policy was replaced in the new version by the sentence: "If a student whose parents are temporarily moving out of their primary residence for a period of less than a year, the parents must contract the District Registrar for appropriate procedures and protocols."
In the new policy, the clause that permitted children who lived with relatives, another Scarsdale family or foster parents to attend the schools if the Scarsdale caregivers were given full custody has been deleted. However, Regulation #5152-R, which details verification and investigation of pupil addresses, seems to address some of the issues in the deleted section, as there is a provision in the Regulation for guardians to provide documentation of custody.
Lee Maude, a member of the Board of Education, asked Attorney Stephanie M. Roebuck of Keane and Beane to define residency in the context of the policy. Ms. Roebuck explained that residency is established when a student is living in a house in the district with a parent or guardian. She also clarified that if a student temporarily moves out of the district with an intent to return, that student is still considered a resident. However, a student is not a resident if his/her parents own a house in Scarsdale but have yet to move in to the house. Legally, she told the Board, there is no obligation to admit a student until they and their parents are living in a home in the District. Students in this situation can attend school only by paying tuition; this idea is outlined in the policy.
The question of residency of children of divorced parents was also raised. Ms. Roebuck told the Board that students whose parents are divorced are only considered residents if they spend the majority of their time -- more than 50% -- in a house in Scarsdale.
Board member Scott Silberfein questioned the placement of the second subsection, which deals with families who temporarily move out of their homes. He reasoned that placing this section under the theme of "Nonresidents" is confusing, as people who temporarily move out of their homes are still residents. Instead, he argued, it should be at the bottom of the policy or in a separate paragraph.
The board did not discuss #5152-R, which outlines the implementation of the new policy, and did not vote to accept this policy. Presumably it will be modified and considered at a later meeting.