Scarsdale Forum Releases Results of Survey on Education Topics to be Studied
Details

Category: On Our Radar
Published on

05 July 2017

Written by

Joanne Wallenstein

The Scarsdale Forum has released the results from a village wide survey conducted by the Forum's Education Committee. The purpose of the survey was to solicit Scarsdale residents' opinions on what topics the Education Committee should research and report upon during 2017-2018. According to Education Committee Co-Chair Mayra Kirkendall-Rodríguez, "The members of the Education Committee really wanted to reach out to as many residents throughout Scarsdale to engage them in determining what our community's education priorities are and to guide our committee in writing research reports relevant to the whole Scarsdale community."
126 respondents from all five neighborhoods ranked 12 topics in order of their priority. The Need for a Long-Term Financial Plan and Program Evaluation Process and Metrics ranked 1 and 2, respectively. Over 30% of all respondents ranked the previously mentioned topics as their first choice, and 20% of the respondents had those two topics as their second choice. Financial Literacy and Community Design Initiative: Involving All Stakeholder in Designing Education Goals tied for third place. Less than 15% of the respondents chose any other topic as their top choice.
Respondents ranked how additional minutes added to the curriculum should be utilized as their fourth priority. That topic scored just a few points below the third choice topics. Market trends in teacher recruitment ranked fifth. The topic of least interest to respondents answering the survey were the new rules on residency requirements.
Here are the results:
The Need for a Long-Term Financial Plan (10.80)

Program Evaluation Process and Metrics (10.64)

Financial Literacy (8.39)

Community Design Initiative: How can all stakeholders in Scarsdale participate jointly in designing important education goals and objectives (8.39)

How should additional minutes added to the curriculum be utilized? (8.09)

Teacher recruitment market trends and strategies (7.90)

Indirect (not in the classroom) vs. Direct(classroom) staff evolution and trends (7.88)

Ties between the Village and School. (7.60)

Facilities usage for non-education community initiatives (6.76)

Pushing the junior and senior year curriculum to begin with equal rigor earlier in high school (6.34)

Should the school consider developing how to create effective online and blended courses? (5.85)

New rules on residency requirements (2.0)
According to Education Committee Co-Chair Carlos Ramírez, "The Committee distributed the survey widely to Scarsdale Forum members and the broader Scarsdale community several times through Scarsdale based Facebook sites, neighborhood associations, local Scarsdale media, and personal email distribution lists." According to Kirkendall-Rodríguez, "we focused on distributing the survey through multiple means precisely to achieve random sampling."
126 individuals from all five neighborhoods filled out the survey. 64% of the respondents were female and 36% were male. 80% of the respondents were not members of the Education Committee. 56% of respondents have children in Scarsdale schools, and 44% do not have children enrolled in Scarsdale. Of the respondents who stated that they did not have children in the school districts, the majority had children who graduated from Scarsdale schools, and a smaller group had children either in pre-school or in private school. Of the respondents who have children in schools, 72% had at least one child in an elementary school, 32% had at least one child in the middle school, and 31% had at least one child in the high school.
Question #8 asked respondents an open ended question, 'Do you have any other topic suggestions that were not included in Question 7?' 46% of the respondents answered question 8 with additional comments or recommendations about numerous topics that they are interested in including communication with the school district, needing a framework to compare Scarsdale schools with other schools, facilities renovation, improving math and science offerings before high school, and teacher tenure.
The Education Committee will be exploring the Scarsdale community's educational values and priorities in more depth via focus groups on September 13, 2017 at a public Scarsdale Forum event. Ramírez "encourages all residents of Scarsdale and the Mamaroneck Strip to attend the event and have their voices heard."
The full report can be found by clicking on this link.
Questions about the survey and the analysis may be directed to Mayra Kirkendall-Rodríguez at ScarsdaleMayra@Yahoo.com.
Tennis News
Details

Category: On Our Radar
Published on

28 June 2017

Written by

Joanne Wallenstein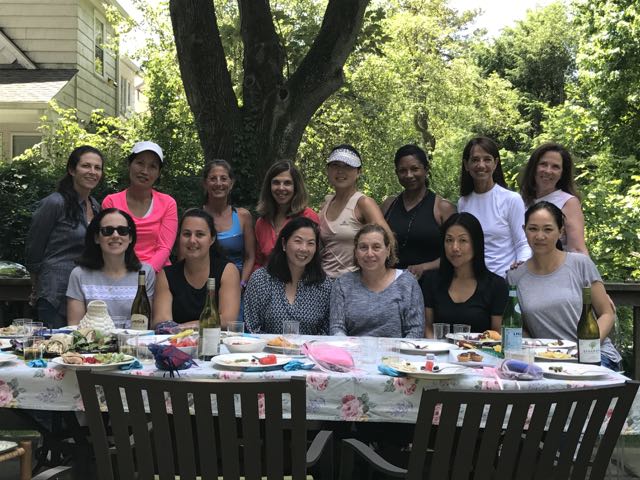 The Scarsdale Women's Tennis A(2) team celebrated the end of a successful season with an outdoor lunch on Tuesday June 27. Captained by Susan Groner and Yuko Kuriyama-Hu, the team played highly competitive matches against some of the toughest teams in the county, include Scarsdale's A(1) team.
Pictured above are:
Top row, left to right: Lori Abrams, Hyun Heffner, Pam Rubin, Joanne Wallenstein, Jiyon Lee, Charlotte Carr, Mary Bracken and Anne Moretti
Bottom row, left to right: Lisa Nelson, Paulina Schwartz, Yuko Kuriyama-Hu, Susan Groner, Megumi Shuler and Naomi Proctor
Also on the team, Marlene Buchwald, Helen Kyriak, Cynthia Roberts, Debbie, Singer, Pat Simmermacher and Simone Wiener.
Scarsdale Summer Youth Tennis League:
Sign ups are now being accepted for the Scarsdale Summer Youth Tennis League 33rd season organized by New York Junior Tennis and Learning - Scarsdale Chapter and the Scarsdale Recreation Department for boys and girls between the ages of 6 and 18.
The program begins Monday, July 10 at the Middle School Tennis Courts with round robin matches on weekday evenings between 6 and 8 PM and will continue for 4 weeks into early August. Players can chose to play one or two hours per night.
Youth players can get 32 hours of tennis over four weeks for the registration sum of $50. Every player receives a participation trophy and a Scarsdale NYJTL T-shirt. The program concludes with a tennis tournament and a pizza and ice cream party.
Tennis matches will be held for all skill levels using ping pong scoring, including beginner, novice, intermediate and advanced. The Summer Youth Tennis League will build on the successful Recreation Department Spring Short Court Tennis Program.
Youth and parents interested in the Summer Youth Tennis League should contact Bob Harrison, volunteer Director of the League at 914 646-4054 or by email at proscars@aol.com. Applications can be picked up at the recreation Department at Village Hall or printed at the village web site at scarsdale.com/recreation.
Maroon and White Celebrates SHS Seniors
Details

Category: On Our Radar
Published on

12 June 2017

Written by

Emmeline Berridge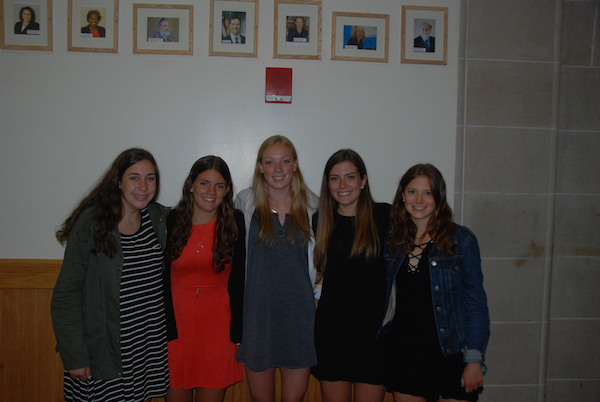 At the close of every season, Scarsdale's parent run sports organization, Maroon and White, celebrates the accomplishments of Raider teams through their sports awards dinner. While the dinners in the fall and winter exclusively highlight the achievements of the teams of each respective season, the end of the year dinner includes awards for both the spring teams and athletes of all seasons. As this is the last sports event to honor the graduating seniors, a large awards ceremony is held to recognize their accomplishments. All awards are given to Senior athletes that display admirable qualities on and off the field.

Girl's Lacrosse (Photo Above)
They started the season 2-6, yet the Girl's Varsity Lacrosse team made it to the Section Semifinals, falling to the eventual Section 1 Champion North Rockland. It is easy to see that the team experienced an eventful season. Captain and All Section defender Emma Coleman noted that beating both Somers and Yorktown, two powerhouse lacrosse programs, for the first time in her career were the highlights of her season. Captain Attacker Jilly Mehlman echoed this highlight, adding that the win over Yorktown was her favorite moment of the season because of the team's "energy" and because "no one expected [Scarsdale] to win the game". The Girl's Lacrosse Seniors received numerous awards during the Maroon and White Ceremony. Emma Coleman, Erin Nicholas, and Jilly Mehlman received the Iron Man Award for competing in 12 full varsity seasons at the High School. Erin Nicholas received the Peppers Award for her outstanding academic and athletic achievements, Emma Coleman received the Raider Award, given by Athletic director Ray Pappalardi, for her exquisite attitude and the example she sets for the younger players. Jilly Mehlman received the Scholar Athlete award for her academic and athletic accolades, and Angie Burns received the Mooney Award for her dedication and positive contributions to the team. Emily Brew will head to Colgate in the fall, Erin Nicholas will play field hockey at Middlebury, Emma Coleman will play lacrosse at St. Michaels, Angie Burns will enroll in Franklin and Marshall, and Jilly Mehlman will run track at Yale.

Boy's Lacrosse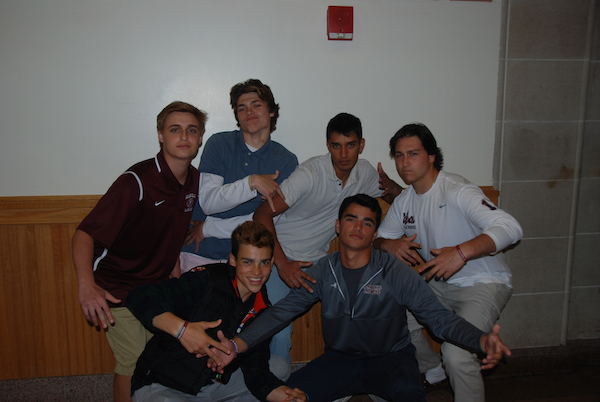 Under the new leadership of Coach James Synowiez, the Boy's Lacrosse team made an impressive run this season. The team made it to the Section Semifinals, losing by one goal scored 15 seconds before regulation play ended. This year's squad included several college commits, including Senior Alex Miller, who will play for Skidmore next year, and Sophomore Andrew Bernstein, who will play for Yale in 2020. Captain Dan Patrizio noted that his favorite moment was beating both Mamaroneck and Harrison in overtime during the regular season, mentioning that they were both "crazy games". Alex Miller was descriptive when remembering his highlight for the season, saying that his favorite memory was "standing on the back right of the field watching Andrew Bernstein put in a behind the back lefty '2 pipe' goal off of Cooper Schneider's assist to win in overtime against Mamaroneck. It's burned in my memory forever". Adam Schwall won the Raider Award for his extreme dedication to his teammates during his high school career.

Boy's Varsity Tennis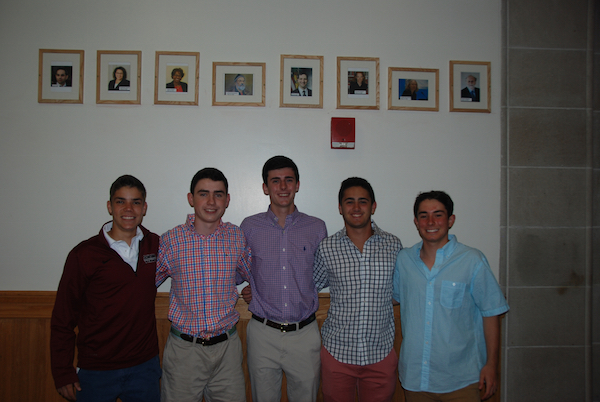 The Boy's Varsity A Tennis team experienced setbacks in the beginning of the season, largely as a result of the harsh weather conditions in March. However, the team came back and won many of their matches. Liam McPhillips said that his highlight of the season came when the team played Horace Greeley for the second time this season. "My partner Andy and I lost the first time we played them, but we got revenge and played our best match of the season and won". Rafael Schott will enroll in Colgate in the fall, Jack Brady will go to Middlebury, Liam McPhillips will go to Notre Dame, Alex Lane will go to Duke, and Andy Kaspers will attend MIT.

Boy's Varsity Baseball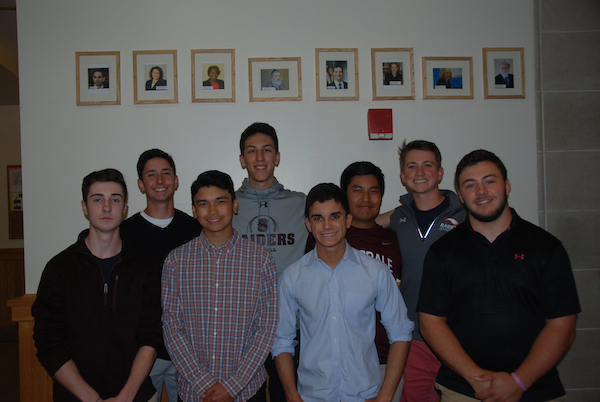 Baseball got off to a rocky start, partly due to the unfavorable weather conditions in March, which forced the team to postpone many of their games. However, the team ended up making it to the Section Semi Finals after an 0-5 start. Christian Waterhouse said that his highlight of the season was the team's first round playoff win against New Rochelle. Andrew Halperin secured the win for the Raiders with a stellar outfield catch. Halperin won an award at the Maroon and White ceremony for his academic and athletic achievements on the baseball field. Halperin will attend Harvard in the fall. Standout Senior Tyler Mandel will play baseball at the University of Buffalo in the fall.
Girl's and Boy's Track and Field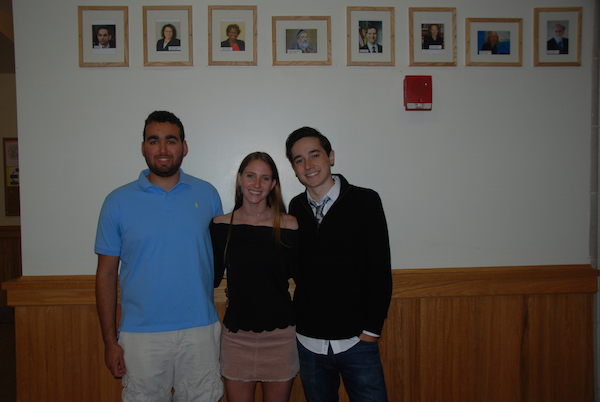 Scarsdale Track and Field is losing 2 powerhouse contributors in Kendall Bensche and Greg Crowley. Bensche will head to Harvard and continue her jumping career, while Crowley will run at Dartmouth. Kendall's highlight for the spring track season was when she left the prom halfway through, drove to Arlington an hour away, changed in the car, threw on my jersey to compete in the State qualifiers, won that, and then changed back in the car to go back to prom. Kendall noted that this was "one of the craziest and best memories. My sister was there cheering me on. Greg came in his tux and was cheering me on. My coach was going crazy, and it was something no one in Scarsdale has ever tried before". Bensche went on to win the State Championship for high jump at an impressive 5 feet 6 inches. Crowley also competed in the state meet. Bensche won an award at the Maroon and White ceremony for her excellence in academics and athletics.

Girl's Golf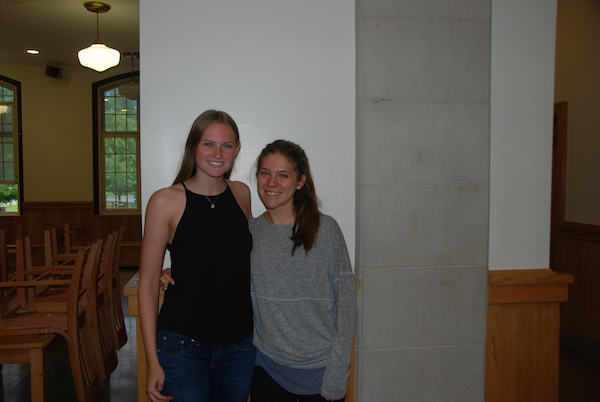 The Girl's golf team had a historic season, winning their first ever league title and sending a record number of golfers to compete in the sectional competition. Sophomore Kaitlyn Lee placed 6th in the State and. Senior Lauren Young said simply that her highlight was "winning the league championship for the first time in history". Senior Caitlin D'ambrosio had the same favorite memory.
Girl's Crew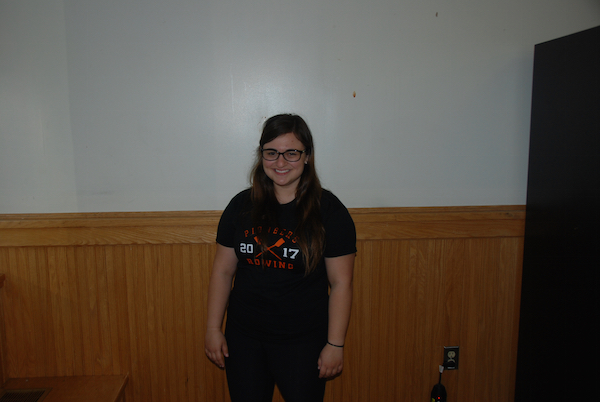 Zoe Millman, Crew's lone senior, mentioned that her highlight was "the long island championships, which was a water launch. You have go go in through the water and it was absolutely freezing. We were drenched and the boat was filled with water. It was hilarious". Millman will attend Lewis and Clark College in the fall.

Article by Emmeline Berridge, Photos by Lena Glickman
Scarsdale Resident Proposes Shopping App to Revitalize Village Business
Details

Category: On Our Radar
Published on

22 June 2017

Written by

Joanne Wallenstein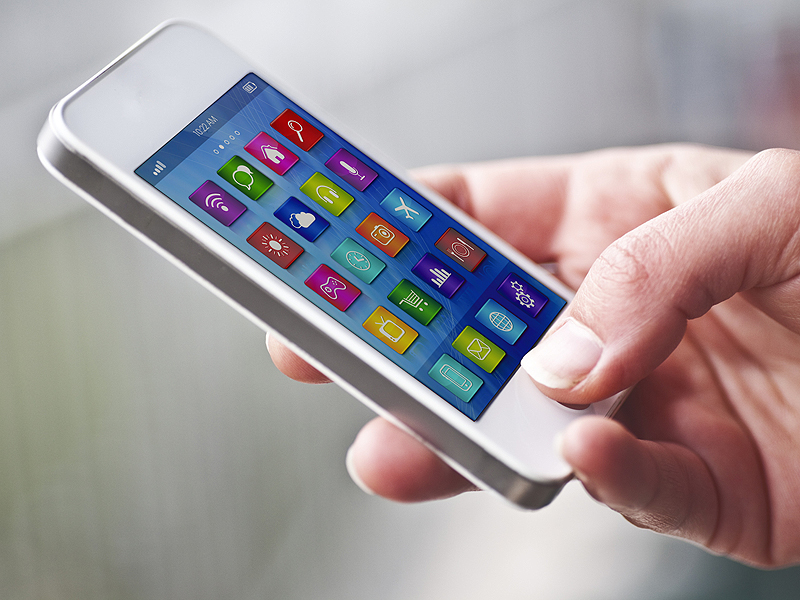 Here are remarks from Scarsdale resident Marty Rolnick, delivered at the June 13th meeting of the Scarsdale Village Board:

The number of vacant storefronts in our Village of Scarsdale recently reached a high of 15. I think that revitalizing Scarsdale is one of top priorities for us as a community. There's a strong collective effort underway by a number of citizens to solve this problem, yet we need to do much more and fast.
Just like advancements in technology can be a major cause of what looks like the impending death of retail, it can actually save retail in Scarsdale. As a philosopher, marketing lunatic and ideaholic, my craft is all about the conceiving and spreading of ideas.
Together with a technology genius, I've developed an idea for a smart phone application called Virtuous Scarsdale. It has great potential to revitalize Scarsdale.

It will satisfy the hunger of our small businesses imperative to increase foot traffic and sales, quest the thirst of Scarsdale Not-For-Profit (NFP) Organizations to maximize fundraising efforts while harnessing the passion of Scarsdale Residents who desire to make a positive difference in our community. It's a sustainable business model that will keep your hard earned money in circulation throughout our Scarsdale Community 365 days each and every year! Hence the name, Virtuous Scarsdale!

Any local merchant and NFP wanting to participate would be programmed into the user friendly, turn-key Virtuous Scarsdale App.
All Scarsdale NFP's who choose to participate will have one month to unleash the power of social media and call out to all the friends and family members of their favorite organization to spend as much money as possible for the goods and services of the participating small businesses of Scarsdale.
A Virtuous Scarsdale App Leadership Committee would be formed representing Scarsdale Village Government, 501 C3 clearing house, Scarsdale local merchants, Scarsdale NFP organizations, Scarsdale residents, Scarsdale village landlords. This committee will decide the particular month in which each NFP will participate. The goal is to space out equally over the year all the NFP's month of fundraising so there will be consistent and significant foot traffic every day, 12 months a year throughout the village.
Here's how it works:
First, the Virtuous Scarsdale App needs to be downloaded.

After a shopper makes his/her purchase at a participating downtown merchant, she opens the app, searches and clicks on that merchant, then does the same for their favorite NFP, enters the purchase total and then takes a picture of the receipt. When she clicks 'submit,' 10% (or whatever % the business decides) of that purchase is immediately designated for her chosen NFP.
All this data would be seamlessly pooled to a designated 501 C3 organization like Scarsdale resident Jane Veron's TAP. Because it is also a 501(c) (3), the 10% (or x%) that is sent by the merchant may qualify for a tax-write off.
In addition, another benefit of the transactions generated from the Virtuous Scarsdale App would result in the acquisition of real time data that could be used to help our business community grow.

TAP or a similar 501C3 organization could also become the village's de facto marketing resource available for all Scarsdale merchants. It would provide expertise in advertising, email and promotional campaigns, exterior signage and more. Wouldn't that be a good value added incentive to attract potential businesses to our community?
Through the power of technology, the Scarsdale Virtuous App will be programmed to send out monthly invoices for reconciliation, auto debit the funds from the merchant's accounts and deposit the funds raised directly into the NFP accounts.

The Virtuous Scarsdale App will allow all stakeholders to have real time access to all transactions. Each stakeholder will have a dashboard along with a user id and password to access the data.
It's a powerful tool for both the economy and the ecology of our community.

A recent empty nester, I've been a proud resident of over 17 years in Scarsdale and have experienced the incredible generosity of our community. Together with my wife Marguerite, we raised three wonderful children who were fortunate to graduate and benefit from the amazing Scarsdale School system. I love living in Scarsdale.
And it's because of this I want to give back!
The price to develop the Virtuous Scarsdale App would require only a $12,000 investment with a $250 monthly hosting and maintenance fee after it went live. It will be owned by our community! For the record, I will not be receiving any financial benefit from the application. I would like this to be my contribution to the Scarsdale community.
I'd welcome any thoughts and help to move this idea from conception to execution. Living with the Virtuous Scarsdale App will revitalize our downtown and will benefit us all.

Thank you!
Marty Rolnick
113 Lee Road
martyrolnick@gmail.com
914-462-1412
Greenacres Movie Night
Details

Category: On Our Radar
Published on

05 June 2017

Written by

Joanne Wallenstein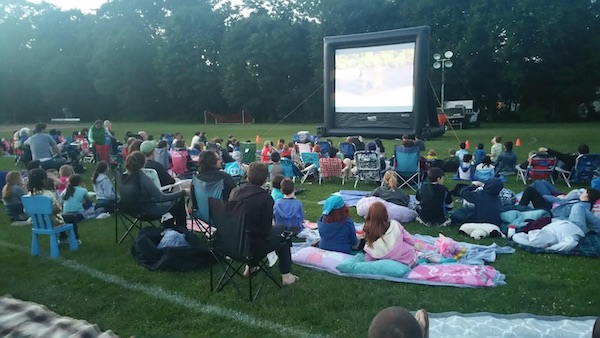 The Greenacres Neighborhood Association hosted their first ever outdoor movie night on the Greenacres field on Saturday night June 4th. Over 200 parents, kids and even empty nesters brought lawn chairs and blankets to the field to watch Disney's Moana. A fun night for all -- and hopefully the beginning of a new tradition.

Andrew Sereysky, President of the Greenacres Neighborhood Association said, "This was our first GNA Movie Night! We had more than 200 people come out on the beautiful June evening to enjoy the movie under the stars. We are grateful to the Scarsdale Village Department of Public Works who supplied power and lighting that made the event possible.
It's GNA social events like the outdoor movie, our July 4th celebration and fall pancake breakfast that provide an opportunity for all our neighbors to come together and contribute to making our community a terrific place to live and raise families."