School Budget Vote Today: Tuesday May 16
Details

Category: On Our Radar
Published on

09 May 2017

Written by

Joanne Wallenstein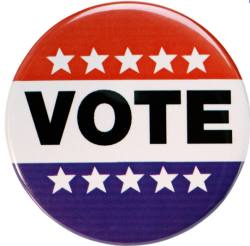 Though you may have heard little about the proposed 2017-18 budget for the Scarsdale Schools, the vote will be held next Tuesday, May 16 at Scarsdale Middle School from 7 am to 9 pm. In addition to deciding on the budget, voters will also be asked to approve the re-nominations of Chris Morin and Scott Silberfein, two school board members who were selected to serve additional three years terms on the school board. As the proposed increase in the budget is beneath the adjusted state tax cap, only a 50% approval vote is needed to pass the budget.
The proposed budget is $153,690,765, a budget-to-budget increase of 2.15% over 2016-17. This amount is reduced by state aid, use of surplus funds and other receipts to arrive at a tax levy of $141,490,126 which will translate to a 2.76% tax increase for Scarsdale residents and a decrease of 8.4% for those in the Mamaroneck strip.
Though the budget adds quite a few staff members, this increase was offset in part by savings in other areas such as a $1.8 million decrease in pension contributions, a savings in health insurance costs and use of $2.8 million in surplus funds from this year's budget to fund next year.
Here's a list of the additional district staffing for the 2017-18 school year:
2.5 elementary school reading specialists

.5 elementary learning resource teacher

.4 Mandarin teachers for the zero period Mandarin classes at the middle school

1 full time pre-engineering teacher at SHS

1 full time STEAM coordinator at SHS

1 additional full time nurse at SHS

1 elementary school teacher to accommodate increased enrollment
The budget allows for over $3 million for district facilities. First, $2.124 million in surplus funds will be used to complete the projects funded in the 2014 bond referendum that includes a new learning commons, design lab and fitness center at the high school, an additional music room at the middle school, a library at Edgewood School, a multi-purpose room and entrance canopy at Heathcote, a new roof at Quaker Ridge and an overall technology upgrade. Additional funds will go towards:
Exterior Painting at Edgewood

A new playground and concrete repairs at Heathcote

Replacement of the Hampton Road stairway at Fox Meadow

Bathroom renovations at the Middle School

Removal of vinyl asbestos tile

District-wide roof repairs

District-wide technology upgrades
What's not in the budget? The question about renovations or construction of a new school at Greenacres still hangs in the balance. After community discord, Superintendent Hagerman put the conversation about renovating the existing school or building a new one on hold in the fall of 2016. Since that time he dismissed the district architects, KG&D who were retained after a lengthy search to design the projects approved in the 2014 bond referendum. In February 2017 the district retained a new firm, BBS, and the public was told that they would redo the engineering study and announce their findings soon. At the May 8, 2017 meeting, Dr. Hagerman announced that BBS would present their findings and recommendations at the May 22, 2017 board meeting with plans for a December 2017 bond referendum for district-wide capital improvements.
For the first time since 1999, the budget this year does not include an allocation for the Teen Center. After considerable debate, the board opted to cut $65,000 in funds from the 2017-18 school budget which may very well mean that the facility will close in June.
Community groups including the League of Women Voters, the Scarsdale Forum and the PT Council all made statements in favor of the proposed 2017-18 budget and encourage voters to approve it.
However, in their statement, the League noted a lack of opportunity for community input in the formulation of the budget and asked the board and school administration to consider changes in next year's process to allow for community comment early on . They said, "The League recommends that the Administration and Board find ways to engage early interest in District issues, actively seek input from stakeholders to identify the range of community sentiment, create spaces for dialogue, offer greater agency to stakeholders and build solid buy-in when needed. The League further recommends that any established Board protocols for community interaction be made publicly known."
The budget vote will be held on Tuesday May 16 from 7 am to 9 pm at the Scarsdale Middle School. To vote you must be a U.S. citizen, be 18 years old by May 16, 2017 and have lived in the district for 30 days preceding the vote. Local voter registration for the May 16 election will take place on Tuesday May 9 from 4-9 pm and Thursday May 11 from 1-5 pm in the Board of Education offices on the Brewster Road side of Scarsdale High School.
"Students for Refugees" Club Increases Refugee Crisis Awareness
Details

Category: On Our Radar
Published on

02 May 2017

Written by

Melissa Attar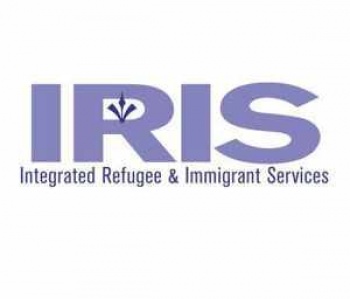 Politicians and the media have thrown around phrases like "extreme vetting" recently, but these groups have done little to explain what that means. Additionally, despite the over 65 million people displaced from their homes during what the UN has called the "highest level of displacement on record," little has been done to put a human face to the problem. Fear mongering and a lack of education have thwarted efforts to accept and settle refugees.

Enter Scarsdale High School's "Students for Refugees" club (SFR). Two years ago, SHS social studies teacher Ms. Maggie Favretti created a cultural and historical exchange program with a school in Germany, a country that has accepted over a million refugees since the beginning of 2015. The students from SHS and Heidelberg, Germany met with refugees and local resettlement organizations. Moved by what they learned, the students created a bi-continental club to help refugees. Since then, Ms. Favretti has taken a second group of SHS students to Heidelberg and is starting to gather interested students for an exchange next year. Also, SFR has spread to other high schools and is beginning to expand to colleges. Its mission is to help refugees through community education, fundraising, and advocacy.

On Friday, April 27, SFR hosted a meeting open to the community to further its mission. Club members described how their organization was founded, its goals and how those goals evolved in light of recent executive orders, and its fundraising.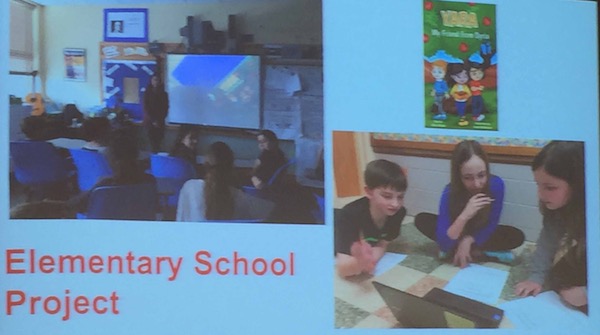 Then, SHS junior Hannah Schmelkin described some of the work she has done to educate younger students about refugees. For example, she recently visited a fifth grade class at Quaker Ridge and presented an age-appropriate curriculum educating students about the refugee experience in America. As part of her visit to the elementary school, she read the students Yara: My Friend from Syria, a children's book about a Syrian refugee. The fifth graders later read the book to the third graders, further spreading its message.

Then, SFR introduced Mr. Chris George, executive director of IRIS (Integrated Refugee and Immigration Services), a large nonprofit agency in Connecticut that helps settle refugees who have been accepted into the United States. Mr. George gave an extensive and extremely informative lecture discussing the process a family might go through from becoming displaced persons (among over 65 million forced from their homes due to persecution and/or extremely unsafe conditions), to refugees (among the 21 million of the displaced who are able to flee their home country), to residents of a refugee camp such as the United Nations-run Zaatari refugee camp in Jordan, to families in the camp lucky enough to be selected to be screened for potential refugee status by the United States government.

Exhausting as that process is for an already overwhelmed family, it is just the beginning of the United States refugee vetting process, which for Syrian refugees takes a minimum of eighteen months to two years and beyond. During that time refugees continue to live in overcrowded and potentially dangerous camps, often with no access to education for the children and inadequate food. First, representatives from the United States visit the camp to interview the "most vulnerable families," of those who have applied, selecting those who are in the most precarious situations rather than those who would be the most desirable immigrants. Then, after an approximately three hour long interview, the family waits several months while their answers are verified. If accepted to the next stage, potential families are subjected to a longer, more aggressive questioning by the United States Department of Homeland Security, which is followed by a six to seven month waiting period. During this time, the United State government verifies claims by interviewing witnesses, checking various types of documents varying from requests such as the proof of employment in the form of invoices from a bakery that an interviewee claimed to run, to diplomas, to official documents, photographs, and other methods of verification such as iris scans or DNA tests.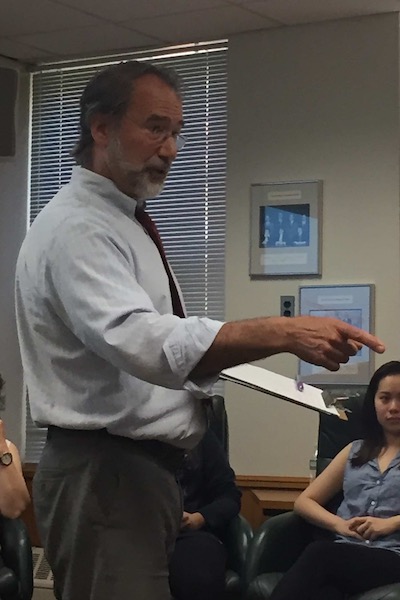 They also look for evidence to determine whether the family has given any aid whatsoever to terrorist forces, which of course automatically excludes them from acceptance into the program. If a family passes this extremely rigorous screening, they are then given a health screening. After a successful screening, the family is granted United States refugee status, a status granted to nearly 85,000 persons in 2016.

At that point, if the family does not have relatives in the United States, they are randomly assigned the state to which they will relocate. The family then must pay for or sign a promissory note agreeing to pay for the cost of the airfare to the United States. If the family is assigned to relocate to Connecticut, there is a good chance that IRIS will be assigned to help with their resettlement. With as little as two weeks' notice, Mr. George's nonprofit organization, which is funded from both federal and private sources, will set up an apartment for the family with furniture and food. They meet with the newly arrived family and provide them with warm clothing, car seats, or other immediate needs. Then, within two hours of their arrival in the United States, the government mandates they are given "a culturally appropriate hot meal" to welcome them to our country.

The road thereafter is hard but workable. Resettlement agencies help refugees find entry level jobs, enroll children in schools, and connect them with medical providers to take care of their physical and mental health needs. Many refugees have experienced very traumatic events and resettlement agencies work with people such as Arabic-speaking psychiatrists who can help them process their past experiences as they adjust to their new lives. Refugees are expected to pay their rent and integrate into society. According to Mr. George, "the prime directive in resettlement is to help refugees gain control over their lives through self-sufficiency." His agency does a great deal to help them get there.

After Mr. George's presentation, Westchester Refugee Task Force co-founder Ms. Mary Refling announced that the Syrian refugee scheduled to speak was unable to attend the meeting due to a miscommunication. She then showed a video called "Sana's Story" which follows a 24-year old Syrian refugee living in New York, available online here.

SFR is looking not only to expand its membership but also to raise money to help educate refugees who often spend years without the opportunity to go to school. Details can be found on Ms. Favretti's Schoolwires page, here.

Man Struck by Train at Hartsdale Station
Details

Category: On Our Radar
Published on

21 April 2017

Written by

Joanne Wallenstein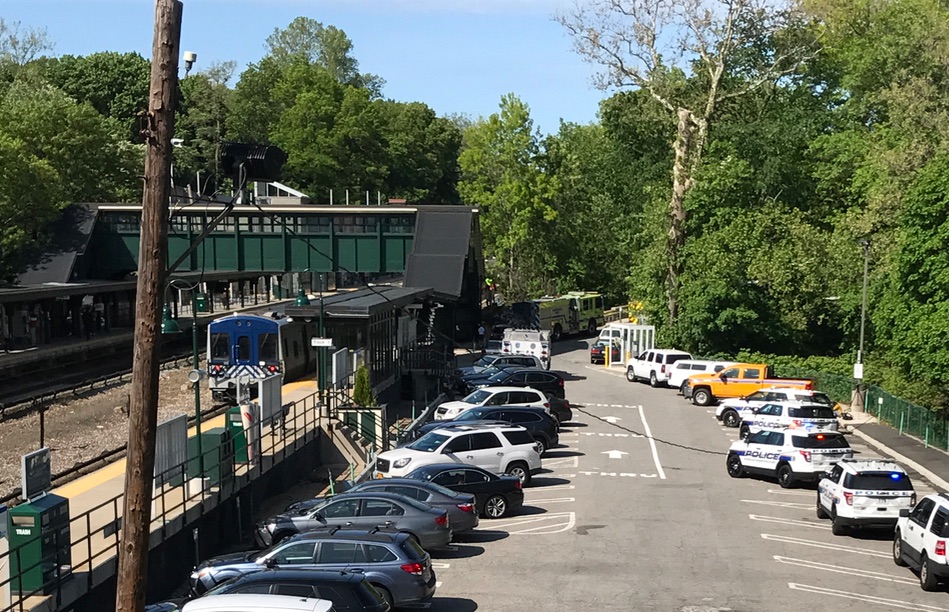 Metro North Railway has confirmed that a "male trespasser" was hit by a northbound train just north of Hartsdale Station on Sunday afternoon May 21 at 2:24 pm. The train was passing through Hartsdale station without stopping. Police have currently closed the parking area on the east side of the tracks and appear to be in the process of removing the body from the track and conducting an investigation.
As of 4:38 pm one track at the station was closed. However, north and southbound trains are using a single track. There are 10-15 minute delays.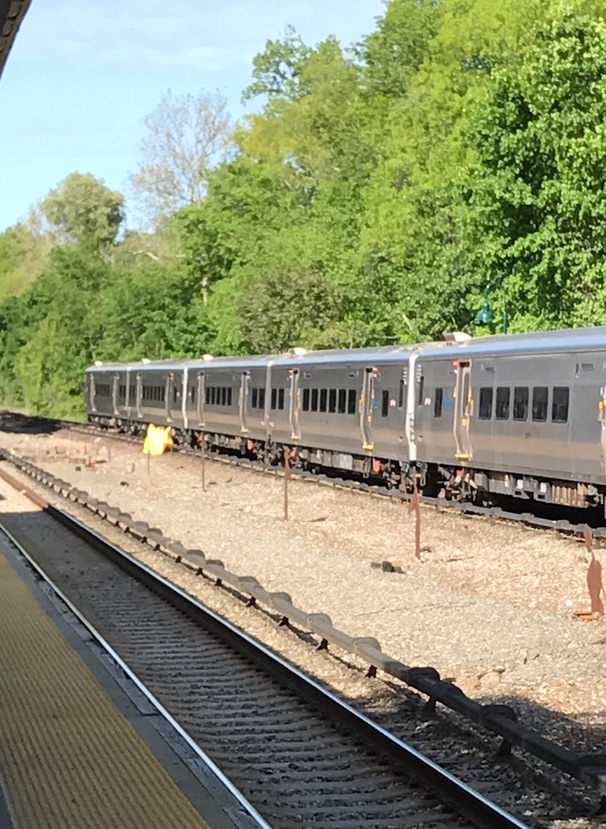 MTA Press Officer Sham Tarek could not confirm what time the track would re-open. He said that investigations usually take 24-48 hours. At this point the cause of the accident and the identity of the victim are unknown.
13 Reasons Why in 2 Days
Details

Category: On Our Radar
Published on

26 April 2017

Written by

Julie Rosenblatt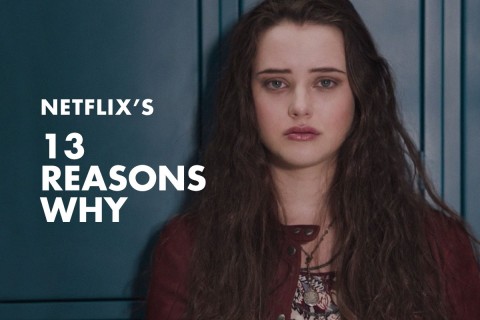 I just spent the last two rainy days watching the entire series of " 13 Reasons Why" on Netflix.
It's intriguing, frustrating, very dark, and yet... highly entertaining!
Wouldn't recording a shoe box full of A and B side audio tapes that place the blame on 13 others for one's suicide contribute to signs of psychopathic behavior ... not to mention being excessively time consuming? I ask because all the while Hannah, the suicidal character, shows no signs of distress, withdrawal from high school party life or her parents, or even a lapse in great hair and make up.
Not only that, but frankly, Hannah is confronted with solid opportunities to confidentially emote to a great friend in addition to her school psychologist, but instead, she makes the choice to withhold all the physical and emotional stuff that's contributing to her depression. She instead remains calm, cool and collected as she continues to record her" blame tapes" and travel her narcissistic path to suicide. How annoying and frustrating, yet incredibly suspenseful and yes. ... admittedly fun to watch!
In my opinion the series isn't really taboo for teens and some tweens to watch aside from three minutes each in episodes 12 and 13 because each of those episodes contain the scenes that are most disturbing.
My 11 year-old has recently informed me that she's on episode seven so I thought I'd head her off at the pass, which is the real reason I've holed myself up in my home office watching this series for the past two days. That being said, I now have the insight to disallow her to watch episodes 12 and 13, at least without me by her side to cover her eyes and maybe even my own.
The characters in this series are supposed to be high school students, but in my opinion are way more mature in behavior and far more collegiate in mentality. But in the casts' defense it all works well because the show is very well acted and the screenplay is unique in subject matter even if it was a book first.
In the end, I think it makes for a really great conversation piece, not just with my kids, but also with my friends, all whom I consider to be trustworthy in a hot tub.
Fox Meadow Tennis Club Welcomes New Pro
Details

Category: On Our Radar
Published on

17 April 2017

Written by

Joanne Wallenstein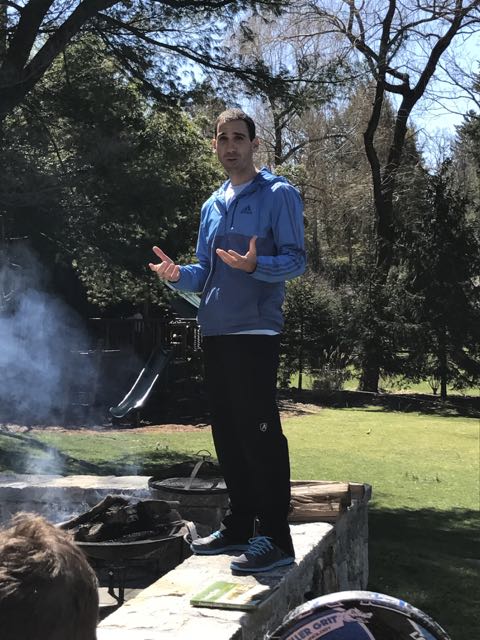 Fox Meadow Tennis Club on Wayside Lane recently announced that Pavle Jefferson, a 1998 graduate of Scarsdale High School has joined the club as the new Director of Racquet Sports. Jefferson replaced Gary Squires who recently resigned after 15 years at Fox Meadow. We interviewd Pavle to learn more about his background and plans for the club, and here is what he shared:
We hear you are a Scarsdale native. How many years did you live here, and where did you go to school? Who was your high school coach and what do you remember about playing on the team?
I moved to Scarsdale as a sophomore in high school. After graduation, I attended Columbia University and my parents stayed in Scarsdale for another two years, which effectively made Scarsdale "home" for five years. I had two excellent coaches at Scarsdale High School: Joel Katz, may he rest in peace, and Jack Kaminer. They were fantastic to work with and taught me a great deal about teamwork in a sport that is predominantly individual at the junior competitive level. Playing on the SHS tennis team was a great overall experience for me; as a newcomer to Scarsdale, it immediately offered a social circle and a way for me to integrate into the school system in a rewarding manner.
Which teachers, if any had an influence on you?
I can't think of any teacher that didn't have a positive influence on my experience at SHS. However, two teachers that stand out in my memory are David Greene and Rashid Silvera. I took public policy with David Greene and was impacted by his real-life case study assignments. For example, in order to understand the effects of public policy on diverse populations, he would ask his students to assume the role of a particular individual, whether that individual was the CEO of a Fortune 500 company, or a single parent working two jobs with three children in college. His assignments challenged me and my classmates to think beyond ourselves to grasp the significance of public policy initiatives. I never had a class with Rashid, but I will never forget his exuberance and kindness each time I passed him in the hallways. For a young, impressionable kid, a smile and a helping hand can go a long way, and Rashid was never short on extending those courtesies. For me, it highlighted the importance of taking the extra effort to relate to people.
Where did you go to college and did you play there as well?
I played singles and doubles for the Columbia University varsity tennis team for all four years. During my sophomore and junior years, we won the Ivy League Conference, which qualified us for the NCAA nationals and enabled us to travel the country and compete against the top teams in the nation. It was an exhilarating experience. During my senior year, I was elected team captain by my teammates, an honor that I cherish to this day.
What have you done in the intervening years?
My path to coaching was a circuitous one. I started playing tennis competitively at the age of 8, and trained rigorously all the way through my college years. After college, I wanted to pursue other interests and dabbled in finance, music, and international relations. However, somehow I kept getting drawn back to the tennis courts. After a few key events, including helping Shahar Peer (world ranked no.15 at the time) at the 2006 US Open and being a part of the coaching staff for Duke's Women's Tennis 2009 NCAA Championship team, I decided that I wanted to pursue tennis coaching as a career. After working with Duke, I coached at University of Pennsylvania and Harvard. I then took the Head Tennis and Paddle Pro position at Bronxville Field Club. Finally, before coming to Fox Meadow Tennis Club, I worked as Director of Tennis at Edgewood Country Club.
What is your role and what are your responsibilities at Fox Meadow Tennis Club?
I am the Director of Racquets at FMTC and will be managing the daily activities of the tennis and platform tennis programs at the club, as well as promoting both sports through events, tournaments and other social activities for members and their guests.
What are your plans for the club – what would you like to do?
My plan is to create an exciting environment for members and their guests to enjoy tennis and platform tennis by offering dynamic programming for players of all ages and levels of skill. Entering the tennis season, I am excited to bring energy to the courts with a stellar teaching staff and with an ambitious curriculum of instruction. One of my priorities will be to expand the junior tennis program and bring new faces to the sport. I have a strong passion for player development, and it is particularly rewarding to work with players at the beginning stages of the game and see them grow into lifelong tennis fans. Looking ahead to the paddle season, FMTC has a best in class facility for the sport, and I am eager to implement programming to utilize the club in a way that enhances the member experience and reflects the rich history of paddle at FMTC.
In your eyes, what is unique about the club and what does it have to offer its members?
FMTC feels like a family; there is a true sense of community at the club, and every member pitches in to make it feel like home. The physical space itself is in harmony with the intimate culture that exists at the club; the facility can be taken in at one glance and encourages social interaction by virtue of its layout. Members take ownership of the space and go above and beyond to ensure the club is well kept. That hands-on approach separates FMTC from a lot of other clubs, and helps maintain its close-knit environment. From a historical perspective, FMTC is special because it was the first club to build a platform tennis court and offer it as a sport to members. That historical context inspires members to this day and is reflected by enthusiastic and robust participation in the paddle months. Ultimately, FMTC offers members a warm, social atmosphere where they can come together with friends and family to share their passion for two awesome racquet sports.
About Fox Meadow Tennis Club
Founded in 1883, Fox Meadow Tennis Club (FMTC) has long been a distinguished part of the Scarsdale landscape. Platform tennis or 'paddle,' as it is affectionately known today, was invented in Scarsdale in 1928. In 1931, Fox Meadow built the first club court in the country. Today, it's estimated that there are more than 55,000 active players in the United States. More national championships have been held on their courts than at any other location and Fox Meadow members have won more national titles than any other club.

Fox Meadow has six Har- Tru tennis courts and nine heated paddle tennis courts, including four that are lit for night play. The clubhouse offers members a comfortable place to relax before and after matches, and a terrific place to view the tennis and paddle activities. As well, there are shower and kitchen facilities and the clubhouse can be rented to both members and non-members for private parties.