Assistant Superintendent Mattey Answers Questions About Proposed Building Plans
Details

Category: On Our Radar
Published on

31 May 2017

Written by

Joanne Wallenstein
W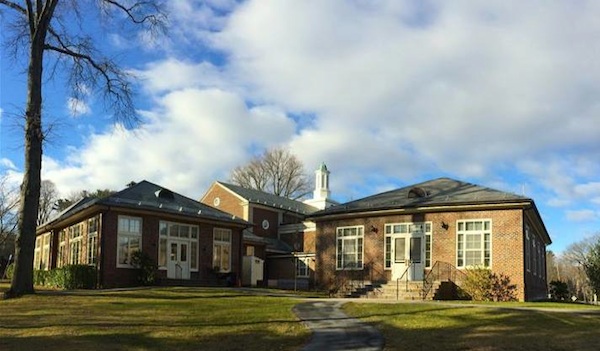 e had many questions about the proposal from district architects BBS for district wide building renovations. We sent an email to Scarsdale Assistant Superintendent Stuart Mattey and here is his reponse:
(Q) School Board President Lee Maude brought up the issue of air quality at Greenacres and we were told that the district does air quality checks and they were acceptable. Can you please forward me the last three years of reports?
(A) The District responds to any concerns that a District staff member may have in regards to air quality in their buildings. Last year we checked multiple rooms at Greenacres. We will be putting these reports up on the website in the near future.
(Q) I believe that BBS said that the new portions of Greenacres would be air conditioned. Can you provide more details on how the air quality issues in the remaining rooms would be handled – what would be done to the classrooms ... and the gym?
(A) Greenacres, unlike Edgewood and Fox Meadow, actually has room ventilation at the current time through the use of unit ventilators. As these UVs are getting older the current proposal would have them removed and replaced with new.
(Q) The former engineers indicated that in order to be brought up to code the fans would be too loud and make it difficult to hear the teachers. Please explain how this would be addressed.
(A) Unit ventilators are commonly installed into classrooms and do not propose a significant noise issue. We currently have unit ventilators in numerous rooms across the District.
(Q) Will the water and sanitary pipes be replaced? As you know there have been pipe failures and lead has been found in the drinking water.
(A) Piping would be replaced if their condition warrants their replacement. Regarding water quality - At all buildings, water studies were performed last Spring on all water fountains and sinks that could commonly be used as a drinking source. There were no instances of lead in the water above EPA thresholds at Greenacres. There were 12 however in other district locations of which 2 were drinking fountains.
Further testing was performed in the fall on all other non-traditional sources of drinking water (mostly sink faucets). Of those sinks tested at GA, six failed. There were 63 other sinks across the District that also were above threshold.
All of these sinks and fountains have had lead water filters installed and have been retested. All of these locations are now below identified threshold levels. In addition, all lead filters across the District are replaced every 6 months per manufacturer recommendation. The water reports referenced above can be found on the District website here.
(Q) In the basement of Greenacres, BBS indicated that commercial dehumidifiers would be needed to remediate the moisture. Is that a long term or short term solution?
(A) As mentioned at the meeting, the use of commercial dehumidifiers in buildings is not unusual and would be part of a long term solution.
(Q) We understand that the Greenacres faculty gave a presentation on their thoughts on Greenacres last year. Can you forward that to me to review?
(A) I am not aware of any presentation.
(Q) Residents have asked for a financial projection of the costs for a new school vs. a renovation of the Greenacres school including financing, and projections on eventually replacing the boiler, roof, windows and wiring. Will this be provided?
(A) There has been no discussion of that at this time.
(Q) Have the architects provided any renderings of examples of the learning commons/cafeterias they are proposing? If so, please share.
(A) We are in the early stages of a design process that will have many iterations leading up to the bond vote. As these ideas develop and move to the next step more details will also be developed
Promposals 2017
Details

Category: On Our Radar
Published on

17 May 2017

Written by

Zoe Frishberg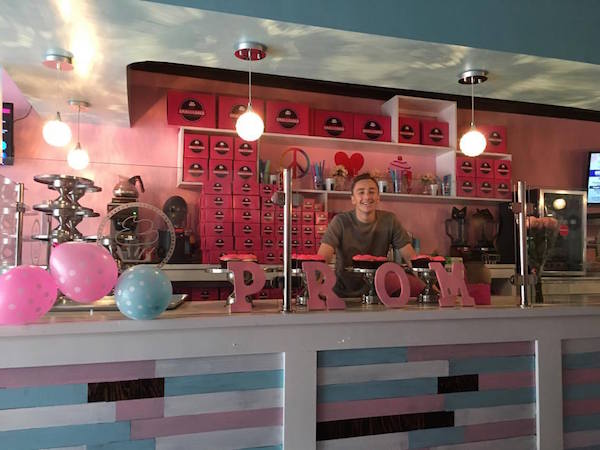 As senior year draws to a close, prom season begins. And with the arrival of prom season arrives the annual tradition of prom proposals, or "Promposals"! Every year the students of Scarsdale High School create elaborate schemes to ask their dates to the big night on June 1st. These over the top asks involve balloons, candles, flowers, cupcakes, and customized signs. Here are just a few of the promposals that have taken place across Scarsdale over the last few weeks.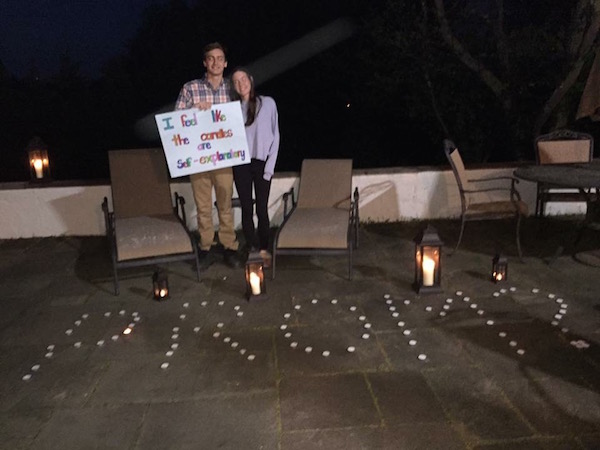 Christina Siekierski was asked to prom by Thomas Jacobson using candles. Christina was relaxing at home when she was instructed to go out to her patio. When she opened the door and walked down the stairs, her friends and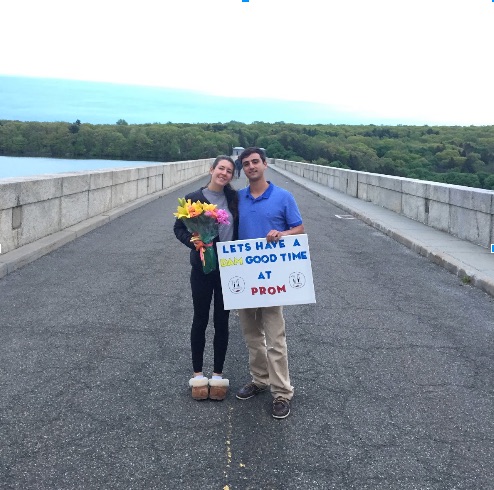 Thomas's friends lined the walkway. Thomas Thomas was waiting for her on her patio with "PROM?" spelled out in candles and a sign that read "I feel like the candles are self explanatory".

Carolina Siekierski was asked to prom by her boyfriend Jack Ifrah at the Kensico Dam. The day started with Carolina attending free cone day at Haagen Dagz with her sister. Then, her sister told her they were going to Kensico Dam. Kensico Dam is a frequent date spot for Carolina and her boy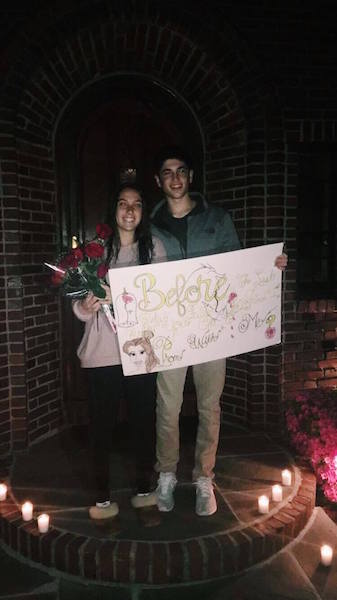 friend so she said she suspected that her promposal was coming. Sure enough, when they arrived at the top of the dam Jack and a bunch of Carolina's friends were waiting with balloons, flowers, and a sign that read "Let's have a dam good time at prom". Carolina described her promposal as "exciting, scenic, and overall perfect"
Kyle Stern asked Carolina Stainfeld to prom using a Beauty and the Beast themed promposal. Carolina loves Disney and says her favorite princess is Belle, so the promposal was a fairytale fit. Carolina arrived at her house to find her friends creating a pathway to the door and Beauty and the Beast music playing. As she walked through the candlelit pathway each friend handed her a rose. When she got to the end her date held a bouquet of roses and a sign that read "Before the last petal falls on June 1st will you go to prom with me?"
Griffin Elkin's promposal to Liza Brecker's was pretty sweet! Liza is doing her Senior Options at Smallcakes Bakery. When she walked into work one day all of her friends were in the shop. There were balloons lining the walls and music playing. Griffin was behind the counter with a bouquet, large pink "PROM" letters, along with a question mark cupcake.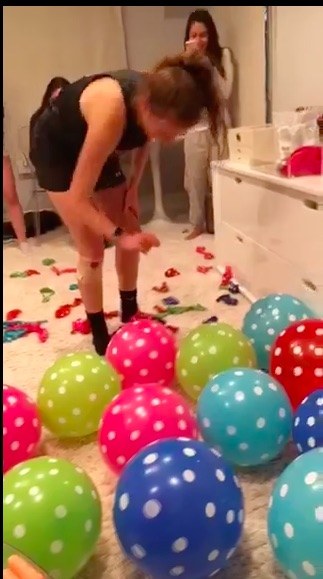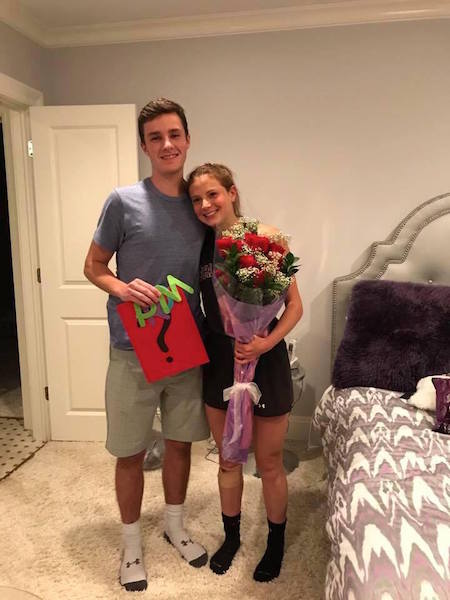 Max Bosco asked Jilly Mehlman to prom using balloons and lots of creativity. When Jilly came home from her lacrosse game she arrived to candles lighting up a path to her bedroom. When she opened her bedroom door she was surprised to find her friends sitting around the room, with balloons covering the floor. On her bedroom door hung a sign that said "Here's a needle, pop all the balloons and put the pieces together". As Jilly popped all of the balloons on her floor, some of them had the letters to spell out "PROM" inside of them. Once she found the last letter, Max came into the room with flowers and "popped" the question!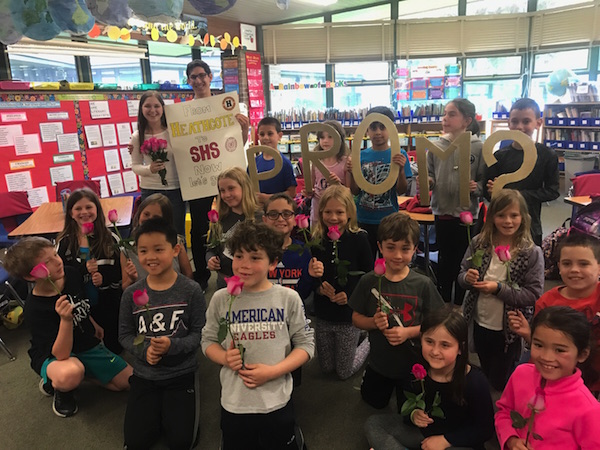 Kyle Koslowsky asked Annie Cohen to prom using a Heathcote Elementary School class. Annie is doing her senior options at Heathcote with a class of students. When Annie arrived to work one day each student was holding a pink rose. Kyle stood behind them with a sign reading "From Heathcote to SHS now let's go to..." 5 Heathcote students next to him held large gold letters spelling "PROM?"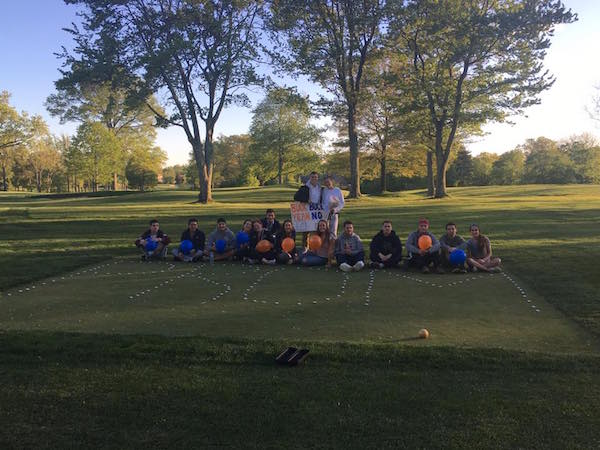 Caitlin D'Ambrosio was asked by Raf Schott surrounded by all their friends. Caitlin was returning home from an exercise class when her friends asked her if she wanted to pick up food. On the way, one of the friends requested that they stop at her house to pick up a sweatshirt. When the girls walked to the backyard, Caitlin quickly realized the actual purpose of the detour. Caitlin and Raf's friends were standing in the back yard with balloons, in front of candles spelling out "Prom?" Raf held a sign that had two options: "Buck Yeah", or "Buck No", as Caitlin will be attending Bucknell University in the fall. Caitlin, of course, checked off "Buck Yeah" as all her friends cheered her on!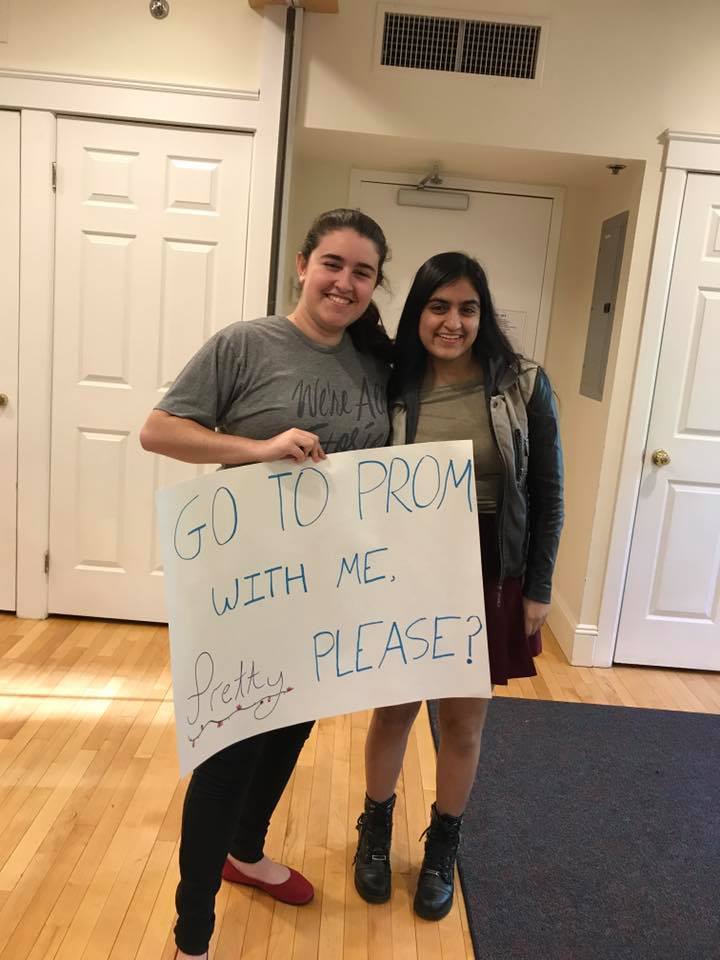 Louisa Blatt promposed to Ananta Wadhwa at a rehersal of their chamber choir. The choir was rehearsing for a performance of the song "I Feel Pretty" from the musical West Side Story, which features a soprano solo. They started the song rehersal as normal, until it came to the solo, where Louisa had changed the words into a promposal and seranaded Ananta!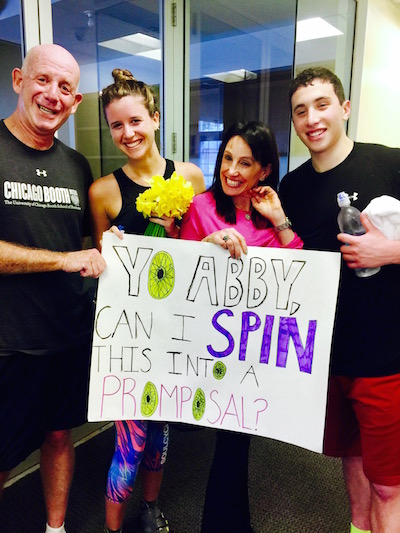 Drake Weissman asked Abby Drucker to prom using a SoulCycle class. The two of them went together to a spin class and Drake orginized it so that at the end of the class the instructor would announce that he was asking Abby to prom. Some of the people in the class thought it was a real proposal!
Do you have a Promposal to share? Send your story and photos to scarsdalecomments@gmail.com.
"Students for Refugees" Club Increases Refugee Crisis Awareness
Details

Category: On Our Radar
Published on

02 May 2017

Written by

Melissa Attar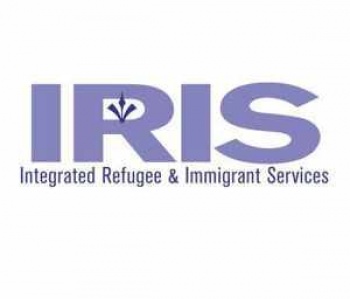 Politicians and the media have thrown around phrases like "extreme vetting" recently, but these groups have done little to explain what that means. Additionally, despite the over 65 million people displaced from their homes during what the UN has called the "highest level of displacement on record," little has been done to put a human face to the problem. Fear mongering and a lack of education have thwarted efforts to accept and settle refugees.

Enter Scarsdale High School's "Students for Refugees" club (SFR). Two years ago, SHS social studies teacher Ms. Maggie Favretti created a cultural and historical exchange program with a school in Germany, a country that has accepted over a million refugees since the beginning of 2015. The students from SHS and Heidelberg, Germany met with refugees and local resettlement organizations. Moved by what they learned, the students created a bi-continental club to help refugees. Since then, Ms. Favretti has taken a second group of SHS students to Heidelberg and is starting to gather interested students for an exchange next year. Also, SFR has spread to other high schools and is beginning to expand to colleges. Its mission is to help refugees through community education, fundraising, and advocacy.

On Friday, April 27, SFR hosted a meeting open to the community to further its mission. Club members described how their organization was founded, its goals and how those goals evolved in light of recent executive orders, and its fundraising.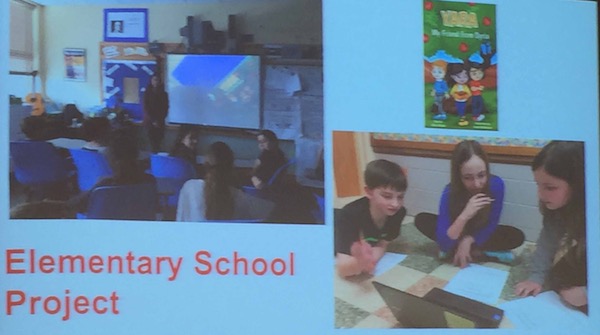 Then, SHS junior Hannah Schmelkin described some of the work she has done to educate younger students about refugees. For example, she recently visited a fifth grade class at Quaker Ridge and presented an age-appropriate curriculum educating students about the refugee experience in America. As part of her visit to the elementary school, she read the students Yara: My Friend from Syria, a children's book about a Syrian refugee. The fifth graders later read the book to the third graders, further spreading its message.

Then, SFR introduced Mr. Chris George, executive director of IRIS (Integrated Refugee and Immigration Services), a large nonprofit agency in Connecticut that helps settle refugees who have been accepted into the United States. Mr. George gave an extensive and extremely informative lecture discussing the process a family might go through from becoming displaced persons (among over 65 million forced from their homes due to persecution and/or extremely unsafe conditions), to refugees (among the 21 million of the displaced who are able to flee their home country), to residents of a refugee camp such as the United Nations-run Zaatari refugee camp in Jordan, to families in the camp lucky enough to be selected to be screened for potential refugee status by the United States government.

Exhausting as that process is for an already overwhelmed family, it is just the beginning of the United States refugee vetting process, which for Syrian refugees takes a minimum of eighteen months to two years and beyond. During that time refugees continue to live in overcrowded and potentially dangerous camps, often with no access to education for the children and inadequate food. First, representatives from the United States visit the camp to interview the "most vulnerable families," of those who have applied, selecting those who are in the most precarious situations rather than those who would be the most desirable immigrants. Then, after an approximately three hour long interview, the family waits several months while their answers are verified. If accepted to the next stage, potential families are subjected to a longer, more aggressive questioning by the United States Department of Homeland Security, which is followed by a six to seven month waiting period. During this time, the United State government verifies claims by interviewing witnesses, checking various types of documents varying from requests such as the proof of employment in the form of invoices from a bakery that an interviewee claimed to run, to diplomas, to official documents, photographs, and other methods of verification such as iris scans or DNA tests.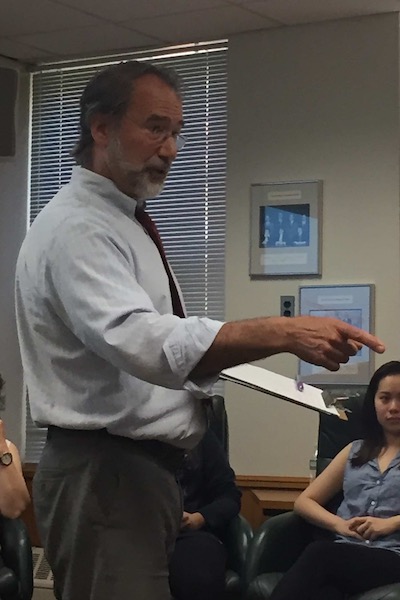 They also look for evidence to determine whether the family has given any aid whatsoever to terrorist forces, which of course automatically excludes them from acceptance into the program. If a family passes this extremely rigorous screening, they are then given a health screening. After a successful screening, the family is granted United States refugee status, a status granted to nearly 85,000 persons in 2016.

At that point, if the family does not have relatives in the United States, they are randomly assigned the state to which they will relocate. The family then must pay for or sign a promissory note agreeing to pay for the cost of the airfare to the United States. If the family is assigned to relocate to Connecticut, there is a good chance that IRIS will be assigned to help with their resettlement. With as little as two weeks' notice, Mr. George's nonprofit organization, which is funded from both federal and private sources, will set up an apartment for the family with furniture and food. They meet with the newly arrived family and provide them with warm clothing, car seats, or other immediate needs. Then, within two hours of their arrival in the United States, the government mandates they are given "a culturally appropriate hot meal" to welcome them to our country.

The road thereafter is hard but workable. Resettlement agencies help refugees find entry level jobs, enroll children in schools, and connect them with medical providers to take care of their physical and mental health needs. Many refugees have experienced very traumatic events and resettlement agencies work with people such as Arabic-speaking psychiatrists who can help them process their past experiences as they adjust to their new lives. Refugees are expected to pay their rent and integrate into society. According to Mr. George, "the prime directive in resettlement is to help refugees gain control over their lives through self-sufficiency." His agency does a great deal to help them get there.

After Mr. George's presentation, Westchester Refugee Task Force co-founder Ms. Mary Refling announced that the Syrian refugee scheduled to speak was unable to attend the meeting due to a miscommunication. She then showed a video called "Sana's Story" which follows a 24-year old Syrian refugee living in New York, available online here.

SFR is looking not only to expand its membership but also to raise money to help educate refugees who often spend years without the opportunity to go to school. Details can be found on Ms. Favretti's Schoolwires page, here.

School Budget Vote Today: Tuesday May 16
Details

Category: On Our Radar
Published on

09 May 2017

Written by

Joanne Wallenstein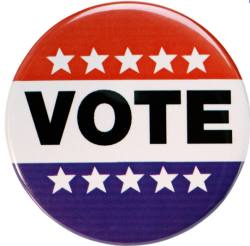 Though you may have heard little about the proposed 2017-18 budget for the Scarsdale Schools, the vote will be held next Tuesday, May 16 at Scarsdale Middle School from 7 am to 9 pm. In addition to deciding on the budget, voters will also be asked to approve the re-nominations of Chris Morin and Scott Silberfein, two school board members who were selected to serve additional three years terms on the school board. As the proposed increase in the budget is beneath the adjusted state tax cap, only a 50% approval vote is needed to pass the budget.
The proposed budget is $153,690,765, a budget-to-budget increase of 2.15% over 2016-17. This amount is reduced by state aid, use of surplus funds and other receipts to arrive at a tax levy of $141,490,126 which will translate to a 2.76% tax increase for Scarsdale residents and a decrease of 8.4% for those in the Mamaroneck strip.
Though the budget adds quite a few staff members, this increase was offset in part by savings in other areas such as a $1.8 million decrease in pension contributions, a savings in health insurance costs and use of $2.8 million in surplus funds from this year's budget to fund next year.
Here's a list of the additional district staffing for the 2017-18 school year:
2.5 elementary school reading specialists

.5 elementary learning resource teacher

.4 Mandarin teachers for the zero period Mandarin classes at the middle school

1 full time pre-engineering teacher at SHS

1 full time STEAM coordinator at SHS

1 additional full time nurse at SHS

1 elementary school teacher to accommodate increased enrollment
The budget allows for over $3 million for district facilities. First, $2.124 million in surplus funds will be used to complete the projects funded in the 2014 bond referendum that includes a new learning commons, design lab and fitness center at the high school, an additional music room at the middle school, a library at Edgewood School, a multi-purpose room and entrance canopy at Heathcote, a new roof at Quaker Ridge and an overall technology upgrade. Additional funds will go towards:
Exterior Painting at Edgewood

A new playground and concrete repairs at Heathcote

Replacement of the Hampton Road stairway at Fox Meadow

Bathroom renovations at the Middle School

Removal of vinyl asbestos tile

District-wide roof repairs

District-wide technology upgrades
What's not in the budget? The question about renovations or construction of a new school at Greenacres still hangs in the balance. After community discord, Superintendent Hagerman put the conversation about renovating the existing school or building a new one on hold in the fall of 2016. Since that time he dismissed the district architects, KG&D who were retained after a lengthy search to design the projects approved in the 2014 bond referendum. In February 2017 the district retained a new firm, BBS, and the public was told that they would redo the engineering study and announce their findings soon. At the May 8, 2017 meeting, Dr. Hagerman announced that BBS would present their findings and recommendations at the May 22, 2017 board meeting with plans for a December 2017 bond referendum for district-wide capital improvements.
For the first time since 1999, the budget this year does not include an allocation for the Teen Center. After considerable debate, the board opted to cut $65,000 in funds from the 2017-18 school budget which may very well mean that the facility will close in June.
Community groups including the League of Women Voters, the Scarsdale Forum and the PT Council all made statements in favor of the proposed 2017-18 budget and encourage voters to approve it.
However, in their statement, the League noted a lack of opportunity for community input in the formulation of the budget and asked the board and school administration to consider changes in next year's process to allow for community comment early on . They said, "The League recommends that the Administration and Board find ways to engage early interest in District issues, actively seek input from stakeholders to identify the range of community sentiment, create spaces for dialogue, offer greater agency to stakeholders and build solid buy-in when needed. The League further recommends that any established Board protocols for community interaction be made publicly known."
The budget vote will be held on Tuesday May 16 from 7 am to 9 pm at the Scarsdale Middle School. To vote you must be a U.S. citizen, be 18 years old by May 16, 2017 and have lived in the district for 30 days preceding the vote. Local voter registration for the May 16 election will take place on Tuesday May 9 from 4-9 pm and Thursday May 11 from 1-5 pm in the Board of Education offices on the Brewster Road side of Scarsdale High School.
13 Reasons Why in 2 Days
Details

Category: On Our Radar
Published on

26 April 2017

Written by

Julie Rosenblatt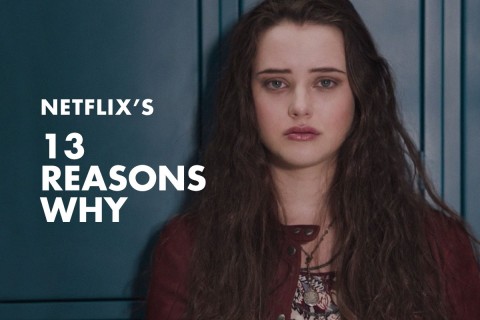 I just spent the last two rainy days watching the entire series of " 13 Reasons Why" on Netflix.
It's intriguing, frustrating, very dark, and yet... highly entertaining!
Wouldn't recording a shoe box full of A and B side audio tapes that place the blame on 13 others for one's suicide contribute to signs of psychopathic behavior ... not to mention being excessively time consuming? I ask because all the while Hannah, the suicidal character, shows no signs of distress, withdrawal from high school party life or her parents, or even a lapse in great hair and make up.
Not only that, but frankly, Hannah is confronted with solid opportunities to confidentially emote to a great friend in addition to her school psychologist, but instead, she makes the choice to withhold all the physical and emotional stuff that's contributing to her depression. She instead remains calm, cool and collected as she continues to record her" blame tapes" and travel her narcissistic path to suicide. How annoying and frustrating, yet incredibly suspenseful and yes. ... admittedly fun to watch!
In my opinion the series isn't really taboo for teens and some tweens to watch aside from three minutes each in episodes 12 and 13 because each of those episodes contain the scenes that are most disturbing.
My 11 year-old has recently informed me that she's on episode seven so I thought I'd head her off at the pass, which is the real reason I've holed myself up in my home office watching this series for the past two days. That being said, I now have the insight to disallow her to watch episodes 12 and 13, at least without me by her side to cover her eyes and maybe even my own.
The characters in this series are supposed to be high school students, but in my opinion are way more mature in behavior and far more collegiate in mentality. But in the casts' defense it all works well because the show is very well acted and the screenplay is unique in subject matter even if it was a book first.
In the end, I think it makes for a really great conversation piece, not just with my kids, but also with my friends, all whom I consider to be trustworthy in a hot tub.