Sixth Annual Galaxy Forum at SHS
Details

Category: On Our Radar
Published on

27 September 2016

Written by

Heather Gilchriest Meili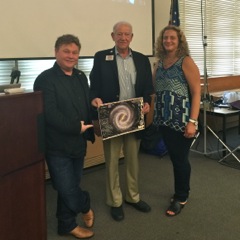 Under the supervision of SHS Science Department Chair Nicole Pisano, approximately 200 students from the Biology, Geology, Earth Sciences, and Physics classes attended the 6th Annual Galaxy Forum on Friday morning September 23rd in the Little Theater.
SHS Distinguished Alumnus Steve Durst, '61, of the International Lunar Observation Association (ILOA), was back in his hometown both to celebrate his 55th reunion and to introduce featured speaker Dr. Robert Richards.
Dr. Richards is co-founder of the International Space University in Strasbourg, France, and CEO of Moon Express Inc, a leading competitor to win the $30 million Google Lunar XPrize in 2017.
He began by asking the students to envision what they could imagine having accomplished 55 years after their own high school graduations and then, in his presentation titled "Creating Your Future: Peace Through Space," described for them an exciting view of the emerging era of democratized space exploration.
Pointing out that our moon contains vast reserves of the sought-after resources that create "the phones in your pockets," Dr. Richards introduced the idea of the moon as our eighth continent, complete with the essential element of water in ice form at its poles which gives it the potential to be our "gas station in the sky" for hydrogen peroxide rocket fuel. His current "Moon Express" project is intended as a step toward expanding earth's economic zone outward to the moon and beyond, unlocking its resources for the benefit of humanity.
One student asked Dr. Richards how his proposed landing site on the moon's south pole compares to the site of the previous U.S. moon landings. He explained that the moon's equator was an easier surface for landing while the pole is rocky and mountainous. A parachute landing won't work there; instead the craft will require a technically more difficult landing plan involving rockets to land it securely.
Dr. Richards urged students to get involved in space exploration initiatives such as SEDS USA (Students for the Exploration and Development of Space). Until recently, space exploration was the sole province of global superpowers, but today even high school student groups can build commercially available CubeSat projects with the opportunity to have them launched by NASA. He also invited the school to make a trip to Florida for a unique behind-the-scenes tour of Cape Canaveral and his work there with Moon Express. In conclusion, he challenged the student audience: "What is the best way to predict the future? Create it yourself."
Scarsdale Athletic Update: Raiders Girls Volleyball and Soccer Teams
Details

Category: On Our Radar
Published on

22 September 2016

Written by

Emmeline Berridge
Girls' Volleyball Team is Motivated and Determined

Two wins and three losses might not be the ideal way to start the season, but the Scarsdale Girl's Volleyball team is not phased by their standing. Coming off a Section 1 title last year, the Raiders are motivated to make a state run. Starting libero Rena Li said that it feels "great coming off a strong season because we know how much we are capable of achieving and we have so much potential as a team." Except for using last season as a confidence booster, the girls are trying not to compare this year's team with previous ones. Although it might be easy to draw comparisons, Li noted that the team is "looking forward to the rest of the games and not resting on our section title."
Aiming to use their experienced starting lineup to their advantage, the team is excited to improve their league standings. The starting outside hitter is Sophie Fried, who is a senior and has been on the team since she was a sophomore. She has great offensive skills and contributes to gaining points. The starting middle is Mary Langford, who is a sophomore and is also a major offensive player. Senior Izzy Dechiario is the other middle. She uses her athleticism on blocks to help out the defense. Manya Kula, a sophomore, is impactful in the back row. Annemarie Horn, the team's setter, is a junior. She participates in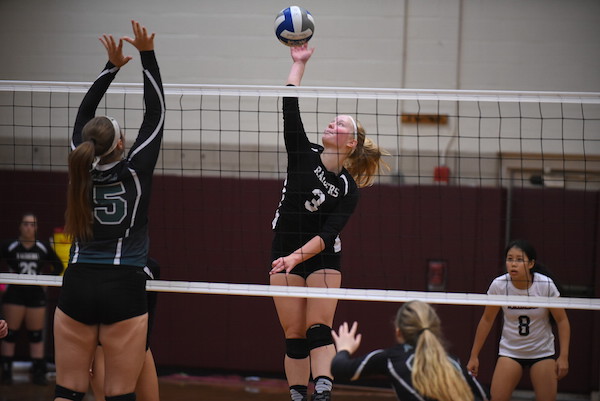 every play and runs the offense. Senior Clare O'Hara, plays in the back row and consistently passes well in every game. Rena Li, the libero and defensive specialist is the team's backbone on defense, and helps to receive many difficult serves.
Working hard in practice every day, the Raiders are eager for more challenging games as the season unfolds. Although they are reluctant to draw any comparisons, the team is driven by last year's defeats. "After losing in regional finals last year and not being able to attend states we want to return this year as a stronger team."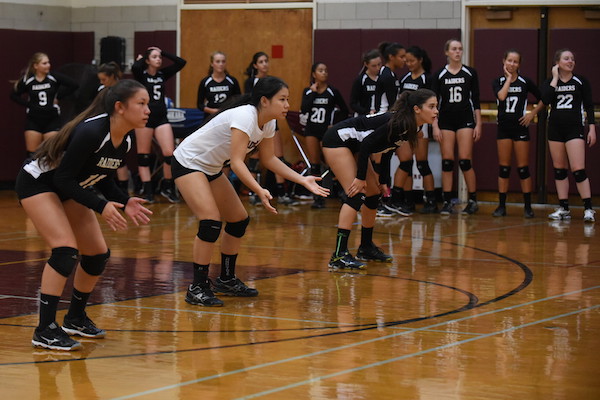 Look for the Raider's determination at their next game September 27th vs. New Rochelle at 4:30.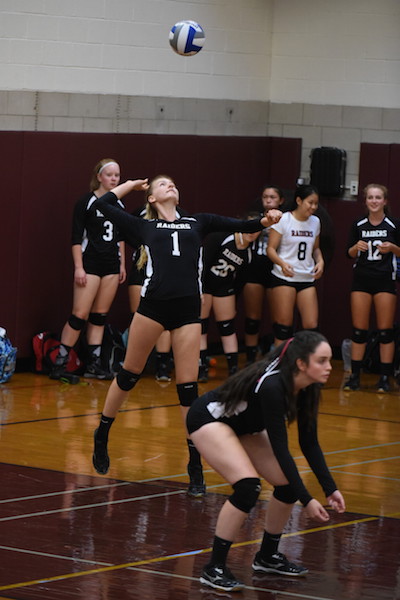 Raiders Girls Soccer Team Looks Toward the Playoffs

The Scarsdale Girl's Soccer team started off the season with a1-3 loss against Clarkstown South, but according to staring center Allison Stafford, "The score was not a good reflection of the game, since we played them even the whole time, but had a couple breakdowns in the last 5 minutes." The Raiders then tied John Jay 2-2 in a hard fought battle that went to overtime. Next they beat North Rockland 1-0 at an away game, something that the girl's soccer team hasn't done in seven years. In their next game, the Raiders were missing a few starters due to injuries and lost to Suffern 0-3 but then dominated Mamaroneck 2-1. In their most recent game the team beat White Plains 3-0. Now the girls are on a winning streak, and hope to retain it so they can win the league and earn a high seed going into the playoffs.
Photos by Jon Thaler - see more photos here, Text by Emmeline Berridge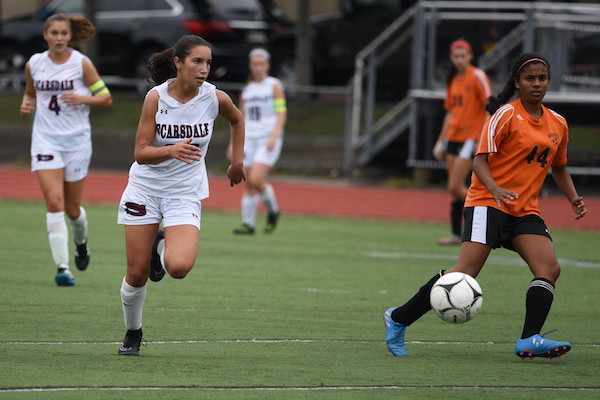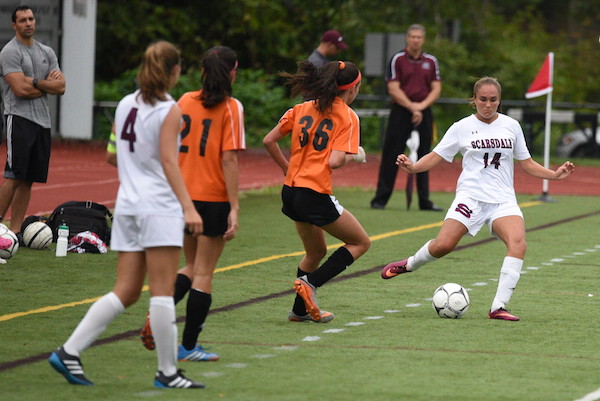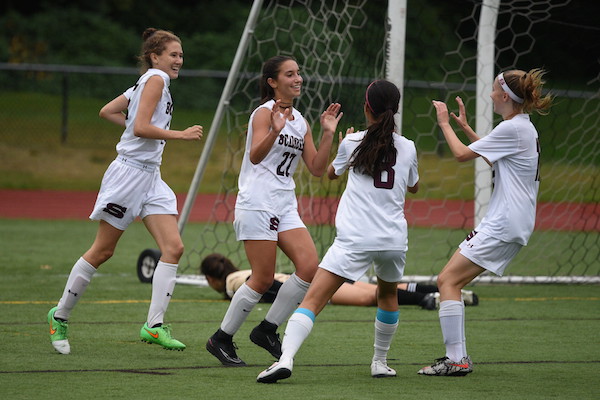 Plans for Greenacres On Hold Due to District Finances and a Polarized Community
Details

Category: On Our Radar
Published on

12 September 2016

Written by

Joanne Wallenstein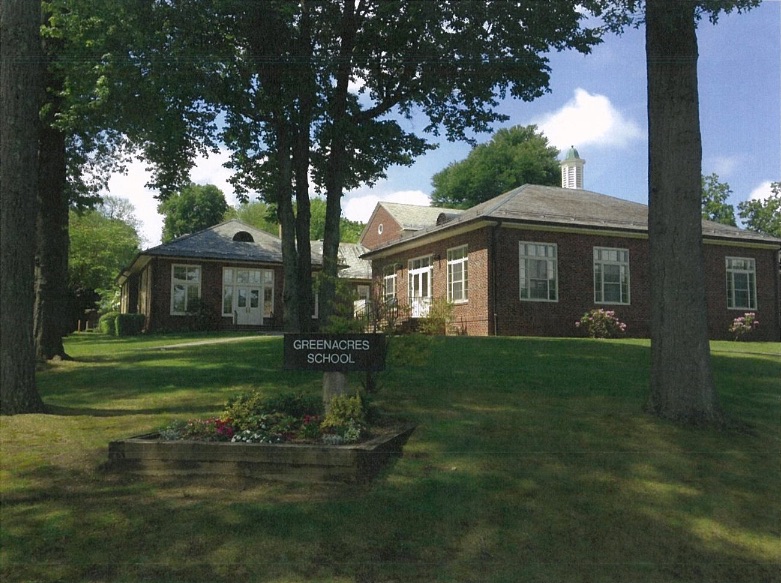 While a fierce debate over the future of the 101 year-old Greenacres School continues, Superintendent Thomas Hagerman and Assistant Superintendent Stuart Mattey have proposed a pause in the conversation. In a memorandum published in the agenda for the first Board of Education meeting of the school year on Monday September 12, Hagerman and Mattey say that Greenacres remains "safe" and "comfortable." In addition, an estimated $50 million in current and future work is necessary for the rest of the district and initial bids for work approved by taxpayers in a December 2014 bond have come in over budget. Given these cost constraints and a polarized community the memo says, "It does not make sense to forge ahead and ignore these realities."
The memo, on pages 156-157 of the Board of Education agenda says, "While we believe that both options (renovation of the existing building and construction of a new one) currently on the table have strengths ... we are also rather certain, that, in reality, they do not have the support needed to bring them to fruition."
An additional memo from Hagerman and Mattey, also to be read at the 9/12 meeting says that a new "Facilities Master Plan" is in progress and will be used as "the primary tool guiding all future plan improvement, capitol projects and future bond projects." It says that the projects approved in December, 2014 have been" repackaged" and a second set of bids is due back in early October.
If these bids are too high the "district will develop a plan to be move forward, taking into account the work that was previously approved by voters versus bond authorization limitations and in consideration of the facilities master plan."
So for now, it appears that the confluence of a shortage of funds for already approved work and persuasive and vehement arguments for and against a new building have stalled any movement on the aging and crowded school.
Solo Exhibit by Jill Krutick at the National Arts Club
Details

Category: On Our Radar
Published on

14 September 2016

Written by

Joanne Wallenstein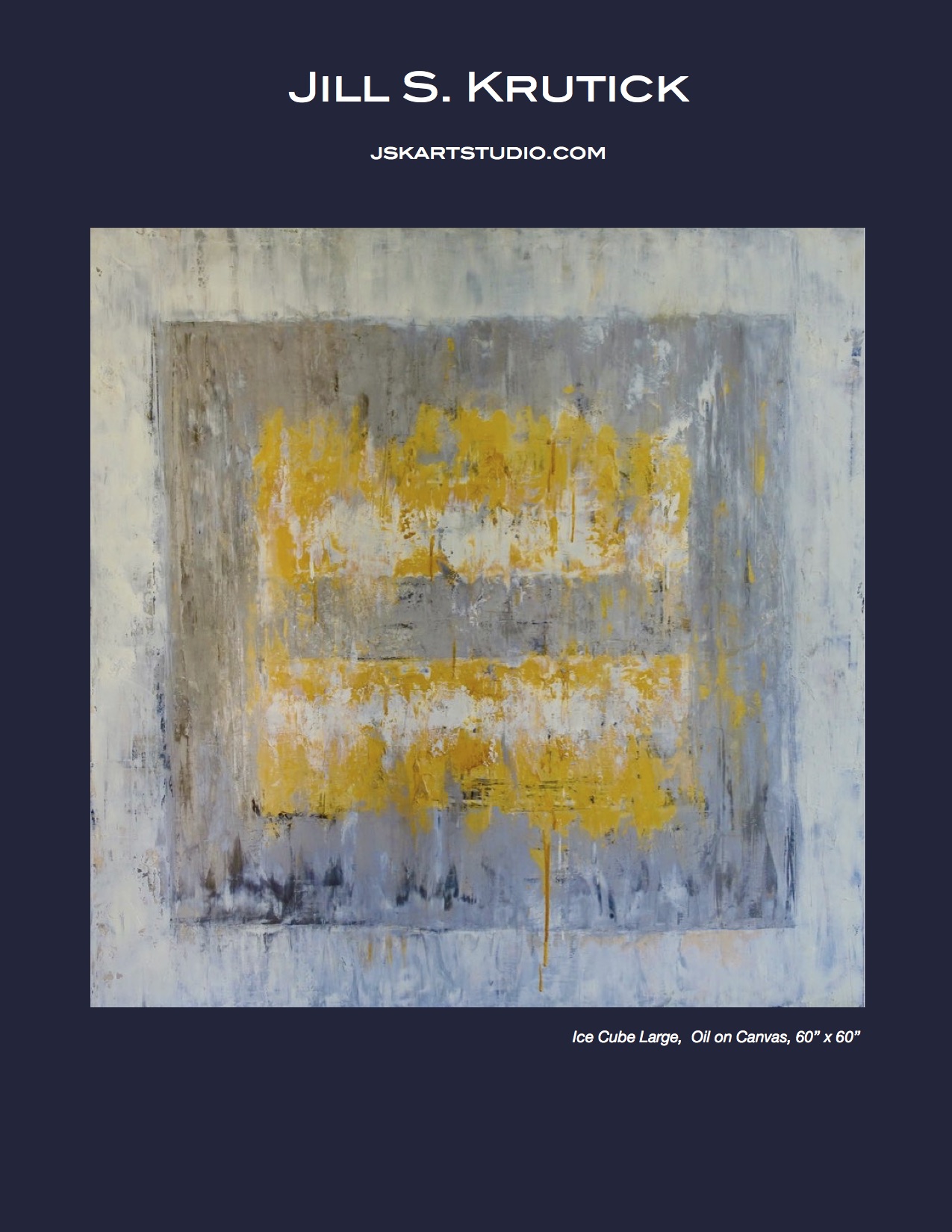 Scarsdale artist Jill S. Krutick will have a solo exhibition of her oil on canvas works at The National Arts Club at 15 Gramercy Park South in New York City during the month of October.
The show, titled, "The Balance of Texture & Movement," will appear in the Marquis Gallery. Ms. Krutick, 53, a native of Roslyn, New York transitioned from work as an investment analysis with a focus on entertainment and leisure companies to a successful career in art.
Influenced by Impressionists and Abstract Expressionists, she says "I focus on capturing colors, movement shapes and light around me. Using oil on canvas as the primary medium, I achieve balance through the precise placement of color and use of texture."
Ms. Krutick's work has been exhibited in corporate and private collections across the country as well as galleries in NYC, Miami, Philadelphia, Bridgehampton and Westchester. She invites you to visit her studio in Scarsdale.
The Opening Reception will take place on October 5th from 6-8 PM. Please RSVP at 914.522.0420; refreshments to be served.
Ms. Krutick earned her B.S. degree at the University of Pennsylvania's Wharton School and her M.B.A. degree at New York University's Stern School of Business.

For more information about Ms. Krutick and The National Arts Club show, please see www.jskartstudio.com.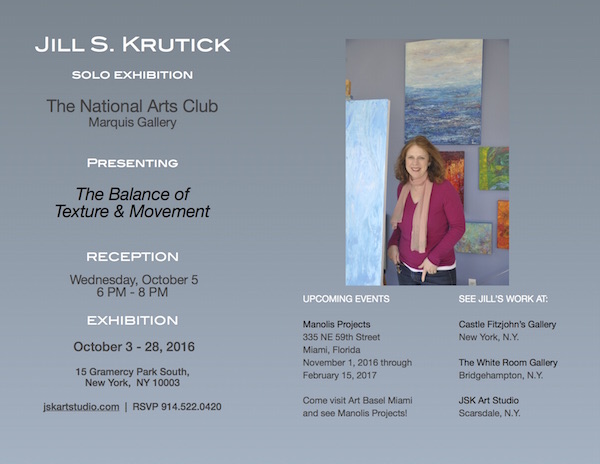 Scarsdale Teams Gear Up for the Fall Season and a College Photo Opp
Details

Category: On Our Radar
Published on

05 September 2016

Written by

Adam Regenstreif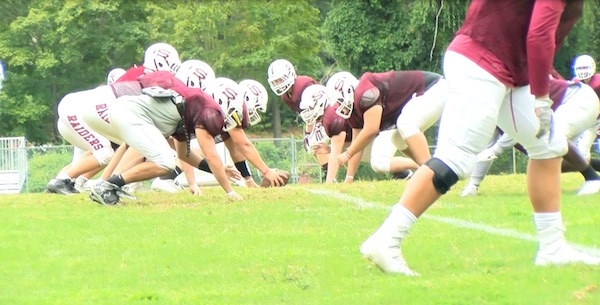 While Scarsdale High School will open on September 6, something exciting was happening through the month of August: the sports preseason. Fall sports -- cross country, football, soccer, volleyball, swimming, field hockey and tennis -- have been in session, with tryouts now over and teammates practicing hard while other students savor their last few days of summer.

The girls' soccer team began practicing on August 22, and have been preparing for their first game on Wednesday, Sept. 7, against Clarkstown South at Scout Field, behind the Girl Scout House.

The team comprises 18 returners and 5 additions, including a new goalkeeper.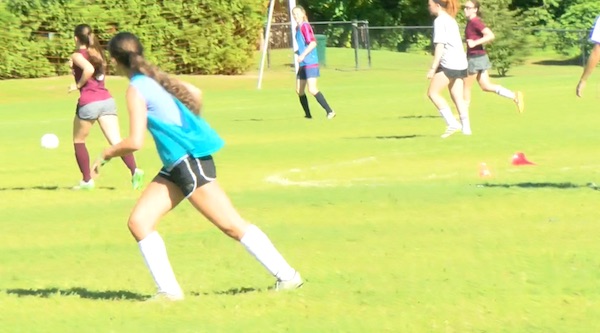 "The new additions will definitely have an impact," says head coach Mindy Genovese. Her three-pronged plan for success? "Communication, trust, and team bonding," she says. "It really transfers on the field." Using ropes courses, scrimmages, and other training techniques, Genovese is especially set on team bonding, both on and off the field.



"I think already we're pretty close as a team," says Lucy Glickman, a midfielder captain. "We've already made some really big improvements." Kate Donovan, another outside-midfielder captain, would agree. "I think it's gonna be a good year. We have 18 returners, and made it through the obstacles faster than any other year," she says, referring to an obstacle course that was part of their training. The team dynamic was strong and confident, as players joked around and encouraged each other during practice. "We respect each other, and listen to each other," says Hailey Rozencwaig, a center-midfield captain. "The team is gonna do really well this year."

Scarsdale's varsity football team has also been hard at work, practicing since August 15. "These guys have worked their asses off," says head coach Andy Verboys, talking about his players. "They've been in the waiting room since last winter. I have the biggest team that we've ever had here in Scarsdale." Beyond sheer size, the coach is particularly proud of his offensive line this year.

The team has been preparing Mondays through Saturdays for their first game last Saturday, when they edged Mount Vernon 28-26. "We have a great team," says Ezekiah Bacchus, who transferred from Mount Vernon and who is a first-year Scarsdale player. "We have the opportunity to take it to section 5, win the state possibly. But right now we've got to take it one game at a time." Ezekiah was anxious about playing against his old team last Saturday. Their biggest rival, however, is New Rochelle, Bacchus said.





Zach Visaggi, a wide receiver and cornerback, isn't as apprehensive. "I'm very optimistic. I definitely think that we have a very talented and athletic group here, so if we can get it together, we're gonna be a very dangerous team."

The fall season extends to November, after which the winter season sports begin.

Raiders at Franklin and Marshall