Letter from a New Resident
Details

Category: On Our Radar
Published on

22 March 2017

Written by

Joanne Wallenstein
Dear Joanne: I just wanted to write a quick thank you on the articles you provide through your internet newspaper. We just moved over from London in January as I found a more exciting career opportunity in New York. Having grown up in Germany and lived in London close to the last 10 years my knowledge on US regional politics was embarrassingly low. But thanks to your page I now feel like I know what is going on, which despite not being allowed to vote already makes one feel more included.
I obviously haven't lived here for long to have a strong view on a lot of the issues but overall I got the sense a lot of the people complaining in the comment section of your articles don't realize what they have here. Moving from overseas we could have gone anywhere in reasonable commuting distance to Midtown. But we choose Scarsdale as on top of the great schools, we liked the feel of the area and everyone we meet so far was great - the quality of life is just fantastic. Yes of course no one likes high taxes but I think one has to differentiate between paying high taxes that get lost in the system and paying to high taxes and getting a getting great services for it, which is the case here. Also I think people forget that it is tough to keep a place attractive for young and old, which is a tough compromise. Comparing it to affluent areas in U.K. and Germany I know (anecdotal) it is a real achievement to keep pupil numbers flat as the balance usually tends to tip towards the elder. So on all I can see the non-partisan government did an amazing job - people are just complaining on a very high level.
I'm not a great writer (both in English and German) and rarely write feedback or comments as it takes me forever. But I just figured you had some very busy weeks with some less friendly feedback - so it might be nice to hear that you won another reader.
Thank you very much,
Heiner Luz
Letters in Support of Candidates for Village Trustee
Details

Category: On Our Radar
Published on

17 March 2017

Written by

Joanne Wallenstein
Here are letters received in recent days in support of candidates running for Village Trustee in the Village election on Tuesday March 21:

Letter from Deborah Skolnik In Support of Carlos Ramirez
Committed...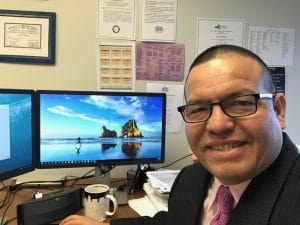 Conscientious...
Civic-Minded...
Carlos Ramírez
"C" the difference!
"WE ARE FACEBOOK FRIENDS, AND NOW WE ARE REAL FRIENDS, TOO!" the man said, grinning and shaking my hand. It was December of 2015, and I was hosting a launch party for my poetry book, Gentle Scarsdale Satire. Even before he said his name, I recognized my affable guest from his online photos: Carlos Ramírez.
Carlos was one of the few Scarsdale men who attended my admittedly estrogen-heavy party that snowy evening. His reason, he said, was simple: He thought that encouraging my artistic efforts was the right thing to do.
That's the kind of person Carlos is: He shows up and strives to do the right thing.
And so I'm delighted that he's now showing up somewhere else: on the election slate for Village Trustee, as part of the Scarsdale Voters' Choice Party. I can think of no one better equipped to steer and safeguard our town.
As I've gotten to know Carlos, I've found myself ever more impressed by his devotion to to public service. A 12-year resident of Scarsdale, he tirelessly serves on our village's Advisory Council for Technology. This elite group helps Scarsdale's existing trustees, showing them how tech tools can boost their efficiency. Is it hard to imagine Carlos, already a trusted advisor, stepping into the Trustee role himself?
Yet that's only a small part of Carlos's civic engagement. He is also a Director in the Scarsdale Forum and a member of the board of directors of the Greenacres Neighborhood Association. Carlos truly cares about our town on every level.
Even Carlos's career experience—he's an Account Manager and Manager of Smart Schools Bond Implementation at the Lower Hudson Regional Information Center—brings valuable experience to the table. He is forever attending school policy meetings throughout the region and understands the value of Scarsdale's exceptional educational system. In fact his son, Ryan, is a product of our schools.
What drives Carlos to do so much for our town—and wish to do still more? The answer is in his history: He emigrated here after growing up in Peru during a time of violence and economic insecurity. "I never take democracy for granted," he explains.
Nor should we. Please show up to the polls on March 21st and vote for Carlos. You can bet he will be showing up for us.
Deborah Skolnik
Oak Way
Letter from William and Barbara Langford In Support of Carl Finger for Village Trustee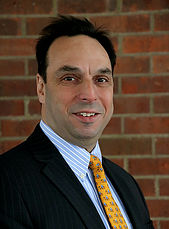 We are pleased to support Carl Finger in the upcoming election for Village Trustee. Carl has effectively served our Village as Trustee over the past two years. His ability to quickly step into this new role stemmed in part to his many years of service on the Conservation Advisory Council and the Board of Architectural Review. Even more important than Carl's significant experience in Village government is his commitment to our community. Carl grew up in Scarsdale, worked on the Scarsdale Community Improvement Corps., attended local camps, played in the recreation leagues, and umpired Little League games. Over the past ten years, Carl has become a familiar and friendly face as a dedicated basketball and softball coach.
In his tenure as Trustee, Carl has carefully and thoughtfully considered the myriad issues facing the Village, and provided steady leadership for our community. His track record clearly shows the benefit of his significant experience and deep understanding of issues affecting our Village. Even in the face of contentious issues, he has proven level-headed, empathetic, and reasoned. Our community has benefited greatly from Carl's diligent leadership. We highly recommend Carl Finger for Trustee.
William and Barbara Langford
Boulevard
Recent Sales Data Shows That Ryan Model is Closer to Market Value than Tyler
Details

Category: On Our Radar
Published on

09 March 2017

Written by

Joanne Wallenstein
I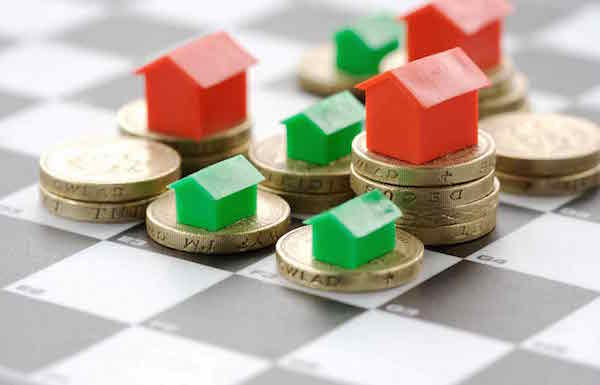 t appears that critics who excoriated Scarsdale Village Trustees and Village Managers about the results of a 2016 real estate tax revaluation may have protested too much. A group led by Mayra Kirkendall-Rodriguez called the Scarsdale Committee for Fair Assessments claimed that the 2016 revaluation shifted the tax burden from the larger estate-like properties to Scarsdale's more modest homes. They spent months building their case and ultimately filed a lawsuit – called an Article 78 – against the Village, asking them to void the "flawed" revaluation or pay reparations to petitioners.
However an analysis of recent sales data from the Village shows that this second revaluation – called the "Ryan" revaluation for the man who built the model, yielded assessments that are actually closer to market value than the previous model built by Tyler Technologies for the 2014 and 2015 tax rolls. This report confirms an analysis posted on Scarsdale10583 in October that showed that assessments were in line with 2016 sale prices.

Brian Nottage, a Scarsdale resident who holds a PhD in economics and works in commercial real estate asset management analyzed 185 sales* from January 1, 2016 to February 21, 2017 and found that both models under-assessed the value of Scarsdale homes but overall, the Ryan numbers were closer to market value than the Tyler values.
Using data from the Assessor's office during the period, Nottage compared sales prices to 2015 and 2016 assessed values. After analyzing the data, Nottage said, "Bottom line, both the Tyler and Ryan rolls have underassessment for the Village overall and that rises by price tier. However whether looking at average error, average absolute error or R-square, Ryan is considerably more accurate at each price tier."
The data shows that overall Ryan's R-Square value or correlation co-efficient is 96% as compared to the Tyler model that yields an 85% value. The analysis also shows that homes valued at between $500,000 to $1,000,000 were assessed at closest to market value, disproving the notion that owners of more modestly priced homes were over-assessed to make up for decreases for the wealthiest homeowners.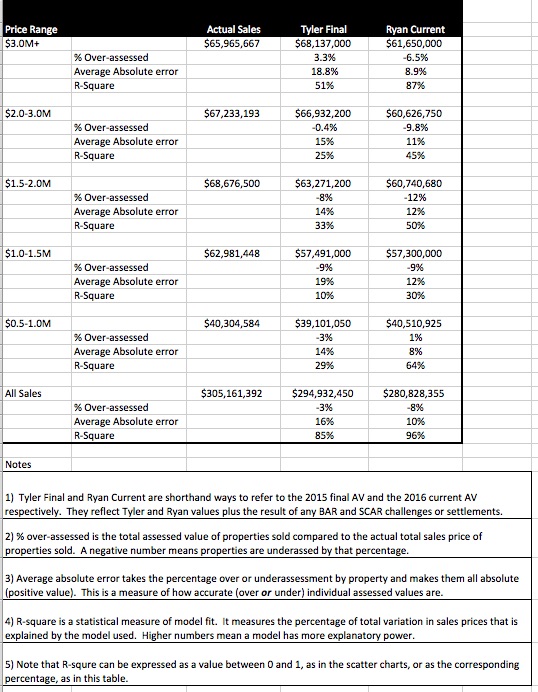 It is true that Ryan's reval under-assessed homes priced at $2 million and above but homes in other price ranges were also equally under-assessed. See the summary chart here and view the entire analysis here.

The petitioners also claimed that the NYS equalization rate applied to the 2016 revaluation proved how far off it was from actual market value. However, if Scarsdale had instead stuck with the Tyler assessments, the state would have also had to apply an equalization rate to Scarsdale.
We asked Scarsdale Assessor Nanette Albanese to explain and she said, "Market conditions after the 2014 revaluation were showing that those assessments were not reflective of subsequent sales (that will always be the case and is another reason that assessments need to continually be updated using a new sales base.) As such, we expected that the 'overall' appreciating market conditions (not for the high-end, however) would cause a calculated 2016 equalization rate below 100%. This was one of the various factors that was considered when making the decision to perform revaluation in 2016."

*Note: 87 sales were excluded as they were properties with "condition codes" that might make them non-arms length, vacant land or commercial properties or ones that had been renovated post-Tyler.


Fire Rips Through Home on Thornbury Road
Details

Category: On Our Radar
Published on

14 March 2017

Written by

Joanne Wallenstein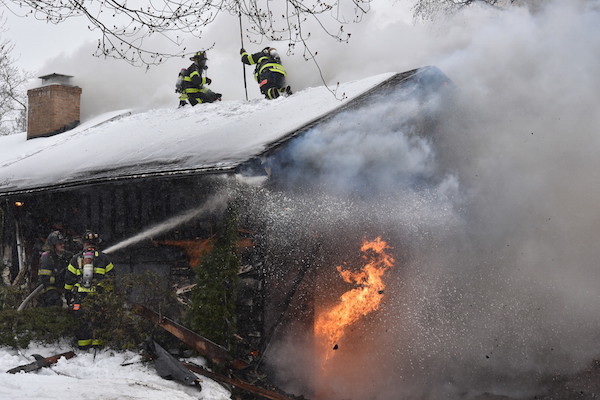 An afternoon fire on Tuesday March 14 at 159 Thornbury Road in New Rochelle is the third blaze in just four months to gut a local home. It appears that the fire started when the homeowner was filling his snow blower with gasoline and spilled some of it. The gasoline ignited and fire quickly spread through the house. The fire occurred during a severe winter storm that brought snow and hale to the area.
Thornbury Road is off Baraud Road, just over the border from Scarsdale. The New Rochelle Fire Department, the Scarsdale Volunteer Ambulance Corp. and Con Edison were on the scene. No injuries were reported.
On December 4th, fire ripped through a home on Boulevard in Scarsdale, killing a beloved doctor who was trapped inside and on March 5th, a home on Black Birch Lane was gutted by a fire which began at around 4 am.
Photos by Jon Thaler. See more here: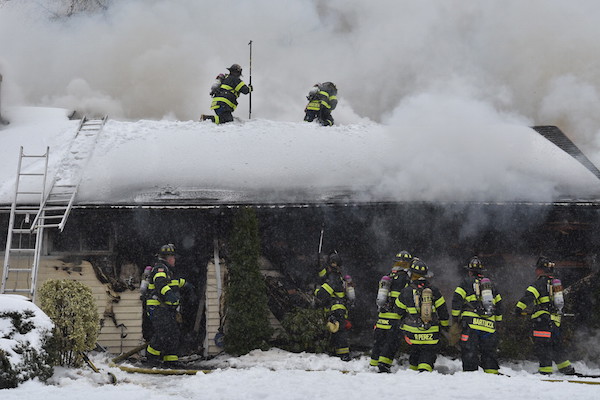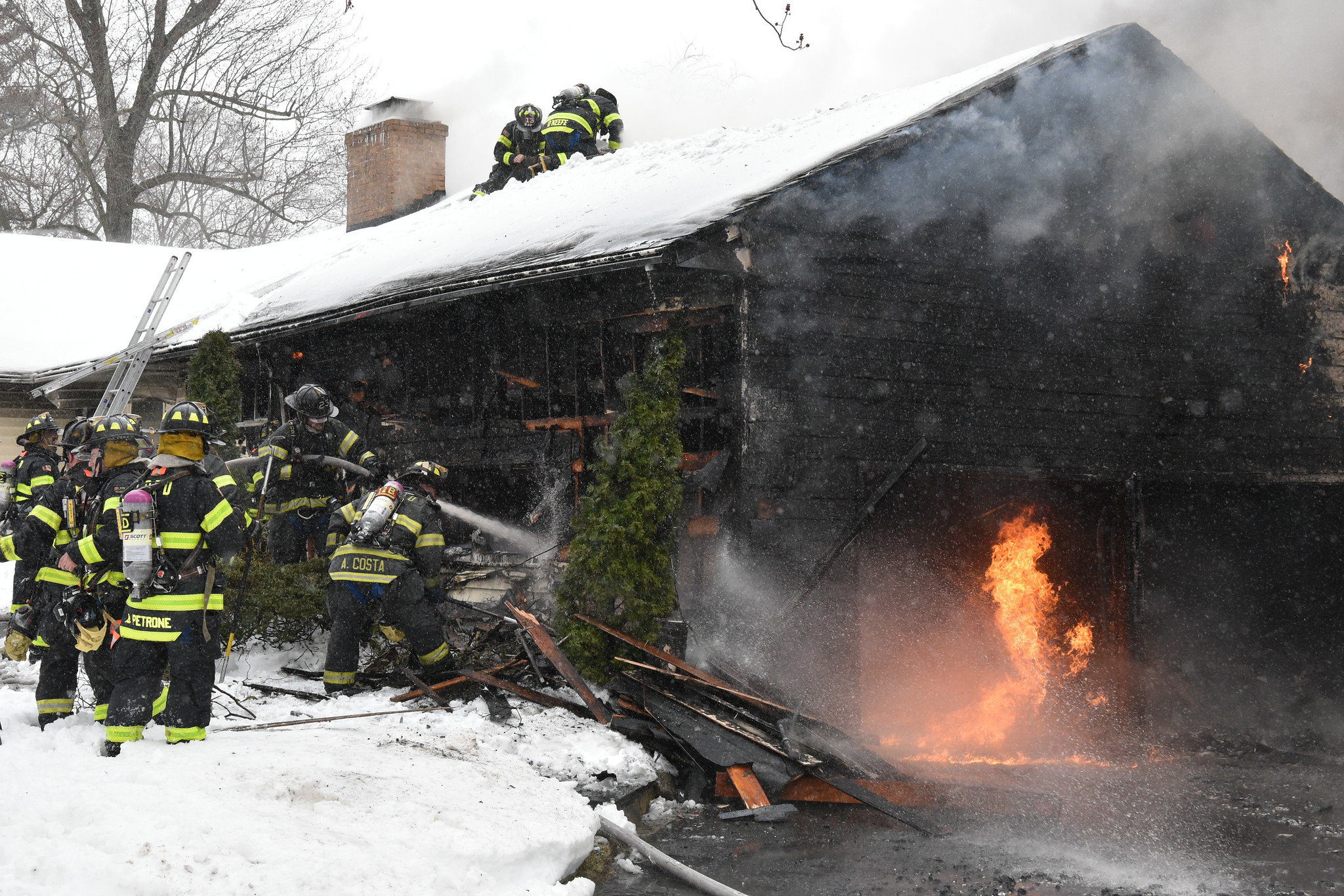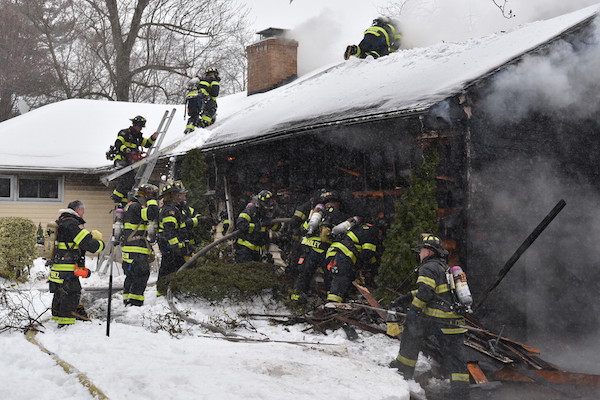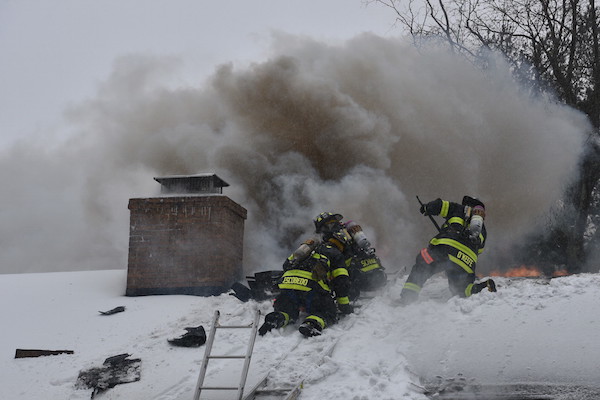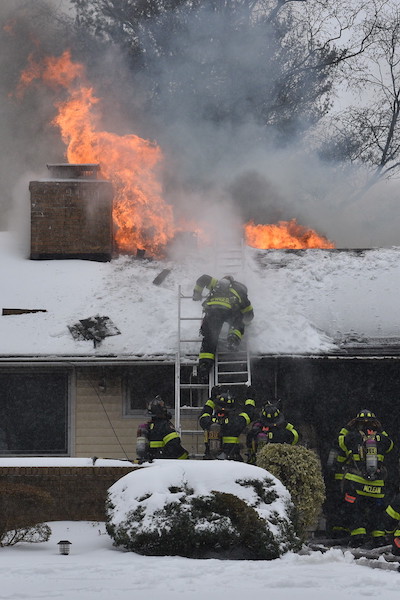 Greenacres Town Hall Meeting Thursday Night
Details

Category: On Our Radar
Published on

06 March 2017

Written by

Joanne Wallenstein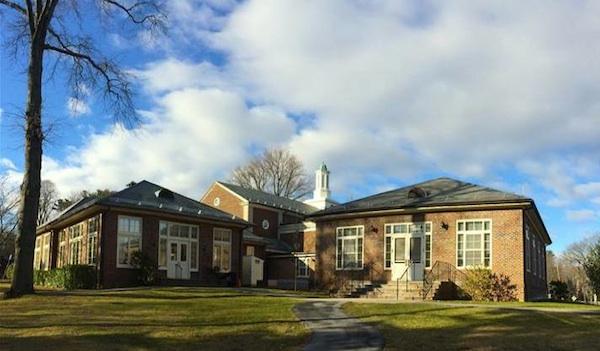 Calling all Greenacres residents: Do you have questions about the school, the upcoming Village election, budgets, recreation, roads and safety? Here's your chance to get answers about all things relating to Greenacres and the Village of Scarsdale.
The Greenacres Neighborhood Association will hold their annual Town Hall meeting at Greenacres Elementary School on Thursday March 9 at 7:15 pm. They have invited community leaders to give you an update and respond to your questions.
Panelists include:
Mayor Jon Mark
Village Manager Steve Pappalardo
Police Chief Andrew Matturro
Fire Chief Jim Seymour
Recreation Department Superintendent Brian Gray
Volunteer Firefighter Ken Mazer
Scarsdale Volunteer Ambulance Corps: David Raizen
Scarsdale School Superintendent Thomas Hagerman
Greenacres Principal Sharon Hill
Board of Education President Lee Maude
Greenacres PTA President Joey Silberfein
Greenacres Elementary School
Refreshments at 7:15 pm
Meeting from 7:45 - 9 pm
For more information contact Andrew Sereysky at asereysky@yahoo.com, 914-725-4916.