A Bronx Tale and A Dinner Tale
Details

Category: On Our Radar
Published on

05 January 2017

Written by

Stacie M. Waldman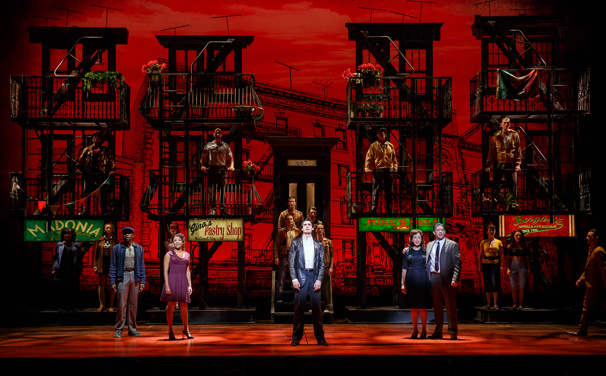 It's not often that you get to eat a themed dinner at a restaurant owned by a Broadway writer and then see his play, all in one night. I was lucky enough to enjoy A Bronx Tale themed meal at Chazz Palminteri's Ristorante Italiano followed by great theater at his musical on Broadway.

A Bronx Tale, the unexpectedly adaptable musical that is based on a play of the same name by Chazz Palminteri (now a Westchester resident) and later the critically acclaimed film. The film starred Chazz as Sonny, the mob boss, and was directed by Robert De Niro. I can only attribute much of the perfection of A Bronx Tale, the New Musical to the book by Chazz and the superb co-direction by Robert De Niro and Jerry Zaks. I was pleasantly surprised by the heartfelt music and lyrics and then learned that Alan Menken and Glenn Slater were the pair behind them. That's right, the Disney duo famous for box office smashes "Tangled," "The Little Mermaid" and "Aladdin" (Menken) as well as Broadway's School of Rock (Slater) wrote the music and lyrics for A Bronx Tale- and it does not disappoint. Choreography by Sergio Trujillo rounds out the famous (and fabulous) creative team. The set (Beowulf Boritt) was impressive and the lighting and variance of angles allows the audience to feel like they are seeing Belmont Avenue from different vantage points. Lest one forget the sound; I was able to hear and understand every character so caps off to Gareth Owen, Sound Designer.
Beyond the upbeat music and choreography is a story that will stick with you long after leaving the Longacre Theatre. It is relevant today even though it opens in the 1960's. Beginning with the song (that I'm still humming) "Belmont Avenue," the story tells of a boy's coming of age in the Bronx when race relations between the Italian and African-American communities were strained. Young Calogero, (played by Athan Sporek in this performance) is an only child being raised by loving, working-class parents Lorenzo (Richard H. Blake) and Rosina (Lucia Giannetta). Young Calogero accidentally witnesses a murder by mob boss Sonny (Nick Cordero) then flat out denies Sonny's involvement when questioned by the NYPD. Sonny takes a liking to Calogero, nicknames the boy "C" and then Athan Sporek/Young Calogero takes over the stage and crushes his solo, "I like it." Sonny introduces "C" to dice- throwing and the mob scene. He wins a large sum of money during the song "Roll 'em" but his father finds out how he won it and forces him to return it to Sonny. We then see Calogero (Bobby Conte Thornton) as a young adult in 1968 who looks remarkably like his younger version. Against his father's wishes, he has secretly kept a strong relationship going with Sonny. He joins a gang and develops a crush on an African American girl named Jane (the talented Ariana DeBose) and their story is explored while Calogero's relationship changes and develops with both Sonny and his father until tragedy strikes.
I had a chance to talk to the exceptionally talented and gotta-pinch-him cute Athan Sporek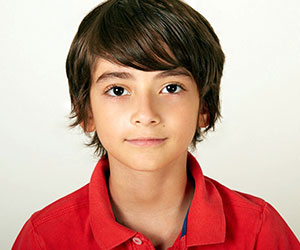 after his performance as Young Calogero. (Athan shares the role of Young Calogero with Hudson Loverro). At age 9, you'd expect this to be Athan's debut on the Great White Way but he was also the youngest Gavroche on Broadway in Les Miserables history (during his younger years). I asked him how the two shows compare from his point of view. "I guess you could say this show is a bit jazzier than Les Mis," he said. "I love both styles but what's cool about A Bronx Tale is that I get to sing, dance and act- I can do all the things I love in one role." According to Athan, why should people come see A Bronx Tale? "Just like Jane says in the show," he remarked, "it's a story that'll make you laugh and cry. As far as co-directing goes, it doesn't get better than this!" I had a chance to meet Athan's mom and asked her for one quick highlight of the whole experience so far. "It was when Athan asked, 'Now that I know Chazz, when do I get to meet the real Mafia?'"
Not exactly close to the theater but highly convenient to Grand Central Station is Chazz Palminteri's Ristorante Italiano so naturally I had to try it before the show. Beyond the intelligently thought out menu and perfectly cooked and presented cuisine, there's Chazz himself who frequents the restaurant.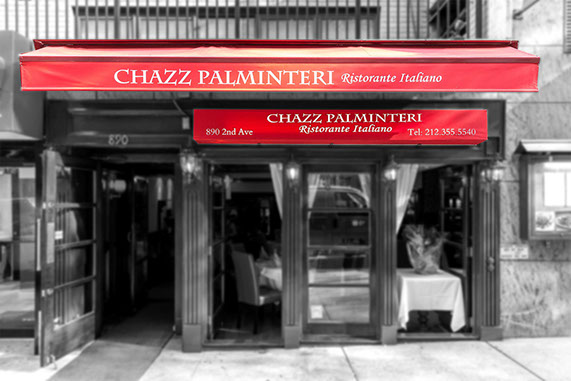 In honor of the opening of A Bronx Tale on Broadway, the restaurant has a set "Bronx Tale" dinner menu as an option. It's an impressive offering for a fabulous price. The wine menu was varied and extensive without being over-the-top. The service was top notch from start to finish and the ambiance was lovely. We began with the grilled calamari which was drizzled with olive oil and balsamic and was a notable introduction to our meal. We also had the salmon tartare over avocado topped with arugula and capers; fresh, simple stacked ingredients that were heavenly for the tastebuds. The Secondi came out piping hot and we split the Osso Buco (only served when the chef decides to cook it) and pistachio crusted halibut over homemade gnocchi in a white wine and porcini mushroom sauce. The Osso Buco was absolutely delectable if a bit fatty for my personal palate. The halibut/gnocchi dish was expertly prepared, well-seasoned and filling. (As if I could skip dessert.)
While consuming about 3,000 calories worth of Tiramisu that was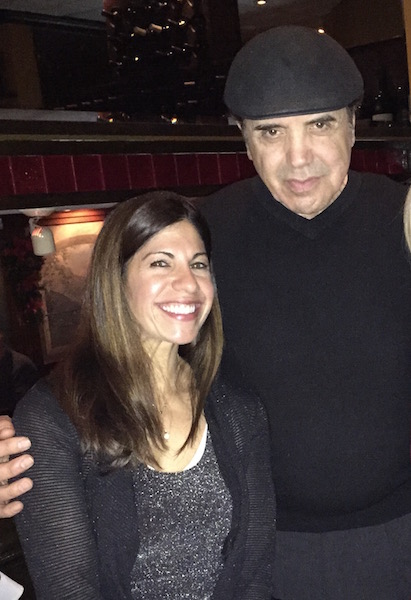 so good you could have convinced me I was in Rome, I looked up and Chazz himself. He was excited that we were going to see A Bronx Tale after our meal and mentioned that it was Athan Sporek's (young Calogero's) debut performance. "Those kids are great, both of them. Ya better get goin'," he said as we frantically hailed a cab. But first, I couldn't resist a photo. I just wish I had practiced my Bronx mobster face beforehand because, well, Chazz had.
A Bronx Tale is playing at the Longacre Theatre and has a running time of 2 hours. Rush tickets are available when the box office opens. Note: There are several very loud gunshot sounds, a couple of curse words, sexual innuendo and a word quickly spoken by a character making it possibly inappropriate for young children.
Chazz Palminteri Ristorante Italiano is located at 890 Second Avenue between 47th and 48th and is open for lunch and dinner daily.
SVAC Celebrates a Year of Service to Scarsdale
Details

Category: On Our Radar
Published on

19 December 2016

Written by

Joanne Wallenstein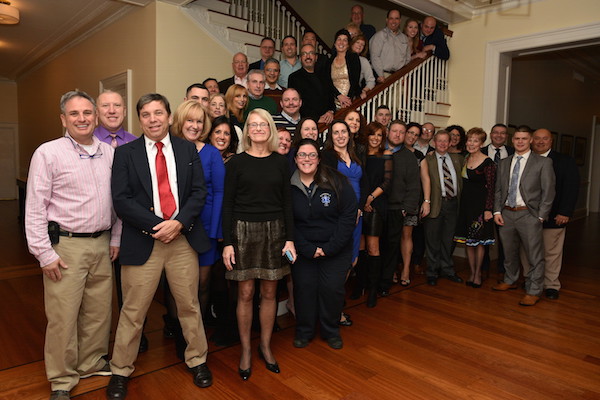 The Scarsdale Village Ambulance Corps held their holiday party on December 8th to honor their staff and volunteers who give many hours each year to assisting their neighbors when called.
On hand were Mayor Jon Mark and Assemblywoman Amy Paulin along with many corps volunteers. SVAC President David Raizen and SMS teacher Steve Rambone celebrated 40 years with SVAC.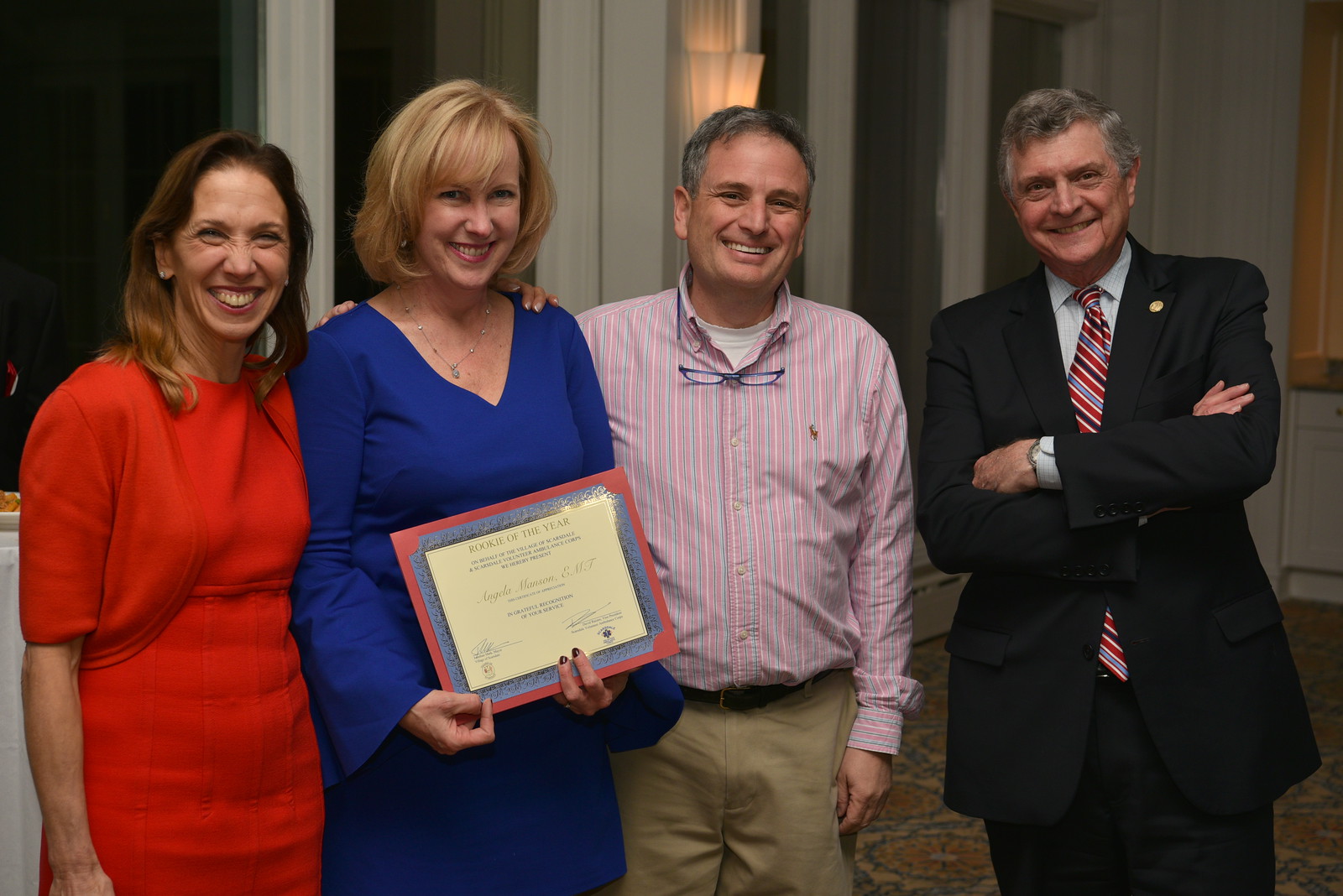 Angela Manson was named Rookie of the Year
Al Garavito was named Paramedic of the Year
Jim Gross was named EMT of the Year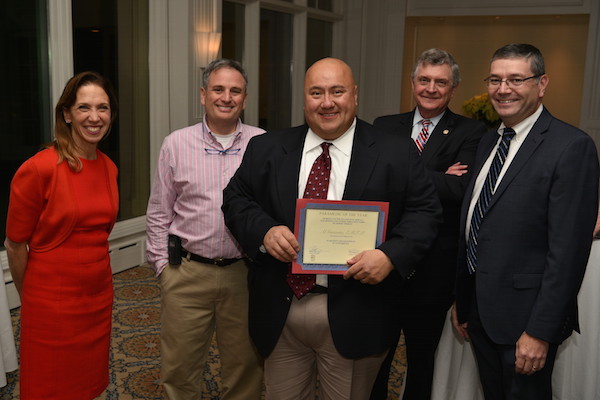 Kudos to the entire corps for their devotion to assisting neighbors in their time of need.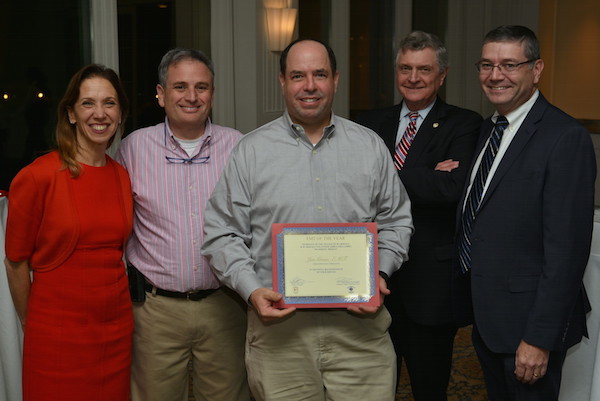 The Scarsdale Volunteer Ambulance Corps relies on your support. Click here to give your annual donation.
Photos by Jon Thaler: See more here.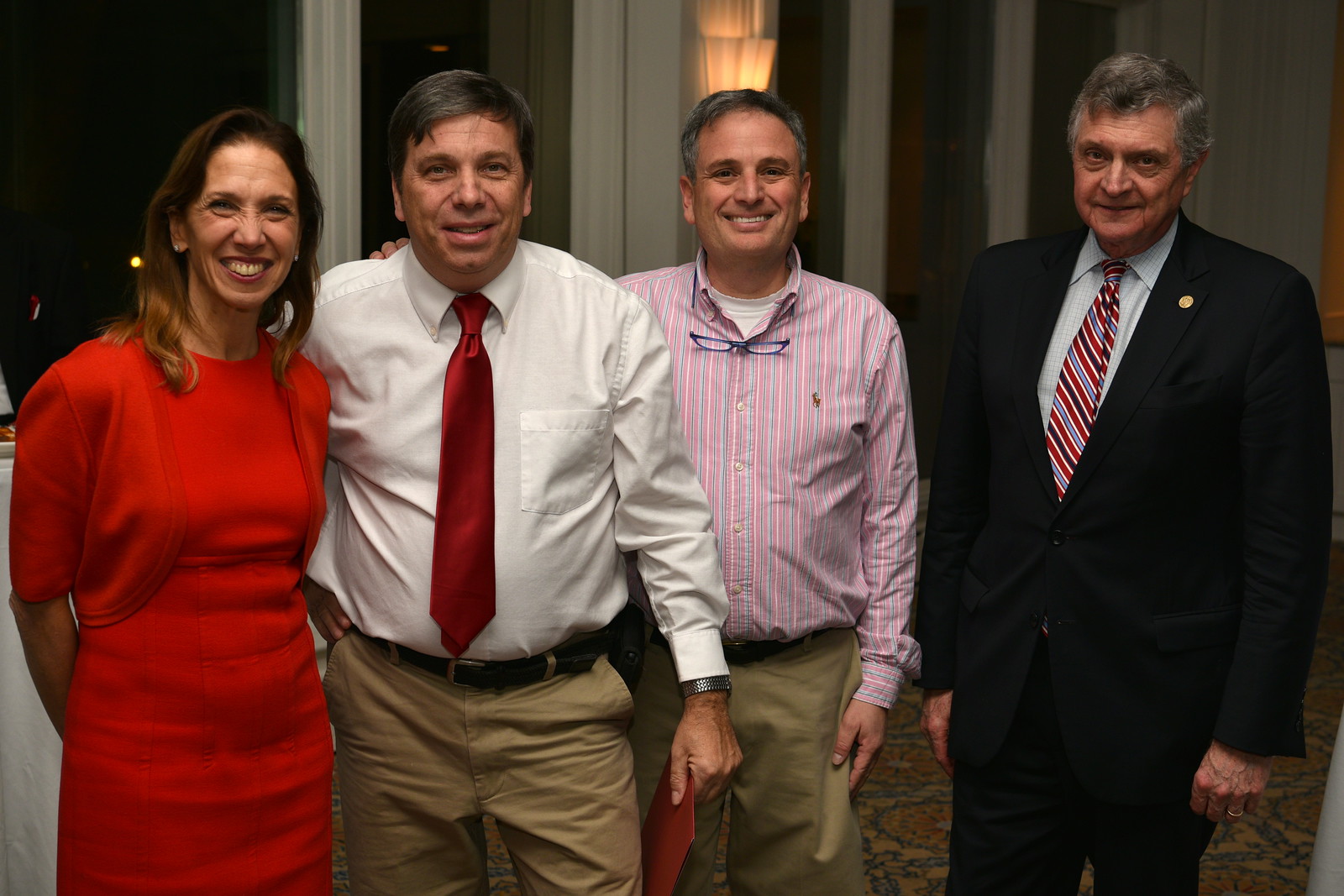 Scarsdale Residents Bring Good, Clean Eats to Downtown
Details

Category: On Our Radar
Published on

05 December 2016

Written by

Jordana Rothstein White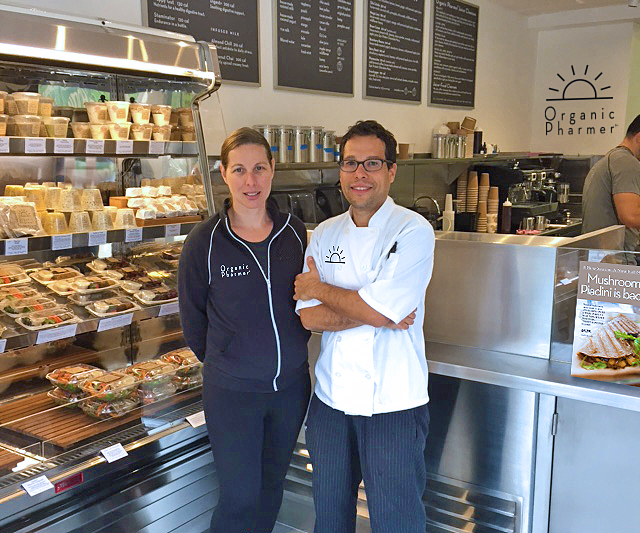 There's a new health food joint in town and two Scarsdale residents are taking charge in the kitchen!

When Organic Pharmer of Rye Ridge opened a second location on Garth Road earlier this year, it gave Chefs Lee and Darleen Gross the chance to work a whole lot closer to home.

While Organic Pharmer's gluten, dairy, soy, corn and egg-free menu items are intended for grab-and-go meals, its soups, salads, snacks, wraps, breakfast options and juice cleanses are also available for delivery in and around Westchester (some restrictions apply, check the website for details.) Better yet, the Organic Pharmer team now offers catering services for small and large parties—with as little as 48 hours notice, an impeccably prepared, fresh whole food meal can be at your door for guests to enjoy!

Excited about the prospect of lighter, flavorful fare in our own backyard, we sat down with the husband-and-wife chef team to learn more about the food they're making and the steps the whole Organic Pharmer team is taking to make Scarsdale that much healthier (and tastier!)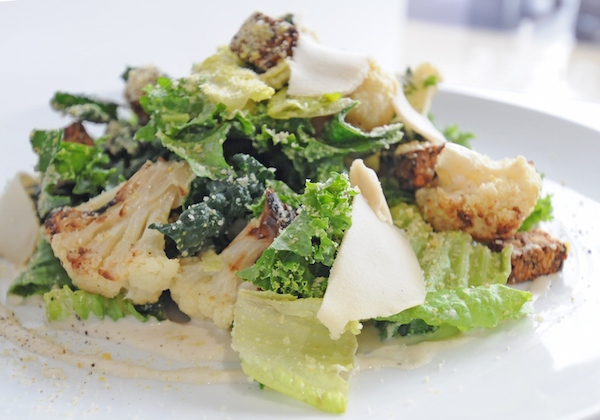 Q: After culinary school you trained at the Kushi Institute, a macrobiotic education center. Can you explain to our readers what macrobiotic eating is all about?

LG: Macrobiotics, in a nutshell, is a method of changing the world through food. In order to change society, you need to change thought processes, which come from the body, which is fueled by food...Basically, macrobiotics makes you see that you are what you eat, which translates to basic dietary techniques—the principle that you should eat a mostly plant-based diet with lots of whole, natural foods, fruits, vegetables and whole grains, much like the food we offer at Organic Pharmer.

Q: Organic Pharmer counts Dr. Susan Blum, founder of the Blum Center for Health, as part of its team. How closely do you collaborate with her on menu planning?

LG: Darleen and I work hand-in-hand with Dr. Blum. Our menu is seasonal and changes frequently. As chefs, we generate ideas for new dishes, then coordinate with Susan to make sure that the nutritional profile is in line with the macro nutrient and calorie counts she recommends.

Q: What's your must-have dish at the store?

DG: The Kale and Cauliflower salad is one of the most popular items on our menu. It gets great crunch from our croutons and roasted cauliflower, and lots of creamy, 'cheesy' goodness thanks to aged cashew cheese and an almond flaxseed 'pharmesan' based dressing. So tasty and only 250 calories!

Q: In addition to meals and snacks, Organic Pharmer offers a variety of cleanses. What advice do you give to cleansers trying to select a program?

DG: We have so many customers who cleanse regularly, and will come and do any one of our juice cleanses once a month. But for new cleansers, especially if you're trying to get healthy after over-indulging through the holidays, I'd highly recommend one of our juice and food cleanses. A cleanse that involves food is a bit more familiar to people that are new to cleansing, so they feel less deprived. Especially when it's cold outside, it's nice to have a cleanse option that doesn't just leave you sipping ice cold drinks all day!

Q: Speaking of the holidays, what special offerings do you have for this time of year?

DG: From now through the end of the year,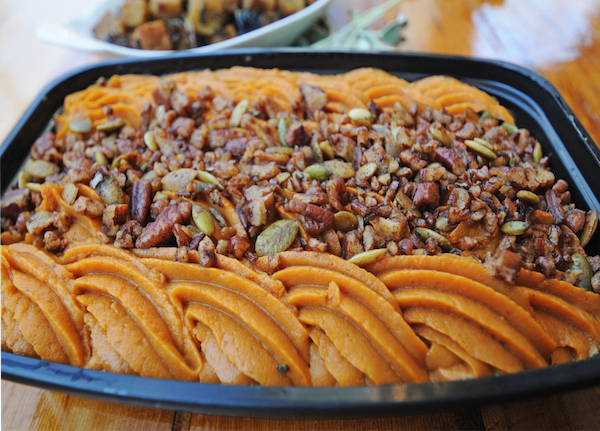 we're making a sweet potato casserole that's a great alternative to those calorie-heavy sweet potatoes with marshmallows. With a pecan pumpkin-seed streusel topping, it makes a perfect sweet and savory side dish. We're also making gluten free croutons from our sprouted "sorghum sandwich bread." When you pick them up at the store, we even give you the recipe for a wild rice and sorghum stuffing that uses the croutons as a base!

Q: Before we let you go, we have to ask: how does it feel to be living and working in Scarsdale?

LG: I actually grew up around here, so it's great to be near family. The schools are wonderful and we're really enjoying the close-knit community. It's also kind of neat to be back on Garth road by the 7-11 where I used to hang out—it's like old times! But, in all seriousness, it's just nice to feel like we're helping bring vibrancy, fun and new life to Scarsdale's downtown.

Organic Pharmer Scarsdale is located at 28 Garth Road, open Monday-Friday, 7am - 6pm,Saturday, Sunday and Holidays, 8am - 5pm. For more information call 914-574-5590 or visit http://www.organicpharmer.com.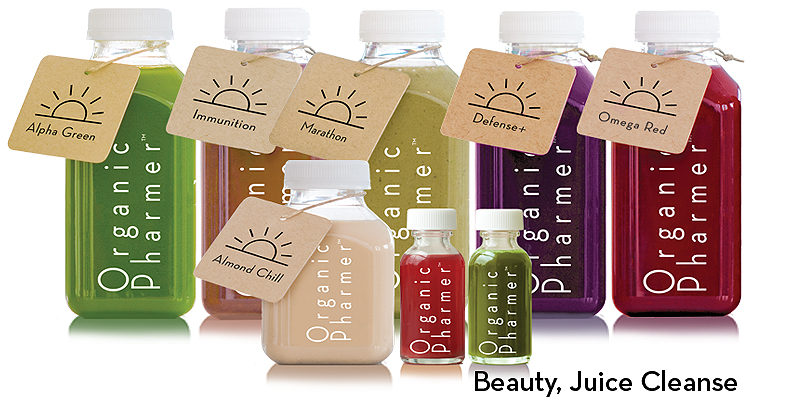 District Breaks Ground on New Music Room at SMS
Details

Category: On Our Radar
Published on

14 December 2016

Written by

Joanne Wallenstein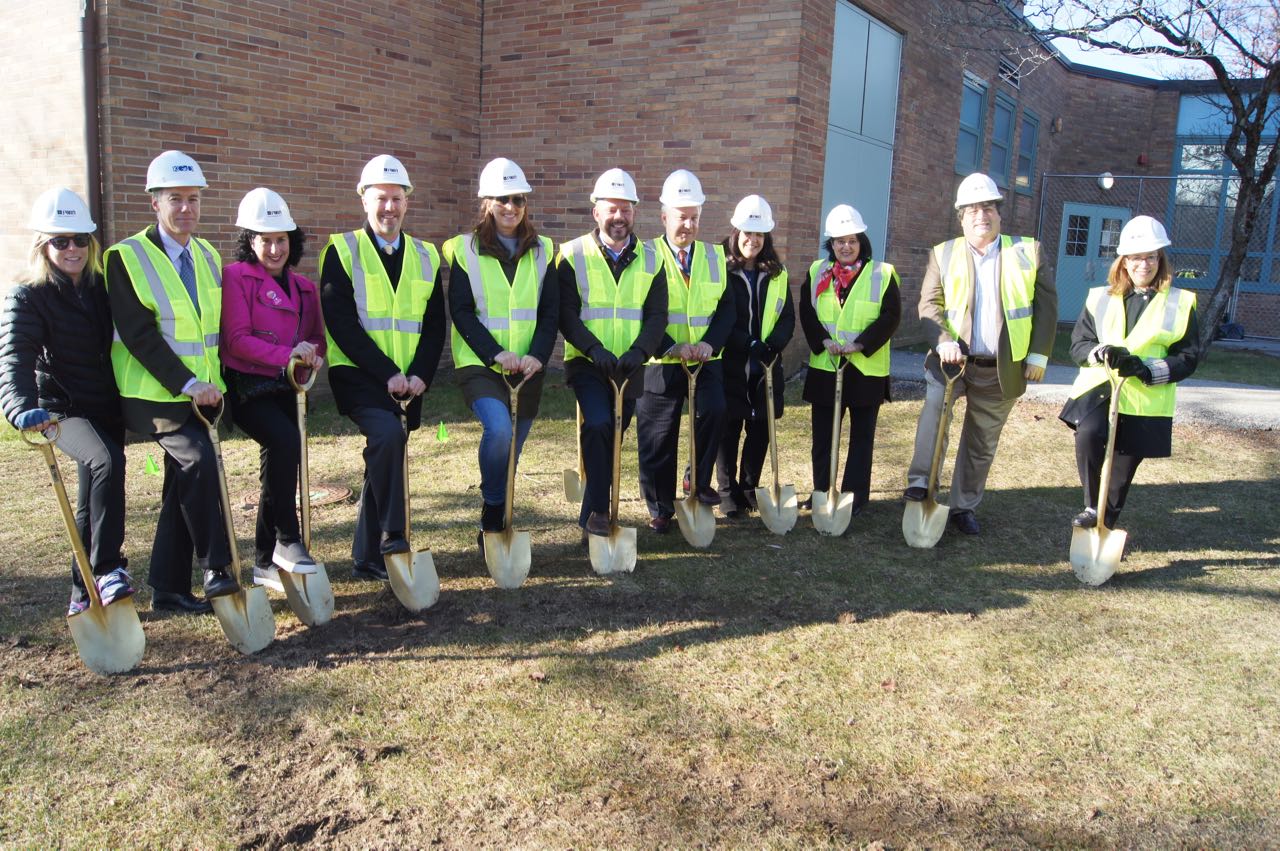 A groundbreaking ceremony was held at Scarsdale Middle School on Wednesday 12-14 to celebrate the beginning of the construction of a new instrumental music room. The new room will provide the district's young musicians with a dedicated space for orchestra rehearsals and storage of musical instruments. Construction is anticipated to be completed in time for the opening of the school year in September 2017.
This project is just one of several that were financed by an $18.2 million bond that was passed with an 86% approval rate by Scarsdale voters in December 2014. Other exciting facilities upgrades include a new learning commons, a design lab, and a fitness center at Scarsdale High School, a new library, office and entrance at Edgewood School and a new multi-purpose room and renovations to the existing multi-purpose room at Heathcote School.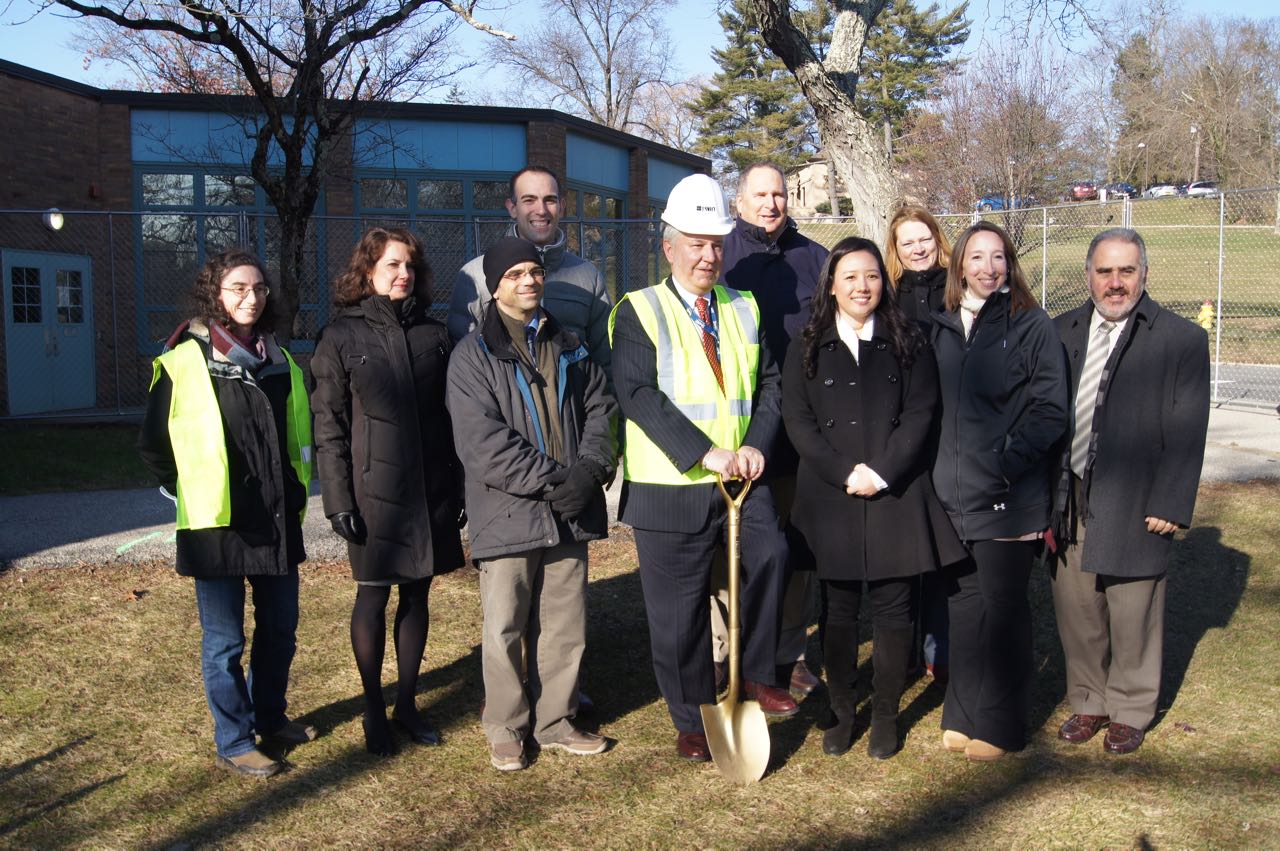 Superintendent Thomas Hagerman said "This groundbreaking is the result of the blood, sweat and tears that got us to this moment.... This is just the beginning of a lot of work to be done at the district. We have focused on curricular improvements and deferred maintenance on our facilities. This work will not just repair the school, but bolster the instrumental music program."
Assistant Superintendent Stuart Mattey said, "Its been a long road to get to this point. It's exciting to stand here and break ground." He thanked architects KG&D and construction management firm Savin, who will ensure that the job is built safely, on time and to specifications. He asked the community to bear with the district and anticipated mud, a shortage of parking spaces and a bit of traffic during the construction process.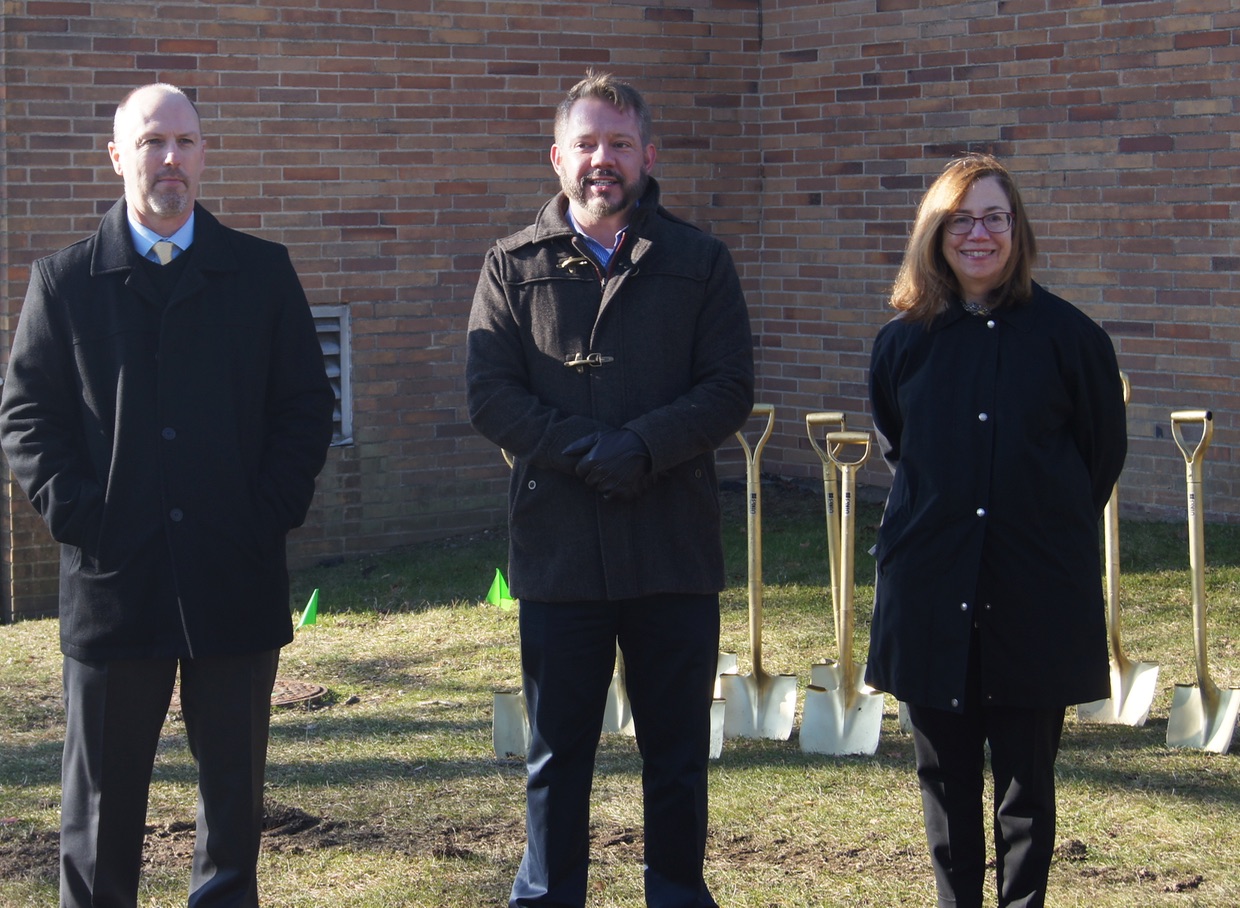 School Board President Lee Maude said "This is a great milestone. One year from now we will be inside an orchestra rehearsal room instead of rehearsing on the stage of the auditorium. How lucky are we to have a community with great ties to music and the arts." She thanked former Board Presidents Mary Beth Gose and Suzanne Seiden and the community for their support of the bond.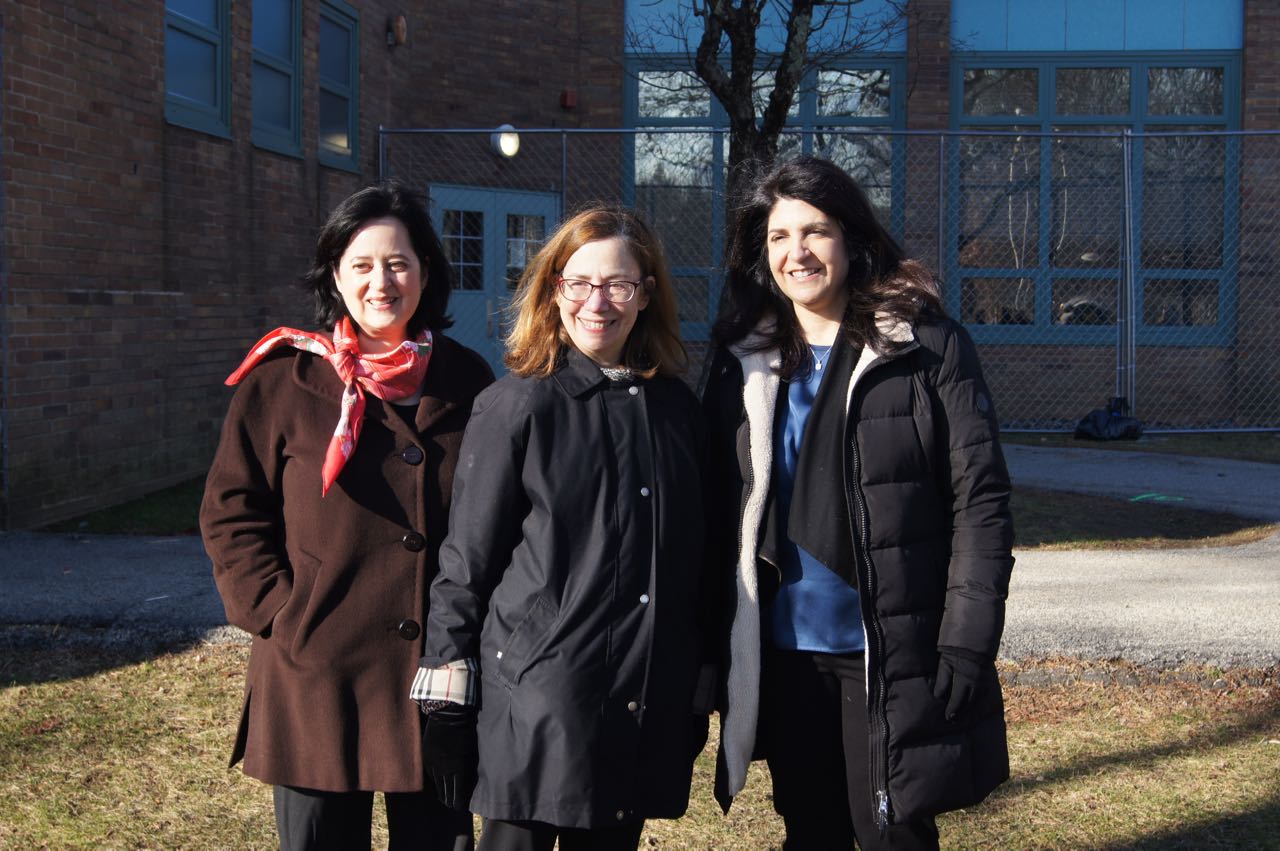 Man Hit by Southbound Train at Scarsdale Train Station
Details

Category: On Our Radar
Published on

29 November 2016

Written by

Joanne Wallenstein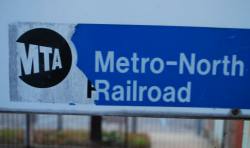 Metro North Harlem line trains were delayed this morning after a man was hit on the southbound tracks at the Scarsdale Train Station at 4:36 am on November 29. The man was initially seen sitting on a bench at the Scarsdale Train Station around 2 am. However, at around 4:30 am he walked to the end of the platform and descended the steps onto the tracks.
At 4:36 am he was hit by a southbound equipment train that was not carrying any passengers. According to a spokesperson from the MTA the victim was alive after he was hit and was taken to Westchester Medical Center. His name has not yet been released and he was in critical but stable condition as of 4:00 pm this afternoon. The hospital is attempting to advise his family.

The incident caused a 15-minute delay on both north and southbound trains during the morning rush hour.