Enticing Indian Cuisine at RaaSa
Details

Category: On Our Radar
Published on

26 July 2016

Written by

Judie Dweck
The free-standing building on East Main Street in Elmsford has been home to Indian restaurants for many years. We first discovered it as Malabar Hill, then Raasa, and most recently, while the name remains RaaSa, it is under new ownership and the exciting new menu is filled with many innovative modern touches, making the new RaaSa the place to visit for truly fine Indian dining. Park your car in the adjacent lot and the gray and white façade of RaaSa immediately makes you feel that you are visiting a friend's home. What originally was a traditionally decorated spot agleam with glittering Indian artifacts has been transformed into a contemporary space with high ceilings allowing the sunlight to permeate the dining area. Copper balloon shaped chandeliers and delicate birdcages are suspended from the ceiling. Remaining on several walls are wallpaper bookshelves which lend a warm homelike atmosphere to the area. White linens adorn the ninety seat dining room. On a pedestal at the entry is a four headed elephant, with each head signifying good fortune. (Upon leaving, I think it signifies good food, as well.)

RaaSa translates as the essence of life. It has the feeling of a musical beat and the many poses of a dancer. Words like emotion, sentiment and flavor come to mind with mention of the word raasa.

RaaSa is proudly owned by the husband and wife culinary team of Ashok Salian and Priya Kapoor Salian, both culinary school graduates who met while working in the hospitality field in Phoenix. Upon moving to New York, they were part of the opening team of the well-known Tamarind in Tribeca along with award winning, renowned chef, Peter Beck, who now heads the kitchen at RaaSa. Priya learned to cook from her mom, who felt it was a skill for every young girl to learn. "I got very curious about cooking with spices and herbs and my passion led to culinary school and eventually to opening our restaurant. We believed that Westchester needed a fine dining Indian restaurant. Our menu required extensive planning and focuses on healthy preparation of dishes from the many areas of India."Ashok Salian helped in his family kitchens in India from a very early age. He would have loved to have his grandfather visit RaaSa. Ashok has a university accounting degree, but his culinary education is what he chose to follow. "Everybody wants food, and if I can make people happy by offering the best meals, then I am happy as well." He is involved with maintaining the highest level of excellence at RaaSa. He is an expert mixologist and has created many unique beverages, all prepared with fresh juices and appropriate to accompany the food served at RaaSa. RaaSa Bloody Mary with madras spices, mango mint margarita, orange zinger, cucumber basil gimlet, and ginger lime martini are some of his creations. Many beer selections and a full bar are offered. Having worked in many restaurants including Keen's Steak House, his future may include opening an upscale steak house with Indian specialties.

For several hours, at a sunny corner table, I enjoyed a multicourse tasting, in which many imaginative touches elevated classic dishes to memorable ones. You may want to start with a sampling of Indian Street Food from the Chat Corner Menu.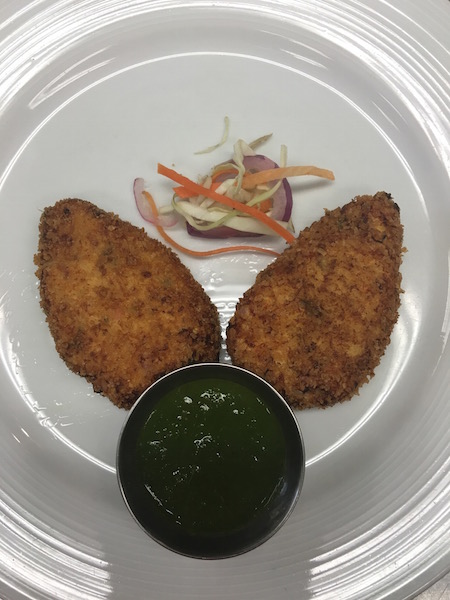 Try a variety of crisps, fritters and pastries as you check out the large menu. From the appetizer section, we started with the classic lasoni gobi. These cauliflower florets were seasoned with garlic, ginger and a bit of jalapeno and black pepper for a bit of heat. Cresting on a pool of tangy sauce and sprinkled with scallion it was delightful. From the familiar to a dish more unique to me was ambiya tikki. Here roasted fresh beets were combined with chick pea flour to form tasty fritters. Complimented with fresh mango relish they were unusually good. Shredded cabbage and carrots completed the presentation of these croquettes. Chennai jhinga, a very popular non vegetarian appetizer, was outstanding. Shrimp and avocado coconut chutney topped a lentil and rice pancake. Garnished with fresh cilantro it was terrific. One of my favorites was patili ka keema. The ground lamb was tossed with a perfect combination of herbs and spices. This mound of deliciousness was surrounded by triangles of multilayered flat bread. It would have been very easy to fill up on this outstanding dish, but there was more to come. From the twenty appetizer selections, I look forward to trying lamb kebab with
pineapple chutney, cochin kekda, lump crabmeat with roasted coconut, mustard seeds and curry leaves and yam kebabs. Of course, you must sample one of the tandoori dishes. These marinated fish, meat, poultry and vegetables are grilled in the clay tandoor oven for superb results. We savored the adarki salmon. The pristine salmon filet was marinated with black pepper and fresh ginger. Served as requested, on the rare side, it arrived with beautifully flavored lemon basmati rice, shredded cabbage and carrots and coriander chutney. It was a simple, healthy and wonderful choice. Jumbo shrimp and fennel, Chilean sea bass with green herbs and spices, lamb chops, chicken and a mixed grill are all beautifully enhanced with marinades when cooked in the tandoor at RaaSa.

Entrees both classic and modern are all enhanced by the expert use of spices and herbs. Samunder se, a mélange of seafood in a coconut milk, tomato based sauce, navratan korma, malai kofta, chicken tikka masala, lamb rogan josh and shrimp chettinad are among the many entrees. They may be familiar dishes, but in the hands of the chefs at RaaSa, they take on a new and outstanding taste. At the suggestion of Priya, I sampled avadhi dum. This huge lamb shank was slowly simmered in a sauce rich with onion, tomato and a perfect combination of spices to tender perfection. The marrow was still in the bone for added indulgence. With barely any room left, I sampled the best biryani I've ever had, served in a bowl sealed with bread to keep in the moisture. Mine was studded with lamb, chicken and shrimp and served with raita. Accompany your meal with the well known variety of Indian breads. Important to call to your attention is that everything is prepared from scratch. This is not a one sauce fits all restaurant. Each sauce is carefully designed to suit each dish.

We completed our meal with a creamy glass of mango lassi and a taste of kubani double mitha, an apricot bread pudding. Other choices are cardamom yogurt with fresh mango, an orange flavored panna cotta and other classic Indian desserts.

Lunch here is not the usual pre prepared buffet. Start with a buffet table of appetizers, soup and salads and then have your entrée prepared to order where you can mix and match your protein with a variety of sauces accompanied by rice, dal and bread. Catering and lunch boxes to go are also offered to go.

A visit to RaaSa is a special treat. An upscale, friendly, authentic and creative experience awaits you. Try it soon.

RaaSa

145 East Main Street
Elmsford
(914) 347 7890

Recipe: Chicken Tikka Masala (Serves 4)

Ingredients:

4 chicken breasts, boned, skinned and cut into cubes
1 teaspoon each of cumin powder, coriander powder, cardamom powder, red chili powder, garam masala, dried fenugreek*
2 Tbsps. Butter
1 cup tomato sauce
1 cup chopped onions
1 Tbsp. finely chopped ginger
1 Tbsp. finely chopped garlic
½ cup cream
½ cup chopped cilantro
2 Tbsps. Sugar
2 Tbsps. tomato paste
Salt to taste

Instructions:
Place butter in a pot. Add ½ cup of the chopped onions and sauté. Add chicken and sauté until lightly browned. Set the mixture aside. In the same pot, add the remaining onions, ginger, garlic and the spices and sauté until slightly browned. Add tomato sauce, tomato paste, sugar and salt to taste. Simmer for about 5 minutes. Return chicken mixture to the pot and add the cream. Simmer again. Garnish with chopped cilantro and serve with naan and basmati rice.

* Available at Indian grocery


Judie Dweck has been writing about restaurants and food for many publications. She teaches creative cooking to children at Scarsdale elementary schools. Through the years, her articles have appeared in Jack and Jill Magazine, Spotlight, The Pleasure of Cooking and The Scarsdale Inquirer. She balances her restaurant tastings with daily ballet classes.



The Lively Flavors of Thai Food at I Thai Resturant
Details

Category: On Our Radar
Published on

12 July 2016

Written by

Judie Dweck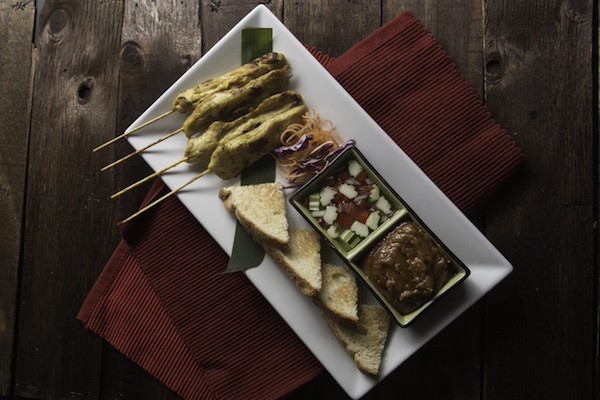 Down a garden lined path, you enter I Thai, the new delightful gem of a Thai restaurant in White Plains. It replaces Reka Thai Restaurant and has been refurbished. The aromas that emanate from the kitchen are lemongrass, lime, cilantro, garlic and chili peppers. The menu at I Thai is a galaxy of beautifully combined flavors and textures. There is a fine balance between spicy and sour, mild and pungent, as well as crunchy and smooth, resulting in a cuisine that is lively and irresistible.

I Thai is very simply decorated which allows you to focus on the lovely presentation of the Thai dishes. Seating about 70, the tables are nicely spaced. We were seated in a small alcove where crisp white curtains were on the windows that overlooked the beautiful flowers outside. One wall is covered with a mural depicting the many provinces of Thailand. This logo is repeated on the placemats.

I Thai is owned by Jutamas Homtrakul and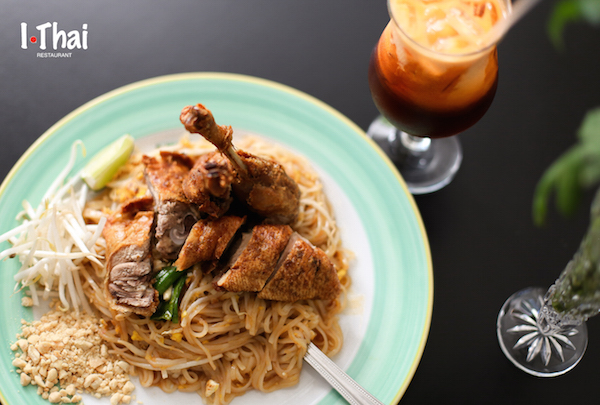 Sirikom Likitvanichkul, seasoned restauranteurs. I was greeted by General Manager Navanid Thongruang. He indicated that," I Thai is traditional and authentic in its food, and modern in its presentations. Among the several Thai restaurants in the area, ours is special because it is authentic and serves the type of dishes that is served in Thai homes. We like the friendly feeling in White Plains and we have many repeat customers. A nice feature is that we will adjust the levels of spice upon request. My favorite part of the business is dealing with our guests."

I did not get to meet the highly experienced chef, but the food that was presented to me speaks for itself, in other words, superb. One could easily make a meal of the varied appetizers presented here. We started with the ever popular chicken satay. Threaded on bamboo skewers, the chicken slices were marinated in coconut milk and spices. They were nicely grilled and served with a chunky peanut sauce and classic cucumber dip. Toast triangles shared the plate. Dumplings of several varieties are an important part of the cuisine. We sampled vegetable filled round green dough steamed dumplings as well as pleated thin dough encasing a chicken mixture. A light chili sauce accompanied them. Particularly tasty was a flaky pastry crescent, wrapped around a curried chicken and potato mixture, for a savory starter, as well. Shrimp rolls and vegetable rolls are other pleasant street food selections. Future appetizers may include Thai wings, crispy calamari and steamed mussels. For the soup lover try the classic tom yum shrimp soup. It awakened my taste buds with the first spoonful. Chili paste, mushrooms, lemongrass and cilantro added flavor to this bowlful.

Salads of green mango and shrimp, crispy duck salad and papaya salad are yet to be tried. We entered the realm of entrees. We loved the chicken massaman curry enriched with coconut and peanuts. It was mild, as requested, and richly textured. Perhaps next time we will try it with beef. Duck is popular among the entrees. Crispy duck tamarind included tender duck meat combined with broccoli florets and baby corn in a sweet and sour tamarind sauce. The crispy pineapple duck curry was especially good. Tomatoes, basil, red bell pepper strips and pineapple gave this dish a colorful flair. With soft shell crabs in season we chose Crab pad Thai. These Thai rice noodles are addictive when tossed with tofu, tamarind, scallion, bean sprouts, palm sugar and peanuts. A crispy plump soft shell crab topped this mélange for an excellent dish. Black noodles and drunken noodles are yet to be tried. Several varieties of fried rice are most appealing. We savored a mound of crabmeat fried rice. The generous amount of crabmeat was enhanced with cucumber, lime wedges, grape tomatoes and cilantro for a fine variation of the popular fried rice. From the selection of sautéed dishes we chose mixed seafood with a cashew sauce. The octopus was scored before sautéing for a curlicue look. Combined with shrimp and mussels, and a pop of color from baby corn and red and green bell peppers in a rich cashew sauce it was a very nice dish. Other sauce possibilities are Thai basil, eggplant basil, fresh ginger, garlic and sweet and sour varieties.

To accompany your meal there are many signature drinks. Ginger Swing, Bangkok tini, and gimlet lime tini are among then. I enjoyed several traditional non alcoholic beverages. Thai iced tea, ginger lemon tea with shredded fresh ginger and lemon slices for a sweet and tart experience and with dessert the sweet and delicious Thai iced coffee with sugar, strong coffee and evaporated milk. Thai coconut ice cream with palm seeds and peanuts and fried ice cream are among the desserts. My finale was the outstanding half of a ripe mango with sweet sticky rice, a perfect ending to a many faceted meal.

A prix fixe lunch is offered here as well as happy hour with appetizers and drinks. Since Thai food is perfect party fare, I Thai does a brisk catering business, as well.

Enjoy a meal at I Thai where the combination of herbs and spices and fresh ingredients, combine to create many harmonious dishes.

I Thai Restaurant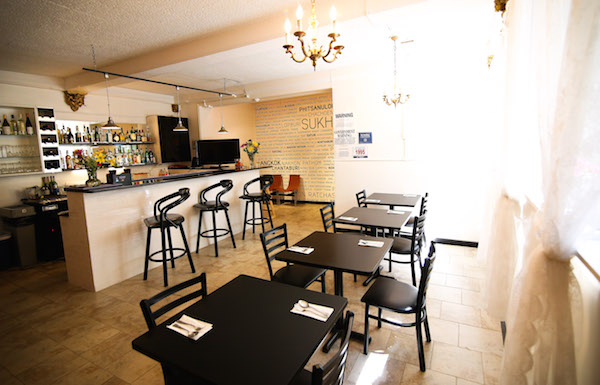 2 Westchester Avenue
White Plains
(914) 289 1888

Thai Chicken Satay: For 4 serving as appetizer
Ingredient Lists :
Chicken
1/2 cup coconut milk
1 tablespoon fish sauce
2 teaspoons curry powder
2 teaspoon palm sugar
1/4 teaspoon salt
1/4 teaspoon pepper
2 pounds boneless, skinless chicken breast, cut into 16 thin strips
Preparation :
Preparing chicken: Whisk coconut milk, fish sauce, curry, palm sugar, salt and pepper into the big bowl stir it together. Put chicken into the bowl and pour in marinade. Plastics Warp over the bowl and put into the fridge over night to marinade chicken.

Preheat grill to medium. Remove chicken from marinade; discard marinade. Thread each piece of chicken onto a metal or bamboo skewer. Grill for 5 to 7 minutes, turning once, until chicken is cooked through and no longer pink. Serve with Peanut sauce and Cucumber Sauce.

Tips : For bamboo skewers, soaked in water for 20-30 minutes prior to use which the bamboo skewers will not get easy to burn when you grilled the chicken satay.

Pad Thai (Stir-Fried Noodles) For 2-3 serving

Ingredients Lists :
Half Roasted Crispy Duck
8 Ounces dried Thai rice noodles, preferably around 1/4 inches wide
3 tablespoons vegetable oil
3 large garlic cloves, minced
1/3 cup extra-firm tofu, cubed
2 large eggs
1/4 cup fish sauce
1/4 cup tamarind juice
2 tablespoons palm sugar or brown sugar
2 teaspoons paprika or ground hot chili pepper
6 scallions or Chinese chives, cut into 2-inch pieces
2 cups bean sprouts
1 tablespoon pickled radishes or turnip Optional
1/4 cup peanuts, chopped
1 lime, cut into wedges

Cooking :
Firstly, prepare the small bowl mix fish sauce, tamarind juice and palm sugar all together and taste by you can adjust flavors of salty, sour and sweet (called Tamarind sauce)
Then prepare your Crispy Duck by fried or roasted as you decided and for the pad thai bring a large pot of boil water and add the noodle to cook for 7-10 minutes make sure that tender and almost cooked but not too soft. Drain the noodles and set aside.

After that prepared a wok or pan-fried turn on heat pour oil and then put the garlic and firm tofu stir it until their turning golden brown then put pickled radishes or turnip, egg stir it together and put in the noodles and now put in the tamarind sauce. Stir it make sure your noodle is cooked then put paprika or ground hot chili pepper, scallions or Chinese chives, bean sprout. Stir a few more time until noodle be soft, dry and very tangled.

Judie Dweck has been writing about restaurants and food for many publications. She teaches creative cooking to children at Scarsdale elementary schools. Through the years, her articles have appeared in Jack and Jill Magazine, Spotlight, The Pleasure of Cooking and The Scarsdale Inquirer. She balances her restaurant tastings with daily ballet classes.
17% of Scarsdale Property Owners File Grievances For Property Tax Relief
Details

Category: On Our Radar
Published on

22 June 2016

Written by

Joanne Wallenstein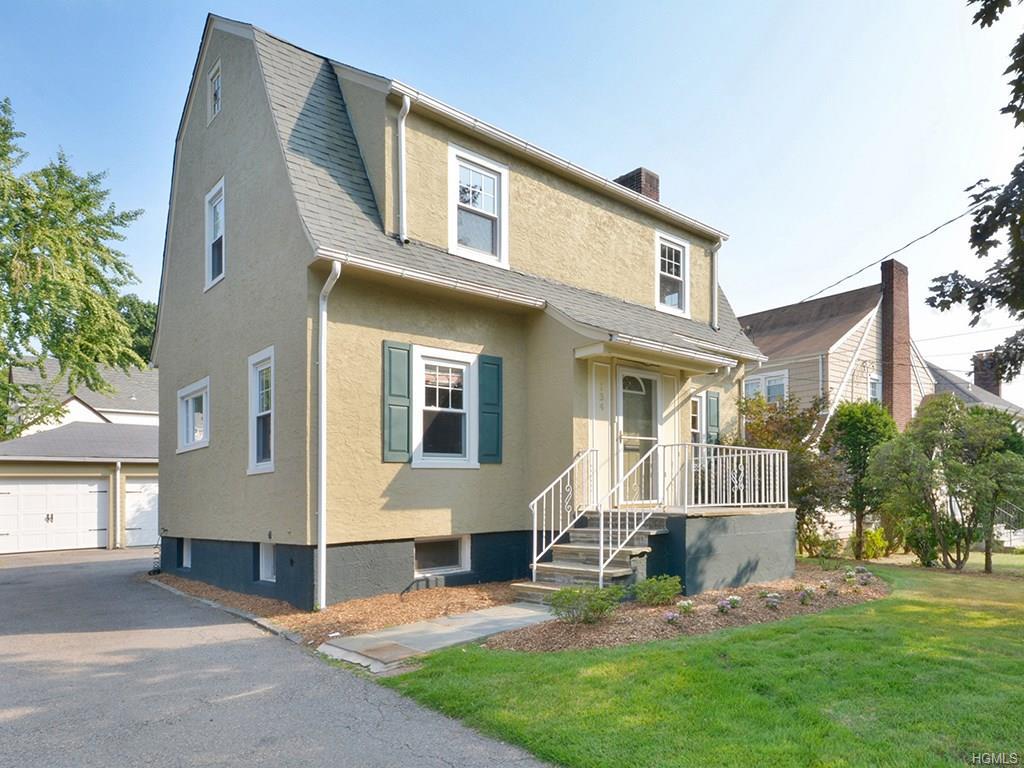 It's too late to turn back the clock now on the 2016 property tax revaluation. Though some urged the Mayor and Trustees to void it and return to the 2014 assessments, they did not act and residents had a busy week submitting their paperwork to file grievances at Village Hall. According to Deputy Village Manager Robert Cole, as of the 8 pm deadline on Tuesday June 21 it appears that 1,030 people filed, which is up from the 960 grievances filed after the 2014 revaluation and represents approximately 17.5% of the total of 5,900 properties.
The Board of Assessment Review will meet on Thursday, June 23 from 8 am – 12 pm and 6:30 pm to 10 pm to hold 3-minute appointments with those who wish to appear before them. It's not necessary to appear in person, but some would like to do so, and the Board is doing their best to accommodate as many residents and attorneys as possible. The BAR has scheduled an additional hearing on Wednesday June 29 from 6:30 to 10 pm to allow them to hear more cases.
The Scarsdale Board of Trustees has scheduled a special meeting of the whole on Monday, June 27, 2016 at 8:00 PM in Rutherford Hall to review the status of the assessment grievance proceedings for the 2016 tentative assessment roll. It is not known what, if any, action can be taken to change the process.
Residents expressed their discontent through a variety of ways. A petition to void the revaluation was posted on Change.org, people are writing letters, attending the BAR hearings and writing to the trustees.
Robert Berg, who serves on the Board of Assessment Review and was also a critic of this second revaluation sent an email to trustees today, urging them to attend the BAR hearing. He said;
"I invite, and indeed, I implore you to come and observe tomorrow's Board of Assessment Review ("BAR") public hearing, which is the continuation of the Grievance Day hearing, beginning at 8 am in Rutherford Hall. On Grievance Day, the BAR heard as many grievants as it could -- about 70 or 80. But because of the huge number of property owners who want to speak at the BAR hearings, the BAR must hold another two days of public hearings, at least, to accommodate this demand.
You and the trustees need to understand why so many property owners are outraged and, in many cases, traumatized by the Ryan valuations. You need to hear from elderly homeowners who have lived in our Village for four or five decades or more whose property values have suddenly, and inexplicably risen by 25% or 40%, and who fear that they will be unable to live out their lives in their beloved village.
You should hear the anguish many homeowners express about having to struggle to pay for an appraisal or to hire an attorney or property tax service to fight the Ryan valuations that appear to many to be random, or biased, or simply incomprehensible."
The Subtle Flavors of Iran at Shiraz Kitchen
Details

Category: On Our Radar
Published on

29 June 2016

Written by

Judie Dweck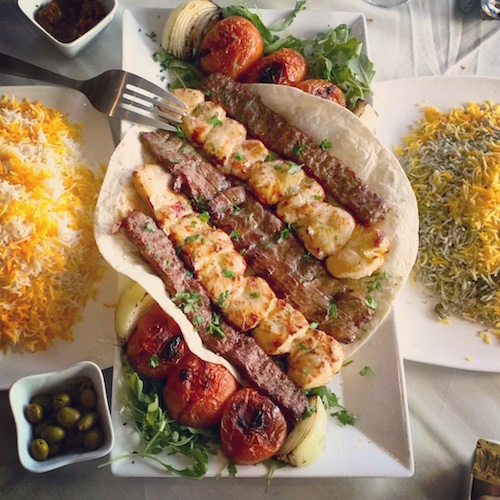 The city of Shiraz in Iran is a cultural center, known for the poetry of Hafez and Sa'di. It is also the home of lush and beautifully patterned hand woven rugs. Upon visiting Shiraz Kitchen in Elmsford, we find that Shiraz is memorable for its fine culinary delights. The Persian cooks like the Persian rug makers weave beautiful colors and patterns, with the rug makers using wool, while the cooks at Shiraz Kitchen weave their magic with interesting ingredients, some familiar and others more exotic in our culture.
Reza Parhizkaran is the new owner and has brought a wonderful new feeling to this Persian restaurant. He is a welcoming host who greets his guests warmly. The restaurant seats about 96 guests. Parhizkaran said,"Making my guests happy and comfortable is very important. Good service and attention to detail are necessary, as well. Our food is traditional with creative touches. In planning the extensive menu, we experimented and played with items until we achieved a favorable result. My mother's cooking served as an inspiration for many of our dishes. "Among the changes at Shiraz Kitchen is the addition of many local beers and international wines. Parhizkaran believes that," a happy staff means happy customers."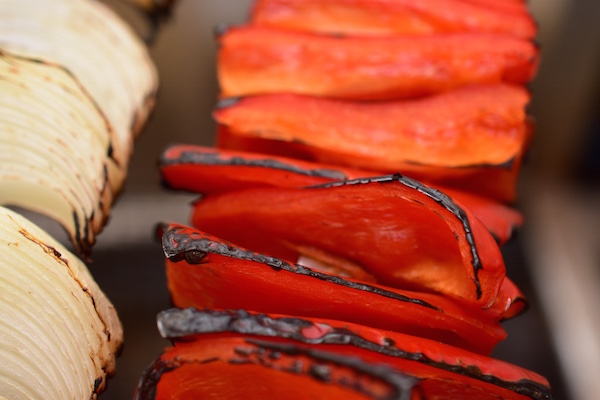 The space has a brighter look with white, rather than black linens on the tables. A large round table sits at the front bay window, and an oblong table seating a large group is at the back of the room. Many small tables can accommodate groups both large and small.
Dining at Shiraz Kitchen will open your eyes and taste buds to the exciting combination of herbs, spices, fruits, vegetables, fish, poultry and meat which form this outstanding cuisine. The extensive choice of appetizers is most enticing. With soothing music playing in the background, we examined the menu. As in many mid-eastern countries, yogurt is an important part of the cuisine. We sampled labneh , strained yogurt flavored with olive oil and za'tar, mast-o – musir, a thick yogurt with shallots and white pepper and my favorite, kashk-e- bademjan, a spread of mashed fried eggplant, fried onion, garlic and dried yogurt. The smooth eggplant combined with the crunchy fried onion lent a super texture to his dish. Each of the dips were perfect with the Persian bread, similar to naan. Marinated vegetables, mixed pickles, stuffed grape leaves and hummus are other appetizers yet to be tried. Very special and a must have dish is tadig. The crusty rice, very crispy is cut into squares and topped with gheimeh bademjan, a stew of beef eggplant and potatoes, sprinkled with crisp potato sticks. It was a great way to start our meal. We cleansed our palate with a refreshing arugula salad. Figs, feta cheese, radishes, tomato, dried cranberries and sunflower seeds were dressed in a fresh tart lemon vinaigrette. Other salads include a falafel salad and a mixed green salad. If soup is your desire, a classic ash-e reshteh with beans, herbs, noodles, dried yogurt, onion and fried garlic is a good choice.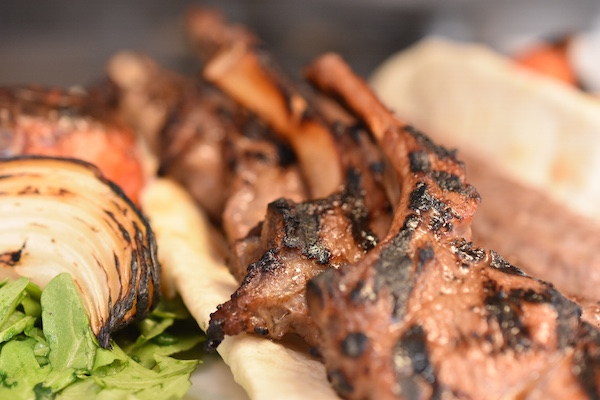 Along with salt and pepper, a large shaker of sumac, a sour tasting seasoning is offered to sprinkle on your kabobs or salads. Entrees here include several stews, some suitable for vegetarians. A classic ghormeh sabzi with beans, herbs, beef, dried lime and sautéed onion was quite tasty. Fesenjan with meatballs, walnuts and pomegranate is filled with unique flavors. Broiled branzino, trout or salmon and a large variety of kabobs are offered. Many entrees arrive with roasted tomato and saffron basmati rice. I was in my glory as I picked up my baby lamb chops and savored every last bite of these marinated treasures. My koobideh kabob was simply seasoned and served with a grilled whole tomato, onion and red bell pepper. Saffron basmati rice was on our platter. In Iran, rice appears in large quantities at just about every meal. At Shiraz Kitchen be sure to sample the many interesting varieties. I just loved the shirin variety with orange zest, pistachios and almonds. Equally as divine is the albaloo variety with sour cherries and pistachios. The combination of sweet and savory is tantalizing and very common in Persian cuisine. Future meals might include rice with fava beans and dill and one with dried barberry and pistachios.
We topped off our meal with hot tea traditionally served in small slender glass cups. Mine was Persian black tea with fresh mint and saffron, an exotic combination. Shiraz Kitchen offers many desserts both Persian and international. From baklava to tartufo to the classic faloodeh, frozen Persian rice noodles flavored with cardamom, rose water and sour cherry syrup. We enjoyed pomegranate sorbet and saffron ice cream.
If your meal has inspired you to cook at home in the style of Persia, stop next door at the Shiraz Market where you can purchase spices, herbs, breads, pastries and rice and many of the ingredients needed for the Persian cook.
If you choose lunch at Shiraz Kitchen a 3-course prix fixe menu is offered, from Tuesday through Friday. It includes a choice of appetizer, entrée, dessert and tea.
Enjoy a Persian culinary adventure by dining at Shiraz Kitchen, where Reza Parhizkaran is your gracious host.
Shiraz Kitchen
83 East Main Street
Elmsford
345 6111
Ghormeh Sabiz (Serves 4-6)
Persian Herb Stew
2 pounds lamb or beef cubes
1 cup dried red kidney or pinto beans, soaked overnight
1 large onion, finely chopped
4 bunches Italian parsley
1 bunch cilantro
2 large leeks or green part of 4 scallions
Small bunch of fresh fenugreek or 1 Tbsp. of dried fenugreek
3 or 4 dried lemons or 3 Tbsps. fresh lemon juice
Salt and pepper to taste and 1 tsp. turmeric
2 Tbsps. vegetable oil to sauté onions
1/3 cup vegetable oil to sauté the herbs
Enough water to reach about 2 inches in the pot.
*Unusual ingredients available in Persian market
Wash and dry all herbs. Chop them finely. Heat the 1/3 cup of oil in a large skillet, and sauté the herbs in it over medium heat. Stir frequently and set aside. In a large pot, sauté the onion in the 2 Tbsps. of oil until golden. Add meat, turmeric, salt and pepper and fry until all sides of the meat are browned. Add the drained soaked dried beans, fried onions and dried lemon. Add about 2 inches of water to cover the mixture in the pot. Bring to a boil and lower heat to medium. Cover pot and cook for about 1 and ½ hours. Adjust seasonings and continue to simmer for about a half hour. Add a bit more water if needed.
This dish reheats well and is delicious the next day.
Judie Dweck has been writing about restaurants and food for many publications. She teaches creative cooking to children at Scarsdale elementary schools. Through the years, her articles have appeared in Jack and Jill Magazine, Spotlight, The Pleasure of Cooking and The Scarsdale Inquirer. She balances her restaurant tastings with daily ballet classes.
Theatre District Combo: Cirque du Soleil's Paramour and Lunch at Toloache
Details

Category: On Our Radar
Published on

14 June 2016

Written by

Stacie M. Waldman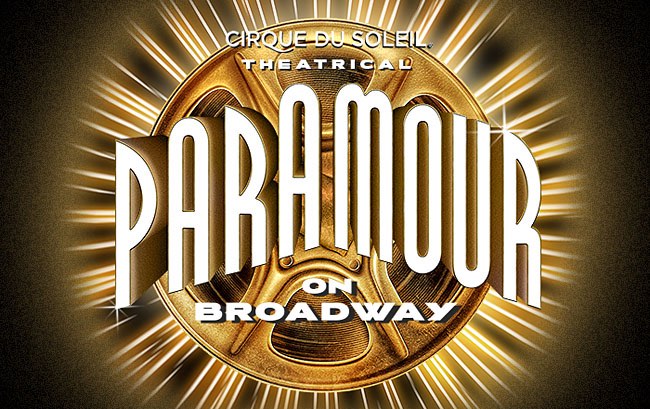 Although Cirque du Soleil shows have come to New York City in the past, until now, none have been performed on a Broadway stage. Directed by Philippe Decoufle with creative direction from Jean-Francois Bouchard, Cirque du Soleil's theatrical Paramour incorporates circus acrobatics with acting, singing and dancing to please theatergoers who seek a different kind of Broadway experience. Unlike other Cirque shows, Paramour has a real (if shallow) story line, lyrics, music, and choreography. Of course, what makes the stage come to life is the spectacle of the circus arts for which Cirque shows are famous.
The simple and easy plot goes like this: A beautiful singer from Indiana named Indigo (Ruby Lewis) gets discovered at a nightclub in Los Angeles by famous film director AJ Golden (Jeremy Kushnier) during the Golden Age in Hollywood. He woos her into fame and fortune by starring her in a series of his films. AJ invites Indigo's piano-playing poet friend Joey (Ryan Vona) along to write the music for his films. Indigo must ultimately choose between love (Joey) and fame (AJ). The story is not new or interesting, yet it's necessary to fulfill the intent of Paramour; to bring a Cirque du Soleil show to Broadway by combining a Broadway style show and Broadway talent with death defying acrobats, gymnasts, jugglers, and contortionists. With 22 acrobats and 16 actors from 13 countries, I felt like I was watching the most talented circus performers on earth -- and I probably was.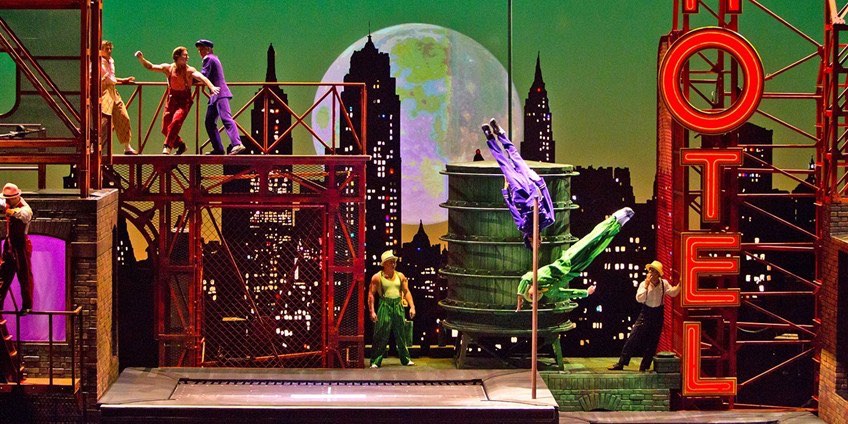 The Broadway performers perform, but never really wow the audience like the identical Atherton twins do with their incredible acrobatic routine. The lights, movie screen projections, and scenic design as well as the circus performers undermine the triple threat talent of the stage performers. However, the audience is not there exclusively for the Broadway factor- they're also there for the thrill -- and that's delivered by Paramour. The circus performers were nearly all jaw dropping and often there was so much going on you didn't know where to look. The acrobats fly over the audience, jugglers juggle, gymnasts flip, the umbrella guy balances umbrellas on his face, and this is all happens while Indigo sings her sob story; I can tell you for certain no one cared much about Indigo during these numbers.
One of the truly beautiful and memorable scenes is the love triangle of Indigo, AJ and Joey with the twin acrobats on stage. While the threesome sing about their career/love dilemmas, the acrobats act out the scene via acrobatics. It's like nothing you've seen before and could be the one part of the show that the creative director can really brag about. The set (Jean Rabasse) was gaudy and huge but worked well with the show and the performers and the old film was well incorporated into the story.
Of course, it's not the story that will stick with you but the spectacular combination of lights, visual effects and circus artistry that will have you saying "wow" more than once. And really, although not the best show on Broadway, (hello, Hamilton,) it will certainly earn its large audiences looking for a highly entertaining show that feels more Broadway than Las Vegas spectacle.
So what will kids think of Paramour? Who better to ask for a show review than a Broadway kid? I ran into 10-year-old Noah Baird from Broadway's Matilda the Musical at the show. Noah has been performing in Matilda for the past year-and-a-half as a swing for the characters Eric and Nigel. "I think other kids will like Paramour," he said, "because it's unique for Broadway. My favorite scene was the rooftop trampoline scene because it was very creative of them to do a part chase and part fight scene using trampolines. I think other kids will love that, too." Noah thinks Paramour is appropriate for kids ages five and up. And how does it compare to Matilda? "Well," said Noah, "Matilda has a ton of physicality included with the show also. I can really appreciate how hard the actors and acrobats train and work! They're both great shows for kids."
No Manhattan theater experience is complete without pre-theater or post-theater grub. If you're part of any community Facebook group in the area you know that the post "I need an amazing restaurant in the theater area" is ubiquitous.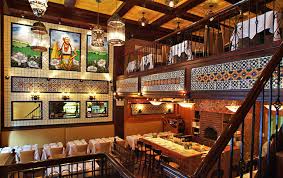 We opted for lunch at Iron Chef finalist Julian Medina's theater-district restaurant Toloache. You need not look elsewhere for a memorable, delectable and well-timed meal. Had I not been the type who'd fall asleep if I had a drink at noon, I would have ordered one of their famed margaritas. But I am, so I just got some big smiles and thumbs up from the ladies at the table opposite us who were sipping their cocktails.
Toloache is modern Mexican food with a super-gourmet twist. Chef Medina, for example, offers his version of matzo ball soup. We started with fresh-made guacamole and Hamachi ceviche. The guac was perfect both in texture and taste. The ceviche consisted of thinly sliced yellowtail with Meyer lemon and Huichol salsa and was a perfect blend of salty and sour. I could have eaten another full order of this but needed to save room for the fried Brussels sprouts, black truffle quesadilla, and suadero taco. The Brussels sprouts are a must-order if you dig this veggie.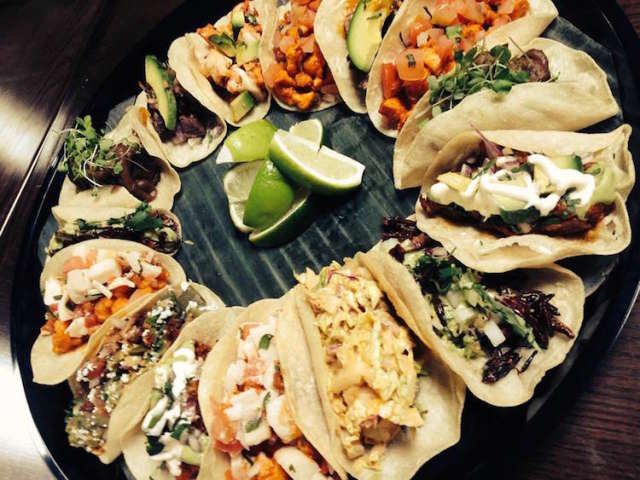 The quesadilla de huitlacoche came like a pizza with black truffle crema atop Manchego cheese and a tortilla that will make you want to lick the plate. The suadero taco was filled with the most tender braised brisket, another merging of traditional Jewish food with Mexican accompaniments. No meal is complete for me without dessert and the pastel de chocolate did not disappoint. The warm chocolate cake and cool dulche de leche ice cream were the perfect ending to a perfect meal. Whoever says fine theater district dining cannot be found should find their palates more than pleased at Toloache.
Cirque du Soleil's Paramour: The Lyric Theatre, 213 W. 42nd Street, New York, NY 10036
Toloache: 251 W. 50th Street, New York, NY 10019
Toloache: 251 W. 50th Street, New York, NY 10019
Click here for more information on Tolache