Thin is Not Necessarily Fit
Details

Category: On Our Radar
Published on

07 June 2016

Written by

Lainey Hellman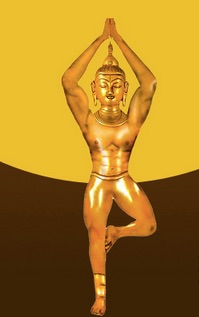 (This letter was sent to Scarsdale10583 by Lainey Hellman of Scarsdale) The carousel of storefronts at Depot Place has taken another turn; now, we have been given "The Skinny Buddha" to try and taste and see if it will live up to the standards of the train station's true stalwart, Dunkin Donuts. As we walk to our cars from our Soul Cycle classes or wait for the commuter line to Grand Central, we are greeted by a Buddha with a six-pack of abs telling us that we, too, can become Skinny Buddhas! Ignoring, for a moment, the blatant appropriation of a sacred cultural symbol (more on that later), what is the message that a so-called "fitness" oriented cafe is sending when it's logos, mottos, and decorations are all of or related to thin people (or thin Buddhas)? Simply, that thinness is fitness; thinness is health. Simply, that is not true.
Everything about the way The Skinny Buddha presents itself is inherently fatphobic. The name and message imply that you must be thin to be interested in fitness and healthy eating. Adorning the store windows are silhouettes of thin ladies on exercise balls, cleaving to the harmful and incorrect prejudice that fat people are always unhealthy or unfit and that thin people are the picture of good health. Are you allowed in The Skinny Buddha if you are not skinny? Business sense says yes, of course, but the cafe is clearly not a welcoming place for those who might be interested in eating healthfully but don't fit the body standard that is literally thrown in customer's faces before they even walk through the door. Thanks, but I'll take my iced coffee at Dunkin Donuts, judgment free.
The Skinny Buddha is one of the many misinformed voices telling the public that being fat is wrong, that you cannot be both fat and fit, and conversely, that being skinny always means being at the apex of physical health. In addition to actively perpetuating these myths, the cafe uses the Buddha to do it. I don't know much about Buddhism, but, as one of the world's major religions, I am pretty sure that it does not exist for one of its sacred symbols to be misappropriated by a Westchester fitness cafe. Moreover, the cafe physically contorts Buddha into the Western standard of a fit man. Again, I'm no expert, but I do know that Buddha is not famous because of his well-documented love of Cross Fit, kale, and tight abs. Cultural symbols are not to be molded like Play-Doh and used on a whim- Buddhism deserves as much respect as we give Western religions. Maybe people would care more if the cafe was called "The Sexy Moses" or "Jesus's Six-Pack".
As a final note, I have no problem with what The Skinny Buddha, at its core, is trying to do. Providing healthy, on the go options is a great idea. I probably would have found myself there plenty of times if it weren't for the name and marketing. It's great to have choices of what to eat, and providing another, healthier one next to our old friend Dunkin is a wonderful idea. However, we should never be judged if we decide to go with a donut instead, because thinness is not health. Being fat does not equal being unhealthy or unfit. Being fat is not a personal flaw. Here is something that is a flaw: creating an environment where only one body type is acceptable, and callously appropriating and distorting a historical and cultural symbol.
Scarsdale STEP Seeks Host Family for New Student
Details

Category: On Our Radar
Published on

01 June 2016

Written by

Joanne Wallenstein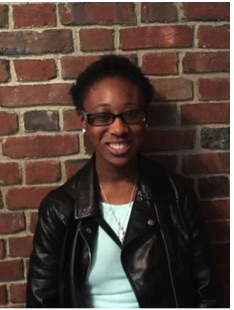 The Scarsdale Student Transfer Education Plan (STEP) Board is thrilled to announce that Zaria Cash, a rising junior from Memphis, Tennessee, has been selected to join the Scarsdale High School class of 2018 this fall.
The STEP board now seeks a Scarsdale District family to host Zaria for the academic year, starting in late August 2016. Interested families should immediately email STEP here.
For over 50 years, STEP (www.scarsdalestep.org) has brought promising students of color to Scarsdale to attend the High School for their junior and senior years. The program specifically seeks students who have demonstrated leadership qualities and a commitment to applying themselves academically.
Zaria Cash is an honors student at KIPP Memphis Collegiate High. She is a member of her school's cheerleading squad and she enjoys singing and reading. Last year Zaria competed in the greater Memphis Science Olympiad and won 4th place as the only 9th grader on teams of juniors and seniors. Last summer the Eleanor Roosevelt Foundation selected her to participate in their Girls' Leadership Worldwide program in New York City, which Zaria considers a life-changing experience.
The 30 plus-member STEP board provides a strong network of consistent support to host families, including a generous stipend to cover expenses. The experience can be life changing, not only for the STEP student but also for the host family. Host families gain a wider cultural perspective and often form lifelong relationships with their STEP student.
For more information, see below -- and for a previously published Scarsdale10583 article on the STEP experience, click here.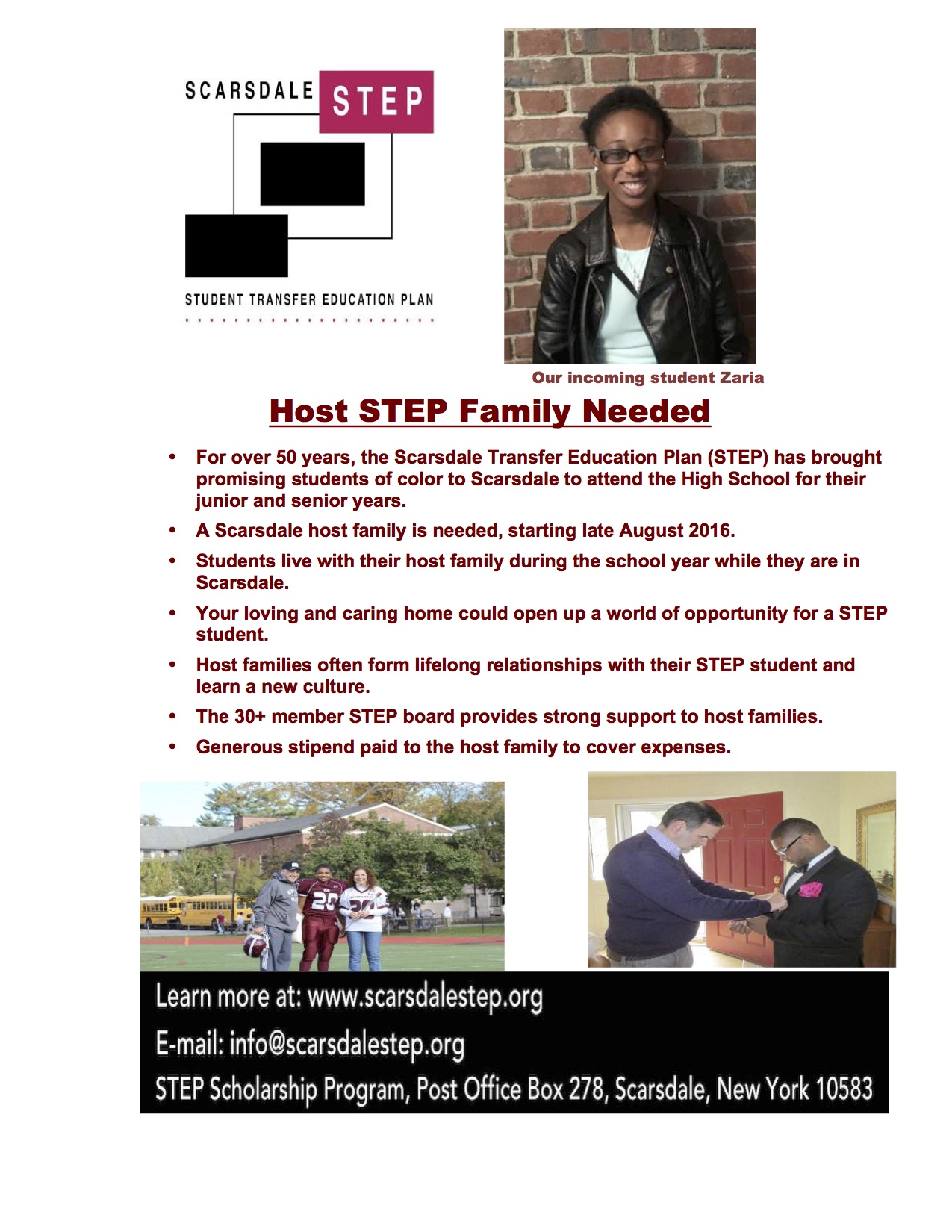 Promposals Part II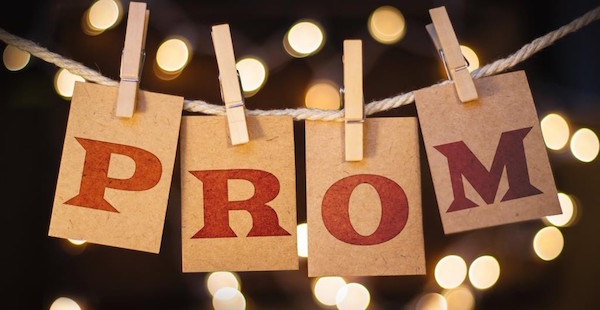 With prom just two weeks away, the prom proposals were in full force as students line up their dates for the big night. This year the prom is on June 2 at Glen Island Harbor Club. The whole community is invited to the Red Carpet event outside the Scarsdale High School before prom on 4:30 on the day of prom to take pictures and see all the students and their dates in their prom attire. Students will walk the Red Carpet onto the coach busses which will take them to prom.
Last week Scarsdale10583.com posted our first 2016 promposal article.
The article was so well received that we decided to add weekly updates with all of our favorite Scarsdale Promposals. This week, with the big day drawing close, students became more consumed with staging elaborate Promposals. Here are a few of Scarsdale10583's favorite promposals from the past couple weeks by Scarsdale High School students...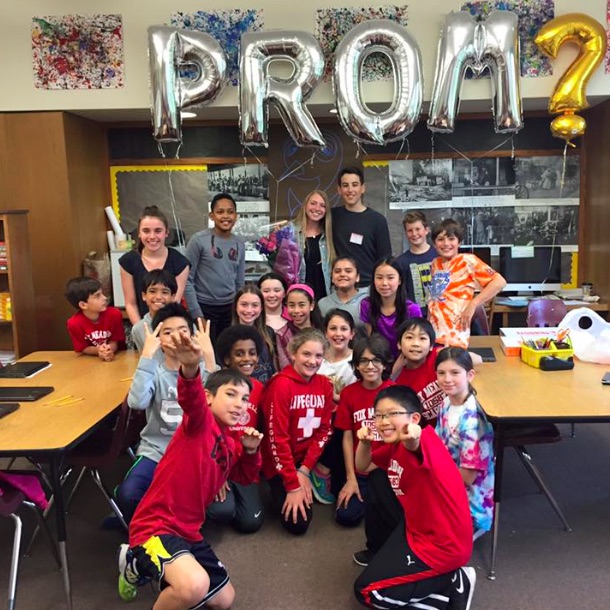 Courtney Lee is doing her senior options project at Fox Meadow Elementary school in Mr. Besancon's 5th grade classroom. Johnny Emerman arranged for her students to surprise her when she entered the classroom while he was waiting with a "Prom?" sign and flowers.
Clare McInerney promposed to Megan Reynolds after they saw the SHS Drama Club production of "Leading Ladies" at the high school. Right after the play ended, Clare asked Megan to leave the auditorium in order to search for a lost item. When Megan returned, the entire cast of the play, still in costume, and Clare was posed for the promposal with balloons, flowers, and signs that read "Prom?"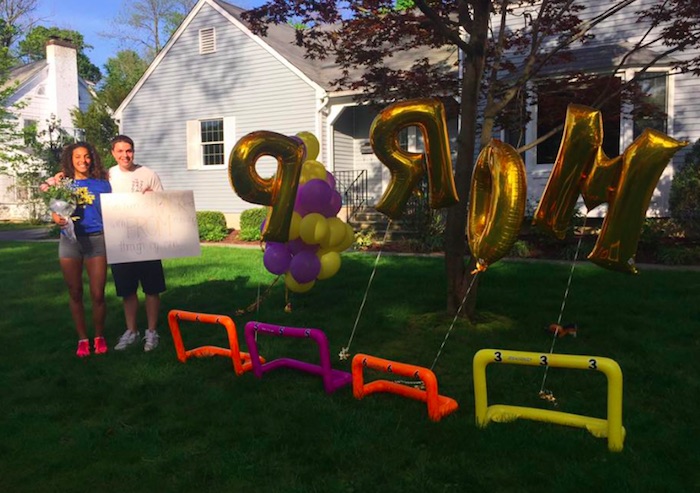 Hailey Thornton came home after track practice to find her date, Mike Fialkow, waiting to surprise her with a poster, balloons, and flowers. Mike secured the "prom?" balloons with miniature track hurdles because Hailey is a dedicated track athlete.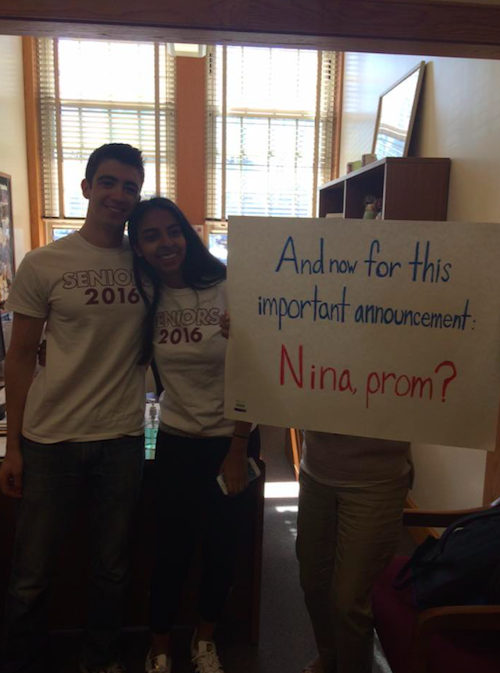 Nina Dheer was surprised when she was called to the main office of Scarsdale High School. When she arrived, Michael Blank announced over the school loudspeaker, "And now for this important announcement: Nina, Prom?", and presented her with a promposal sign that read the same. The whole school witnessed this adorable promposal.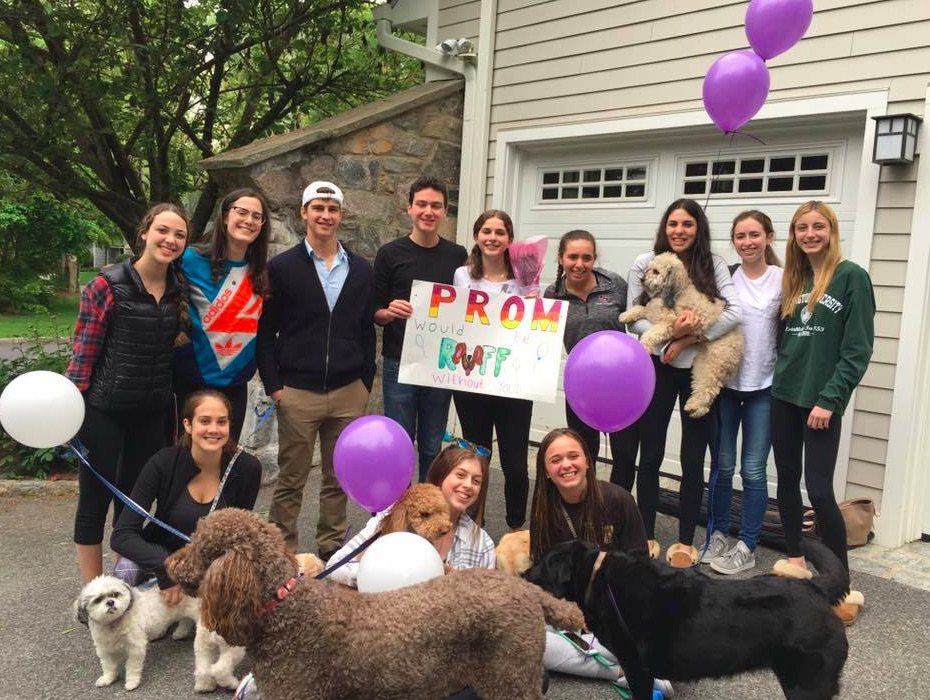 Nico Stainfeld promposed to Ali Bauersfeld by surprising her in her driveway. When she arrived home from work her driveway was filled by some of her friends, some of Nico's friends, and their friends' dogs. Nico held a sign that read, "Prom Would Be Ruff Without You", along with balloons and flowers.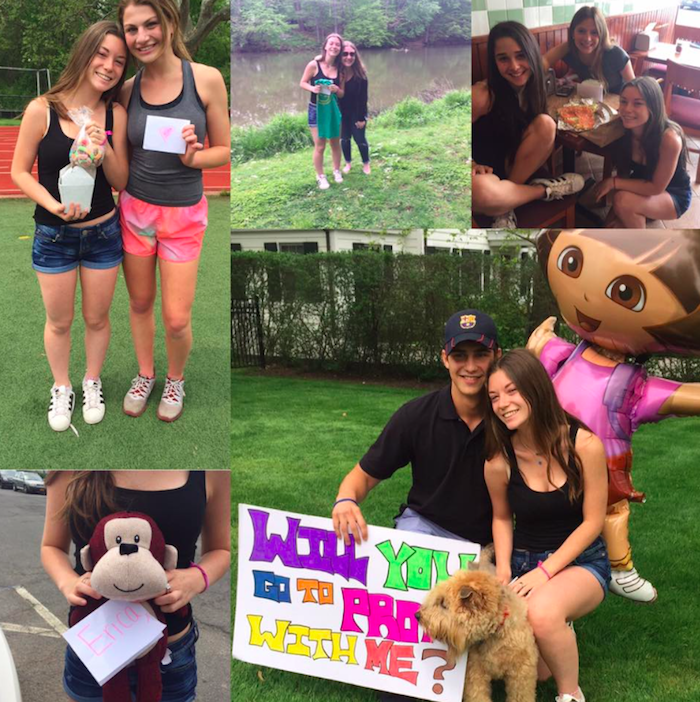 Erica Shapse was sent on a long scavenger hunt by her boyfriend Nacho Marini. First Nacho sent Erica to the location where he first asked her out. Next she was sent to the New Rochelle lake where Erica's sister was waiting with another hint. This new hint sent Erica to get her favorite pizza from Italian Village and then to the High School turf where her friend was waiting with all her favorite candy. The last stop was back to Erica's house where Nacho, his friends and Erica's dog waited to prompose to Erica!
Follow our Instagram @Scarsdale.10583 for more promposal pics and updates!
Scarsdale Women Honored by UJA-Federation
Details

Category: On Our Radar
Published on

26 May 2016

Written by

Joanne Wallenstein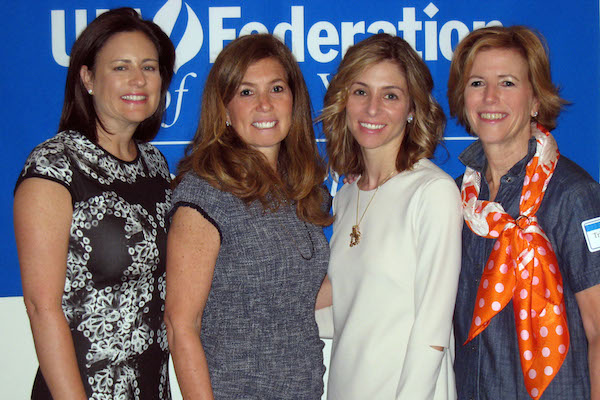 Nearly 150 guests came together to celebrate UJA-Federation of New York's commitment to caring for those in need and to pay tribute to four Scarsdale leaders through hands-on projects on Thursday, May 19, 2016, at Westchester Reform Temple in Scarsdale. Tris Berger, Kate Eichel, Rochelle Waldman, and Mauri Zemachson were honored for their leadership, ongoing philanthropic efforts, and commitment to UJA-Federation and the community.
The four honorees have each been involved with UJA-Federation for decades. Together, they represent past Scarsdale leadership, current commission and task force representatives, and National Young Leadership members. Individually and together, they lead by example.
"These women have led — and continue to lead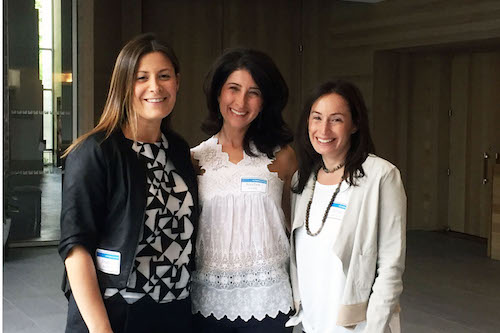 — with enthusiasm, passion, purpose, and poise. Our community is stronger because of them," said Jocelyn Sontag, who served as event chair with Rickie Broff, Joan Frankle, and Jamie Seslowe, all of Scarsdale. "Most of you know our honorees, so you know what that means: low-key and humble! So, in true Tris, Kate, Rochelle, and Mauri form, we'll devote this morning to helping others while highlighting the work that we, together, make possible."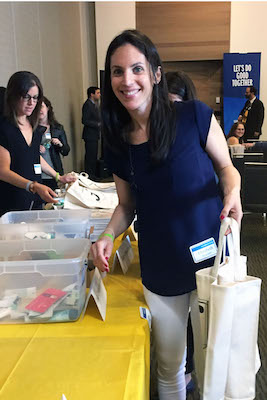 UJA-Federation raises funds that sustain the activities of nearly 100 health, human-service, educational, and community-building agencies. These community-based organizations provide services that combat poverty, help the elderly age with dignity, promote Jewish identity and renewal, strengthen children and families, open doors to those with disabilities and special needs, and more.
Chosen by the honorees, the day's hands-on projects benefitted UJA-Federation-supported initiatives that focus on mental health.
The first project included making pampering packages for single women whose children receive mental health treatment through Westchester Jewish Community Services (WJCS). Money raised during the event supported WJCS' Mental Health Clinics Initiative campaign, which was established to make up for New York State budget cuts that have impacted Medicaid's mental-health reimbursements. Without those funds, 4,600 treatment sessions will be lost in a year.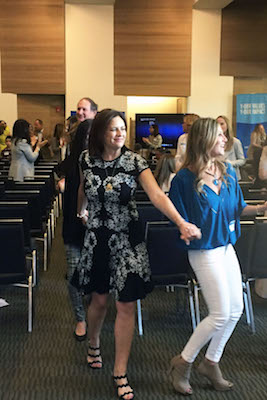 The second project involved writing letters of support to professional caregivers at the Israel Trauma Coalition, a consortium of trauma-relief agencies that UJA-Federation created in 2001. "These women are on the front lines in Israel supporting those who are victims of terror," explained Seslowe. "These women are sad, tired, and in desperate need of support and self-care." The ITC is currently working to help its dedicated professionals cope with all they have experienced as they treat victims.
"Tris, Kate, Mauri and Rochelle are very special women — as evidenced by the number of us who came today to pay tribute to them and by this morning's program," said Broff. "They're truly dedicated, humble, and remarkably smart."
Pam Frankel-Stein and Vivian Sklar serve as Scarsdale divisional chairs. Stefanie Elman, Karen Estrin, Meg Lazarus, Leslie Perelman, and Nicky Ziman are Scarsdale area chairs.
Tis The Season For Promposals
Details

Category: On Our Radar
Published on

11 May 2016

Written by

Kara Elcik
Prom season is rolling around in Scarsdale, with the Senior Prom on June 2. Along with buying dresses, renting tuxes, and arranging hair and makeup, students now have a relatively new task to plan. It has become a trend in recent years in Scarsdale and other towns to plan elaborate schemes to ask dates to prom. These intricate prom proposals have been termed "Promposals", and have become extremely popular. Here are a few of Scarsdale10583's favorite promposals from the past couple weeks by Scarsdale High School students...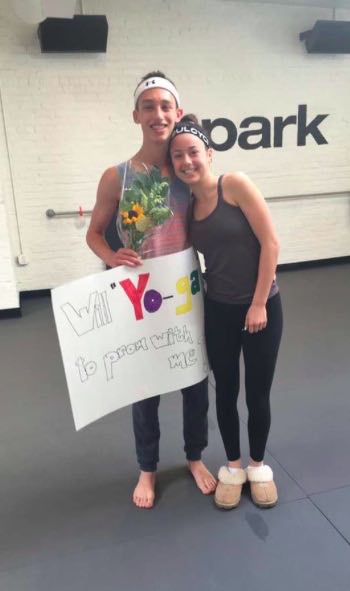 Boyfriend Ben Zucker promposed to his girlfriend, Nina Marmon, by surprising her at her morning yoga class at Yoga Spark in Mamaroneck with a sign that read "Will Yo-Ga To Prom With Me?"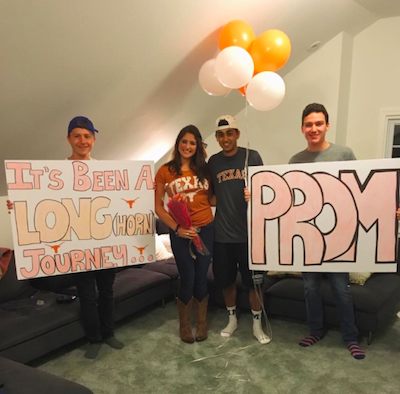 Emily Berk and Fazl Shaikh have been friends since freshman year, and it was a long journey to Senior Year prom! Fazl incorporated this theme, along with where Emily will be going to school next year (University of Texas at Austin) into one big, personal promposal! His sign read, "It's Been A Long(Horn) Journey... Prom?"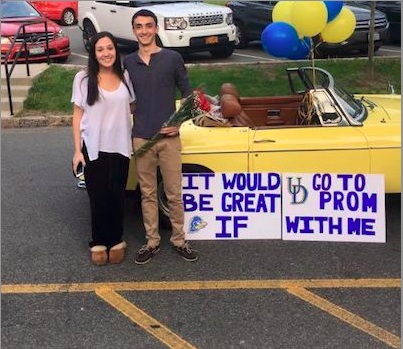 Jake Forman promposed to Madeline Frankel outside of the Scarsdale High School during her play rehearsal. One of her friends asked her to come outside to get some air during rehearsal, and he was standing outside to surprise her. He incorporated Madeline's school next year, University of Delaware, into a sign that read "It would be great if UD go to prom with me". He included his matching yellow car and blue and yellow balloons!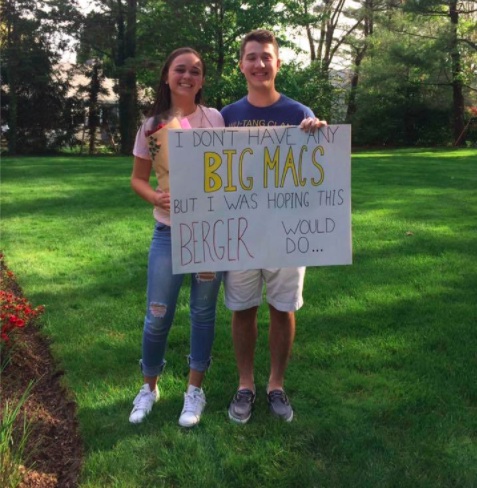 Matt Berger promposed to Macie Wasserberger by inviting some friends to a barbeque at his house. When Macie and her friends showed up, he surprised her with a sign. The sign read "I Don't Have Any Big-Macs But I Was Hoping This Berger Would Do..." Big Mac is one of Matt's nicknames for Macie, and Berger is Matt's last name. After the promposal all the friends sat down for lunch at the barbeque.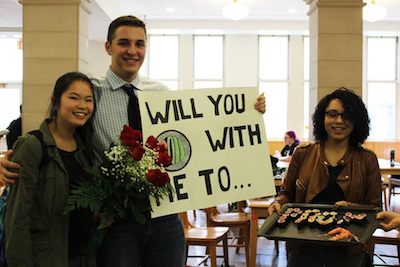 Jake Frishberg promposed to Vivian Kwok by surprising her after one of her classes in the cafeteria with a sign that read "Will You Roll With Me To Prom?" Prom was spelled out in sushi on a tray held by one of Vivian's friends.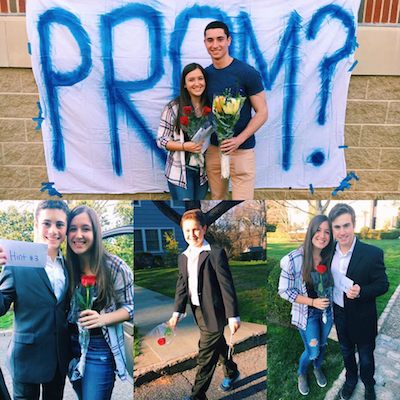 Caleb Krohn, assisted by his little brothers, Asher, Oliver and Simon, sent his girlfriend Isabel Kaplan on a Scavenger hunt that ended with a promposal. The scavenger started with Isabel's mom handing her the first clue. Caleb sent Isabel to three different locations and at each location one of his brothers was waiting for Isabel with a rose and her next hint. The last hint sent Isabel to where Caleb was waiting for her with some of Isabel's friends, a banner that read "Prom?" and more flowers!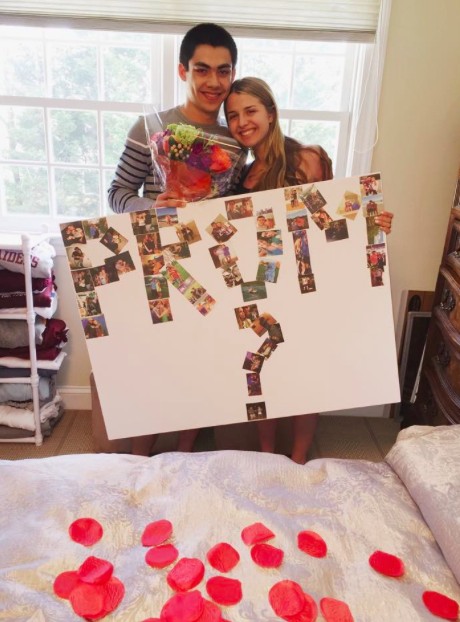 Alexis Kline's boyfriend Sam Squadron sent her on a Scavenger hunt for her promposal. Sam, helped by some of Alexis' friends, left clues for Alexis at the High School and other Scarsdale spots like QRS elementary. The scavenger hunt ended at her house where he surprised Alexis with rose pedals and al sign that read "Prom?" made up of pictures taken throughout their relationship.
If you have a promposal picture that you want to be featured, email pics and a summary to Scarsdalecomments@gmail.com
Follow us on instagram for more promposal pics! @Scarsdale.10583