Promposals Part II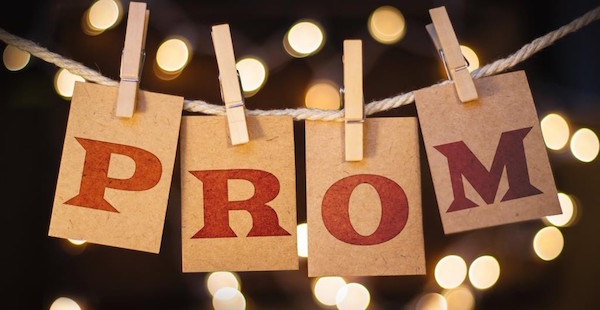 With prom just two weeks away, the prom proposals were in full force as students line up their dates for the big night. This year the prom is on June 2 at Glen Island Harbor Club. The whole community is invited to the Red Carpet event outside the Scarsdale High School before prom on 4:30 on the day of prom to take pictures and see all the students and their dates in their prom attire. Students will walk the Red Carpet onto the coach busses which will take them to prom.
Last week Scarsdale10583.com posted our first 2016 promposal article.
The article was so well received that we decided to add weekly updates with all of our favorite Scarsdale Promposals. This week, with the big day drawing close, students became more consumed with staging elaborate Promposals. Here are a few of Scarsdale10583's favorite promposals from the past couple weeks by Scarsdale High School students...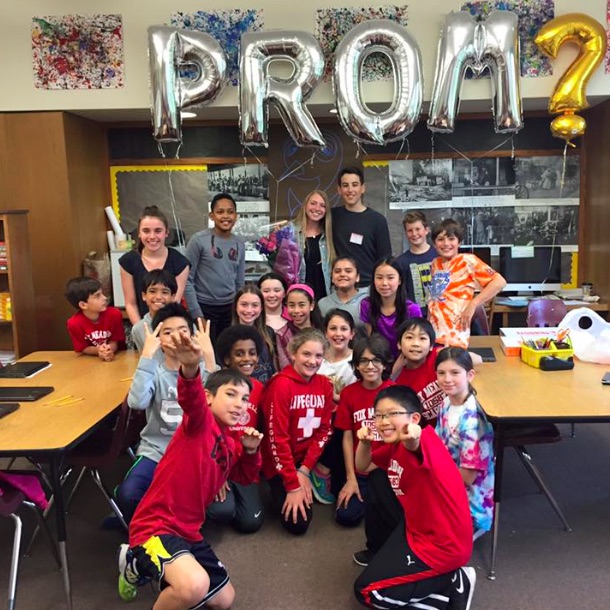 Courtney Lee is doing her senior options project at Fox Meadow Elementary school in Mr. Besancon's 5th grade classroom. Johnny Emerman arranged for her students to surprise her when she entered the classroom while he was waiting with a "Prom?" sign and flowers.
Clare McInerney promposed to Megan Reynolds after they saw the SHS Drama Club production of "Leading Ladies" at the high school. Right after the play ended, Clare asked Megan to leave the auditorium in order to search for a lost item. When Megan returned, the entire cast of the play, still in costume, and Clare was posed for the promposal with balloons, flowers, and signs that read "Prom?"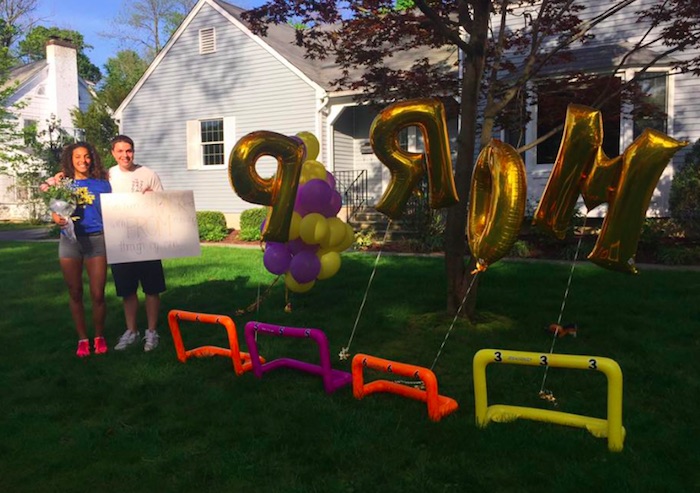 Hailey Thornton came home after track practice to find her date, Mike Fialkow, waiting to surprise her with a poster, balloons, and flowers. Mike secured the "prom?" balloons with miniature track hurdles because Hailey is a dedicated track athlete.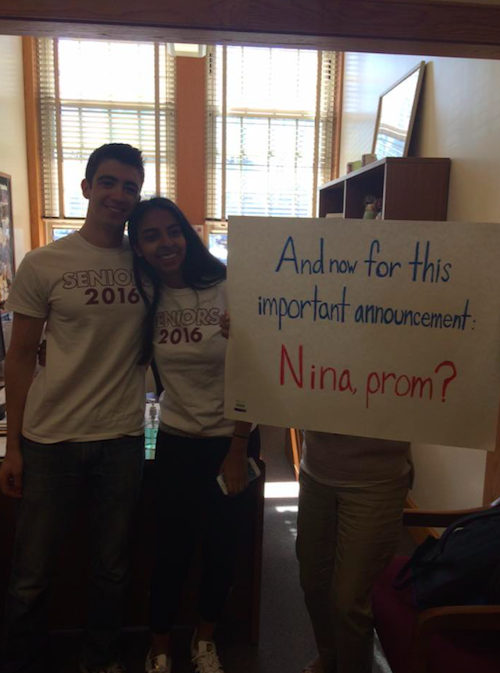 Nina Dheer was surprised when she was called to the main office of Scarsdale High School. When she arrived, Michael Blank announced over the school loudspeaker, "And now for this important announcement: Nina, Prom?", and presented her with a promposal sign that read the same. The whole school witnessed this adorable promposal.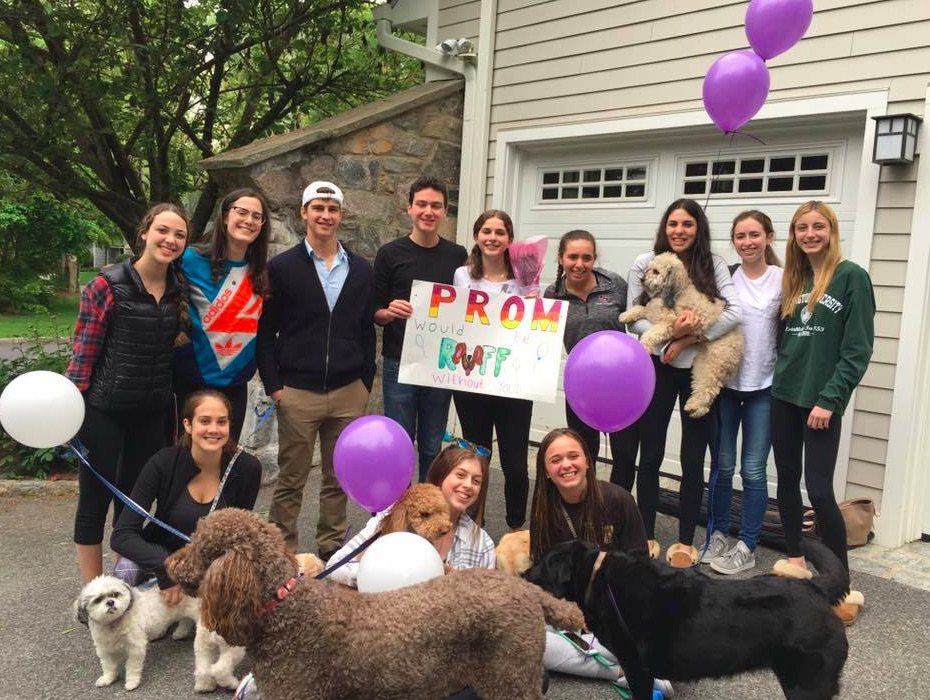 Nico Stainfeld promposed to Ali Bauersfeld by surprising her in her driveway. When she arrived home from work her driveway was filled by some of her friends, some of Nico's friends, and their friends' dogs. Nico held a sign that read, "Prom Would Be Ruff Without You", along with balloons and flowers.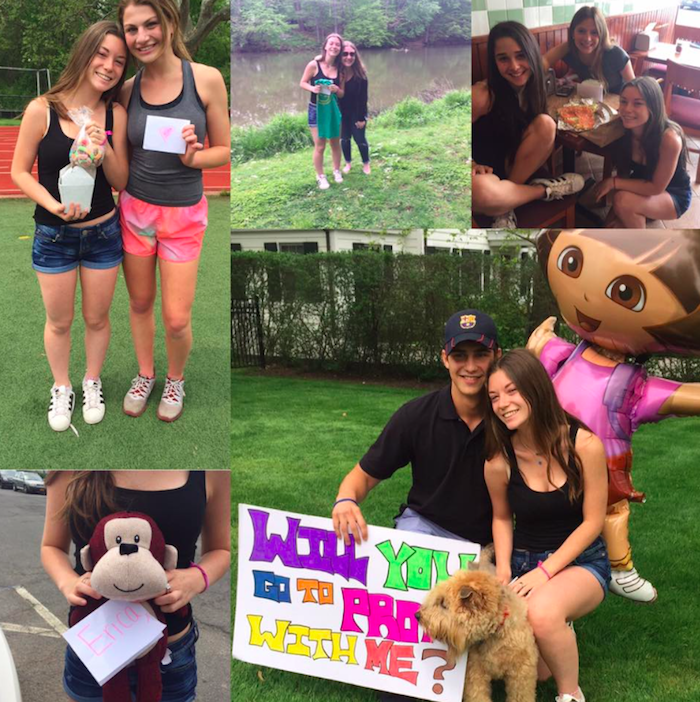 Erica Shapse was sent on a long scavenger hunt by her boyfriend Nacho Marini. First Nacho sent Erica to the location where he first asked her out. Next she was sent to the New Rochelle lake where Erica's sister was waiting with another hint. This new hint sent Erica to get her favorite pizza from Italian Village and then to the High School turf where her friend was waiting with all her favorite candy. The last stop was back to Erica's house where Nacho, his friends and Erica's dog waited to prompose to Erica!
Follow our Instagram @Scarsdale.10583 for more promposal pics and updates!
Tis The Season For Promposals
Details

Category: On Our Radar
Published on

11 May 2016

Written by

Kara Elcik
Prom season is rolling around in Scarsdale, with the Senior Prom on June 2. Along with buying dresses, renting tuxes, and arranging hair and makeup, students now have a relatively new task to plan. It has become a trend in recent years in Scarsdale and other towns to plan elaborate schemes to ask dates to prom. These intricate prom proposals have been termed "Promposals", and have become extremely popular. Here are a few of Scarsdale10583's favorite promposals from the past couple weeks by Scarsdale High School students...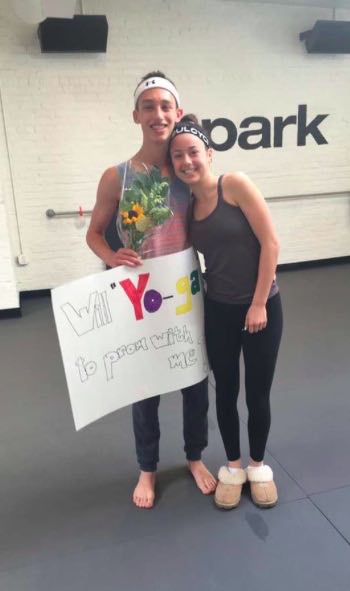 Boyfriend Ben Zucker promposed to his girlfriend, Nina Marmon, by surprising her at her morning yoga class at Yoga Spark in Mamaroneck with a sign that read "Will Yo-Ga To Prom With Me?"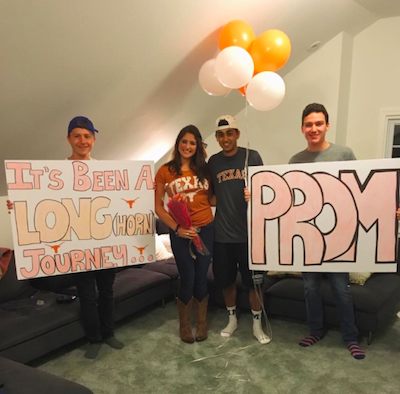 Emily Berk and Fazl Shaikh have been friends since freshman year, and it was a long journey to Senior Year prom! Fazl incorporated this theme, along with where Emily will be going to school next year (University of Texas at Austin) into one big, personal promposal! His sign read, "It's Been A Long(Horn) Journey... Prom?"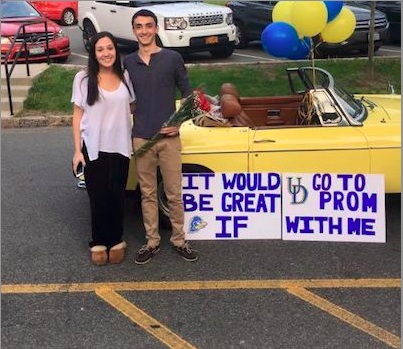 Jake Forman promposed to Madeline Frankel outside of the Scarsdale High School during her play rehearsal. One of her friends asked her to come outside to get some air during rehearsal, and he was standing outside to surprise her. He incorporated Madeline's school next year, University of Delaware, into a sign that read "It would be great if UD go to prom with me". He included his matching yellow car and blue and yellow balloons!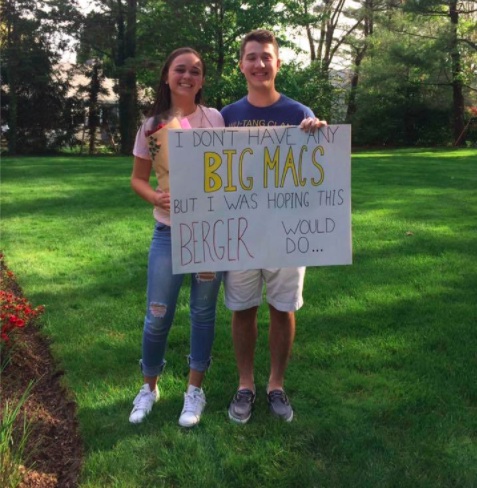 Matt Berger promposed to Macie Wasserberger by inviting some friends to a barbeque at his house. When Macie and her friends showed up, he surprised her with a sign. The sign read "I Don't Have Any Big-Macs But I Was Hoping This Berger Would Do..." Big Mac is one of Matt's nicknames for Macie, and Berger is Matt's last name. After the promposal all the friends sat down for lunch at the barbeque.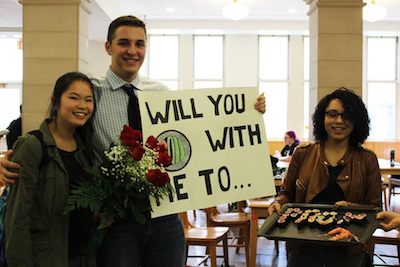 Jake Frishberg promposed to Vivian Kwok by surprising her after one of her classes in the cafeteria with a sign that read "Will You Roll With Me To Prom?" Prom was spelled out in sushi on a tray held by one of Vivian's friends.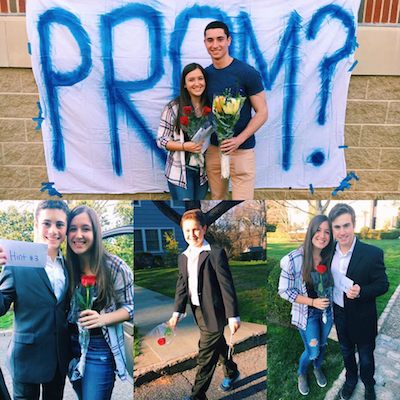 Caleb Krohn, assisted by his little brothers, Asher, Oliver and Simon, sent his girlfriend Isabel Kaplan on a Scavenger hunt that ended with a promposal. The scavenger started with Isabel's mom handing her the first clue. Caleb sent Isabel to three different locations and at each location one of his brothers was waiting for Isabel with a rose and her next hint. The last hint sent Isabel to where Caleb was waiting for her with some of Isabel's friends, a banner that read "Prom?" and more flowers!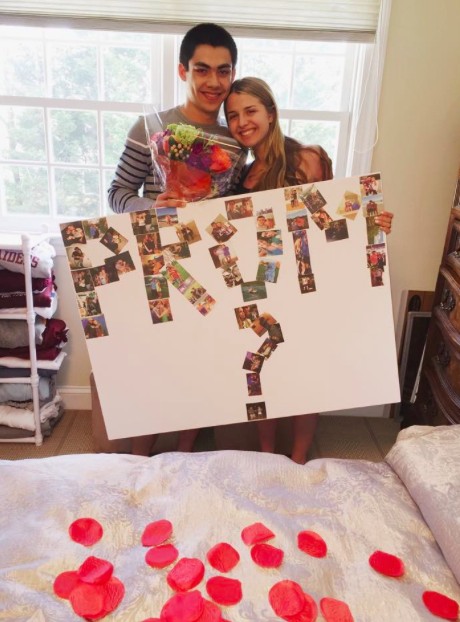 Alexis Kline's boyfriend Sam Squadron sent her on a Scavenger hunt for her promposal. Sam, helped by some of Alexis' friends, left clues for Alexis at the High School and other Scarsdale spots like QRS elementary. The scavenger hunt ended at her house where he surprised Alexis with rose pedals and al sign that read "Prom?" made up of pictures taken throughout their relationship.
If you have a promposal picture that you want to be featured, email pics and a summary to Scarsdalecomments@gmail.com
Follow us on instagram for more promposal pics! @Scarsdale.10583
Board Appoints New Assistant Principal at SHS, Grants Tenure to 18 and Adopts the 2016-17 School Budget
Details

Category: On Our Radar
Published on

21 April 2016

Written by

Joanne Wallenstein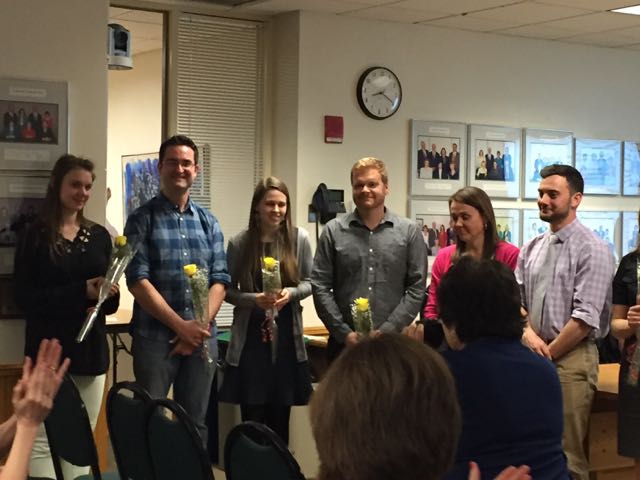 The mood was celebratory and the room was full on Monday night April 18 when Acting Assistant Superintendent for Human Resources Bernard Josefsberg announced the granting of tenure, teaching assignments and promotions.
Opening with a quote from Jacques Barzun from 1945 he said, "Teaching is not a lost art, but the regard for it is a lost tradition."
With that he congratulated Andrea O'Gorman on her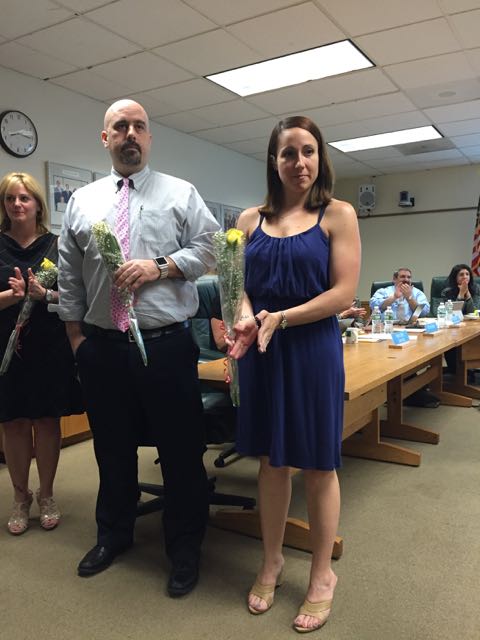 promotion to Assistant Principal at Scarsdale High School. O'Gorman has served as the Director of Counseling at the school and will now move across the hall, presumably filling the position held by Sue Peppers who will retire in June. The name of the new director of the counseling department has not yet been announced.
Josefsberg also announced the following probationary appointments:
Anna Bonnano, Chemistry at Scarsdale High School
Michael Giordano, Science at Scarsdale High School
Elizabeth Rosenstadt, Art at Greenacres School
Javier Urena, Language at Scarsdale High School
The following group of 18 teachers and staffers were appointed tenure. Each came to the front of the room and received congratulations and a rose from Dr. Josefsberg.
Kristina Beck, Special Education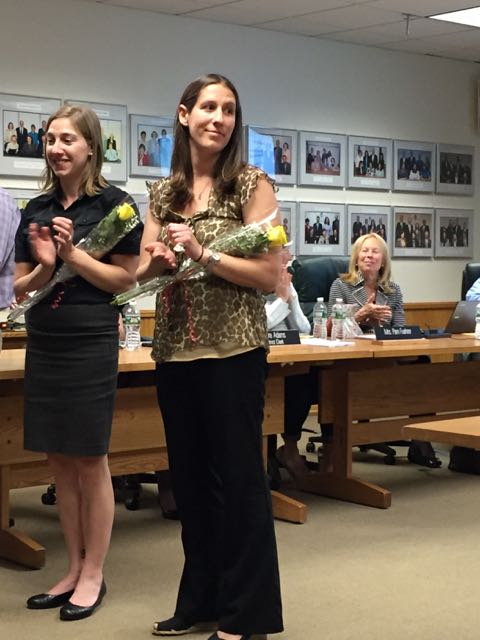 Emily Block, Social Studies
Christopher Casals, Elementary
Dian Dadabo, School Psychologist
Elizaveta Dukalskaya, Foreign Language
Matthew Fitzpatrick, Visual Arts
Rachel Han, Music
Brittan Lambrix, Foreign Language,
David Liebowitz, Elementary
Heath McCarren, Elementary
Vincent Modafferi, Special Education
Fallon Plunkett, Social Studies
Lisa Pomerantz, Elementary, Pre K-6
Caren Reinhardt, Remedial Speech
Allison Rickard, Elementary PreK-6
Katja Rossi, Library Media Specialist
Catherine Sorenson, Library Media Specialist
Elyse Tenzer, Home Economics
2016-17 School Budget
Also at the meeting the Board of Education adopted the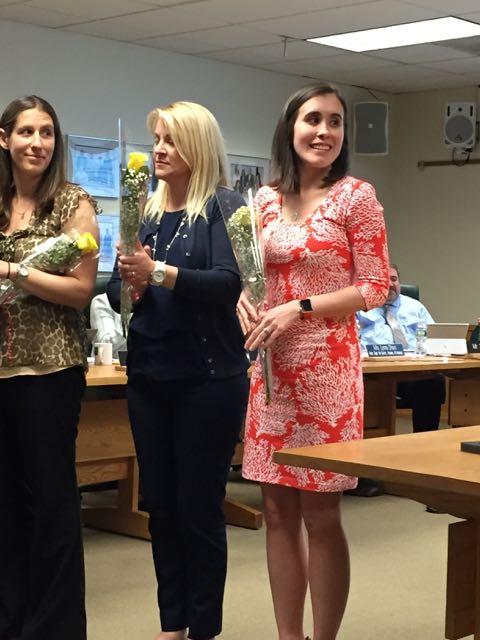 final 2016-17 school budget that will go before voters on Tuesday May 16th.
Assistant Superintendent Stuart Mattey announced that the district will receive an additional $246,000 from the state, which he recommended the district us for district-wide paving projects. After a brief discussion, the Board approved Mattey's recommendation to repave the following:
High School
•Gravel lot - the village won't allow us to pave, so grade and resurface with 3/4" stone
•Brewster Road entrance walk and court
•Student lot by footbridge
•Southeast sidewalk removal/restoration
•Southeast sidewalk replacement
Middle School
•Main parking sidewalks including the removal of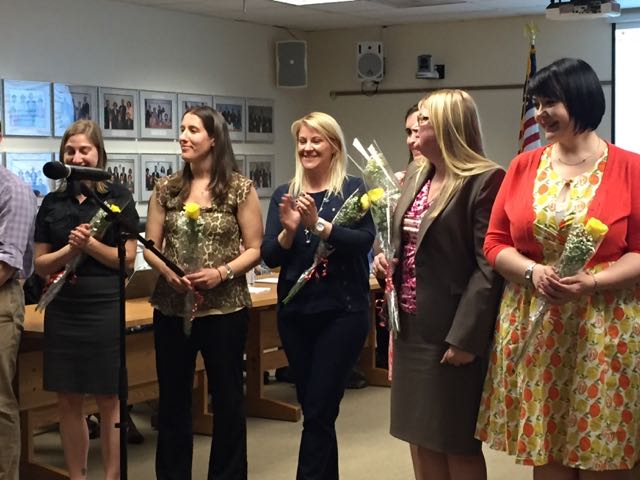 deteriorating concrete curbs, and
installation of granite curbs
•West sidewalks and sidewalk in front of gym including the removal of deteriorating concrete curbs and installation of granite curbs
Edgewood
•SW corner walkways
Greenacres
•Montrose parking
•Montrose walkway
Fox Meadow
•Hampton Road sidewalk
With this additional revenue, the district's total budget for Plant Improvement projects will be $1,251,931. The final 2016-17 budget to $150,454,297, a 1.63% increase over the current year, requiring a tax levy increase of .63%, which is below the calculated tax levy cap limit of .81%.
Eye Q and Current Home on the Move
Details

Category: On Our Radar
Published on

27 April 2016

Written by

Joanne Wallenstein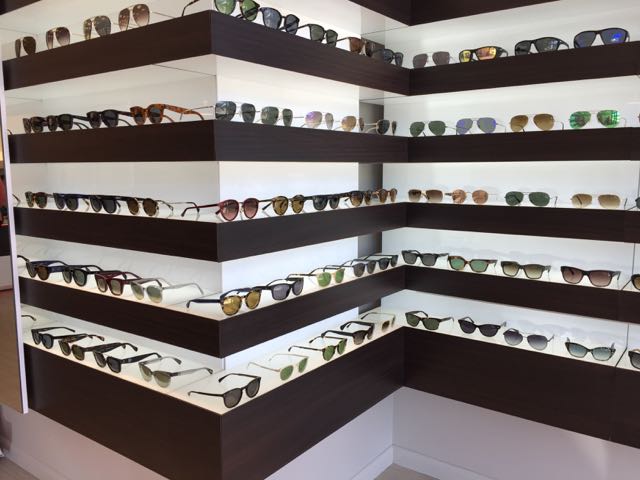 Eye Q Optometrist in Scarsdale has moved to a new location in the Golden Horseshoe Shopping Center. The store is larger and brighter ... allowing customers to see better. They are stocked with stylish sunglasses from Celine, Tom Ford and Dita along with the latest in eyeglasses for both adults and kids. Schedule time for an eye exam before you select new contact lenses, eyeglasses or sunglasses.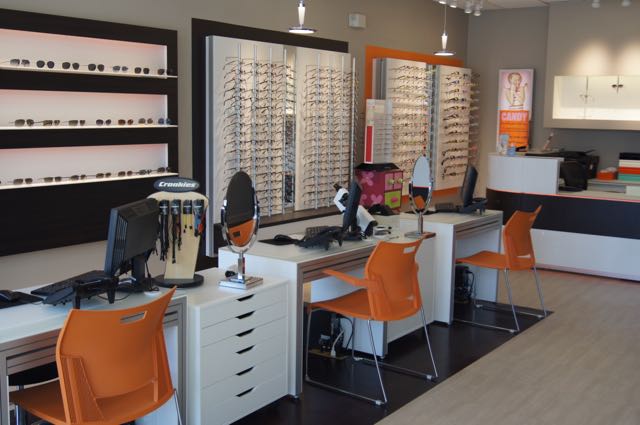 Eye Q Optometrist
1130 Wilmot Road
Scarsdale, NY 10583
(914) 472-5932
Current Home, the modern home accessories and gift shop, will also relocate from Palmer Avenue to the Golden Horseshoe shopping center soon. The boutique will be doubling in size and offering customers a more unique and extensive selection of merchandise.
Current Home opened in 2013 and has grown exponentially under the watchful eye of co-owners Alyson Lane and Karen Tolchin. Their mission is to bring unique and hard to find home accessories to their discerning and loyal customers. They travel far and wide, including a recent trip to Paris, looking for products and merchandise that will help keep their customers' homes beautiful and current.
"We are thrilled about the move and our newly renovated space", says Alyson. "We will be carrying a wider selection of accent furniture, lighting, mirrors and artwork in the new store as well as a more robust selection of dinnerware and flatware. We are also focused on creating a bridal registry to service the next generation of Current Home customers."
Current Home will be joining other new tenants at the Golden Horseshoe including Chop't salad, an expanded Seasons Market and MYX Fitness.
Vote in the NYS Primary Today
Details

Category: On Our Radar
Published on

18 April 2016

Written by

Joanne Wallenstein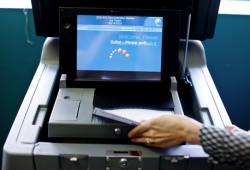 Will it be Bernie or Hillary? The Donald, Cruz or Kasich? That's what will be decided in the New York State Primary on Tuesday April 19th. Those who are registered Democrats or Republicans can vote in the election which will determine how the state's 95 Republican and 291 Democrat delegates will vote at the party conventions. It's one of the first years in recent history where New York voters can make a difference, so if you are registered, be sure to vote tomorrow between 6 am and 9 pm.
Click here to see if you are registered to vote, for which party and to find your polling location.

The League of Women Voters of Scarsdale (LWVS) has circulated the following information about how the voting will be done for the two parties on Tuesday – so read below before casting your vote:
From the LWVS:
Voters must be registered in the Democratic or Republican party to vote in that party's primary in New York State.
In New York State, the Republican and Democratic Presidential primaries are organized differently.
Republican Voters will be issued a ballot with candidates listed. The voter will choose one candidate, but will not vote for delegates. Please be advised that some candidates have withdrawn from the race but are still listed on the New York Ballot.
Democratic Voters will be asked to vote for the Presidential candidate AND delegates for the Democratic convention. Residents of the 16th Congressional District will vote for 6 delegates (indicated on the ballot instructions). The delegates listed in the same row across from the Presidential candidate are the delegates for that candidate.