14 Cuts of Meat and More at the Copacabana Brazilian Steakhouse
Details

Category: On Our Radar
Published on

01 November 2017

Written by

Judie Dweck
In Rio De Janeiro, a must see attraction is Copacabana Beach. Here in Westchester, a visit to Copacabana Brazilian Steakhouse in Portchester, will give you a taste of the rodizio restaurants that are so popular in Brazil.

As I arrived at Copacabana, (the restaurant, not the beach) I was greeted by manager Antonio Narciso, a gracious host. He indicated that he owned several restaurants in Brazil. "At Copacabana we have a friendly environment. Our staff is composed of hard workers. We enjoy serving everyone. Eventually we hope to expand and open another restaurant in a different area of the county, while continuing to enjoy our success here in Port Chester. Our restaurant is traditional. We use our charcoal grills to prepare our extensive rodizio selections." Robert Luiso, the owner has maintained the quality of the food and service at Copacabana which is celebrating its eleventh anniversary. The unique cuisine of Brazil has been influenced by African, Portuguese and American Indian styles of cooking.

The restaurant is grand in size. Enter through a large and comfortable bar. To the right is a wine room. Move on to the large dining room as well as a smaller one suitable for private parties. A less formal bar area is in the rear. Mellow Brazilian music fills the air.

A basket of warm pao de queijo, delectable cheese rolls, appeared on our table as we chose selections from the large assortment of salads and appetizers on the nicely decorated buffet table. These golden puffs were addictive. From the salad bar, we chose from 24 options including tomatoes and mozzarella, large unpeeled shrimp, corn and chick pea salad, olive salad, hearts of palm, parmesan chunks, classic Brazilian shredded chicken salad, and cubed potato salad and a lovely vinaigrette relish. Everything was pristinely fresh. We tried not to fill up on these treats in anticipation of our rodizio meal. Executive Chef Pimentel learned his craft from renowned Brazilian chefs.

It was time to savor the parade of meats that constitute a rodizio dinner. Note the serious steak knife at your place setting and bring a hearty appetite. At both lunch and dinner, your server will arrive with large skewers of a changing variety of meats and a heavy duty knife. He will slice these morsels for you. At dinner, 14 cuts of meat are offered including top sirloin, flank steak, skirt steak, prime rib, leg of lamb beef kebabs, beef ribs, marinated chicken and the list goes on. At lunch six cuts of meat are there for you to enjoy.

The Brazilian people may have invented the "all you can eat meal." A card, green on one side and red on the other indicates if you wish another serving or if you are finished with your meal. Just turn the card to the appropriate side and your attentive server will fill your wish. We loved the top sirloin, the marinated chicken thighs and the pork loin with a sun dried tomato marinade. Our skewers were accompanied by rice, beans, a vinaigrette with onions and peppers, and cassava, also called manioc or farofa, a starchy flour that has the appearance of grated cheese and appears with many dishes. Best of all were the divine fried bananas. The secret in their preparation is to start with bananas that are not too ripe and not to firm. Dipped in egg and panko crumbs and fried to a golden hue they perk up any meal.

Copacabana offers a varied selection of a la carte dishes, many with an Italian touch such as shrimp scampi, chicken scarpariello, chicken martini and filet of sole picatta. There is salmon with passion fruit sauce, grilled skirt or strip steak and even a Copacabana burger. We enjoyed the grilled top sirloin or picanha. This huge portion of beef topped with caramelized onions with mashed potatoes was hearty and I imagine many guests would request to have part of the dish packed for a future meal. The a la carte grilled skirt steak or fraldinha was tender as could be and topped with a julienne of red and green peppers and caramelized onions. It too, was a very generous portion.
Several very traditional dishes are offered as well. One is the national dish of Brazil or feijoada. This is a mix of black beans and a variety of many cuts of pork and dried beef combined to form a very hearty stew. It is served here in the classic manner with sliced oranges and sautéed collard greens, rice and manioc meal for sprinkling. Contemporary restaurants might call this nose to tail cuisine. Another classic is the Brazilian fish stew called muqueca. At Copacabana it is prepared with red snapper and shrimp. This bowlful of steaming goodness arrives with its golden sauce provided by the addition of dende oil. Green and red peppers and tomatoes add flavor and cassava thickens this lovely seafood dish.


You may decide to visit Copacabana to enjoy their drinks and appetizers. In the Brazilian mode, try one or a combination of the caipirinhas prepared with cachaça, a Brazilian made sugar cane spirit with added lime and sugar. It is prepared here both traditionally or with strawberry, passion fruit, mango, pineapple or coconut. Many beer and cocktails will work well with their selection of appetizers such as mixed bbq, pork sausage, croquette platter, coconut shrimp, fried tilapia or a Copa salad.

Desserts include crème brulee, tiramisu, and mousses. We enjoyed a creamy and smooth coconut flan. Very classic is brigadeiro prepared with chocolate and condensed milk. Very unusual were cajuzin with ground peanuts and condensed milk.

Enjoy a festive meal at Copacabana where the friendly staff will make you feel at home. It is a fine spot for friends and family as well as for business meetings to enjoy a bountiful meal.

Copacabana Brazilian Steakhouse
29 North Main Street
Port Chester, New York
914 939 6894
http://www.copacabanasteakhouse.com/

Recipe: Caramel Flan

14 ounces sugar
14 ounce can condensed milk
14 ounces whole milk
3 eggs

For the caramel, place sugar in a pot and cook, stirring until it is golden in color. Carefully pour this caramel syrup into a round cake pan. In a blender, blend the condensed and whole milk and eggs until smooth. Pour this mixture over the caramel syrup in the round cake pan. Place the round pan in a water bath, (a larger pan filled halfway up with water.) Bake at 350 degrees for about 45-60 minutes. Let it rest for ½ hour and then refrigerate covered for 6 hours. Unmold the cake pan onto a round serving platter and serve cold in slices.
Halloween Window Paintings 2017
Details

Category: On Our Radar
Published on

23 October 2017

Written by

Joanne Wallenstein
There could not have been better weather for Halloween Window Painting in Scarsdale. On Sunday October 22 the sunny, dry weather with temperatures in the mid-70's, made painting and watching a pleasure.
Scarsdale's talented kids, some with art direction from their parents, were out in full force. Themes were political – we saw a few "Trumpkins," and a "Trump O Lantern" as well as many references to movies, television and popular cartoon characters and spooky twists on common expressions. Take a look at the results below.

An award ceremony will be held on Thursday November 2 at 7 pm at Quaker Ridge auditorium.

Grand Prize
Anastasia Stefanou
Group I
First Place Lillian Rosenthal
Second Place James Koch
Third Place Lila Treanor
Most Comical Michael Cecil
Group II

First Place Grace Henry
Second Place Blair Rudsenke
Third Place Alexandra Israel
Most Comical Julia Barro
Honorable Mentions
Hana Coulson
Gabriel Andrade Rozario Da Silva
Audrey Li
Lilah Lenski-Kristian


Group III
First Place Sofia Feinstein
Second Place Claire Matula-Osterman
Third Place Lily Wise
Most Comical Bitsy Cecil
Honorable Mentions
Danielle Barro
Deanna Matula-Osterman
Jennifer Schwartz


Group IV
First Place Olivia Liu
Second Place Annika Hanson-Carlson
Third Place Alexandra Simon
Most Comical Chloe Wise
Honorable Mentions
Patrick Kantor
Henry Nova
Elena Mantzouris
Group V
First Place Lucy Cecil
Second Place Margaret Kantor
Third Place Jonah Miller
Most Comical Matthew Pollack
Honorable Mention Charlotte Braun






Group VI
First Place Samantha and Natalie Goldban
Second Place Kaitlyn Shedroff and Tara Bamji
Third Place Lily Greenberg and Neil Rompala
Most Comical Lauren Zoland and Brooke Munter
Honorable Mentions
Ursual Paquin and Laila El Moselhy
Nicolas Toosi and Ben Blaustein
Harper Smith and Ella Fransworth






Group VII
First Place Stevie Rosenberg and Chloe Powell
Second Place Madeline Weiser and Meera Chari
Third Place Skylar Katz and Carys Husiang
Most Comical Grace Liebman and Lily Gordon
Honorable Mentions
Lilliana DeRobertis and Remy Weinberg
Samara Feuerstein and Mia Degenaro
Lucy Forest and Phoebe Tucker










Group VIII
First Place Sofia and Arianna Feinstein
Second Place Sarina Mehta and Maya Dhiman
Third Place Nadine McMahon and Clara Bartalos
Most Comical Charlotte Aldridge and Ava Feldman
Honorable Mentions
Jordan Kefer and Dhoni Middleton
Chloe Paquin and Kamila El Moselhy
Maya Katcher and Rebecca Gross
Apollonia Lulgjuraj and Lola Ansell
Group IX
First Place Holden Meilman and Lizzie Hurshman
Second Place Syndney Mill and Tessa Barry
Third Place Sophie Brenner and Anna Feldstein
Most Comical Ryan Forest and Jared Waldman
Honorable Mentions
Adam Otsuka and Arata Matsui
Amanade Messerle and Sarah Vibbert
Rachel and Samantha Levine
Anna Schwartz and Ana Salzinger
Group X
First Place Danielle Kohn and Emily Messerle
Second Place Samantha Kefer and Sohpia Sipe
Third Place Olivia Otsuka and Lucy Brenner
Most Comical Caroline Higgins and Julia Kawai
Honorable Mentions
Kelsy Hogan and Aisling Doherty
Senior Annemarie Horn Celebrates 2500th Assist at Ursuline Game
Details

Category: On Our Radar
Published on

11 October 2017

Written by

Jordy Love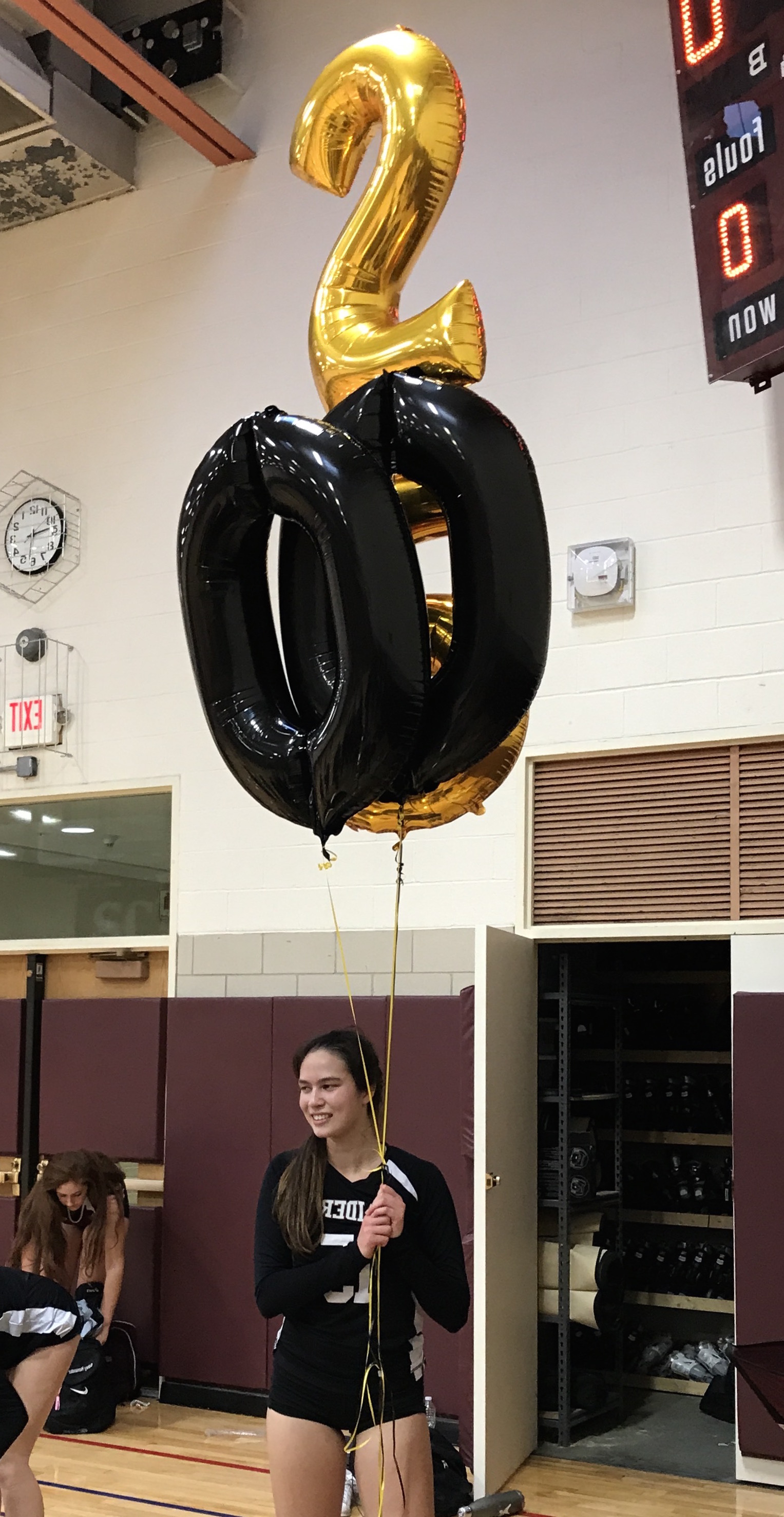 The Scarsdale Raiders Varsity A volleyball team is fired up for an amazing season. On Thursday October 5th they played their rivals from Ursuline and swept them in three sets. Last season, the team lost to Ursuline twice in the regular season but the girls came back this year motivated and unwilling to let that happen again. The team has played a number of tough opponents this season and are pushing onwards hoping to earn a top spot in the league which will help them a lot during sectionals.
Senior Annemarie Horn, 4 year Varsity player and team Co-Captain, surpassed the 2500th assist mark and set a new school record of 2507 during the victory over Ursuline. Horn served her 163rd career aces and broke the record formerly held by Tatiana Tiangco (162). During the week of October 1st, Horn achieved double-double stat lines in digs and assists in all three games played. Her total stats for the week were as follows: 13 kills, 9 aces, 40 digs, 89 assists and 8 blocks.

The team celebrated their Co-Captain following the Ursuline match with cake and balloons. So far this season, the Varsity A team has only lost 3 games to New Rochelle, North Rockland, and Ossining. They hope to beat New Rochelle later in the season to secure a top spot in class AA post season.
Varsity A's busy schedule continues this week with games on 10/11 vs. Mt. Vernon at home, and 10/13 @ New Rochelle.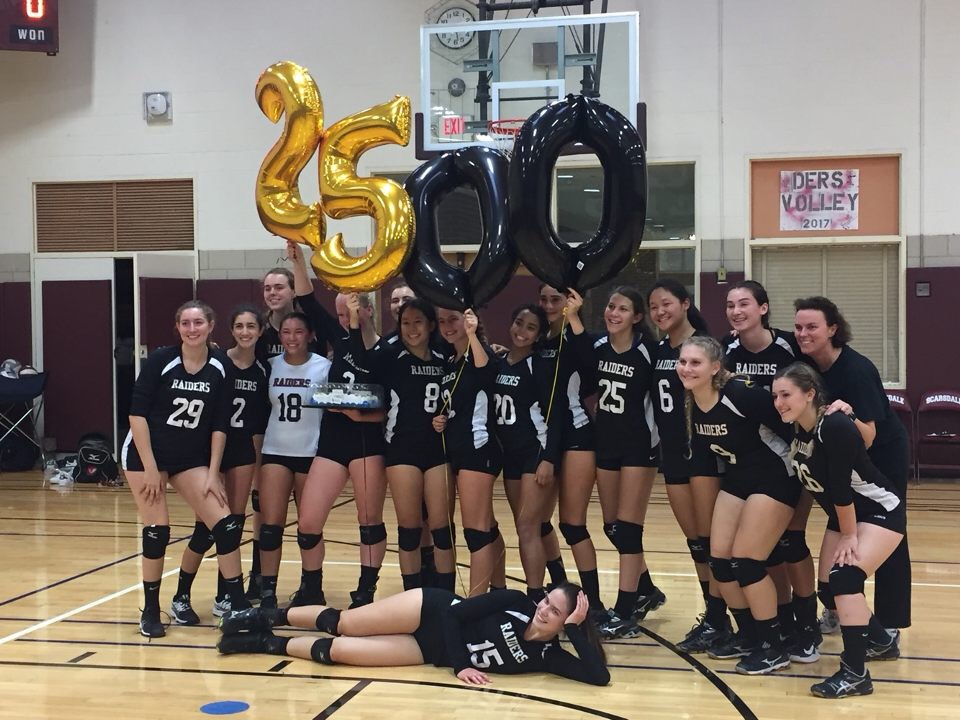 Fox Meadow Celebrates Multiculturism
Details

Category: On Our Radar
Published on

19 October 2017

Written by

Joanne Wallenstein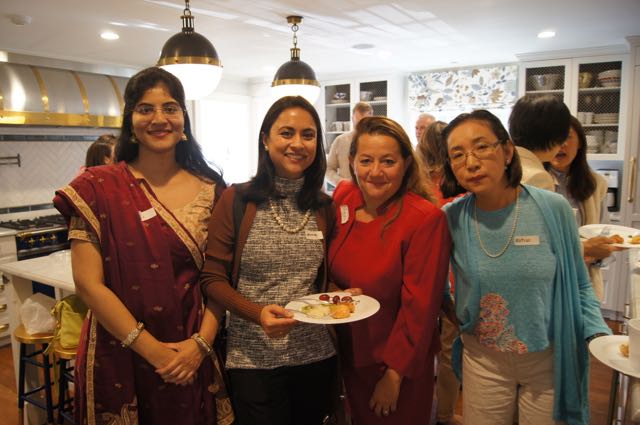 Fox Meadow parents, teachers, administrators, PTA leaders and Village officials celebrated the neighborhood's diversity at the Multicultural Breakfast at the home of Shirley Dugan on Tuesday October 17.
The many cultures of the neighborhood were evident in the resplendent feast of foods of all nations offered in Dugan's kitchen.
Fox Meadow Principal Duncan Wilson greeted the crowd and read from a children's book called "Come With Me" by Holly MacGhee that is used at the school to promote tolerance.
On the scene was PTA President Aidan Cassidy who is enjoying his term as one of the only male PTA Presidents. He got involved in volunteerism by serving on the Compact Committee and then running the Fox Meadow Fall Benefit. He's is enjoying working with other parents and district-wide PTA leaders and also thinks his work sets a good example for his twin 9 year-olds who are now in fourth grade.
We chatted with Mayra Kirkendall Rodriguez, Trustees Matt Callaghan and Deb Pekarek, School Board member Chris Morin and many other parents from around the globe.
Freightway Steering Committee Hosts Public Workshops on Potential Development
Details

Category: On Our Radar
Published on

02 October 2017

Written by

Jon Mark
The Village of Scarsdale is conducting a visioning study to guide potential redevelopment of the Freightway site. Last night, the Freightway Steering Committee (FSC) a committee of residents appointed by the Village Board hosted its second public workshop designed at getting community input on what potential redevelopment of the Freightway site might be considered. More than 40 residents and others interested in the discussion attended the two and a half hour event which was held at the meeting room of the Scarsdale Congregational Church. The participants listened to an overview presentation by Jonathan Martin and Noah Levine of BFJ Planning, consultants to the FSC. After the presentation, participants divided into several roundtable groups tasked with discussing a variety of options for the site that might be considered in the future. Each discussion group then appointed one of their members to present a summary of their conversation to all participants. The meeting was recorded and a video of the event will posted on line on Scarsdale Public TV's web site and on the Village's web site.
The next working session of he FSC is scheduled for October 12, 2017 at 7:00 pm in the 3rd floor meeting room in Village Hall. The working session will be open to the public. In addition, another public workshop is scheduled for November 13, 2017, time and place to be announced.
The FSC is working to produce a report on its findings to be issued during the first quarter of 2018. Information about the FSC and its work is available on the Village web site link.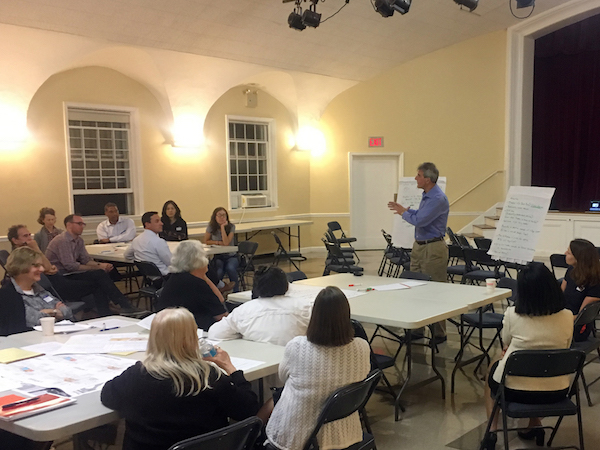 Photos by Jon Mark, Ingrid Richards, Noah Levine