The Scarsdale Forum Invites You to a Conversation about Schools
Published: Wednesday, 16 August 2017 18:42
Joanne Wallenstein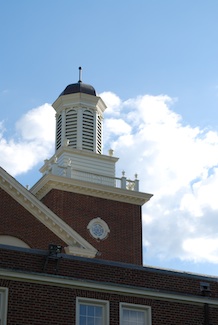 The Scarsdale Forum's Education Committee invites you to a conversation about Scarsdale schools at an event to be held Thursday, September 7, 2017, at 7:30 pm in Rutherford Hall of the Scarsdale Village Hall, 1001 Post Road. This back-to-school event will include a live poll providing current Scarsdale students, Scarsdale alumni, parents, empty nesters and the community at large the opportunity to answer a variety of questions about Scarsdale schools. Responses will be shown in real time on a screen visible to both audience members and home viewers. Those who plan to attend the event should bring an electronic device (such as a smartphone, tablet, or laptop) to participate in the polling. There will also be a public comment portion of the evening so that audience members can discuss the live poll's questions and answers. The qualitative and quantitative information collected during the live polling will be used in reports and articles that the Education Committee plans to issue during 2017-2018. The reports and articles will be made publicly available.
The Scarsdale Forum is actively gathering data that can be used to inform residents, as well as school and Village decision-makers about relevant topics in our community. During May-June 2017, the Forum's Education Committee conducted a village-wide online survey soliciting Scarsdale residents' opinions on topics the Education Committee should research and report upon during 2017-2018. Respondents from all five neighborhoods ranked 12 topics in order of priority: "Need for a Long-Term Financial Plan" and "Program Evaluation Process and Metrics" ranked first and second, respectively. Tied for third place were "Financial Literacy" and "Community Design Initiative: Involving All Stakeholder in Designing Education Goals."
Additionally, the online survey revealed five issues respondents wanted addressed: better communication with the school district, a clear framework to compare Scarsdale schools with other school districts, facilities renovation, more math and science in the elementary schools, and more foreign language instruction.
According to Education Committee Co-Chair Mayra Kirkendall-Rodríguez: "Now that we have these school topics ranked, we would like to deepen our engagement with the Scarsdale community to really understand what educational priorities exist. Also, we need to probe how residents feel about how much we want to spend to continue including innovative programs in our schools."
The September 7 event will provide the Education Committee the opportunity to explore the Scarsdale community's educational values and priorities in more depth. Co-Chair Carlos Ramírez said: "We encourage residents of Scarsdale and the Mamaroneck Strip to attend the event and have their voices heard. As a community, we are empowered to participate in important discussions about our schools and to insure stakeholder involvement happens."
BLOG COMMENTS POWERED BY DISQUS