Scarsdale Ice Hockey Team Scores First Win of the Season
Published: Tuesday, 19 December 2017 17:27
Joanne Wallenstein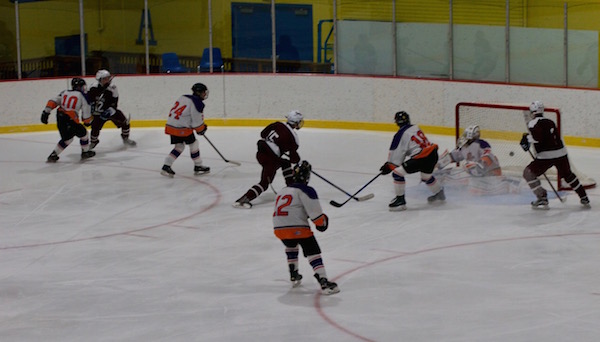 The Scarsdale Raiders Varsity Hockey team won their first game of the season with an epic comeback against the combined Stamford/West Hills High School team at Terry Connors Ice Rink in Stamford Connecticut on Monday December 18.
The Raiders were down 2-0 heading into the second period, but got on the board with a goal from Junior Alternate Captain Ben Schwartz, with Senior Jeremy Wolfe making the key assist. Senior Matthew Hyman tied the game with a quick shot from the slot, after receiving a pass from Freshman Josh Bock. After giving back the lead at the end of the period, the Raiders tied the game late in the third period with a hard fought goal by Junior Ryan Collins, with assists from Senior's Jacob Kahan and Loic Harousseau. Senior Captain Sam Seltzer kept the Raiders in the game making 41 saves until there were 30 seconds left in the eight minute overtime period and Junior Alternate Captain Jack Brosgol punched in a loose puck in front to win it for the Raiders, with Schwartz and Wolfe assisting.
Although the Raiders had to kill off five penalties and only managed 14 shots on goal, they played their best game of the year. The win followed an impressive tie against rival Mamaroneck, last year's Section 1 Champs and a favorite to repeat this year. The Raiders record now stands at 1-2-1 and will have three more games prior to the winter break. For more information on the Raiders Varsity Ice Hockey Team, visit ScarsdaleVarsityHockey.com.