Beach Reads
Details

Category: Bulletin Board
Published on

27 July 2016

Written by

Joanne Wallenstein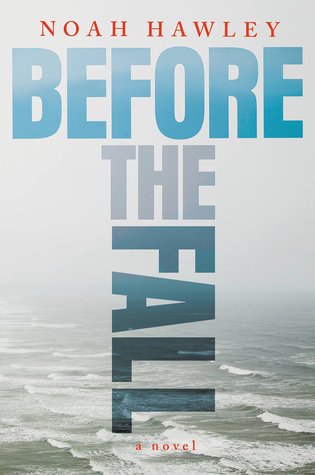 It's too hot to do much more than laze around with a good book. Whether you're inside in the air conditioning, or cooling off at the beach, lake or pool, now's your chance to indulge in some summer reading. Nothing too demanding ... just a good gripping story. We asked a few of our favorite book lovers for suggestions, and here is what they shared. Consider these .... and if you have a good title to share, please tell us about it in the comments section below:
Before the Fall by Noah Hawley

On a foggy summer night, eleven people—ten privileged, one down-on-his-luck painter—depart Martha's Vineyard on a private jet headed for New York. Sixteen minutes later, the unthinkable happens: the plane plunges into the ocean. The only survivors are Scott Burroughs—the painter—and a four-year-old boy, who is now the last remaining member of an immensely wealthy and powerful media mogul's family.
With chapters weaving between the aftermath of the crash and the backstories of the passengers and crew members—including a Wall Street titan and his wife, a Texan-born party boy just in from London, a young woman questioning her path in life, and a career pilot—the mystery surrounding the tragedy heightens. As the passengers' intrigues unravel, odd coincidences point to a conspiracy. Was it merely by dumb chance that so many influential people perished? Or was something far more sinister at work? Events soon threaten to spiral out of control in an escalating storm of media outrage and accusations. And while Scott struggles to cope with fame that borders on notoriety, the authorities scramble to salvage the truth from the wreckage.

Amid pulse-quickening suspense, the fragile relationship between Scott and the young boy glows at the heart of this stunning novel, raising questions of fate, human nature, and the inextricable ties that bind us together.
I Am Pilgrim by Terry Hayes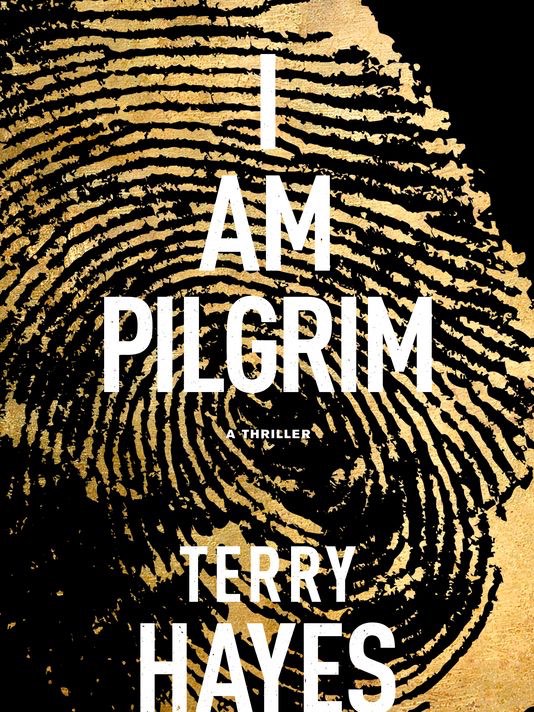 A breakneck race against time...and an implacable enemy.
An anonymous young woman murdered in a run-down hotel, all identifying characteristics dissolved by acid.
A father publicly beheaded in the blistering heat of a Saudi Arabian public square.
A notorious Syrian biotech expert found eyeless in a Damascus junkyard.
Smoldering human remains on a remote mountainside in Afghanistan.
A flawless plot to commit an appalling crime against humanity.
One path links them all, and only one man can make the journey.

The Bridge Ladies by Betsy Lerner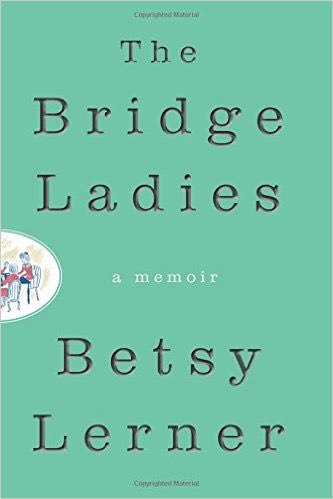 A fifty-year-old Bridge game provides an unexpected way to cross the generational divide between a daughter and her mother. Betsy Lerner takes us on a powerfully personal literary journey, where we learn a little about Bridge and a lot about life.

After a lifetime defining herself in contrast to her mother's "don't ask, don't tell" generation, Lerner finds herself back in her childhood home, not five miles from the mother she spent decades avoiding. When Roz needs help after surgery, it falls to Betsy to take care of her. She expected a week of tense civility; what she got instead were the Bridge Ladies. Impressed by their loyalty, she saw something her generation lacked. Facebook was great, but it wouldn't deliver a pot roast.

Tentatively at first, Betsy becomes a regular at her mother's Monday Bridge club. Through her friendships with the ladies, she is finally able to face years of misunderstandings and family tragedy, the Bridge table becoming the common ground she and Roz never had.

By turns darkly funny and deeply moving, The Bridge Ladies is the unforgettable story of a hard-won—but never-too-late—bond between mother and daughter.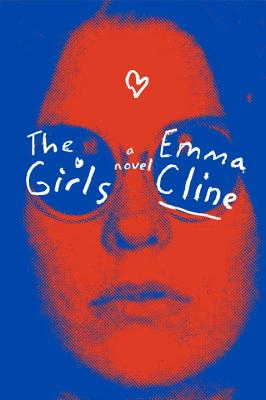 The Girls by Emma Cline

Northern California, during the violent end of the 1960s. At the start of summer, a lonely and thoughtful teenager, Evie Boyd, sees a group of girls in the park, and is immediately caught by their freedom, their careless dress, their dangerous aura of abandon. Soon, Evie is in thrall to Suzanne, a mesmerizing older girl, and is drawn into the circle of a soon-to-be infamous cult and the man who is its charismatic leader. Hidden in the hills, their sprawling ranch is eerie and run down, but to Evie, it is exotic, thrilling, charged a place where she feels desperate to be accepted. As she spends more time away from her mother and the rhythms of her daily life, and as her obsession with Suzanne intensifies, Evie does not realize she is coming closer and closer to unthinkable violence.
Emma Cline's remarkable debut novel is gorgeously written and spellbinding, with razor-sharp precision and startling psychological insight. "The Girls" is a brilliant work of fiction.

A Marriage of Opposites by Alice Hoffman

Growing up on idyllic St. Thomas in the early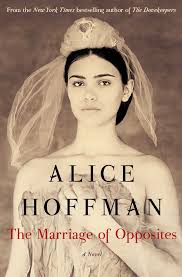 1800s, Rachel dreams of life in faraway Paris. Rachel's mother, a pillar of their small refugee community of Jews who escaped the Inquisition, has never forgiven her daughter for being a difficult girl who refuses to live by the rules. Growing up, Rachel's salvation is their maid Adelle's belief in her strengths, and her deep, life-long friendship with Jestine, Adelle's daughter. But Rachel's life is not her own. She is married off to a widower with three children to save her father's business. When her older husband dies suddenly and his handsome, much younger nephew, Frédérick, arrives from France to settle the estate, Rachel seizes her own life story, beginning a defiant, passionate love affair that sparks a scandal that affects all of her family, including her favorite son, who will become one of the greatest artists of France.

"A work of art" (Dallas Morning News), The Marriage of Opposites showcases the beloved, bestselling Alice Hoffman at the height of her considerable powers. "Her lush, seductive prose, and heart-pounding subject...make this latest skinny-dip in enchanted realism...the Platonic ideal of the beach read" (Slate.com). Once forgotten to history, the marriage of Rachel and Frédérick "will only renew your commitment to Hoffman's astonishing storytelling" (USA TODAY).
Eligible by Curtis Sittenfeld

This version of the Bennet family and Mr. Darcy is one that you have and haven't met before: Liz is a magazine writer in her late thirties who, like her yoga instructor older sister, Jane, lives in New York City. When their father has a health scare, they return to their childhood home in Cincinnati to help and discover that the sprawling Tudor they grew up in is crumbling and the family is in disarray.
Youngest sisters Kitty and Lydia are too busy with their CrossFit workouts and Paleo diets to get jobs. Mary, the middle sister, is earning her third online master's degree and barely leaves her room, except for those mysterious Tuesday-night outings she won't discuss. And Mrs. Bennet has one thing on her mind: how to marry off her daughters, especially as Jane's fortieth birthday fast approaches.
Enter Chip Bingley, a handsome new-in-town doctor who recently appeared on the juggernaut reality TV dating show "Eligible." At a Fourth of July barbecue, Chip takes an immediate interest in Jane, but Chip's friend neurosurgeon Fitzwilliam Darcy reveals himself to Liz to be much less charming. . . .
And yet, first impressions can be deceiving.

Miller's Valley by Anna Quindlen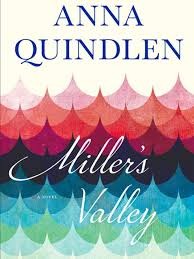 In a small town on the verge of big change, a young woman unearths deep secrets about her family and unexpected truths about herself. Filled with insights that are the hallmark of Anna Quindlen's bestsellers, "Miller's Valley" is an emotionally powerful story about a family you will never forget.

For generations the Millers have lived in Miller's Valley. Mimi Miller tells about her life with intimacy and honesty. As Mimi eavesdrops on her parents and quietly observes the people around her, she discovers more and more about the toxicity of family secrets, the dangers of gossip, the flaws of marriage, the inequalities of friendship and the risks of passion, loyalty, and love. Home, as Mimi begins to realize, can be a place where it's just as easy to feel lost as it is to feel content.

"Miller's Valley" is a masterly study of family, memory, loss, and, ultimately, discovery, of finding true identity and a new vision of home. As Mimi says, No one ever leaves the town where they grew up, even if they go. "Miller's Valley" reminds us that the place where you grew up can disappear, and the people in it too, but all will live on in your heart forever.

Swans of Fifth Avenue by Melanie Benjamin

Of all the glamorous stars of New York high society,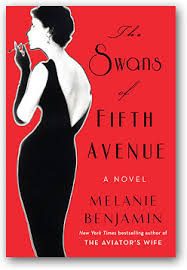 none blazes brighter than Babe Paley. Her flawless face regularly graces the pages of Vogue, and she is celebrated and adored for her ineffable style and exquisite taste, especially among her friends—the alluring socialite Swans Slim Keith, C. Z. Guest, Gloria Guinness, and Pamela Churchill. By all appearances, Babe has it all: money, beauty, glamour, jewels, influential friends, a prestigious husband, and gorgeous homes. But beneath this elegantly composed exterior dwells a passionate woman—a woman desperately longing for true love and connection.

Enter Truman Capote. This diminutive golden-haired genius with a larger-than-life personality explodes onto the scene, setting Babe and her circle of Swans aflutter. Through Babe, Truman gains an unlikely entrée into the enviable lives of Manhattan's elite, along with unparalleled access to the scandal and gossip of Babe's powerful circle. Sure of the loyalty of the man she calls "True Heart," Babe never imagines the destruction Truman will leave in his wake. But once a storyteller, always a storyteller—even when the stories aren't his to tell.

Check out more of the books that your neighbors are reading here and share your favorites in the comments section below.


Wedding Bells for SHS Sweethearts
Details

Category: Bulletin Board
Published on

21 July 2016

Written by

Joanne Wallenstein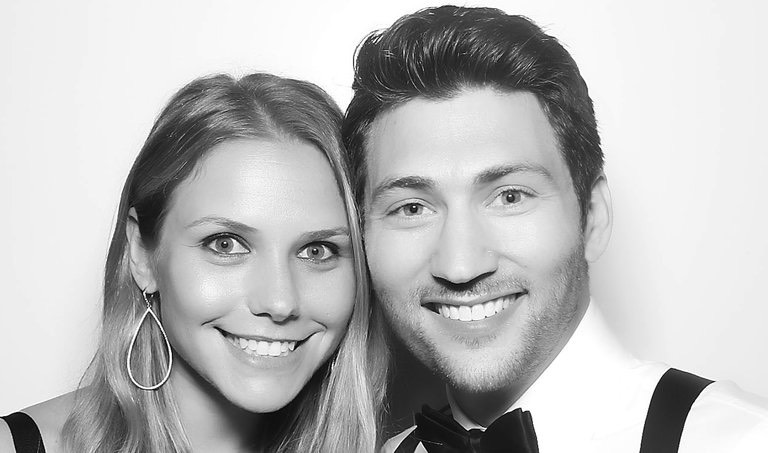 Alexandra Paige Locker, a daughter of Lori E. Locker and Frederick B. Locker of New York, was married July 16 to Jason Andrew Wald, a son of Sue D. Wald and David J. Wald of Scarsdale. Rabbi Angela Buchdahl officiated at the bride's parents' summer house in Southampton, N.Y.
Mrs. Wald, 29, is an advertising sales planner for NBCUniversal in New York, where she sells ad space on the Bravo and Syfy networks. She graduated from Tulane University.
Mr. Wald, 28, acquires independent films for Radius-TWC, a division of the Weinstein Company, the film studio in New York. He graduated from the University of Pennsylvania.
The couple met in 2001 as students at Scarsdale High School.
Fireworks Go Off Without a Hitch
Details

Category: Bulletin Board
Published on

06 July 2016

Written by

Adam Regenstreif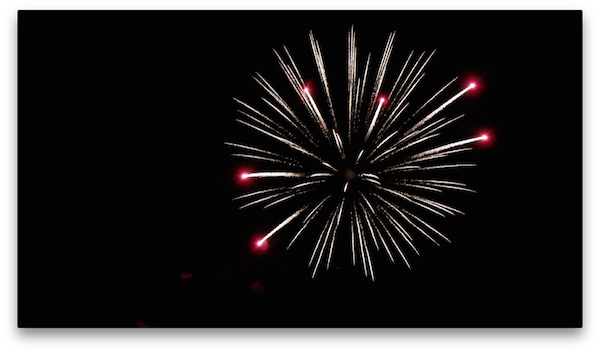 The Village of Scarsdale is well known for its beloved fireworks display and it didn't disappoint on Thursday night June 30, when the brilliant splashes of colored light were accompanied by other patriotic symbols in commemoration of independence 240 years ago.

Some 2,500 people came out to see spectacular fireworks rise into nighttime sky accompanied by music from the Westchester Band. "We love music," said Ken Hesselbacher. "I love noise, and chaos, and excitement."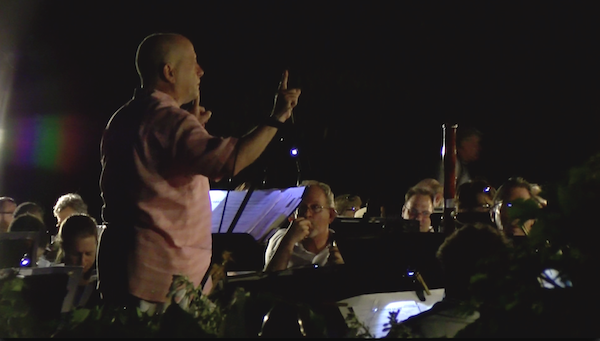 While the fireworks show started at 9:15 pm, residents of Scarsdale and surrounding communities streamed in hours earlier to secure a good vantage point around the big pool. Every patch of grass nearby was covered with towels or lawn chairs. With the temperature a moderate 73 degrees, children capered around, playing with light-up toy wands and swords and the area was filled with chatter and music. The number of spectators exceeded the count in the last few years.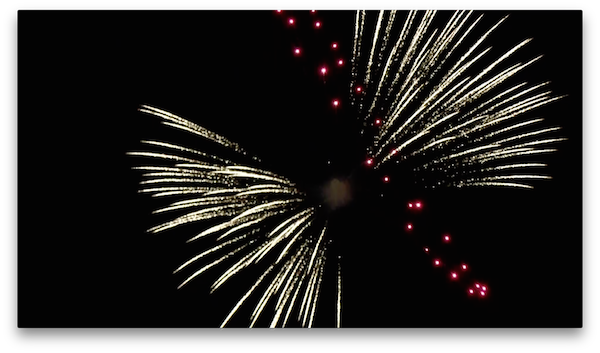 One attraction that seemed to please was the Westchester Band, directed by Alan Hollander. The Westchester Band has not been able to make it to the Fireworks Spectacular in the past five or six years because of other commitments. The band started playing at 8:00, and through the evening beautifully recited excerpts from Tchaikovsky's 1812 Overture and other musical favorites.

"I like the music as it's going into the night," said Eric Collins, a visiting Pelham resident. It may have been too much for some, like John Macisco, a Scarsdale resident since 1971 and a faithful attendee of the pool fireworks. There was a "little bit of competition from the band," he said. While he thought the fireworks and the band clashed over both sound and splendor, his final assessment was that it was a "very enjoyable evening." The rest of the crowd was won over too. A dazzling splash of bright colors and shimmering lights illuminated the night sky and silenced the spectators for fifteen minutes. There were more fireworks this year, resulting in a longer show.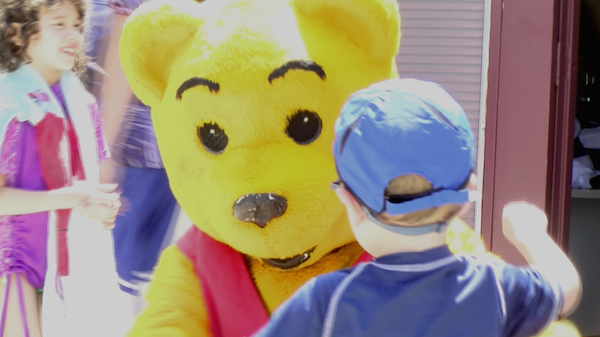 "Everyone comes out, everyone comes together," said Jennifer Weinberg. "It's a nice community event." Indeed, many Scarsdale residents gathered in the same place to enjoy a brilliant evening.

The Scarsdale Pool followed up by hosting a Carnival Day on Monday, July 4th. This small children's fair ran from 11:00 am to 4:00 pm, and had various events for younger children scattered throughout the grounds.

The weather was cooperative: clear blue skies and 81 degrees. While the kids participated, many of their parents relaxed in the shade.

In the recreational area, near the volleyball court,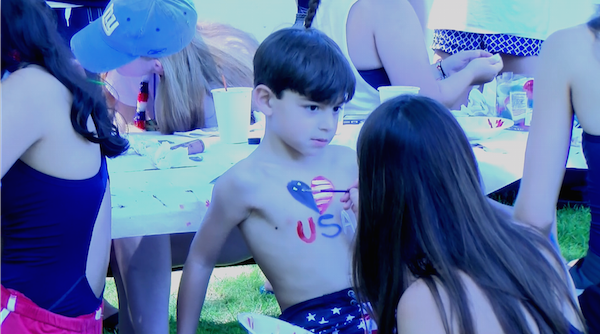 stood a large inflatable bounce slide. It never drew much attention; the highlight was the face-painting table. Manned by high-school and college age pool staff, children flocked to the table near the dining area to have US flags, butterflies, and other animals drawn on their faces. The paint came off easily in the water, but they still contributed to a holiday spirit.

Freestyle swim races were held in the big pool at 12:00, and children from 5-12 participated. Everyone was awarded a ribbon for their efforts. A half hour later, kids waded and paddled around the small and medium pools in hunts for pennies. Dozens of coins were tossed into the pool for the children to collect. Shortly afterward were kick boarding competitions, with children racing the width of the pool to earn ribbons.

Parent-child relay races kicked off forty-five minutes later, and were followed at 2:15 by inner tube races. Perhaps it was these thrilling competitions that produced the positive vibes in the pool area. Maybe it was the basketball events. At 2:00, the foul shooting contest took place. On the basketball court, kids competed to see who could score the most foul shots. It was a great segway to a diving pool basketball dunk contest scheduled to follow. This would normally be prohibited in the diving pool, but the circumstances of this special day allowed for these celebrations to take place.
Photos and text by SHS student Adam Regenstreif
James Seymour Takes Command of the Scarsdale Fire Department
Details

Category: Bulletin Board
Published on

14 July 2016

Written by

Joanne Wallenstein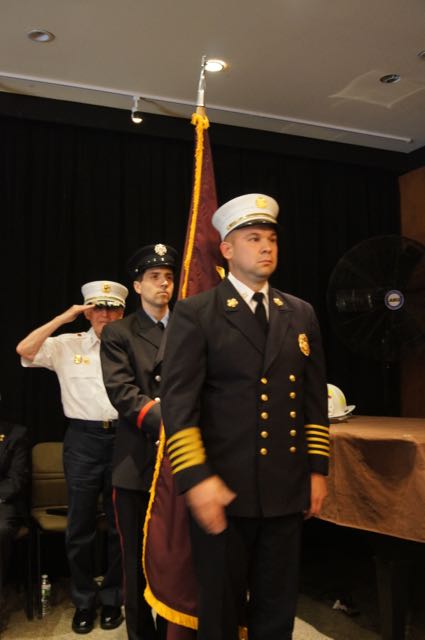 It's not often that Scarsdale appoints a new Chief of the Fire Department – in fact, the last time it happened was more than a decade ago. So when the Village learned that Chief Thomas Cain would retire after 32 years of service to Scarsdale, with ten as the chief, they planned an impressive Transfer of Command Ceremony to give both the departing and starting chiefs their due and to present commendations and a promotion to others on the team. In a solemn ceremony, command of the Scarsdale Fire Department was transferred from Chief Cain to Captain James Seymour who has served Scarsdale since 2004.
On Tuesday July 12th a full complement of firefighters, family members, village officials, chiefs of neighboring departments and well wishers filled the Scott Room of Scarsdale Library. The occasion was marked by a posting of the colors from the Scarsdale Fire Department Honor Guard.
The ceremony opened with remarks from the Mayor, Village Trustee Matt Callaghan and Village Manager Steve Pappalardo. Callagahn, who has served as a volunteer firefighter for over 32 years said the company was "enmeshed in brotherhood and courage." Pappalardo recounted the history of the department which began in 1893 with a horse drawn wagon outfitted with fire extinguishers.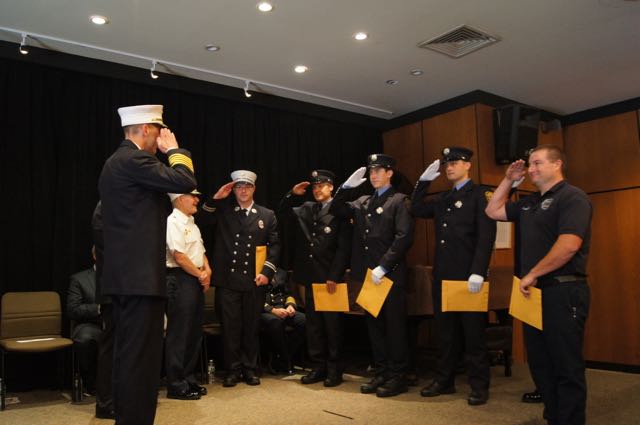 Two firefighters were presented with honorable service awards for fighting a fire at 180 Bradley Road in September 2012. Dan Disimone and Brian Hughes were credited for "performing admirably," and "distinguishing themselves," while fighting the fire.
Six firefighters were given awards for their performance during a four-vehicle accident on the Hutchinson River Parkway in January 2015, when a driver was pinned into his car after hitting a tree. Firefighters used rescue tools to "extricate the victim from complex entrapment." Awards went to Dan Desimone, Jamie Polockow, Mark Rosenfeld, Michael Dwyer, Alan Gleason and Jeremy Stempel.
Unit citations were awarded to firefighters who fought a propane leak on Mayflower Road in May 2016. The leak formed a vapor cloud that threatened a home on Colonial Road. Firefighters stretched hoses to disperse the leaking propane and saved the home. According to Chief Cain, they "worked tirelessly in elevated temperatures and high humidity to mitigate the leak." Recipients included John Cockerill, James Seymour, Brian Robinson, Brian Kelly, James Marinello, Stephen Mulcahey, Michael Dwyer, Francis Sheehan, Timothy Duffy, Rory Tully and David Yolinksy who was injured this week fighting a fire on Bell Road.
More unit citations were awarded for work done after motor vehicle accident on Palmer Avenue. Awardees included John Cockerill, Brian Kelly, Michael Dwyer, Jamie Polockow, Chris DiMichele, Chris Mytych, Timothy Duffy, Chris Feineis and William Folkerts.
Chief Cain said goodbye after a 37-year career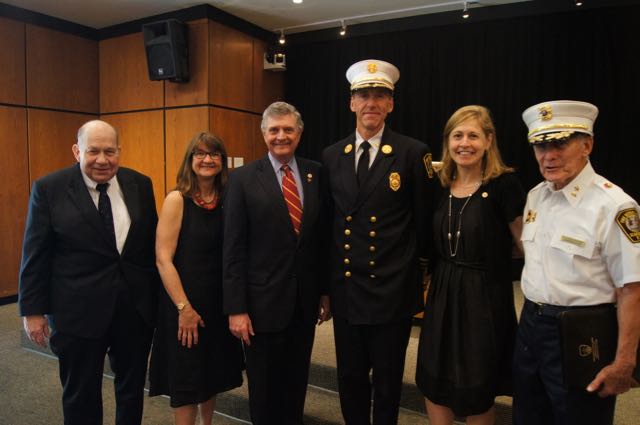 and said, "There is not a better fire department or municipality to work for. I have been treated fairly and with respect. I consider myself fortunate to have been hired here in 1984." He thanked former mentors, village managers and his family, and said about the new Chief James Seymour, "I leave with great confidence in your new fire chief. He is a man of great character who is passionate about the fire service and devoted to the department." He praised Seymour for his "intelligence, calm demeanor, and willingness to seek advice and counsel," and promised to "give him the key to the private "chief's only" bathroom on Friday." He also presented Seymour with a white firefighter helmet, worn exclusively by the chief.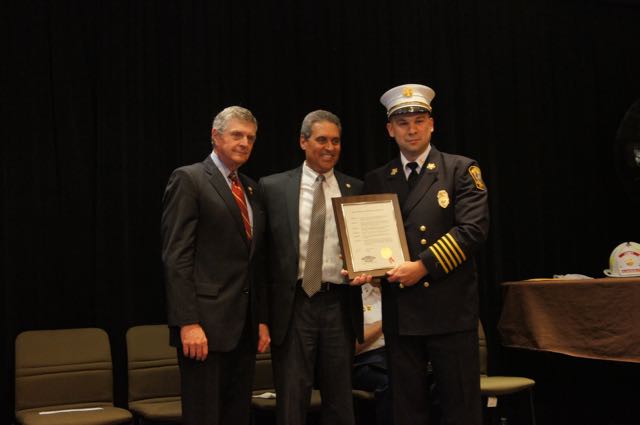 Village Manager Steve Pappalardo said that Cain had brought a new level of professionalism to the department and raised the level of training. He thanked him and wished nothing but the best.
Incoming Chief Seymour said he had been introduced to firefighting by his father and had a passion for it from the start. He started here in 2004 and "has not regretted it once." Tearing up, he thanked his wife and said, "Never in a million years did I think I would be the chief of a $6.2 million department. It is an honor and a privilege."
Stepping into his new role, Seymour promoted Stephen G. Mulcahy to Fire Captain. Mulcahy was formerly a police office with the NYPD who "leads by example and is always a mentor to new recruits." Seymour called Mulcahy a "strong leader, go-to guy, who is motivated to learn, displays poise, experience, charisma and persistence and comes from a family with a rich history of public service."

The ceremony concluded as it began with the color guard. After a reception the firemen got back on the fire trucks that were parked at the library, in case of an emergency, and returned to the firehouse.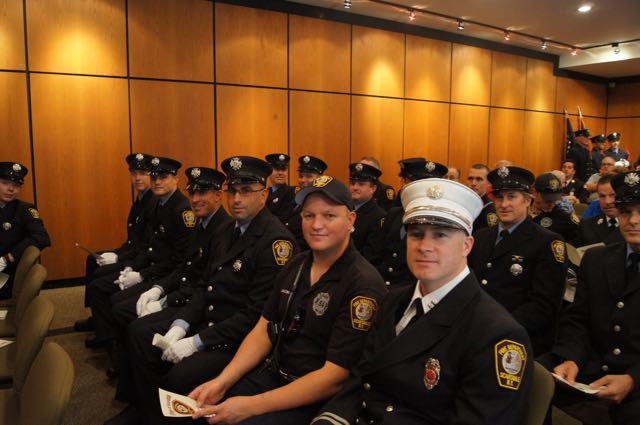 New Teacher's Contract Requires More Classroom Time
Details

Category: Bulletin Board
Published on

23 June 2016

Written by

Joanne Wallenstein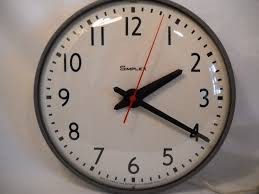 The Board of Education and the Scarsdale Teacher's Association announced a new four-year contract at the BOE meeting on Monday night June 20. The agreement calls for raises of 1.5% for the first two years, 1.3% in year three and 1.2% in year four. It also calls for employees to increase their contributions to their health insurance from 7.5% to 8.5% over the life of the four year contract.
Another interesting element of the contract is a provision which requires teachers to do more teaching. The contract calls for teachers to provide additional classroom instructional time for students at all levels with 80 more minutes per week at the elementary and middle schools and 75 minutes more per week at the high school.
According to the agreement, a committee will be assigned to study how best to use this additional time, but if the board does not agree to the committee's recommendation, the contract stipulates the following:
Elementary Schools – 8 minutes more class time at the beginning and end of each day.
Middle School: An additional 2 minutes to each class
High School: An additional 2 minutes to periods 2,3,4,6 and 7 and an additional 3 minutes to period five.
So watch for changes in your child's school schedule next year.
Here is the press release on the agreement from the Scarsdale School District
After five months of negotiations, the Scarsdale Board of Education and Scarsdale Teachers Association (STA) have reached an agreement on a four-year contract extending from July 1, 2016 - June 30, 2020, which was unanimously approved at a Board of Education meeting on June 20, 2016.
"This new contract represents an extremely collaborative and thoughtful effort, one of the major goals we set out to achieve at the beginning of the process" said Superintendent of Schools Dr..Thomas Hagerman in announcing the agreement. "The approved changes are responsive to the needs of our students, teachers, and District, and will allow us to continue focusing on our shared work of educational excellence."
Board of Education President, Leila Maude, noted: "The Board is extremely pleased with our agreement which provides for additional learning time for our students, restructured healthcare benefits, and salary adjustments. The Board believes this contract provides a sustainable financial foundation for our District over the next four years."
Board Vice President, Bill Natbony added: "The agreement reflects the culmination of a respectful process through which a mutually acceptable contract was achieved that will enhance learning and maintain the economic integrity of the District's self-insured health care program and overall budget."
Highlights of the new agreement include:
Salary
● The contract provides a four-year average annual salary increase of 1.38%. Year one has a 1.5% increase; year two contains a 1.5% increase; year three contains a 1.3% increase; and year four contains a 1.2% percent increase.
Health Insurance
● Health insurance contributions for current employees are increased over the life of the contract to 7.5% in 2017-18; 8% in 2018-19; and 8.5% in 2019-20.
● Contributions for all retirees eligible for District paid health care insurance will also begin for those retiring after July 1, 2018, with 3% contribution for service of 30 years or more, 5% for service of 20 years or more, and full employee contribution for service between 12-19 years.
● A number of provisions in the Health Care Plan were also significantly adjusted to create substantial, long-term savings, including increases in minimum prescription drug co-pays and out of network deductibles.
APPR (Annual Professional Performance Review)
● New language was agreed on that conforms to the law and is included in the contract.
Instructional Time
● Effective with the 2017-18 school year, teachers will provide students with additional classroom instructional time as follows: Elementary schools, 80 minutes per week; Middle School, 80 minutes per week; and High School, 75 minutes per week.
David Wixted, STA President, summed up the process by noting, "The new agreement between the Scarsdale Teacher Association and the Board of Education represents a continuation of the constructive dialogue between the faculty and the school district. Though the conversations that led to this settlement were at times contentious, they were nonetheless conducted in a manner where both sides demonstrated their mutual respect for each other. In the end, we reached a settlement that addressed the needs the two sides brought to the table, and which will ensure the stability of the District so we can all continue to focus on the education and advancement of Scarsdale's students."