Haiku in White Plains
Details

Category: Open Houses
Published on

16 January 2010
Fans of sushi and Asian fare will be pleased to know that Haiku of Bronxville has opened at 149 Mamaroneck Avenue in White Plains. Check out their well-appointed new space and outdoor dining area.
Haiku
149 Mamaroneck Avenue
White Plains, NY,
914-644-8887
www.haikuasianbistro.com
Caffe Azzurri in Hartsdale -- Sure To Be a New Favorite

Details

Category: Open Houses
Published on

12 January 2010

Written by

Joanne Wallenstein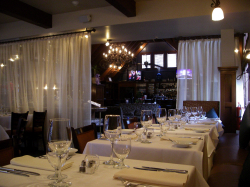 Café Meze, a perennial Hartsdale favorite on Central Park Avenue closed its doors in the spring of 2007, followed by Piave which met a similar fate. Now some newcomers have reinvented the site, with Caffe Azzurri, an elegant yet well-priced venue that will appeal to their neighbors in Hartsdale and draw diners from throughout the area.
To accommodate those who wish to meet and mingle the new owners have opened up the bar area and installed comfortable seating. Inviting couches and plushly upholstered chairs should bring in the crowd for drinks and appetizers. On Wednesday nights, drinks are half price for ladies and on Thursdays and Fridays half price appetizers are available at the bar.
The dining area has also been spruced up and beautiful wood work, a banquette that circles the room and soft light, give the restaurant an elegant ambience. 
 
The menu is Italian featuring homemade pastas, risotto, fish, veal, chicken and beef.  We went for lunch and were pleased to find an extensive three-course meal offered for just $21.95. Before we could look at the menu the waiter brought out a selection of warm breads with a tray of three purees…basil pesto, chickpea and roasted pepper. 
 
There are so many options, including a soup of the day, crab cakes, fried calamari tuna tartare, buffalo mozzarella and an array of salads including Caesar, arugula endive and apples, plus another with spinach and pear and blue cheese. I chose the lobster bisque and it was flavorful and definitely made from a fresh fish broth. Fellow site contributor, Betsy Cadel, opted for the beet, goat cheese and haricot vert salad followed by a tuna tartare, with seaweed salad, and avocado. The two "starters" were more than satisfying, and made a terrific light lunch.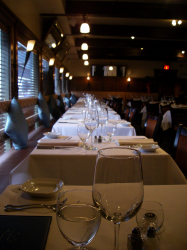 For pastas, there are too many to list, but among the most popular are the pappardelle with veal, beef, pork ragu and ricotta and the squid linguine with calamari, clams, mussels and tomatoes. The rigatoni with vodka, brandy, prosciutto, plum tomatoes, scallions and cream sounded good to me, and the dish that arrived was rich, tasty and spiked with a splash of liquor. There was enough served to take home for dinner as well.
Another popular item on the menu is the whole fish of the day -- Branzino on the day we visited. For entrees there was a good selection of fish including jumbo shrimp, Ahi tuna, seabass, sea scallops and an Italian seafood stew.  And the Turf section listed chicken, several cuts of steak, pork chops, rack of lamb, veal chops and chicken or veal Francese, marsala, Milanese,paillard, parmigiana or piccata.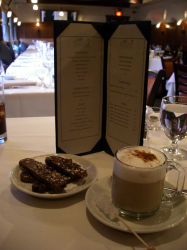 Though we had no room for dessert, the special was poached pears in red wine with a sweet glace and it was tempting indeed.
 
Clearly there is something for diners of all palettes and too much to sample in a single visit. However, we can attest that everything we tried was appealing, fresh and delicious.
Eat local and check out Caffe Azzurri. We bet you'll like it.
Caffe Azzurri

20 North Central Park Avenue
Hartsdale, N.Y. 10530

914-358-5248
www.caffeazzurri.com
Open for dinner 7 days a week and lunch Wednesday – Sunday

Price per person – dinner $31-$51

$25 Prix Fixe Menu Available Wednesday – Sunday
Super Bowl Party Cooking at the Scarsdale Adult School
Details

Category: Open Houses
Published on

05 January 2010

With a special class offered by the Scarsdale Adult School, you can cater your own Super Bowl Party! You will learn to create crowd pleases for all ages: mini cheeseburgers, steamed wontons with dipping sauce, jalapeno popper bites, Thain vegetable pizza, a football shaped cake and more.  These recipes will appeal to big eaters, dieters and vegetarians -- so invite everyone!
Cornelia Zell will be demonstating this interactive class at her home in Mamaroneck.  She has a B.S. in Home Economics Journalism and has worked for Sunset and Prevention.  The class is being offered Wednesday January 20th both in the morning from 10-12:30 pm or the evening from 7-(;30 pm.  the cost of a session is $55.  To register or for information on all course offerings, visit the website at: www.ScarsdaleAdultSchool.org. Questions? Call 914-723-2325.
Wood Oven Pizza Comes to Hartsdale
Details

Category: Open Houses
Published on

07 January 2010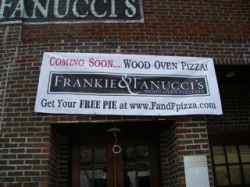 We all know the news from the business world has been bad these days but the news from Hartsdale Village is encouraging.  The vacant storefront, formerly occupied by Leah's, will be vacant no more when Frankie & Fanucci's Wood Oven Pizzeria opens this month.

The owners, Brad Nagy and Angelo Viscoso are newcomers to our area but they bring with them lots of experience gained at two successful Brooklyn restaurants,  Fornetto in Sheepshead Bay and Vesuvio in Bay Ridge.  The partners have known each other since high school and are looking forward to their new collaboration.

The centerpiece of the restaurant will be an 8,500-pound wood burning oven. Renovation is nearing completion when diners at the counter and the tables will be able to watch the pizzolo's (pizza chefs) at work. The menu will include Neapolitan style pizzas, panninis and salads as well as beer and wine, all at reasonable prices. The opening is targeted for the end of April and they invite Scarsdale10583.com readers to go to fandfpizza.com <http://fandfpizza.com>  and register to receive a free pizza.

Ciao!


Frankie & Fanucci's Wood Over Pizzeria

202 East Hartsdale Avenue

Hartsdale. New York


Hours:

Mon - Sat 11 a.m. ­ 10 p.m.

Sun 12 p.m. ­ 9 p.m.
Emma's Ale House
Details

Category: Open Houses
Published on

31 December 2009

The recession has given rise to quite a few reasonably priced, no-fuss eateries in our area.  Frankie and Fanuccis in Hartsdale, Route 100 in Yonkers and Elements in White Plains all offer well-priced meals in casual settings.  On the prowl for a quick bite after a seeing a thriller in White Plains we decided to try Emma's Ale House.  We had attempted to get in a few times this winter but now we found it easy to get a table.  Located on Gedney Way in White  Plains  it's a quick drive and parking is no problem.  When we walked in I immediately had a sense of déjà vu…was it because this was the former home of Sunset Grille or did it feel like a college hangout?  The open room, large TV and booming music brought me back in time.  We were ushered into a second dining room, where I was relieved to find it was a bit quieter.

A friendly waiter immediately rushed over to take our drink order.  The had a wonderful selection of beers on tap and by the bottle. We chose the Blue Moon Ale, which was a golden-colored ale that arrived with an orange slice. It was just what I needed to calm my nerves after the chase scene and murders I had survived at the movies.

The menu offered a selection of tempting starters to complement the beer.  Crispy Calamari, Gedney Chips or Crispy Chicken Lollipops, which looked like Emma's take on wings –were available in Buffalo, Teriyaki or BBQ over Blue Cheese. Also listed on the starter menu were crab cakes, mac and cheese and a spinach and artichoke dip.  

Wondering if there was anything "healthy" to eat, I found an appealing list of salads to which you can add chicken, shrimp, steak or tuna.  

The main attraction here is the burgers. You can have beef or even turkey and top it with anything you desire … including chili, a fried egg, mushrooms or cheese.  Another tempting item is the sliders – meatball Parmesan, philly cheese steak, pulled pork, filet mignon and more.  A combination of any three of the above is a deal at just $10.  

Entrees include short ribs, porcini and truffle ravioli and nightly specials which were filet mignon and Chilean sea bass on the night we visited.  Service was swift --- our food arrived surprisingly quickly and the tab was low – with tip and drinks we managed to eat for under $25 per person.

Emma's Ale House
68 Gedney Way
White Plains, New York 10605
Phone: 914-683-EMMA
Fax: 914-683-6627
Hours of Operation
12pm - 1am Daily