Raiders Boys and Girls Basketball Teams Start Their Seasons
Details

Category: High School News
Published on

12 December 2016

Written by

Emmeline Berridge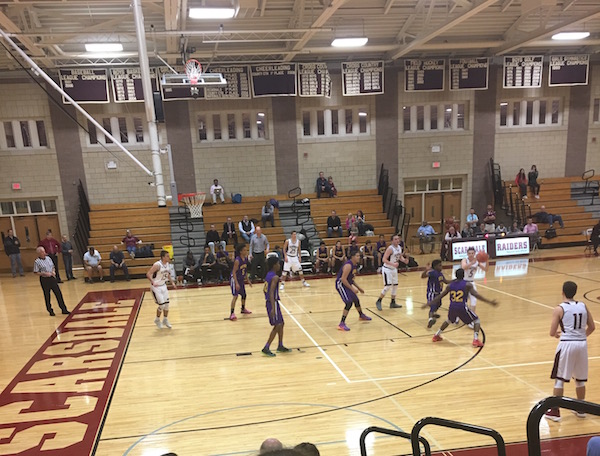 Every year, the Maroon and White Kari Pizzitola Basketball Tournament provides an opportunity for Scarsdale's Varsity Basketball teams to begin their seasons and introduce their new rosters. With both the girls and the boys varsity teams graduating six seniors last year, it is especially important for the teams to set a precedent for the rest of their respective seasons. The tournament is two games, with four teams participating in each the girls and the boys brackets. The games played on Thursday determine which schools would head to the championship games on Friday.
The Boy's Varsity team played South Bronx in the first game of the tournament, which was also their home opener. An encouraging beginning to the season, the Raiders defeated South Bronx. The leading scorer of the game, Senior Captain Max Bosco, totaled 34 points. Bosco, who was a main contributor to the team last year, looks to lead the team through his final season. In the first half, he scored six three pointers off of his eight attempts. After the half, he had outscored the entire South Bronx team with 25 points. The Raiders stayed strong throughout the game, able to utilize new players off the bench. The team headed into the championship game against Tappan Zee, with a final score of 82 (Scarsdale) to 49 (South Bronx).
With interesting match ups on both sides of the floor, the championship game was a close one until the final buzzer. The Raiders went into the second quarter down five with a score of 15-10. Tappan Zee stayed tight on Bosco for the first three quarters, bringing the score to 40-31 for Tappan Zee by the end of the third. The Raiders were able to bring the game within two points with one minute left to play, relying on contributions from Sophomore Cole Katan and Junior Will Hoffman. A deep three pointer by Bosco also helped close the gap. After a series of questionable foul calls, and one "no call" when Bosco was knocked to the floor due to a screen by Tappan Zee, the Raiders were still behind with seconds left on the clock. Tappan Zee now had the advantage in the game because they were in the bonus for fouls, meaning that even non shooting fouls gave the team a trip to the foul line for two shots. Final failed shot attempts by Scarsdale led them to lose the game by four, a hard fought battle by the Raiders. With key players missing for Scarsdale, such as Junior Nash Goldman, the team looks forward to competing in the rest of their season.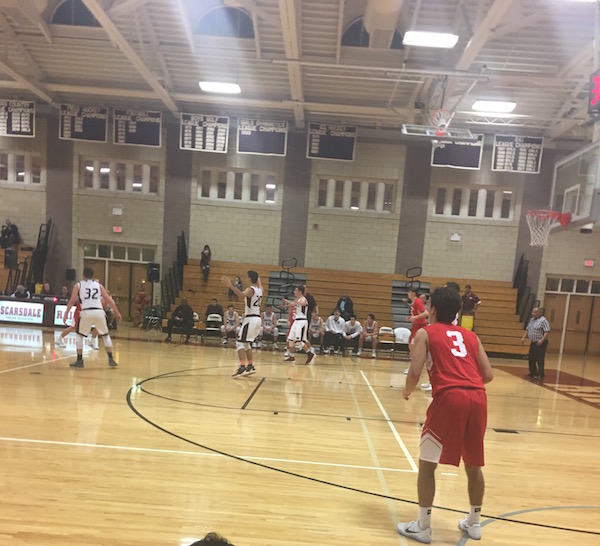 For the Scarsdale Girl's Varsity Basketball team, the past three years have been anything but ordinary. After playing in the Section 1 Semi Finals at the Westchester County Centerin 2015, the team was determined to make it back to the finals last season. The six veteran senior players were aware of their potential, looking for a chance to go up against the then repeat state champions, Ossining. After falling short of the County Center last season by losing the section quarterfinal game, the most decorated group of players to graduate from the program left large shoes to fill.
Heading into their first game of this season, which not so coincidentally was against the now 3 peat state champs Ossining, there was speculation as to how the new Scarsdale team would handle the pressure. The Raiders fell to the Ossining Pride 108-62 on Wednesday night. Ossining welcomed back their star player Andra Espinosa Hunter, who will play with the reigning national champions at the University Of Connecticut next season. Although a 46 point loss might not sound like an ideal start to a season, the number of open shots against the most formidable opponent in the state was promising for the Raider offense. Also promising were the leading scorers for Scarsdale, Freshman Kayla Maroney and Junior Samantha Mancini. Mancini scored 13, while Maroney totaled 19 points off of her five three pointers.
The day after this loss, the squad entered their first game of the Maroon and White tournament against Fox Lane. After Scarsdale defeated Fox Lane last year to win the tournament, expectations were high for both teams. Fox Lane was eager to snatch a win on Raider territory. The game started out slow, Fox Lane leading with seven points in the first quarter, Scarsdale scoring only two. Fox Lane led 19-9 going into half time. Freshman Kayla Maroney, who marked her first varsity home start, noted that [the game] "started off slow", which made it difficult to come back even when the team found its rhythm at the beginning of the third quarter. Disappointed by their lack of scoring in the first half, the Raiders were aggressive to start the second. With a series of three pointers, scored by Juniors Audrey Shaev and Samantha Mancini, Scarsdale was "fired up". The Raiders used the defensive presence of Senior Captain Emma Coleman to press up the court and force turnovers, putting the team back into the game with 4:30 left. Scarsdale was unable to close the gap in the last few minutes, ultimately losing to Fox Lane by seven with a final score of 48-41. Senior Captain Ashely Barletta, who is back for her final season after being out due to a knee injury, said that "I don't think [the team] played to our full potential". With several shots falling short of the hoop, there were points to be scored that were left out on the floor. Despite the loss, Kayla Maroney was awarded a spot on the All Tournament team.
Going forward, optimism and hark work are the keys to improving for the rest of the season. Barletta mentioned that "throughout the game we improved, and I think all the new players now know what it's like the be under the pressure in a close game, which will help us in the future". This high intensity experience in their first game is invaluable for the new players, providing them with the opportunity to learn how to handle the pressure. Freshman Maroney noted that she "liked the feel of playing at home and the energy that the crowd brought". With a lot more basketball left to play, the girls will continue to work hard in practice and during games, hoping to form into a more cohesive unit. As opposed to the high expectations placed on last years' team, an "underdog" team of sorts might be just the way for Scarsdale girl's basketball to prove their ability. Watch for this improvement during the team's first league game this Thursday 4:15 at New Rochelle.
Purchase Holiday Cards to Support the PTA Scholarship Fund
Details

Category: High School News
Published on

28 November 2016

Written by

Joanne Wallenstein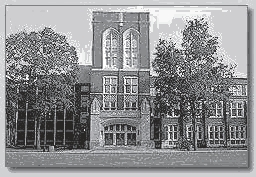 The SHS PTA Scholarship Fund for College provides one-year grants to college-bound seniors. Graduating seniors of Scarsdale High School who are pursuing higher education are eligible to apply. These grants, generally ranging from $1,000 to $7,500, are made to seniors in good standing and who will receive a SHS diploma, on the basis of demonstrated financial need. There is no fixed number of recipients. Each year, awards are based on need, the number of qualified applicants, and available funds.

The Scholarship Fund Grant Committee makes allocations and administers the fund. All applications are held in the strictest confidence; applications are reviewed by number and not by name. The money available each year for scholarship grants comes from contributions by individuals, foundations, local businesses and community groups who have responded to an annual appeal, and from sales of "Gift of Education" and "Holiday" cards (currently on sale at their website here: https://www.scarsdaleschools.k12.ny.us/Page/23973)

Applications are available in January and may be obtained from any Dean at the High School or online. Completed applications should be submitted to the Scholarship Committee no later than May 5, 2017.
For more information, contact:
Chair Pam Fuehrer at pfuehrer3@gmail.com
SHS PTA President Amy Song at ajkimsong@gmail.com
CNC Announces Election Results
Details

Category: High School News
Published on

17 November 2016

Written by

Joanne Wallenstein
The Scarsdale Procedure Committee, which administers the Scarsdale nonpartisan electoral system, has announced that the following candidates were elected from each neighborhood on November 16, 2016 to the Scarsdale Citizens Nominating Committee (CNC):
Edgewood: Ron Sannicandro and Ryan Spicer.
Fox Meadow: Marc Greenwald and Judy Wenjing Kerr.
Greenacres: Daniel Brown and Jon Leslie.
Heathcote: Laura Kaplow-Goldman and Peter Tesler.
Quaker Ridge: Michael Gorelick, Mary Beth Gose, and Ron Schulhof.
There were 321 votes cast in the election. Fox Meadow had the highest number of voters with 168 ballots cast, followed by Greenacres with 68 ballots cast, Edgewood with 37, Quaker Ridge with 24, and Heathcote with 24.

This year's eleven new CNC members will join 19 others already on the CNC serving staggered three-year terms. The CNC will have its first meeting on Sunday, December 4th, and by early February 2017 will have nominated new candidates for the office of Mayor currently held by Jonathan I. Mark and for the Scarsdale Village Board of Trustees to fill the seats currently held by William Stern, Matthew J. Callaghan, and Carl L. Finger. The new candidates for Mayor and the Board of Trustees, along with any other candidates who may choose to run, will be up for public election in March 2017.
(Photo Credit M.L.Perlman)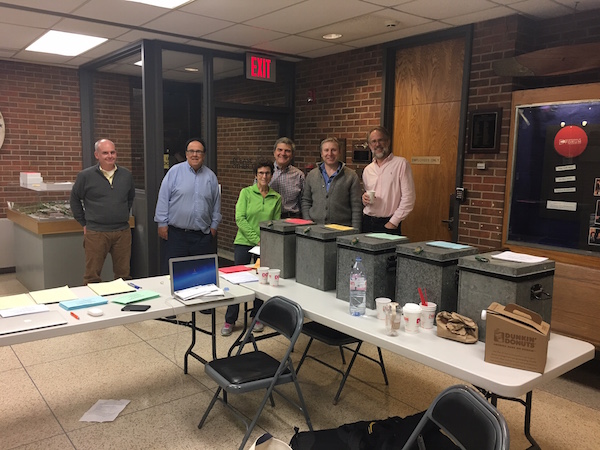 Express Your Views on Plans for the Scarsdale Library
Details

Category: High School News
Published on

18 November 2016

Written by

Joanne Wallenstein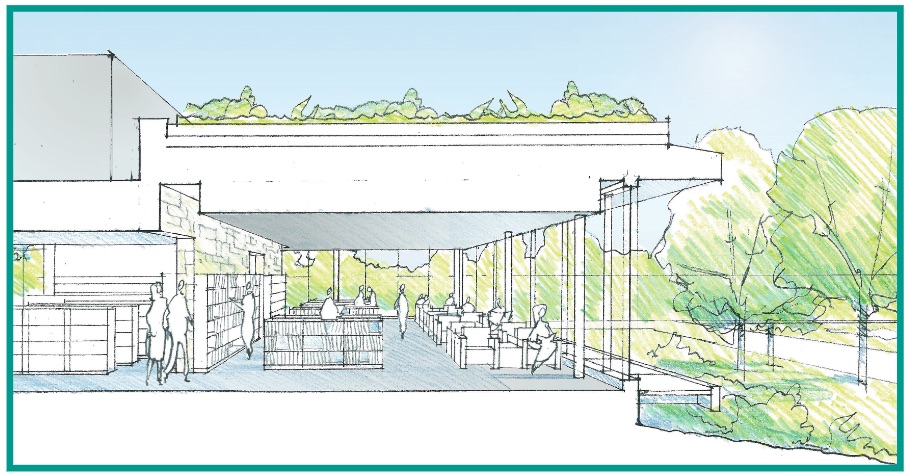 (This letter was sent to Scarsdale10583 from ML Perlman, VP of the Scarsdale Forum)
The Scarsdale Forum has been soliciting survey feedback from Scarsdale Residents about the Proposed Library Renovation Option A-1 (revised July 2016).
First the Update: We have received an awesome 384 responses (and counting!). Now that we have so many responses, we feel a great responsibility to get as many folks to respond as possible. The Trustees will absolutely be looking at this survey carefully along with other resident feedback.
The Deadline: We would like to publish the survey results as part of the Forum's Municipal Services and Fiscal Affairs Committees' joint report before the Board of Trustees Committee of the Whole on November 29th Meeting at which they will be discussing the Library. That means we need responses ASAP.
Now the Request: Since we have this deadline, we would be sincerely grateful if you published our survey link URL reminding residents that this is a great way to make their voice heard. (Folks can also email info@scarsdaleforum.com for an email invitation or if they have any trouble.)
Click on the survey link here:
We look forward to sharing our report and survey results with the community.
ML PerlmanVP Scarsdale Forum

Scarsdale STEP Program Marks 50th Year by Honoring SHS Teacher Rashid Silvera
Details

Category: High School News
Published on

26 October 2016

Written by

Joanne Wallenstein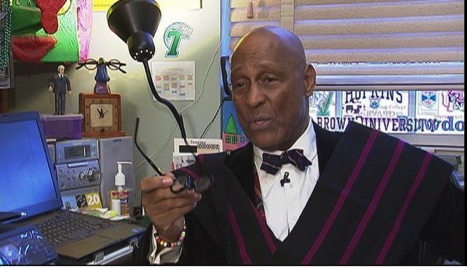 The entire community is invited to attend the STEP 50th Anniversary Celebration at the Scarsdale Women's Club on Saturday, November 12th from 6 - 8 PM.
Whether longtime STEP supporters or recent newcomers to Scarsdale, educators, parents, or students -- all are welcome to celebrate one of Scarsdale's finest community traditions and to honor inspirational SHS Social Studies teacher and true friend of STEP, Rashid Silvera.
Scarsdale Student Transfer Education Plan (STEP) is an independent community program that identifies promising students of color and enables them to attend Scarsdale High School for their junior and senior years. Established in Scarsdale in 1966 by former SHS Social Studies teacher Eric Rothschild, the program is supported by community donations, volunteers, and educators who are committed to public service and education in the liberal arts tradition.
As guest of honor at STEP's 45th anniversary event in 2011, Rothschild commended Scarsdale's enduring commitment and community-wide effort: "We could have sat on our laurels and built a moat, but we didn't. Instead we decided to share our educational and community resources by becoming one of the 30 communities with STEP-like programs in the U.S. Today, Scarsdale has the only remaining program."
It was also Eric Rothschild who, as SHS Social Studies Department Chair and with an enthusiastic second from then Superintendent Thomas Sobol, brought this year's STEP guest of honor, Rashid Silvera, to SHS in 1981. This unique educator's 35-year dedication to his students at SHS, including many generations of STEP students, makes him the perfect guest of honor for this year's STEP anniversary celebration.
Rashid, as his students know him, teaches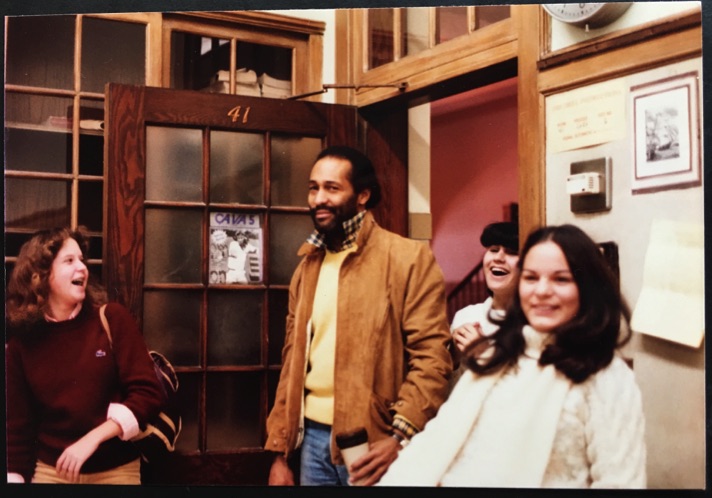 popular Social Studies elective classes on Psychology and Race and Ethnicity. His "caring before sharing" approach to teaching has enabled him to bring out the best in his students, building lasting confidence and fueling their inspiration beyond SHS. In addition to making an enduring impression in the classroom, Rashid has been a pioneer in the world of Black fashion modeling. He was among the first African-American males to appear on the cover of GQ magazine and the first to model for Ralph Lauren.

The STEP 50th Anniversary event will bring together generations of graduates from the STEP program, including Ojetta Rogeriee Thompson (SHS 1969), who is now a federal appeals court judge with the U.S. Court of Appeals for the First Circuit, Ken Marks (SHS 1970), who is now General Council of Exostar LLC in Herndon, VA, and his former classmate Evelia Jones (SHS 1970), a retiring LA teacher who had made coming back to see Scarsdale High School again a key item on her bucket list. Some of the more recent graduates in attendance will include Keith Martinez, (SHS 2012) who recently graduated from Villanova, DonTavius Holmes (SHS 2016), currently a freshman at Oxford College at Emory University, and Robert Lee (SHS 2015) a sophomore at Vanderbilt University who will introduce guest of honor Rashid Silvera.

Those attending the November 12th event will have a chance to meet STEP graduates, Scarsdale host families and both current and former STEP Board member volunteers, as well as enjoy cocktails, light bites by Carey Gross, and desserts from some of Scarsdale's favorite bakeries.
For more information and to purchase tickets to STEP'S 50th Anniversary Celebration, click here. Please note that the deadline to RSVP has been extended until November 5th.
And to learn more about STEP, to inquire about becoming a host family, or to make a donation, visit the STEP website.
Submitted by STEP Board member Mary Beth Evans