Scarsdale Historical Society Produces Video to Memorialize Their Story
Published: Monday, 23 January 2017 13:10
Josie Blatt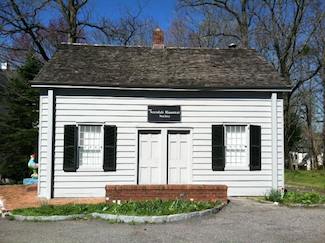 The Scarsdale Historical Society's Cudner-Hyatt farmhouse and Quaker Meeting House, both on Post Road, are for sale. The Cudner-Hyatt house is a Scarsdale farmhouse dating from 1734 and furnished in a mid-19th century style. The house is one of Scarsdale's earliest settlements, and one of the last remaining farmhouses in Westchester. Only two families inhabited the house for 200 years. The Cudner-Hyatt house was later restored and turned into an educational museum, to help teach the history of Scarsdale.
In order to memorialize the property, the Scarsdale Historical Society has posted a new video on its website. The video features Scarsdale Historical Society VP and Historian Barbara Shay MacDonald giving a tour of the Cudner-Hyatt House. Did you know that the Post Road in Scarsdale, where the house is located, began as a Native American trail that started in New York City, and went all the way to Canada? The video is full of more interesting facts about Scarsdale and the Cudner-Hyatt house.
The video was professionally produced and directed by Scarsdale native Lesley Topping. Ms. Topping is an independent, multimedia producer and film editor whose work includes documentaries, dramatic films and television programs. She has edited films for CBS, A&E and PBS and worked on many features films. Currently, she specializes in producing multimedia content and website videos for businesses and not for profits. Richard Westlein is a 12-time Emmy Award winning cinematographer and ABC cameraman. His extensive credits include "One Life to Live", "All My Children", and many ABC programs, documentaries and commercials. He is a cameraman on "The View" and the owner of Jupiter Video that provides state of the art production equipment to many companies. Lesley and Richard are cousins and often partner on independent projects. Lesley's parents, Seymour and Audrey Topping, still live in Scarsdale today.
The video can be found here.
The Scarsdale Historical Society exists to discover, preserve, and disseminate historical information as well as inspire others to learn about and contribute to the history of Scarsdale and the Central mid-Westchester region.
For more information, contact Randy Guggenheimer (917) 860-6616 rguggs@gmail.com or Marc Cheshire (914) 482-4299 
marccheshire@me.com