City 2.0 Classes Confront Superstorm Godzilla
Published: Tuesday, 21 March 2017 15:55
Joanne Wallenstein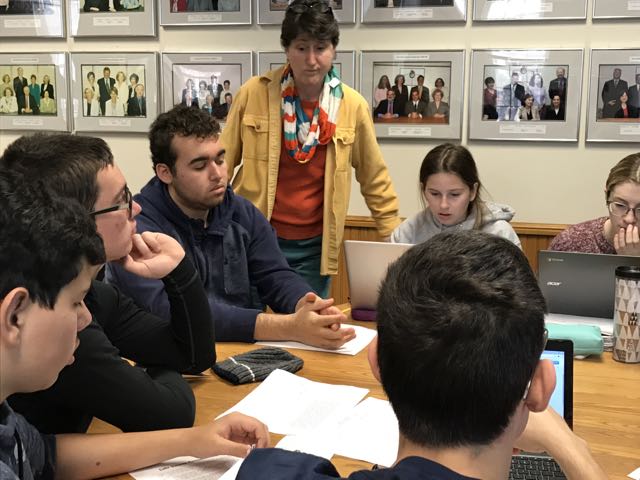 A March snowstorm that closed schools on Tuesday March 14 and caused a late start the following day, didn't undermine the simulation of a much bigger storm for the City 2.0 classes at Scarsdale High School on Wednesday March 15.
With a major storm, Godzilla, bearing down on New York City in only 48 hours, students divided into five groups for pre-storm planning, to define an action plan during the storm and to clean up following the big event. The five committees were formed to figure out how to confront a life-threatening event – and to consider many variables critical to saving lives, maintaining public order and allocating resources.
City 2.0 teachers Maggie Favretti and Fallon Plunkett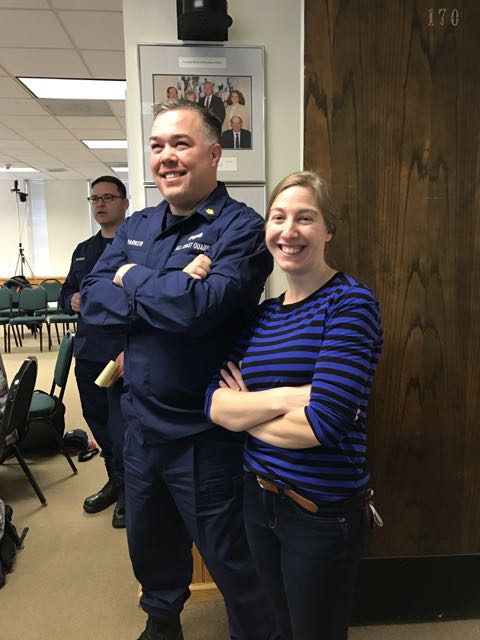 assigned students to one of the following groups:
Untied Command
Safety and Security
Transportation
Utilities
Shelter and Recovery
Representatives from real-life public organizations such as the Coast Guard, Fire Department and Port Authority assisted the groups with their planning and analysis. Students were told to define priorities, identify obstacles, consider how to best use and distribute resources, manage transportation, communications and more.
In their first briefing, the committee managing utilities announced that power lines in low-lying areas would be disconnected. The shelter group discussed plans to evacuate 300,000 people to schools where they would need to be fed during the storm. How could they force people to leave who wanted to stay in their homes? If people chose to stay, would emergency personnel save them if they were at risk? How would they get medicine to those who needed it? What would happen to those who were too sick to be removed from hospitals in the storm target? Who would take the pets?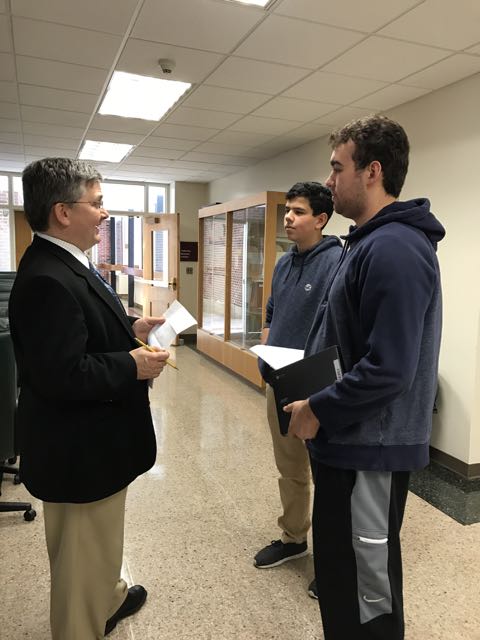 These were just a few of the many difficult decisions the students were asked to confront.
An hour into the simulation, SHS Social Studies Department Chair John Harris appeared to act as the mayor. After receiving a briefing from team representatives he conducted a press conference in order to provide the public with vital information. He put the students on the spot with some thorny questions – about evacuation routes, the 911 system and the capacity of the city's shelter system.
It was clear that the exercise caused the students to realize the complexity of the problems and the challenges of coordinating between agencies.
The teachers and professionals helped the students to recognize the myriad issues confronted by public officials during public emergencies.
Commenting on the success of the day, Margaret Favretti said, "Storm Godzilla was better than ever this year...strong student outcomes, positive response, and the Coast Guard guys totally enjoyed themselves."