A Feast of the Fragrant Flavors of Turkey at Turkish Cuisine
Published: Tuesday, 25 July 2017 13:14
Judie Dweck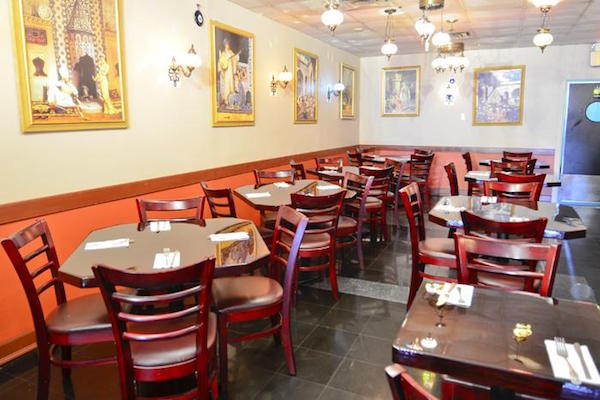 While walking down Mamaroneck Avenue in White Plains, one notes the wide varieties of restaurants, from Asian to Indian, to Latin, Italian and Southern. At one point, you notice a very straightforward sign, announcing Turkish Cuisine. The sign may not stand out, but the aroma emanating from within will beckon you to enter. Turkish Cuisine opened ten years ago by owner and chef Apo Kilic. The delightful and welcoming Kilic was an art history teacher in his native Turkey. His artistic qualities led him to his career of choice in the culinary field, where each dish is lovingly prepared and presented simply and tastefully. His skill at using the correct proportion of herbs and spices in his dishes results in truly delicious authentic dishes from Turkey and the Mediterranean. "I love creating and cooking and interacting with my guests. Cooking makes me happy. Our food is very healthy. We use fresh vegetables, grains, olive oil and nuts among our ingredients. Everything is prepared from scratch every day." Kilic indicated that "To be successful, it is important to be present at all times. My goal for the future is to keep this restaurant the best it can be. I shop for the freshest ingredients, do the cooking, and oversee all aspects of Turkish Cuisine. This would not be possible if I expanded to additional locations. When I greet a guest at Turkish Cuisine, it is like inviting family to dine at my home."
As you enter this informal storefront, a showcase will catch your eye, filled with the abundant, colorful assortment of salads, dips and appetizers. Another case is brimming with flat skewers of kebabs of meat and chicken waiting to be grilled. A rotating gyro machine is filled with the spiced meat mixture waiting to be thinly sliced to order for the special and popular gyro.
When you move past this counter, note that Turkish Cuisine has evolved into a full service restaurant. It seats from 35 to 40 guests. Charming mosaic Turkish chandeliers of many sizes glow on the walls and hang from the ceiling to enhance the very simple space. Scenes of Turkish life add to the décor.
In France you may start your meal with hors d'oeurves. In Italy antipasti and in China dim sum. In Turkey, you will be treated to mezeler, both hot and cold. At Turkish Cuisine, we started with a mixed cold appetizer. The familiar hummus with chick peas and tahini was flavored with fresh lemon juice, olive oil and just enough garlic to add zest. Soslu patlican was a superb dip of fried eggplant with tomatoes and peppers. Babaganush was prepared with the popular eggplant. Here the smoked eggplant is mashed with tahini, lemon juice, garlic and olive oil, resulting in a hearty spread. Tabule, the cracked wheat salad, with fresh tomatoes, cucumber, parsley mint and olive oil was most refreshing. Lebni, fragrant with mint walnuts, garlic and olive oil completed our platter.
Warm strips of pita bread were offered with our cold appetizers. Other tasty cold appetizers include dolma, rice stuffed grape leaves, ezme, a salad dressed with pomegranate molasses and muhamarra, and a roasted red pepper dip. Among the hot appetizers we loved the sigara boregi, fingers of fila pastry rolled around feta cheese to form cigar shaped pastries, fried to a golden crispness. Zucchini pancakes enhanced with carrots, parsley and feta. Falafel, the ever-popular chick pea fritters, round out the hot starters. It is easy to make a meal of these hot and cold appetizers. Turkish Cuisine also prepares a red lentil soup and a variety of salads to enhance your first course.
Entrees of lamb, chicken, seafood and vegetables are plentiful here. For the vegetarian, stuffed cabbage, sautéed spinach, rice and vegetable casserole are some options. We especially enjoyed Adana kebab, named for one of the larger cities in Turkey. Two flat long metal skewers were threaded with ground lamb seasoned with pepper and pepper paste and grilled. We enjoyed ours on pita bread with lettuce and tomato. It was nicely wrapped for neat easy eating. Kofte, lamb patties, lamb chops, grilled chicken, and a mixed grill are other fine choices. Seafood selections of baked branzino, baked salmon, and grilled shrimp are gently seasoned to bring out the flavor of the very fresh fish. We enjoyed the rich shrimp casserole presented in an oval gratin dish. The abundant amount of sautéed shrimp with garlic, earthy mushrooms, thickly sliced, and tomato cream sauce with mozzarella cheese was served with rice and was a hearty and most delicious dish.
When time is of the essence, enjoy taking out sandwiches on pita. Gyros, Adana kabobs, falafel, grilled chicken and babaganush are possibilities, each carefully wrapped for easy eating.
For dessert enjoy the housemade fila layered walnut filled baklava, or rice or almond pudding. A cup of Turkish coffee is a fine ending to your meal. After consuming this potent cupful, we turn the cup over into the saucer. The coffee grinds settle into a design which declares your fortune. Ours seemed to say, you will enjoy many Turkish meals at Turkish Cuisine in White Plains.
A 3 course lunch menu is offered during the week consisting of soup, salad or appetizer, a main dish and dessert. The choices are varied and it is a good value. An extensive catering menu is offered as well. I have been a guest at a get-together catered by Turkish Cuisine recently and it was a unique and delightful experience.
At your home or theirs, enjoy the fragrant flavors of Turkish food as prepared at Turkish Cuisine in White Plains.
Turkish Cuisine
116 Mamaroneck Avenue
White Plains
914 683 6111
http://turkishcuisinewhiteplains.com/7295
Zucchini Pancakes
1 pound zucchini, trimmed and coarsely grated
2 cups chopped green onions
4 eggs, beaten
½ cup all purpose flour
1/3 cup chopped fresh dill or 1 ½ Tbsps. dry dill
1/3 cup chopped fresh parsley
2 Tbsps. chopped fresh tarragon or 2 tsps. Dry tarragon
½ tsp. salt
½ tsp. black pepper
3 ounces crumbled feta cheese
Olive oil as needed to coat the skillet
Put the grated zucchini in a colander. Sprinkle with salt. Let it stand for 30 minutes. Squeeze out the water from the zucchini with a few layers of paper towels. Place the drained zucchini into a medium bowl. Add the next 8 ingredients and mix well. Fold in the crumbled feta. At this point the mixture can be refrigerated covered for a few hours. Mix again before using. Heat oven to 300 degrees and place a baking pan in it. Cover the bottom of a non stick skillet with olive oil. Heat over medium high heat. Drop mixture by heaping tablespoonful onto the skillet. Repeat with all batter in batches. Fry until golden brown on both sides or about 3 minutes on each side. As you complete each batch place on heated baking pan to keep them warm. Serve hot.