League of Women Voters Highlights Local Issues at Annual Coffee
Published: Sunday, 08 October 2017 21:32
Joanne Wallenstein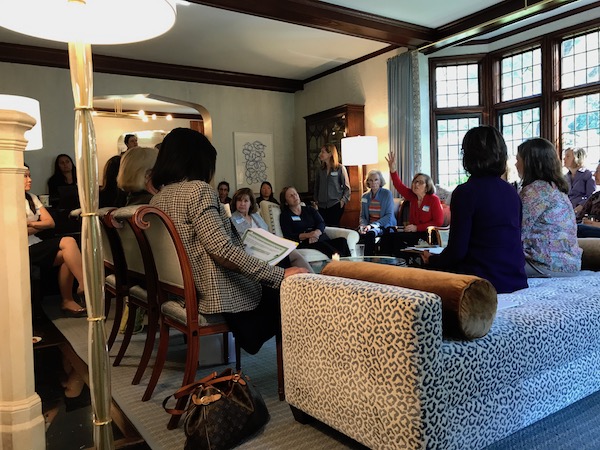 Scarsdale's chapter of the League of Women Voters held their annual membership coffee on Monday October 2nd and drew a good crowd of civic-minded residents. The league seeks to "empower better communities by informed participation in government." To that end, the league selects issues of interest to the local community, studies them, asks questions and writes recommendations based on their conclusions.
On Monday the group heard updates on three topics affecting the Village, presented by an all –female group of trustees and Village officials including Village Trustee Deb Pekarek, Assistant Village Manager Ingrid Richards, Village Planner Elizabeth Marrinan, Village Trustee Jane Veron as well as former Mayor Jon Mark.
Deb Pekarek explained that changes to the Village code regarding trees are under consideration to safeguard existing trees and require replacement trees or a contribution to a tree fund if replacement trees cannot be planted on the existing property. While the current code calls for replacements for trees larger than 36" (DBH – diameter at breast height), the new code lowers that to 24" DBH and also requires replacements for groups of smaller trees totaling 24" DBH. The new code would expand the list of protected trees that cannot be removed. According to Richards, current Village staff can handle the record keeping and enforcement for the new laws and no additional staff would be required. The proposed law is being studied by the Village Trustees.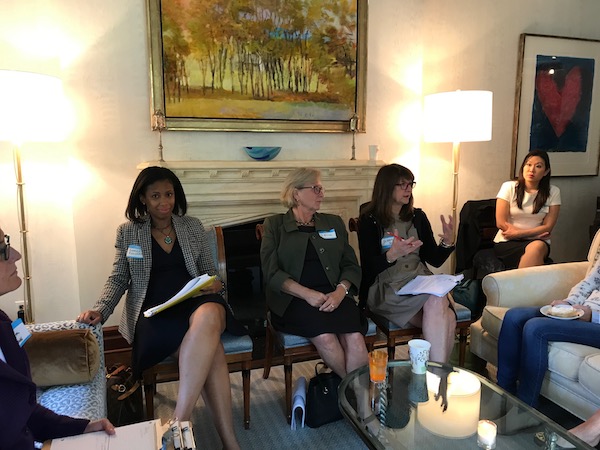 Former Village Mayor Jon Mark is now chairing the Freightway Steering Committee who is studying the best use for 2.4 acres of land on the west side of the Metro North train tracks in Scarsdale. The site includes the Freightway Parking lot and two open lots. Mark gave a summary of the work of the committee who has retained Planning Consultants to help to define the elements of a mixed use development project to be built in place of the Freightway Garage. Toward that end they have done some surveys, conducted tours and are currently holding a series of public workshops with stakeholders to refine ideas for a transit-oriented development project. Ideally it would include parking, residences, retail and restaurants to increase foot traffic in Scarsdale and help to revitalize the downtown area. They are holding their next workshop on Thursday October 12 at 7 pm, and the public is invited to attend.
Trustee Jane Veron, a former president of the League of Women Voters discussed her work to revitalize downtown Scarsdale. She is working with Village landlords to find tenants for many of the vacant stores downtown and drawing residents to the Village with attractions like the outdoor art exhibit in Chase Park and the farmers market on Thursdays. She announced that progress is being made. Trio Salon has opened on Christie Place, Popojito Mexican will open on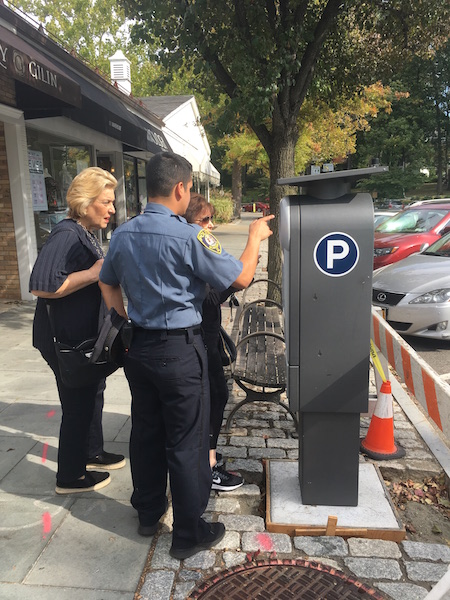 Christie Place later this month and I Am More, a women's boutique has opened on Spencer Place.
In order to ease parking downtown, the Village is now conducting a test of new parking meters that permit users to pay by credit card. The test is underway with four types of single and multi-space meters. Residents are invited to go downtown and try the meters and give their feedback to the Village at metertest@Scarsdale.com.
Another step to reduce the vacancies downtown is to convert retail and office space to residential. Veron reported that Village property owner Rush Wilson has already converted some of the office space above Zachys Liquor Store to residential and will also convert some of the vacant retail space on Harwood Court into residences as well as there is more demand for living space than stores.
Learn more about the work of the League of Women Voters of Scarsdale at www.LWVS.org or email Janice Staff at Janice.starr@gmail.com to find out how you can get involved.