Creative New Dishes and Italian Classics at the Updated Olde Stone Mill
Published: Wednesday, 20 December 2017 19:56
Judie Dweck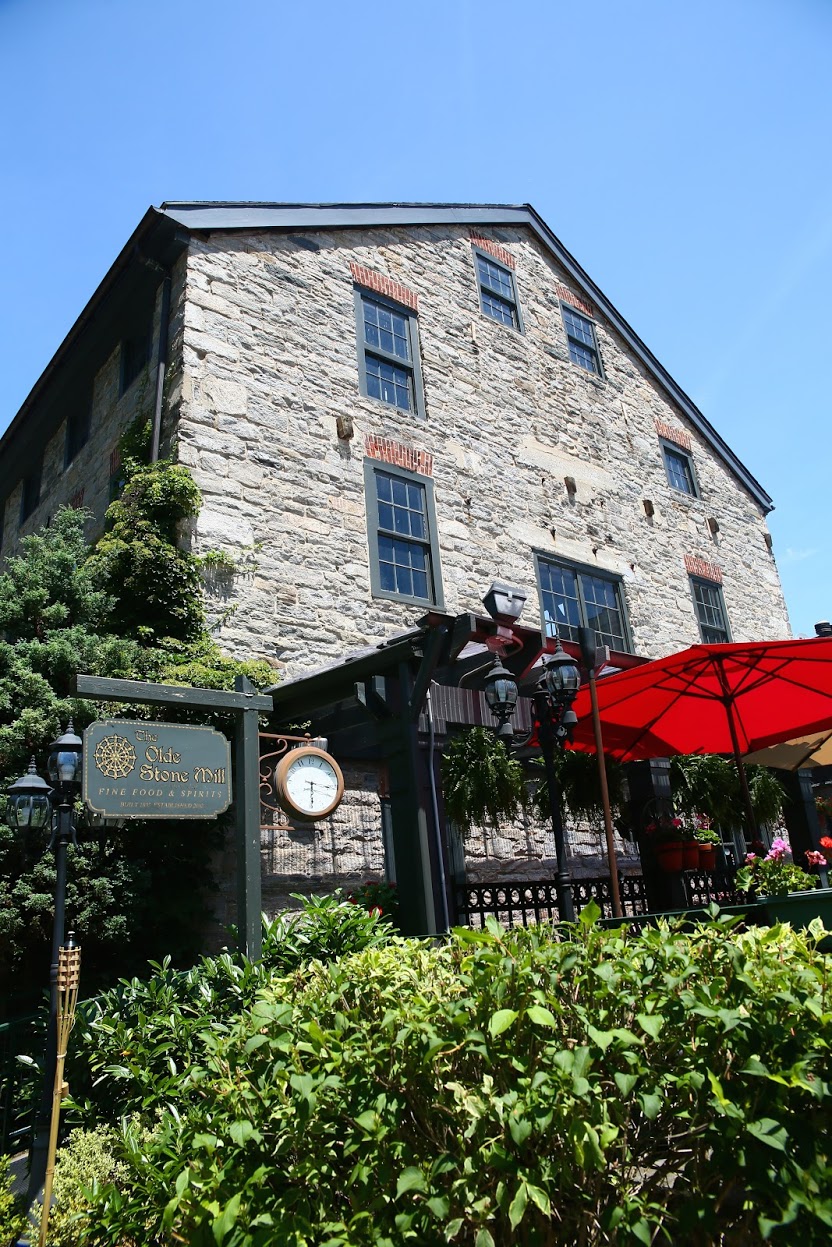 On the banks of the Bronx River in Tuckahoe, the beautiful Georgian style building that was built in the 1800's as a cotton mill and converted into a manufacturer of rubber goods and then to a pharmaceutical company was reinvented as a restaurant many years ago. About 10 years ago, under the ownership of Louis DiNapoli, owner of the popular Angelina's, it became a popular dining spot. With several chefs and managers through the years, the place took on a very tired feel. Di Napoli was aware of this, and with a new chef and a new general manager, one of Tuckahoe's oldest buildings has been reinvented and today the service as well as the modern creative and traditional Italian menu meet the standards of this charming historic spot. Yes, there is a new spark in the eyes of Louis DiNapoli. From his roots in Naples, DiNapoli has reached new heights. "People will be pleasantly surprised to see how traditional and creative fresh dishes have exceeded all expectations at The Olde Stone Mill." Di Napoli takes pride in his work, and sets a fine example for his sons who both pursue careers in the culinary field. Antonee owns Antonees Gourmet Catering and Perry is president of Briarcliff Manor Restaurant and Catering Hall.

At The Olde Stone Mill, your choice of dining areas include, a plant filled outdoor stone patio in good weather, a tavern bar room with dark woods for a casual feeling, the main dining room, formal and filled with beautiful antiques and paintings and an original stone hearth or as we dined, the bright and cheerful atrium aglow with holiday decorations. They have ample parking.
The new general manager Florio Rugova, arrives here with a fine pedigree and lots of experience in the restaurant business. He spent many years in Pelham at La Fontanella and then at Jordan Hall, where he managed the dining room. "The best part of my work is engagement with my guests and being proud of the products we offer." There is an elegance in the service Rugova provides and in the near future, The Olde Stone Mill will be known as Florio's Restaurant at The Olde Stone Mill.

The new chef, Christopher Stragisher, along with Rugova and DiNapoli, have recreated a varied and interesting menu with classic Italian choices mingling with inventive dishes created by Chef Stragisher. Stragisher earned a BA in philosophy and worked as a waiter to support himself. He went on to culinary school and clearly loves his craft. He worked in management in the corporate world and most recently at Maplemoor Golf Club in White Plains. "I love developing menus and seeing happy guests. In the kitchen I enjoy breaking down meat and fish with reverence."

Appetizers, both hot and cold are varied from crab or
shrimp cocktail to carpaccio di manzo, spedini alla romana sausage and broccoli rabe and fried calamari. We loved the grilled octopus. The freshly poached octopus was embellished with seared olives, tomato and lettuce. A lemon dressing complimented this light and fresh starter. We also enjoyed gamberoni al Pernod. This nice presentation of a large cube of firm polenta as a pedestal for the pan seared shrimp with shitake mushrooms in a fragrant creamy sauce was excellent.

Among the entrees, eggplant lasagna is a popular choice. Here, slices of fried eggplant take the place of the usual pasta, making this dish suitable for a wider variety of tastes. The battered slices of eggplant are layered with seasoned ricotta, mozzarella and marinara sauce for a tasty result. The top layer is the mozzarella which becomes nice and crisp, as the lasagna is returned to the oven during its final minutes of baking. With winter weather here, thoughts of a hot meal will come to the fore. If you don't have the time or the inclination to prepare a hearty winter dish, head over to The Olde Stone Mill and order the slow cooked pork osso bucco, a gargantuan pork shank braised and served in a red wine and veal ragu over freshly mashed potatoes. This fall off the bone dish will certainly warm you up on a cold winter evening. There are dinner specials every evening. On the day of my visit, fresh grilled swordfish was suggested. It was a well conceived dish in both taste and appearance. The fish had its grill marks in place and was accompanied by braised fennel, roasted tomato, fresh spinach and a large classic potato croquette. With a lemon, butter, caper sauce on the side it was a good choice.


Salads range from a classic Caesar to arugula and fried artichoke or hearts of palm and crabmeat. We enjoyed roasted thickly sliced yellow beets with candied walnuts in a fig balsamic dressing. They were kind enough to substitute shaved parmesan for the gorgonzola in this salad. Pasta dishes include familiar choices such as penne vodka and linguine and clams. We savored fresh potato gnocchi with shrimp. The large shrimp, peas and pancetta were enrobed in a creamy tomato sauce, very rich and delicious. Desserts include homemade tiramisu, both American and Italian cheesecakes and carrot cake. They offer tableside prepared specialties such as zabaglione, bananas foster and crepes flambee which add to the elegance of dining in the formal dining room of the restaurant.

On Saturday evenings, the ambiance is enhanced by a pianist who serenades the guests.

A very extensive brunch menu includes waffles in several varieties, caramel apple French toast, crepes, both sweet and savory, lobster omelet, and the list goes on. We loved a bountiful New England lobster roll served in a basket with waffle fries and pickle. Served on a brioche roll with a light mayonnaise dressing it would be great any time of day. Very good, as well, was the shrimp and crab en croute. Delicate filo pastry was the wrapper for fresh shrimp and crabmeat. Baked until golden and served with a beurre blanc sauce, it was quite good. Seared salmon salad or smoked salmon alfredo might be future brunch choices. At lunch the menu is varied, as well. There are a la carte choices as well as lunch specials including soup or salad, entrée and coffee or tea.

Enjoy the charm of the past with an interesting menu of creative and classic dishes at the updated Olde Stone Mill.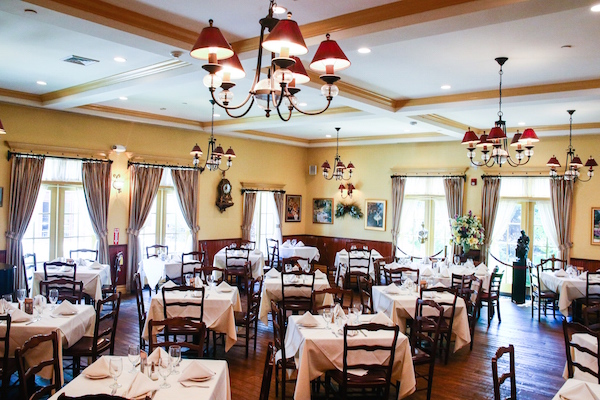 The Old Stone Mill
2 Scarsdale Road
Tuckahoe, NY
(914) 771-7661
Soon to be renamed Florio's Restaurant at the Old Stone Mill

Recipe: Eggplant Lasagne (9 X 13 inch tray)

Ingredients:
3 medium eggplants, peeled and sliced ¼ inch thick
2 cloves garlic
2 cups ricotta cheese
1 cup pecorino romano
1 cup shredded parmesan
2 bunches parsley
4 eggs
1 cup milk
6 slices dry mozzarella
1 Tbsp. dry oregano
1 quart marinara sauce
Olive oil as needed
2 cups blended vegetable oil
2 cups flour, seasoned with salt and pepper.
1 paper bag, to drain the fried eggplant
Salt and pepper to taste
Instructions:
Mince the garlic and sauté it in the olive oil. In a bowl mix the ricotta, garlic, oregano, 1 bunch chopped parsley, salt and pepper. In another bowl mix the eggs, pecorino, milk, 1 bunch chopped parsley and salt and pepper. Coat eggplant slices with flour. Heat 2 cups vegetable oil in a large skillet over medium high heat. Dredge eggplant slices in egg mixture and let excess drip off the side of the dish. Place slices in pan a few at a time. Do not crowd the pan. Turn each slice as they get crisp. They should be floating in the oil. This takes a bit of time and attention. Place fried slices on the paper bag to remove excess oil. Let slices cool and drain. Place 1 layer of prepared eggplant in baking dish. Coat with ricotta mixture. Top with another layer of eggplant and top with marinara. Repeat until the last layer of eggplant is on top. Coat with marinara and spread with grated parmesan. This is important so you have a lasagna that is easy to cut. Bake at 350 for 10 minutes. Remove and top with the sliced mozzarella. Return to oven for 10 minutes. Remove and let it rest for 10 minutes before serving.