Scarsdale Historical Society Produces Video to Memorialize Their Story
Details

Category: Around Town
Published on

23 January 2017

Written by

Josie Blatt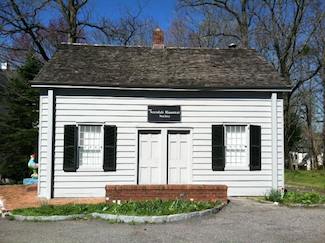 The Scarsdale Historical Society's Cudner-Hyatt farmhouse and Quaker Meeting House, both on Post Road, are for sale. The Cudner-Hyatt house is a Scarsdale farmhouse dating from 1734 and furnished in a mid-19th century style. The house is one of Scarsdale's earliest settlements, and one of the last remaining farmhouses in Westchester. Only two families inhabited the house for 200 years. The Cudner-Hyatt house was later restored and turned into an educational museum, to help teach the history of Scarsdale.
In order to memorialize the property, the Scarsdale Historical Society has posted a new video on its website. The video features Scarsdale Historical Society VP and Historian Barbara Shay MacDonald giving a tour of the Cudner-Hyatt House. Did you know that the Post Road in Scarsdale, where the house is located, began as a Native American trail that started in New York City, and went all the way to Canada? The video is full of more interesting facts about Scarsdale and the Cudner-Hyatt house.
The video was professionally produced and directed by Scarsdale native Lesley Topping. Ms. Topping is an independent, multimedia producer and film editor whose work includes documentaries, dramatic films and television programs. She has edited films for CBS, A&E and PBS and worked on many features films. Currently, she specializes in producing multimedia content and website videos for businesses and not for profits. Richard Westlein is a 12-time Emmy Award winning cinematographer and ABC cameraman. His extensive credits include "One Life to Live", "All My Children", and many ABC programs, documentaries and commercials. He is a cameraman on "The View" and the owner of Jupiter Video that provides state of the art production equipment to many companies. Lesley and Richard are cousins and often partner on independent projects. Lesley's parents, Seymour and Audrey Topping, still live in Scarsdale today.
The video can be found here.
The Scarsdale Historical Society exists to discover, preserve, and disseminate historical information as well as inspire others to learn about and contribute to the history of Scarsdale and the Central mid-Westchester region.
For more information, contact Randy Guggenheimer (917) 860-6616 rguggs@gmail.com or Marc Cheshire (914) 482-4299 
marccheshire@me.com
Scarsdale Police Arrest Two for Fraudulent ATM Card Use
Details

Category: Around Town
Published on

19 January 2017

Written by

Joanne Wallenstein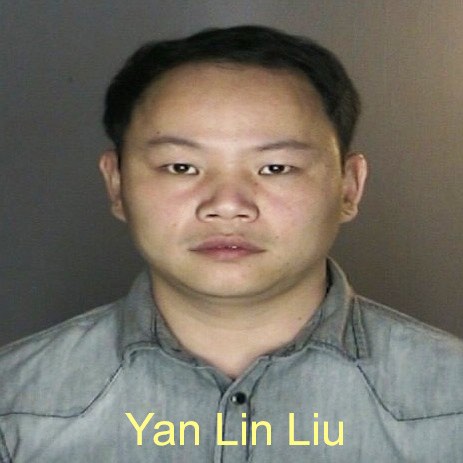 On Thursday January 18th, 2017 at approximately 2:19 pm the Scarsdale Police responded to Webster Bank on Popham Road on a report of suspicious ATM activity.

An officer on foot patrol in the area was on scene in less than 2 minutes and located the suspects. Officers interviewed two suspects who were identified by bank personnel as the individuals who had conducted numerous fraudulent transactions at the ATM terminal. After an investigation at the scene, the following individuals were arrested:

Yan Lin Liu, age 33 of Flushing, NY was arrested on 27 Counts of Criminal Possession of a Forged Instrument in the 2nd Degree, which is a Class D Felony.

Huirong Liu, age 24 of Flushing, NY was also arrested on 27 Counts of Criminal Possession of a Forged Instrument in the 2nd Degree, which is a Class D Felony.

Both suspects were arraigned in Scarsdale Justice Court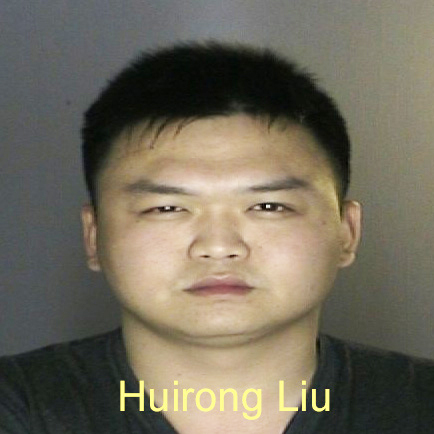 and remanded to the Westchester County Jail on $60,000 bail each. Both defendants are Chinese citizens in the US on a visa.

Both suspects were in possession of 27 fraudulent bank ATM cards, none of which had cardholders names, and most of which did not have any account number or bank information on them. The ATM cards all had 4 digit PIN numbers written on the back of them. Fraudulent transactions at the bank where the suspects were arrested exceeded $29,000.

The Scarsdale Police are continuing their investigation into the incident, identifying both the financial institution and account holder information encoded on the cards. The Scarsdale Police Department was assisted by the US Secret Service White Plains Office and is working with the Westchester County District Attorney's Office Financial Crimes Division on the ongoing investigation.
Shop Local for a Host of Holiday Gifts
Details

Category: Around Town
Published on

07 December 2016

Written by

Joanne Wallenstein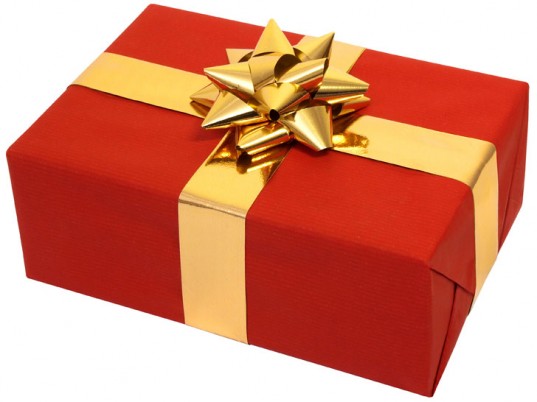 Shop Scarsdale for holiday gifts for all your favorite people, from family, to friends, teachers, helpers and more. See recommended gifts from this select group of local merchants:
Current Home is the place to find the perfect gift for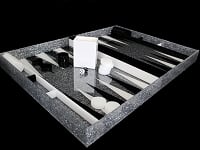 everyone on your list. Looking for something unique and special? Feast your eyes on this gorgeous acrylic backgammon set! Not only is this ancient game fun for the whole family, this set will look beautiful when not in use and simply on display in your home. Comes complete with a set of dice, chips and cups. Other colors available. If you're looking for a gift that is more person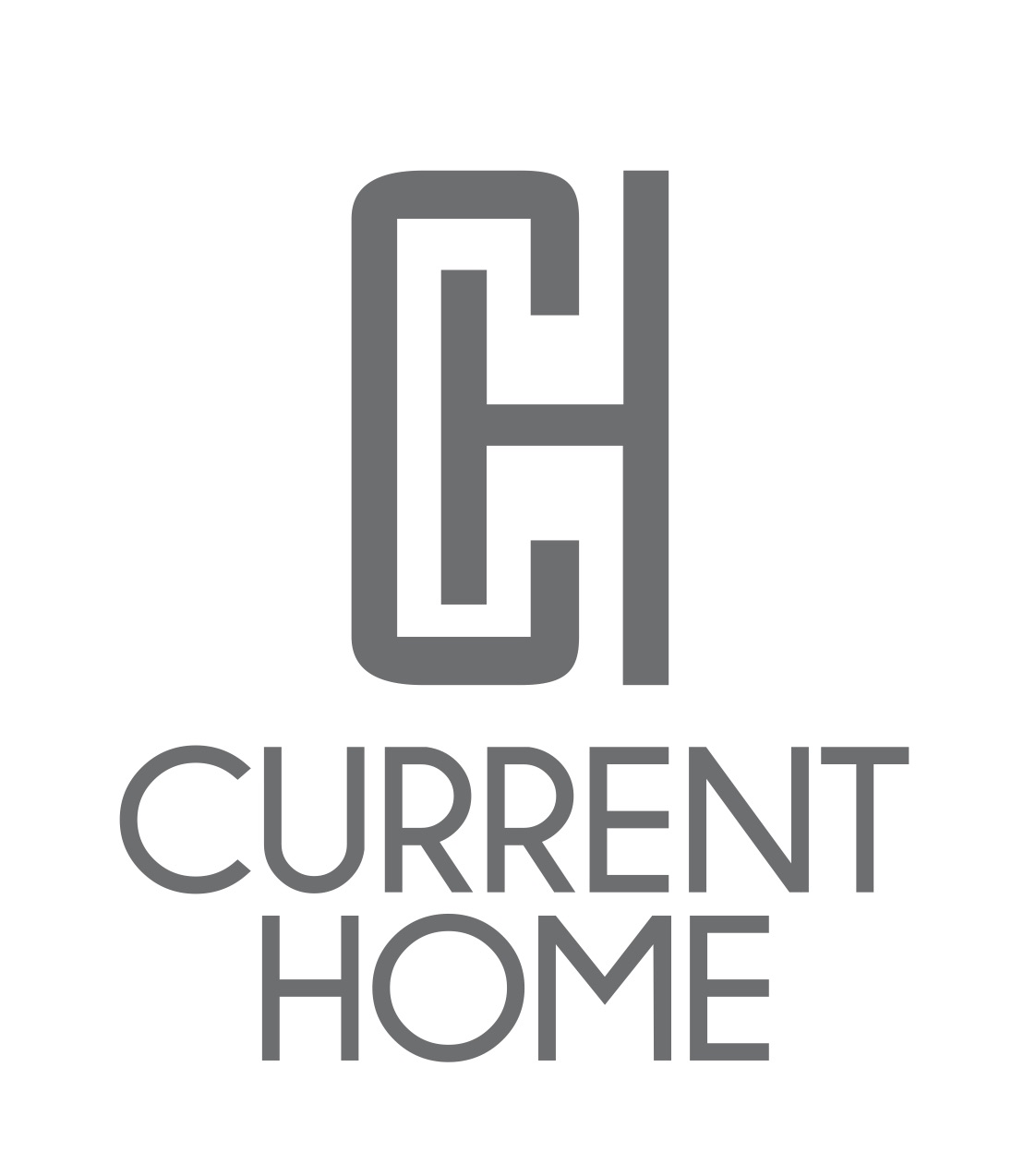 al, they offer customized throw blankets that everybody loves. Stop by the store to see their many other options for holiday gifts.
Current Home,1096 Wilmot Road in the Golden Horseshoe Shopping Center, 914-723-2462, www.currenthomeny.com.
Daniele Trissi, one of Westchester's most prestigious jewelry stores carries handmade 18k gold and platinum jewelry, with diamonds and precious colored stones. Also find exclusive watch brands including Breguet, Carl F. Buche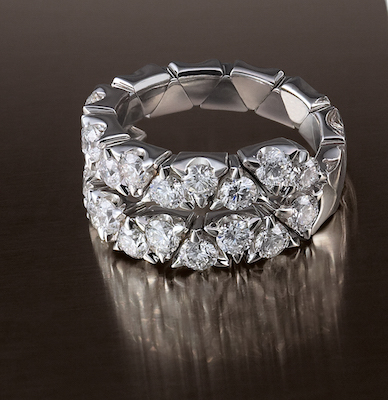 rer and Parmigiani.
Diamo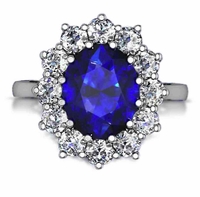 nd band: Hand made 18k white gold double row flexible ring, set with 20 full cut diamonds, F color VVS. 2.75kt total weight. $8,900.
Sapphire ring: Hand Made Platinum ring, set with one non-heated blue Ceylon sapphire, 10.32kt, total weight, and 12 full cut diamonds, 3.50kt, H, VS1.$95,000.
Daniele Trissi, 14-16 Spencer Place, Scarsdale, (914)723-4500, www.danieletrissi.com.


Eye Gallery: Mirrors, mirrors, mirrors! Come into the Eye Gallery in Scarsdale for these shades plus many other new sunglasses and regular optical glasses too. Sunglasses make the best holiday gift! Check out these new shades:
(Top to bottom: Chanel, Barton Perreira, and Dita) Priced from $375 and up.


Eye Gallery of Scarsdale, 8 Spencer Place, Scarsdale. (914) 472-2020,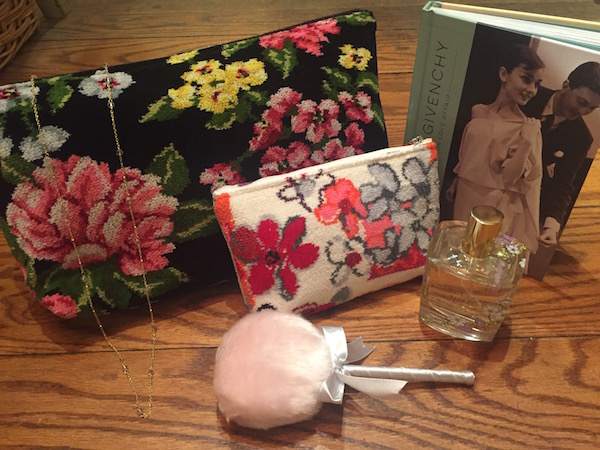 La Dentelliere is a European-inspired emporium featuring an abundance of items of elegance, grace and charm, all hand selected by the owner Michelle Anderson. In this extraordinary boutique you can find unique gifts, Florentine chandeliers, Limoges, jewelry and quality table linens from France and Italy. There is always a large display of unique picture frames, ready made and custom dried florals, Provence pottery, French antique tole teapots and decorative hand painted trays. Aromatherapy is prominently featured with room diffusers, atomizers, candles and potpourri. Wine accouterments, bar and table glassware, tabletop, home accessories and men's gifts are also offered.
La Dentelliere, 20 East Parkway, Scarsdale, (914) 723-2902
Valsey and Me offers single use soaps, handmade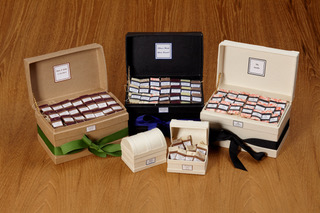 from olive and natural essential oils. Individually wrapped, they can be customized with a name or a phrase for personalized gift-giving. Choose from eight unique scents: Apple cider, lavender oatmeal, milk almond and honey, white grapefruit, strawberries and cream, cinnamon orange, lemon verbena and cranberry rose. You can mix and match the scents or order exclusively one. In honor of Valsey and Me's 10th anniversary, customers are being treated to 25% off all soap orders before December 20th. Visit www.valseyandme.com and enter code Holiday10583 at checkout.
Wyatt Lily: Holiday and custom gift ideas for
everyone on your list, newborn to 14. Owner Rachel Uchitel hand-picks inventory, paying special attention to fabric quality and fit. Plus, check out their award-winning gift collection - New York magazine named them "Best Kids Presents," and the store has also been featured in People Magazine, Moms Magazine, and Stroller Traffic. See their custom clothing for the perfect unique gift for your favorite littles! Peruse their Instagram feed for the latest styles, then call or come on by to shop. They can't wait to meet you!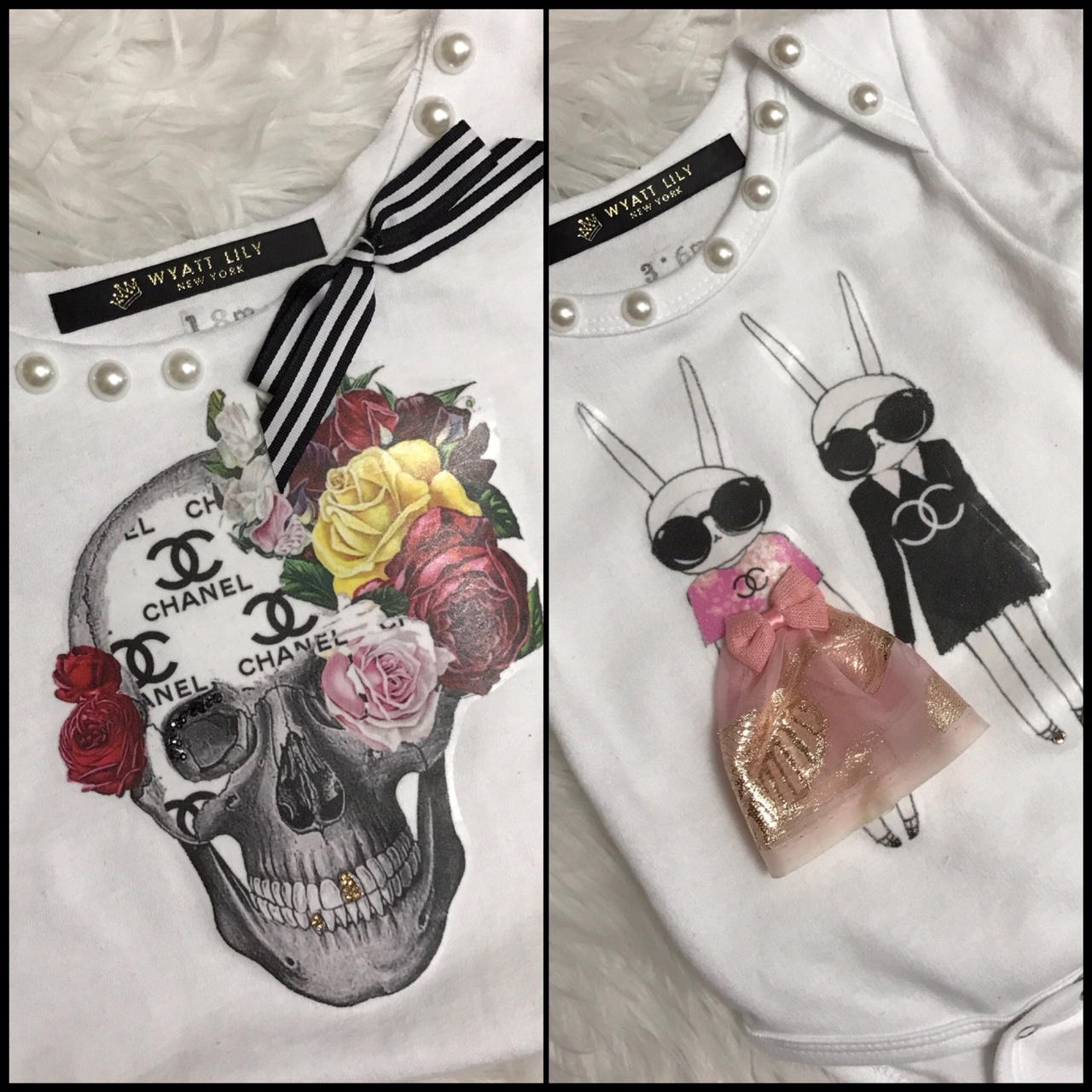 Limited edition, private label fashion onesies and baby tees for the chicest baby on the block! Newborn to 24M, onesies, 12M to 24M, tees $38
Wyatt Lily, 1 Chase Rd, Scarsdale, 914-472-1930, WyattLily.com.

Zachys: 'Tis the season... to gift wine! Impress the wine enthusiast in your life with Gifts By Zachys: Curated Gifts, Delivered; three-bottle wine packages hand selected by the staff that are guaranteed to satisfy. With over 15 gifts to choose from, which vary by region and varietal, they recommend these selections with a little "holiday flare!" Featuring a bubbly, white and red, our themed "Holiday Packages" begin at $75. Visit Zachys in-store or online to shop the full selection.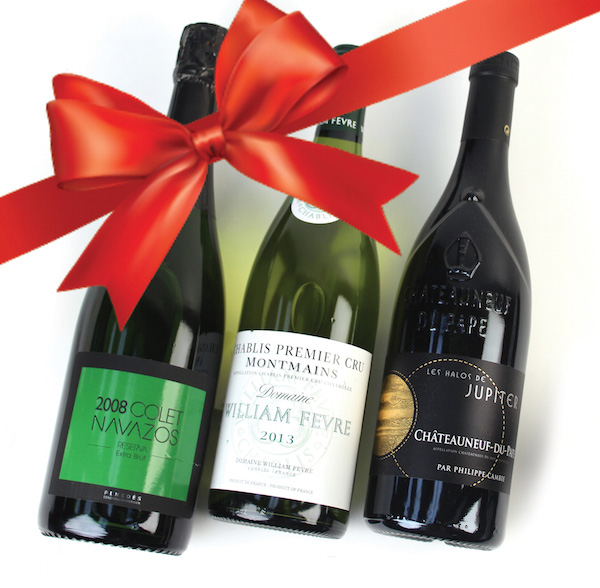 Featured Selection:
Premium Holiday Package (#406756)
Colet Navazos Cava Brut Reserva 2008 (92WA)
Chablis Montmains William Fevre 2013 (92WE)
Chateauneuf du Pape Halos de Jupiter Philippe Cambie 2008 (91 SWJ)

Zachys, 16 East Parkway, Scarsdale, (914) 874-8000.

Alvin and Friends for Contemporary Southern and Caribbean Dining
Details

Category: Around Town
Published on

04 January 2017

Written by

Judie Dweck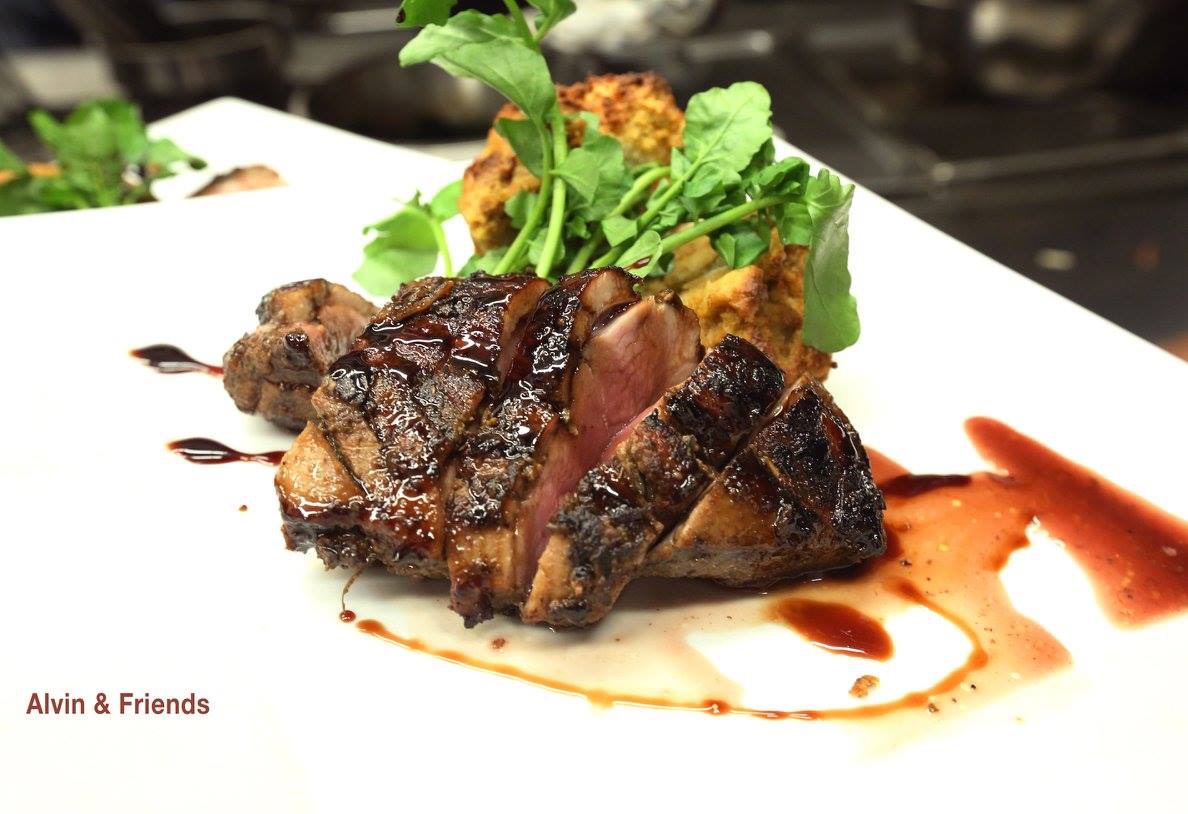 During the many years that I have been writing about restaurants, I have met many interesting people. It is at Alvin and Friends that I met a true renaissance man, Alvin Clayton, the personable owner and host, who greets you with a broad smile, and is a constant presence in the dining room, mingling with his guests. Yes, he is a fine restauranteur, but his creativity spans many areas. He was a well known fashion model for many years and yes, one look at the walls in the dining room, and you discover he is an artist, as well. All of the paintings, many in the style of Matisse, show off his artistic expertise. Alvin Clayton and his charming wife Gwen, bring warmth and welcome to this award winning dining destination in New Rochelle.

Enter the attractive restaurant through a lovely patio surrounded by lush plants. Glass doors open to a 100 seat dining room and bar. The sophisticated space is very special with Alvin Clayton's colorful detailed paintings gracing the walls. How delightful to have the opportunity to savor art on the walls, as well as on your plate. Beyond the main dining room is another room seating between 70 and 80, perfect for private events.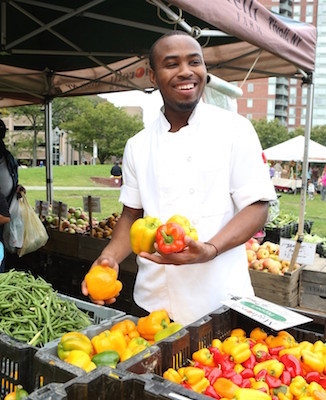 Clayton hails from Trinidad where he learned to cook at his grandmother's side. His favorite dish that she prepared is palau, with caramelized chicken, rice, vegetables and pigeon peas. His painting of her is hanging in the dining room, a remembrance of his culinary inspiration. "We have a varied clientele. We aim to please all tastes. I love instant feedback from our guests. We work hard to keep quality and service where it should be. Everyone is welcome and I aim to be the thread that holds it all together."
Clayton explained that Alvin And Friends offers many events along with their dining experience. There is funky Friday, live music on Fridays and Saturdays and the vault, an open mike night. "I like to make people happy and feel like they are visiting friends. We offer a complete dining experience hitting all notes." How did he move from a modeling career to restaurant owner? "I knew that a modeling career could not last forever. I always loved hospitality and cooking and with the help of friends, I chose to create something new and Alvin and Friends was born. We are exceptional, welcoming, warm and homey with a special energy." Given the opportunity to invite a table of guests Alvin would choose a creative mix including writers, musicians, dancers and artists, people who appreciate the arts. Some ideas for the future are Harlem Renaissance nights as well as using a plot of neighborhood land and planting a garden with vegetables and herbs to use in their dishes.

Heading the kitchen is Chef Kimani Hines who studied culinary arts at Monroe College, honed his skills at Alvin and Friends and then worked at the venerable Oceana in Manhattan where he expanded his knowledge of seafood preparation. He returned to Alvin and Friends to head their kitchen. His roots are in Jamaica where he is the eldest of eight children from a farming family. He interned at many restaurants and hotels "The best part of my work is walking through the door at Alvin and Friends. It's my happy place. I love cooking fish. Every variety is different and I love to play around with it."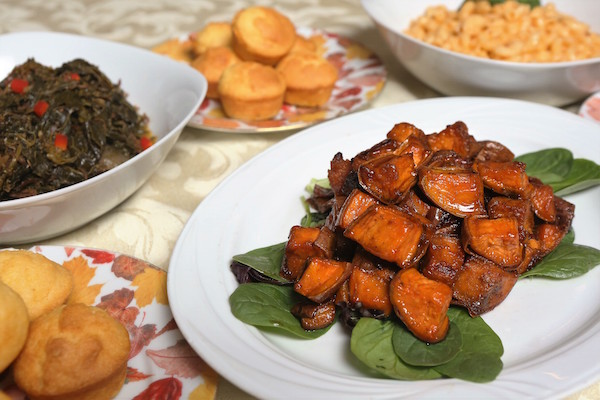 In the capable hands of Chef Hines and Alvin Clayton, I sampled several delightful dishes. Fried green tomatoes were a nice beginning. Firm slices of green tomatoes were encrusted with panko crumbs and stacked atop each other topped with pepper jack cheese, a garnish of watercress and scallion aioli for a nice crisp opener. Next, we enjoyed phenomenal fried oysters. These plump morsels were crusted with cornmeal and fried for a crunchy crisp result. Pickled vegetable relish and tartar sauce flavored with lemon and capers sat beside the super oysters. We could not resist the tostones topped with creole shrimp ravigote.The spicing and flavoring of the shrimp stood out as they rested on the simple tostones.
On previous visits, I enjoyed a rich and delicious curry crab chowder as well as crabcakes. If salad is your choice to begin, there is a southern Caesar wedge, wilted spinach, and to keep up with the times, farro and kale salad. Future starters may include chicken, beef or seafood skewers, and wings with homemade jerk sauce or Alvin's rum punch bbq sauce.
Clayton and Hines chose several fabulous entrees. Jerk rubbed duck breast arrived as tender slices of duck well seasoned with a great combination of spices. India has its curry powder and Asia has its five spice powder. The Caribbean has its jerk seasoning. At Alvin and Friends it is house made with the perfect proportion of spices. Including allspice, thyme and cumin. Add a port wine reduction, sweet potato bread pudding, prepared like a super large muffin, and watercress, and the platter is a still life waiting to be devoured. A smothered pork chop was paired with skin on bourbon candied yams to preserve the nutrients, asparagus in garlic butter sauce and crispy kale completed yet another artistic presentation. Seafood stuffed branzino was the piece de resistance. The deep fried fish was carefully deboned and generously stuffed with seafood. It arrived, head and tail intact and seemed to say ENJOY, and so we did. The flaky fish and the seafood vegetable filling were just divine with not a bone to be found. On a previous visit we tried the signature southern buttermilk fried chicken. It was not to be missed, moist within and crisp on the outside. Yet to be sampled are shrimp and grits, bbq braised short ribs, and caramelized Atlantic salmon. For vegan guests there are several options, as well, such as sesame, soy and ginger tofu and charred vegetable farro "risotto"

For dessert I tried a few bites of the white chocolate banana bread pudding -- rich and tasty. Other options are mixed berry cobbler, coconut cheesecake and rice pudding brulee.

Alvin and Friends serves lunch on Thursdays and Fridays and offers take out as well. Very special are weekend brunches. Sunday is a jazz brunch with starters, salads, omelets, eggs and kitchen specialties. Cocktails and Alvin's rum punch are offered. The Saturday brunch menu is similar without live music.

For a most enjoyable dining experience, add your name to the list of friends at Alvin and Friends in nearby New Rochelle.

Alvin and Friends
14 Memorial Highway
New Rochelle, NY
(914) 654 6549

Recipe: Jerk Duck Breast (Serves 2)

Ingredients:
2 duck breasts
1 bunch cilantro
1 bunch parsley
1 bunch scallions
10 sprigs thyme
6 cloves garlic
¼ cup soy sauce
½ cup brown sugar
1 scotch bonnet pepper
1 cup allspice
1 ½ cups extra virgin olive oil
2 Tbsps. salt
2 Tbsps. pepper

Instructions:

Trim fat on duck to an oval shape and score the fa [make 6 slices into the fat and slightly into the meat evenly. Season with salt and pepper and a bit of olive oil like a lather. Set the breasts in a 2 inch high half pan. Remove stems from the herbs and peppers. Add all herbs, peppers and oil and remaining ingredients to a food processor and pulse to form a coarse wet mixture. Rub the mixture into the duck with love. Cover with plastic and let it rest for 24 hours. Heat a medium sauté pan to medium high. When pan is entirely hot add the duck breasts fat side down. Reduce heat to medium and render down the fat. Drain extra fat as you go along. Continue the process for 5 minutes and then turn the duck over. The skin should be dark brown and crisp. Reduce heat to low medium and continue cooking to medium rare or desired doneness. Let it rest for 3 minutes before slicing. At Alvin it is served with sweet potato bread pudding and a port wine reduction.
Contributor Judie Dweck has been writing about restaurants and food for many publications. She teaches creative cooking to children at Scarsdale elementary schools. Through the years, her articles have appeared in Jack and Jill Magazine, Spotlight, The Pleasure of Cooking and The Scarsdale Inquirer. She balances her restaurant tastings with daily ballet classes.
Skunks, Coyotes and Vultures...Oh My!
Details

Category: Around Town
Published on

30 November 2016

Written by

Stacie M. Waldman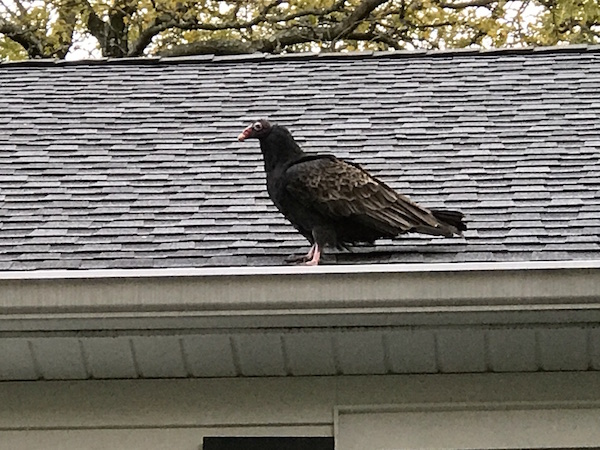 For a highly-populated semi-urban village like Scarsdale, there sure is plenty of wildlife around these parts. Deer, coyotes, raccoons, skunks, opossum, foxes, bats, wild turkeys, turkey vultures, squirrels, rats, mice, various birds and even snakes make appearances in the 'dale. Many of these creatures are positively received by residents but some become a nuisance or are a threat to our pets, our kids and ourselves. Others just have a bad ol' reputation. So, when do you call village animal control? When do you call a private trapper or wildlife removal service? When do you just agree to cohabit outdoor space with the animals and enjoy the fact that we actually still have wildlife in these parts?
The Village of Scarsdale employs animal control officer, Phil Santore who you call any time you can use some help with a wildlife issue. If he can't help, he'll refer you to a private trapper who can. "We're always there to come out and help determine if further assistance is needed or if we can safely and properly help you deal with an unwanted animal." Mr. Santore has helped people shoo trapped birds out of houses, for example, but emphasized that each case is individual. "You can always call us to assess the situation," he acknowledged. Anything complicated will require a professional trapper and sometimes prevention needs to be put in place as well. Village animal control mostly deals with loose dogs and Mr. Santore encourages all residents to license and register their dogs because they can help if the dog goes missing.
"A couple of years ago we had an unprecedented number of calls about coyotes," Mr. Santore remarked. "However, unless they're posing a threat to people, and they rarely are, they're here to stay. They're not innately dangerous and if they or any other animal don't pose a threat to people, they are left alone. They live here, too, and are often found near water sources. I usually tell people if they see a coyote just to keep an eye on small pets and kids in the backyard or be outside with them. They're snatch-and-get-away animals and only pursue small prey." What about that raccoon in your driveway at 4 PM? "You can call us if you think a wild animal is rabid," he said, "Although an animal like a raccoon spotted during daylight hours does not necessarily mean it's rabid. There are other signs like foaming at the mouth and disorientation that will make us suspect rabies and at that point we would dispose of the animal. Otherwise, we do not remove animals from their natural habitat." In regards to animals killed by vehicles, Scarsdale Sanitation takes care of cleaning that up unless the turkey vultures get to them first.
I also spoke with private trapper Jim Dreisacker who said he gets different calls, depending on the season: squirrels and other rodents in attics in the colder months, woodchucks and groundhogs in the spring, raccoons in crawl spaces during their breeding months and bats in houses during the summer. "Bats have the potential to be rabid so you always want to call a professional for that." He also gets calls about skunks that can stink up crawl spaces if they encounter another skunk. "Skunks aren't dangerous and they only spray when imminently threatened," he said.
Mr. Dreisacker gets hundreds, if not thousands, of calls about raccoons; however, they can't all be relocated so he recommends locking garbage cans to deter them from feasting on your discarded food. He gets calls about birds (including owls) in chimneys and recommends chimney caps to prevent this from happening. His strangest call was for the removal of 24 squirrels in three days only to find out the previous owner had been feeding the squirrels who had had gnawed holes through doors. "There's a lesson here," he said. "Don't feed the wildlife!"
Colorful stories of wildlife abound in Scarsdale

Theresa Harpster came upon a bunch of turkey vultures eating something on Madison Road in Edgewood. "We took pictures of them out of our car's sunroof like we were on a safari," she mused. "Then there was the wild baby mouse that my kids found. We kept him in a cage for a month so he could grow until the vet said we could release him. Yup, we brought him to a vet. Then he escaped in our house. It did not end well for the mouse!" Her favorite story, however, is what her 10-year-old daughter said to her after a walk back home after dark. "We have to be very quiet during our walk because then maybe we can observe a raccoon in its natural habitat - a garbage can."
Christine Weston has had a few birds/animals in her chimney including a small owl that her husband had to gently hold and bring outside. "Then there was a large bird, most likely a hawk, that injured itself when it apparently tried to kill a small rodent and crashed into and broke a window! We've also had a coyote in our backyard," she said.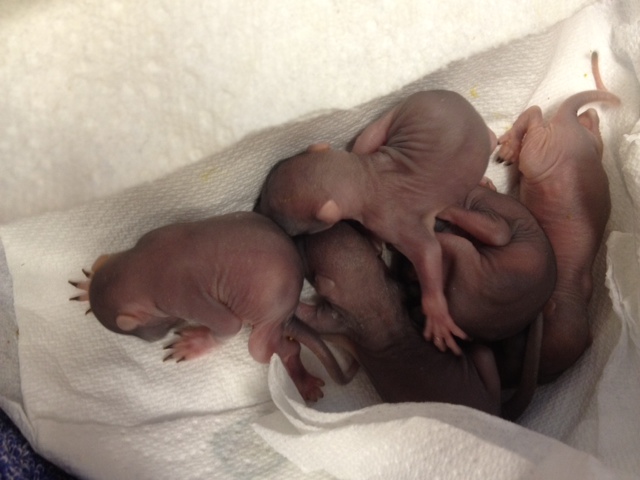 She eventually had to put chicken wire around her chimney because animals kept getting in there.
Sarah White was removing a branch off her lawn after a storm when she encountered five little hairless, barely identifiable creatures (see photo). "I had no idea what to do or what they were so I called the Weinberg Nature Center. They told me to put them in a warm box so I lined a shoebox with paper towels and made them a hot water bottle so they'd stay warm. Then a nice nature lady came and took them to the Weinberg Nature Center where they made a home in the squirrel hutch. (They were squirrels.) They were cared for there until they were old enough to release back into the wilds of Scarsdale."
If you find baby wildlife in Scarsdale, you can call the Weinberg Nature Center or Greenburgh Nature Center for assistance. The Weinberg Nature Center website has very helpful information regarding the proper actions to take when discovering sick, injured or abandoned wildlife.
And could there be a better way to end a story about Scarsdale wildlife than a contribution from Scarsdale poet laureate Deborah Skolnik?
While driving on Mamaroneck
much to my fear
across the street bounded 3 jumbo deer!
The trio scared me right out of my Guccis
Had they been having hot drinks at Balducci's?
They seemed to be headed for WRT
So a treasonous thought occurred to me:
I hate to sound sorta cynical, or shrewish...
But psst...Saint Nick...your reindeer are JEWISH!