A-Schoolers Experience the World of Work
Details

Category: Around Town
Published on

06 February 2017

Written by

Josie Blatt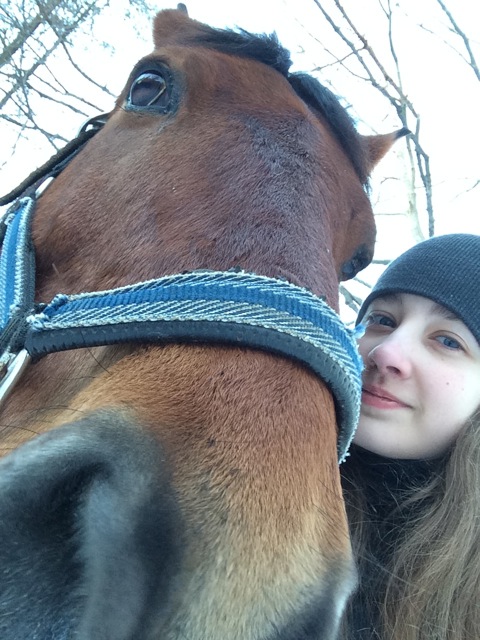 Scarsdale's A Schoolers got a taste of the working world in January when they left the classroom to pursue internships at businesses and non-profits. The Scarsdale Alternative School Internship Program was created in 1973 to give students hands on experience in the workforce and to increase student freedom and responsibility. A-School classes are suspended during the month of January to allow time for students to complete an internship. Thirty-five hours of work per week are required, but the more regular high school (non A-School) classes a student takes, the more hours they subtract from that required number. A-Schoolers participate in a wide variety of internships.
For her internship this year, Lindsay Donat '19 worked at Endeavor Therapeutic Horsemanship, a non-profit in Mount Kisco that uses horses to help people with special needs. Lindsay noted, "One cool thing I've learned from my internship is that after interacting with a horse just once, that horse will remember you for up to five years."
Hannah Spitzer '18 shadowed a surgeon for her internship. She loved her internship, and now knows that she would like to be a doctor: "I have always been interested in the medical field but now I definitely want to be a doctor. The doctor I have had the privilege of shadowing helps so many people and for all the right reasons. Everyone there is so genuine and they all truly care for their patients. They have demonstrated how important empathy is in the medical field and how much good a doctor can do. I leave internship everyday so happy and excited for the next day and hope that one day this could be my job."
Alex Wilson '19 worked with a charity in New York City called Girls Write Now that mentors underprivileged high school girls to help them go to college and become writers. Alex, like many A-Schoolers, commuted on the train to Manhattan every day. Alex said, "I definitely learned a lot about independence; it's the weirdest feeling to commute with adults and my friends' parents on the train, but I like the sense of freedom that comes with it."
For his internship, Evan Braun '18 worked at the JCC Mid-Westchester in Scarsdale, a nonprofit organization dedicated to enriching the community by providing cultural, social, educational and recreational/fitness programs, human services and Jewish identity-building opportunities to people of all ages, backgrounds, religions, or sexual orientation. This internship allowed Evan to work in a wide variety of fields: "What I love with my internship is that I have so many areas to work in which allows me to interact with different types of people, and learn many new things. At the JCC have interacted with people whose ages range from three to ninety."
Hannah Glickenhaus '18 worked at the popular Levain Bakery in Harlem. Many A-Schoolers, like Hannah, consider turning their internship into a job after the month of January is over. Hannah said, "I am considering getting a job at the bakery over the summer! I am very interested in fashion merchandising, and I have been trying to get an internship doing that, but being able to merchandise for a bakery has been a wonderful experience too!"
Camila Tardiff '18 worked at the Sandbox Theater in Mamaroneck. Camila loves working with kids, acting, and directing, and has learned several new skills in each of those fields. She noted, "I have learned a lot of new directing skills; for example, a director needs to be able to be extremely flexible with the number of cast members, size of the stage, the amount of set pieces being placed on stage during specific scenes, and the amount of time the director has to rehearse the show."
Chloe Gold '17 worked at the Doughnut Project, a doughnut shop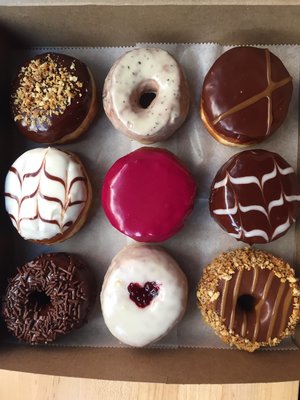 in Manhattan. Chloe discussed the cooperation between small businesses in NYC: "I learned about how the surrounding businesses in NYC really care for each other. My employer buys a majority of their ingredients from stores within a few blocks of them. Every Sunday my boss sends doughnuts to this olive oil shop a few stores down. All the local businesses really support each other and want the others to succeed."
Paige Barlow '19 worked at The Little School, a preschool in Scarsdale. Paige loved the kids she worked with, and was shocked about the maturity of the three-year-olds: "I am surprised at how well behaved and smart beyond their years they all are."
By the time they graduate, A-Schoolers will have completed three internships, or four if they opt to do an internship for their senior project. Thus, they enter the workforce with a great deal of preparation.
SFCS Gala to Showcase Local Businesses: It Takes a Village
Details

Category: Around Town
Published on

30 January 2017

Written by

Joanne Wallenstein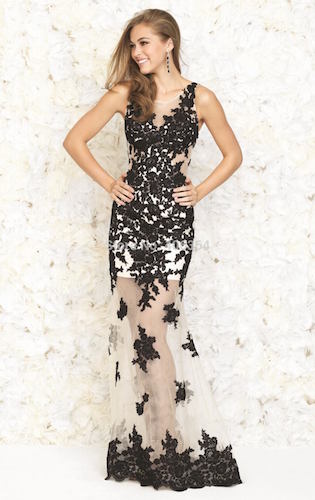 Scarsdale Edgemont Family Counseling Services (SFCS) will showcase local Scarsdale businesses at its annual fundraising gala, May 11, 2017. In addition to dinner and dancing, this year's groundbreaking gala entitled, It Takes A Village, will feature a fashion show where clothing, shoes and accessories, along with merchandise available at local Scarsdale stores, will be modeled by Scarsdale middle and high school age students. SFCS, a local community service, is focused on supporting families and, by extension, local businesses that serve them.

In the coming weeks, local businesses will be contacted by SFCS Board members and invited to participate by providing clothing, shoes, bags, jewelry and other merchandise that can be displayed on student models during the fashion show. SFCS Board members will also be reaching out to parents of Scarsdale middle and high school to enlist students to volunteer for this great cause.

"We are honoring local businesses this year because Scarsdale is very community-oriented and interconnected," said James Genova, LCSW, executive director, SFCS. "We care about supporting each other, whether that is nurturing the emotional well-being of families and their members, as Scarsdale Family Counseling Services does, or fostering the viability of our neighborhood businesses. The health and vibrancy of our whole community is important to us all."

The annual SFCS Spring fundraising gala will be on Thursday, May 11, 2017, at Scarsdale Golf Club. For more information about tickets for the gala, go to www.sfcsinc.org/sfcs-news-events. To offer display merchandise to be featured in the fashion show or to volunteer as a model in the fashion show, go to info@sfcsinc.org or call SFCS at (914) 723-3281.

SFCS is a voluntary, not-for-profit family counseling agency. SFCS has provided service since 1920 to those who live or work in the greater Scarsdale area. The mission of the Agency is to be a center for family growth and learning, a place where families, couples and individuals can find help with the normal problems of daily living, as well as crises; to enhance the functioning of the family and its individual members through family life education; to stimulate social thinking and action to better social conditions; and to cooperate with other organizations for this purpose.
Scarsdale Police Arrest Two for Fraudulent ATM Card Use
Details

Category: Around Town
Published on

19 January 2017

Written by

Joanne Wallenstein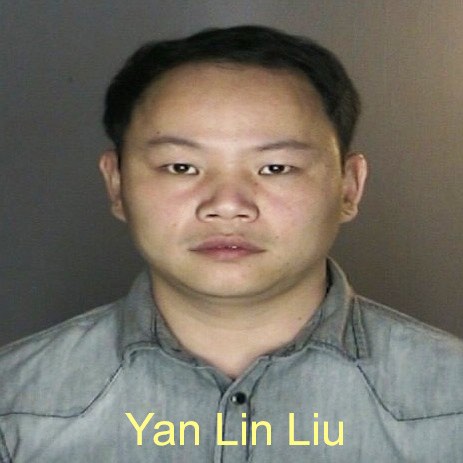 On Thursday January 18th, 2017 at approximately 2:19 pm the Scarsdale Police responded to Webster Bank on Popham Road on a report of suspicious ATM activity.

An officer on foot patrol in the area was on scene in less than 2 minutes and located the suspects. Officers interviewed two suspects who were identified by bank personnel as the individuals who had conducted numerous fraudulent transactions at the ATM terminal. After an investigation at the scene, the following individuals were arrested:

Yan Lin Liu, age 33 of Flushing, NY was arrested on 27 Counts of Criminal Possession of a Forged Instrument in the 2nd Degree, which is a Class D Felony.

Huirong Liu, age 24 of Flushing, NY was also arrested on 27 Counts of Criminal Possession of a Forged Instrument in the 2nd Degree, which is a Class D Felony.

Both suspects were arraigned in Scarsdale Justice Court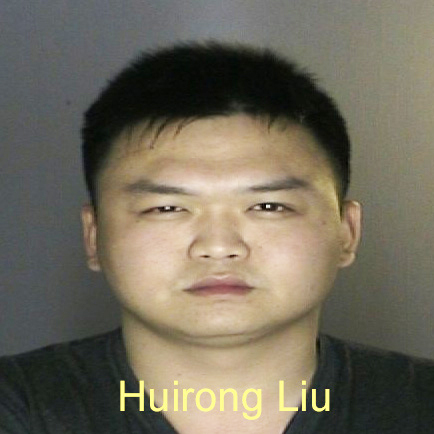 and remanded to the Westchester County Jail on $60,000 bail each. Both defendants are Chinese citizens in the US on a visa.

Both suspects were in possession of 27 fraudulent bank ATM cards, none of which had cardholders names, and most of which did not have any account number or bank information on them. The ATM cards all had 4 digit PIN numbers written on the back of them. Fraudulent transactions at the bank where the suspects were arrested exceeded $29,000.

The Scarsdale Police are continuing their investigation into the incident, identifying both the financial institution and account holder information encoded on the cards. The Scarsdale Police Department was assisted by the US Secret Service White Plains Office and is working with the Westchester County District Attorney's Office Financial Crimes Division on the ongoing investigation.
Scarsdale Historical Society Produces Video to Memorialize Their Story
Details

Category: Around Town
Published on

23 January 2017

Written by

Josie Blatt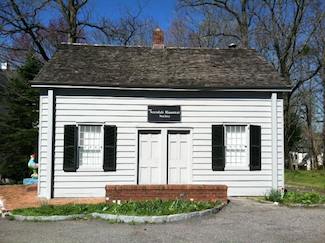 The Scarsdale Historical Society's Cudner-Hyatt farmhouse and Quaker Meeting House, both on Post Road, are for sale. The Cudner-Hyatt house is a Scarsdale farmhouse dating from 1734 and furnished in a mid-19th century style. The house is one of Scarsdale's earliest settlements, and one of the last remaining farmhouses in Westchester. Only two families inhabited the house for 200 years. The Cudner-Hyatt house was later restored and turned into an educational museum, to help teach the history of Scarsdale.
In order to memorialize the property, the Scarsdale Historical Society has posted a new video on its website. The video features Scarsdale Historical Society VP and Historian Barbara Shay MacDonald giving a tour of the Cudner-Hyatt House. Did you know that the Post Road in Scarsdale, where the house is located, began as a Native American trail that started in New York City, and went all the way to Canada? The video is full of more interesting facts about Scarsdale and the Cudner-Hyatt house.
The video was professionally produced and directed by Scarsdale native Lesley Topping. Ms. Topping is an independent, multimedia producer and film editor whose work includes documentaries, dramatic films and television programs. She has edited films for CBS, A&E and PBS and worked on many features films. Currently, she specializes in producing multimedia content and website videos for businesses and not for profits. Richard Westlein is a 12-time Emmy Award winning cinematographer and ABC cameraman. His extensive credits include "One Life to Live", "All My Children", and many ABC programs, documentaries and commercials. He is a cameraman on "The View" and the owner of Jupiter Video that provides state of the art production equipment to many companies. Lesley and Richard are cousins and often partner on independent projects. Lesley's parents, Seymour and Audrey Topping, still live in Scarsdale today.
The video can be found here.
The Scarsdale Historical Society exists to discover, preserve, and disseminate historical information as well as inspire others to learn about and contribute to the history of Scarsdale and the Central mid-Westchester region.
For more information, contact Randy Guggenheimer (917) 860-6616 rguggs@gmail.com or Marc Cheshire (914) 482-4299 
marccheshire@me.com
Alvin and Friends for Contemporary Southern and Caribbean Dining
Details

Category: Around Town
Published on

04 January 2017

Written by

Judie Dweck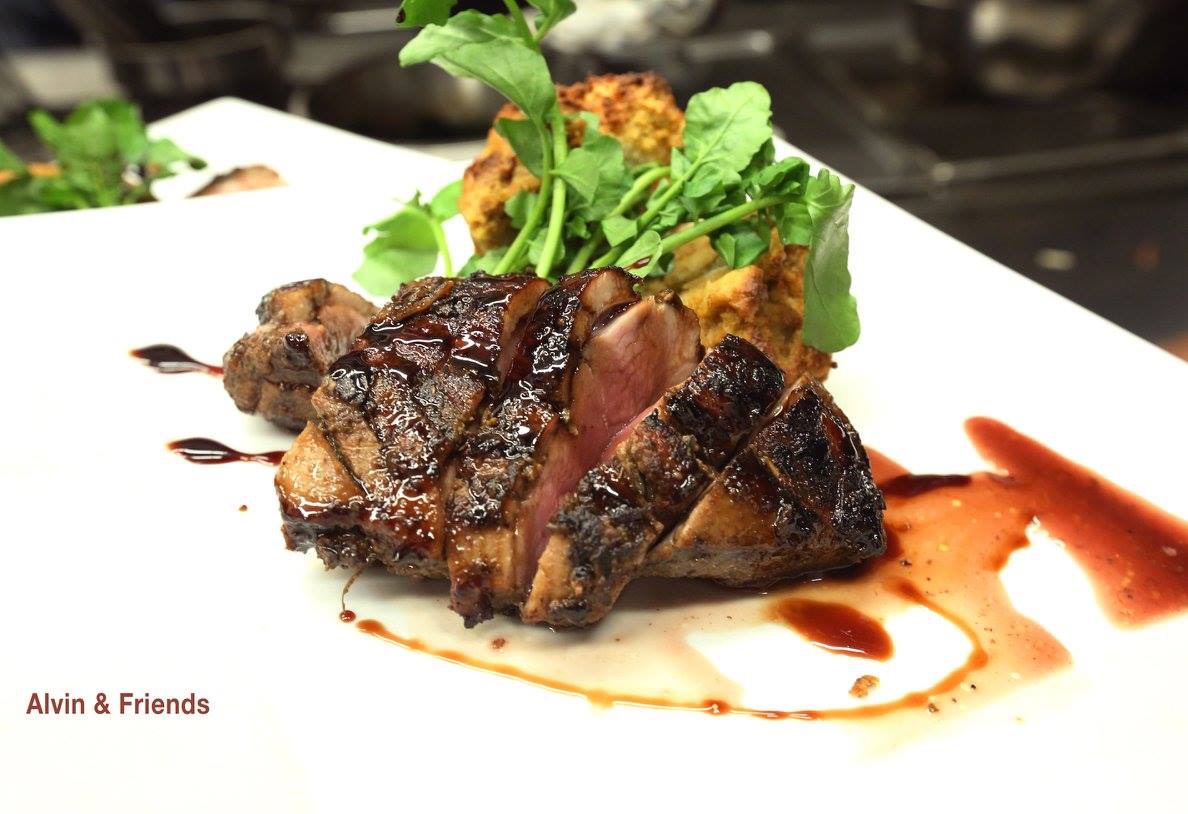 During the many years that I have been writing about restaurants, I have met many interesting people. It is at Alvin and Friends that I met a true renaissance man, Alvin Clayton, the personable owner and host, who greets you with a broad smile, and is a constant presence in the dining room, mingling with his guests. Yes, he is a fine restauranteur, but his creativity spans many areas. He was a well known fashion model for many years and yes, one look at the walls in the dining room, and you discover he is an artist, as well. All of the paintings, many in the style of Matisse, show off his artistic expertise. Alvin Clayton and his charming wife Gwen, bring warmth and welcome to this award winning dining destination in New Rochelle.

Enter the attractive restaurant through a lovely patio surrounded by lush plants. Glass doors open to a 100 seat dining room and bar. The sophisticated space is very special with Alvin Clayton's colorful detailed paintings gracing the walls. How delightful to have the opportunity to savor art on the walls, as well as on your plate. Beyond the main dining room is another room seating between 70 and 80, perfect for private events.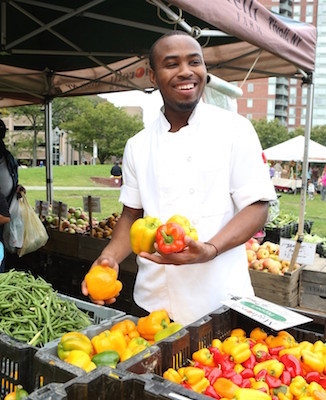 Clayton hails from Trinidad where he learned to cook at his grandmother's side. His favorite dish that she prepared is palau, with caramelized chicken, rice, vegetables and pigeon peas. His painting of her is hanging in the dining room, a remembrance of his culinary inspiration. "We have a varied clientele. We aim to please all tastes. I love instant feedback from our guests. We work hard to keep quality and service where it should be. Everyone is welcome and I aim to be the thread that holds it all together."
Clayton explained that Alvin And Friends offers many events along with their dining experience. There is funky Friday, live music on Fridays and Saturdays and the vault, an open mike night. "I like to make people happy and feel like they are visiting friends. We offer a complete dining experience hitting all notes." How did he move from a modeling career to restaurant owner? "I knew that a modeling career could not last forever. I always loved hospitality and cooking and with the help of friends, I chose to create something new and Alvin and Friends was born. We are exceptional, welcoming, warm and homey with a special energy." Given the opportunity to invite a table of guests Alvin would choose a creative mix including writers, musicians, dancers and artists, people who appreciate the arts. Some ideas for the future are Harlem Renaissance nights as well as using a plot of neighborhood land and planting a garden with vegetables and herbs to use in their dishes.

Heading the kitchen is Chef Kimani Hines who studied culinary arts at Monroe College, honed his skills at Alvin and Friends and then worked at the venerable Oceana in Manhattan where he expanded his knowledge of seafood preparation. He returned to Alvin and Friends to head their kitchen. His roots are in Jamaica where he is the eldest of eight children from a farming family. He interned at many restaurants and hotels "The best part of my work is walking through the door at Alvin and Friends. It's my happy place. I love cooking fish. Every variety is different and I love to play around with it."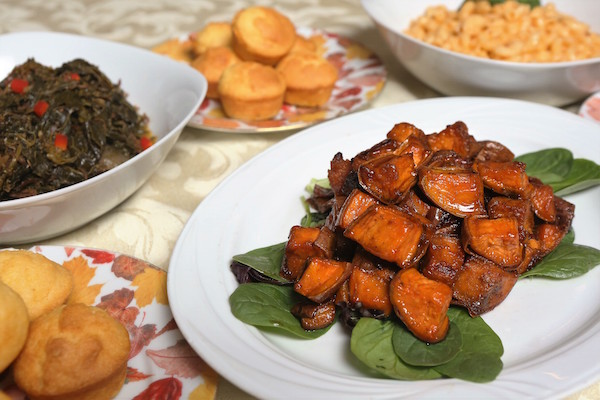 In the capable hands of Chef Hines and Alvin Clayton, I sampled several delightful dishes. Fried green tomatoes were a nice beginning. Firm slices of green tomatoes were encrusted with panko crumbs and stacked atop each other topped with pepper jack cheese, a garnish of watercress and scallion aioli for a nice crisp opener. Next, we enjoyed phenomenal fried oysters. These plump morsels were crusted with cornmeal and fried for a crunchy crisp result. Pickled vegetable relish and tartar sauce flavored with lemon and capers sat beside the super oysters. We could not resist the tostones topped with creole shrimp ravigote.The spicing and flavoring of the shrimp stood out as they rested on the simple tostones.
On previous visits, I enjoyed a rich and delicious curry crab chowder as well as crabcakes. If salad is your choice to begin, there is a southern Caesar wedge, wilted spinach, and to keep up with the times, farro and kale salad. Future starters may include chicken, beef or seafood skewers, and wings with homemade jerk sauce or Alvin's rum punch bbq sauce.
Clayton and Hines chose several fabulous entrees. Jerk rubbed duck breast arrived as tender slices of duck well seasoned with a great combination of spices. India has its curry powder and Asia has its five spice powder. The Caribbean has its jerk seasoning. At Alvin and Friends it is house made with the perfect proportion of spices. Including allspice, thyme and cumin. Add a port wine reduction, sweet potato bread pudding, prepared like a super large muffin, and watercress, and the platter is a still life waiting to be devoured. A smothered pork chop was paired with skin on bourbon candied yams to preserve the nutrients, asparagus in garlic butter sauce and crispy kale completed yet another artistic presentation. Seafood stuffed branzino was the piece de resistance. The deep fried fish was carefully deboned and generously stuffed with seafood. It arrived, head and tail intact and seemed to say ENJOY, and so we did. The flaky fish and the seafood vegetable filling were just divine with not a bone to be found. On a previous visit we tried the signature southern buttermilk fried chicken. It was not to be missed, moist within and crisp on the outside. Yet to be sampled are shrimp and grits, bbq braised short ribs, and caramelized Atlantic salmon. For vegan guests there are several options, as well, such as sesame, soy and ginger tofu and charred vegetable farro "risotto"

For dessert I tried a few bites of the white chocolate banana bread pudding -- rich and tasty. Other options are mixed berry cobbler, coconut cheesecake and rice pudding brulee.

Alvin and Friends serves lunch on Thursdays and Fridays and offers take out as well. Very special are weekend brunches. Sunday is a jazz brunch with starters, salads, omelets, eggs and kitchen specialties. Cocktails and Alvin's rum punch are offered. The Saturday brunch menu is similar without live music.

For a most enjoyable dining experience, add your name to the list of friends at Alvin and Friends in nearby New Rochelle.

Alvin and Friends
14 Memorial Highway
New Rochelle, NY
(914) 654 6549

Recipe: Jerk Duck Breast (Serves 2)

Ingredients:
2 duck breasts
1 bunch cilantro
1 bunch parsley
1 bunch scallions
10 sprigs thyme
6 cloves garlic
¼ cup soy sauce
½ cup brown sugar
1 scotch bonnet pepper
1 cup allspice
1 ½ cups extra virgin olive oil
2 Tbsps. salt
2 Tbsps. pepper

Instructions:

Trim fat on duck to an oval shape and score the fa [make 6 slices into the fat and slightly into the meat evenly. Season with salt and pepper and a bit of olive oil like a lather. Set the breasts in a 2 inch high half pan. Remove stems from the herbs and peppers. Add all herbs, peppers and oil and remaining ingredients to a food processor and pulse to form a coarse wet mixture. Rub the mixture into the duck with love. Cover with plastic and let it rest for 24 hours. Heat a medium sauté pan to medium high. When pan is entirely hot add the duck breasts fat side down. Reduce heat to medium and render down the fat. Drain extra fat as you go along. Continue the process for 5 minutes and then turn the duck over. The skin should be dark brown and crisp. Reduce heat to low medium and continue cooking to medium rare or desired doneness. Let it rest for 3 minutes before slicing. At Alvin it is served with sweet potato bread pudding and a port wine reduction.
Contributor Judie Dweck has been writing about restaurants and food for many publications. She teaches creative cooking to children at Scarsdale elementary schools. Through the years, her articles have appeared in Jack and Jill Magazine, Spotlight, The Pleasure of Cooking and The Scarsdale Inquirer. She balances her restaurant tastings with daily ballet classes.