A Taste of Ireland at the Irish Bank Bar and Restaurant in Hartsdale
Details

Category: Around Town
Published on

26 October 2016

Written by

Judie Dweck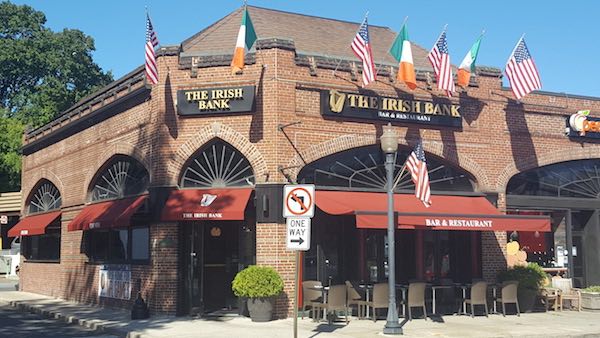 Upon seeing the awning announcing the opening of Irish Bank Bar and Restaurant, I discovered, you can't tell a book by its cover. I hesitated to try it because I don't generally frequent bars. How pleased I was to find a family friendly spot offering some very tasty dishes, many Irish in origin.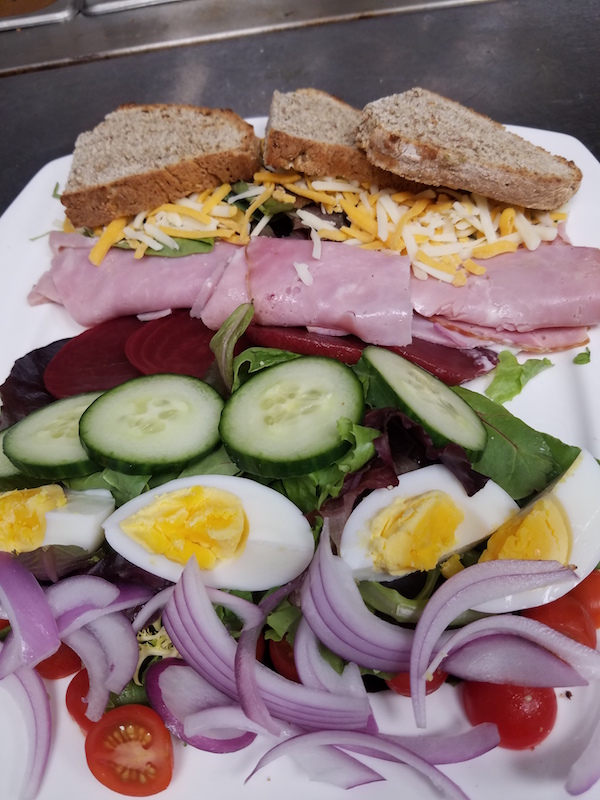 The newest addition to the Hartsdale dining scene is The Irish Bank Bar and Restaurant, which opened at the space that housed Harry's for many years. Situated across the street from the Hartsdale train station, it is an ideal location. I've never visited Ireland, but if the food and ambiance at The Irish Bank Bar and Restaurant is an example of the Irish style of eating, it would certainly be worth a culinary exploration.

The owners are Scarsdale residents Theresa and Adrian Regan. Theresa Regan describes their spot as "a friendly fun filled dining spot, where our guests can enjoy a varied meal in a relaxed atmosphere." Adrian Regan designed the warm duplex space. The main level has bar seating and high tables, as well as comfortable booths that have a private feel because of their high backs. The dark woods and deep red upholstered leather seats are encrusted with nail heads .Carved wood shelves display memorabilia of Irish banking history. The upper level is well appointed with its own bar and is suitable for parties.

Regan said, "I always worked in restaurants in Ireland and London and I enjoy getting to know our guests. We welcome families and have a kids menu, as well. Some of my favorite menu items are our homemade brown bread and New York style wings and chicken curry. As members of the Scarsdale community, we felt there was a need for our type of dining venue and thus, Irish Bank Bar and Restaurant was born." Leading the kitchen is Chef Emmet Manning. He prepares everything from scratch. "I always use fresh ingredients. I especially enjoy preparing sauces, soups and desserts. I call my cooking honest food. "His dishes are the result of a caring chef. When I think of a pub, bar food comes to mind. ... Think again... Here, the menu includes many traditional Irish dishes as well as popular American and international selections. Asian and Mexican flavors dot the menu. As I perused the menu and had difficulty making choices, I remembered a saying I had heard, "Why say OR when you can say AND," and I proceeded to taste several dishes. Starters included chicken quesadillas, The Bank Nachos, and Santa Fe Chicken Rolls with a Latin flair, chicken pot stickers for an Asian flavor and hummus for a taste of the Mid East. To get into the Irish mood, we started with a thick and delicious potato and leek soup, a special of the day. Served with house made brown bread and butter, it was a meal in itself. This rich potage was great for the cool days to come. Coarsely chopped bits of potato added a hearty texture to this classic Irish soup. Santa Fe Chicken Rolls was a taste of the southwest. Chicken breast with mesquite seasoning and a julienne of vegetables were rolled into an eggroll wrapper and fried. Chipotle aioli and black bean corn salsa shared the plate. We enjoyed coconut shrimp encrusted with panko crumbs and coconut and served with Asian slaw and chili sauce. Other appetizers range from artichoke spinach dip, New York Style Wings, and steamed mussels. For the salad enthusiast, try the Irish Farmhouse variety with country ham, eggs, beets and cheddar cheese with an Irish cream dressing. Traditional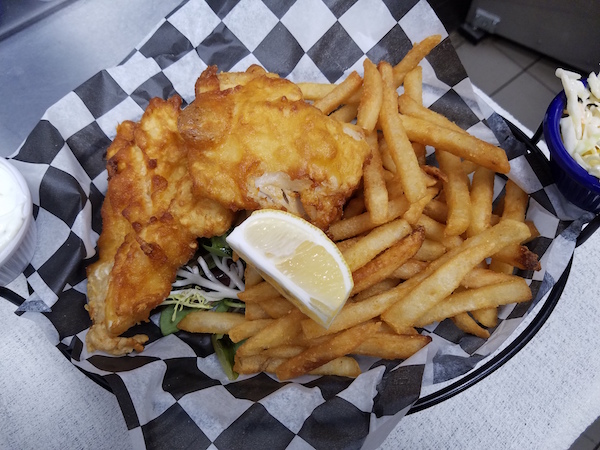 Irish classics followed. Fish and chips was so good. The Atlantic cod fillets were dipped in a beer batter and fried until golden. Tartar sauce, lemon wedges and fries completed this treat. A bottle of malt vinegar kept with the Irish tradition which added a perky touch to this Irish classic, both tender and crunchy. Messy, but drippingly divine were the barbecued baby back ribs. Honey bourbon barbecue sauce made them special. Back to Ireland for a traditional shepherd's pie. A crusty crown of swirled fresh mashed potatoes revealed a savory mix of ground beef, gravy and vegetables. Chicken pot pie was another very good choice. Puncture the puff pastry buttery lid, and the homey goodness of potatoes, carrots, peas and chicken in a creamy sauce are yours to devour. The Bank Chicken stuffed with apples and walnuts, Berkshire pork chops and New York Strip steak await future visits.

The signature Bank Burger is 8 ounces of Pat Lafrieda's signature beef, really good quality, topped with Dubliner cheddar, sautéed mushrooms and onions and thick grilled imported Irish bacon, ( similar to Canadian bacon), lettuce, tomato, red onion and slaw complete your plate. The corned beef Rueben on rye, and a turkey Cobb burger sound interesting, as well.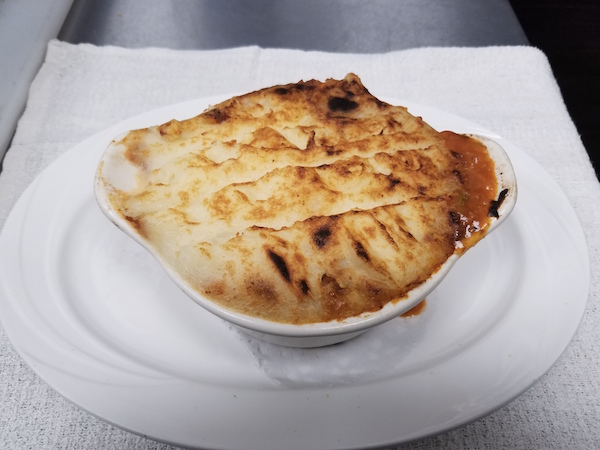 The lunch menu includes burgers, soups, salads, sandwiches, wraps and traditional dishes. Saturday and Sunday are the time for brunch at The Irish Bank with breakfast and lunch selections. Leading the list, is a traditional Irish breakfast including eggs, Irish sausage, Irish bacon, black and white pudding and beans among its ingredients. There is a kid's menu too.

The house-made desserts include apple pie, snicker blitz, chocolate fudge cake, or as we sampled Bailey's Bash, a Bailey's infused cheesecake with the chocolate cookie crust. Although I did not indulge, a huge selection of Irish whiskies, draught and bottled beers as well as mixed drinks and wines are offered. Enticing names such as The Half Penny, The Banker, The Emerald Sour and Lady Lavery sound appealing. During a non-working visit, The Bank Coffee with Jamison, brown sugar syrup, cinnamon freshly whipped cream and nutmeg would be my drink of choice.

Enjoy the friendly ambiance, and the homey unpretentious dishes of Ireland and more, at The Irish Bank Bar and Restaurant soon.

The Irish Bank Bar and Restaurant
230 East Hartsdale Avenue
Hartsdale, NY
(914) 713 8840

Recipe: Shepherd's Pie (Serves 4)

Ingredients:

4 large potatoes
1 Tbsp. butter
1 Tbsp. finely chopped onion
¼ cup shredded cheddar cheese
Salt and pepper to taste
5 carrots, peeled and chopped
1 cup fresh or frozen peas
1 cup fresh or frozen corn
1 Tbsp. vegetable oil
1 onion, minced
1 pound lean ground beef
2 Tbsps. all purpose flour
¾ cup beef broth

Instructions:

Boil a large pot of water. Add salt. Add potatoes and cook until tender but still firm or about 15 minutes. Drain and mash the potatoes. Mix in the butter and season to taste with salt and pepper. Set aside. Cook carrots, corn and peas in salted water until tender. Drain and set aside.

Preheat oven to 375 degrees. Heat oil in a large skillet. Add onion and cook until transparent. Add beef and cook until brown. Pour off excess fat. Add flour and mix and cook for 1 minute. Mix beef and vegetables in an even layer at the bottom of a 2 quart casserole. Top with the mashed potatoes and sprinkle with the cheese if desired. Either spread the potato mixture or pipe it in swirls with a pastry bag. Bake in the preheated oven for 20 minutes until golden brown.


Judie Dweck has been writing about restaurants and food for many publications. She teaches creative cooking to children at Scarsdale elementary schools. Through the years, her articles have appeared in Jack and Jill Magazine, Spotlight, The Pleasure of Cooking and The Scarsdale Inquirer. She balances her restaurant tastings with daily ballet classes

Raiders Varsity Girls Soccer Team Capture League Title, Girls Volleyball Team Triumphs Over Mamaroneck
Details

Category: Around Town
Published on

19 October 2016

Written by

Joanne Wallenstein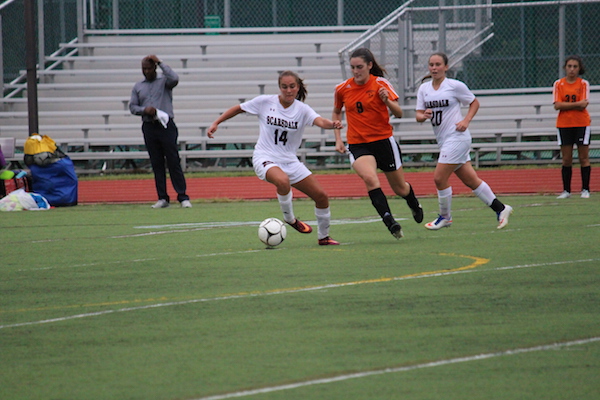 The Scarsdale Varsity A Girls Soccer team has won their second consecutive league title, completing the regular season with a record of 10-5-1 and a league record of 9-1. The team competed against especially tough competition this year, which included not only strong traditional rivals New Rochelle, Mamaroneck and Ursuline, but also talented, physical teams from Rockland County and northern Westchester such as North Rockland, Clarkstown South, Yorktown and Suffern. The Raiders head to the section playoffs beginning this weekend.
The team has been led throughout the season by four senior captains, Kate Donovan (MF), Lucy Glickman (M), Erica Shapse (D) and Hayley Rozencwaig (M). Head Coach Mindy Genovese and Assistant Coach Kiera Fox have been working the girls six days per week since late August to maximize their performance and experience on and off the field. The team has engaged in off the field activities that have helped build camaraderie and a sense of purpose among the players.
In what was the highlight of the season so far, the Raiders clinched their league championship on Saturday evening, October 15, in a thrilling 1-0 win over arch-rival New Rochelle, avenging their sole league loss from earlier in the season. The game was played before a raucous crowd of about 300 people under the lights at Scarsdale High School, which included a contingent of fans of the Hugenots. It was Senior Day and in a pre-game ceremony enthusiastically emceed by Brian Rozencwaig, the team honored the seniors who were playing their last league game of the season and their parents for their commitment and contribution to Scarsdale soccer over the years. It is a tradition that all the team seniors start the game. The seniors who were honored were Donovan, Glickman, Juliette Meyers, Sophia Mohlulis, Shannon Regan, Rozencwaig, Shapse and Jenna Stewart. The game also included a fund raising effort, in which contributions were donated to the Juvenile Diabetes Research Foundation.
The only goal of the game came at 36:30 of the first half when Donovan, off a gorgeous pass from freshman phenom Olivia Bryant, scored on a rush down the right side with a perfect shot from 15 yards out. The Scarsdale fans in attendance roared when the goal was scored, undoubtedly recognizing that goals were likely to be at a premium. The game, as expected, was mostly a defensive battle with Scarsdale's four across defense continually stymying the Hugenot's attack. Sophomore center back Allison Stafford was all over the field, repeatedly thwarting the Hugenot's mid-fielders and forwards and starting Raiders' offensive rushes, with strong support from right back Mohlulis and junior center back Sam Mancini. Sophomore goalie Christina Coco preserved the shutout with a couple of difficult saves.
Looking ahead, the Raiders will host the first of what will hopefully be multiple playoff games on Saturday, October 22. The time of the game has not yet been determined. In the team's 16 games during the regular season, they allowed a total of 16 goals, which is an average of one goal per game, and only six goals in their ten league games. These consistently low scoring games enable the Raiders to be in each game, which is a cause for optimism heading into the playoffs notwithstanding the formidable competition they will face. The challenge will be finishing on scoring opportunities and taking advantage of their opponents' mistakes. Scarsdale10583 will report on the team's playoff performance in next week's edition.
Raiders Girls Volleyball Team Scores Impressive Win Against Mamaroneck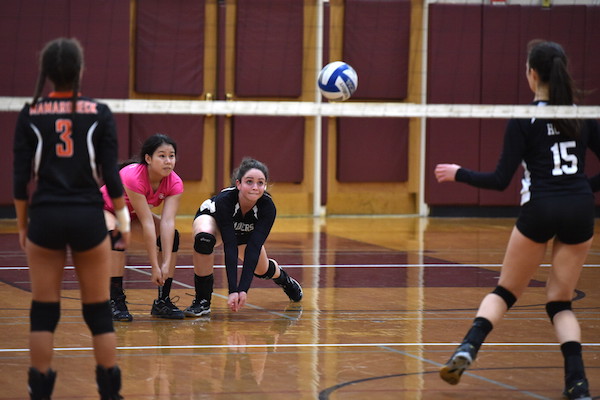 The Raiders Girls Volleyball Team win against Mamaroneck on Tuesday 10/18 was a perfect demonstration of their improvement in teamwork and skills. Starting off the season with two early losses, the team stayed motivated with the goal to make it far into the playoffs. With their Mamaroneck game being one of the final ones of the regular season, it was important for the team to maintain their reputation as a formidable opponent. In this win, Scarsdale swept the game 3-0 sets. In the first set, the Raiders showed their dominance, keeping a constant lead. The second set tested the players' endurance and skills under pressure when Mamaroneck tied it after a 6 point lead by Scarsdale. Ultimately the Raiders won this set 25-23. They used this momentum from the 2nd set win to close out the third set 25-16. With playoffs right around the corner, a sweep by the Raiders is just the thing they need to catapult them towards the post season.
(Volleyball text by Emmeline Berridge. Photos by Jon Thaler. See more here:)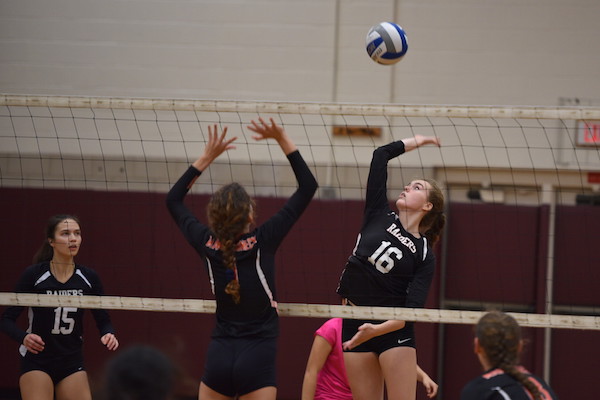 LWVS Voter Registration Drive and Important Information for Voters
Details

Category: Around Town
Published on

04 October 2016

Written by

Joanne Wallenstein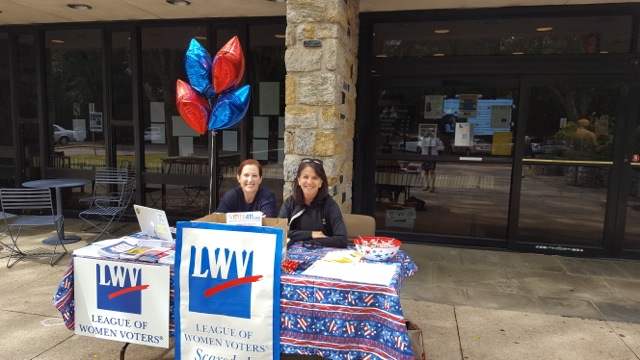 On September 27, the League of Women Voters of Scarsdale held a very successful voter registration drive. The Scarsdale Public Library provided the perfect venue for residents to come by with voter-related questions, and to register to vote or to obtain an absentee ballot application. For those who missed the event, it is not too late to register to vote in the upcoming general election or to request an absentee ballot. The following are the deadlines voters need to know:
•Voter Registration Forms must be postmarked by Friday October 14th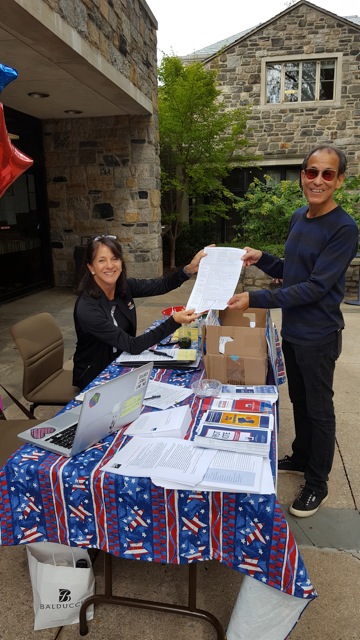 •Absentee Ballot requests must be postmarked by November 1st
•Absentee Ballots must be postmarked by November 7th
Links to voter registration forms and absentee ballot applications can be obtained at www.lwvs.org. The Scarsdale Public Library also has copies of both forms on hand. You may also visit www.vote411.org, which provides personalized information about polling locations, candidates and issues.
First time voters were not the only ones registering to vote. Many new residents to Scarsdale were registering as well. It is important to note that if a voter has moved or changed names since the last time he or she voted, re-registration is required, as a voter's polling locale has likely changed.
Many residents inquired about the timing of when to expect requested absentee ballots. The Board of Elections has informed the League that absentee ballots are not available yet. They are expected within the next few weeks and will be mailed out to those who have sent in an absentee ballot request form. To obtain an absentee ballot more quickly, voters can pick them up in person at the Board of Elections in White Plains.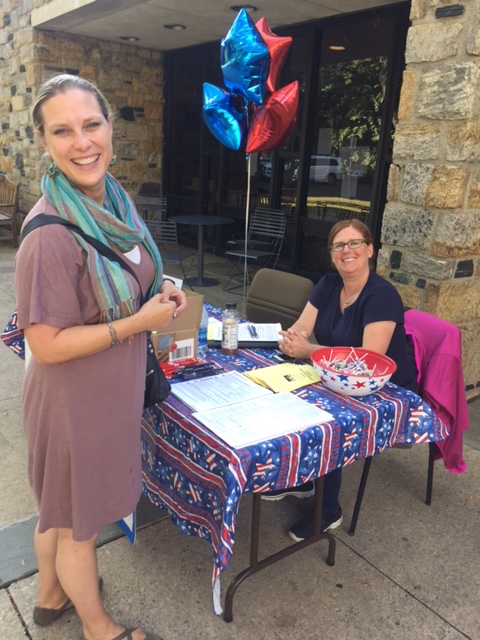 LWVS also will be hosting a Candidates Forum on October 20th at 7:30 pm at Village Hall. This is a great opportunity for residents to hear from candidates and ask questions of them.

2016 General Election Information
Local voter registration for Scarsdale residents will be held at Scarsdale Village Hall in the first floor lobby on the following dates:
Thursday, October 13, 2016: 5:00 p.m. to 9:00 p.m.
Saturday, October 15, 2016: 12:00 p.m. to 9:00 p.m.
The General Election will be held on Tuesday, November 8, 2016, between 6:00 a.m. to 9:00 p.m. Polling Locations are as follows:
Election Districts Location
1, 2, 19 Greenacres School
3, 4 Fox Meadow School
5, 11, 12 Scarsdale Library
6, 7 Village Hall
8, 9, 10 Edgewood School
13, 14, 18 Heathcote School
15, 16 Quaker Ridge School
17 Crossway Fire House
Important Deadlines:
Mail Registration (N.Y. Election Law Section 5-210(3))
Applications must be postmarked no later than October 14th and received by the Westchester County Board of Elections no later than October 19th to be eligible to vote in the General Election.
In-Person Registration (N.Y. Election Law Sections 5-210, 5-211, 5-212)
You may register at the Westchester County Board of Elections or any state agency participating in the National Voter Registration Act, on any business day throughout the year but, to be eligible to vote in the General Election, your application must be received no later than October 14th.
Change of Address (N.Y. Election Law Section 5-208(3))
Notices of change of address from registered voters received by October 19th by the Westchester County Board of Elections must be processed and entered in the records in time for the General Election.
2016 Deadlines for Absentee Ballots:

• Tuesday, November 1, 2016 - last day to postmark an application or letter of application by mail for an absentee ballot.
• Monday, November 7, 2016 - last day to apply IN-PERSON for absentee ballot at the Westchester County Board of Elections.
• Monday, November 7, 2016 - last day to postmark ballot. Must be received by the Westchester County Board of Elections no later than November 21st.
• Tuesday, November 8, 2016 – Last day to deliver ballot IN-PERSON to the Westchester County Board of Elections.
To look up a polling location by residence, or to find additional information on the General Election and voting, residents may visit the Westchester County Board of Election website at http://citizenparticipation.westchestergov.com/find-polling-place or call (914) 995-5700. Residents may also call the Scarsdale Town Clerk's office at (914) 722-1175 for further details.
Landlord Rush Wilson Vows to Attract More Retailers to Scarsdale Village
Details

Category: Around Town
Published on

11 October 2016

Written by

Joanne Wallenstein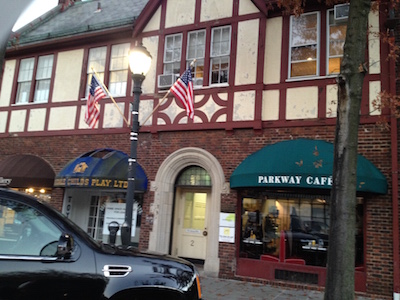 Why are so many storefronts empty in Scarsdale Village? Is it the parking? The lack of restaurants or competition from online retailers? And what effect do all the empty stores have on the few existing tenants?
Rush Wilson, the man who owns a good chunk of the storefronts downtown, was invited to the October 6 meeting of the Scarsdale Forum to shed some light on the dismal state of affairs downtown.
The most recent losses were Imagine Candy who will close their doors after five years in the Village on October 15 along with interior designers Paris Interiors who occupied a double storefront on East Parkway. Storefronts once occupied by Taiim Cellars, the short-lived Yogurt shop on Harwood Court and cosmetics retailer Space NK have been vacant for years.
Addressing an interested group, Wilson said, "I am aware of the need for a vital village center and retail environment. Seven vacancies with five in the Harwood Building are far too many." He linked Scarsdale's woes to national trends, saying "Brick and mortar retail is suffering."
He said, "We want more variety in village retailers, such as women's apparel, shoes and jewelry, frozen yogurt, a packing and shipping store like UPS and a book store." He asked the audience to keep their fingers crossed, as he is currently in discussion with a book retailer who is considering opening in the Village.
Wilson claimed that rental fees were not the issue and resolved to secure some tenants, saying "Our reputation for high rent will not hinder our efforts to get food in town," but then added that the reason more restaurants are not in Scarsdale is that "expensive venting" is required.
One audience member said, "Larchmont has a great restaurant scene. Why are these historically absent from Scarsdale? Wilson said, "Our biggest problem is venting. Full service restaurants require venting. It's a six-figure investment with quarterly maintenance. It takes a well-established restaurant to justify the expense."
Bob Harrsion asked what the cost per square foot was to rent in Scarsdale and how this compares to Larchmont, Mamaroneck, Bronxville? Wilson claimed not to be "familiar with other communities but said rents in Scarsdale range from $50-$60 per square foot."
Wilson was rushed from podium before a longer discussion could ensue, but it was not clear why he was unable to make the investment in venting to attract more restaurants – or offer tenants incentives to make it economical for them to do the infrastructure work.
One fed up retailer who was sitting in the crowd said, "It's frustrating. There is 4,000 square feet of vacant space in the Harwood Building where we could have a flagship restaurant. Why not install the venting?"
Meet Me at the Station for Dinner
Details

Category: Around Town
Published on

28 September 2016

Written by

Judie Dweck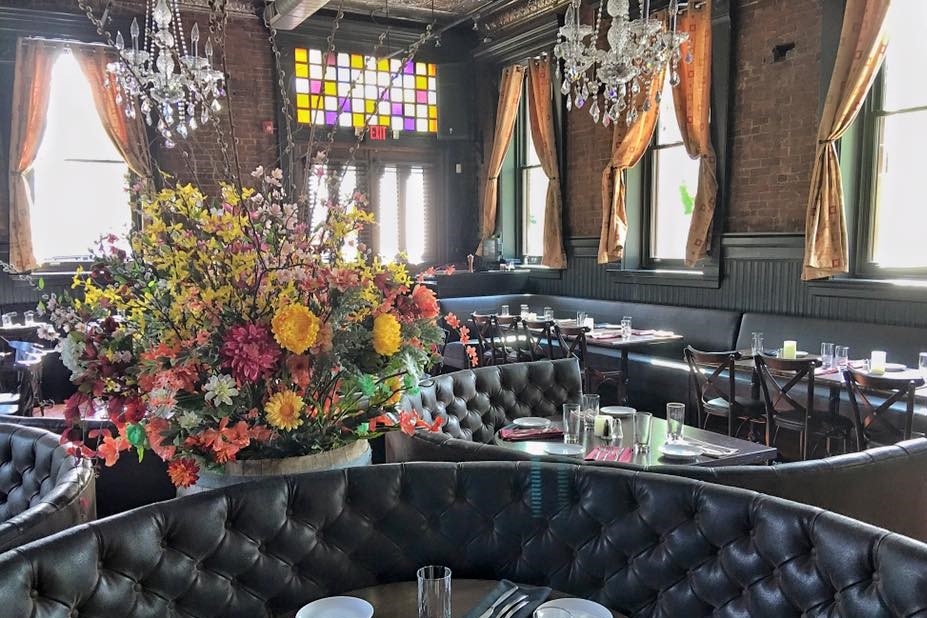 My destination this week was to visit Modern on the Rails in Mamaroneck. It is housed in the second oldest and surviving train station building on the Metro New Haven Line. It was most recently the home of Club Car. The impressive Romanesque Revival style red brick building, overlooks a tree lined park with umbrella tables and lush plantings on either side of the heavy wood doors of Modern on the Rails. As you enter, you are transported to the past century.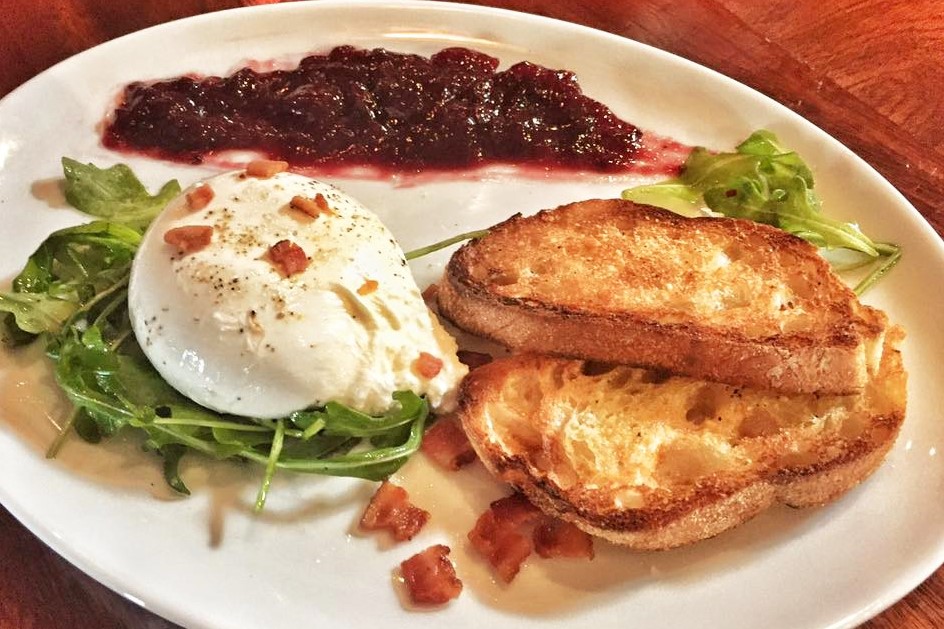 It is owned by Sebastian Aliberti and Tony Russo, also owners of Modern in New Rochelle and Jerry Tomic, co-owner of the Croatian restaurant Dubrovnik in New Rochelle, as well. I had the pleasure of chatting with the personable managers, Sebastian Aliberti Jr. and Ana Zarak. "We are a historic landmark offering a varied Italian menu with an American bistro twist. Some of our recipes are traditional, originating with past generations of the Aliberti family. Other choices are new creations. Grandma Aliberti's lasagna and marinara sauce are memorable, as are many of the original kitchen creations, which often appear on the daily dinner specials, as well. We are family oriented, and hope to become a staple in Mamaroneck." Co- manager Ana Zarak, indicated that "I love the element of surprise each day. It makes my job exciting." Both Sebastian and Ana love interacting with their guests. The service here is a perfect combination of being solicitous without becoming overbearing, which results in a comfortable relationship between the restaurant and its patrons. "At Modern on the Rails, we maintain the classics, but are always experimenting with new ideas."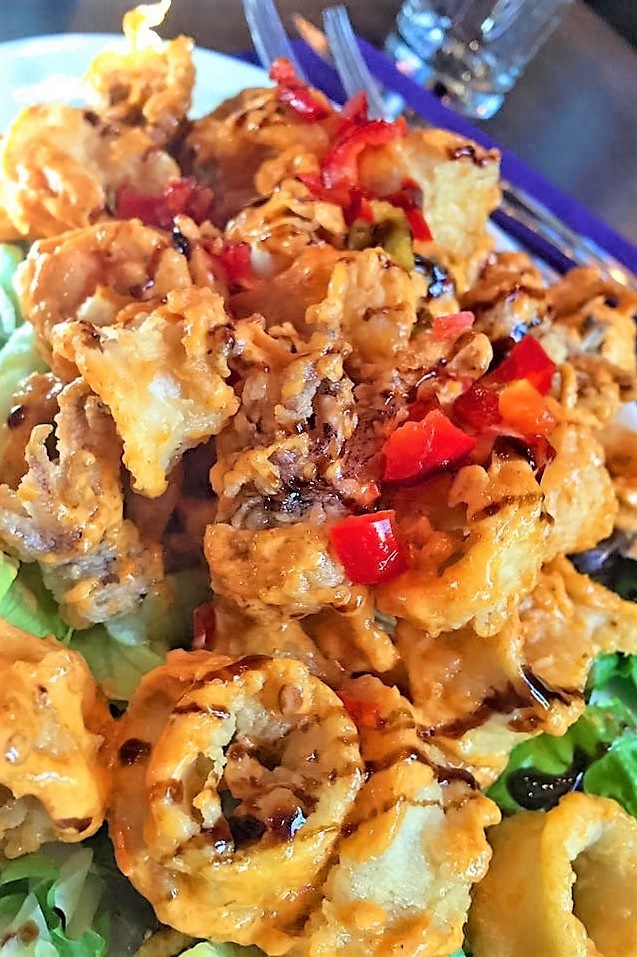 The large space keeps its old world feeling with very comfortable circular banquettes, many gleaming crystal chandeliers, stained glass and a welcoming bar. A large wine cabinet, built in keeping with the style of the period by Mr. Tomic is a beautiful piece of craftsmanship. Seating about 160 guests inside and 60 outdoors, Modern on the Rails is a delightful place to dine.

The menu is extensive and at dinner many specials are offered, as well. We started with selections from the raw bar. Jumbo shrimp, creamy purple mountain oysters, from the west coast, Bailey variety from Delaware and familiar bluepoints from Long Island were presented over ice, with horseradish, cocktail sauce and mignonette sauce. I happily slurped these fresh from the sea delights. The menu's appetizers ranged from classic Italian to more creative preparations. My taste buds were perked up with chipotle calamari. These tender fried rings, were mingled with a smoked chipotle sauce and cherry peppers. A drizzle of balsamic glaze completed this piquant dish. For the less adventuresome, try the simply fried calamari with marinara sauce. Little neck clams were a fine choice, as well. They were freshly shucked and whole and lightly topped with nicely seasoned breadcrumbs. Rails fried meatballs were a hearty starter. The large kobe beef meatballs were beautifully spiced and were served with a dollop of ricotta on top. They sat in a pool of marvelous homemade marinara sauce. From the specials, Rails burrata should not be missed if it is available upon your visit. The creamy centered burrata shared the plate with grilled house made crostini, fig jam, baby arugula and a garnish of bits of bacon. The combination of tastes and textures was delightful. Polenta Calabrese, mussels marinara, rice balls and several salads are some other possibilities.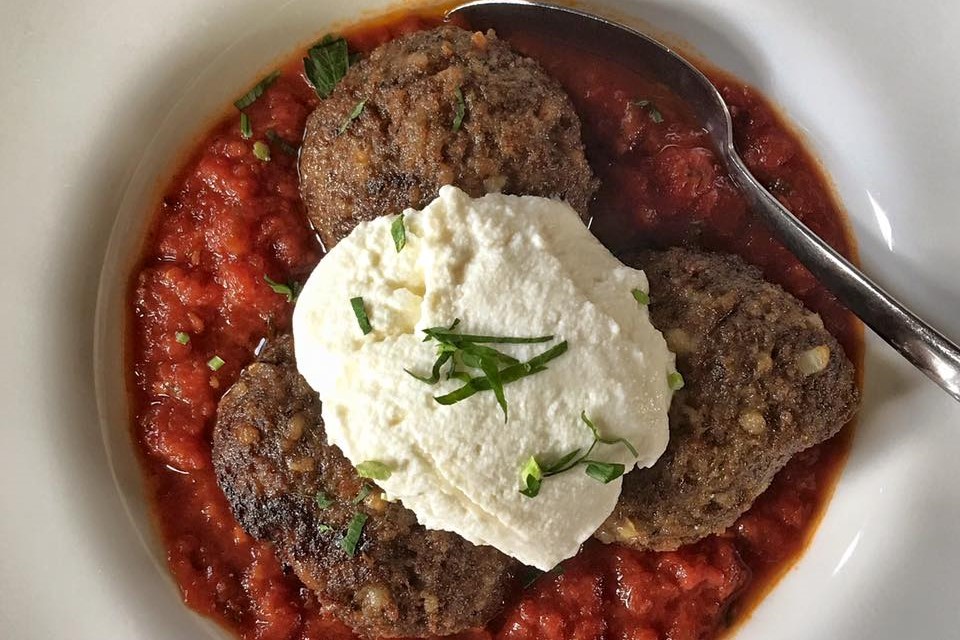 The pasta selections span the classics to the more modern. Choose from penne ala vodka, linguine in white clam sauce, cavatelli Bolognese to salmon Portobello over black fettuccine and black truffle trofie. We enjoyed the lobster ravioli, bathed in a pink sauce studded with shrimp and crabmeat. It balanced richness and delicacy. I hope to try broccoli rabe and sausage over rigatoni, linguine with shrimp and calamari and cavatelli Bolognese soon. Gluten free penne is available upon request. Their brick oven is the root of many pizza choices. The clam pie is on my list of things to taste upon a future visit.

Entrees range from chicken in many classic preparations, parmigiana, Marsala, scarpariello, bruschetta or simply roasted. Beef Sorrentino with eggplant, mozzarella and prosciutto, Colorado lamb chops, and Hatfield Reserve pork chops, with mixed peppers, onions, sausage, potatoes and mushrooms all sound most appealing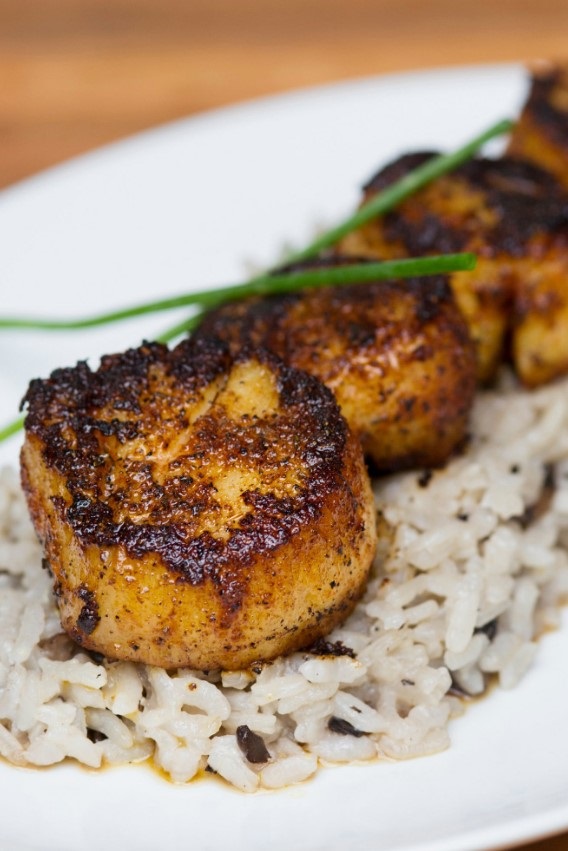 even as I type at an early morning hour. Old family recipes for eggplant rollatini or parmigiana are enhanced with Grandma's non-acidic marinara sauce. From the seafood offerings, we savored an outstanding dish of blackened sea scallops over a classic risotto filled with Portobello, shitake and button mushrooms. This was a most satisfying combination. The perfectly cooked scallops, the woodsy mushrooms and creamy risotto were heavenly. Waiting to be sampled are a classic zuppa di mare and fresh herbed bronzino. Sometimes a guest is craving a good steak. My black and blue New York Strip with its sauce of bourbon and Cipollini onions was most satisfying. The rich flavorful sauce was a perfect match for the prime quality beef.

Desserts include Juniors Cheesecake, tiramisu, cannoli and apple tart. We tried a homemade crepe with orange jam filling, a sweet ending to a well-prepared meal
With a setting as beautiful as that of Modern on the Rails, keep in mind that it is a perfect party venue. Their catering facilities offer in house and off premises options. Whether you choose lunch, dinner, Sunday brunch, happy hour or a party, Modern on the Rails offers the excellent combination of welcoming service, lovely surroundings and delicious food.

Modern on the Rails
1 Station Plaza
Mamaroneck NY
(914) 777 9300

Rails Meatballs (Serves 4)
¼ pound ground beef
1 pound kobe beef
1 clove garlic, minced
½ loaf of a 6 inch Italian bread, day old, soaked in water
1 egg
2 ounces grated Pecorino Romano cheese
1/4 ounce minced parsley
¼ cup breadcrumbs
Salt and pepper to taste
4 Tbsps. olive oil
4 Tbsps. fresh ricotta cheese
1 cup of your favorite marinara sauce

Squeeze out and drain off the water from the soaked bread. Place bread pieces in a bowl. Mix the bread with the cheese, parsley, egg, bread crumbs, salt, pepper and garlic. Add the meat and mix together until blended. Form the mixture into balls of about 1 ½ inches each. Heat olive oil to medium in a skillet. When the oil starts to sizzle add the meatballs and fry until evenly cooked. Place ¼ cup sauce into each of 4 bowls. Divide cooked meatballs among them. Top each with a tablespoon of ricotta and serve as an appetizer.
Judie Dweck has been writing about restaurants and food for many publications. She teaches creative cooking to children at Scarsdale elementary schools. Through the years, her articles have appeared in Jack and Jill Magazine, Spotlight, The Pleasure of Cooking and The Scarsdale Inquirer. She balances her restaurant tastings with daily ballet classes.