Books at Breakfast, Literature at Lunch and Dinner too at B&N Kitchen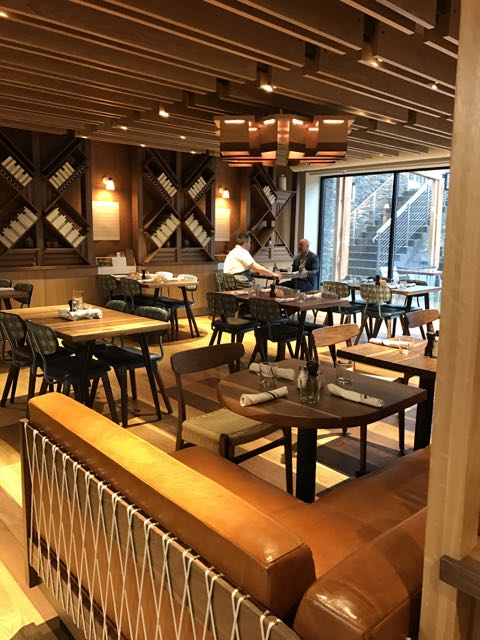 Would you like to enjoy biography with butterscotch pot de crème, burrata or brisket burger, fiction with a fruit crisp, short stories with salmon a la plancha, mysteries with meatballs, or perhaps travel books with tabbouleh? If so, ride over to the newly opened Barnes & Noble and enjoy breakfast, lunch or dinner in the new full service B & N Kitchen where you can find comfort in the company of your favorite books and foods. Park in the roomy Vernon Hills lot and take the escalator down as you enjoy viewing the impressive author word wall. A helpful staff member will guide you to the book section you desire. If dining is your option, bear right into the simply and comfortably appointed B & N Kitchen.

The kitchen staff who helped to prepare my meal, Marcus, Phillip and Shanita and our server Corey appear to be very proud of their work and help to make your experience a pleasant one. Executive Chef Sheamus Feeley, grew up in Arkansas where his dad owned a restaurant. With a degree in journalism and a true talent in the culinary arts, he worked with many esteemed chefs, among them, Wolfgang Puck. He is involved in many areas of food service and is owner of Farmstead Restaurant in Napa Valley. I have not had the pleasure of meeting him, but his dishes reflect a true respect for each ingredient. He has a gift of using herbs and spices to make presentations sparkle. Quality ingredients are his trademark.

I shared a sampling of the B & N Kitchen menu with Angela Neri, who is in charge of restaurant operations for Barnes & Noble. Neri explained that Barnes and Noble is in the process of opening four concept stores throughout the country In California, Minnesota, Virginia and New York. The new Barnes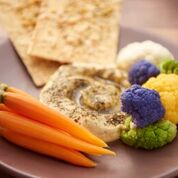 & Noble fills the space. "It provides a community gathering spot where its visitors can gain comfort in both food and books. Our restaurant is an approachable casual dining spot with upscale American cuisine. We provide a space where people can visit daily and enjoy many dining options. It is a nice addition to America's favorite living room. "There are several seating options such as the circular bar, the communal tables equipped to plug in your computer, many comfortable chairs and a 50 seat full service dining room. In nice weather, seating for an additional 50 guests is set up outside in the patio setting complete with a fire pit and bocce ball court.

We started our tasting with selections from "For the Table "section of the menu. The currently popular burrata arrived with a tomato confit, pistou and triangles of toasted high quality bread from Tom Cat Bakery. The burrata is imported from Italy and shipped here frequently to assure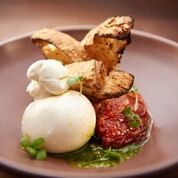 freshness. The center of the burrata was creamy in texture and mild in taste and combined well with the robust confit and the olive oil, basil and garlic flavors of the pistou. Next, a garden of a platter was presented. It was a fabulous rendition of hummus surrounded by garden fresh carrots with the stems intact, florets of several heirloom varieties of cauliflower and lavash flatbread topped with shallots, herbs , olive oil and parmesan and baked. Often, hummus is heavy. Here the proportion of chick peas and tahini lent a lighter texture which was most welcome. A sprinkling of zaatar and olive oil completed this excellent choice. Meatballs, served over creamy polenta with tomato chutney was another tasty shared dish. Milk soaked bread crumbs combined with the Pat Lafrieda beef for a flavorful combination. This hearty starter was garnished with microgreens.

For the salad lover, there is chicken Caesar, kale salad with apples, raisins and almonds dressed with apple cider vinaigrette and cotija cheese. We opted for the chopped salad with avocado green goddess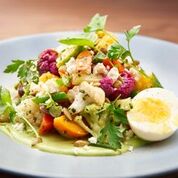 dressing which lined the dish. Garden fresh organic beets, carrots, green beans, cauliflower, feta cheese, pepitas and fresh herbs were among the ingredients tossed with lemon juice and olive oil. If you wish, chicken or salmon can be added to your salads.

From the sandwiches and entrees, we chose the brisket burger. The meat blend of fine quality Pat Lafreida beef guaranteed its rich flavor. Our server, Corey brought our burger, "dressed for success." Cooked medium it rested on a brioche roll with cheddar cheese, butter lettuce, red onion, pickle and dressing. Not to be missed are the crispy potatoes. These irresistible morsels start by baking Idaho potatoes. When they cool, they are pulled apart into rustic style pieces by hand and then fried in rice oil. They are dusted with parmesan, salt and pepper, and the result is crunchy; a great alternative to the usual French fries. Other entrée possibilities are mushroom ragu, grilled Havarti and cheddar sandwich with tomato soup, macaroni and cheese with smoked brisket, brick cooked chicken or as we tried, plancha cooked salmon. It is sustainably farmed atlantic salmon from British Colombia set atop a refreshing tabbouleh salad.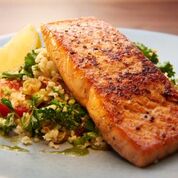 The whole grain is cooked al dente for a fine crunchy result.

Our server Corey suggested having dessert with dessert, and so we did. We tried all three options from the menu. Freshly baked daily large cookies in three varieties, chocolate chip, triple chocolate and raisin oatmeal had a great chewy consistency and were addictive. Our fruit crisp included honey crisp apples and Thompson grapes and had a nice crumbly crust. The combination of tart and sweet was divine. I have always enjoyed chocolate pot de crème but the butterscotch variety here was a new a wonderful treat. Freshly whipped cream and crushed hazelnuts topped this creamy, smooth delight. Having dessert with dessert was a fine suggestion.

Breakfast is an option from 9-11 AM. The lemon ricotta pancakes, burritos or avocado toast all sound tempting. If you have children in your group they can choose from the kids kitchen menu and keep busy with an etch a sketch while awaiting their meal.

Wines by the glass or bottle, many varieties of beer and espresso, cappuccino, latte, mocha, macchiato and European style cortado are offered.

Things to further entice you are a 10 percent discount if you are a Barnes and Noble member. They offer take out services if you wish to enjoy their food at home. Although they do not take reservations, you can browse this wonderful bookstore until a table is available.

B & N Kitchen
Vernon Hills Shopping Center
Barnes & Noble
680 White Plains Road
Scarsdale, NY
(914) 723 3416
Contributor Judie Dweck has been writing about restaurants and food for many publications. She teaches creative cooking to children at Scarsdale elementary schools. Through the years, her articles have appeared in Jack and Jill Magazine, Spotlight, The Pleasure of Cooking and The Scarsdale Inquirer. She balances her restaurant tastings with daily ballet classes.
Westchester County Golf Courses to Open March 15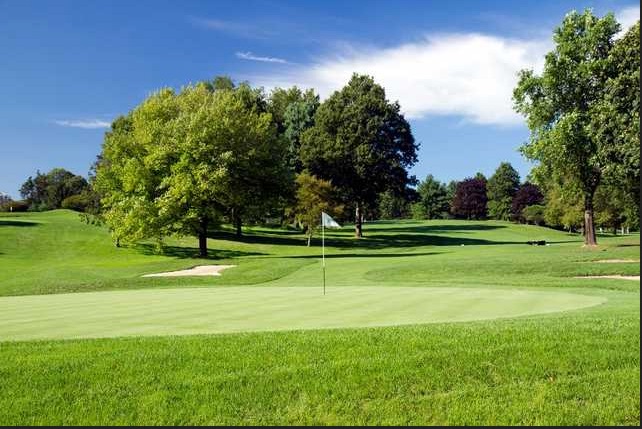 The six Westchester County-owned golf courses are scheduled to open for the season on Wednesday, March 15, weather and conditions permitting.

Tee time reservations may be made online at golf.westchestergov.com. Reservations may also be made by calling the individual courses. Walk up reservations will also be accepted at the courses.

The courses are Mohansic in Yorktown Heights; Maple Moor in White Plains; Saxon Woods in Scarsdale; Hudson Hills in Ossining; and Dunwoodie and Sprain Lake, both in Yonkers.

Any available E-Z Reserve spots will be sold at the courses. E-Z Reserve enables golfers with a Westchester County Park Pass to block out a regular Saturday or Sunday tee time for a period of 25 weeks.

Information about Westchester County golf courses is available at golf.westchestergov.com.
Build a Snowman and Win a Prize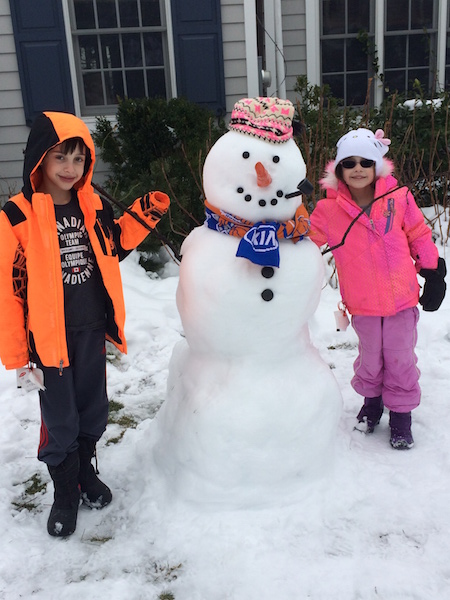 Just in time for the big storm – the Scarsdale Recreation Department has announced the Snowman Contest.
Here's how it works:
If the snow arrives tomorrow as planned - build your best snowman or snowwoman, or snow animal.
Take a photo of your creation and send it with your family name and address to the Recreation Department at recreation@scarsdale.com with the subject, "Snowman," and you'll be entered to win a prize.
Contest Rules:

-Each family may submit only one entry
-Your snow creation must be built at your own residence
-All snow creations must be freestanding
-Use as many props, costumes and accessories as you like
-Winners will be judged on creativity

Please note that photos of your snow creation may be included on the Village website or in their brochure. Have your family strike a pose next to your snow creation... it's your chance to be (sort of) famous!
All entries must be submitted by 11:59 PM on Friday, February 10th.
Judging will take place on Saturday, February 11th. (A judge may visit your home to get a closer look.) Winners will be posted on our website and notified via email on Monday, February 13th.
Announcing the Winners of the Snowman Contest
Scarsdale residents made the best of a snowy situation last week by trying to build the best snow creation in the village. The Scarsdale Recreation Department received more than 20 entries into the snowman contest and the grand prize was won by the Weinberg-Barro family.
See photos of the winners here: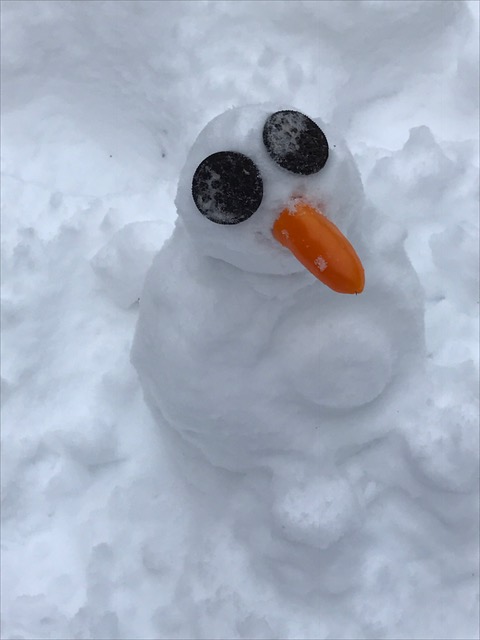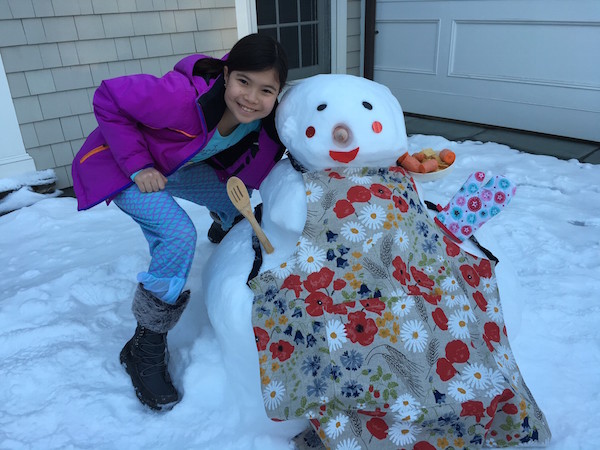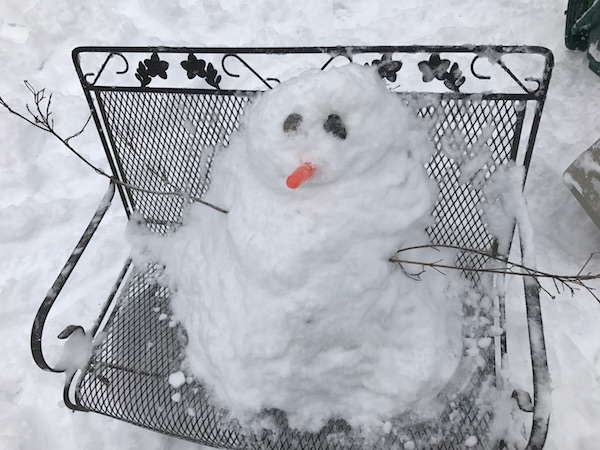 Aaack! It's back! It's Gak! Slime: The Newest Teen Obsession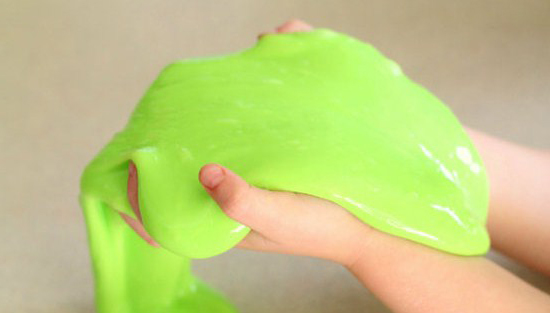 The newest craze among kids and teens is not accessible on a device! Well, the recipes are, but it's actually an arts and crafts-type project that is a bit messy but quite fun to make. In fact it's not new ... just trendy. Some have even found a way to turn it into a business. Parents are claiming that their kids are "obsessed" and some have found themselves buying warehouse-size containers of glue for their eager offspring. Ladies and gentlemen, it's home-made SLIME (also known as Gak)!
"Bottle flipping ended in 2016 and slime is the new in vogue thing for kids in 2017," said one slime-enthusiast's mom. There are countless videos and recipes for slime. The most basic one uses Elmer's liquid glue and Borax: One can make crunchy slime, borax-free slime, scented slime, colored slime, glitter slime, popping slime, magnetic slime and the list goes on. There are many alternative recipes for slime and some include other household products you may not want your kids to use like your contact lens solution and eye drops.

Kids who make slime have been dubbed "Slimers" and hashtags for #slime are abundant (see Instagram). If you don't want to make slime yourself but just want to have it to play with, you can purchase it on one of a myriad of Etsy slime shops or show up at Scarsdale High School (or Scarsdale Middle School) and any one of a number of students can point you in the direction of an entrepreneurial Slimer.
The person who alerted me to this new Scarsdale chemistry experiment has a daughter who said, that in addition to slime-making being fun, easy and customizable, it is good for relieving stress. "I never really thought about this," said her mom. "I mean, green tea and meditation maybe, but slime?" Yup. And now her daughter is concocting new versions of it all the time.
Lizette Smith's kids recently came home and begged her to let them make slime. "We made fluffy slime," she said. "We used Elmer's glue then added shaving cream and contact lens solution. You can add food coloring to this as well. It was yucky but it was fun!"
Another mom relayed the story of her 15-year-old's obsession with slime-making. "She is almost addicted to making this stuff. We have driven all over trying to find the clear Elmer's glue! Apparently, you can concoct your own colors this way. If you use the wrong glue," she added, "it comes out rock hard. And if you get it in carpeting, you thank the universe it happened under her bed. Oh, micro glitter makes it extra special!"
"Cleaning my bathroom 'lab' has a whole new meaning," snickered a mom of two. "And they discovered my Tupperware. But it's better than many other things the kids could be doing so I won't complain."
"My son has been making it and selling it," said a Greenacres mom. As a funny aside, he sent a cease and desist letter to the girls group that tried to copy his idea jokingly threatening legal action."
Sabine Bochner reported that you can even make edible fluff using marshmallows and Nutella. (Now you're talking.)
Robin Mayer suggested that I go to CVS and hang out there after school. "Go to the aisle where they sell the Elmer's glue. You'll see 'tween girls buying as much as the can carry. It's actually amazing to see! My seventh grade daughter is totally obsessed with making slime."
"My daughter uses liquid starch instead of borax since it's less toxic," Theresa Harpster told me. "She even made stress balls by putting the slime into balloons. They're actually awesome! She uses borax for those."
Theresa shared with us her daughter's favorite recipe for slime:
Use two bowls.
In one bowl add around ½ a cup of Elmer's glue, food coloring and a bit of water.
In another bowl, put liquid starch and a little water.
Slowly add the liquid starch mixture to the other mixture until you get the texture desired.
You can add shaving cream to the glue mixture to make it fluffy or Styrofoam beads to it to make it crunchy. Glitter makes it prettier.
Inevitably slime will get stuck on their clothes. It will also get into your carpet and on your furniture. Magically and thankfully, there is a recipe for slime removal. You're welcome:
1. Remove excess slime
2. Saturate with white vinegar
3. Run warm water over the area
And if it gets stuck in your child's hair or your own, worry not, for just a spoonful of mayonnaise will help the slime come out.