Aaack! It's back! It's Gak! Slime: The Newest Teen Obsession
Published: Thursday, 02 February 2017 12:46
Stacie M. Waldman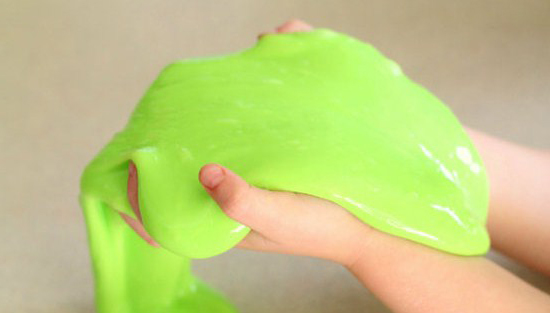 The newest craze among kids and teens is not accessible on a device! Well, the recipes are, but it's actually an arts and crafts-type project that is a bit messy but quite fun to make. In fact it's not new ... just trendy. Some have even found a way to turn it into a business. Parents are claiming that their kids are "obsessed" and some have found themselves buying warehouse-size containers of glue for their eager offspring. Ladies and gentlemen, it's home-made SLIME (also known as Gak)!
"Bottle flipping ended in 2016 and slime is the new in vogue thing for kids in 2017," said one slime-enthusiast's mom. There are countless videos and recipes for slime. The most basic one uses Elmer's liquid glue and Borax: One can make crunchy slime, borax-free slime, scented slime, colored slime, glitter slime, popping slime, magnetic slime and the list goes on. There are many alternative recipes for slime and some include other household products you may not want your kids to use like your contact lens solution and eye drops.

Kids who make slime have been dubbed "Slimers" and hashtags for #slime are abundant (see Instagram). If you don't want to make slime yourself but just want to have it to play with, you can purchase it on one of a myriad of Etsy slime shops or show up at Scarsdale High School (or Scarsdale Middle School) and any one of a number of students can point you in the direction of an entrepreneurial Slimer.
The person who alerted me to this new Scarsdale chemistry experiment has a daughter who said, that in addition to slime-making being fun, easy and customizable, it is good for relieving stress. "I never really thought about this," said her mom. "I mean, green tea and meditation maybe, but slime?" Yup. And now her daughter is concocting new versions of it all the time.
Lizette Smith's kids recently came home and begged her to let them make slime. "We made fluffy slime," she said. "We used Elmer's glue then added shaving cream and contact lens solution. You can add food coloring to this as well. It was yucky but it was fun!"
Another mom relayed the story of her 15-year-old's obsession with slime-making. "She is almost addicted to making this stuff. We have driven all over trying to find the clear Elmer's glue! Apparently, you can concoct your own colors this way. If you use the wrong glue," she added, "it comes out rock hard. And if you get it in carpeting, you thank the universe it happened under her bed. Oh, micro glitter makes it extra special!"
"Cleaning my bathroom 'lab' has a whole new meaning," snickered a mom of two. "And they discovered my Tupperware. But it's better than many other things the kids could be doing so I won't complain."
"My son has been making it and selling it," said a Greenacres mom. As a funny aside, he sent a cease and desist letter to the girls group that tried to copy his idea jokingly threatening legal action."
Another enthusiast reported that you can even make edible fluff using marshmallows and Nutella. (Now you're talking.)
Robin Mayer suggested that I go to CVS and hang out there after school. "Go to the aisle where they sell the Elmer's glue. You'll see 'tween girls buying as much as the can carry. It's actually amazing to see! My seventh grade daughter is totally obsessed with making slime."
"My daughter uses liquid starch instead of borax since it's less toxic," Theresa Harpster told me. "She even made stress balls by putting the slime into balloons. They're actually awesome! She uses borax for those."
Theresa shared with us her daughter's favorite recipe for slime:
Use two bowls.
In one bowl add around ½ a cup of Elmer's glue, food coloring and a bit of water.
In another bowl, put liquid starch and a little water.
Slowly add the liquid starch mixture to the other mixture until you get the texture desired.
You can add shaving cream to the glue mixture to make it fluffy or Styrofoam beads to it to make it crunchy. Glitter makes it prettier.
Inevitably slime will get stuck on their clothes. It will also get into your carpet and on your furniture. Magically and thankfully, there is a recipe for slime removal. You're welcome:
1. Remove excess slime
2. Saturate with white vinegar
3. Run warm water over the area
And if it gets stuck in your child's hair or your own, worry not, for just a spoonful of mayonnaise will help the slime come out.
BLOG COMMENTS POWERED BY DISQUS