Young Magicians to Stage SHS Performance on June 15th
Published: Wednesday, 07 June 2017 10:51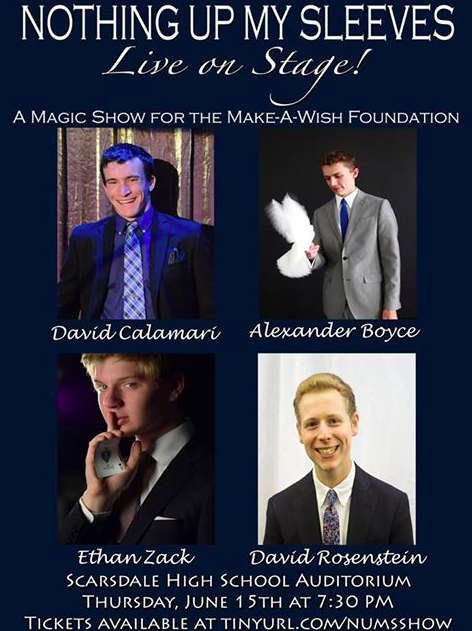 Scarsdale is about to get a little more magical. For his Senior Options project, David Calamari will be presenting a magic show titled "Nothing Up My Sleeves", the proceeds of which will go to the Make-A-Wish Foundation. The show will feature his magic as well as the magic of other young performers. I've had the privilege of seeing some of David's magic firsthand and asked him a couple of questions about his process and the upcoming show. The show will be on June 15th in the SHS auditorium and you can purchase tickets online by clicking here.
When did you first become interested in magic?
I became interested in magic when I was three years old. My uncle showed me a trick where he took a coin, placed it in his hand, and made it disappear. He didn't tell me how it was done, and that kept me interested. My parents could see my interest and they bought me a magic kit for my fourth birthday. My dad then began taking me to Tannen's Magic Shop, the oldest magic shop in the country, which is in NYC.
How do you learn and develop new tricks?
I learn magic primarily from other magicians, and from reading books. Learning the trick is only part of it, the next part if finding a way to present it in a way that doesn't make it seem like a challenge to the audience, but rather some experience that I am sharing with them. I do enjoy learning other magicians' magic, but I also enjoy creating for myself. I go about this in a lot of different ways depending on what I'm going for. Recently, I have been using magic to show things I think about, and how I see the world, but not all of my material is like that. I try to have a wide range of emotions when I do a show, so at one point, the audience is laughing, and at another point, they are carefully listening to a compelling story. My inspiration comes from many different places, usually not other magicians. I have taken ideas from movies to create magic, I have made a routine out of a board game, so there is never an exact science to creating. Whenever I have an idea, whether it be a concept for an entire routine, or just a small moment of something that I want to adapt, I write it down in a notebook or on my phone, and later combine and play with those ideas to create something new.
Do you have any favorite tricks?
That is a really hard question. My favorite trick is always changing, because I don't like doing the same thing for a long period of time, so I am constantly changing what I am doing, to keep myself from getting bored. Each time I am doing new material, my favorite thing to perform usually changes.
Do you get your inspiration from any specific sources?
Not really. I never get inspiration from one specific source. I get inspired by a lot of things. Movies, books, personal experiences, and other magicians sometimes.
What advice would you give to someone interested in learning magic?
My advice to anybody interested in magic would be to read books to learn magic. I have found that this is the best way to learn really good magic. Also, go to an actual brick and mortar magic shop instead of buying things online. The number of shops that are around today continue to dwindle, which is not good. Magic shops are incredible places to meet new people, share ideas, and learn from others. You really can't get the same experience with an online magic shop.
What was it like to rehearse for your show? Is there anything you're particularly excited to show off?
Rehearsing is a little stressful. I have put together several new bits for this show, so I have never done them before. I am really excited about doing them, but also a little nervous. I am beyond honored to be raising money for such an amazing cause, so that eliminates some of the nerves because I know everyone is coming to have a good time. I am really excited to show off a couple of illusions that I have put together, because stage illusions are totally new to me. It was an interesting learning process, as staging and lighting and body movements have a lot more to do with illusions than other things I have done in the past.
Remember to go see David and other magicians at their show on June 15th in the SHS auditorium!
BLOG COMMENTS POWERED BY DISQUS