Date Night: Come From Away on Broadway and Dinner at Striphouse: Too Good to Miss
Published: Monday, 03 July 2017 22:19
Stacie M. Waldman
We live so close to Broadway and world class theater, that some of us forget to take advantage of the shows and restaurants that are just a short train rider away. Here's a play - and a restaurant - that are too good to miss:
I had the opportunity to see Come From Away , a Tony Award winning new musical and dine beforehand at Striphouse, a top-rated steakhouse.
Come From Away http://comefromaway.com is not a musical about 9/11. Written by Irene Sankoff and David Hein (who also wrote the music and lyrics), Come From Away is a heartwarming masterpiece about the human heart and soul triumphing over a horrifying event. The 16-member ensemble cast stars no one in particular which in and of itself is unusual for a Broadway musical; each cast member also plays more than one character. Directed by Christopher Ashley who won the Tony Award for best direction of a musical, Come From Away has taken non-traditional risks and has earned its place on the Schoenfeld Theater stage for what will likely be a long-term engagement.

The show is not impressive for the set nor costumes nor stars with name recognition. It's impressive for its theme and its execution of that theme. So it was hard to understand why the audience began giving a standing ovation at the beginning of the show. My husband and I ran through Times Square with our dinner leftovers and made it just in time to realize that the show had a delayed start. (Note to self: no matter how good they tasted 30 minutes ago, brussels sprouts in your leftover bag do not smell good to your seat mates.) As it turned out, the hardy standing ovation was for Broadway regulars Hillary and Bill Clinton who were in the audience. We joined in, of course, and reveled in the fact that it was a great night to be at the theater.
On September 11, 2001, when terrorists attacked America, 38 planes were forced to land in Gander, New Foundland, a town of 7,000 people. The passengers and crews essentially doubled the population of Gander overnight ("38 Planes.") The townsfolk rose to the occasion with endearing Canadian accents and personalities and welcomed the thousands of international passengers and crew members who were stranded in their small town for five days. They sing "blankets and bedding" as they put their daily lives aside to get toilet paper, diapers and tampons from local stores donating their entire inventories to those who had "come from away."
It's a feel-good story with feel-good music and most of the audience had a smile on their face for the entire show. Passengers fall in love, break up, become friends with each other, experience minor conflict and develop friendships with the locals. And the locals feed, clothe and house all of them. Wouldn't we all like to think we'd do the same thing- give of ourselves relentlessly and unconditionally without a second thought? The New Foundlanders in Gander and nearby towns did this with no idea of the possibility that, well, one day their story could be made into a successful, entertaining and important Broadway Musical.
My favorite song was "Me and the Sky" sung by Jenn Colella as Beverley, the first female American Airlines Captain who was grounded with her passengers and crew in Gander on 9/11. If there was an ensemble star of Come From Away, it was Ms. Colella and it was this song that brought the audience applause to life more than any other
The standing ovation at the end of Come From Away was surely for the show and not for the Clintons as Hillary managed to sneak out undetected underneath the audience's applause; Bill Clinton, on the other hand, shook hands and let people take photos with him as he exited the theater. And he clapped for the cast and crew as he did.
And those aromatic leftovers? I can't think of another steakhouse
in Manhattan (or Vegas for that matter) that does steak AND seafood the way Striphouse does http://www.striphouse.com. A crowd pleaser from the second you walk through the entrance into the siren red elegant but not stuffy interior, I've never encountered a waiter who so poetically described menu specials. To start, we were talked into the half seafood plateau which came out looking so fresh I felt like we'd feel the restaurant docking any second. We indulged in a lobster claw, tuna tartare, calamari, oysters, clams, mussels, and super jumbo sized shrimp. Next, we had the NY Strip cooked to perfection as well as the Kobe/Wagyu steak special. The NY Strip was crisp and seasoned on the outside and somehow perfectly tender in the middle. The Kobe/Wagyu special was served sliced with our waiter-recommended sides. We ordered brussels sprouts roasted with Asian pears and black truffle creamed spinach which I have been craving ever since. A Wine Spectator award winner, Striphouse has a generous wine list including reserve wines (from their cellar) served by the glass. House cocktails were absolutely delectable, particularly the Hibiscus Julep and the Manhattan which came in a fun brass cup. We couldn't resist dessert when it was sold to us as one of the most famous chocolate cakes in America; the 24-layer chocolate cake. (And we counted- it's definitely 23 layers and there was probably a 24th layer in there somewhere.) It is worthy of its accolades and is served impressively non-collapsed and weighing what felt like a good five pounds. Worth every calorie consumed.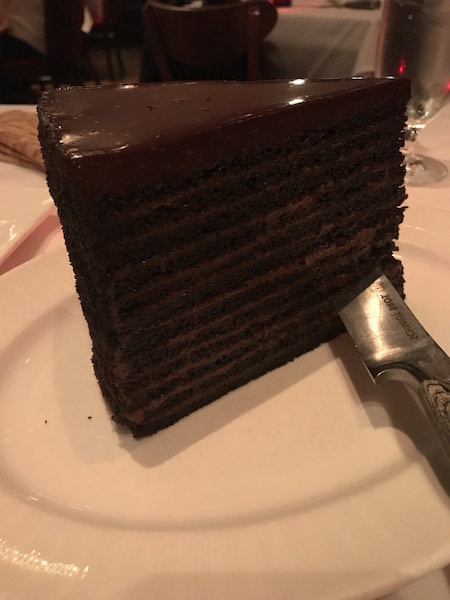 Come From Away: Gerald Schoenfeld Theare, 236 W. 45th Street, New York, NY. Tickets available online at the box office or by phone at telecharge 212-239-6200

Striphouse Midtown: 15 W. 44th Street, New York, NY. Open for lunch and dinner weekdays, dinner weekends. 212-336-5454
BLOG COMMENTS POWERED BY DISQUS