Luxury Movie Theater to Open in Dobbs Ferry this Weekend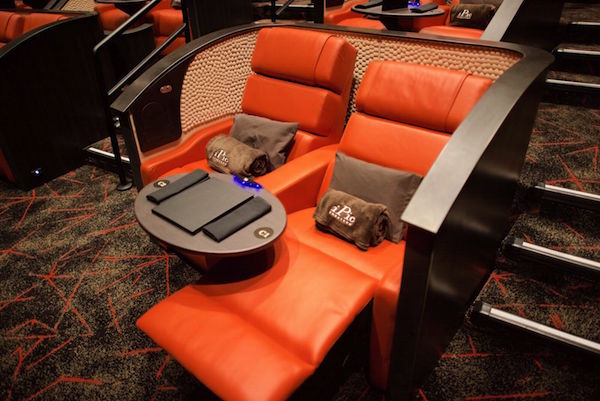 When we were invited to a new luxury movie experience in Dobbs Ferry, we were not sure what that meant ... especially because the invite did not reveal the name of the movie that would be shown. But with a promise of premium seats, personal blankets and pillows, cocktails and dinner, the name of the film seemed beside the point.
So last Thursday we found ourselves looking for the Rivertowns Mall a new mixed us complex on the Saw Mill River Parkway. All I can say is, use your nav! Once inside, we were immediately impressed by the lobby, full bar and toney interior. This new iPic theater looks more like an upscale club or hotel than a movie theater.
We were offered colorful cocktails made with fruit juices, herbs, syrups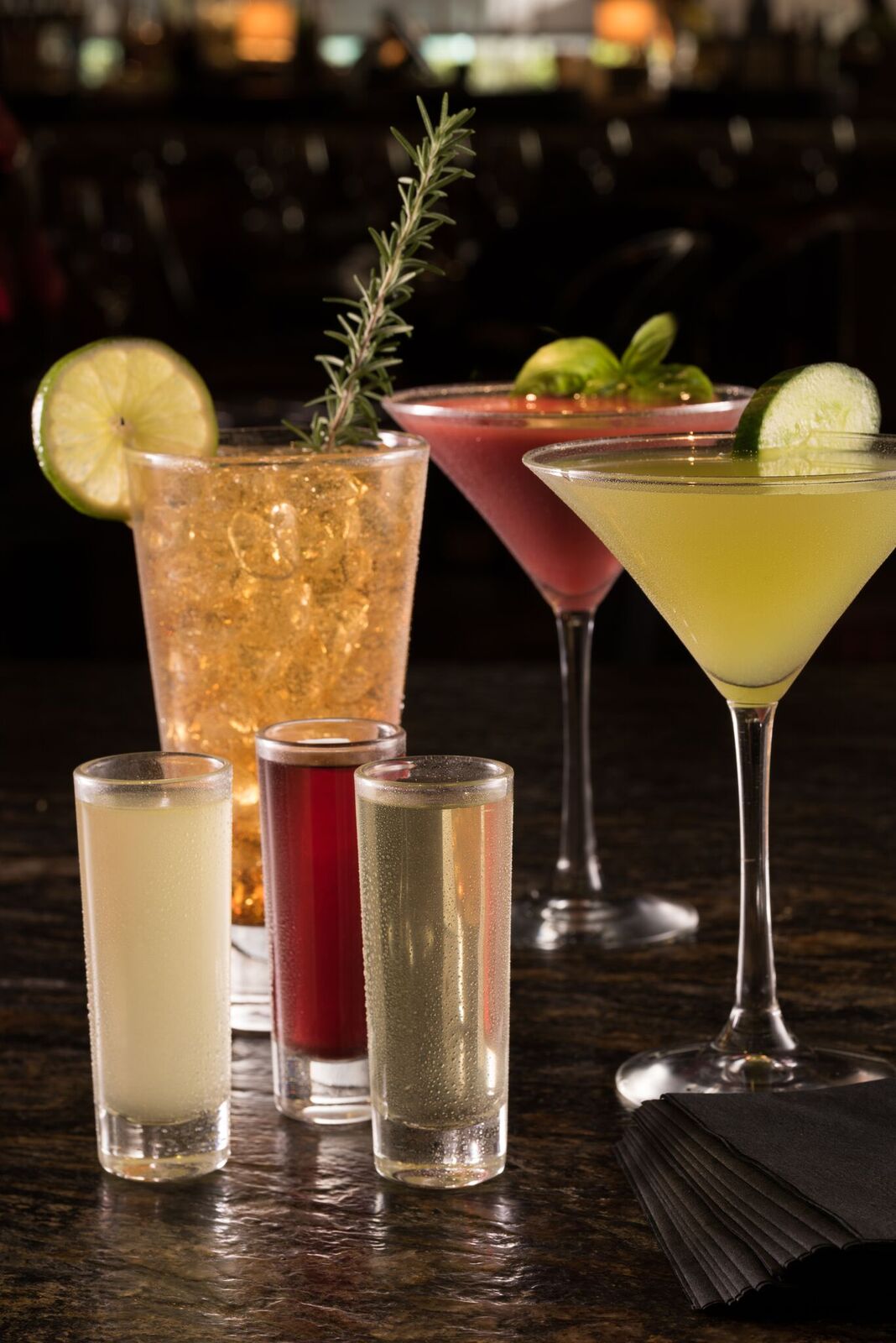 and infusions and it was hard to decide between the "Tuck Old Fashioned," the "Big Apple Margarita" – with cider, maple agave and heirloom apple salsa or the "Lemon Berry Mule" with lemon-berry vodka and Rare Tea Cellar lemon-berry syrup. If mixed drinks are not for you, there was a full bar of wines, beers and non-alcoholic drinks.
Toting cocktails, we were escorted into one of iPic's eight intimate theaters and invited to select our own premium pod seat. These cushy leather recliners were more like first class airline seats than your typical movie accommodations and it took a few minutes to appreciate the many features of the pod. The seat back could recline and the footrest could be elevated. A table between each pair of seats included a call button for our waiter or "ninja" as they are called, for their ability to dart seamlessly around the theater with food and drink without interrupting the viewing experience. What else? The seat includes a cup holder, a flip up armrest, a light control for the food table and it's own LED light.
With each seat comes a plush blanket and pillow – and germaphobes were assured that clean linens are supplied with each performance.
We were then introduced to iPic's Chief Chef, Sherry Yard, who has designed a gourmet menu that can be eaten without cutlery while the film is in progress. She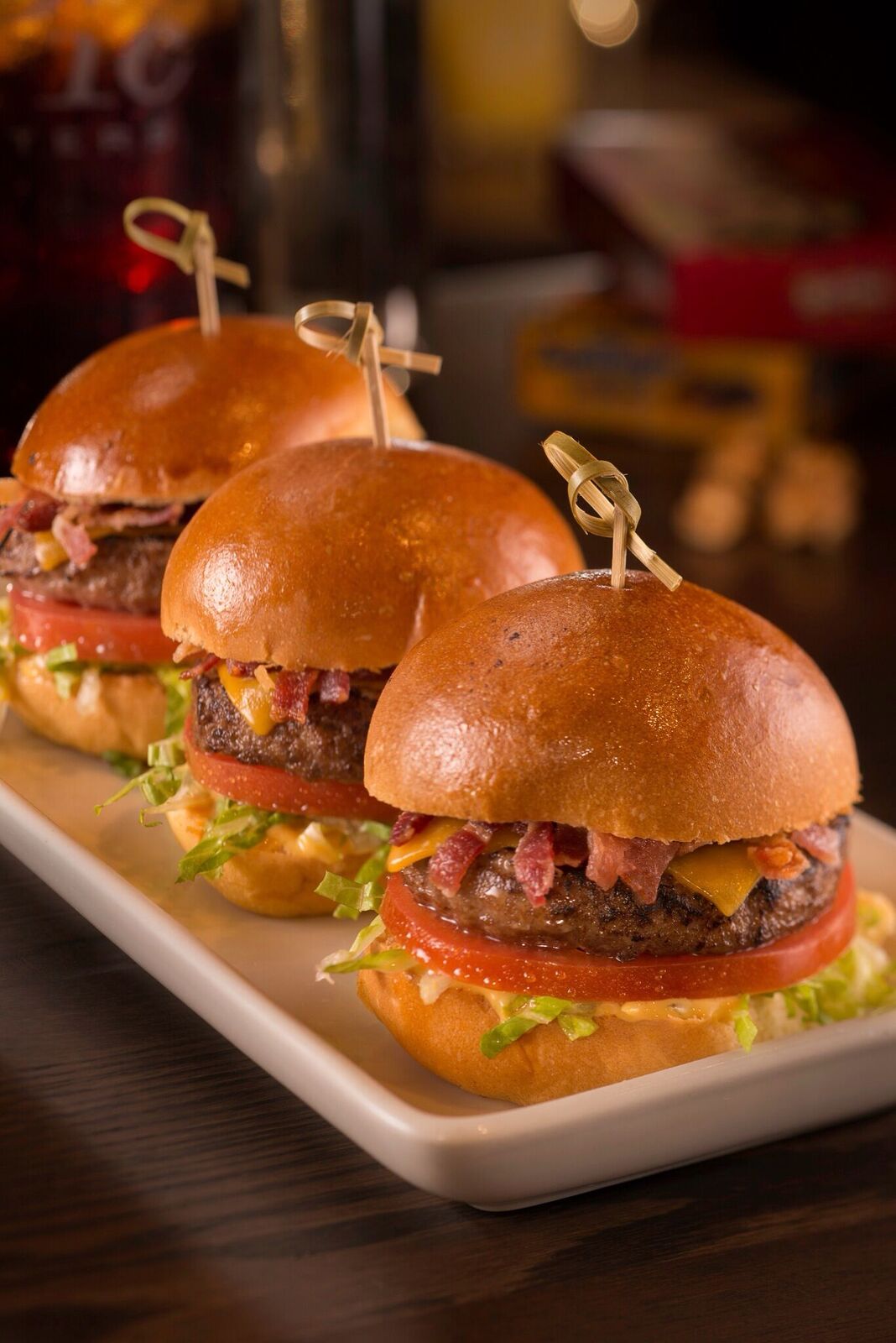 described the research that has gone into perfecting restaurant-quality recipes that can be produced in quantity from fresh ingredients and served quickly to a full theater before the start of the film. We sampled a lobster roll, a beef slider, chicken salad served in a lettuce leaf and a sumptuous warm cheddar biscuit with maple butter. It was all delicious.
For theater-goers There's a full menu of bites and starter, supper offerings, pizzas, sides and sweets – plus popcorn of course. For those who prefer to eat in a restaurant, iPic will also open "City Perch Kitchen and Bar" next door to the theater for full service dining.
We were so busy considering our seats, the drinks and the food that we almost forgot we had come to see a film. Unfortunately, that night's selection, "The Circle" was not half as memorable as the theater itself.
It's best to reserve your movie seat before you go... even a week before. You can go online to pick your film time, food choices and select your seats. A Grand Opening Offer will provide you with a free movie seat and a free 3-month trial membership to allow you to reserve seats to newly released films first. Check out the offer here:
Here's the pricing:
iPic Member Pricing – iPic Dobbs Ferry location ONLY* tickets available at www.ipic.com
(Premium)
Monday – Thursday: $12
Friday – Sunday: $14
(Premium Plus)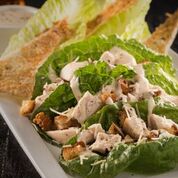 Monday – Thursday: $19
Friday – Sun: $25
The theater is set to open Friday night May 5th. Enjoy.
1 Livingstone Ave
Dobbs Ferry, New York, NY 10522
Highlights info row image
(914) 348-7002
Free ticket offer
Gloomy Weather Fails to Dampen Carnival Spirit
While April showers normally bring May flowers, this past weekend the rain brought Scarsdale residents of all ages to Scarsdale High School for the annual Carnival. Although gloomy weather remained, throughout both Friday and Saturday's events, the rain did not prevent students, teachers and families from showing up, donating to local charities, and having a great time.
Along with rides and games, the carnival, which is run by Scarsdale High School's student government, hosted a variety of booths and clubs, many of which are student run. While some of the clubs sold baked goods for a cause, donating the proceeds to their respective charities, other students got creative, selling art and activities to bring in donations. These clubs include the National Art Honor Society, which sold henna tattoos, the SHS Maroon who sponsored Karaoke, and one of the most popular, the Edward Williams Club which continued their annual tradition of throwing pies in the faces of three teachers, in exchange for charitable donations.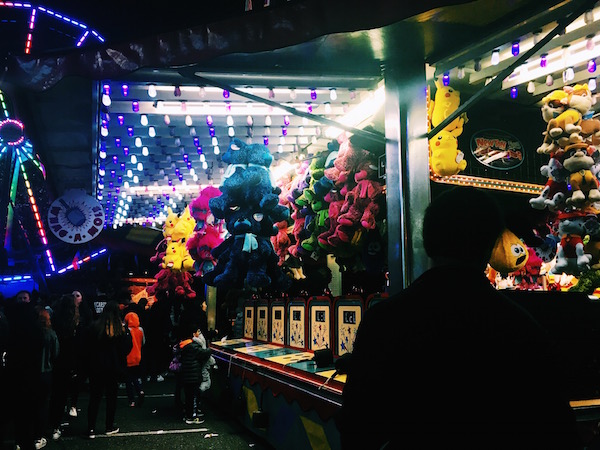 In addition to many other clubs, all proceeds made from the weekend were divided amongst three local charities selected by the student government. This year's charities included the Paulie Strong Foundation, Blythedale Children's Hospital and the Breast Cancer Research Foundation.

The carnival is one of Scarsdale's longest standing traditions, and this year, as high school seniors anticipate their graduation ceremony, nostalgia and community spirits are high. Chelsea Norman, a senior at Scarsdale High School, reflected on her last carnival experience recalling, "each time that I have attended (the carnival), I have appreciated the level of community. It is really nice to see the whole town come together in support of great causes and to have a great time year after year." The carnival serves as the beginning of an exciting sequence of closing events for the graduating class, including, the senior class play, prom, and graduation.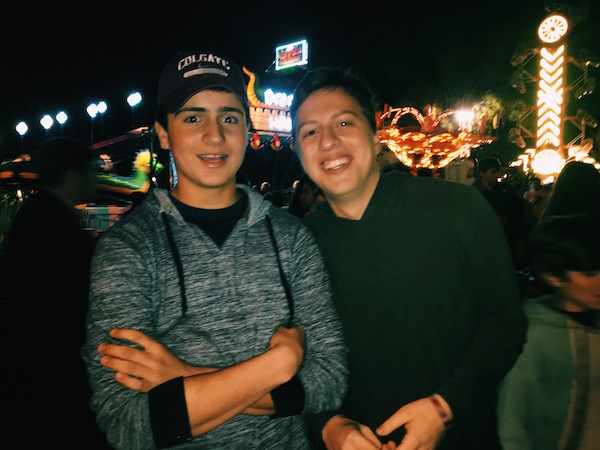 Sneak Preview of Hip Hop Musical to be Performed at Congregation Kol Ami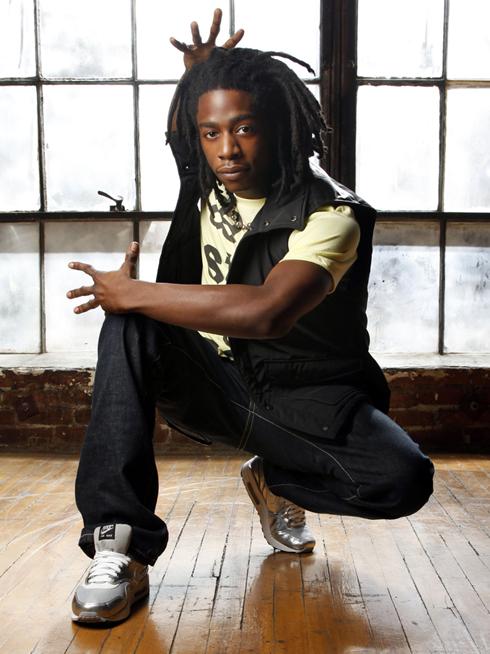 On Sunday afternoon, April 23, 2017, Congregation Kol Ami in White Plains, in association with New Freedom Theatre, presents a 'sneak preview' performance of excerpts from an original, new hip hop musical entitled MB, created by award-winning African American composer and writer Walter Robinson. The event is performed at Congregation Kol Ami, 252 Soundview Avenue, White Plains, from 4:00 to 5:30 PM. Admission is free.
MB is a contemporary urban musical midrash on the 4,500-year-old story of Moses. It was seed-funded by Stephen Spielberg's Righteous Persons Foundation because of its great potential for building bridges among religious, racial, ethnic and age groups.
Congregation Kol Ami embraces such programming as central to its mission to be a hub of interreligious and interracial activities in White Plains. The MB Preview Program, presented shortly after Passover, retells the classic account of liberation from slavery as if it occurred today in New York City. It is an uplifting 'must see' for youth and adults alike, making new the universal, ancient principles in the Passover story.
The MB Preview Program will star Russell Ferguson, a world-renowned dancer and choreographer, playing the lead of Moses (MB). Mr. Ferguson's first gained wide acclaim when he won season six of "So You think You Can Dance?" The program will include readings from the work, live dance performances, and songs both live and recorded. New Freedom Theatre, celebrating 50 years as a Black theatre company, has provided two directors from New York City, Adam Mace and Rajendra Ramoon Maharaj.
Walter Robinson deftly shines a heart-wrenching light on current slavery that results from international trafficking and drugs. His teen hero, MB (aka 'Mos' Best') courageously traverses his own internal 'Red Sea' of deep depression, which has persisted despite his envied social status, affluence and fame. Faced with the daunting challenge of exposing his adoptive grandfather's corporate corruption, MB moves on to become an "Up-Stander" who chooses the path that liberates millions enslaved world-wide.
"MB's story is harrowing and moving, and the music is just fantastic. The struggles and vulnerabilities shine through the polished momentum of your writing. Very well done, my friend."
--Oskar Eustis, Artistic Director of The Public Theater, NYC, January 14th, 2017
". . . it was very powerful and creative stuff!"
--Rabbi Alfred Benjamin, Milton (Massachusetts) Interfaith Clergy Association, December 13, 2016
For further information, call Staci Krantz at Congregation Kol Ami: (914) 949-4717 x 103.
Which Weeds are Edible?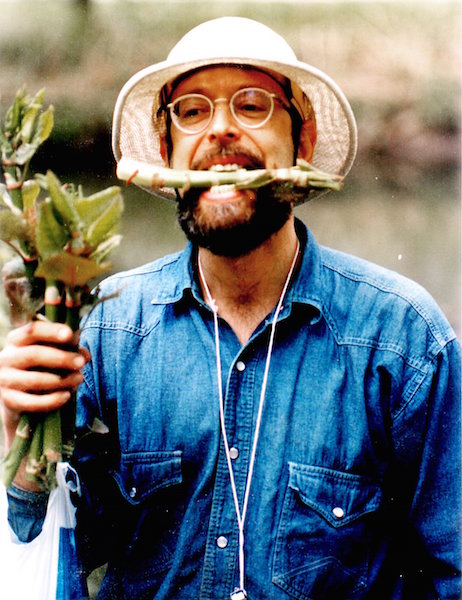 "Wildman Steve Brill" served the audience dandelions, chickweed and onion grass during his presentation on edible weeds at the Scarsdale Public Library on March 31. Steve Brill has been foraging, or gathering wild foods, for over 35 years. Early on he was arrested and handcuffed by undercover park rangers for eating a dandelion in Central Park. Subsequently, after his educating the New York City Parks Department, they hired him to give public foraging tours in Central Park.
We dipped corn chips into a delightful pesto made with garlic mustard. Garlic mustard (scientific name Alliaria petiolata) came from Europe and parts of Asia and is invasive, aggressively taking over our forests floors by outcompeting the native forest plants that support our local ecology. Perhaps our eating non-native invasive plants can be part of a strategy to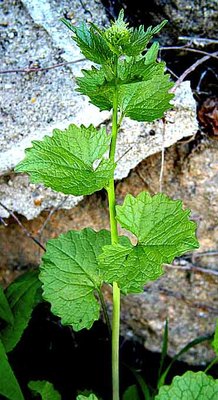 help control them.
Steve's daughter Violet provided parts of the presentation with surprising knowledge and poise for a seventh grader. She has her sights on becoming an ornithologist as well as an expert forager.
The Bronx River-Sound Shore Audubon Society brought this delicious presentation to Scarsdale.
For recipes and information about foraging, his website is at www.wildmanstevebrill.com.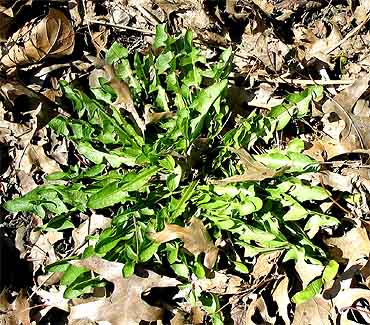 The Magical Cuisine of Mexico at Mi Mexico Magico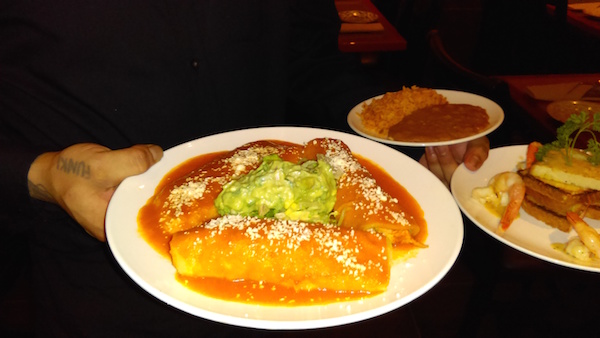 Through the years, as I have strolled down Garth Road in Scarsdale, several Asian restaurants have occupied the space at number 56.Most recently, a different cuisine was introduced to this location. The cuisine of Mexico now adds variety to the Garth Road restaurant scene, with the opening of Mi Mexico Magico. Their richly varied cuisine traces its roots to ancient Aztec traditions. It offers classic as well as creatively conceived dishes in its extensive menu.

Owner and manager Hector Castillo hails from Mexico City and came here as a young boy. He worked his way up from dishwasher to restaurant owner through the years learning every aspect of the restaurant business. His restaurant exposure started in his early teens. He attended culinary school and worked in many international restaurants as well as Mexican venues where he acted as manager in Florida, Manhattan and Westchester. "I have filled my new restaurant kitchen with experienced chefs that I have worked with through the years. I love to tend bar at Mi Mexico Magico and mingle with my guests. I planned my menu by using my experience in the many Mexican restaurants I was involved with."

"Our menu combines many authentic dishes as well as fusion dishes with some American touches. Most important in running a restaurant is cleanliness. From the kitchen to the dining room to the restrooms, we keep our venue in pristine condition. Our goals include opening more restaurants. At Mi Mexico Magico, everything is prepared from scratch. Popular ingredients in our cuisine include olive oil, garlic, coriander, and a large variety of peppers both fresh and dried, from mild to hot, which result in a full orchestra of flavors in our dishes."

Seating about 112 guests, the space has a bar and high tables at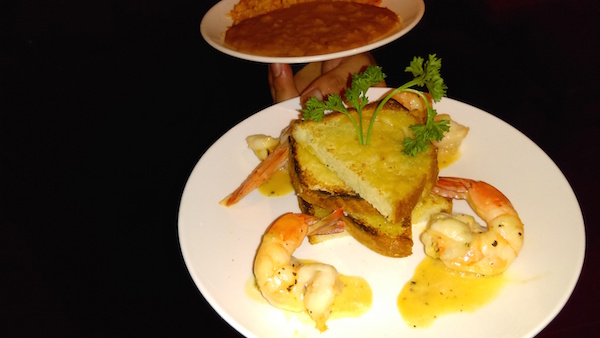 the rear and free standing tables and leather backed banquettes with high backs for privacy. In the dining room. The dark wood tables contrast with the yellow walls for a pleasant effect. I assume that the orange acoustic ceiling will keep the noise level comfortable. The simplicity of the interior allowed us to concentrate on the beautifully prepared dishes presented on both white and Mexican hand painted dishes.

At a recent tasting of this vibrant cuisine we enjoyed sampling foods with the influence of Mexican history as well as creative dishes designed by Mr. Castillo. As we checked out the menu, with explanations of each dish, a bowl of multi colored warm chips and a generously spiced bowl of house made salsa was presented. The salsa, with its jalapenos and tomatoes readied us for the treat to follow. A member of the waitstaff rolled out a cart with all the ingredients for some guacamole which was prepared to our taste. I was impressed with the care he took. Upon cutting into the first avocado, he wasn't satisfied with its appearance and discarded it. After coarsely crushing another avocado in the molecajete, he added cilantro, tomato, onion fresh lime juice and jalapenos.

From the choice of appetizers we chose house made empanadas. The rich and flaky dough, one with a potato and cheese filling and one with beef picadillo were scrumptious. These perfect half-moons were topped with a piping of sour cream and garnished with guacamole for a fine starter. Shrimp ajillo arrived as large shrimp sautéed in olive oil with just enough garlic to add flavor without being overpowering. Shrimp ceviche with fresh lime juice, slivered red onion, cilantro and chile was most refreshing. Other possible starters include fried calamari, chorizo espagnoles, a variety of soups, salads and quesito fundito.

From the main dishes served with rice and beans, we couldn't resist the enchilada de mole. These corn tortillas were stuffed with freshly shredded chicken and baked in a fine rendition of the classic mole sauce and sprinkled with queso blanco. Dark Mexican chocolate is one of the ingredients that gives depth to this complex cooking sauce, rich with many ingredients. More than a dozen tortilla based entrees are offered. Yet to be tried are chimichangas, burritos, enchiladas suiza and quesadilla de camarones. The seafood entrees are plentiful. From simple shrimp or fish tacos to more complex mariscada Mexico Magico with a choice of sauces, cilantro, garlic or diablo or paella mexico magico, with chicken, sausage, clams, calamari, shrimp and mussels with special Mexican rice.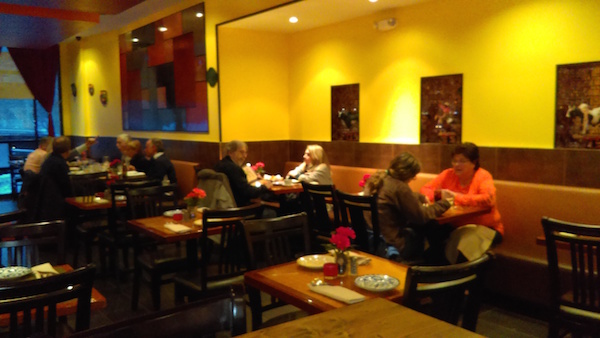 There are many vegetarian offerings, as well, such as vegetable fajitas, crepes and spinach burritos. From the dozen chef special entrees camarones al coco with mango salsa, pork carnitas, pollo tequila or arroz con pollo and sausage are some choices. We loved the very rich chicken Mexico magico. The very large and tender chicken breast was stuffed with large shrimp, fresh beautifully trimmed asparagus spears and cheese in a light creamy tomato sauce. It was seasoned nicely with a touch of garlic. House made pork tamales were a very traditional treat. They are a classic, not to be missed. We hope to return soon to sample some of the grilled offerings such as the tempting steak tampqueno served with chicken enchilada mole, or steak espagnol with Spanish brandy sauce. Popular fajitas in many varieties are on my list for future visits, as well. For dessert, a classic flan and freshly prepared tres leches cake were a fine ending.

A varied lunch menu, weekend brunch catering menu and take out and delivery are offered, as well.

To experience the warmth and comfort of dining Mexican style, visit the very new Mi Mexico Magico close to home on Garth Road.
Mi Mexico Magico

56 Garth Road

Scarsdale, NY

(914) 874-5300

Recipe:

Chiles Rellenos (Serves 4)


8 Poblano peppers

½ pound Mexican white cheese, in 3-4 inch strips

3 eggs

1 pound flour

About 2 cups vegetable oil for frying

Wash and dry the peppers. Roast them on a griddle on all sides evenly. When they are scorched, cool them and then peel off the skin and discard the skin. Make an incision on each pepper, lengthwise and carefully remove the seeds. Divide the cheese strips among them and pinch incision closed. Heat oil in a skillet. Separate yolks from whites of eggs. Beat egg whites with flour until fluffy. Mix in the yolks. Coal each pepper with the mixture and fry until golden Drain and serve with a touch of tomato sauce, rice, beans and tortillas.

*Any unusual ingredients can be purchased in Spanish markets.