Sneak Preview of Hip Hop Musical to be Performed at Congregation Kol Ami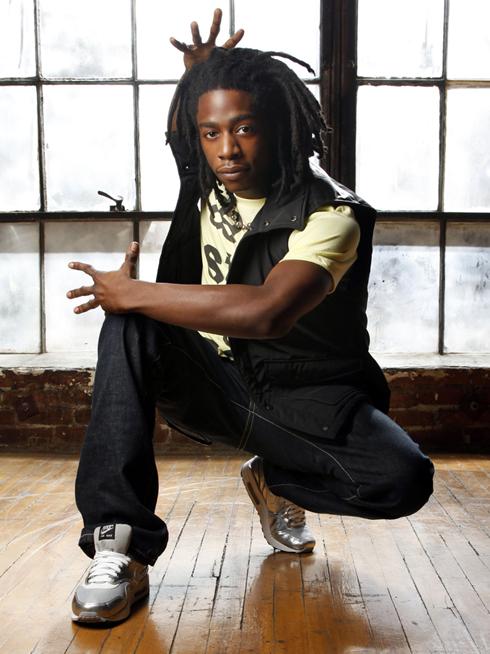 On Sunday afternoon, April 23, 2017, Congregation Kol Ami in White Plains, in association with New Freedom Theatre, presents a 'sneak preview' performance of excerpts from an original, new hip hop musical entitled MB, created by award-winning African American composer and writer Walter Robinson. The event is performed at Congregation Kol Ami, 252 Soundview Avenue, White Plains, from 4:00 to 5:30 PM. Admission is free.
MB is a contemporary urban musical midrash on the 4,500-year-old story of Moses. It was seed-funded by Stephen Spielberg's Righteous Persons Foundation because of its great potential for building bridges among religious, racial, ethnic and age groups.
Congregation Kol Ami embraces such programming as central to its mission to be a hub of interreligious and interracial activities in White Plains. The MB Preview Program, presented shortly after Passover, retells the classic account of liberation from slavery as if it occurred today in New York City. It is an uplifting 'must see' for youth and adults alike, making new the universal, ancient principles in the Passover story.
The MB Preview Program will star Russell Ferguson, a world-renowned dancer and choreographer, playing the lead of Moses (MB). Mr. Ferguson's first gained wide acclaim when he won season six of "So You think You Can Dance?" The program will include readings from the work, live dance performances, and songs both live and recorded. New Freedom Theatre, celebrating 50 years as a Black theatre company, has provided two directors from New York City, Adam Mace and Rajendra Ramoon Maharaj.
Walter Robinson deftly shines a heart-wrenching light on current slavery that results from international trafficking and drugs. His teen hero, MB (aka 'Mos' Best') courageously traverses his own internal 'Red Sea' of deep depression, which has persisted despite his envied social status, affluence and fame. Faced with the daunting challenge of exposing his adoptive grandfather's corporate corruption, MB moves on to become an "Up-Stander" who chooses the path that liberates millions enslaved world-wide.
"MB's story is harrowing and moving, and the music is just fantastic. The struggles and vulnerabilities shine through the polished momentum of your writing. Very well done, my friend."
--Oskar Eustis, Artistic Director of The Public Theater, NYC, January 14th, 2017
". . . it was very powerful and creative stuff!"
--Rabbi Alfred Benjamin, Milton (Massachusetts) Interfaith Clergy Association, December 13, 2016
For further information, call Staci Krantz at Congregation Kol Ami: (914) 949-4717 x 103.
The Magical Cuisine of Mexico at Mi Mexico Magico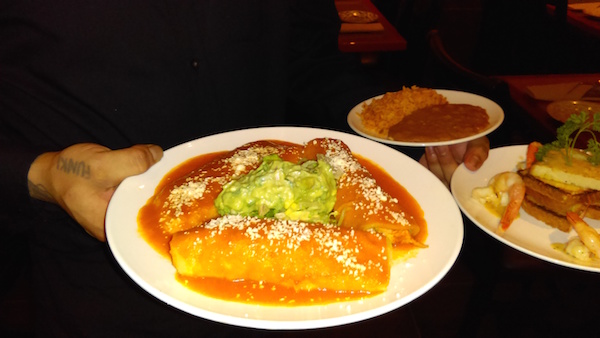 Through the years, as I have strolled down Garth Road in Scarsdale, several Asian restaurants have occupied the space at number 56.Most recently, a different cuisine was introduced to this location. The cuisine of Mexico now adds variety to the Garth Road restaurant scene, with the opening of Mi Mexico Magico. Their richly varied cuisine traces its roots to ancient Aztec traditions. It offers classic as well as creatively conceived dishes in its extensive menu.

Owner and manager Hector Castillo hails from Mexico City and came here as a young boy. He worked his way up from dishwasher to restaurant owner through the years learning every aspect of the restaurant business. His restaurant exposure started in his early teens. He attended culinary school and worked in many international restaurants as well as Mexican venues where he acted as manager in Florida, Manhattan and Westchester. "I have filled my new restaurant kitchen with experienced chefs that I have worked with through the years. I love to tend bar at Mi Mexico Magico and mingle with my guests. I planned my menu by using my experience in the many Mexican restaurants I was involved with."

"Our menu combines many authentic dishes as well as fusion dishes with some American touches. Most important in running a restaurant is cleanliness. From the kitchen to the dining room to the restrooms, we keep our venue in pristine condition. Our goals include opening more restaurants. At Mi Mexico Magico, everything is prepared from scratch. Popular ingredients in our cuisine include olive oil, garlic, coriander, and a large variety of peppers both fresh and dried, from mild to hot, which result in a full orchestra of flavors in our dishes."

Seating about 112 guests, the space has a bar and high tables at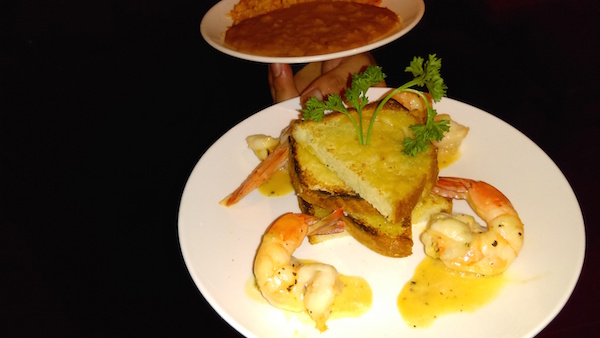 the rear and free standing tables and leather backed banquettes with high backs for privacy. In the dining room. The dark wood tables contrast with the yellow walls for a pleasant effect. I assume that the orange acoustic ceiling will keep the noise level comfortable. The simplicity of the interior allowed us to concentrate on the beautifully prepared dishes presented on both white and Mexican hand painted dishes.

At a recent tasting of this vibrant cuisine we enjoyed sampling foods with the influence of Mexican history as well as creative dishes designed by Mr. Castillo. As we checked out the menu, with explanations of each dish, a bowl of multi colored warm chips and a generously spiced bowl of house made salsa was presented. The salsa, with its jalapenos and tomatoes readied us for the treat to follow. A member of the waitstaff rolled out a cart with all the ingredients for some guacamole which was prepared to our taste. I was impressed with the care he took. Upon cutting into the first avocado, he wasn't satisfied with its appearance and discarded it. After coarsely crushing another avocado in the molecajete, he added cilantro, tomato, onion fresh lime juice and jalapenos.

From the choice of appetizers we chose house made empanadas. The rich and flaky dough, one with a potato and cheese filling and one with beef picadillo were scrumptious. These perfect half-moons were topped with a piping of sour cream and garnished with guacamole for a fine starter. Shrimp ajillo arrived as large shrimp sautéed in olive oil with just enough garlic to add flavor without being overpowering. Shrimp ceviche with fresh lime juice, slivered red onion, cilantro and chile was most refreshing. Other possible starters include fried calamari, chorizo espagnoles, a variety of soups, salads and quesito fundito.

From the main dishes served with rice and beans, we couldn't resist the enchilada de mole. These corn tortillas were stuffed with freshly shredded chicken and baked in a fine rendition of the classic mole sauce and sprinkled with queso blanco. Dark Mexican chocolate is one of the ingredients that gives depth to this complex cooking sauce, rich with many ingredients. More than a dozen tortilla based entrees are offered. Yet to be tried are chimichangas, burritos, enchiladas suiza and quesadilla de camarones. The seafood entrees are plentiful. From simple shrimp or fish tacos to more complex mariscada Mexico Magico with a choice of sauces, cilantro, garlic or diablo or paella mexico magico, with chicken, sausage, clams, calamari, shrimp and mussels with special Mexican rice.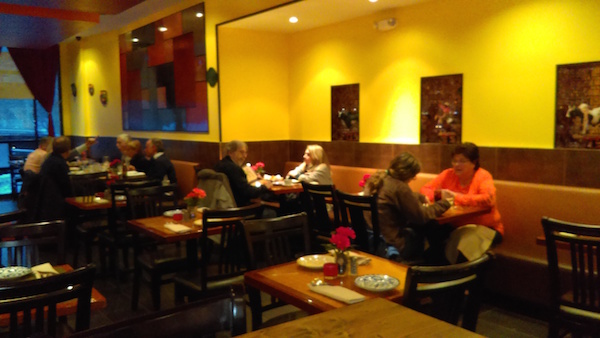 There are many vegetarian offerings, as well, such as vegetable fajitas, crepes and spinach burritos. From the dozen chef special entrees camarones al coco with mango salsa, pork carnitas, pollo tequila or arroz con pollo and sausage are some choices. We loved the very rich chicken Mexico magico. The very large and tender chicken breast was stuffed with large shrimp, fresh beautifully trimmed asparagus spears and cheese in a light creamy tomato sauce. It was seasoned nicely with a touch of garlic. House made pork tamales were a very traditional treat. They are a classic, not to be missed. We hope to return soon to sample some of the grilled offerings such as the tempting steak tampqueno served with chicken enchilada mole, or steak espagnol with Spanish brandy sauce. Popular fajitas in many varieties are on my list for future visits, as well. For dessert, a classic flan and freshly prepared tres leches cake were a fine ending.

A varied lunch menu, weekend brunch catering menu and take out and delivery are offered, as well.

To experience the warmth and comfort of dining Mexican style, visit the very new Mi Mexico Magico close to home on Garth Road.
Mi Mexico Magico

56 Garth Road

Scarsdale, NY

(914) 874-5300

Recipe:

Chiles Rellenos (Serves 4)


8 Poblano peppers

½ pound Mexican white cheese, in 3-4 inch strips

3 eggs

1 pound flour

About 2 cups vegetable oil for frying

Wash and dry the peppers. Roast them on a griddle on all sides evenly. When they are scorched, cool them and then peel off the skin and discard the skin. Make an incision on each pepper, lengthwise and carefully remove the seeds. Divide the cheese strips among them and pinch incision closed. Heat oil in a skillet. Separate yolks from whites of eggs. Beat egg whites with flour until fluffy. Mix in the yolks. Coal each pepper with the mixture and fry until golden Drain and serve with a touch of tomato sauce, rice, beans and tortillas.

*Any unusual ingredients can be purchased in Spanish markets.
Culinary Treasures from India at Coromandel
Sometimes subtle, sometimes spicy, the cuisine of India is always varied and exciting. With its large menu of dishes from north to south and east to west, of this vast country, Coromandel in New Rochelle is the perfect place to sample this distinctive cuisine. The infinite combination of spices and herbs expertly combined for each dish, sets Coromandel among the best restaurants to enjoy Indian cuisine in the county. The knowledgeable co- owner Joji Parappallil traces his family roots to Karala. He attended school in Switzerland where he studied the many facets of the culinary field. "When Coromandel opened about 16 years ago, there were not many dining spots in the area. This has changed through the years and now many restaurants dot the neighborhood. I describe our restaurant as a fine dining spot that serves regional Indian food in a vibrant atmosphere. Our high quality ingredients, ambiance, service and cleanliness add to our success. Our food is consistent since we personally train our chefs and a manager is always present."

The main dining room is bright and cheerful with royal blue light fixtures and walls encrusted in gold. They seat about 70 guests in the dining area and 20 at the bar.

I shared a culinary sampling of the large variety of dishes offered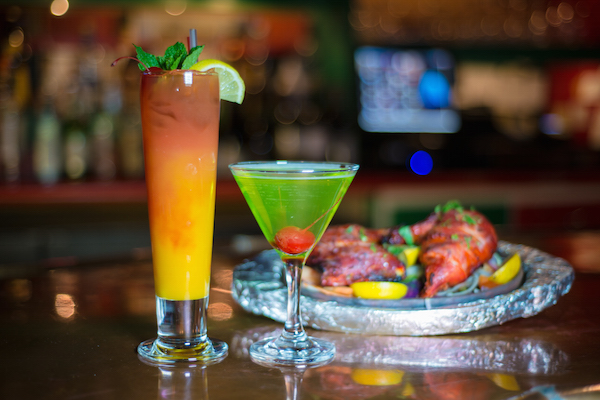 with Joji Parappallil. Our dishes spanned India from Delhi, Madras, Punjab, Bengal, and Kashmir, as well as Karala, where Parappallil grew up. A parade of appetizers arrived. Rather than tasting familiar starters such as lamb samosas or masala dosa, we ventured into several dishes that I had never tried. Calamari Coromandel were spicy well flavored rings of calamari lightly dusted with breadcrumbs. They were fried and tossed with onions, red and green bell peppers, garlic, curry leaves and a touch of ketchup and just enough red chili to enhance the dish. Tawa Ruyyali arrived as chopped shrimp and fresh crabmeat combined with tomatoes and onions and mild spices for a delightful dish. We moved on to the familiar lasanki gobi. Their rendition of cauliflower florets, breaded with corn flower and fried and tossed with tomato sauce with a hint of garlic and green herbs was crisp and well balanced. Another popular appetizer was sheikh kebab. Ground lamb seasoned with cumin, mint and coriander imparted flavor to these tandoori grilled savory treats. Next to be tried was one of the signature dishes at Coromandel, known as Coromandel Shamm Savera. These delightful pinwheels had the appearance of sushi. The center of these dumplings was paneer (the Indian cheese) and the wrapper was a fresh spinach dough. These pinwheels were surrounded by a sauce of tomato, honey and spices, resulting in a delicious mildly flavored dish. Baingan Burani shows off the eggplant very well. The breaded slices are topped with yogurt, mint and just enough tamarind to lend a sweet and tart flavor.


An Indian meal would not be complete without a taste of their varied breads. At Coromandel, you can partake of a variety of naan, paratha, chapatti and poori. We enjoyed the garlic naan with finely minced garlic and cilantro.
Entrees span the country, as well. You will find familiar dishes such as chicken tikka masala, chicken vindaloo, lamb pasanda, lamb saag and shrimp jalfrazi and even several beef dishes, not often included on Indian menus. Of course, Coromandel features a large variety of vegetarian dishes such as Kashmiri Navaratan Khorma with its excellent cashew and almond sauce and bhindi do pyaza.

If okra is your choice. Tandoori dishes hot out of the tandoor clay oven are expertly prepared here. Choose from chicken fish, lamb, singly or in combination. We were entranced by the absolutely delicious Ghustaba. These New Zealand lamb chops were meaty and marinated in yogurt, spices and a grinding of nutmeg for a tender tantalizing result, with a melt in your mouth texture. For me, that required picking up each chop with my fingers to enjoy every last bite of these succulent chops. Grilled vegetables added color to this excellent dish. From the seafood selections, a personal favorite is Manglorean Prawns. Large shrimp are simmered in a coconut ginger sauce with curry leaves. This specialty from Karnataka is a mild soothing dish, perfect with nicely cooked basmati rice. It will clarify the thought that all Indian food is hot. This is one of their milder creations, of which there are many.

I completed my meal with carrot halwa and ras malai,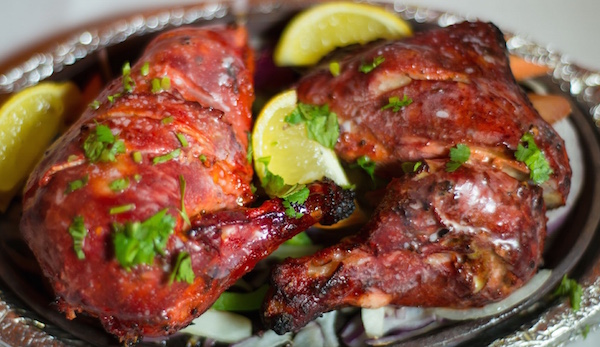 two Indian classics prepared with finesse here, and not too sweet. My personal array of dishes from the Coromandel menu convinced me that at Coromandel, the art of combining herbs and spices is alive and well. Since each dish is made to order, you can specify the degree of spice you prefer. For the newcomer to Indian cuisine, sample the lunch buffet or the weekend buffet where you can taste a large variety of dishes at one meal. The choices change daily. Parappallil suggests sampling each dish repeatedly to grow accustomed to the range of spices. Coromandel offers catering facilities and can seat up to 125 guests in their adjoining party dining room which even boasts a dance floor. If you choose to dine on Wednesday evenings, your dinner may be enhanced with live music. Coromandel has other locations in Connecticut.

Coromandel Cuisine of India
30 Division Street
New Rochelle, NY
914 235 8390

Recipe

CHICKEN CURRY (SERVES 4)

Ingredients:
1 pound chicken breast in 1 inch cubes
3 medium onions, chopped
1 Tbsp. chopped ginger
1 Tbsp. chopped garlic
2- 3 medium tomatoes, chopped
1 Tbsp. chopped fresh coriander leaves
4 Tbsps. ghee or oil
1 inch cinnamon stick
4-5 cloves
4-5 green cardamom
½ Tbsp. turmeric powder
2 Tbsps. coriander powder
1 Tbsp. cumin powder
1 tsp. red chili powder
Salt, to taste
½ cup yogurt
1 Tbsp. garam masala powder

Directions:
Heat ghee or oil in a thick bottom pan. Add cinnamon, cloves and green cardamom and sauté for half a minute. Add onions, ginger and garlic and continue to sauté for 2- 3 minutes stirring continuously. When it is brown, add the turmeric, coriander, cumin garam masala and red chili. Mix well and add the chopped tomatoes. Stir and cook until the oil separates from the ingredients. Stir in the chicken and salt. Add 2 cups of water and bring to a boil. Cover and cook on a low heat until the chicken is fully cooked. Sprinkle with coriander leaves and serve hot.

• Ghee, garam masala and spices can be purchased at Indian groceries.
Contributor Judie Dweck has been writing about restaurants and food for many publications. She teaches creative cooking to children at Scarsdale elementary schools. Through the years, her articles have appeared in Jack and Jill Magazine, Spotlight, The Pleasure of Cooking and The Scarsdale Inquirer. She balances her restaurant tastings with daily ballet classes.
Vega Restaurant: Tasty Mexican Food - Just Across the Border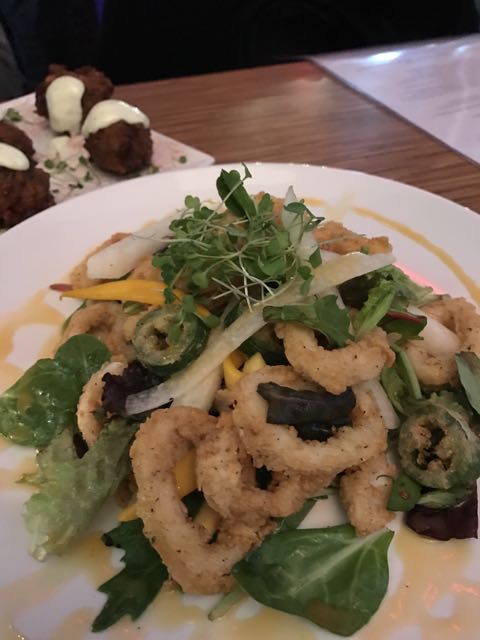 We heard that Vega in Hartsdale had updated their menu and decided to pay a visit. It was a frigid night but when we arrived we felt like we had walked into a fiesta. A warm lively crowd was enjoying margaritas and more.
After ordering a round of mojitos – with sugarcane - we analyzed the menu and came up with several dishes to share.
Though there was a cart circulating for tableside guacamole but we opted to try Vega's new avocado fritters served with jalapenos. The fritters were a yummy appetizer to share; each with a crunchy fried coating with a soft, creamy interior. The waiter also recommended the new "Cancun Calamari"; chipotle battered calamari with greens jicama, mango and passion fruit vinaigrette. He didn't steer us wrong – it was light and tasty, salty and sweet.
Though we were already feeling pretty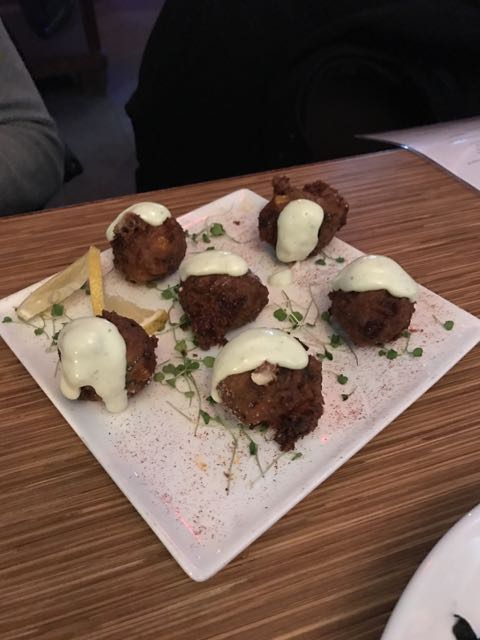 satisfied we ordered a round of entrees. My husband went for the Carne Asada – juicy hanger stead with onions, mushroom, vegetables rice and beans. We all begged for a bite and then another bite. The meat was rare, tender and hard to resist. I tried the Shrimp Chipotle – spicy shrimp in a red sauce surrounding a ball of rice – and my son went for a classic – creating his own Shrimp Enchilada topped with melted cheese.
As you can imagine, by the time the meal was over – we were stuffed!

All the dishes were delectable and we're looking forward to our next meal at Vega. For those with kids, they offer chicken fingers, cheese quesadillas and burger – at a very reasonable price.
So next time you can't think of where to go to dinner, cross the border - to Hartsdale. You're sure to enjoy a visit to Vega.
Vega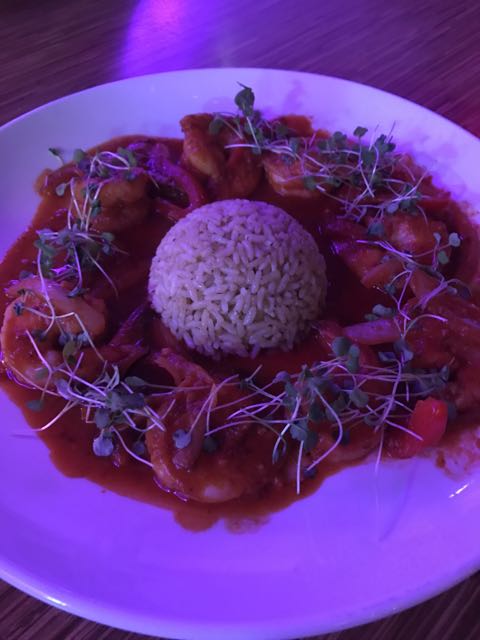 189 East Hartsdale Avenue
Hartsdale, NY
914-723-0100
www.vegamexican.com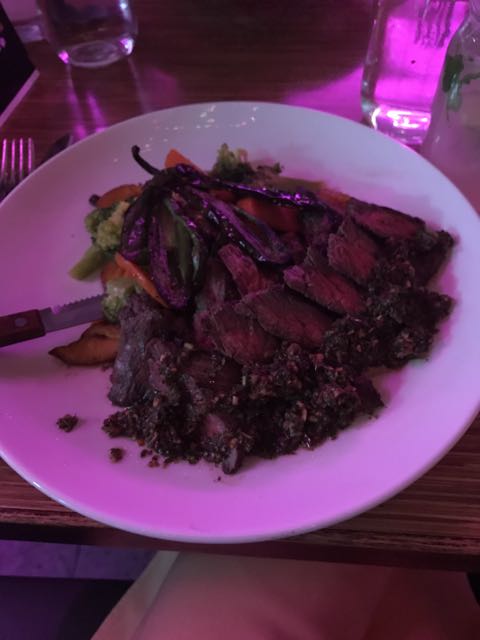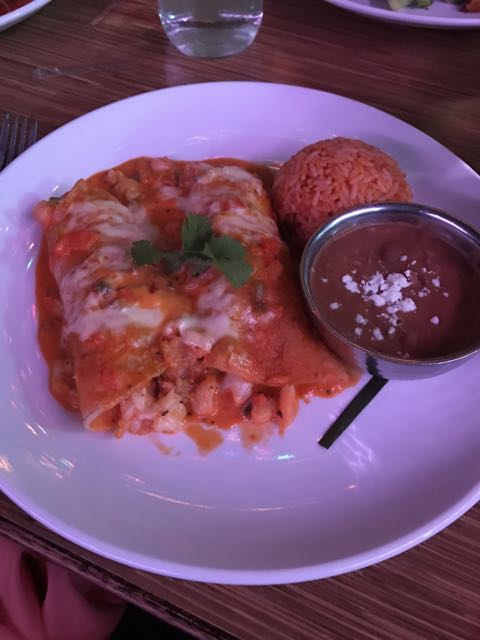 Raiders Boys Basketball Team Wins First Game But Falls in Overtime in the Second Game of the Final Four at the County Center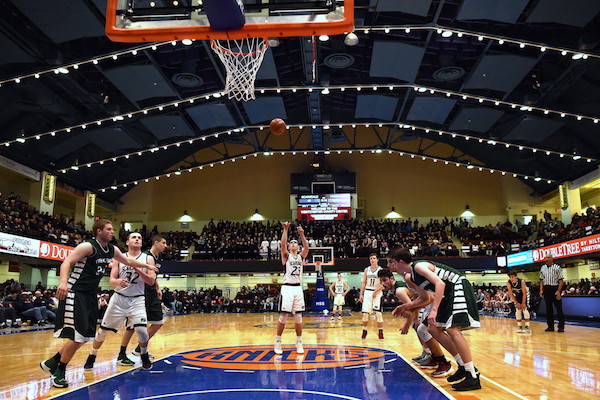 With the long winter sports season coming to a close, the end of February holds much excitement. Boys Varsity Basketball participates in the Section 1 class AA tournament, a playoff single-elimination bracket against the top teams in the section. The "final four" games (semifinals and finals) are played at the Westchester County Center. The winner of this tournament is deemed the champion of Section 1, receiving the coveted "Gold Ball" and continuing to compete on the regional level, for the chance of winning the state competition.
With playoff tournaments of this style, seeding is extremely important. A team's rank in the section is determined by wins and losses against Section 1 opponents in the regular season. This ranking decides which teams play each other in the 1st round of the playoffs. The lower seeds play against the higher seeds, meaning the lowest ranked team (#16), would play the highest ranked team (#1) to begin the playoffs. For this reason, an entire season of performance is essential for a top seed and the chance to make it to the Final Four. For most other sports, a trip to the semi finals might seem like a forgettable experience. However, for Section 1 basketball, playing in the County Center is almost as coveted as winning the gold ball itself.
Under the leadership of Senior Max Bosco and Junior Nash Goldman, the boys Varsity basketball team looked to make it far in the Section 1 tournament. In their last regular season game the Raiders clinched the #3 seed in the section over New Rochelle. Last year, the boys lost to New Rochelle in the quarterfinals, keeping them from competing at the County Center. However, the Raiders were able to dominate in this game, utilizing the shooting abilities of Max Bosco and Nash Goldman. Bosco, who is headed to Middlebury to play basketball next fall, led all scorers in the game with 30 points. Goldman, only a junior, followed him totaling 29 points. This deadly guard duo won Section 1 honors as co "Player of the Week" for their electric performance. Although Scarsdale went into this game as underdogs, as they had lost to New Rochelle earlier in the season, they came out of it proving their ability to play with strong teams in the section. This #3 seed was not only important to prove Scarsdale's legitimacy as a contender for the title, but it also gave the team a home court advantage jn their opening playoff game against Mamaroneck.
This home court advantage would prove to be crucial in Scarsdale's 3 point win over Mamaroneck in their first playoff game to advance to the quarterfinals. The Raiders won their last regular season game against New Rochelle in the smaller JV gym due to a leak in the ceiling of the larger Varsity gym. After this clutch victory, the team decided to play in the JV gym for their opening playoff game. The team noted the forgiving rims and the electric atmosphere due to the smaller space as reasons to play the game in the auxiliary gym. The Raiders relied on this atmosphere when they entered the 4th quarter of their game against Mamaroneck. Mamaroneck came back from a 13-point deficit, leaving the game up in the air with only 2 minutes left to play. However, the Raiders were able to finish off the game with a score of 61-58, advancing to the quarterfinals against Horace Greely. Scarsdale dominated this game, leading the boys to the semifinals at the Westchester County Center, with a significant chance at securing the gold ball.
In their first County Center performance since 1997, Scarsdale dominated this semifinal game against Yorktown, winning 61-44. The team's energy was palpable as they entered the first quarter, beginning with a 11-0 run. Contributing to this hot start was Junior Center Will Hoffman, who scored the first points of the game with a 3-point play. Another factor to Scarsdale's dominance early in the game were the early fouls called on Yorktown. With starter Marc Spinelli forced to sit due to 2 fouls called in the first 55 seconds, Scarsdale was able to capitalize. At the end of the half, the Raiders led 34-16. The Raiders finished the game, playing the entire bench. Junior Guard Nash Goldman was the leading scorer, finishing the game with 19 points 8 rebounds and 2 steals. Senior Guard Max Bosco totaled 11 points 3 assists and 2 steals. Both guards received all-section honors this season. Both Centers for Scarsdale made notable contributions, Will Hoffman scoring 8 points and Trevor Nossel coming off the bench for 10 points and 8 rebounds.
Scarsdale came into the Section 1 Final game as complete underdogs. They had lost to Mount Vernon twice in the regular season, as the Knights and Raiders are in the same league. However, in their last meeting, Scarsdale was leading at the half. A Section 1 title victory was not guaranteed for the Knights, especially with a motivated Raider team.
In the first half, Mount Vernon dominated. Scarsdale, a team that relies heavily on outside shooting, was not getting shots from outside. Mount Vernon defense extended to double Senior Guard Max Bosco, making it difficult for him to score. Additionally, Nash Goldman got into foul trouble early on in the game, causing him to play apprehensively throughout the first half. Goldman totaled only 2 points for the entire 1st half. The team seemed deflated, going into the second half down by 22 with a score of 37-15. Scarsdale Senior Max Bosco added only 5 points in the half, an unprecedented low for the All Section Guard.
In the second half of the Section final game, Scarsdale's overcame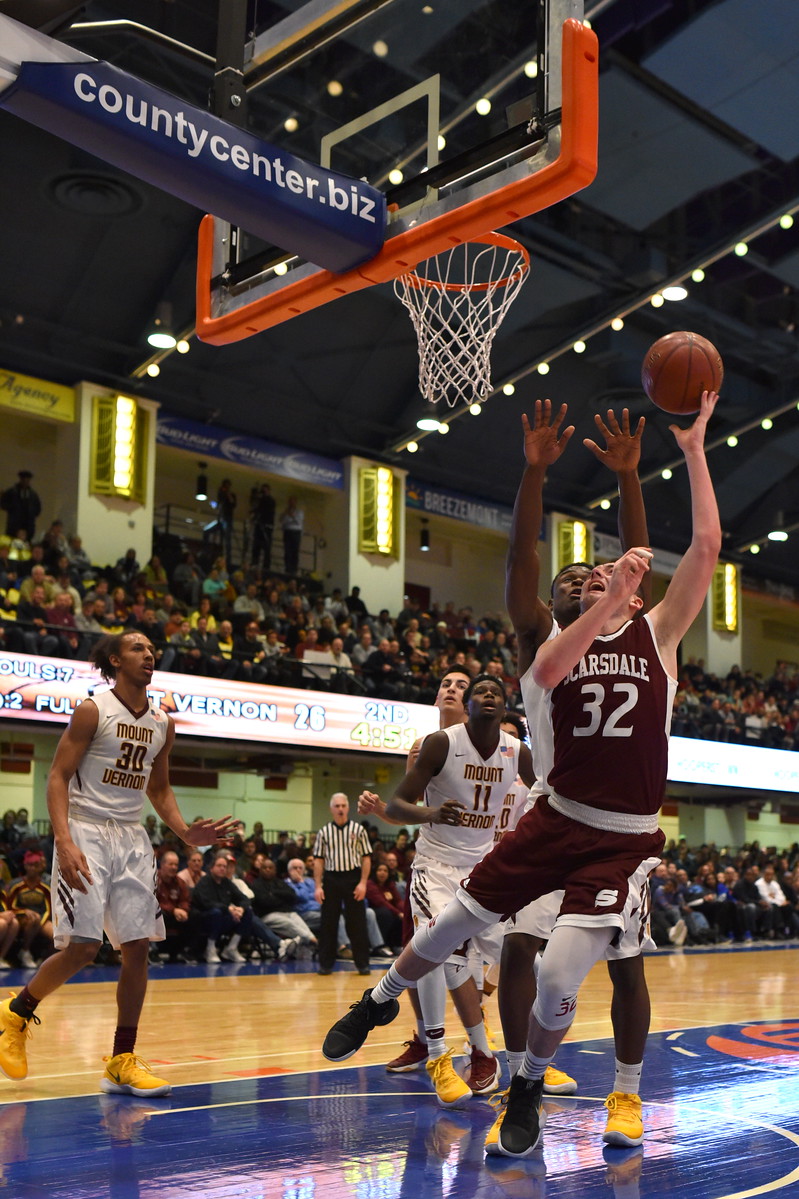 a 26-point deficit to bring the game into overtime. Captain Max Bosco carried the team on his back, going on a 10 point run with 14 points in the third quarter. Mount Vernon continued to utilize their size advantage in Center Greg Calixte, ending the third quarter up by 15 with a score of 45-31 Mount Vernon. Junior Leo Katz opened the fourth quarter with a 3-point basket followed by a charge taken by Mount Vernon, emphasizing the shift in momentum for the Raiders. With Nash Goldman on the bench due to foul trouble, the Raiders' ball movement showed offensive proficiency that did not show in the first half. With 3 minutes left, Scarsdale pulled it to a 10-point game, trailing 43-53. Nash Goldman's floater in transition closed the gap to 4 with one minute left to play. This forced Mount Vernon's first timeout call of the game, displaying the pressure that the Raiders team had put on the Knights in the fourth quarter. After a defensive rebound by Trevor Nossel, Max Bosco was fouled taking the ball up the court, going to the line to make one free throw. With just 20 seconds left to play, the Raiders were down by 3 (52-55). Mount Vernon, expecting a 3-point attempt by sharp shooter Bosco, guarded Bosco tightly. This gave Center Will Hoffman room to get to the 3-point line, throwing up a 3-pointer, which bounced in to tie the game. This shot sent the Raiders into overtime, outscoring Mount Vernon 40-18 in the second half.
Mount Vernon got two easy baskets early in the four minute overtime, putting the Raiders behind with two minutes to go. Eric Monroe of Mount Vernon totaled 5 points for the entire game, all of which were in overtime. Nash Goldman utilized the foul bonus, going to the line to bring the game within three off of a reaching foul by Mount Vernon. Seconds later Nash Goldman fouled Center Greg Calixte, using his fifth foul which forced him to sit for the rest of the game. The Raider strategy in the last minute was simple: foul Greg Calixte to stop the clock. The purpose of fouling Calixte, the Knights' least successful free throw shooter, was to slow down the time in an attempt to get more Scarsdale possessions. However, this method left Mount Vernon open to score easy uncontested layups. With 47 seconds left, Max Bosco fired a shot from 3-point range for a chance to take the lead. The shot bounced over the back of the rim, giving the Knights possession up by 2. Mount Vernon was able to finish off the game with two quick layups, making the final score of the Section 1 AA Final 67-61.
The emphatic comeback by Scarsdale, with Senior Bosco at the helm, was just the way to go out for this team's historic season. Graduating Bosco is a tremendous loss for the team going into the 2017-18 season, but with the predominant junior starting lineup the future looks bright for Raider Basketball.
Photos above by Jon Thaler. See more here.
SHS Senior Alec Carroll also shot photos at the game against Yorktown. See his work below: