Culinary Treasures from India at Coromandel
Sometimes subtle, sometimes spicy, the cuisine of India is always varied and exciting. With its large menu of dishes from north to south and east to west, of this vast country, Coromandel in New Rochelle is the perfect place to sample this distinctive cuisine. The infinite combination of spices and herbs expertly combined for each dish, sets Coromandel among the best restaurants to enjoy Indian cuisine in the county. The knowledgeable co- owner Joji Parappallil traces his family roots to Karala. He attended school in Switzerland where he studied the many facets of the culinary field. "When Coromandel opened about 16 years ago, there were not many dining spots in the area. This has changed through the years and now many restaurants dot the neighborhood. I describe our restaurant as a fine dining spot that serves regional Indian food in a vibrant atmosphere. Our high quality ingredients, ambiance, service and cleanliness add to our success. Our food is consistent since we personally train our chefs and a manager is always present."

The main dining room is bright and cheerful with royal blue light fixtures and walls encrusted in gold. They seat about 70 guests in the dining area and 20 at the bar.

I shared a culinary sampling of the large variety of dishes offered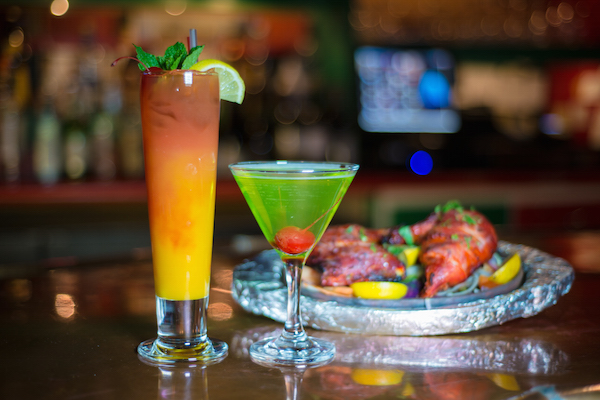 with Joji Parappallil. Our dishes spanned India from Delhi, Madras, Punjab, Bengal, and Kashmir, as well as Karala, where Parappallil grew up. A parade of appetizers arrived. Rather than tasting familiar starters such as lamb samosas or masala dosa, we ventured into several dishes that I had never tried. Calamari Coromandel were spicy well flavored rings of calamari lightly dusted with breadcrumbs. They were fried and tossed with onions, red and green bell peppers, garlic, curry leaves and a touch of ketchup and just enough red chili to enhance the dish. Tawa Ruyyali arrived as chopped shrimp and fresh crabmeat combined with tomatoes and onions and mild spices for a delightful dish. We moved on to the familiar lasanki gobi. Their rendition of cauliflower florets, breaded with corn flower and fried and tossed with tomato sauce with a hint of garlic and green herbs was crisp and well balanced. Another popular appetizer was sheikh kebab. Ground lamb seasoned with cumin, mint and coriander imparted flavor to these tandoori grilled savory treats. Next to be tried was one of the signature dishes at Coromandel, known as Coromandel Shamm Savera. These delightful pinwheels had the appearance of sushi. The center of these dumplings was paneer (the Indian cheese) and the wrapper was a fresh spinach dough. These pinwheels were surrounded by a sauce of tomato, honey and spices, resulting in a delicious mildly flavored dish. Baingan Burani shows off the eggplant very well. The breaded slices are topped with yogurt, mint and just enough tamarind to lend a sweet and tart flavor.


An Indian meal would not be complete without a taste of their varied breads. At Coromandel, you can partake of a variety of naan, paratha, chapatti and poori. We enjoyed the garlic naan with finely minced garlic and cilantro.
Entrees span the country, as well. You will find familiar dishes such as chicken tikka masala, chicken vindaloo, lamb pasanda, lamb saag and shrimp jalfrazi and even several beef dishes, not often included on Indian menus. Of course, Coromandel features a large variety of vegetarian dishes such as Kashmiri Navaratan Khorma with its excellent cashew and almond sauce and bhindi do pyaza.

If okra is your choice. Tandoori dishes hot out of the tandoor clay oven are expertly prepared here. Choose from chicken fish, lamb, singly or in combination. We were entranced by the absolutely delicious Ghustaba. These New Zealand lamb chops were meaty and marinated in yogurt, spices and a grinding of nutmeg for a tender tantalizing result, with a melt in your mouth texture. For me, that required picking up each chop with my fingers to enjoy every last bite of these succulent chops. Grilled vegetables added color to this excellent dish. From the seafood selections, a personal favorite is Manglorean Prawns. Large shrimp are simmered in a coconut ginger sauce with curry leaves. This specialty from Karnataka is a mild soothing dish, perfect with nicely cooked basmati rice. It will clarify the thought that all Indian food is hot. This is one of their milder creations, of which there are many.

I completed my meal with carrot halwa and ras malai,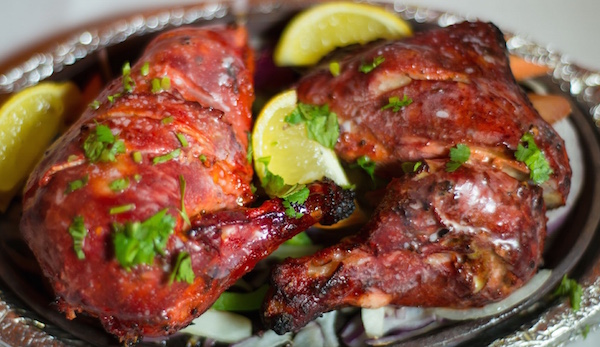 two Indian classics prepared with finesse here, and not too sweet. My personal array of dishes from the Coromandel menu convinced me that at Coromandel, the art of combining herbs and spices is alive and well. Since each dish is made to order, you can specify the degree of spice you prefer. For the newcomer to Indian cuisine, sample the lunch buffet or the weekend buffet where you can taste a large variety of dishes at one meal. The choices change daily. Parappallil suggests sampling each dish repeatedly to grow accustomed to the range of spices. Coromandel offers catering facilities and can seat up to 125 guests in their adjoining party dining room which even boasts a dance floor. If you choose to dine on Wednesday evenings, your dinner may be enhanced with live music. Coromandel has other locations in Connecticut.

Coromandel Cuisine of India
30 Division Street
New Rochelle, NY
914 235 8390

Recipe

CHICKEN CURRY (SERVES 4)

Ingredients:
1 pound chicken breast in 1 inch cubes
3 medium onions, chopped
1 Tbsp. chopped ginger
1 Tbsp. chopped garlic
2- 3 medium tomatoes, chopped
1 Tbsp. chopped fresh coriander leaves
4 Tbsps. ghee or oil
1 inch cinnamon stick
4-5 cloves
4-5 green cardamom
½ Tbsp. turmeric powder
2 Tbsps. coriander powder
1 Tbsp. cumin powder
1 tsp. red chili powder
Salt, to taste
½ cup yogurt
1 Tbsp. garam masala powder

Directions:
Heat ghee or oil in a thick bottom pan. Add cinnamon, cloves and green cardamom and sauté for half a minute. Add onions, ginger and garlic and continue to sauté for 2- 3 minutes stirring continuously. When it is brown, add the turmeric, coriander, cumin garam masala and red chili. Mix well and add the chopped tomatoes. Stir and cook until the oil separates from the ingredients. Stir in the chicken and salt. Add 2 cups of water and bring to a boil. Cover and cook on a low heat until the chicken is fully cooked. Sprinkle with coriander leaves and serve hot.

• Ghee, garam masala and spices can be purchased at Indian groceries.
Contributor Judie Dweck has been writing about restaurants and food for many publications. She teaches creative cooking to children at Scarsdale elementary schools. Through the years, her articles have appeared in Jack and Jill Magazine, Spotlight, The Pleasure of Cooking and The Scarsdale Inquirer. She balances her restaurant tastings with daily ballet classes.
Raiders Boys Basketball Team Wins First Game But Falls in Overtime in the Second Game of the Final Four at the County Center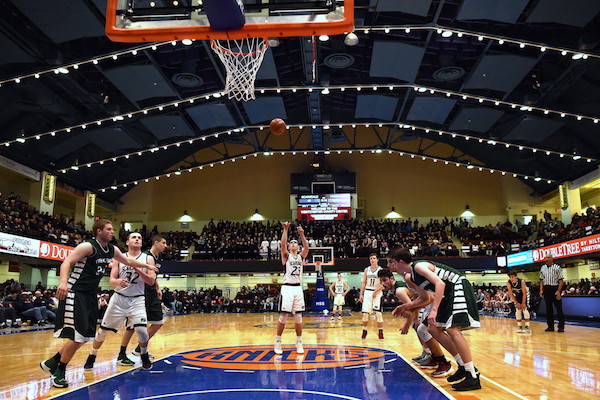 With the long winter sports season coming to a close, the end of February holds much excitement. Boys Varsity Basketball participates in the Section 1 class AA tournament, a playoff single-elimination bracket against the top teams in the section. The "final four" games (semifinals and finals) are played at the Westchester County Center. The winner of this tournament is deemed the champion of Section 1, receiving the coveted "Gold Ball" and continuing to compete on the regional level, for the chance of winning the state competition.
With playoff tournaments of this style, seeding is extremely important. A team's rank in the section is determined by wins and losses against Section 1 opponents in the regular season. This ranking decides which teams play each other in the 1st round of the playoffs. The lower seeds play against the higher seeds, meaning the lowest ranked team (#16), would play the highest ranked team (#1) to begin the playoffs. For this reason, an entire season of performance is essential for a top seed and the chance to make it to the Final Four. For most other sports, a trip to the semi finals might seem like a forgettable experience. However, for Section 1 basketball, playing in the County Center is almost as coveted as winning the gold ball itself.
Under the leadership of Senior Max Bosco and Junior Nash Goldman, the boys Varsity basketball team looked to make it far in the Section 1 tournament. In their last regular season game the Raiders clinched the #3 seed in the section over New Rochelle. Last year, the boys lost to New Rochelle in the quarterfinals, keeping them from competing at the County Center. However, the Raiders were able to dominate in this game, utilizing the shooting abilities of Max Bosco and Nash Goldman. Bosco, who is headed to Middlebury to play basketball next fall, led all scorers in the game with 30 points. Goldman, only a junior, followed him totaling 29 points. This deadly guard duo won Section 1 honors as co "Player of the Week" for their electric performance. Although Scarsdale went into this game as underdogs, as they had lost to New Rochelle earlier in the season, they came out of it proving their ability to play with strong teams in the section. This #3 seed was not only important to prove Scarsdale's legitimacy as a contender for the title, but it also gave the team a home court advantage jn their opening playoff game against Mamaroneck.
This home court advantage would prove to be crucial in Scarsdale's 3 point win over Mamaroneck in their first playoff game to advance to the quarterfinals. The Raiders won their last regular season game against New Rochelle in the smaller JV gym due to a leak in the ceiling of the larger Varsity gym. After this clutch victory, the team decided to play in the JV gym for their opening playoff game. The team noted the forgiving rims and the electric atmosphere due to the smaller space as reasons to play the game in the auxiliary gym. The Raiders relied on this atmosphere when they entered the 4th quarter of their game against Mamaroneck. Mamaroneck came back from a 13-point deficit, leaving the game up in the air with only 2 minutes left to play. However, the Raiders were able to finish off the game with a score of 61-58, advancing to the quarterfinals against Horace Greely. Scarsdale dominated this game, leading the boys to the semifinals at the Westchester County Center, with a significant chance at securing the gold ball.
In their first County Center performance since 1997, Scarsdale dominated this semifinal game against Yorktown, winning 61-44. The team's energy was palpable as they entered the first quarter, beginning with a 11-0 run. Contributing to this hot start was Junior Center Will Hoffman, who scored the first points of the game with a 3-point play. Another factor to Scarsdale's dominance early in the game were the early fouls called on Yorktown. With starter Marc Spinelli forced to sit due to 2 fouls called in the first 55 seconds, Scarsdale was able to capitalize. At the end of the half, the Raiders led 34-16. The Raiders finished the game, playing the entire bench. Junior Guard Nash Goldman was the leading scorer, finishing the game with 19 points 8 rebounds and 2 steals. Senior Guard Max Bosco totaled 11 points 3 assists and 2 steals. Both guards received all-section honors this season. Both Centers for Scarsdale made notable contributions, Will Hoffman scoring 8 points and Trevor Nossel coming off the bench for 10 points and 8 rebounds.
Scarsdale came into the Section 1 Final game as complete underdogs. They had lost to Mount Vernon twice in the regular season, as the Knights and Raiders are in the same league. However, in their last meeting, Scarsdale was leading at the half. A Section 1 title victory was not guaranteed for the Knights, especially with a motivated Raider team.
In the first half, Mount Vernon dominated. Scarsdale, a team that relies heavily on outside shooting, was not getting shots from outside. Mount Vernon defense extended to double Senior Guard Max Bosco, making it difficult for him to score. Additionally, Nash Goldman got into foul trouble early on in the game, causing him to play apprehensively throughout the first half. Goldman totaled only 2 points for the entire 1st half. The team seemed deflated, going into the second half down by 22 with a score of 37-15. Scarsdale Senior Max Bosco added only 5 points in the half, an unprecedented low for the All Section Guard.
In the second half of the Section final game, Scarsdale's overcame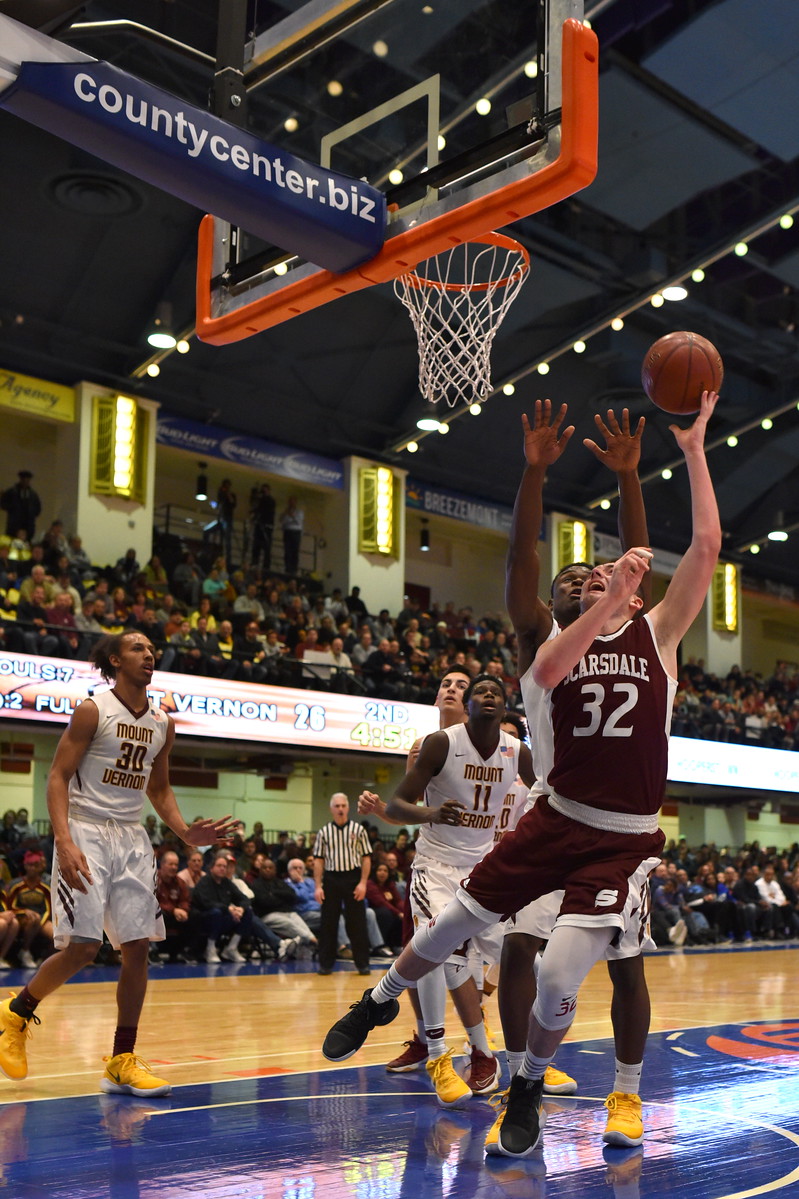 a 26-point deficit to bring the game into overtime. Captain Max Bosco carried the team on his back, going on a 10 point run with 14 points in the third quarter. Mount Vernon continued to utilize their size advantage in Center Greg Calixte, ending the third quarter up by 15 with a score of 45-31 Mount Vernon. Junior Leo Katz opened the fourth quarter with a 3-point basket followed by a charge taken by Mount Vernon, emphasizing the shift in momentum for the Raiders. With Nash Goldman on the bench due to foul trouble, the Raiders' ball movement showed offensive proficiency that did not show in the first half. With 3 minutes left, Scarsdale pulled it to a 10-point game, trailing 43-53. Nash Goldman's floater in transition closed the gap to 4 with one minute left to play. This forced Mount Vernon's first timeout call of the game, displaying the pressure that the Raiders team had put on the Knights in the fourth quarter. After a defensive rebound by Trevor Nossel, Max Bosco was fouled taking the ball up the court, going to the line to make one free throw. With just 20 seconds left to play, the Raiders were down by 3 (52-55). Mount Vernon, expecting a 3-point attempt by sharp shooter Bosco, guarded Bosco tightly. This gave Center Will Hoffman room to get to the 3-point line, throwing up a 3-pointer, which bounced in to tie the game. This shot sent the Raiders into overtime, outscoring Mount Vernon 40-18 in the second half.
Mount Vernon got two easy baskets early in the four minute overtime, putting the Raiders behind with two minutes to go. Eric Monroe of Mount Vernon totaled 5 points for the entire game, all of which were in overtime. Nash Goldman utilized the foul bonus, going to the line to bring the game within three off of a reaching foul by Mount Vernon. Seconds later Nash Goldman fouled Center Greg Calixte, using his fifth foul which forced him to sit for the rest of the game. The Raider strategy in the last minute was simple: foul Greg Calixte to stop the clock. The purpose of fouling Calixte, the Knights' least successful free throw shooter, was to slow down the time in an attempt to get more Scarsdale possessions. However, this method left Mount Vernon open to score easy uncontested layups. With 47 seconds left, Max Bosco fired a shot from 3-point range for a chance to take the lead. The shot bounced over the back of the rim, giving the Knights possession up by 2. Mount Vernon was able to finish off the game with two quick layups, making the final score of the Section 1 AA Final 67-61.
The emphatic comeback by Scarsdale, with Senior Bosco at the helm, was just the way to go out for this team's historic season. Graduating Bosco is a tremendous loss for the team going into the 2017-18 season, but with the predominant junior starting lineup the future looks bright for Raider Basketball.
Photos above by Jon Thaler. See more here.
SHS Senior Alec Carroll also shot photos at the game against Yorktown. See his work below: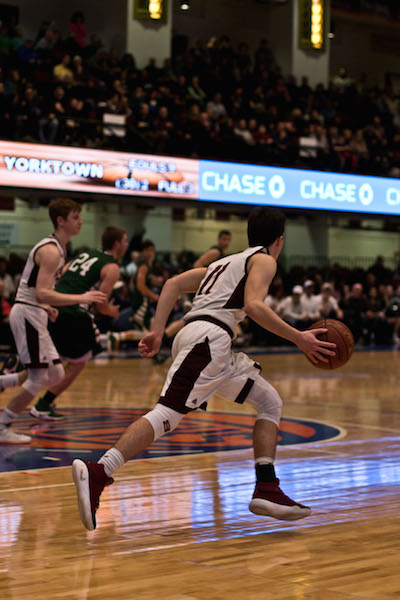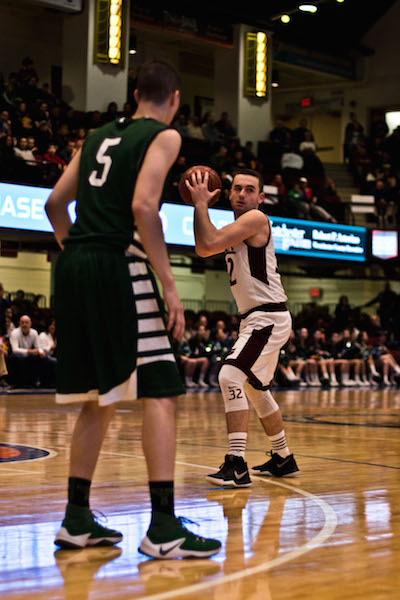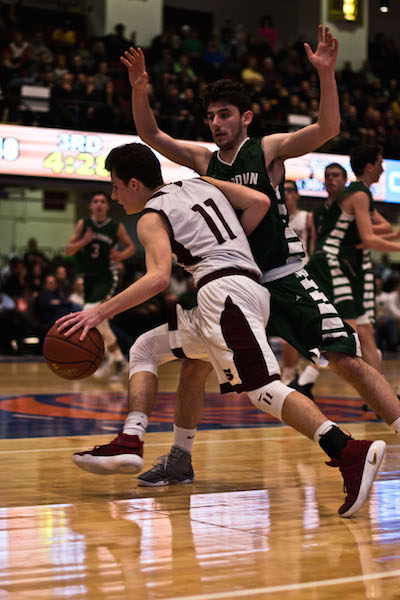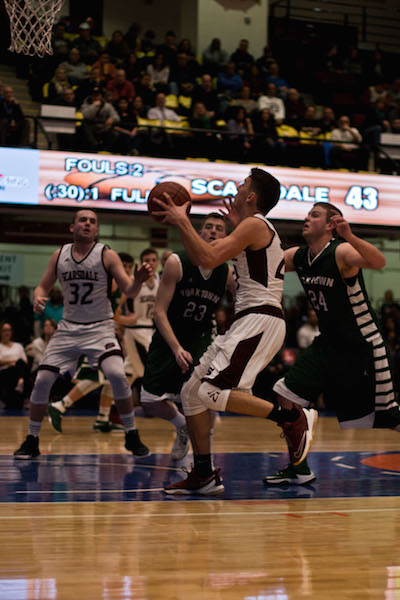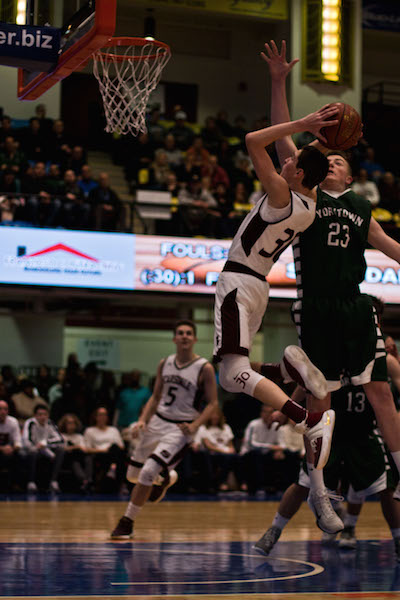 Westchester County Golf Courses to Open March 15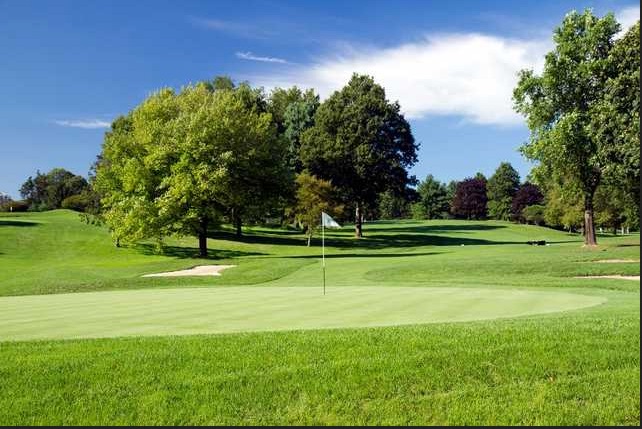 The six Westchester County-owned golf courses are scheduled to open for the season on Wednesday, March 15, weather and conditions permitting.

Tee time reservations may be made online at golf.westchestergov.com. Reservations may also be made by calling the individual courses. Walk up reservations will also be accepted at the courses.

The courses are Mohansic in Yorktown Heights; Maple Moor in White Plains; Saxon Woods in Scarsdale; Hudson Hills in Ossining; and Dunwoodie and Sprain Lake, both in Yonkers.

Any available E-Z Reserve spots will be sold at the courses. E-Z Reserve enables golfers with a Westchester County Park Pass to block out a regular Saturday or Sunday tee time for a period of 25 weeks.

Information about Westchester County golf courses is available at golf.westchestergov.com.
Books at Breakfast, Literature at Lunch and Dinner too at B&N Kitchen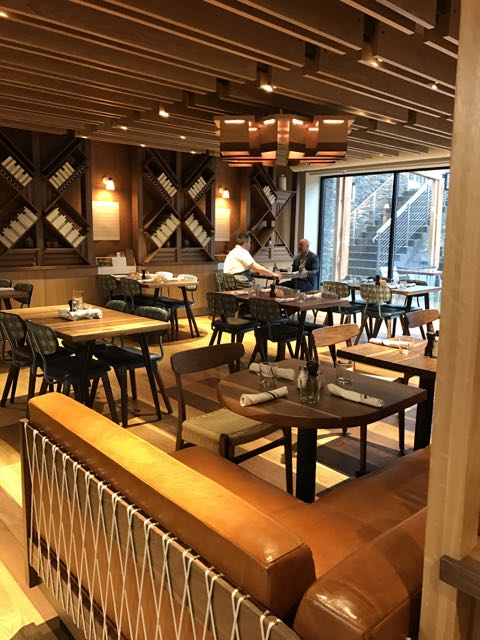 Would you like to enjoy biography with butterscotch pot de crème, burrata or brisket burger, fiction with a fruit crisp, short stories with salmon a la plancha, mysteries with meatballs, or perhaps travel books with tabbouleh? If so, ride over to the newly opened Barnes & Noble and enjoy breakfast, lunch or dinner in the new full service B & N Kitchen where you can find comfort in the company of your favorite books and foods. Park in the roomy Vernon Hills lot and take the escalator down as you enjoy viewing the impressive author word wall. A helpful staff member will guide you to the book section you desire. If dining is your option, bear right into the simply and comfortably appointed B & N Kitchen.

The kitchen staff who helped to prepare my meal, Marcus, Phillip and Shanita and our server Corey appear to be very proud of their work and help to make your experience a pleasant one. Executive Chef Sheamus Feeley, grew up in Arkansas where his dad owned a restaurant. With a degree in journalism and a true talent in the culinary arts, he worked with many esteemed chefs, among them, Wolfgang Puck. He is involved in many areas of food service and is owner of Farmstead Restaurant in Napa Valley. I have not had the pleasure of meeting him, but his dishes reflect a true respect for each ingredient. He has a gift of using herbs and spices to make presentations sparkle. Quality ingredients are his trademark.

I shared a sampling of the B & N Kitchen menu with Angela Neri,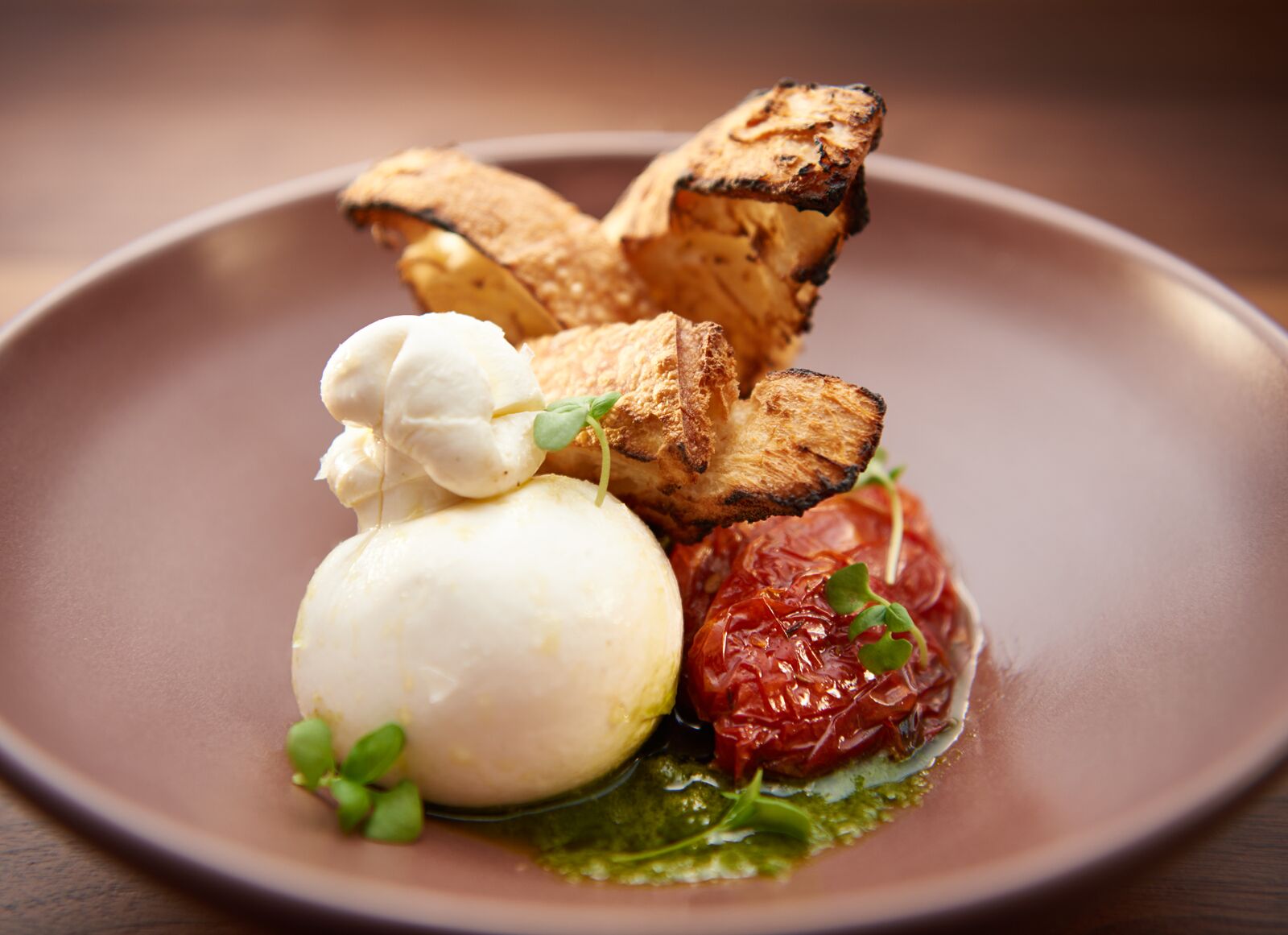 who is in charge of restaurant operations for Barnes & Noble. Neri explained that Barnes and Noble is in the process of opening four concept stores throughout the country In California, Minnesota, Virginia and New York. The new Barnes & Noble fills the space. "It provides a community gathering spot where its visitors can gain comfort in both food and books. Our restaurant is an approachable casual dining spot with upscale American cuisine. We provide a space where people can visit daily and enjoy many dining options. It is a nice addition to America's favorite living room. "There are several seating options such as the circular bar, the communal tables equipped to plug in your computer, many comfortable chairs and a 50 seat full service dining room. In nice weather, seating for an additional 50 guests is set up outside in the patio setting complete with a fire pit and bocce ball court.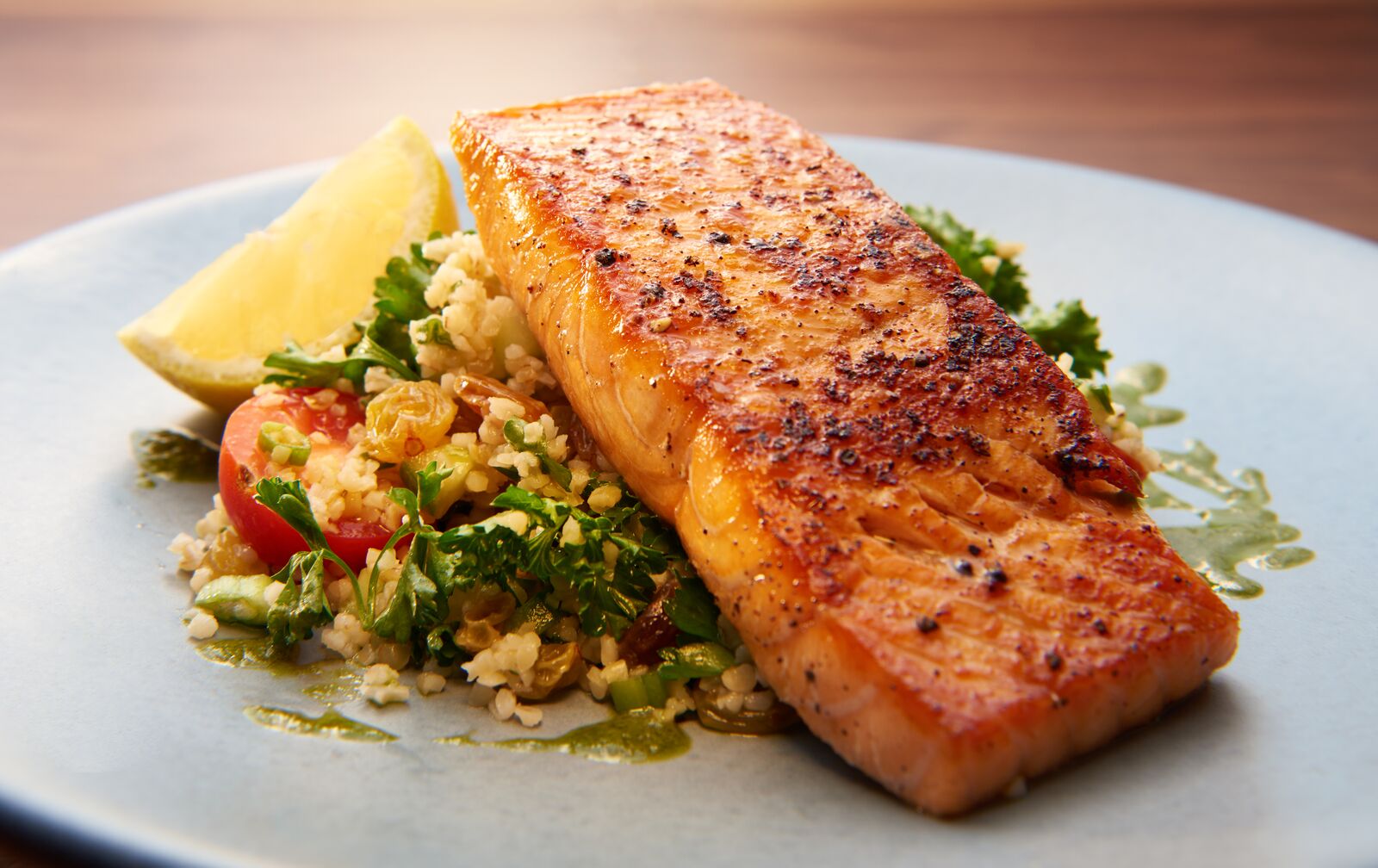 We started our tasting with selections from "For the Table "section of the menu. The currently popular burrata arrived with a tomato confit, pistou and triangles of toasted high quality bread from Tom Cat Bakery. The burrata is imported from Italy and shipped here frequently to assure freshness. The center of the burrata was creamy in texture and mild in taste and combined well with the robust confit and the olive oil, basil and garlic flavors of the pistou. Next, a garden of a platter was presented. It was a fabulous rendition of hummus surrounded by garden fresh carrots with the stems intact, florets of several heirloom varieties of cauliflower and lavash flatbread topped with shallots, herbs , olive oil and parmesan and baked. Often, hummus is heavy. Here the proportion of chick peas and tahini lent a lighter texture which was most welcome. A sprinkling of zaatar and olive oil completed this excellent choice. Meatballs, served over creamy polenta with tomato chutney was another tasty shared dish. Milk soaked bread crumbs combined with the Pat Lafrieda beef for a flavorful combination. This hearty starter was garnished with microgreens.

For the salad lover, there is chicken Caesar, kale salad with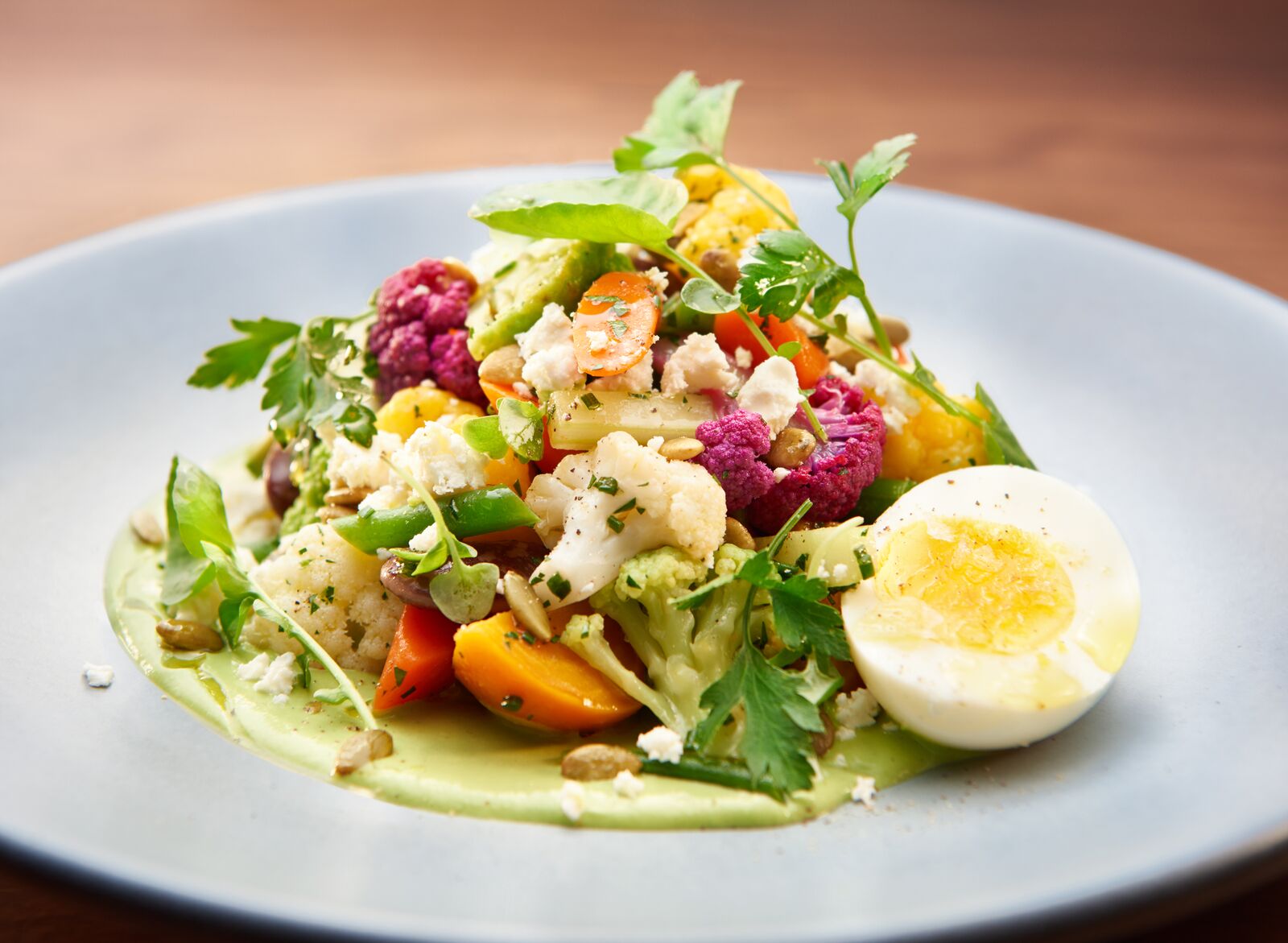 apples, raisins and almonds dressed with apple cider vinaigrette and cotija cheese. We opted for the chopped salad with avocado green goddess dressing which lined the dish. Garden fresh organic beets, carrots, green beans, cauliflower, feta cheese, pepitas and fresh herbs were among the ingredients tossed with lemon juice and olive oil. If you wish, chicken or salmon can be added to your salads.

From the sandwiches and entrees, we chose the brisket burger. The meat blend of fine quality Pat Lafreida beef guaranteed its rich flavor. Our server, Corey brought our burger, "dressed for success." Cooked medium it rested on a brioche roll with cheddar cheese, butter lettuce, red onion, pickle and dressing. Not to be missed are the crispy potatoes. These irresistible morsels start by baking Idaho potatoes. When they cool, they are pulled apart into rustic style pieces by hand and then fried in rice oil. They are dusted with parmesan, salt and pepper, and the result is crunchy; a great alternative to the usual French fries. Other entrée possibilities are mushroom ragu, grilled Havarti and cheddar sandwich with tomato soup, macaroni and cheese with smoked brisket, brick cooked chicken or as we tried, plancha cooked salmon. It is sustainably farmed atlantic salmon from British Colombia set atop a refreshing tabbouleh salad. The whole grain is cooked al dente for a fine crunchy result.

Our server Corey suggested having dessert with dessert,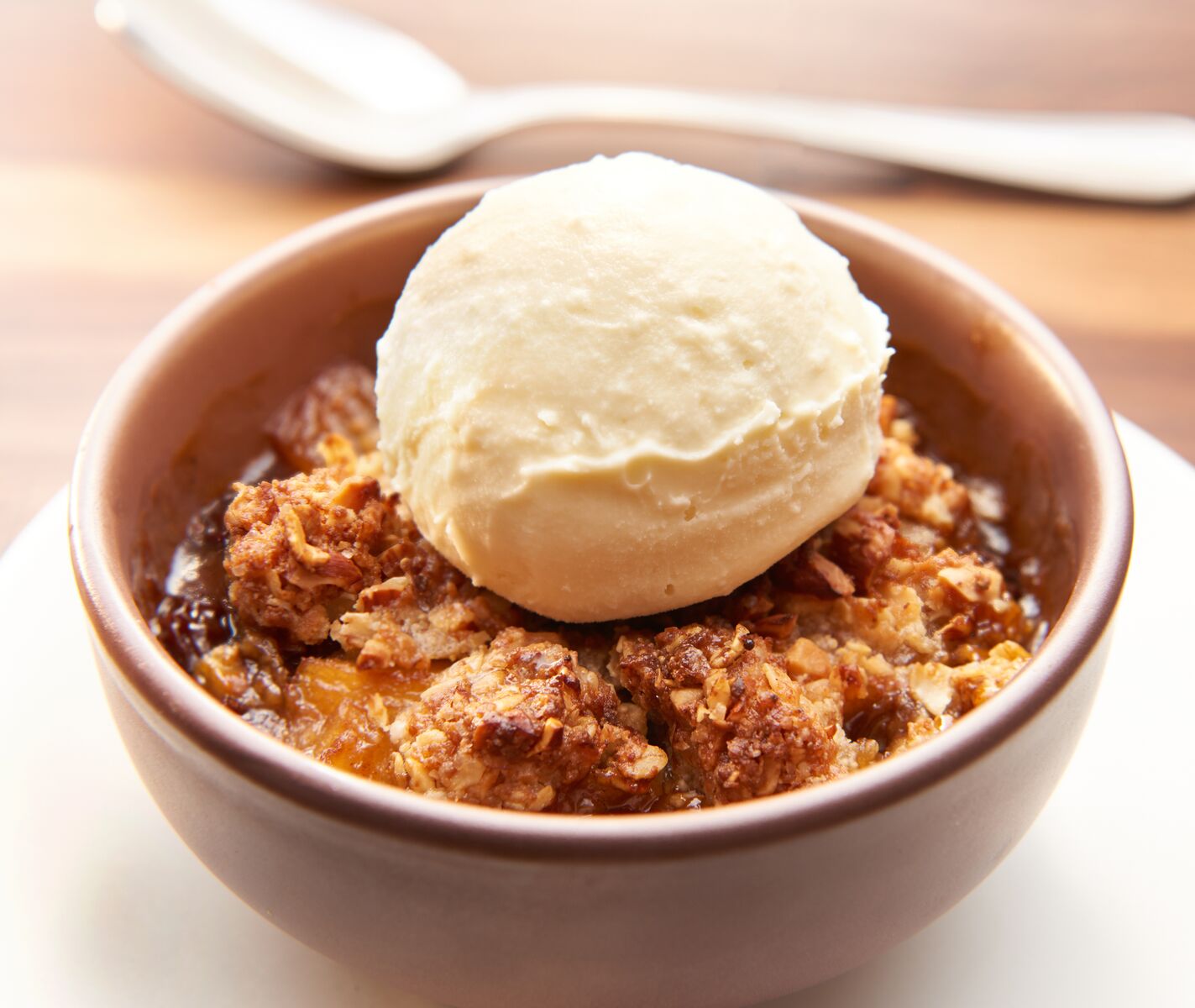 and so we did. We tried all three options from the menu. Freshly baked daily large cookies in three varieties, chocolate chip, triple chocolate and raisin oatmeal had a great chewy consistency and were addictive. Our fruit crisp included honey crisp apples and Thompson grapes and had a nice crumbly crust. The combination of tart and sweet was divine. I have always enjoyed chocolate pot de crème but the butterscotch variety here was a new a wonderful treat. Freshly whipped cream and crushed hazelnuts topped this creamy, smooth delight. Having dessert with dessert was a fine suggestion.

Breakfast is an option from 9-11 AM. The lemon ricotta pancakes, burritos or avocado toast all sound tempting. If you have children in your group they can choose from the kids kitchen menu and keep busy with an etch a sketch while awaiting their meal.

Wines by the glass or bottle, many varieties of beer and espresso, cappuccino, latte, mocha, macchiato and European style cortado are offered.

Things to further entice you are a 10 percent discount if you are a Barnes and Noble member. They offer take out services if you wish to enjoy their food at home. Although they do not take reservations, you can browse this wonderful bookstore until a table is available.

B & N Kitchen
Vernon Hills Shopping Center
Barnes & Noble
680 White Plains Road
Scarsdale, NY
(914) 723 3416
Contributor Judie Dweck has been writing about restaurants and food for many publications. She teaches creative cooking to children at Scarsdale elementary schools. Through the years, her articles have appeared in Jack and Jill Magazine, Spotlight, The Pleasure of Cooking and The Scarsdale Inquirer. She balances her restaurant tastings with daily ballet classes.
Announcing the Winners of the Snowman Contest
Scarsdale residents made the best of a snowy situation last week by trying to build the best snow creation in the village. The Scarsdale Recreation Department received more than 20 entries into the snowman contest and the grand prize was won by the Weinberg-Barro family.
See photos of the winners here: