Il Castello for the Royal Treatment
The first time I visited 576 Mamaroneck Avenue it was a pleasant Japanese restaurant. It was replaced by several Italian spots and eight years ago, the lovely Il Castello arrived. Owner Lenny Balidemaj is at the helm of this classic Northern Italian dining spot. How refreshing to enjoy the total dining experience in a classy yet cozy environment where the noise level is moderate and the background music is mellow. Beautifully prepared dishes, plus traditional, unobtrusive and attentive service set the stage for a fine experience.

Climb a few steps through classic columns to enter the 68 seat restaurant. A bar separates two dining areas with white linen clad tables, gold leaf framed floral paintings and mirrors, wood floors and burgundy window treatments for a touch of color.
Balidemaj indicated, "Hard work, quality of ingredients cleanliness and good management are the most important ingredients for success." Along with manager Tony Bajraktari, the staff is like family and has worked together since its opening. "We planned the menu together. Everything is prepared to order. We don't overwhelm our dishes. There is no hiding good quality. Our seasonings are subtle and we are not heavy handed on the spices." Balidemaj hails from a large family in Montenegro. He is the youngest of ten children. "I was always interested in food. We ate most of our meals at home. We caught our own fish and our vegetables were garden fresh. Everything was prepared from scratch. This philosophy of freshness is followed at Il Castello, as well." Balidemaj gives this advice to a future restauranteur," Be trustworthy, true to yourself, know what you are doing, and make your guests feel relaxed and welcome, with the feeling that they are in the right place."


Our table was set with mixed olives, a cruet of oil and vinegar, and a basket of bread and delicious semolina and herb thin breadsticks. The well-trained staff was diligent about changing silverware, filling water glasses and clearing crumbs from the table. From the daily specials we enjoyed a dish of zucchini shredded lengthwise resembling spaghetti, mingled with arugula, wild mushrooms, garlic and olive oil. Basil, black truffles and oregano added flavor to this fresh mildly spiced starter. Andrew's seafood salad, a favorite of Balidemaj's son Andrew, is one of the best renditions of this popular dish that I have had. The ultra-fresh shrimp, calamari and crabmeat are tossed with a lemon and oil dressing. Red bell pepper, celery and Bibb lettuce and diner friendly pitted black olives added color to this wonderful salad. Eggplant rollatini, baked clams, and grilled jumbo shrimp with artichoke hearts are other possibilities.


We passed on the many soups and salads and moved on to the pastas, many of them house made. Absolutely delicious is the fettuccine expertly tossed with sliced garlic, fresh basil, jumbo shrimp and a variety of mushrooms. The al dente pasta is prepared with semolina and white flour. I omitted the hot cherry peppers and thoroughly enjoyed this dish, where the pasta absorbed the flavors of its components. The house made pappardelle with a fine Bolognese sauce and chopped sweet sausage is another must try dish, a hearty bowlful. Cheese ravioli is house made, as well and can be enjoyed with vodka or fresh tomato and basil sauce.

Entrees of chicken, veal, beef, lamb and fish are varied. We chose Veal Castello. The top quality scallopine [3 scallops}, were topped with chopped shrimp and shitake mushrooms and finished with a sage sauce. Clearly, Il Castello knows that top quality ingredients are essential in good results. Vegetables and potatoes completed this dish. For our next entrée, we chose one of the fish specials, our halibut was truly an original. It was sweet, savory and outstanding. The thick perfectly seared halibut was combined with quartered black mission figs, sliced fresh crisp asparagus tips, and capers in a white wine lemon sauce. Served with fresh spinach and a bit of sliced sautéed garlic, it was a dish I would love to see on the printed menu and not just as a special.

Other entrees include rack of lamb, grilled with marinated mushrooms and sun dried tomatoes, veal medallion with lobster tail over risotto, veal Colombo with prosciutto, tomato and mozzarella in a champagne sauce, grilled salmon with mustard sauce, as well as grilled filet mignon and New York Strip Specials are often seasonal such as grilled eggplant with Tuscan beans and grilled octopus, veal osso bucco with risotto, or roast duck with cherry sauce.

At lunch, a 2-course business lunch offers an appetizer, entrée and coffee or tea. The regular menu is available at lunch, as well.

Desserts of house made tiramisu, cheesecake, apple strudel, crème brulee and key lime cheesecake are on the menu here. However, I needed to keep the taste of my halibut and figs in my mouth and I declined dessert. A sweet will have to wait for my next visit.

We have discovered that Mamaroneck boasts many restaurants of many styles. Some are new and others are long standing. Il Castello is eight years old and hopefully it will be satisfying our tastes for many more years. It is classic rather than trendy in style, which entices us to keep returning. Classic cuisine much like classic fashion, never goes out of style.

A dining note----- Lenny's Seafood and Steakhouse has recently been opened in Mamaroneck by Lenny Balidemaj... another nice dining option.

Il Castello
576 Mamaroneck Avenue
Mamaroneck, New York
(914) 777 2200

Recipe:
Branzino with Dijon Sauce for 2

Ingredients:

2 whole branzino about 1 ¼ pounds each, roasted on high heat
1 clove garlic, minced
1 tsp. olive oil
Pinch chopped fresh parsley
Pinch oregano
Salt and pepper, to taste
½ tsp. Pernod
¼ tsp. Dijon mustard
Instructions:

In a skillet, heat the oil. Add the garlic, and sauté until lightly golden. Toss in the parsley, oregano and salt and pepper to taste. Add the Pernod and mustard and heat until smooth. Serve with the roasted branzino.
Judie Dweck has been writing about restaurants and food for many publications. She teaches creative cooking to children at Scarsdale elementary schools. Through the years, her articles have appeared in Jack and Jill Magazine, Spotlight, The Pleasure of Cooking and The Scarsdale Inquirer. She balances her restaurant tastings with daily ballet classes.
Scarsdale Library Speaker Events: Main Street Vegan Victoria Moran and MacArthur Fellow Nicole Eisenman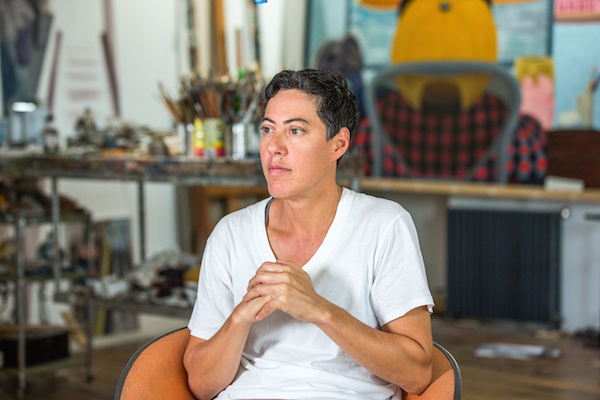 This month the Scarsdale Library welcomes two acclaimed speakers: author Victoria Moran on Saturday October 8 and artist Nicole Eisenman on October 22. Pre-registration is required for both events.
Vegan author and speaker Victoria Moran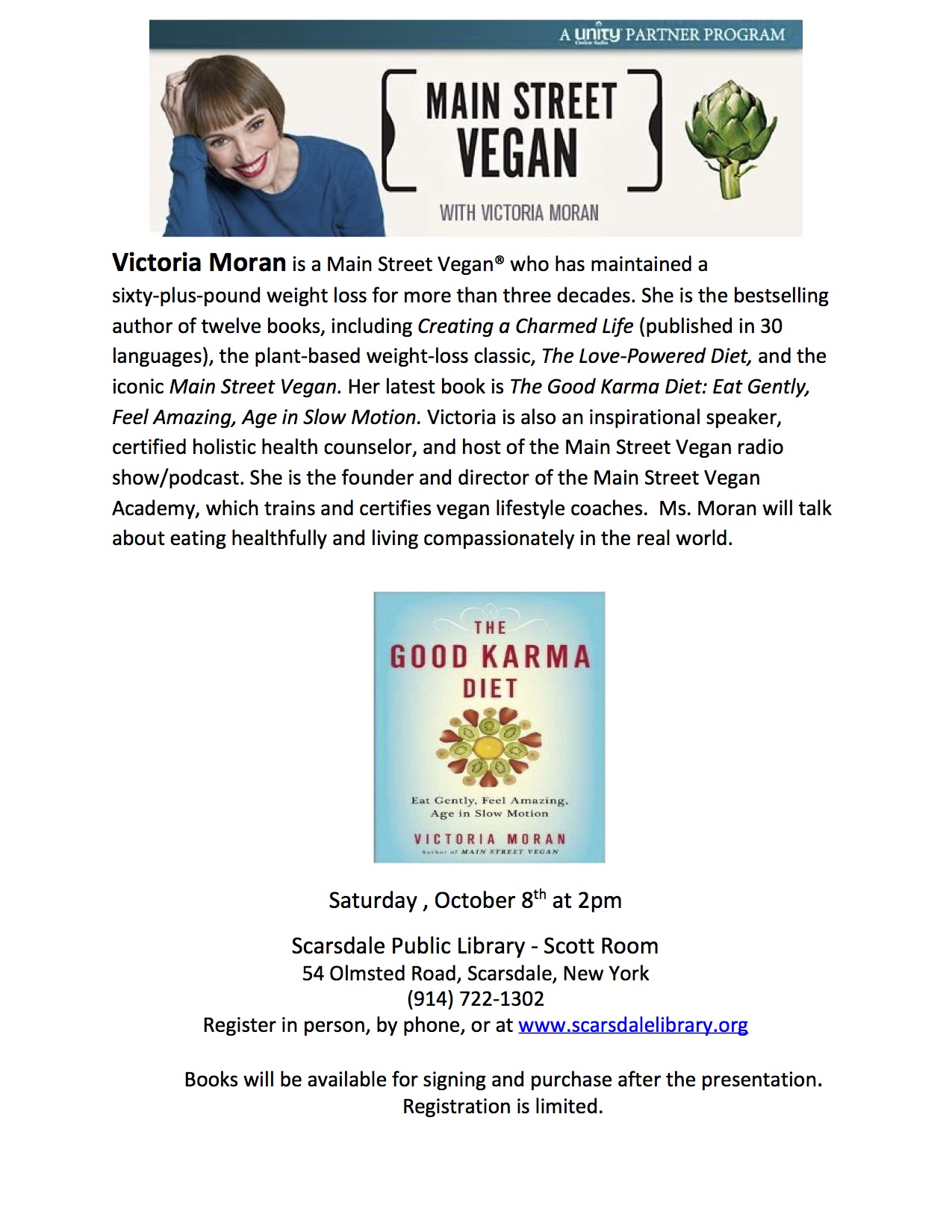 will be at the Scarsdale Public Library on Saturday, October 8 at 2 pm. Ms. Moran, a Main Street Vegan® and obesity survivor for more than three decades, is the bestselling author of twelve books, including Creating a Charmed Life (published in 30 languages), The Love-Powered Diet (a weight-loss classic), and the iconic Main Street Vegan. Her latest book is The Good Karma Diet: Eat Gently, Feel Amazing, and Age in Slow Motion. She will speak about eating healthfully and living compassionately in the real world.
Books will be available for signing and purchase after the talk.
Registered participants will receive a complimentary pass to SoulCycle - Scarsdale, and they will sample vegan fare from Masala Kraft in Hartsdale and Organic Pharmer, now open on Garth Road. One registered participant will also win a $50 gift certificate from Organic Pharmer.
Registration is required. Click here to sign up.
Artist and MacArthur Fellow Nicole Eisenman on October 22nd
Artist Nicole Eisenman will speak at Scarsdale Public Library on Saturday, October 22 at 5pm. A class of 2015 MacArthur Fellow, Eisenman has been the subject of numerous international gallery and museum exhibitions, most recently in a midcareer retrospective at the New Museum in New York City.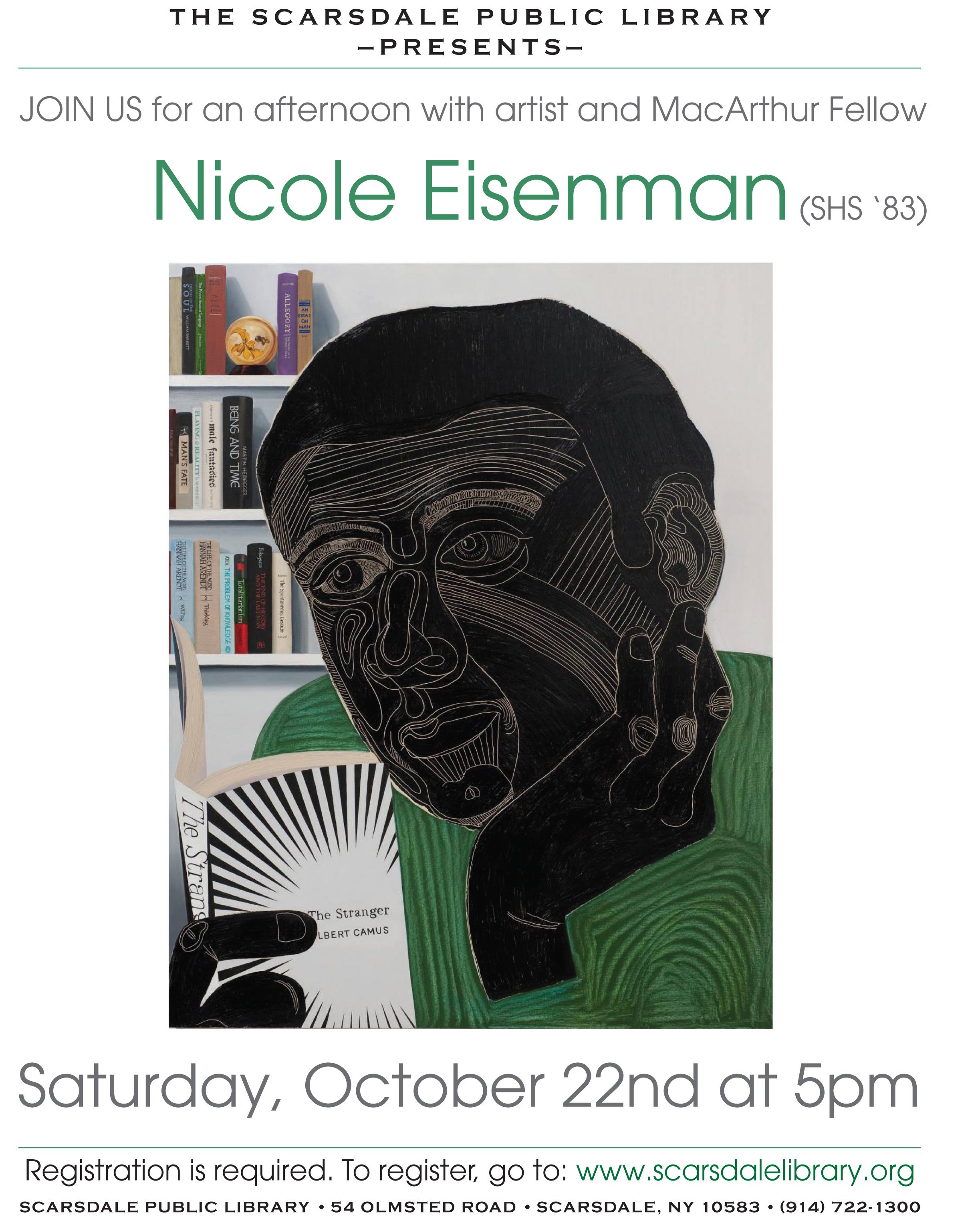 The prestigious MacArthur Fellows Program is awarded to individuals with outstanding talent who have not only shown success in their respective fields, but who are viewed to have tremendous potential for future accomplishment. The John D. and Catherine T. MacArthur Foundation identify Eisenman as a "painter expanding the expressive potential of the figurative tradition in works that engage contemporary social issues and restore cultural significance to the representation of the human form."
Eisenman's work is in the collections of the Museum of Modern Art (New York), the Whitney Museum of American Art, the Walker Art Center (Minneapolis), The San Francisco Museum of Modern Art, the Kunstalle Zurich and the Ludwig Museum in Cologne, Germany.
"Nicole Eisenman is among the most accomplished artists of her generation," commented Scarsdale Library director Beth Bermel. "Her appropriation of art historical subjects and iconography is often recast as contemporary discourse, addressing both personal and public attention to our communal cultural dialogue."

Eisenman, a 1983 graduate of Scarsdale High School, will discuss her work in conversation with fellow alumna and local artist Marnie Gelfman at this free library program.
Registration for this program is required as space is limited. To register, visit www.scarsdalelibrary.org, or call the Reference Desk at 914-722-1302.
Scarsdale Library to Host Chef Geoffrey Zakarian and Event Planner Marcy Blum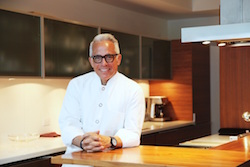 Chef and restaurateur Geoffrey Zakarian and renowned event planner Marcy Blum will share their holiday entertaining expertise at the Scarsdale Public Library on Wednesday, October 26, at 7:30 p.m.
Zakarian and Blum will offer tips on making holiday gatherings memorable. Zakarian is a household name from his work on Food Network's Chopped and Iron Chef and host of The Kitchen and Cooks Vs. Cons. Locally, he is the owner of The National in Greenwich, CT. The National is an American Café known for its focus on seasonal ingredients, hardwood grilling and craft cocktails.

Marcy Blum is an internationally sought after event planner and speaker. A graduate of the Culinary Institute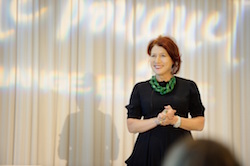 of America, Blum has made a career of creating high-caliber special events. She has appeared on television on Oprah and the Today Show and the work of Marcy Blum Associates Inc. has been featured in publications such as The New York Times and Vogue. Ms. Blum also planned Margaret and Geoffrey Zakarian's wedding.
"We know that Scarsdale residents do a lot of entertaining and we are privileged to have Geoffrey Zakarian and Marcy Blum share their knowledge and experience with us," said Library Director, Beth Bermel.
Copies of Zakarian's book "My Perfect Pantry" will be available for purchase and signing after the presentation.
The program is free and open to the public. but registration is required as space is limited. To register, visit scarsdalelibrary.org, or call the Reference Desk at 914-722-1302.
Raiders Cheerleaders and Softball Tournament Champs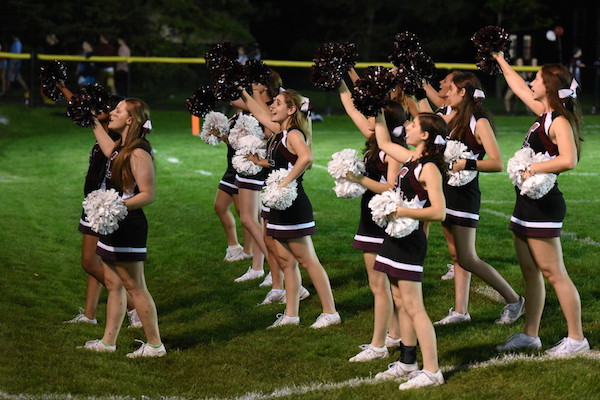 The SHS Raiders Football team triumphed over White Plains 62-30 at the September 23rd homecoming game. The audience was bouyed by a great performance from the boys on the field and Scarsdale's Cheerleading Squad who cheered them on. Take a look at these great photos of the squad from photograph Jon Thaler, and purchase yours here: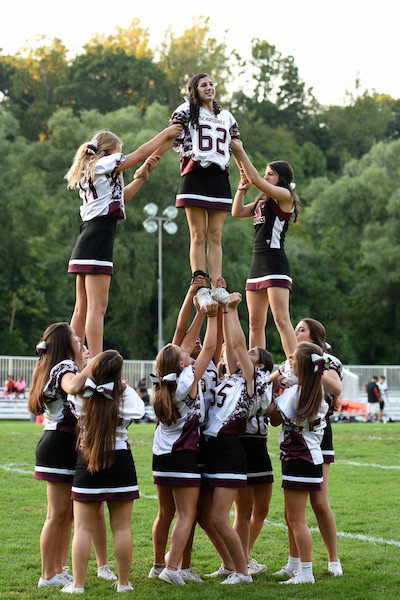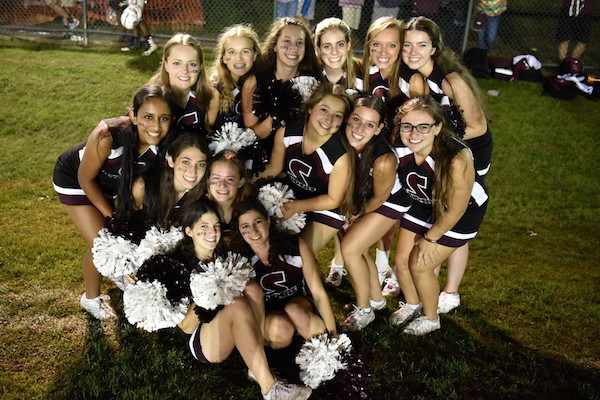 10u Softball Tournament Champs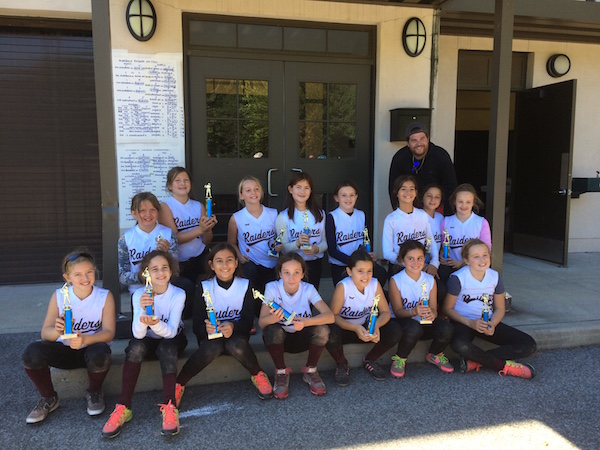 The Scarsdale Raiders 10u Travel Softball team came in 1st place in this past weekend's softball tournament. Competing against three (3) other Westchester 10u teams, the Raiders pitching, hitting and fielding was fantastic. The team members are Anna Henry, Ariella Sobel, Catherine Dundon, Isabelle Mezger, Olivia Fosina, Annika Fuehrer, Melanie Toubin, Abby Feuerstein, Ella Krausz, Emily Levine, Sammy Fenigstein, Hannah Raab, Kay Fitzgerald, Ella Hayes and Samantha Kofman. Congratulations to the team and captains Dave Scagnelli and Kevin Khederian.

Doggie Dip at Scarsdale Golf Club
As the summer of 2016 drew to a close, unfortunately so did the Scarsdale Golf Club's pool. To mark the end of the season, SGC welcomed the dogs of the Dale to swim in the pool at its First Annual Doggie Dip. Inspired by other local town pools --and after years of consideration -- SGC canines were welcomed to the club.
At 6:00 pm on Sunday September 11, once the pool was closed to humans, all of the pups were ready to swim.
Members were found playing fetch with their dogs, chasing them around the pool and bar area, and even going for a little doggie paddle with them. About 30 dogs in all enjoyed the water.

It was a perfect way to start off the school year and say farewell to the dog days of summer.
Text and photos by Jordana Love.