A Holiday Ode and Holiday Happenings in Scarsdale
Holiday Ode to Scarsdale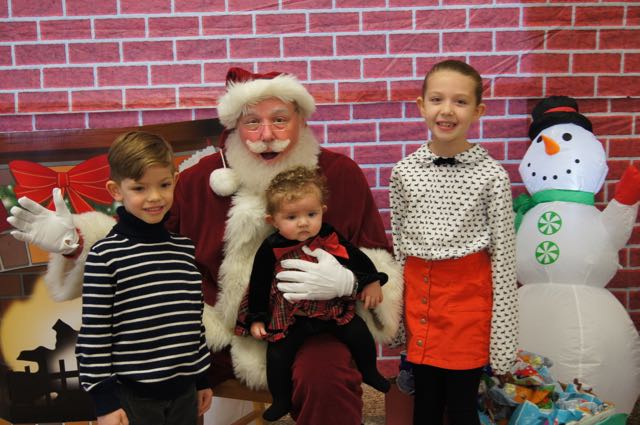 Written by Scarsdale Poet Laureate Deborah Skolnik
'Twas the holiday season
and amidst the good cheer,
Scarsdalians looked back on
one heck of a year.
The tax reval left some folks
feeling the pinch.
It seems like our fair town
was struck by the Grinch!
The Greenacres school plan
was just too demanding,
and so the old building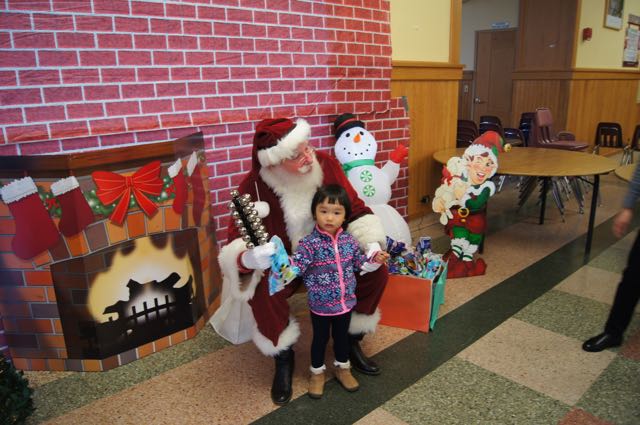 was simply left standing.
The CNC's nominee
was too late with his forms.
Someone else became trustee:
so much for the norms!
Yet for each Scarsdale shocker,
upset, or to-do,
some moments of pure,
shining triumph shone through.
A 6-year-old's note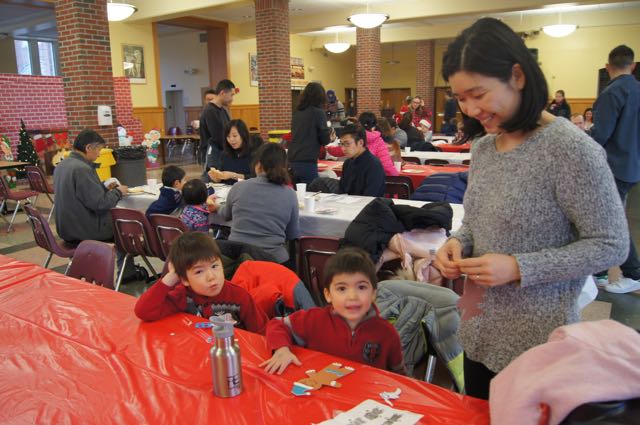 about the Syrian drama
led him to the White House,
where he met Obama!
And our teachers and students
got a much-needed lift
from the Schools Foundation's
awesome $1.46 million gift.
Plus you have to agree
this is simply divine:
Candy and Cards' Emily Hirsch
turned a young ninety-nine.
Whenever things happen,
whatever the scoop,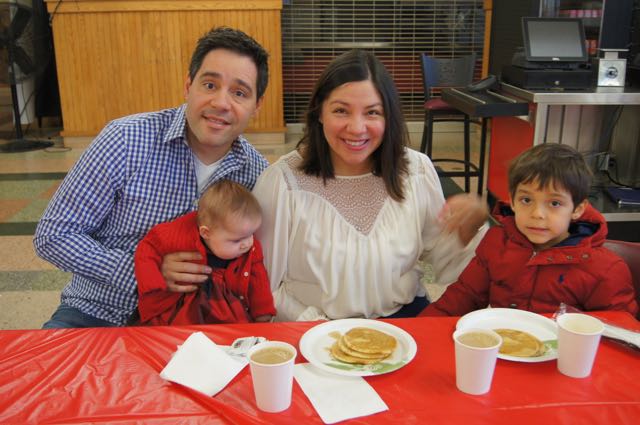 10583.com's working
to keep you in the loop!
Happy holidays to all
from Joanne and the crew--
We hope 2017
brings only good news for you.
Breakfast with Santa

(Pictured here) Young families gathered in the cafeteria of Scarsdale High School on Saturday morning December 10th to enjoy crafts, a pancake breakfast and a visit with Santa.
Kids as young as 3 months were on hand for a photo opp with Santa and a brief conversation about what they were expecting him to bring them. They had fun decorating gingerbread me and chowing down on pancakes provided by Langes of Scarsdale. The event was sponsored by the Scarsdale Recreation Department and Scarsdale Chamber of Commerce.

All Community Carol Sing Along at Hitchcock Church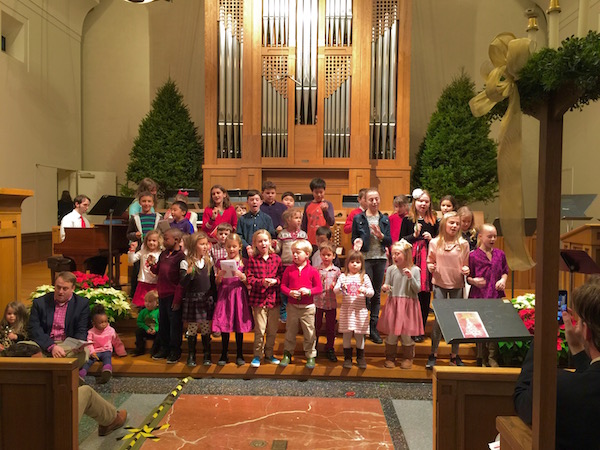 On Sunday December 11th, The Reverend Pete D. Jones welcomed the community at large to the Annual All Community Carol Sing-Along at Hitchcock Church. Under the musical direction of Minister of Music Dr. John T. King, the evening began with a prelude from Donna Elaine's Flute Choir. Dr. King then led the filled sanctuary in a full complement of traditional Christmas songs, with a pause halfway through for the Hitchcock Handbell Choir's rendition of "Carol of the Bells."
The musical portion of the evening concluded as the gathering processed outside to sing "Silent Night" as the great Christmas tree at the foot of Greenacres Avenue was lit to the accompaniment of a gentle snowfall.
Afterwards, all were welcomed indoors for a delicious reception with hot hors d'oeuvres, wine, and holiday desserts, while children enjoyed an array of Christmas craft projects topped off by a visit from Santa Claus.
Kerry James Marshall: A Must-See Exhibit at the Met Breuer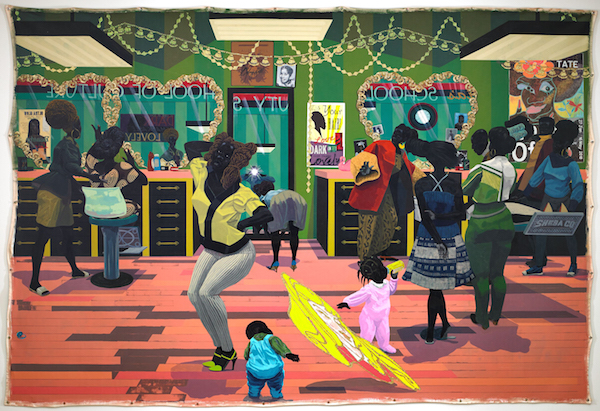 I escaped Scarsdale this week to visit a "must see" exhibit at the new Met Breuer Museum – formerly the Whitney Museum's uptown home, and I immediately understood why this exhibit is getting so much acclaim.
The entire third and fourth floors of this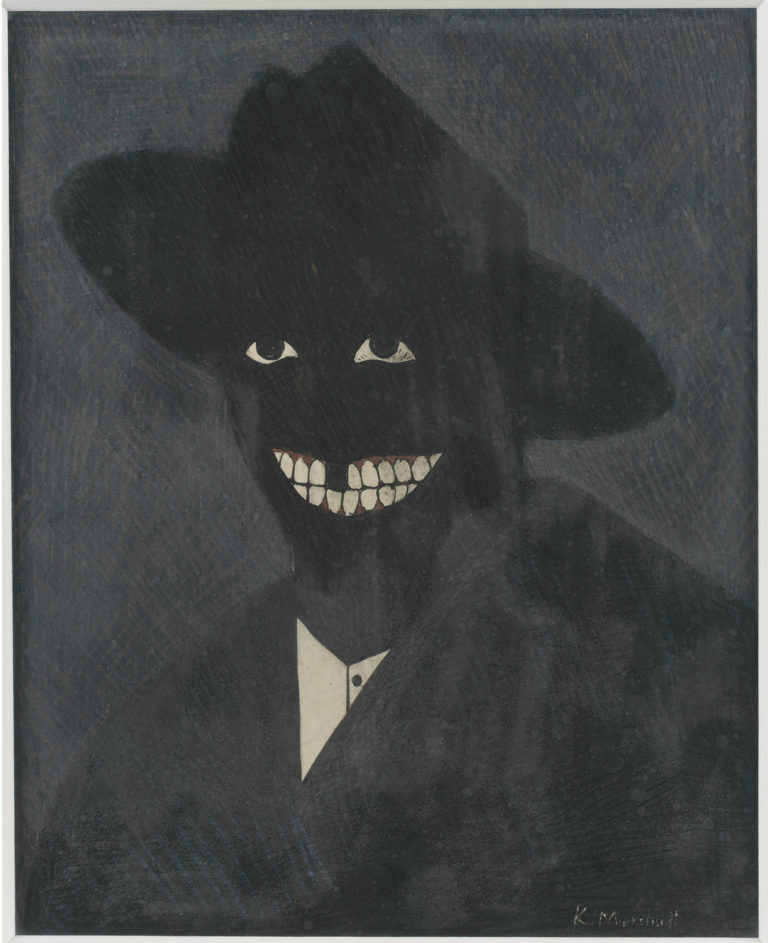 spacious museum are devoted to the lifework of an African-American artist whom some may not know. In his wall-size canvases Kerry James Marshall reflects the black experience in America, tying in cultural norms, politics, racial stereotypes and historical artistic references in a stunning panorama of the black population's suppression in white society.
Marshall was born in Birmingham Alabama in 1955 and moved to California at the age of eight to a public housing complex in Watts called Nickerson Gardens. An entire room of paintings picture the "Garden Projects" where black children are shown playing in an idyllic garden that's really a slum. In the painting "Past Times," blacks are pictured enjoying a picnic, motor boating and waterskiing – while the sound of the Temptation's Song, "Just my imagination running away from me," wafts from the radio. In this ironic work, Marshall illustrates how minorities are shut out of conventional recreational activities and the American Dream.
Another series echoes Ralph Ellison's book, "The Invisible Man," showing a jet black man against a black background, leaving only the whites of his eyes and teeth visible in the darkness.
The works are provocative and vibrantly painted. The life size images of people with black, black skin pop out from the bright colors of landscapes and detailed scenes of ordinary life such as the beauty salon and the barbershop. The works are filled with irony. For example, Marshall juxtaposes images of white women on the covers of Harlequin romance novels with voluptuous black women in a commentary on standards of beauty.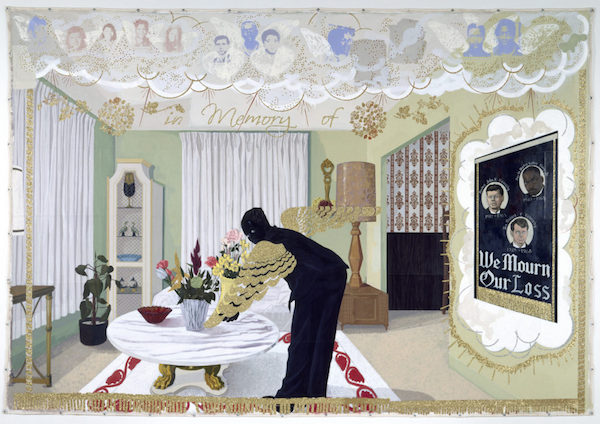 The exhibit includes works that reference significant historical events. In Souvenir 1, Marshall pictures the martyrs of the civil rights era, John F. Kennedy, Robert F. Kennedy and Martin Luther King along with Malcolm X and the victims of the 1963 church bombing in Birmingham. In the center of the painting is a black figure with an angelic glittering gold wing.
Each tableau is more arresting than the next as many are life size and utilize intense color, metallic paint and glitter.
The exhibit is on until January 29, 2017 – and it's definitely worth a trip to town.
The Met Breuer
945 Madison Avenue
New York, NY 10021
Phone: 212-731-1675
Amy Paulin to Co-Host Program on Sexual Assault at SHS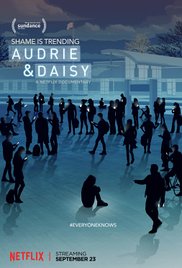 NYS Assemblywoman Amy Paulin (D-88), along with the Scarsdale High School PTA, Scarsdale Edgemont Family Counseling Services (SFCS), and the Scarsdale Coalition on Family Violence, will co-sponsor a "watch and discuss" program with a panel of experts on the documentary Audrie & Daisy at Scarsdale High School's Little Theater on November 30 at 7 PM.

Audrie & Daisy, which premiered at the 2016 Sundance Film Festival, is a stark and provoking examination of the aftermath of sexual assault on family, friends, schools and communities from acclaimed filmmakers Bonni Cohen and Jon Shenk.

The documentary chronicles the stories of Audrie Pott and Daisy Coleman, two underage high school students, who were victims of sexual assault by school acquaintances, assaults that were caught on camera. Both girls were bullied by their peers following the attacks while their assailants received little punishment. Audrie & Daisy takes a hard look at America's teenagers coming of age in this new world of social media bullying while examining how and why these teens continued to be victimized after they were sexually assaulted.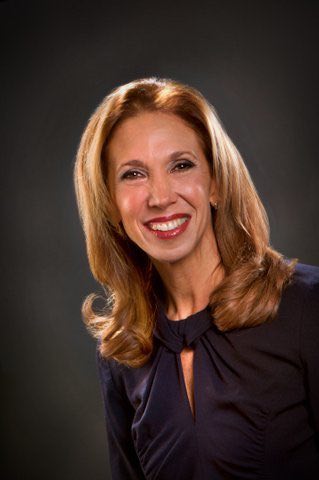 "These are stories about young women who were sexually assaulted when they were too drunk to consent, by boys they considered friends. We then come face to face with the protracted bullying and public shaming these teens endure after their assaults in their school and area communities," said Paulin. "This film illustrates so many issues that we need to talk about as a community – the roles of alcohol in consent, social media and bystanders. It is not about pointing fingers, but about raising awareness so we can work together to make sure young people in high school, who will go off to college and face the same issues, do not experience sexual assault and the wrenching aftermath in this world of instantaneous connectedness."

Paulin will serve as the event moderator with Kristen Bowes, General Counsel and Title IX Coordinator for Mercy College, Anna Utsinger, a graduate student and former Operations Coordinator of Students Active for Ending Rape (SAFER), and Katie Cappiello, the founder of The Arts Effect NYC and author of SLUT: A Play and Guidebook for Combating Sexism and Sexual Violence, as the guest panelists.

Reservations for the event can be made here.

Grease is a Hit on Stage at SHS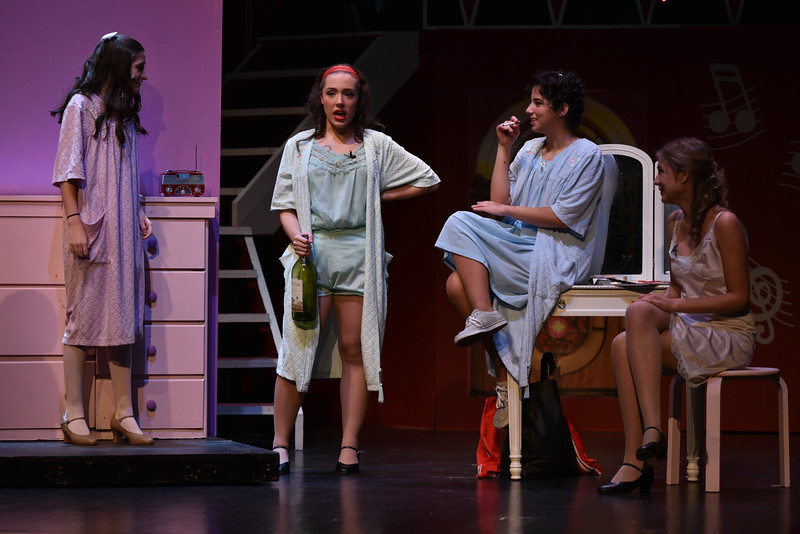 Three packed performances of a production of Grease from the Scarsdale High School Drama Club drew more than 2,000 people to SHS November 18 – 20. According to Perri Thaler, "The cast was ecstatic, not only about the turn out but because all three performances ran smoothly and were tons of fun for all involved." Rehearsals for the play began three months ago.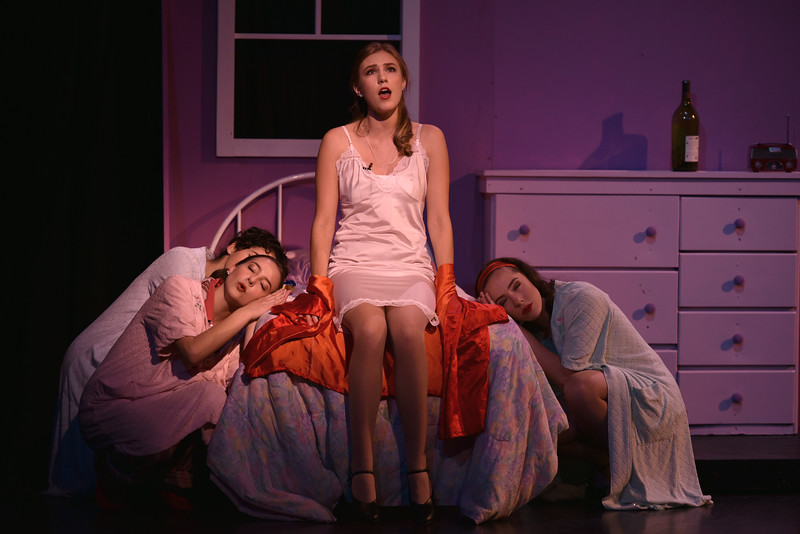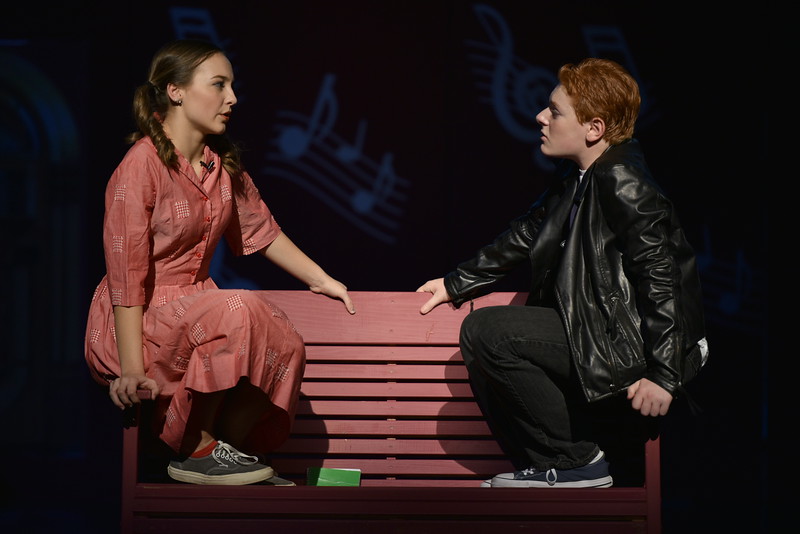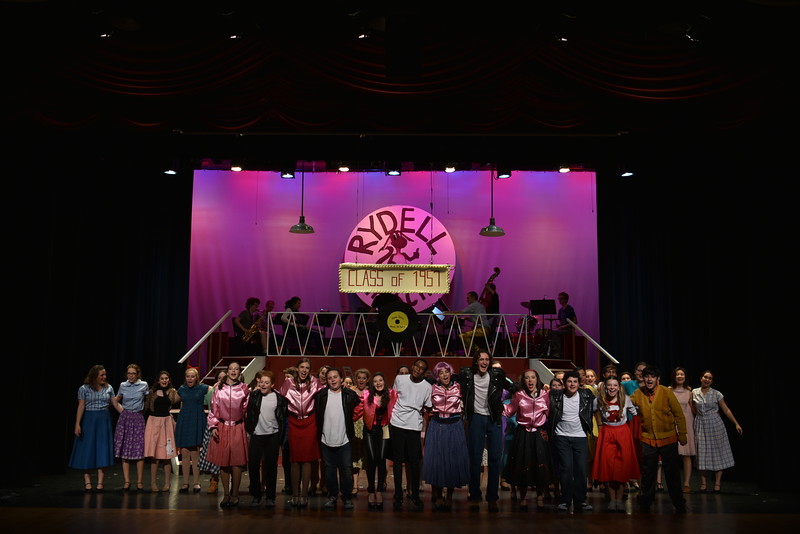 Three packed performances of a production of Grease from the Scarsdale High School Drama Club drew more than 2,000 people to SHS November 18 – 20. According to Perri Thaler, "The cast was ecstatic, not only about the turn out but because all three performances ran smoothly and were tons of fun for all involved." Rehearsals for the play began three months ago.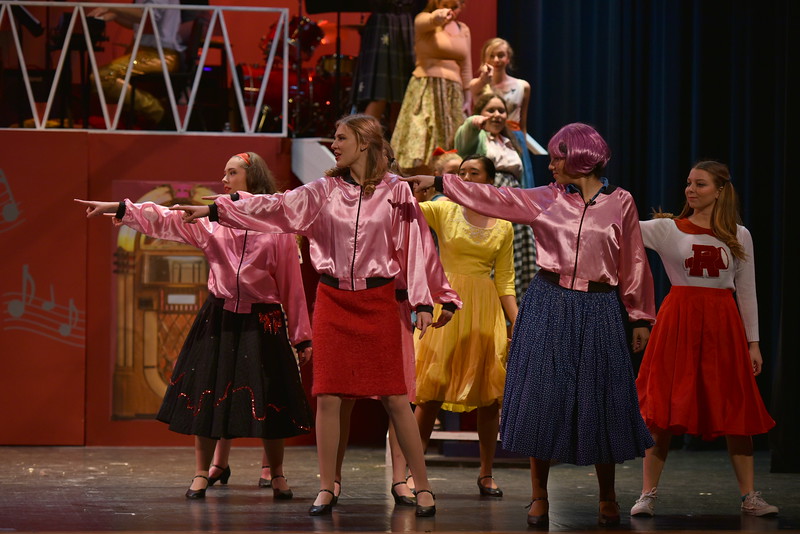 At the heart of the story is the romance between hot-rodding gangster Danny Zuko and the sweet new girl in town, Sandy Dumbrowski. They had a secret romance in summer, but now back in the context of school, peer-pressure and cliques make their love a bit more complicated. The whole gang sang and danced around Danny and Sandy's romance, through hit songs as "Greased Lightnin'", "We Go Together", and "Mooning", recalling the music of Buddy Holly, Little Richard and Elvis Presley that became the soundtrack of a generation. See photos from Jon Thaler here.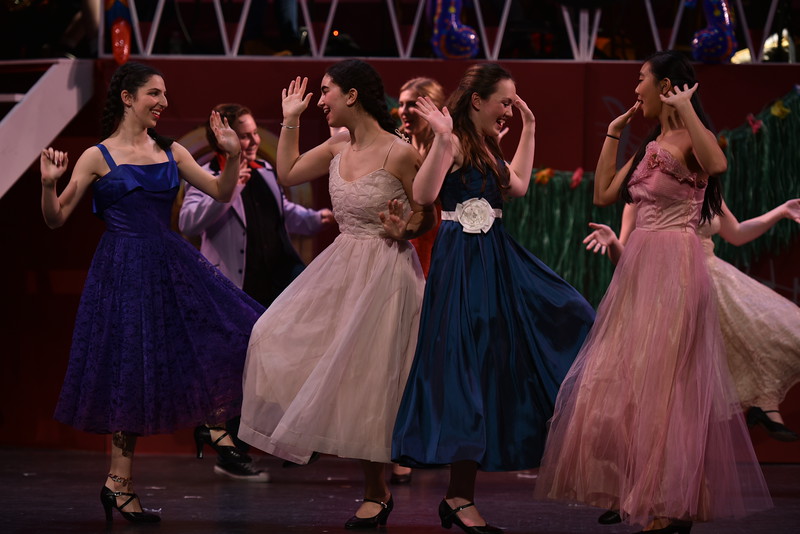 And mark your calendar for the Drama Club's next show, "Almost Maine," a student directed play that will be performed on January 20 and 21, 2017.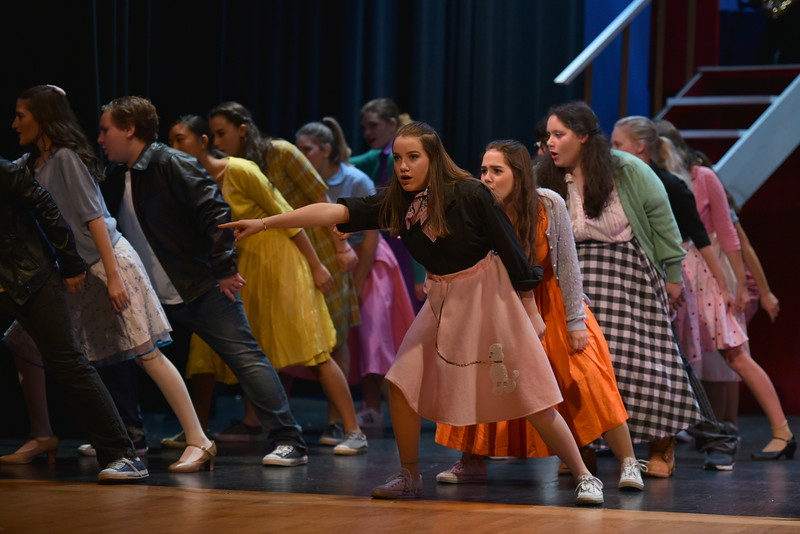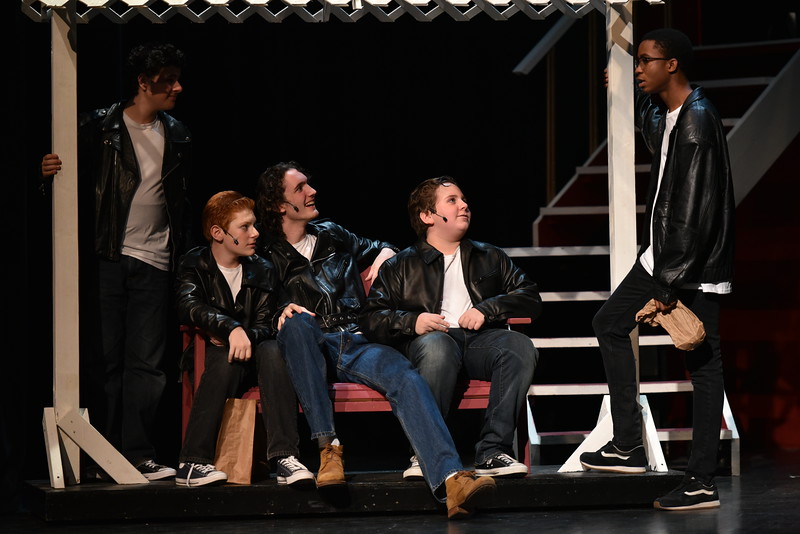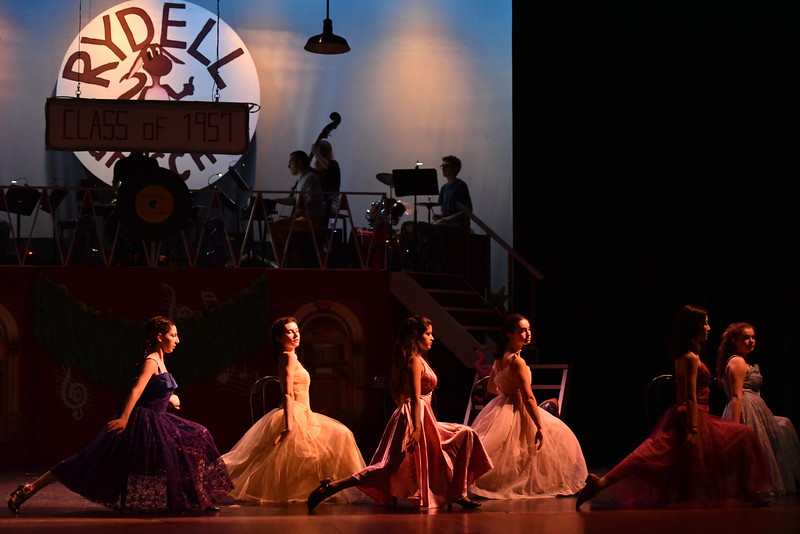 Cookbook Club Draws a Crowd to the Library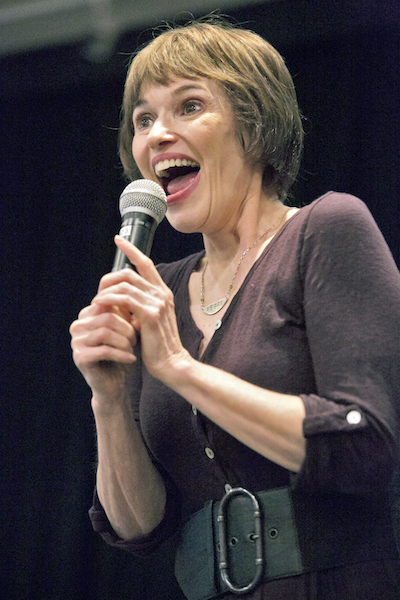 The Scarsdale Cookbook Club brought two well-received guests to the library to share their culinary, diet and lifestyle wisdom.
Victoria Moran provided inspiration to vegans and non-vegans alike at the Scarsdale Public Library on Saturday, October 8. Highlighting the health benefits of veganism, its advantages for the planet, and the ethical rationale behind her commitment not to eat or wear animals or animal products, Moran also offered practical tips for leading a vegan lifestyle. One of her missions is to enable people to live healthy and compassionate lives as Main Street Vegans® in the real world. Moran is the author of numerous books, including the iconic Main Street Vegan, she is the founder of the Main Street Vegan Academy, which trains and certifies vegan lifestyle coaches, and she hosts the Main Street Vegan radio show/podcast. Those who attended her talk were treated to complimentary passes to SoulCycle, and they sampled vegan fare courtesy of the newly opened Organic Pharmer on Garth Road and Masala Kraft Café, a vegetarian Indian restaurant, on East Hartsdale Avenue. The event was part of the Scarsdale Public Library's Scarsdale Cookbook Club series.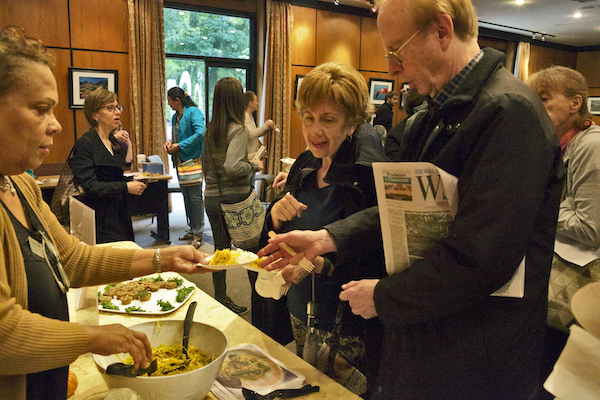 On Sunday November 6th, attendees were treated to an Indian cooking demonstration and food tasting from Masala Kraft Café, a vegetarian Indian restaurant in Hartsdale. Chef, cookbook author and blogger Rinku Bhattacharya created aloo gobi, which is cauliflower and potatoes, while sharing her thoughts on Indian cooking, spices and sources for good ingredients. Rinku is the author of food blog, "The Spice Chronicles" and also wrote "Spices and Season, a cookbook of "simple, sustainable Indian flavors."
As she waited for the ingredients to simmer, she offered a few cooking tips, such as extending the life of spices by storing them in the refrigerator. She also discussed the health benefits of commonly used Indian spices like cumin which is said to be good for digestion, ginger that improves your mood and cayenne pepper to regulate blood pressure.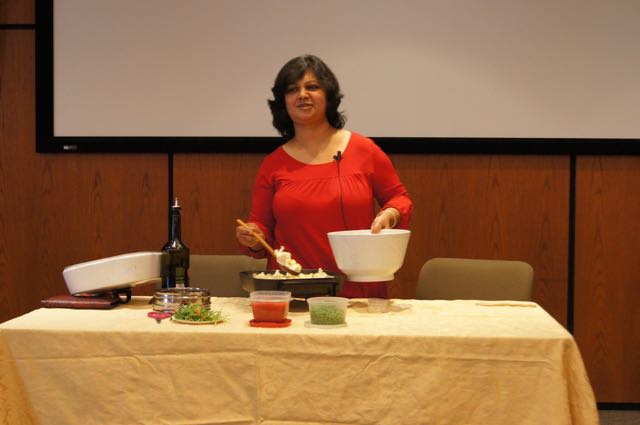 Where are the best places to buy Indian ingredients? Rinku recommended Bhavak in Elmsford, Swami on Main Street in New Rochelle and Patel Bros. in Norwalk.
Of course the easiest way to enjoy some of her recipes is to go to Masala Kraft in Hartsdale and order off the menu.
Here is a recipe from The Spice Chronicles:
Slow Cooker Alu Gobi
Prep Time: 10 minutes
Cook Time: 2 hours, 30 minutes
Total Time: 2 hours, 40 minutes
A simple slow cooker version of alu gobi, a classic Indian staple pairing potatoes, cauliflowers and green peas.
Ingredients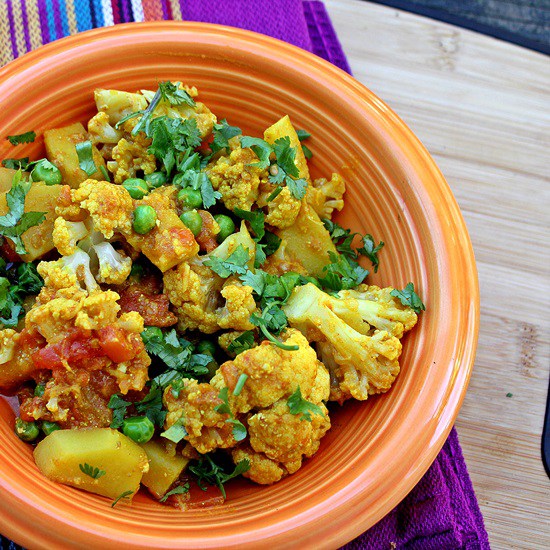 2 tablespoons olive oil
11/2 tablespoons freshly grated ginger
1 medium sized red onion, grated
2 teaspoons freshly ground coriander powder
1 teaspoon ground cumin
11/2 teaspoons Kashmiri red chili powder
3/4 teaspoons turmeric
1 teaspoon salt or two taste
1 medium sized head of cauliflower (about 1 pound)
2 medium sized potatoes, peeled and cubed
3 tomatoes, diced or 3/4 cup jarred tomatoes
3/4 cup of frozen green peas
2 tablespoons coconut milk
2 tablespoons fresh lime juice
1 or 2 tablespoons chopped coriander leaves
Instructions:
Place the oil, ginger, onion, coriander, cumin, Kashmiri red chili powder, turmeric and salt at the base of the slow cooker.
Cut the cauliflower into large pieces and add in with the potatoes and the tomatoes and mix well.
Cover and cook the mixture for 2 hours and 15 minutes, stirring occasionally if possible. Add in the green peas and the coconut milk and mix well, cooking for another 15 minutes.
Turn of the heat and let the mixture rest for 10 minutes.
Stir in the lime juice and garnish with the cilantro and serve.