SHS Design Class Reimagines an Elementary School Classroom
On Thursday, January 26, four design teams presented their concepts for reinventing an elementary classroom to the Scarsdale Center for Innovation's project grant team. The project "What Could We Do with Room 18" was funded to redesign a traditional classroom into a restructured space that would "become a laboratory for experimental thinking on instructional redesign." Each team met with potential clients, went on site visits, and conducted extensive research to develop their ideas and keep their projects on budget. The kicker? The teams were Scarsdale High School students, and the clients were Edgewood elementary school students.
Lisa Yokana explains that her Architecture and Design I class teaches her high school students to use Design Thinking Process "to solve real world problems for an authentic audience." For their final project, groups of four or five students were tasked with redesigning Edgewood's Room 18 to address 21st century student needs without exceeding a $3,500 budget. Students conferred with the grant recipients (a team of four Edgewood teachers who submitted the grant proposal to the Scarsdale Center for Innovation) whose mission is to outfit the new space. For ideas and research, students visited Edgewood's Room 18 as well as locations devoted to modern functional design such as Steelcase in New York City. They also had the benefit of interviewing the fourth grade students of grant team member and Edgewood teacher Marilyn Blackley via video conference. The meetings and research culminated in four presentations at Scarsdale High School's Little Theater by the architecture class to grant project recipients, Edgewood administrators, and Ms. Blackley's fourth grade class. Though all four groups' projects include beanless beanbag chairs (inflatable to resist lice, a pervasive problem in elementary schools) and mobile and/or multiple whiteboard surfaces, each high school group has its own unique take on the modern classroom. A video of the presentations can be viewed here.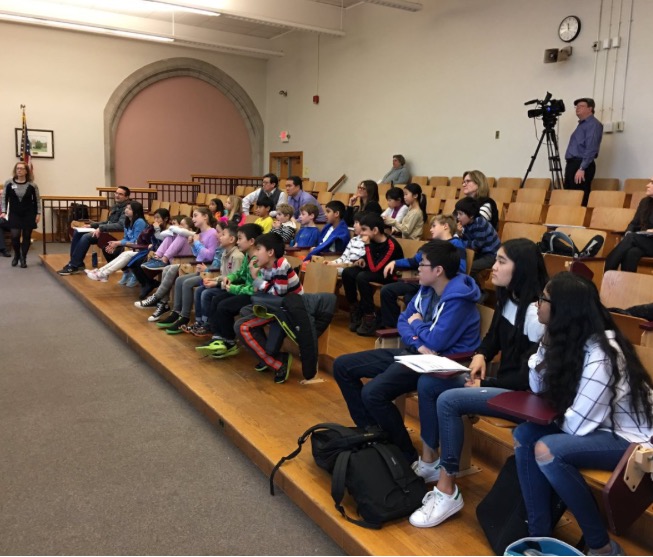 Project One weds the fourth graders' desire for individual desks to the need to occasionally work at large tables by utilizing pie-shaped individual desks on wheels that can be pushed together to easily create large tables for communal work. This project also addresses fourth grade complaints about malfunctioning smart boards by replacing the classroom Smart Board with a Smart TV.
Project Two concentrates on creating a very adaptable space. It includes pullout and Murphy-style tables and size changeable tables. Additionally, it utilizes tables of different heights (with stools that swivel for height adjustment) to help students in the back see over their classmates. One student noted that she likes this project because "the prices were cheap and the ideas were good."

Project Three also uses height adjustable tables. Like other projects, it includes a cozy corner with a rug and beanless beanbags to encourage a relaxed, homelike environment for reading and discussion. This project earned high praise from the Edgewood students for its Chrome Bar, which would allow for a designated space with storage and charging capacity for work with Chromebooks, which are becoming increasingly important in the classroom. The Chrome Bar faces the courtyard to encourage students to occasionally look away from the Chromebook screen in order to combat Computer Vision Syndrome.
Project Four, the largest departure from a traditional
classroom, garnered the most buzz from the audience. It involves the use of Everblocks, large Lego-type building blocks measuring twelve inches long by six inches high and wide, to build desks and partitions that can be rebuilt to adapt to the changing needs of the room. Besides the "cool factor" of Lego-type building blocks, students loved them for their flexibility and the potential to create and build. Also, they were excited that the blocks also functioned as white board surfaces.

Another innovation of Project Four is the loft with curvy slide to maximize the vertical space in the reading corner. In addition to a shag rug, the top level houses bungee chairs and/or beanless beanbag chairs, and the bottom would have hanging chair hammocks for additional seating. The hanging chairs were a big hit with the students because they thought the chairs would be great for privacy during reading time. Though the loft with slide idea was clearly a kid favorite, several fourth grade students expressed concerns that the loft might actually be "too playful" and that students would be so interested in playing that they would neglect to do their work.
The decision to include the fourth grade students was beneficial for everyone involved in the project. Ms. Blackley explained that the grant's purpose is to create a classroom that is flexible, inviting, "and yet still a place where focused learning could take place." She went on, "We felt that involving a class of elementary age students would be helpful towards that end, as they are the people who need to live in the classroom each day."

Beyond offering their unique perspective, the fourth graders were an inspiring force for the architecture students. Sophomore Ali Rothberg, who worked on the popular Project Four stated that designing for Ms. Blackley's class motivated her group to work harder to generate creative ideas because they knew they were "designing for a real user." She felt it was also more nerve-wracking because the high schoolers knew that the fourth graders would be more honest if they did not like the ideas. In fact, Rothberg stated that the adults gave solely positive feedback, but the negative feedback from the fourth graders, the "primary users," was very helpful.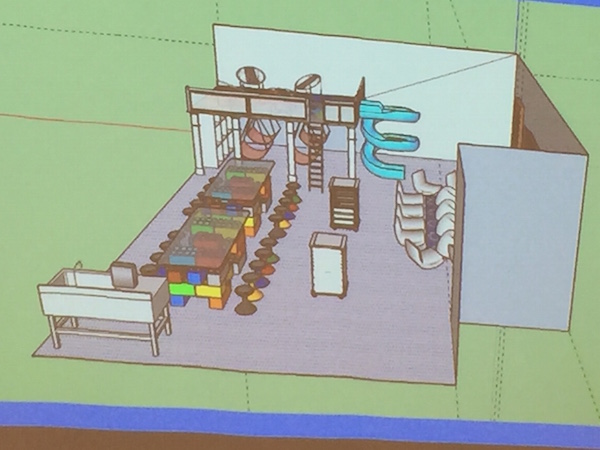 The feedback and motivation were major benefits of the collaboration. As Ms. Blackley stated, "I think (involving the younger students) offers the high school students a real project audience for their very real project." Not merely concerned with the academic benefit of the older students, Ms. Blackley also used the project to educate her own students. The students had the opportunity to think about what makes a great classroom, how student needs are evolving, and how to articulate those needs to the high schoolers. They also listened to each Little Theater presentation and asked thoughtful questions. Finally, they discussed the projects among themselves online through Google Classroom, practicing analysis and teamwork. The Google Classroom comments revealed that the fourth graders were considering cost-effectiveness as well as striking the correct balance between work and play. They also demonstrated that the students valued projects that allowed privacy during reading time, storage, flexibility, and the ability to have many white board surfaces. The fourth graders' input provides not only a window into their young minds but also useful information for the grant recipients to consider when evaluating the high school students' projects.

This evaluation is the next step for the grant team. Ms. Blackley noted "it is my intention, along with the team I'm working with at Edgewood, to implement some of the suggestions." With all the innovative and practical substance of the four proposals and armed with student feedback, the grant team has a great deal of exciting material to utilize.
BLOG COMMENTS POWERED BY DISQUS