Accolades for Scarsdale Students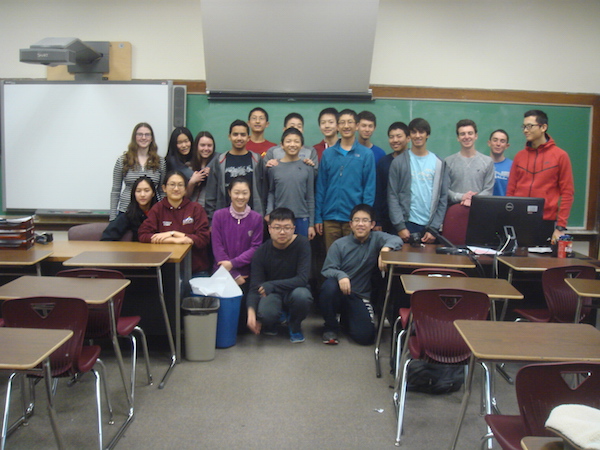 It was a rewarding week for math and science students from Scarsdale Middle School and Scarsdale High School - and Scarsdale students hosted an A Cappella Competition this weekend. Here's all the news:

The Scarsdale High School Math Team won first place in the Westchester Interscholastic Math League. Three of the six students who won first place in the individual rankings are from Scarsdale. They are: Alan Chung, Dexin Li and Richard Xu.
According to math teacher Laura Estersohn, the Westchester Interscholastic Math League has six meets throughout the year. The winners are based on the total scores from these six competitions. The final competition was held on Monday, March 6 at Byram Hills High School.
Twenty-three school districts participate in the league. Approximately 20 Scarsdale students in grades 9 through 12 take part in the competitions, The students are grouped into teams of five players. Scarsdale's highest scoring team of 5 is the one that finished first in the league.
Westchester Science and Engineering Fair
On Saturday, March 4th, science students from Scarsdale High School attended the Westchester Science and Engineering Fair (WESEF), and brought home a number of awards: According to SHS Science Teacher Dylan Prendergast, Scarsdale students won the following awards:
Special Awards:
ASU Walton Sustainability Solutions Award:
Environmental Science - Karen Zaklama
Think STEAM Award:
Medicine and Health - Roshni Mehta
Excellence in Medical Research Award:
Biochemistry - Milena Nutrobkina
Biochemistry - Annling Wang
Medicine and Health - Sabeen Khan
College Admission Central Science Horizons Award:
Medicine and Health - Amanda Girardi
Intel Excellence in Computer Science:
Computer Science - Katie Yang
Best in Category:
Third Place:
Computer Science - Katie Yang
Environmental Science - Karen Zaklama
Medicine and Health - Dan Beitler
Second Place:
Behavior and Social Science - Dexin Li
Chemistry - Alex Magid
First Place:
Computational Biology and Bioinformatics - Nivi Ravi
Medicine and Health - Lauren Singer
Grand Prize:
Regeneron/Acorda ISEF Award:
Medicine and Health - Lauren Singer
Of particular note, Lauren's score was in the top twelve out of approximately 600 projects, winning her an all expenses paid trip to the International Science and Engineering Fair (ISEF) in Los Angeles, CA. ISEF is seen as the Olympics of science fairs, and her qualification is an amazing success.
In addition, on Tuesday March 7th, Lauren Singer and Annling Wang competed via PowerPoint presentation at the Upstate Junior Science and Humanities Symposium (Upstate JSHS). They earned their qualification by winning in their categories at the Westchester-Rockland Junior Science and Humanities Symposium (WR-JSHS). At Upstate JSHS, Lauren Singer won third in her category and Annling Wang received the American Chemical Society (ACS) Scholarship award for best paper in chemistry.
You Be the Chemist Challenge
Four 8th graders from Scarsdale Middle School qualified for the state competition of the You Be the Chemist Challenge. 8th grade science teacher Daniel Tocci administered the first round of questions to 20 middle school students, five of which went on to the local challenge on March 11th. Of these five, Adam Dickstein, Luna Graziottin, Curtis Chang, and Amy Hu qualified, along with 18 other students from Westchester County, to move on to the state round on April 29th in Tarrytown. Finalists from the state rounds move on to Nationals on June 19th in Washington DC. Best of luck to our Scarsdale competitors!
From chemed.org: "The "You Be The Chemist Challenge" is an interactive academic contest that encourages students in grades 5-8 to explore chemistry concepts and their real-world applications. The Challenge provides a unique opportunity for a variety of individuals and organizations—including schools, members of the chemical industry, educators, and other community partners—to come together and show their support for STEM education."
A Capella Competition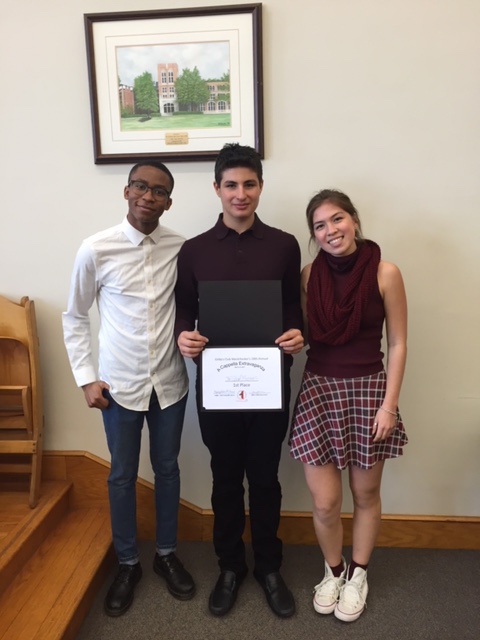 Scarsdale High School hosted the 18th annual a cappella competition benefiting Gilda's Club of Westchester on Sunday March 12. The competition featured six a cappella groups from John Jay High School, Bronxville High School, Scarsdale High School, and Horace Greeley High School. The event raises money and awareness each year for Gilda's Club, a free support center for people and families affected by cancer.
Scarsdale High School was represented by For Good Measure led by Jack Solodar (Business Officer), Lena Proctor (Higher Voice Officer) and Robby Chappell (Lower Voice Officer) The co-ed singing group performed Ed Sheeran's Give Me Love (solo by junior Jack Solodar) and Ben E. King's Stand By Me (solo by freshman Ian Fischer).
BLOG COMMENTS POWERED BY DISQUS