Same-Sex Parenting in Westchester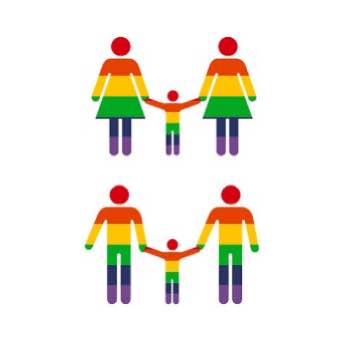 When I set out to write an article on same-sex parenting in Scarsdale, I did not expect to come back completely empty-handed. I received referrals for same-sex couples living in other nearby towns and I had people write to me saying they didn't know of any personally in Scarsdale but they'd be welcome and accepted with open arms. When I finally found a dad who was raising kids with his husband in Scarsdale and was willing to chat with me he ilet me know that there are actually four other gay couples raising children together within his area of Scarsdale. Is there anything that Scarsdale, as a village, can do to encourage more same-sex parents, parents-to-be and couples to move here? Is Scarsdale a "gay friendly" place to raise a family?
I had the opportunity to speak with him as well as two lesbian couples who are raising their kids in Edgemont and Mt. Vernon. Their names have been changed for privacy. Here is what they shared:

Lilly and her wife and moved to Edgemont in 2000; shortly thereafter their first child was born. "We moved from the city with the intent of having kids. We considered going to towns that had more diversity and other families with same-sex parents," she said. "We considered the river towns in Westchester as well as Montclair, New Jersey. We ultimately settled on Edgemont because we thought that even though we'd likely be the only same-sex couple here, we knew the schools were top notch and felt that although not diverse, people would be accepting of our less traditional family," she added. This actually turned out to be true on all fronts; Lilly and her wife have found Edgemont as a whole to be entirely accepting of their family and for the first 15 years here did not meet another gay couple in Edgemont.
Phoebe has been surprised at the number of gay couples she has met here in Westchester. She and her wife moved from Brooklyn after their first baby was born; like most, they needed to get out of the city and into the suburbs. "We picked lower Westchester for the commute and because it's a larger, educated population so we thought we'd probably feel less discrimination towards and more acceptance of our family," she said. They scouted the area, picked a home in Mt. Vernon and soon after had their second child. Their kids are now three and one and they are thinking of moving before the kids start elementary school to be in a better school system within Westchester.
I asked both women and the Scarsdale man how it has been so far raising kids in lower Westchester. "Starting in Kindergarten, we made it clear to the teachers that our child has two mothers," said Lilly. "From there it just became known and there was never a need to proactively announce it. No one ever flinched at all." Lilly and her wife were particularly impressed with Edgemont schools when it came time to make cards for mom/dad holidays. "They'd suggest that our kids make something for a grandfather or uncle for Father's Day and for Mother's Day they would come home with two cards, one for each of us." As far as other kids in Edgemont, "...we found that kids' values often reflect parents' values," Lilly responded. They did have fears that their kids would be bullied or singled out for having two moms but this never happened. "There have been some uncomfortable situations, like kids asking how it's even possible to have two moms," she added. She thinks Westchester County in general is accepting of LGBT families but that homophobia does still exist.
Phoebe and her wife have been pleasantly surprised with their reception in Westchester. "We've met quite a few gay couples and met two PTA heads at private religious schools that are both same-sex parents. I run the LGBT Tri-State Facebook group which has put us in touch with similar families all over Westchester. We've met LGBT people who live with their families in Yonkers, Dobbs Ferry, Eastchester, Tuckahoe, White Plains...they're everywhere." She added, "I don't think we are facing anything different here than we'd be facing anywhere else." Phoebe did once recall going to a fundraiser where a guy who had too much to drink cornered them and asked when he could meet the father. "I think he meant it as a joke," Phoebe said, "but it definitely set us back a bit." Although Phoebe didn't think it's specific to Westchester, she said that one of the hardest things for gay couples with kids is if your child doesn't biologically resemble you. This is likely an issue for parents of adopted children who are a different race or ethnicity. "People often feel like they have a right to ask uncomfortable questions."
The Scarsdale man thinks that Scarsdale is a fabulous place to raise kids as a same-sex couple. He has absolutely no complaints and believes the situation couldn't be more ideal. As a member of the community, he thinks it's a total non-issue being gay in the community. It has been remarkably inclusive. At school he has noticed that mother's day is referred to as parents' day and various inclusive book suggestions have come home that they appreciated.
Are there other towns in Westchester that seem to have more gay couples? Lilly responded, "We have friends in New Rochelle who are gay and they're definitely not the only ones in that town like we are in our town. The river towns have more diversity and more same-sex couples. That being said, I was recently out walking our dog and I bumped into a couple of guys who are a gay couple in Edgemont. They don't have kids and as far as I know they are the only other same-sex couple in-town." Phoebe lives in Mt. Vernon but sends her daughter to preschool in Bronxville. "Bronxville has never really felt comfortable for us," she said. "It has always seemed kind of stuffy. Everyone seems to love Pelham!" The Scarsdale man said that Montclair, NJ is becoming a hub for same-sex couples raising kids.
Noel D'Allacco sits on Rob Astorino's LGBT Advisory Board for Westchester County. Although not gay herself, she has been on the board for 3-4 years and advises the County Executive in cases of possible discrimination. There have been almost no issues during her tenure on the board. However during this year's gay pride parade in White Plains, cars were vandalized with hateful messages against gay people. "The biggest issues in Westchester County surrounding gay people are really with the youth counseling services and supportive things like that," Noel voiced. She encouraged anyone seeking support and a community to check out the Loft in White Plains.
So, it seems that Scarsdale remains a progressive community that has been inclusive and accepting of families with same-sex parents and would be welcome more same-sex couples/LGBT families. The Scarsdale man said that it would help for straight couples to proactively discuss the possibility of kids having two moms or two dads with school-age children. He isn't sure what the community could do to invite more same-sex couples to consider Scarsdale as a place to live and raise a family but he thought this article could help position Scarsdale as an inclusive and comfortable place to be gay and raise a family. Mostly, he wanted to say a big thank you to Scarsdale for doing exactly that.
BLOG COMMENTS POWERED BY DISQUS