Environmentalist to Speak on Effects of Pesticide Use on Lawns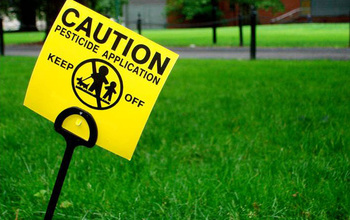 Patricia (Patti) Wood, a leading expert on the environment and related health issues, will address Forum members at their meeting on Thursday, December 14, 2017 in the Scott Room at the Scarsdale Library. Refreshments will be available at 7:30 pm and the meeting will begin at 8:00 pm. The program is open to the public..
Ms. Wood's presentation will focus on health concerns raised by the significant and growing use of pesticides by homeowners and landscapers in their quest for the "perfect" lawn. A growing body of science has linked exposure to these chemical toxins with a myriad of serious human health problems, harm to wildlife and their habitats and the degradation of our water supplies. As Ms. Wood will explain, pesticide-free, natural lawns are living ecosystems, capable of sequestering carbon in their biomass, recharging and filtering rainwater and pollutants, and cooling ambient temperatures. Advances in soil science and natural lawn care product development in the past few years can produce that weed-free, dense lush turf that can satisfy even the most ardent lover of lawns.
Ms. Wood is a founder and executive director of Grassroots Environmental Education, a 501 (c)(3) not-for-profit organization dedicated to educating the public about the relationship between environmental exposures and human health risks. Grassroots serves local and state governments, health care providers, school systems, community groups and other environmental groups and individuals nationwide.
She is the author of two books on health-related environmental issues The ChildSafe School and Helping to Heal; was a co-producer of Our Children at Risk, a thirty minute documentary film which explores the latest scientific research linking environmental toxins to children's health issues, and The BabySafe Project, a program designed to educate pregnant women about the potential risk to the developing fetus from exposures to wireless radiation; and was the co-creator of the web-based initiative, www.howgreenismytown.org which addresses climate change, sustainability and environmental health on a local level. Ms. Woods has received numerous awards from government entities and private organizations for her work on these issues.
A Visiting Scholar at Adelphi University, Ms. Wood lectures on the environment and related health issues in the College of Nursing and Public Health. Ms. Wood is also a guest lecturer at SUNY Stony Brook, Pace University and Hostos Community College.
Commenting on Ms. Wood's planned program Darlene Lefrancois-Haber Co-Chair, along with Michelle Sterling, of the Forum's Sustainability Committee, said "We are delighted that Patti Wood is bringing her expertise to the Forum. We look forward to the opportunity to learn from a leading proponent of environmentally healthy living and hope to see many of our members and others from our community at the presentation on December 14th."
BLOG COMMENTS POWERED BY DISQUS