Seniors Step Out into the Work World
Details

Category: Parenting
Published on

30 May 2017

Written by

Louisa Blatt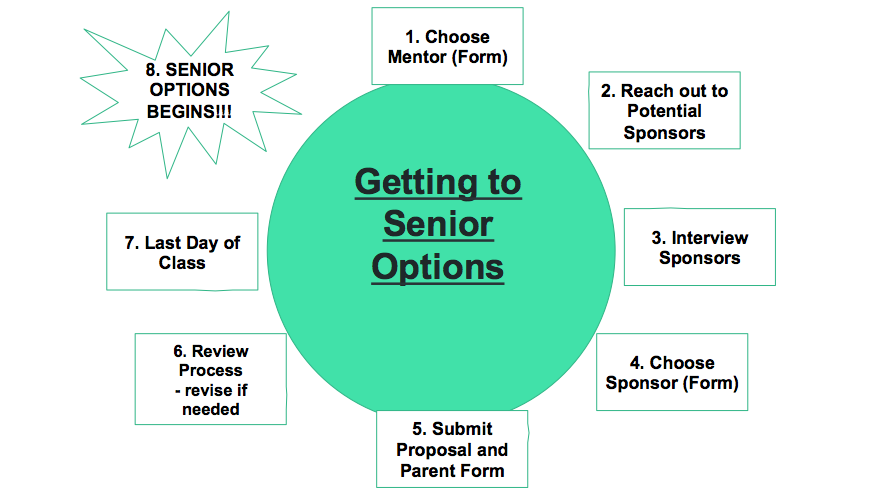 To give students to real-world experience and avoid the "senior slump", Scarsdale High School has developed a program called Senior Options. This program has students select internships and occasionally independent projects for their final month of school. The program has only a few restrictions: the internship must be unpaid, you cannot work for a family member, and you must complete certain time requirements. This leaves students with the ability to select almost any job that they'd like, which opens up a bunch of new and interesting possibilities. The Senior Options page describes itself as a way to "Allow students to extend the skills and knowledge that they have developed in school by applying them in areas of personal interest."
The program has guidance every step of the way. Not only do students work closely with their "sponsors" (employers), but they also check in every week with a teacher they select who serves as their mentor. This teacher makes sure everything is running smoothly, that they have selected a worthy workplace, and that the student is actually working for the required hours. In the early stages of the process a "case manager", a teacher who doesn't necessarily know the student, also checks to make sure that the student is proposing a worthy internship.
I am working here at Scarsdale 10583 for my Senior Options, and have interviewed a few other seniors about their internships. Their responses are below: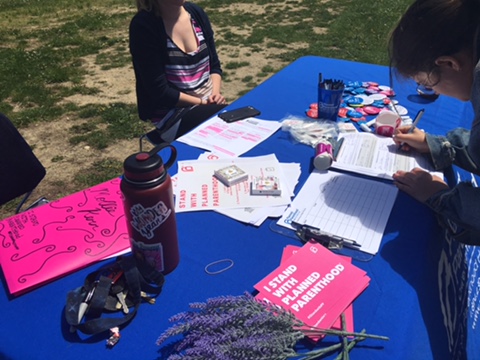 Mollie Kerr: Planned Parenthood
Where are you working for senior options and what are you doing there?

I am working at the administrative offices for Planned Parenthood of the Hudson Peconic. The Hudson Peconic is made up of four counties. Suffolk, Rockland, Putnam and Westchester. There are estimated 2.93 million people living in those four counties combined. I am working with the public affairs department. The Public Affairs Department is in charge of any rallies, events, or outreach that Planned Parenthood is doing.

How did you choose this place?

I chose Planned Parenthood for many reasons. These reasons include, my passion for women's rights, I might want to explore a career similar to this, and in our current political state it is more vital than ever to help Planned Parenthood.

Is it what you expected it to be? Were you surprised by anything?

I was surprised that there was a lot more computer work then I had thought. A lot of my day I am spent in my cubicle going through a huge box of petitions and entering them into the computer. It is mind-numbing tedious work. However I try to be more positive about it seeing how it's a good sign there are so many petition signatures and the more names I enter, the more proof of PP support there is.

What is your favorite part about working there?

My favorite part has been being able to talk to other students and seeing their own desire to help. Going out to events and meeting people who genuinely want to know what you're doing, and why you're so passionate about something has been very meaningful.
Emily Schwartz: Provisions Bakery
Where are you working for senior options and what are you doing there?

I am working at Provisions Bakery in Pelham, NY. Everyday I am baking cakes, cupcakes, and other pastries for the bakery.

How did you choose this place?

I talked with my mentor (Natalie Farina), and I explained how I wanted to work in a bakery. Mrs. Farina has had students work at Provisions in the past, and I was so excited to find a bakery that I could work at.

Is it what you expected it to be? Were you surprised by anything?

Working in the bakery has been so much fun! I knew it would be long hours, and a lot of time on my feet. Frosting cakes and cupcakes requires a lot of concentration. It has defiantly taught me a lot about being patient, even when things don't work out. I was surprised how important it is to be precise when baking. 2 days ago I was making a cake but I wasn't as careful as I should have been making sure the top was leveled out. When it came time to frost the cake, it was uneven.

What is your favorite part about working there?

My favorite part has been being able to create beautiful cakes and cupcakes on my own! Even in just a little time, I have learned so much, and I am so excited to make my own cupcake flavors and frostings later on during Senior Options.
Josie Blatt: Independent Musical Project
What are you doing for senior options?

I'm in the A-School and the Senior Options process is a little different here. We do internships every January and have that sort of experience already under our belts by the time we get to senior year. As a result, The teachers encourage A-School students to do independent projects. I'd say about half of us wind up doing independent projects and half do classic Senior Options. For my project, I decided to write a musical.

Why did you choose this project?

I love musical theater and have wanted to try and write a musical for a while, but I just haven't had the time. This seemed like the perfect opportunity to attempt this project. I don't expect to finish writing a musical in a month, but I'd definitely like to finish at least a few of the songs.

Is it what you expected? Were you surprised by anything?

To be honest, it's a lot harder than I expected. I have a pretty strong background in music, but I'm less experienced with lyrics, storyboarding, and dialogue, which are obviously important components in a musical.

What is your favorite part about the project?

It's amazing to able to express myself in this way. Like I said before, I wouldn't normally have the time to do this sort of thing and it's wonderful the project is so open-ended. There are guidelines, but for the most part I was let loose and told to be creative. It's such a unique setting and I'm so glad to have it.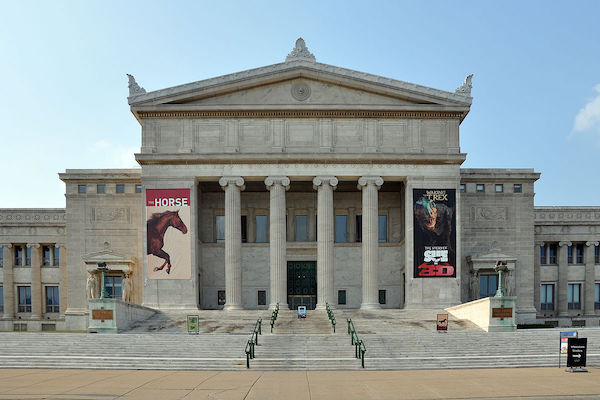 Karen Zaklama: Museum of Natural History
Where are you working for senior options and what are you doing there?

I am working at the American Museum of Natural History in New York City. I am working two different positions- in the mornings I work with teaching volunteers and speak in particular exhibits with tourists, students, and other visitors. In the afternoon, I work in the volunteer office on a variety of projects. I either help to organize files or give tours of our temporary exhibits.

How did you choose this place?

When looking for an internship, I knew I wanted something interesting, science related, and vibrant. When I was younger, I spent a lot of time at this particular museum, and decided that giving the job a shot would be fun.

Is it what you expected it to be? Were you surprised by anything?

I had few expectations about the whole thing, just because volunteering offices are so variant. I did expect, however, that it would take a very long time to grasp all of the information necessary to teaching museum exhibits. However, I found that I learned relatively quickly amongst the other volunteers. I was also surprised at how valued volunteers are at the museum, and the dependence visitors have on volunteers, whom the public perceive as "experts."

What is your favorite part about working there?

My favorite part about working at the museum is learning all of the secrets. I have learned about the various science labs, private hallways, nightly events, visitor incidents, and curating history that adds to the complete environment of the museum. I think having the opportunity to speak to a scientist devoted to artifact presentation or look at articles dating back to the 1800s on African taxidermy adds a richness to my understanding of how scientific and historical information is communicated.
Do you have a Senior Options experience? Please send a description and a photo to scarsdalecomments@gmail.com and we will include it in this article.
Add a comment
Tips for a Successful Transition to Kindergarten
Details

Category: Parenting
Published on

22 May 2017

Written by

Joanne Wallenstein

As spring turns into summer and the school year winds down, it's hard not to anticipate where your child will be next fall. When your child is beginning Kindergarten, the transition can be a big one for both parents and kids, as families leave behind the gentle classrooms of pre-school, and head to new, bigger buildings filled with older kids and eventually, real academic demands. Here are some tips to help ease the transition for you and your child:
Read books together about starting school.
Spend an afternoon at the new Barnes & Noble café or the public library and look for books such as Kindergarten Rocks! By Katie Davis, First Day Jitters, by Julie Dannenberg, The Night Before Kindergarten, by Natasha Wing, and many many others. Make this time about connecting and providing a space to talk with your child, not an academic activity.
Visit your child's new school if possible.
Many children wind up going into their new school during a Kindergarten screening, and some are familiar with the building because an older sibling attends. Often also, the teachers open their classrooms up for a few hours the week before school starts for kids to come in. (You can call the school to ask if this is something they do.)
Take your child to play in the playground of the school over the summer. (This may have an added bonus of meeting kids in the neighborhood who are also starting Kindergarten there in the fall.)
Try to arrange play dates with other children you know will be attending that school. Many children will express that they are worried about missing their nursery school friends, or that they don't know anyone in their new school.
If your town does a summer "rec camp," consider signing your child up, at least for a few weeks. Often they will place children in groups together based on the elementary school they are zoned for, and these programs are usually on the less expensive end of summer day camps.
Validate their feelings. They are most likely feeling a combination of nerves and excitement which is perfectly normal. You don't have to "fix" it by telling them they will be fine, or that they will love it. You can tell them it's normal to feel nervous about going to kindergarten, and that most kids feel the same way. You can also share with them a story about a time you felt nervous before a big change.
Ask them if they have specific things they are worried about, and if they can name them. Sometimes it could be "who is picking me up and where?," or "how will I know which bus to take?," or "what will I eat for lunch?" You may be able to answer many of these questions concretely which will help alleviate some anxiety.
Expect some acting out and regressive behavior. This transition is a big deal and behavioral changes (that may seem out of character) are common. Your child may not settle down until deep into the fall.
Keep in mind that this is a transition for you as well, and you also may have some worries and concerns. The best way for you to begin to feel comfortable is to get involved to the extent that you can in their classroom and their school. Attend PTA meetings and sign up to work on an event, serve on a committee or become class mom. (They usually have many different options based on parents' available time and interests.) Becoming involved in your child's school will help you meet other parents, as well as get to know the teachers and the administration, which never hurts in terms of being able to best advocate for your child down the road.
MOST IMPORTANT:
Enjoy the summer. Allow less structure and relish relaxed family time as much as possible. DO NOT WORRY ABOUT ACADEMICS. The teachers know what they are doing and they know that kids are coming in at different levels. Enjoy this time with your child. In what will seem like a flash you will be worrying about the transition to Middle School!
Julie Stonberg is a clinical social worker with a private practice in Harstdale. She also serves as a social worker for the Towards Tomorrow pre-school program at the JCC and runs workshops during the year on different parenting topics.
Add a comment
Students Protest Schedule Changes
Details

Category: Parenting
Published on

09 May 2017

Written by

Louisa Blatt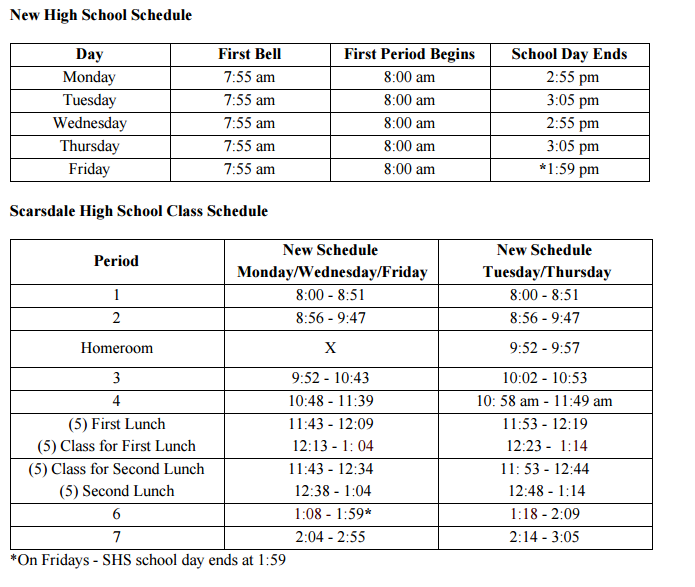 What seems like a small schedule change may have a deeper impact. At the May 8th Board of Education meeting, student Holly Rittmaster presented a petition started by another student, Lila Horwood, that protested the upcoming changes to the Scarsdale High School Schedule. The petition says the following: "Starting next year, in the 2017-18 school year, our schedules are being extended 75 minutes a week, and we will only have homeroom twice a week. As stressed and concerned members of the Scarsdale High School community, we want to show the Board of Education how many people are vehemently opposed to this change. If you are opposed to any part of the new schedule, please sign this petition!"
It currently has 566 signatures and has gathered a lot of community buzz and comments, most of which seem to be saying the same thing. Students do not want this schedule change to be implemented. "The new schedule completely contradicts every goal of the wellness committee and is ridiculously confusing. Later dismissal times and earlier start times only make for less sleep and increased stress." Says a current High School Junior, "No students were included in any part of the process for creating the new schedule, or any sort of discussion regarding schedules at all, which is outrageous considering they are the most affected. The school and the Board of Education should return to the drawing board and make sure to include students in some manner."
This year the high school administration is focused on "student wellness", but this new schedule seems to contradict and undermine that message. Some students feel that it does not matter how many surveys students take on stress improvement if nothing is done with the results. A commenter suggests an alternative approach to time requirements which the administration has said are dictated by New York State in this press release. "I believe the additional instructional hours required by state could be met in ways that aren't detrimental to student wellness. Maybe we could have one additional special period per week, where students could choose a seminar or activity to attend in order to enrich the high school experience. Some other high schools employ this system or have study hall/group work time. The most important thing is to take into account the voices of students, not just on paper but in action."
Never has a room been more divided than when the schedule changes were announced to the juniors and seniors. Not divided in opinion, but in reaction. The seniors, who are leaving before the schedule changes, all high-fived and cheered because they were "leaving just in time". The juniors, however, were understandably furious. While the school is constantly asking students what can be done to improve wellness, some feel that this schedule revision misses the wellness mark by a mile. Many students felt their voices were ignored.
In the view of many of the petition signers, Scarsdale high school students aren't "well". They're stressed. This new schedule change only solidifies some students' fears that the measures they have been told will alleviate their stress are doing nothing at all. You can find the petition by clicking here.
Add a comment
SHS Baseball Team Onto the Playoffs
Details

Category: Parenting
Published on

18 May 2017

Written by

Louisa Blatt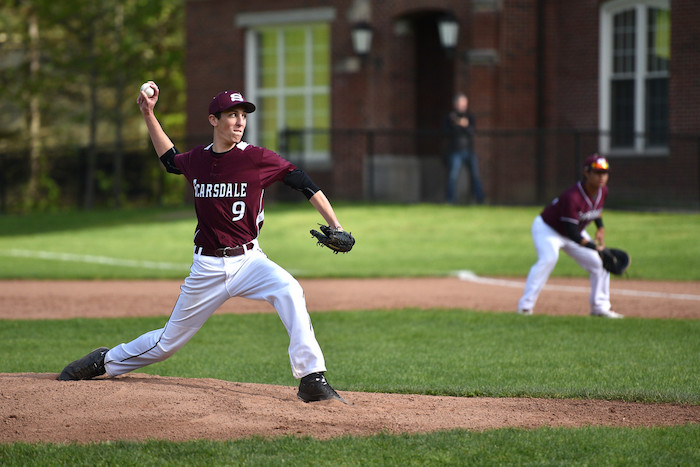 The Raiders baseball team finished their season with an 11-8 record and a celebration of Senior Day. They had an impressive 11-3 run after a 0-5 start. The team will be beginning playoffs Saturday May 20th against New Rochelle High School.
Jon Thaler took photos of the event, a sample of which are below. If you would like to see the rest of the game images, check them out by clicking here.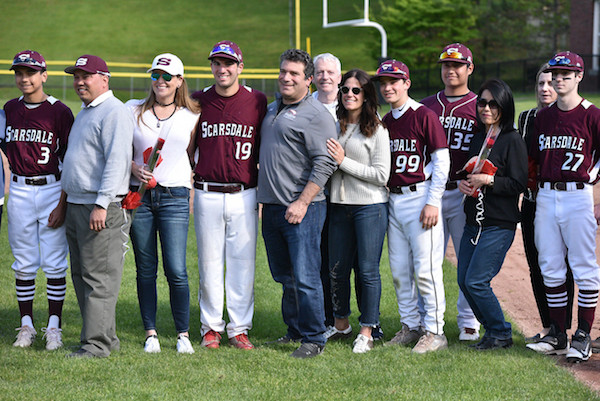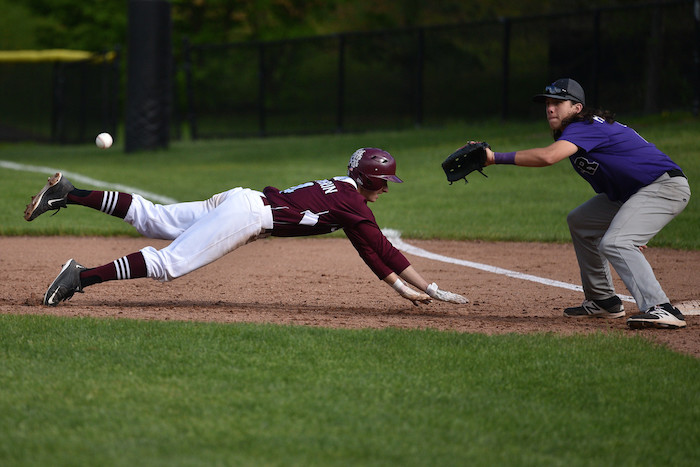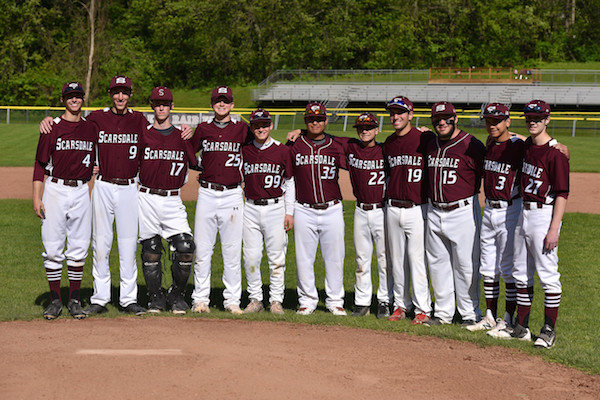 Add a comment
Washington D.C. with Young Kids: You Can Do It!
Details

Category: Parenting
Published on

01 May 2017

Written by

Stacie Waldman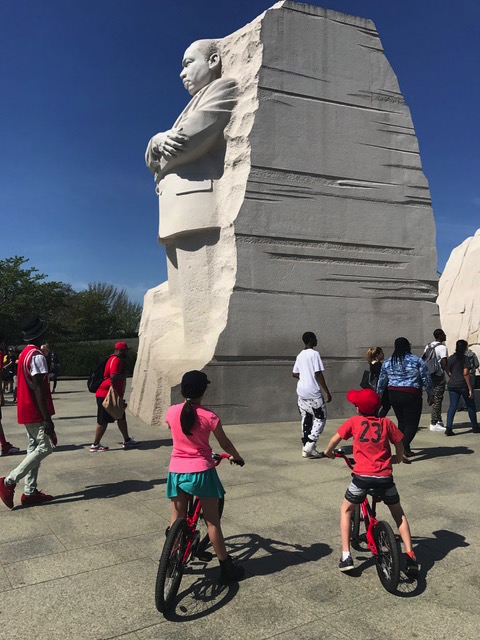 When we decided to take a trip to Washington, D.C. this past April, the general response from people was that our kids, 7 and 9, were the perfect age for it. "But it's a ton of walking so they'll be complaining about that the entire time," said, well, everyone. So, when planning our DC trip, the constant stressor in my head was how to maximize enjoyment and minimize walking for our crew. I threw the kids' bikes in the car with a couple of bike locks at the last second (why else do I drive a minivan?) and THAT is what ended up being the best decision we made.
Here's the rest of how we "did DC" with a minimal amount of whining, along with some tips from other Scarsdale families that made the trek to the Capitol as well.
Accomodations
We ended up staying at great little Airbnb in the Capitol Hill area. We liked having a street parking permit, unlimited Keurig pods and a laundry machine. My family enjoyed being in a neighborhood with parks and the kids rode their bikes to dinner each night while we walked. Tina Lin, a Fox Meadow mom, has three boys ages 4, 7 and 9. She and her family stayed at the JW Marriott and loved the location on the National Mall as well as the hotel pool. "The kids may have been more interested in the pool than the sights," she quipped. Lynn Marvin, a Greenacres mom, has three kids also 4, 7, and 9. They stayed at the JW Marriott as well and described it as "The perfect location with a great indoor pool and hot tub which we used every day. There was a big courtyard for running around and we walked to the sites and lots of great restaurants. Breakfast included."
Sustenance
Access to a kitchen and kids that need 35 reminders to brush their teeth in the morning meant that we ate cereal for breakfast every day. We packed lunch for ourselves thinking that there wouldn't be many food options right on the mall but we were glad to be proven wrong. "The American Indian museum has a really cool food court with Native American delicacies," said Lynn, "We loved the organic burgers across from the National Zoo entrance as well as a really cool German restaurant called Cafe Mozart that has piano and accordion music at night- our kids loved it!" Kid-friendly restaurants nearby included Fogo de Chao for Tina's carnivores and the popular Founding Farmer for Lynn's dessert lovers.
Out and About
About 25 million people a year visit the 11 Smithsonian museums on the National Mall. You can visit some government buildings like the Capitol, but you need to secure tickets in the morning. The White House tour requires an advanced request through state representatives. There are private museums, fun areas to explore like Adams Morgan, Dupont Circle and Georgetown, and the monuments and memorials are a must for any visitor.
My kids rode their bikes every day to and around the Mall area. They loved the National Museum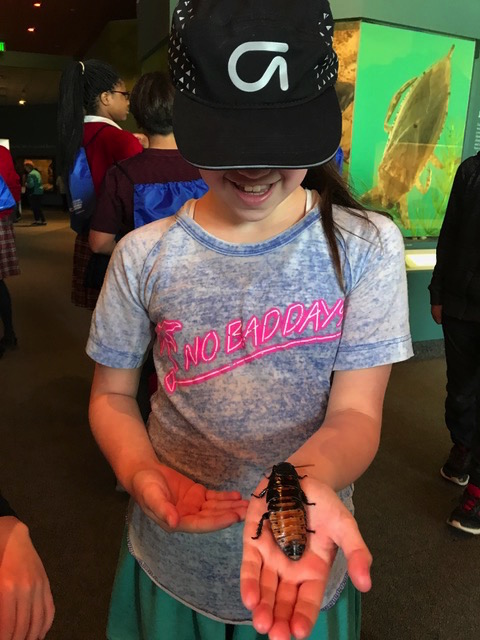 of Natural History and so did Tina's kids. Volunteers in the insect area introduced them to Madagascar hissing cockroaches (see photo) and they got to watch the house tarantula capture and eat a cricket. The mummies, the dinosaur bones, and the Hope Diamond were also hits for my bunch. Tina's kids liked the 3-D IMAX show and thought it was a good break from all of the walking. All of our kids loved the Air and Space museum. Tina said, "The 'How Things Fly' exhibit was very interactive and the boys just liked seeing all the planes and spacecraft hanging in the museum."
My family spent three hours one morning at the U.S. Botanical Garden. It's well organized and has fascinating flora as well as detailed field guides for children that send them on a scavenger hunt. Any child between 6-12 should enjoy that. Adults will enjoy the garden as well. My kids loved the sculpture garden along the mall.
Lynn's family checked out the Spy Museum, "Cool but crowded and better suited for an older bunch. My husband loved it." She also stopped by Madame Toussad's Wax Museum, "The kids loved posing with wax presidents, definitely a highlight", the Native American Museum, which had fun hands-on exhibits, Ford's Theatre, which was fascinating for the older two but boring for the 4-year-old, the White House Visitor Center, "Our tour request was denied but the kids still liked the visitor center- they have an exhibit of presidents' pets and favorite foods" and they all enjoyed their own night tour of the monuments. "Seeing the monuments at night at our own pace was cool."
My family loved the National Zoo and we ended up going two days in a row. The first day I went with my daughter while my husband and son walked from our Airbnb to a Washington Nationals baseball game, which they loved. It was empty and we spent three hours feeling like we were on a private zoo tour. We spent so much time with the pandas and in the ape house. The following day it took us over an hour just to park at the zoo because of the number of people. It was horrifically crowded and we had to wait 45 minutes to see the pandas so it was quite a different experience.
Tina's kids loved the huge inflated chickens modeled like the President that protesters had up in the Mall and by the Capitol. "The highlight one day for the kids was when a police dog pounced on an unattended bag in front of us near the White House fence and the police evacuated everyone off the street."
The best way to see the monuments, memorials and tidal basin for my family was having the kids ride their bikes. We started early in the morning with a Lyft ride to the Lincoln Memorial with the bikes. They never got tired of riding, though they tired of walking. When they got to each monument they seemed much happier to be there than the kids around us who were telling their parents how much they hated them for making them walk so much. Our kids loved the FDR, Jefferson, Lincoln and MLK memorials. Martin Luther king is the historical figure my kids are most familiar with so they were very excited to see the monument dedicated to him. They didn't get much out of the Korean and Vietnam memorials and we skipped Arlington Cemetery. We planned for our route to end at the tidal basin pedal boat rentals. The kids enjoyed this a lot and it was nice break from monuments and memorials.
Getting Around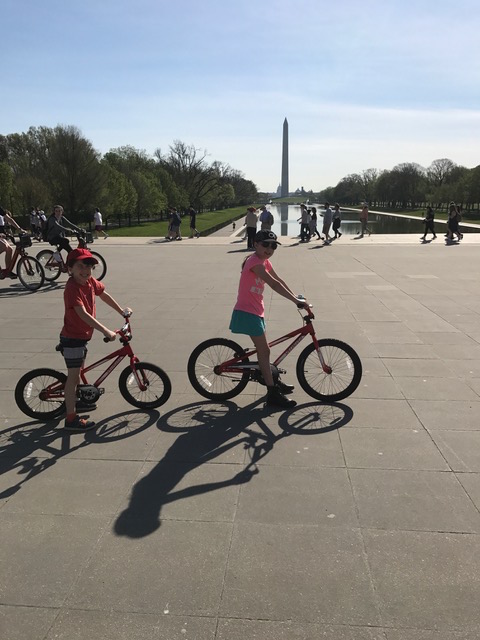 Washington D.C. has very wide sidewalks and even though you're technically not allowed to ride bikes on them, no one ever said anything to the kids. We had one near-head-on collision with a German tourist; he wasn't aware of the sidewalk laws and thankfully found my daughter's apology cute. The tidal basin and the Mall are bike friendly. There are plenty of bike racks and it's also acceptable to lock bikes around utility poles and fences. You must walk your bike through the memorials and past the Holocaust Museum but other than that you rarely have to disembark from your seat. My kids can ride without training wheels and stopped at every street corner to wait for us before crossing the street. I don't trust that my 7-year-old would have done that a year ago, so be wary of that for younger children. Training wheels may make it difficult to ride on the National Mall because of the dirt/gravel trails.
Getting around D.C. is generally very easy. The Metro is a little confusing to a New Yorker at first because you pay based on the distance you're traveling, but it's clean and efficient and a fun experience for kids. Ubers and Lyfts came in very handy for all of us. We even threw the bikes in the back once or twice. Sadly, D.C traffic is horrible.
Advice
The Hop on Hop off Bus was a waste of time and money according the Lynn. "It was slow and my kids were bored just seeing the sites." She also reiterated that the Spy Museum would be better for older kids and adult James Bond aficionados. Her main piece of advice is "Pace yourselves. My kids definitely got 'museum fatigue' so mixing in things like the zoo and interactive exhibits was a necessity."
My family found the National Museum of American History boring and dark inside. The "highlights" according to the guides were Bert and Ernie and Dorothy's ruby red slippers but we found both to be quite underwhelming.
Tina wouldn't skip anything they did but she did feel a bit rushed by spending only two days in DC. "In retrospect, we should have done the zoo instead of the memorials/monuments tour as the zoo is more age appropriate."
All three of us agreed that you need to be prepared for a lot of walking and that the bribe of gelato/ice cream goes a long way!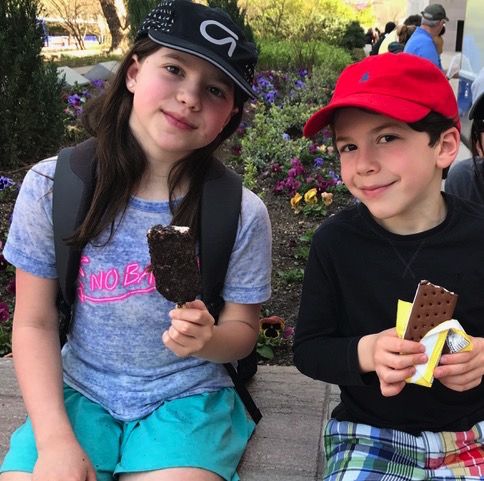 Add a comment