Raiders Girls Basketball Team Falls to New Rochelle in Close Game
Details

Category: Parenting
Published on

25 January 2017

Written by

Emmeline Berridge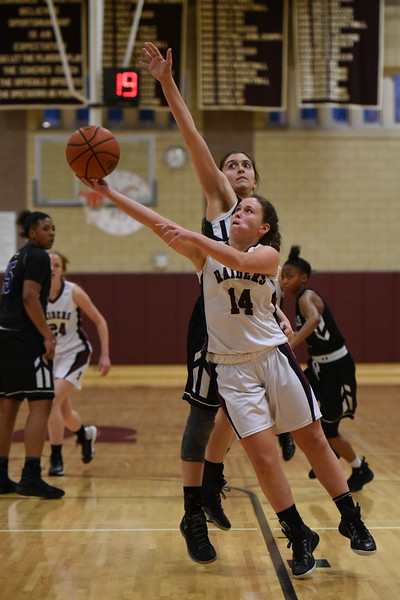 Going into their game against New Rochelle on Tuesday, January 24, 2017, the Scarsdale High School Raiders Girls Basketball Team had built up momentum from their previous league wins. Starting off the season 0-5 against some of the best competition in the state, the team had trouble finding their rhythm. Their 57-36 win over Mamaroneck on January 10 started a 3 game winning streak, with 2 hard fought wins against White Plains (37-34) and Mount Vernon (66-53). Scarsdale's ability to finish clutch against White Plains combined with their dominance over Mount Vernon resulted in a newfound cohesiveness of the group. These wins propelled the Raiders to a 4-6 record, a promising upturn to their season. On Friday, Jan. 20, the Raiders took on the 9th best team in the state, Ursuline. A 52-32 loss on Ursuline's home court was the result of a devastating first half, where the Raiders were down by over 30 points going into the 3rd quarter. A win against New Rochelle would mean that Scarsdale would establish itself as the second best team the league, which is well respected throughout the section.
Starting the game strong, the Raiders were up 18-2 after the 1st quarter. After a series of foul calls and loss of momentum, the half ended with the Raiders leading 25-19. Unable to maintain the lead, Scarsdale ultimately lost to New Rochelle 49-34. A total of 54 fouls were called in the game, an unprecedented amount for the 32 minutes of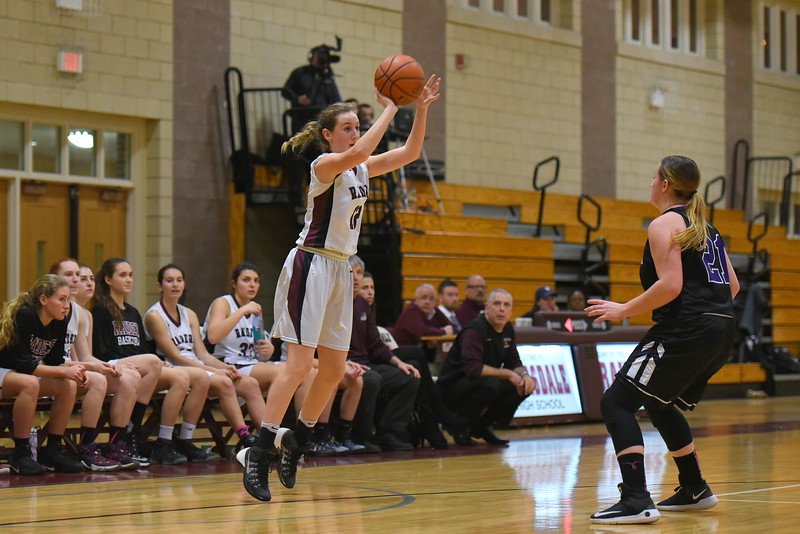 regulation play. With 1 minute left to go, the Raiders had already lost 3 of their starting 5 players to foul-outs. Center Emmeline Berridge got her 5th foul midway through the 3rd quarter, allowing the dominance of New Rochelle's center to shift the game. Guards Samantha Mancini and Lily Steckel were forced to leave the game late in the 4th quarter, weakening Scarsdale's offense. Another notable cause of Scarsdale's loss was their poor performance from the free throw line. Scarsdale's free throw percentage, which was under 50%, was a critical aspect of the team's loss. The Raiders also failed to make shots from the perimeter, which was detrimental for the perimeter-based offensive team. The team continues to their next game with a record of 4-7.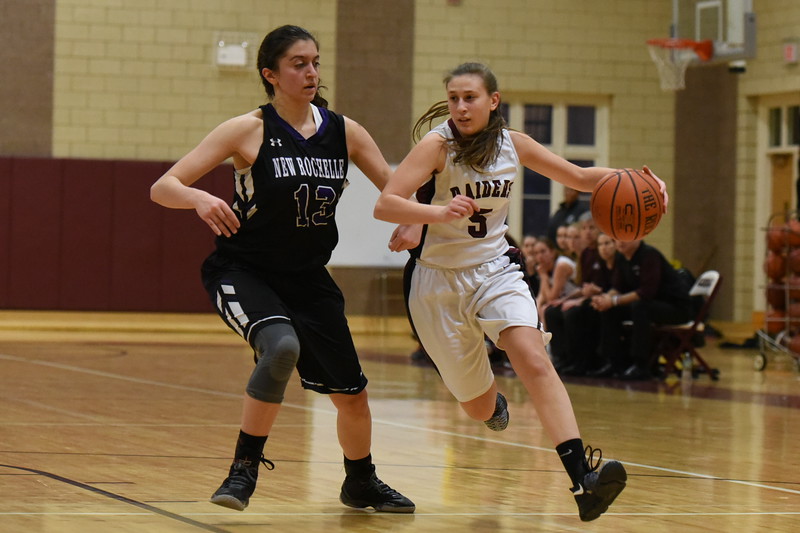 The Raiders will play Mamaroneck at home on Thursday, Jan. 26 at 4:15. Next week they face North Rockland on Monday, Jan. 31, White Plains on Wednesday, Feb. 2, and Mount Vernon on Friday, Feb 4. With a crucial stretch of the regular season ahead, Scarsdale looks to display their ability and advance their seeding for post-season play.
Photos taken by Jon Thaler. See more here.

Sustainable Schools for Tomorrow
Details

Category: Parenting
Published on

18 January 2017

Written by

Joanne Wallenstein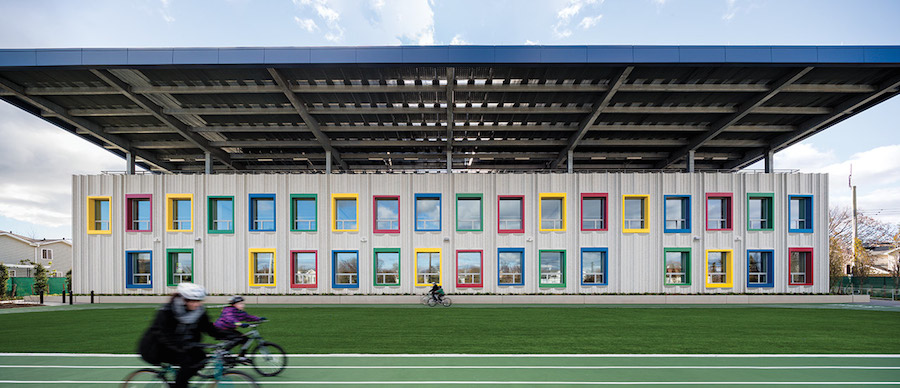 As the community considers long terms plans for school district facilities, we will need to familiarize ourselves with the latest trends in school design. How do educators and architects envision the evolution of education, and how will school design reflect this evolution? Just as many of Scarsdale's current schools have served students for the past one hundred years, how can we build facilities that will facilitate education for the next century?
A survey of some recently-built elementary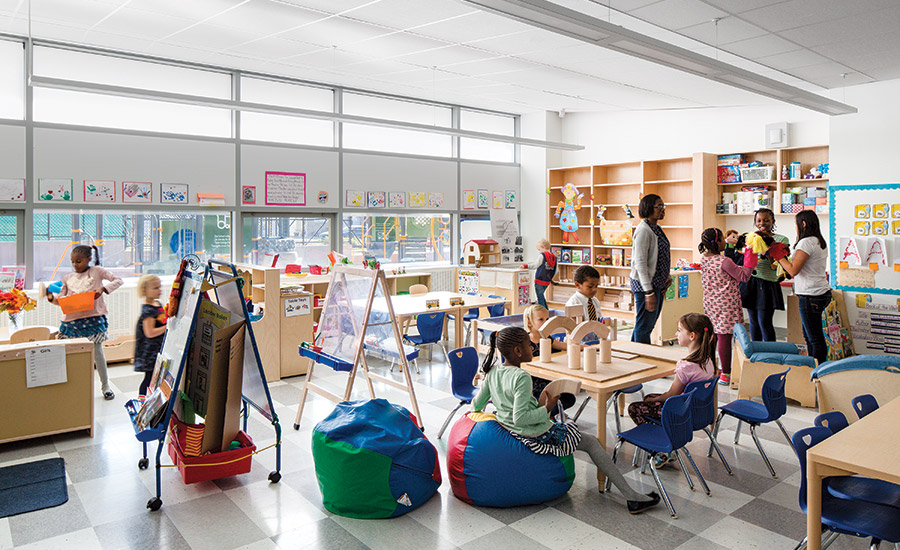 schools reveals a few emerging themes:
Sustainability: Probably the most revolutionary change in school design is the construction of sustainable buildings that become integral to the school curriculum.
New York City has recently opened its first net-zero energy school that actually produces the energy it consumes. The Kathleen Grimm School for Leadership and Sustainability at Sandy Ground in Staten Island, designed by Skidmore Owings and Merrill is designed to use 50% less energy than other new New York City public school buildings and is undoubtedly far more fuel-efficient than traditional school buildings.
How does the school generate and conserve energy? Photovoltaic panels on a sloped roof produce energy while skylights and reflective ceiling panels bring in natural light. The school also has energy recovery ventilators, demand-control ventilation, a geo-exchange heating and cooling system, and a solar thermal system for hot water. The L-shaped building is oriented to provide maximum access to natural light exposure.
The energy saving features of the building are integrated into the learning process. Students and faculty manage energy consumption with interactive dashboards displayed throughout the building that present real-time data on energy usage and production. This allows students and teachers to make choices to manage consumption and production. Signage around the building explains sustainability and educates visitors and students about energy conservation.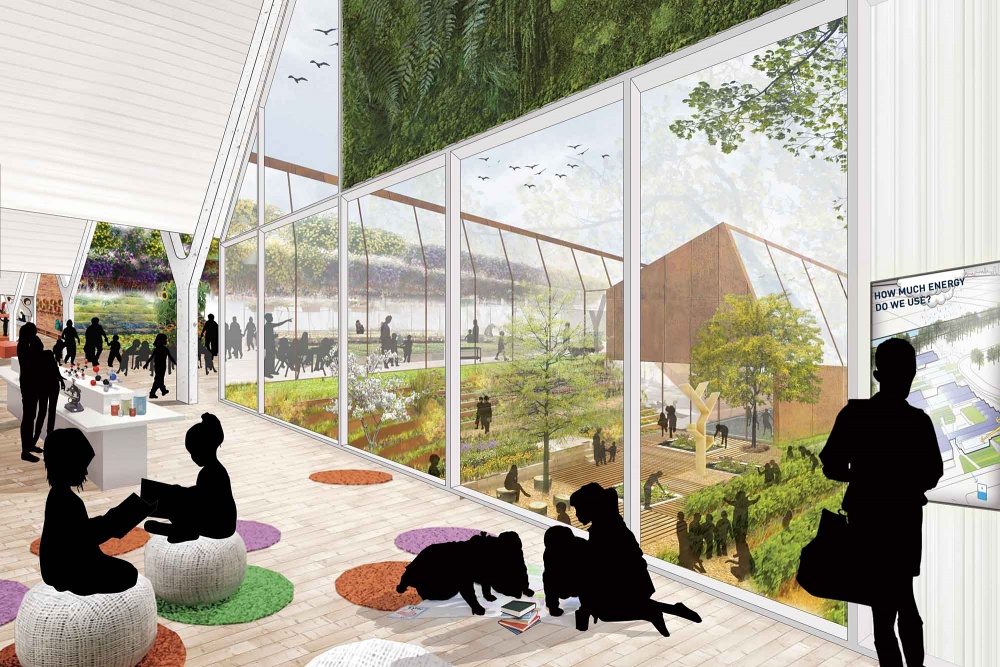 Another green school is The Academy for Global Citizenship Charter School (AGC) in Chicago which is designed around a green curriculum. Their mission statement says, "Learning from natural processes is a powerful vehicle for teaching our students about the connection between their everyday choices and the health of the community, the environment, and themselves."
Children care for the school's chickens and eat their eggs. The kids practice recycling and composting and track onsite consumption of solar energy. The kitchen serves organic, nutritionally balanced meals and encourage mindful eating.
In 2015 AGC partnered with cutting edge architects Studio Gang to "design a new, purpose-built 21st-century learning campus that reimagines the concept of "school" as a place that embraces the innate curiosity of children, the natural systems of the world, and the responsibility to make positive change, instilling in students a mindset of sustainability and wellness. With this new campus, Studio Gang is not only giving AGC's unique mission a physical form, but expanding the school's larger vision into a powerful new format: a model for educational innovation that has the potential to ignite a global movement for change.
The design includes many different types of spaces
for individual and collective learning and a farm to provide food to feed the school community. The campus will be fueled by solar and geo-thermal power. Again, the school design is integral to the curriculum as the school will be a living demonstration of sustainable living. The school is currently raising funds to build the new campus.
In a recent report prepared by Dattner Architects for the renovation of Scarsdale Library, they review the educational opportunities offered by sustainable buildings:
"As a public building dedicated to community education, this project presents the exciting opportunity for the building itself to serve as a living laboratory that informs patrons about energy and water efficiency, indoor air quality, connection to the outdoors, and can motivate the community to get involved in activities that promote sustainability and environmental awareness."
Perhaps this same line of thought can be extended to plans for future district schools.
Beyond sustainability, what are some other design features of schools for the future? Architects list these:
Small group and non-traditional learning spaces: New schools include flexible spaces where students can collaborate and engage in small-group exercises. These spaces provide the opportunity for hands on learning and exploration beyond the traditional classroom environment. Flexible furniture, movable walls and classrooms designed in other than lecture style layouts should accommodate children with a variety of learning styles.
Safety and security features that enhance rather than detract from the educational experience. Though there's a need for heightened security, secured entrances, video monitoring and compartmentalization of spaces does not have to interrupt the learning environment.
Enhanced technology: As students spend more time on tablets and computers, accessing educational games to learn content and problem solving, the school environment will need to accommodate technological engagement. Schools will include sophisticated wiring, technology, media centers and furnishings to accommodate kids using technology.
Maker Spaces and Design Labs: as learning moves away from the traditional classroom model, schools will require more space for hands on learning and design thinking. In these design labs kids learn by making, doing and collaborating.
Are you aware of some cool new schools or design features of sustainable schools? Share them in the comments section below.
The Wellness Initiative at Scarsdale High School
Details

Category: Parenting
Published on

05 January 2017

Written by

Carly Glickenhaus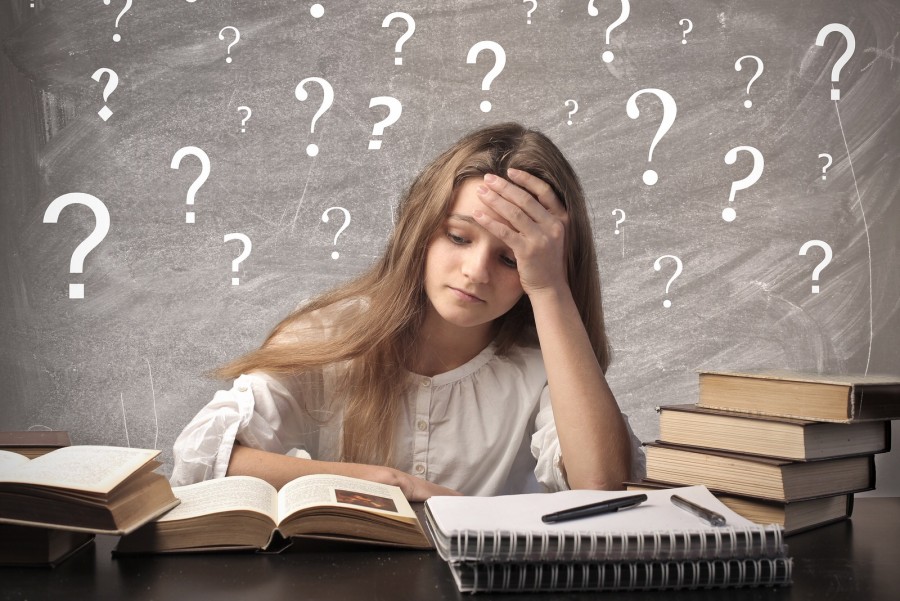 National recognition as a top high school has drawbacks. Lately the Scarsdale High School administration has been gauging the stressful and competitive atmosphere at SHS and taking a methodical approach to address the balancing act performed by busy teenagers in the peak years of self-discovery. Students, teachers, and parents have reasonable concerns about the potential costs of Scarsdale's rigorous academic reputation.
In December, Principal Kenneth Bonamo wrote to students and parents to announce the progress of the recently formed Wellness Initiative. Student, faculty, and parent "wellness teams" were formed at the high school. This fall, a steering committee composed of representatives from each team attended the "Challenge Success" at Stanford University. The momentum of the wellness initiative has taken off during this school year, but the project began much earlier. Last year, students were asked to answer polls on their stress levels and on how the school could do a better job maintaining a demanding and rewarding curriculum while giving busy teenage students much-needed breathing room. But the results of these surveys, and their implications, were not made accessible to the student body. When recent grads were asked whether they knew we had a student committee on stress and wellness, most said they were not aware of the committee's existence. Sarah Weintraub, SHS '16 and Amherst College '20, says she only saw these results because she was in student government, while other students not included in the small group that ran for government positions had to go out of their way to find the results. Last year, parents, not the student body, were invited to the high school auditorium for a presentation on the survey results. While students are forced to sit through many assemblies and music concerts throughout the year and on half days before vacation, the school did not deem this survey important enough to make a school-wide presentation.
The faculty's two goals for this year include homework-free school vacations and "calibration" of homework. Teachers will be asked to give students a portion of their homework in class to better determine the lengths of assignments. "Calibrating" homework during class time, according to Bonamo, will allow students to demonstrate how long they take to do assignment "without distractions or assistance." Looking back, Weintraub thinks Bonamo's plan is a great idea. Collaboration between students and teachers may build trust and foster a more dynamic relationship that relieves stress on both ends.
However, some students struggle to convey the scope of their extracurricular time commitments to teachers. Scottie Berridge, SHS '16 and Columbia University '20, had swim practice before and after school several days a week throughout high school, and by the fall of her senior year, she had a scheduled visit to her dream school, Columbia University, for a recruiting trip. She had to miss two days of school that week to meet with coaches and meet the team before making a huge decision. Berridge recalls one teacher that would not extend the deadline on a paper due that weekend, even for a single day. When she explained that she would be busy with recruiting events while on campus, the teacher responded "They have computers at Columbia, don't they?" Berridge was appalled that her teacher refused to acknowledge the importance of this commitment in her life.
SHS faculty, students, and families must also consider how the wellness initiative in high school will serve the long term goal of producing graduates that are creative, energetic critical thinkers, ready to continue the organic process of their education. Recent SHS grads reflected on the plan to "calibrate" homework and some believe this practice may shortchange students as they prepare for a college course load. The regimented high school schedule breaks up the day into forty-eight minute increments, beginning the day at 8:01am and telling students to eat lunch at precisely 11:46am. One of the biggest differences in high school versus college life is the transfer of authority over time management to the students' hands. A college freshman's attitude and perspective when looking at how to budget their precious free minutes determines their academic performance, their success in extra-curriculars, their social life, and their sleep. Regularly asking high school students to complete work during class periods, within school hours, restricts their ability to practice prioritizing assignments and develop a sense of initiative. Michael Blank, SHS '16 and Georgetown '20, noted the potential danger of the "calibration" practice becoming "normal" because the purpose of class time would be shifted to homework type tasks and not creative learning and provocative discussion.
The plan to "calibrate" homework would, according to faculty, allow students to work "without distractions or collaboration." Today's teenagers are exposed to more distractions than any other generation, and a Scarsdale education must teach students how to learn efficiently on their own if the district is to be successful preparing its graduates to work at the nation's elite institutions. Instead of shielding students from the distractions of Facebook and Netflix by completing work inside school walls, teachers must encourage students to develop the valuable skill of learning to focus when surrounded by distractions, mimicking the often chaotic college environment. Furthermore, classroom oversight may thwart collaboration. Recent SHS grads were asked about group work in high school versus college, and most said they were surprised to find collaboration is expected and encouraged at college. Many problem sets in college classes require the names of every student that worked together on the questions. At SHS, students are often scolded for working with others on homework. Often in bold letters on the syllabus, high school teachers warn students against "unlawful" collaboration, but do not draw a clear distinction between dishonorable cheating and healthy group work, definitions that SHS must help students establish before sending them off into the real world, where nearly every job will be completed in teams.
Bonamo's email said the survey data indicated that students' average homework load was 3.5 hours per night. When shown this statistic, most recent grads agreed that it sounded accurate. However, this singular piece of data used in the wellness update to parents does not account for variation among A.T. and regular level students. Furthermore, 3.5 hours means something very different for a student with an afternoon packed with activities and responsibilities. Berridge said she spent about four to five hours per night on homework, then did some studying. With a school day ending at 3pm, 3.5 hours of homework does not leave much time for students to pursue extra-curriculars, or, perhaps more importantly, sleep, to prepare for the next day beginning at 8am.
Ultimately, the wellness initiative suggests that the SHS community has taken a pause to refocus and reaffirm that our practices serve a healthy goal. It is refreshing to see such a demanding high school making an effort to acknowledge the students hard work outside the classroom, where just as much learning is happening. The student who may not be earning As and attracting the praise of teachers and classmates, has a chance to find what makes them feel happy and valued elsewhere, in sports, music, drama. Making systematic adjustments to reduce stress facilitates a more inclusive academic community where each student can feel confident in his or her contributions. The college process demands both high academic performance and scores of extra-curriculars, but expects students to arrive on campus, enthusiastic and ready to learn. Scarsdale's wellness initiative, if taken seriously and attacked with vigor, will encourage students to try new things, to try out for the JV team of a sport they have never played before, to attend club events and to cheer on sports teams, all creating a healthy, vibrant community conducive to learning at the highest level.
Carly Glickenhaus, SHS '16, is a freshman Biology major and Division I Varsity rower at Georgetown University.
Fox Meadow Multicultural Fair to be Held in May
Details

Category: Parenting
Published on

12 January 2017

Written by

Joanne Wallenstein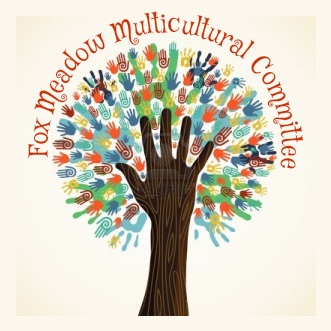 The Fox Meadow Multicultural Committee announced that the Multicultural Fair, which has traditionally been held in January after school hours, has been moved to Friday, May 26th during school hours. This change will allow all Fox Meadow children to participate in the exciting food tasting and cultural activities of over 20 countries. The fair on May 26th will also include reading in the classroom of a book chosen by Principal Duncan Wilson and his colleagues.
The Multicultural Committee will be sending out an email next week to continue enlisting country table organizers and to provide you more information about logistics.
Scarsdale Resident Launches Nanny Tax Solutions for Household Employers
Details

Category: Parenting
Published on

14 December 2016

Written by

Joanne Wallenstein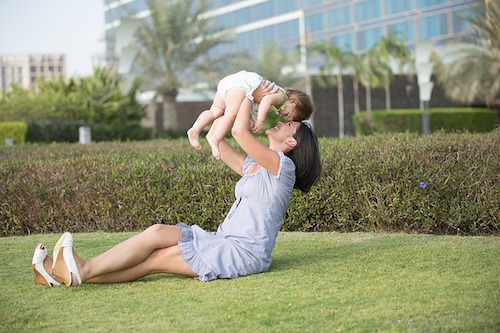 When attorney and CPA Chandra Nottage moved to Scarsdale four years ago, she needed someone to care for her daughter while she went to work. Even though most of the working parents she met in the area hire nannies, leaving her infant daughter with a stranger all day without supervision was a scary thought and not something she was willing to do. There were not many institutional childcare options available for children under 18 months and she found that for most working parents a nanny was the only viable option. Chandra did, however, find a childcare center in walking distance from her home. But, when her daughter needed surgery on her feet, they lost the space when she couldn't be enrolled when it became available. A part-time space was later offered, but the remaining days needed to be supplemented with a nanny. Suddenly, she and her husband found themselves to be household employers.
Chandra quickly realized that Scarsdale is rife with household employers but there were no payroll services for this type of employment. So when she left her position at a Big Four" accounting firm after seven years, she decided to start Nanny Tax Solutions offering payroll services to both household employers and small businesses with an average of 10 employees.
Household employers include individuals who employ nannies, gardeners, housekeepers, home health aides, babysitters or drivers, to name a few.

Employing a nanny who is paid more than $2,000 for the 2016 tax year immediately makes a family a household employer responsible for complying with payroll tax requirements. Some household employers may file their own taxes at the end of the year and may not have an accountant. Other household employers or small businesses that already have an accountant may not have one that will help with the weekly payroll. These employers often do not have the same resources as larger employers, and processing payroll in-house can be burdensome. Hiring outside help is necessary for small employers, but Nanny Tax Solutions recognizes that they also need to keep costs low. Therefore, employers can customize their payroll services and can choose how much they want to remain involved. Clients can use Nanny Tax Solutions to issue wage payments to employees every payroll period, to file quarterly and annual payroll tax filings, and to help with the numerous other compliance matters. Employers can choose to use Nanny Tax Solutions for some or all of these services.
Nanny Tax Solutions is located in Hawthorne, New York,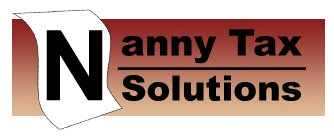 but services employers nationwide. Meeting the needs of clients is the company's number one priority; and although there are standard office hours, appointments can be made outside of those hours when necessary to accommodate an employer's schedule. Call Chandra Nottage at Nanny Tax Solutions at (914) 214-5762 or send an email to: contact@nannytaxsolutions.com to get started today.