Greenacres Residents Retain Lawyers to Monitor Environmental and Legal Requirements for Proposed School Renovation
Details

Category: Parenting
Published on

02 August 2017

Written by

Joanne Wallenstein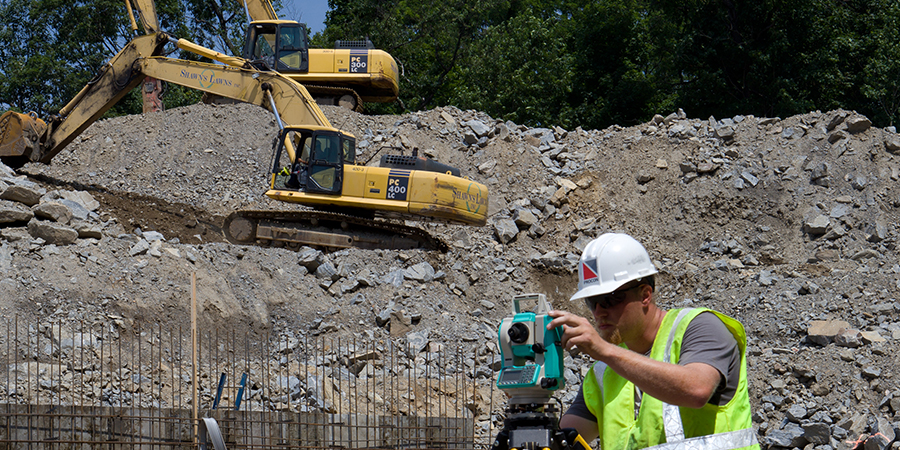 Below find a letter from the Greenacres Task Force to Scarsdale10583.com.
Independent Oversight Needed To Protect Children During Greenacres Renovation
Scarsdale residents must demand that construction projects addressing our schools' deteriorating infrastructure are accomplished in a safe, responsible and educationally appropriate manner.
Unfortunately, in the case of the proposed extensive renovation of Greenacres Elementary School, recent actions by the Board of Education have demonstrated a myopic focus on minimizing cost to the detriment of all other considerations, a willingness to make decisions based on incomplete or erroneous information, and refusal to seek guidance from or engage in a conversation with parents and community members.
Given the Board's questionable statements and actions, concerned residents have formed the Greenacres Elementary Task Force to help educate the community about the District's plans, confirm that proper process is followed to protect our children, and ensure that resources are deployed wisely and efficiently for the benefit of the entire community.
The District's current plan for Greenacres Elementary calls for the children to remain in the building during a 2-3 year renovation and expansion project that will subject the children to environmental risks such as asbestos, lead based paint, mold, dust, noise, and other construction hazards.
The Task Force has retained a law firm and environmental experts to monitor the District's compliance with environmental and legal requirements related to the proposed Greenacres renovation. On Monday, July 31, the lawyers for the Task Force sent the letter below to the School Board outlining the Task Force's initial steps.
To learn more, please visit www.greenacrestaskforce.org.
Here is the letter from attorneys Zarin and Steinmetz to the Scarsdale Board of Education:
Via E-Mail (boardofed@scarsdaleschools.org) and Overnight Mail
President William Natbony and Trustees of the Scarsdale Board of Education
2 Brewster Road
Scarsdale, New York 10583
Re: Greenacres Elementary School Facilities Planning
Dear President Natbony and Trustees of the Board:
This firm has been retained by the Greenacres Elementary Task Force made up of concerned residents of Scarsdale (the "Task Force") in connection with the above referenced matter. We, along with a team of various environmental and planning consultants, have been tasked with monitoring the School District's process as it prepares the "scope of work" to address the deteriorating conditions in the Greenacres Elementary School building (the "School"). This includes assisting the Task Force to ensure that the District recognizes and addresses parents' health, safety and many other concerns associated with the current concept to renovate and expand the old School while their young school children are present.
We are writing this letter to inform the District of our preliminary concerns about the lack of transparency in the review process to date, and various potential adverse environmental impacts that the District has apparently not considered. It is our understanding that the District is currently undertaking the mandatory evaluation of potential adverse environmental impacts, and alternative plans to avoid these impacts, as required under the New York State Environmental Quality Review Act ("SEQRA"). The District is apparently considering fast tracking its review so that a determination of significance can be adopted as early as August, but no later than October 2017, so as to allow a December referendum on bond financing for the renovation project and other District facilities projects. According to the Assistant Superintendent for Business at the Board's July 6, 2017 Business Meeting, the District has hired a consultant that will make sure "all the paperwork gets done" in the next few months, implying that "no further analysis" may be needed.
This is a serious concern for the Task Force. As your environmental consultant can attest to, the mandates of SEQRA cannot be satisfied by merely checking boxes or completing boilerplate "paperwork." It does not appear that any consideration of potential impacts upon the community, such as, inter alia, the surveying and disposal of hazardous materials, air quality and other health hazard controls, traffic and parking mitigation, and storm water management has occurred to date. See 6 N.Y.C.R.R. § 617.7(c). Moreover, it appears that the District has summarily dismissed without substantively evaluating whether constructing an entirely new building would (a) avoid or substantially mitigate these impacts, or (b) result in the most educationally appropriate and fiscally responsible project. Indeed, the District's list of consultants that was recently disclosed to the public does not include any planning or engineering professionals typically retained to evaluate the magnitude of these types of impacts.
To the extent that the District's consultant team has prepared any assessments of potential environmental impacts, it has not occurred in a manner that would permit the community (including the parents of children who will be forced to endure the construction on a daily basis) to understand what has been reviewed, and more importantly, provide their insight as to potential risks which must be avoided. Relying on "paperwork" compiled through a closed-door process to reach a determination of environmental significance would violate the very purpose of SEQRA. Moreover, excluding key stakeholders from the evaluation of potential environmental impacts would certainly not constitute the "hard look" required under SEQRA. Save the Pine Bush, Inc. v. Common Council of City of Albany, 13 N.Y.3d 297 (2009).
The Task Force has retained several experts to evaluate whether the District's current concept would adequately protect the students in the School, or would otherwise result in undesirable consequences upon the community. This team currently includes an indoor and outdoor environmental health and safety consulting firm to evaluate whether any renovations in the School will result in unsafe, and thus unacceptable, conditions for young school children due to the disturbance of asbestos, lead, mold and other hazards present in the School. It also includes a traffic consulting firm to evaluate whether the District's plans will intensify existing traffic congestion and parking deficiencies occurring during peak drop-off and pick-up times in the neighborhood. We also anticipate adding other professionals to the team as our review of the District's progress continues.
We will be submitting the reports of the Task Force's experts for your Record so the District may consider their findings during the SEQRA process. The Task Force will submit these reports well in advance of October, but will need time to undertake certain studies which must occur while school is in session in order to properly evaluate current operating conditions. This includes identifying current and anticipated future traffic and parking levels that can only be accurately measured while school is in session. While we assume that the District will also need to wait until School is back in session to complete its impact assessments, we respectfully request that the District inform the public if it intends to make a SEQRA determination in August or September so that the Task Force may act accordingly. Again, we would question the propriety of the District making any determination under SEQRA before permitting the public to review and comment on the District's impact assessments.
The District has also stated that it plans to convene a District-wide facilities committee and a Greenacres building committee during the summer. We hereby request that representatives from the Task Force be included on both of these committees.
Finally, it is our understanding that several parents and other stakeholders have sought information from the District pursuant to the Freedom of Information Law ("FOIL"). Specifically, there is an outstanding request to review all documents in the District's files relating to the environmental assessments it has undertaken as of July 2017. We are also submitting under separate cover a FOIL Request on behalf of the Task Force for similar materials to provide to their experts. We would hope that the District will expedite its responses to these requests, given the public interest in this matter.
We look forward to working with the District on this matter.
Very truly yours,
ZARIN & STEINMETZ
By: /s/_________________
David J. Cooper
Edward P. Teyber
cc:
Dr. Thomas Hagerman - Scarsdale Superintendent of Schools
Greenacres Elementary Task Force
Mary Beth Evans and Linda Doucette Ashman, League of Women Voters of Scarsdale
Andrew Sereysky, Greenacres Neighborhood Association
New SHS Schedule Could Be Harmful To Student Wellness: A Letter From the Compact Committee
Details

Category: Parenting
Published on

11 July 2017

Written by

Jane Glaser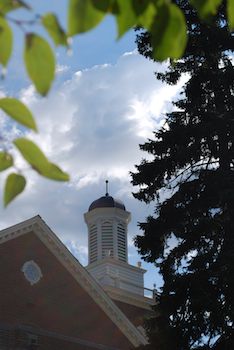 The Scarsdale High School Compact Committee, a well-respected group of administrators, teachers, and parents, wrote a letter on June 7th to the Board of Education regarding the 75 minutes added to the High School school week -- 2 minutes added to each period -- starting this September. The Committee fears that the additional time will cause more stress to students' already anxiety-filled lives and hurt student engagement, which in turn will stifle learning. They propose that the additional 75 minutes be used in way that focuses on the students and their collaborative work with teachers. The letter was discused at the July 6th Board meeting.

Dear Ms. Maude and Mr. Wixted:
The Scarsdale High School Compact Committee is concerned about the recent agreement that mandates an additional 75 minutes to our students' already busy week. We are also concerned that instructional time is being defined in a way that runs counter to our high school wellness initiative, which has been researching and presenting information about different uses of time to personalize instruction and increase engagement. We hereby request that the Board reconsider its stance and allow us the flexibility to address the unique and individual needs at our high school. We request this flexibility so that we can pursue a schedule that works along with our wellness initiative: A schedule that allows for a student-centered definition of instructional time, a schedule that addresses the health and safety of students at the high school, and a schedule that increases engagement in traditional and alternative learning environments.
First, it is important to state that our wellness initiative predates the recent agreement and that our school was already deeply invested in the research and trends of best practices centered on reducing stress and increasing engagement in high-achieving schools. In fact, we had already planned several pilots towards the end of the 2015-16 school year and we were looking forward to using the new Learning Commons for more individualized and interdisciplinary learning. Second, it is important to note that our direction and our goals are based on solid research, best practices, and the recommendations of distinguished professionals in the educational community who have advised us that our students are exhibiting stress-related problems, including anxiety and depression, at rates higher than the national average. Finally, the agreement severely hinders our ability to address these issues and may in fact exacerbate them by adding more time to our students' already busy work-week.
As stated in our Blueprint for Student Wellness: "According to the Challenge Success Survey, when compared to similar peer schools, our students were experiencing extremely high levels of stress and academic worry (higher than all peer schools), had a higher workload and much less sleep and free time than comparable schools, showed less engagement in school, and reported health related problems such as headaches, shortness of breath, exhaustion, etc." Our work with Challenge Success and Dr. Slavin convinced us that the most important solution to our situation is to give back time to students in the form of reduced workload and testing as well as in the form of a changed schedule. In other words, to reduce student stress we need to restructure time (in the form of homework, studying, extra-curriculars, and school time), not add time to the students' day. The current schedule runs counter to this idea and to these suggestions.
During our consultation about the survey results, Denise Pope, author of Doing School , and co-founder of Challenge Success, made us aware that our students show far less engagement than is exhibited by students at similar peer schools. She suggested that our priority should be to tackle this lack of engagement by addressing the issue of time in two ways: by opening up the schedule or changing the way we use time and by reducing homework and testing. (As noted above, based on the advice from the survey, we had already begun to rethink our homework and testing policies and strategies and were well underway to piloting schedule changes until the mandate occurred.) We fear that increasing the time in each class by 2 minutes will not increase engagement and may actually decrease engagement, and we fear that without increased engagement, learning will not occur; instead, we will have kids "doing school." Furthermore, when we spoke to Denise Pope again at the Challenge Success conference in the Fall, she offered to speak to the Board and/or superintendent about the negative effects the proposed schedule change would have on our students (based on the survey data), and she offered several alternative uses of time designed to reduce stress and increase engagement.
The consensus of educational research tells us that when we build time in our school day for students to meet with teachers and other students and for teachers to plan with other teachers, we increase the quality of instruction, learning, and engagement. We also decrease the amount of work and stress that is pushed to after-school work. As Vicki Abeles says, "The inefficient use of the school day is also part of what pushes school obligations, such as assignments and tutoring, past the last bell" (56). We ask, therefore, for the freedom to continue this good and important work without restriction, as we feel our ultimate goal of increasing learning and engagement is in line with the spirit of the recent Board decision that we are concerned about. We also believe that a more efficient and student-centered use of time will reduce the stress students experience both during the school day and after school.
As you know, the Compact Committee is representative of all constituent groups at the high school and those groups are deeply invested in our ongoing wellness initiative. According to the Compact for Learning: District Plan, approved 1/25/2016, individual schools can request that a Bargaining Unit and the Board of Education consider the needs of an individual school with regard to contracts. While we are not asking to modify the addition of 75 minutes, we are asking for consideration in how we structure and define those 75 minutes for our high school based on the needs of our students made evident to us through the Challenge Success survey and our wellness initiatives. We feel we have an obligation to remind you of these needs: increasing engagement, reducing stress, and creating opportunities for student agency and personalized learning.
We strongly believe that, given the flexibility we are asking for, we can create an innovative and forward thinking schedule that meets the needs of students and schools in the 21st century and that can increase engagement and reduce stress, two things that the mandated schedule does not address. We prefer to use the additional time in a way that is more student-centered, by offering students and teachers time in the day for collaborative work. We believe that a more flexible definition of instructional time will create better opportunities for our students than adding two minutes to each class. We have explored and will continue to investigate the benefits and possibilities of advisory periods, enrichment periods, flex-time, seminar time, and passion periods, but these things cannot flourish unless we are given the opportunity to restructure the way the additional time is being used.
Sincerely,
The Scarsdale High School Compact Committee
Lauren Barton - Teacher
Kenneth Bonamo - Principal
Amanda Filley - Teacher
Oren Iosepovici - Dean
Ottilie Jarmel - Parent
Caroline Kelson - Student
Jessica Levenberg - Teacher
Karen Lucente - Support Staff
Andrea O'Gorman - Assistant Principal
George Olivier - Teacher
Jeannine Palermo - Parent
Amy Song - PTA President
Carol Wolfe -Parent
Julie Zhu - Parent
Supporting Research
Abeles, Vicki. "Opinion | Is the Drive for Success Making Our Children Sick?" The New York Times , The New York Times, 2 Jan. 2016, www.nytimes.com/2016/01/03/opinion/sunday/is-the-drive-for-success-making-our-children-sick. html?_r=0 . Accessed 11 May 2017
Abeles, Vicki, et al. Beyond Measure: Rescuing an Overscheduled, Overtested, Underestimated Generation . New York, NY, Simon & Schuster Paperbacks, 2016.
Donatelle, Rebecca J. Health: the Basics. Boston, Pearson, 2015.
Hofferth, S.L,, & Sandberg, J.F. (2001). "Changes in American Children's Use of Time" in
Children at the Millennium. New York: Elsevier Science
Iosepovici, Oren, and George Olivier. "Student Wellness Overview and Recommendations."
Google Docs . Google, May-June 2016. Web. 22 May 2017.
National Education Commission on Time and Learning. (2005). Prisoners of Time. Washington, DC., Education Commission of the States. www.ecs.org/clearinghouse/64/52/6452.pdf
Pope, Denise Clark, et al. Overloaded and Underprepared: Strategies for Stronger Schools and Healthy, Successful Kids . San Francisco, CA, Jossey-Bass, 2015.
Pope, Denise Clark. Doing School: How We are Creating a Generation of Stressed-out, Materialistic, and Miseducated Students. New Haven, CT: Yale University Press. 2002
Sizer, Theodore R. Horace's Compromise: the Dilemma of the American High School: with a New Preface . Boston, Houghton Mifflin Co, 2004.
"Strategies for Healthy, Engaged Kids and Stronger Schools." Challenge Success , Stanford Graduate School of Education, www.challengesuccess.org/. Accessed 11 May 2017.
A School Graduation Proceeds Rain and Shine
Details

Category: Parenting
Published on

26 June 2017

Written by

Louisa Blatt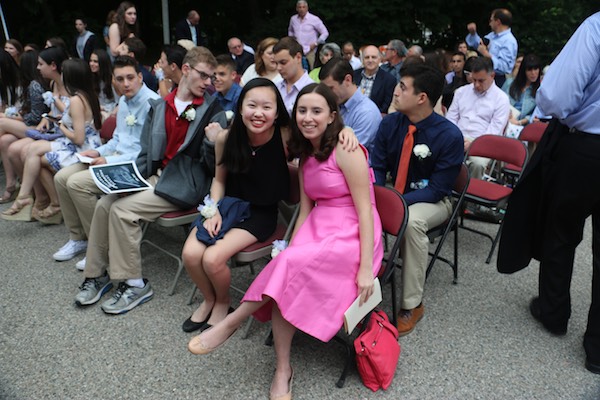 The rain couldn't put a damper on anyone's mood at the Scarsdale Alternative School's senior graduation. Due to SAS's small size and personal nature, its graduating ceremony was touching and personalized. Each of the A School teachers presented on a handful of advisees, telling wonderful stories about each student until all 28 have been uniquely celebrated. Well, in this case, 29. Director of the A School and A School teacher, Howard Rodstein, graduated with the class of 2017 onto retirement. It was a very emotional occasion, filled with tears and hugs. Underclassmen also contributed by presenting gifts to the seniors and organizing the event. Though the ceremony had to be moved inside in the middle, it continued to be lovely. Senior Aaron Hirsch closed the ceremony with an address to his classmates, explaining as best as he could what the A School truly means.
Bunk Notes – Listening To Your Child When It Comes To Sleep-Away Camp
Details

Category: Parenting
Published on

05 July 2017

Written by

Julie Stonberg

"Do you have anyone away?" "Are you looking for next summer?" "How is he/she doing at camp?" If you have elementary school-age children, chances are you've heard or participated in a conversation recently about sleep-away camp.
Overnight camping has been a uniquely American tradition since the 1880's, when many of the full-summer camps started as a way to get kids out of the city for the summer while parents worked. In Scarsdale and surrounding communities, sending a child off to camp for the summer can feel like a rite of passage -- especially for parents who have positive memories of their own camp days.
To be sure, there are wonderful aspects to sleep-away camp. Most have a "no-phone" policy, which gives kids a needed break from the social media world. Kids spend time outside, live with others, and have opportunities to learn new skills, make friends, and gain confidence and independence. Additionally, camp provides a temporary and sanctioned break from full-time parenting.
But sleep-away camp, especially the full seven-week program, is not for every child and every family, and certainly not for every child at the same age. There are many ways for kids to grow and learn during the summer. And pressuring or even forcing a child to attend sleep-away camp when they may not be ready or truly don't want to can do more harm than good.
Summer Options
Many of the traditional day camps change their programs as the kids get older to offer more independence and many even have short overnight trips. Some take their campers to actual sleep-away camps to provide a glimpse into what it feels like to attend. If your child is truly done with "day camp" but wants to stay close to home, there are specialized sports camps, arts camps, and other options, some for the full summer and some that run for a week or two. After "graduating" from day camp, my kids participated in sports camps at local colleges, a circus camp, and even a week of Italian cooking camp at Chef Central.
If a child is ready to go away but not for seven weeks, there are shorter options too. My daughter spent two summers late in elementary school at a wonderful arts-focused day camp, broken up by a week-long sleep-away gymnastics program. She experienced living in a dorm room with another child and making decisions on her own for a period of time that felt comfortable to her, and when she came back to school in the fall, she was able to join in any sleep-away camp conversations by talking about hers.
Don't Forget Grandma!
In many places, it's the norm to stick kids on a plane or a bus to go stay with Grandma or cousins for a period of time, whether they live in another state or another country. This is a wonderful option, as it allows your kids and your parents (or siblings) to form their own relationships (without you in the middle). You get the break, and your kids get to spend time away from home but still with family.
Normal Jitters
There are times when a child really does want to go away, but bursts into tears at the bus stop. The best way to handle this is to think back to how the decision was made. Was it truly your child leading the decision to go? Has he stuck with it leading up to the morning of departure? If that is the case it's probably a normal case of the jitters and you can explain that most kids feel the same way. Give him a big hug, (hide your own tears) and assume he will be fine once he settles in to the experience. (That goes for visiting day too. One of my sons began sobbing when there were still two hours left to spend with us, but when I asked him directly if he wanted to stay at camp, without hesitation he nodded through his tears.)
What if your child is truly miserable? More often than not, this happens in a situation where the child was hesitant to begin with, or even at times expressed that he or she didn't want to go, and was convinced to try it. While others may disagree, I would never force a truly unhappy child to stay at camp, even if it messes up your summer plans!! It's not worth it. Take him home. Your child needs you, and needs to know he (or she) is not a failure because he didn't stay at camp. It may have been a bad fit, he may not have been ready, he may just be homesick – who knows? The reasons will come out eventually, and in the process, you give your child the gift of unconditional support. Don't worry about your son or daughter being bored at home, or about "next year". You will figure it out together.
A Note About Homesickness
Homesickness is a physical feeling, and it is totally normal. Kids can feel homesick even if they truly love camp and want to be there. And often (lucky for you) when they go to write you a letter, they think about home, which then brings on a huge wave of homesickness...and guess what they write about?? If you feel like your child really is happy at camp but you get a bad letter, don't panic.
Speak to the camp directors to check in. More often than not, they will set your mind at ease. It helps also to talk about homesickness with your child before they go. Together, you can write down some suggestions for when the feeling strikes – for example: get involved in another activity, go to sleep, talk to a counselor – and they can pull out the list when they need it.
Explain that most kids feel homesick at camp at some point, and that it really just means that they have wonderful loving relationships at home – a positive thing!
Let Your Child Lead
In the end, the most important thing is to take cues from your child. You may have always pictured your daughter in your camp colors leading her color war team in the next generation, and that's a hard image to let go.
But the beauty of summer is that nothing is mandatory. Think of it as a time for kids to explore different parts of themselves, and train yourself to really listen with your head and your heart to what they are saying and feeling.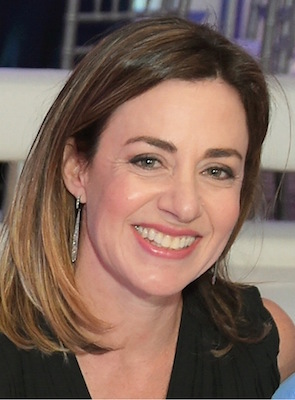 Your daughter (or son) may ultimately wind up at your "alma mater," or she many not, but the fact that you gave her the space to decide on her own will go much further in the long run for her confidence and your relationship.
Author Julie Stonberg is a clinical social worker with a private practice in Hartsdale. Her three children did eventually enjoy full summer camping experiences, but it was a unique journey for each.
Same-Sex Parenting in Westchester
Details

Category: Parenting
Published on

21 June 2017

Written by

Stacie M. Waldman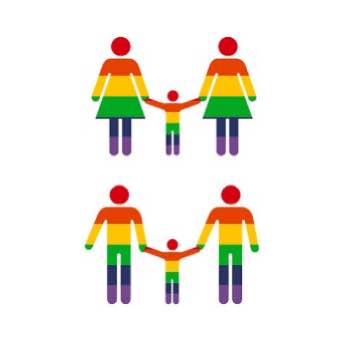 When I set out to write an article on same-sex parenting in Scarsdale, I did not expect to come back completely empty-handed. I received referrals for same-sex couples living in other nearby towns and I had people write to me saying they didn't know of any personally in Scarsdale but they'd be welcome and accepted with open arms. When I finally found a dad who was raising kids with his husband in Scarsdale and was willing to chat with me he ilet me know that there are actually four other gay couples raising children together within his area of Scarsdale. Is there anything that Scarsdale, as a village, can do to encourage more same-sex parents, parents-to-be and couples to move here? Is Scarsdale a "gay friendly" place to raise a family?
I had the opportunity to speak with him as well as two lesbian couples who are raising their kids in Edgemont and Mt. Vernon. Their names have been changed for privacy. Here is what they shared:

Lilly and her wife and moved to Edgemont in 2000; shortly thereafter their first child was born. "We moved from the city with the intent of having kids. We considered going to towns that had more diversity and other families with same-sex parents," she said. "We considered the river towns in Westchester as well as Montclair, New Jersey. We ultimately settled on Edgemont because we thought that even though we'd likely be the only same-sex couple here, we knew the schools were top notch and felt that although not diverse, people would be accepting of our less traditional family," she added. This actually turned out to be true on all fronts; Lilly and her wife have found Edgemont as a whole to be entirely accepting of their family and for the first 15 years here did not meet another gay couple in Edgemont.
Phoebe has been surprised at the number of gay couples she has met here in Westchester. She and her wife moved from Brooklyn after their first baby was born; like most, they needed to get out of the city and into the suburbs. "We picked lower Westchester for the commute and because it's a larger, educated population so we thought we'd probably feel less discrimination towards and more acceptance of our family," she said. They scouted the area, picked a home in Mt. Vernon and soon after had their second child. Their kids are now three and one and they are thinking of moving before the kids start elementary school to be in a better school system within Westchester.
I asked both women and the Scarsdale man how it has been so far raising kids in lower Westchester. "Starting in Kindergarten, we made it clear to the teachers that our child has two mothers," said Lilly. "From there it just became known and there was never a need to proactively announce it. No one ever flinched at all." Lilly and her wife were particularly impressed with Edgemont schools when it came time to make cards for mom/dad holidays. "They'd suggest that our kids make something for a grandfather or uncle for Father's Day and for Mother's Day they would come home with two cards, one for each of us." As far as other kids in Edgemont, "...we found that kids' values often reflect parents' values," Lilly responded. They did have fears that their kids would be bullied or singled out for having two moms but this never happened. "There have been some uncomfortable situations, like kids asking how it's even possible to have two moms," she added. She thinks Westchester County in general is accepting of LGBT families but that homophobia does still exist.
Phoebe and her wife have been pleasantly surprised with their reception in Westchester. "We've met quite a few gay couples and met two PTA heads at private religious schools that are both same-sex parents. I run the LGBT Tri-State Facebook group which has put us in touch with similar families all over Westchester. We've met LGBT people who live with their families in Yonkers, Dobbs Ferry, Eastchester, Tuckahoe, White Plains...they're everywhere." She added, "I don't think we are facing anything different here than we'd be facing anywhere else." Phoebe did once recall going to a fundraiser where a guy who had too much to drink cornered them and asked when he could meet the father. "I think he meant it as a joke," Phoebe said, "but it definitely set us back a bit." Although Phoebe didn't think it's specific to Westchester, she said that one of the hardest things for gay couples with kids is if your child doesn't biologically resemble you. This is likely an issue for parents of adopted children who are a different race or ethnicity. "People often feel like they have a right to ask uncomfortable questions."
The Scarsdale man thinks that Scarsdale is a fabulous place to raise kids as a same-sex couple. He has absolutely no complaints and believes the situation couldn't be more ideal. As a member of the community, he thinks it's a total non-issue being gay in the community. It has been remarkably inclusive. At school he has noticed that mother's day is referred to as parents' day and various inclusive book suggestions have come home that they appreciated.
Are there other towns in Westchester that seem to have more gay couples? Lilly responded, "We have friends in New Rochelle who are gay and they're definitely not the only ones in that town like we are in our town. The river towns have more diversity and more same-sex couples. That being said, I was recently out walking our dog and I bumped into a couple of guys who are a gay couple in Edgemont. They don't have kids and as far as I know they are the only other same-sex couple in-town." Phoebe lives in Mt. Vernon but sends her daughter to preschool in Bronxville. "Bronxville has never really felt comfortable for us," she said. "It has always seemed kind of stuffy. Everyone seems to love Pelham!" The Scarsdale man said that Montclair, NJ is becoming a hub for same-sex couples raising kids.
Noel D'Allacco sits on Rob Astorino's LGBT Advisory Board for Westchester County. Although not gay herself, she has been on the board for 3-4 years and advises the County Executive in cases of possible discrimination. There have been almost no issues during her tenure on the board. However during this year's gay pride parade in White Plains, cars were vandalized with hateful messages against gay people. "The biggest issues in Westchester County surrounding gay people are really with the youth counseling services and supportive things like that," Noel voiced. She encouraged anyone seeking support and a community to check out the Loft in White Plains.
So, it seems that Scarsdale remains a progressive community that has been inclusive and accepting of families with same-sex parents and would be welcome more same-sex couples/LGBT families. The Scarsdale man said that it would help for straight couples to proactively discuss the possibility of kids having two moms or two dads with school-age children. He isn't sure what the community could do to invite more same-sex couples to consider Scarsdale as a place to live and raise a family but he thought this article could help position Scarsdale as an inclusive and comfortable place to be gay and raise a family. Mostly, he wanted to say a big thank you to Scarsdale for doing exactly that.