Koenig Completes 24,000 Piece Puzzle in his Greenacres Home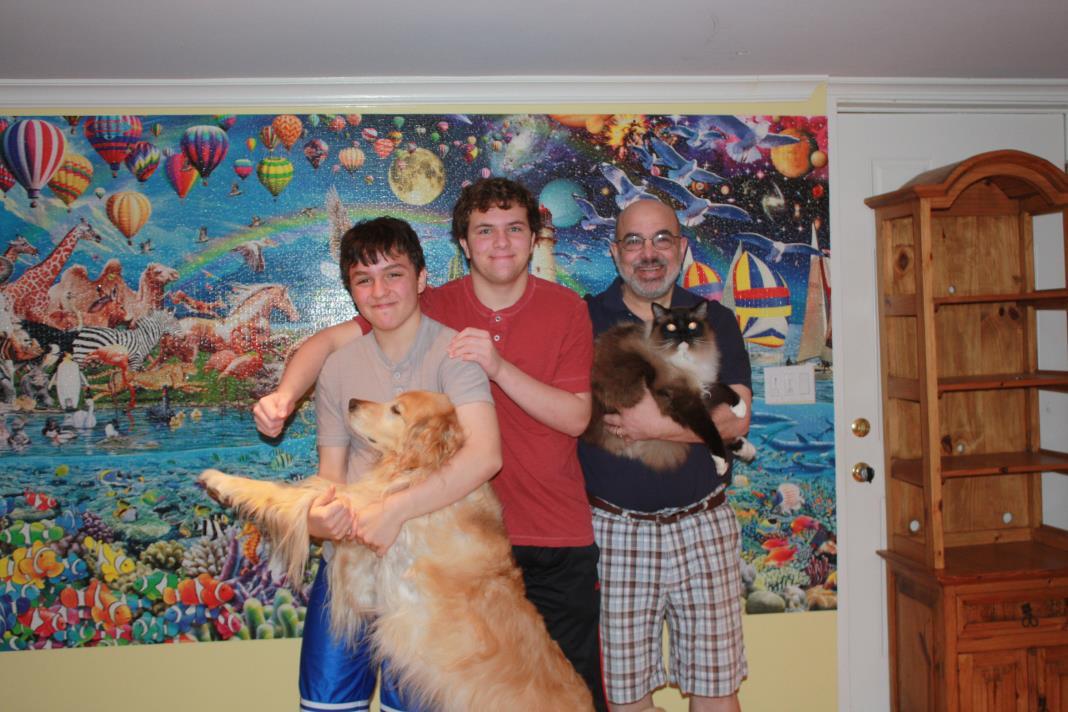 When we last reported on Greenacres resident Ian Koenig he had just set a world record by completing a 32,000 piece jigsaw puzzle in the basement of his Brewster Road home. The 32,000 piece puzzle was comprised of 32 colorful panels of Keith Haring's work. He was the sixth person in the world to complete the puzzle and was entered into the Ravensburger Hall of Fame along with other puzzlers from around the globe.
Now Koenig has done it again, this time completing a 24,000 piece puzzle, the second largest in the world, again in his basement. The puzzle is called Life, The Greatest Puzzle and is a colorful depiction of the cosmos, the ocean, the animal kingdom, birds, fish and everything under the sun. Koenig received this second puzzle as an early Christmas present on November 29 2013. When he opened it, he found four large bags, each containing 6,000 pieces. He continued to work on it during nights and weekends putting together each of the four sections, one at a time. Because the puzzle was so large Koenig reclaimed 3' x 4' cardboard slabs discarded by Costco and used 8 of these to create enough surface area for each of the discreet sections of the larger puzzle.
He didn't realize that his cat would get into the mix. According to Koenig, here's what happened: "When I first started the project, I left it uncovered at night, not realizing that these loose puzzle pieces were perfect "cat toys". I found several on the floor and a few scattered around the house, but two never turned up. Chalk it up to experience."
Koenig created a blog outlining how he approached the puzzle, sorted pieces and identified patterns in the way they are cut. He also chronicled how much time each task consumed.
Above is a photo of Ian Koenig with his sons Jonathan and Robert in front of the completed puzzle. Koenig says, "I am the one holding the cat. Jonathan is holding the dog and Robert is holding Jonathan. Jonathan probably put in about 100 pieces. I let Robert put in the last one. The dog and cat did not put in any -- but the cat lost two pieces. I let them get in the picture anyway."
Learn more about what's going on in your neighbor's basement here.
BLOG COMMENTS POWERED BY DISQUS