One-of-a-KIND Conversation With Daniel Lubetzky, Founder and CEO of KIND Snacks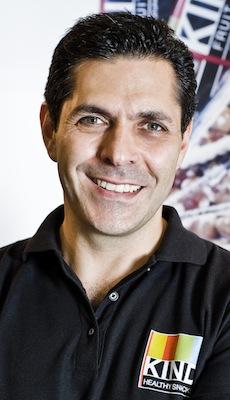 The JCC of Mid-Westchester presents a conversation with Daniel Lubetzky, Founder and CEO of KIND Healthy Snacks, and a pioneer of social entrepreneurship on Tuesday, June 10, at 7:30pm at the JCC, 999 Wilmot Road in Scarsdale.
Cheryl Strauss Einhorn, media consultant, award-winning journalist, and an adjunct professor at Columbia Business School, leads the discussion with Lubetzky, the son of a Holocaust survivor, who will share his unique perspective on socially conscious business decision-making and making the world a "kinder place."

Lubetzky is CEO of KIND Healthy Snacks, the leading maker of fruit and nut bars, and Chairman of PeaceWorks Inc, pursuing both peace and profit through joint ventures among neighbors striving to coexist in regions experiencing conflict. "Kindness is the greatest show of strength. Too often, we are led to believe that strength is best demonstrated by exerting dominance or superiority over others, while kindness is portrayed as the opposite -- a sign of weakness," he recently wrote for the Huffington Post. "How do we, through our words and actions, show that it takes courage to be kind?"

KIND is distributed across 60,000-plus retail points in the US, and is the fastest growing healthy snack company in the US. Lubetzky is also Founder of the PeaceWorks Foundation's OneVoice Movement, and co-founder of Maiyet, a new luxury fashion brand that partners globally with artisans in mixed economies.

Born and raised in Mexico City, Lubetzky studied at Trinity University, and Stanford Law School. Fluent in Spanish, English, Hebrew and French, he has lectured at universities, the World Economic Forum, the World Bank, and the United Nations. He was selected by the World Economic Forum as one of 100 Global Leaders for Tomorrow (GLT) and as a Young Global Leader, and received the World Association of NGOs Peace Security and Reconciliation Award, the Catholic Theological Union's Peace-Makers Award, and the Skoll Award for Social Entrepreneurship.

In 2009, TIME Magazine named Lubetzky among 25 "pioneers" of social innovation and BusinessWeek named him among "America's Most Promising Social Entrepreneurs." In 2010, Entrepreneur Magazine selected him as Entrepreneur of the Year.

Karen Kolodny, Executive Director at the JCC Mid-Westchester explains "This series of JCC conversations attempts to shed light on what is trending in industry, business, finance, and intellectual pursuits. We feel privileged to have top-notch industry leaders coming to our JCC to open up a public conversation focusing on business."

Tickets are $15 at the JCC front desk, or online at www.jccmw.org. Register by June 3 to join a VIP Reception at 7:00PM as an event sponsor. Student pricing is available; contact Liat Altman at (914) 472-7672 altmanl@jccmw.org. A portion of the proceeds from ticket sales will go to the JCC of Mid-Westchester Scholarship Fund, which provides educational and recreational opportunities for children in the area.

BLOG COMMENTS POWERED BY DISQUS